Did you know that there are over 69 free things to do at Disney World?
It's no secret that Disney has a lot to offer you. From a huge assortment of exciting rides for any age group to unconventional snacks and shows unique to Disney. You are sure to find something you'll enjoy at the Happiest Place on Earth.
Many of these attractions aren't covered by your admissions ticket. However, you don't always have to spend extra money to enjoy Disney World.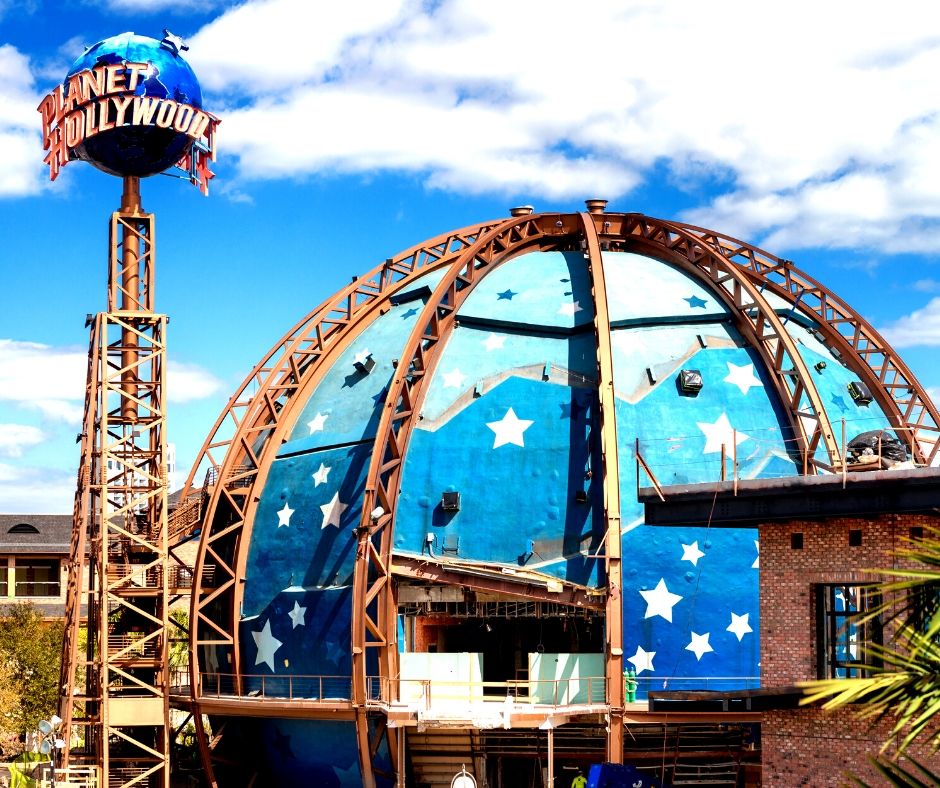 THIS POST MAY CONTAIN AFFILIATE LINKS. PLEASE READ MY DISCLOSURE FOR MORE INFO.
You may be wondering, what can you do for free at Disney?
From campfires and crafts, to animal viewings and Disney samples, you find so many things to do on this extensive list of Walt Disney World freebies.
Plus, many of these items do not require you to be a theme park guest.
Have a DIFFERENT kind of Orlando vacation with a Resort home next to Disney World. Find Your Disney Resort Vacation Rental here!
Free Things to Do at The Resorts (even if you're not a guest)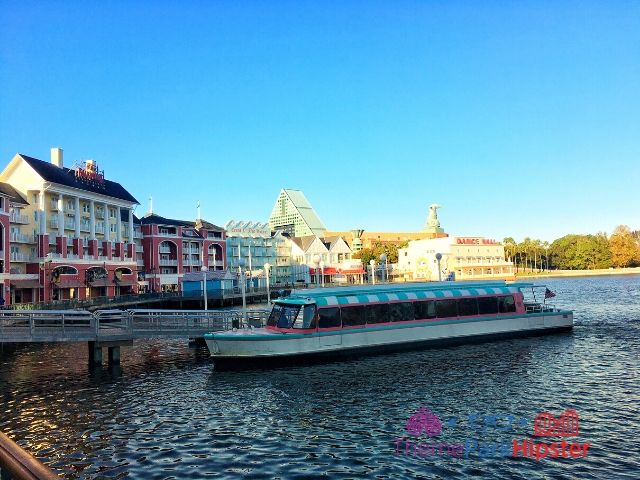 1 – View Animals for Free
The animal viewing section at the Animal Kingdom Lodge is a very popular Disney freebie, as is the resort tour at the same hotel.
The fun part?
You don't need a Disney ticket to visit Animal Kingdom for viewing the majestic creatures. All you have to do is visit the Animal Kingdom Lodge and walk around the common areas of the resort.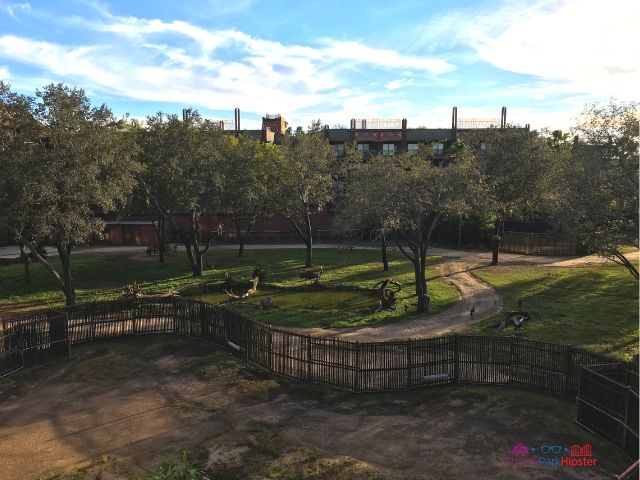 The back portion of the lobby leads directly to a small safari with amazing wildlife to see.
This is a perfect way to start your solo Disney vacation!
2 – Do the Resort Tours
You don't need to stay at that particular resort to be able to enjoy the free tour. However, you may need a reservation to enjoy this Disney perk. Always check with front desk to see if there will be any tours for that day.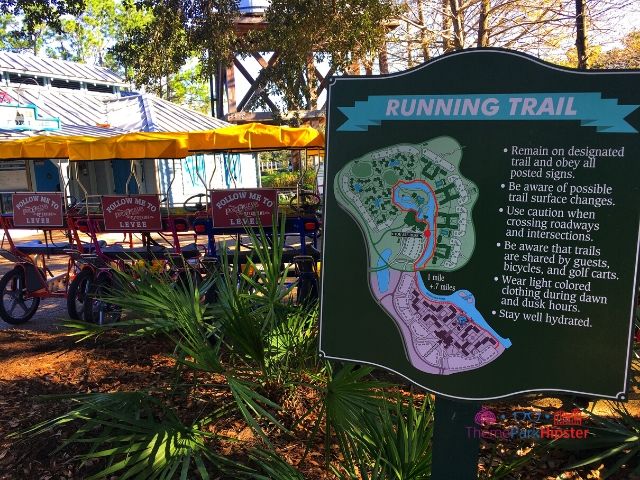 Times do change frequently, but once you're on the tour you'll learn some amazing history and secrets about each resort.
Some of the Disney Resorts that may require a reservation are:
Fort Wilderness Lodge
Animal Kingdom Lodge
The Grand Floridian Resort and Spa
Disney's Yacht and Beach Club
Though the resort tours are also technically free, you do need to be booked at one of the Disney Resorts to reserve a seat. I'd recommend calling ahead to see if the resort tour you're considering would like you to RSVP in advance.
3 – Do a Monorail Bar Hop
This is a form of Disney transportation (public transport of the future) in which you can visit each Disney resort hotel on your bar crawl on the Magic Kingdom loop.
And it's absolutely free!
All you have to do is catch a bus ride from Disney Springs to one of the Magic Kingdom resorts of your choosing and start your adventure.
You can also book a dining experience at one of the resorts on the monorail loop to save you the time of having to wait for a bus at Disney Springs.
4 – Tour the Disney Resort Christmas Decorations
Another one of my personal favorite resort freebies is to go resort hopping in search for all the Disney Christmas Decorations.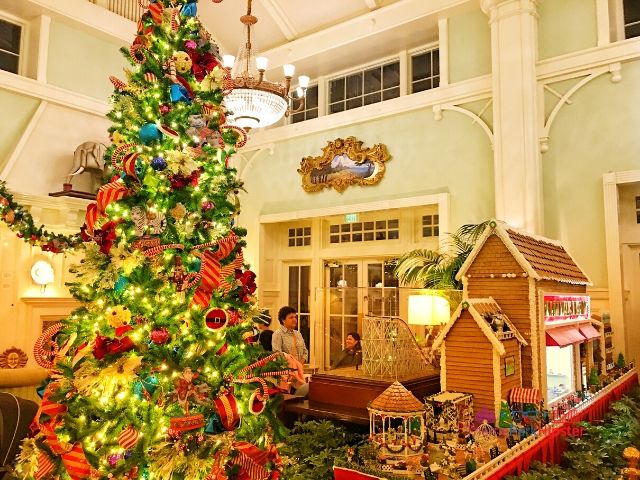 This can be done during the holiday season from November until early January. It's a fun activity that's even better with a free sightseeing ride on the monorail around the Magic Kingdom resorts.
5 – Resort Hop
You can resort hop throughout the year for free. This is one of my favorite things to do with family who come into town and don't want to spend money on theme park tickets.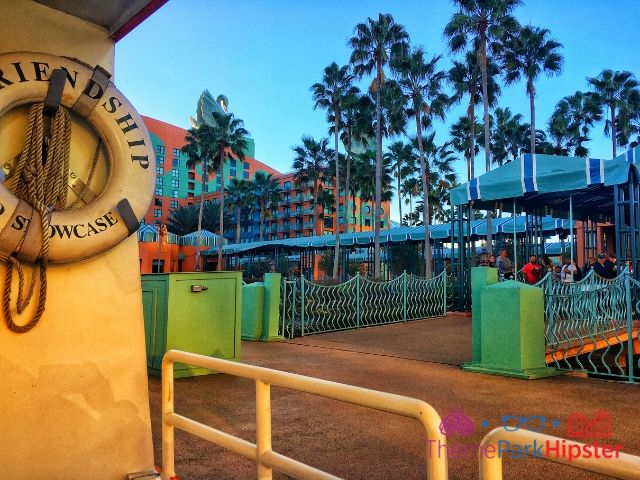 The Walt Disney World Resort Hotels are attractions in themselves. They all have a unique theme and story to them.
Plus, the dining is usually superb at each resort.
You may also be able to participate in some of the activities that may be happening in the common areas of the hotels. Activities such as catching Cinderella's grand entrance at the Grand Floridian Resort and Spa or Pin Trading.
6 – Pool Hop if You're a Disney Vacation Club Member (DVC)
If you stay at Disney World using your Membership for any Disney Vacation Club Resort or at Disney's Vero Beach Resort, you and any of your Guests are allowed to pool hop with the following benefits:
Select pools at Disney Vacation Club Resorts
The pool(s) at the Disney Vacation Club Resort where you are staying
Select pools at Walt Disney World Resort hotels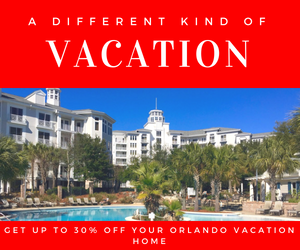 According to Disney, pool hopping is not available at the following pools at any time—with no exceptions to this policy:
Bay Lake Tower at Disney's Contemporary Resort – Bay Cove Pool
Art of Animation Resort – pools
Disney's Beach Club Villas – leisure pool
Grand Floridian Resort & Spa – pools
Disney's Polynesian Village Resort – The Lava Pool and leisure pool
Wilderness Lodge – Boulder Ridge Cove Pool and The Copper Creek Springs Pool
Disney's Yacht Club Resort and Disney's Beach Club Resort – Stormalong Bay
You can read the full guide to pool hopping at Walt Disney World as a DVC Guest.
7 – Watch Campfire Movies
Once you've had your cowboy sing-along, you'll be able to enjoy a classic Disney movie under the stars at the Campsites in Disney's Fort Wilderness Resort.
You can also watch campfire movies for free at the following Disney World Resorts:
Beach Club Resort
Grand Floridian Resort
Port Orleans-Riverside
8 – Watch a Geyser Explode
If you head to the back of Fort Wilderness Lodge, you'll be able to see a geyser reminiscent of Old Faithful erupting every hour on the hour from around 7 a.m. until 10:00 p.m.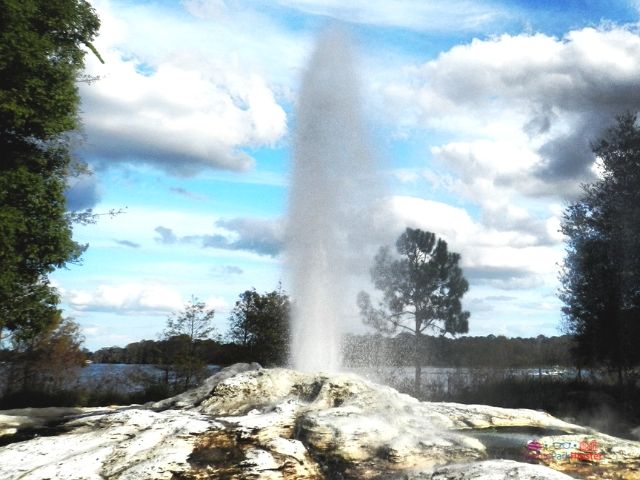 9 – Explore the Woodsy Area Around Fort Wilderness Lodge
The classic charm of Florida wildlife can be seen around the Disney Resort. However, the resort hotel that displays this natural allure is Fort Wilderness Lodge.
This Disney resort hotel features pathways that allow you to venture deep into the natural backwoods of Florida.
10 – Play with Butterflies
You can visit the Butterfly Garden located in the Contemporary Resort for free. This colorful garden is located on the backside of the lobby near the pool and lake.
You can always check with the Gardening Hotline at (407) 938-3900 if you want more information.
Ready to start planning your next Disney World vacation? Listen to the latest podcast episode on Apple or on your non-Apple device now!
11 – Free Art Classes
If you're in the mood to create, you can take one of the free art classes offered at the Art of Animation Resort. This class is limited to resort guests, but always check to see if you can register anyway.
12 – Visit Disney's Boardwalk for Free
You can visit Disney's Boardwalk for free at any time. The Boardwalk Resort allows you to park for free for a few hours so you can watch the various talented street performers solo or with your family.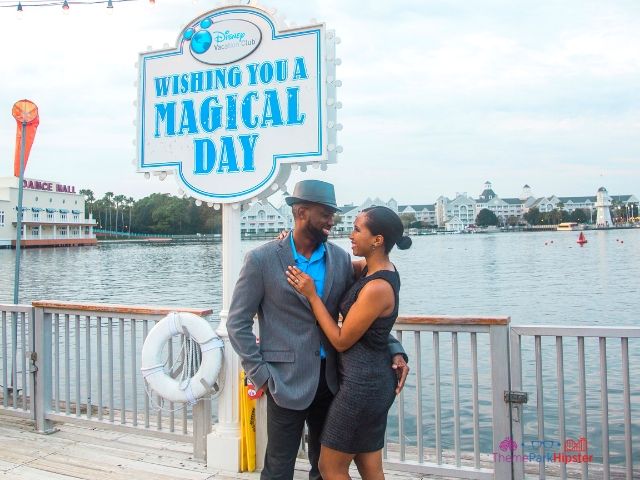 You can also enjoy all of the delicious dining options and nightlife happening on the Boardwalk every day!
13 – Watch a Free Epcot Fireworks Show
For an exciting visual display, take in the fireworks at Epcot from the Boardwalk Resort area. The best viewing spot is on the bridge right by the EPSN Club restaurant.
14 – View the Magic Kingdom Fireworks for Free
You can watch the Happily Ever After Fireworks Show for free at the Polynesian Resort. The perfect spot is around the beach area where you'll even hear the actual music from the show.
This is such a great Disney freebie!
Plus, the Happily Ever After Fireworks spectacular is absolutely magical and my favorite fireworks show ever!!!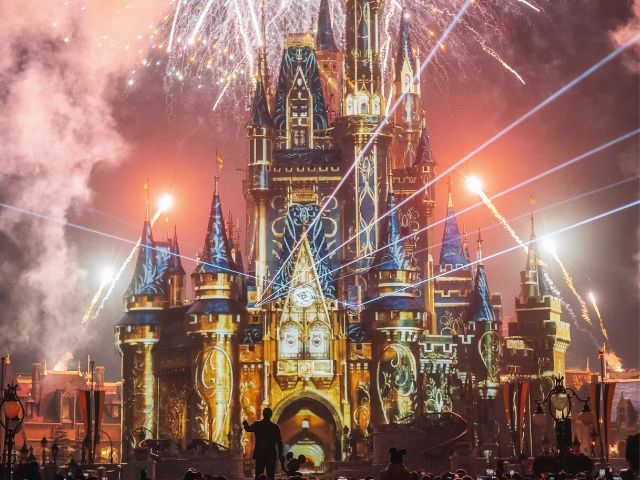 You can also get a great view for the fireworks from the:
Ticket and Transportation Center
Grand Floridian Resort & Spa
California Grill Restaurant at the Contemporary Resort (you'll have to have dinner here for this freebie)
15 – Enjoy the Electric Water Pageant
You can watch this amazing show on the Seven Seas Lagoon at night. This free water parade features whimsical sea creatures sailing across the lagoon.
This nightly parade usually happens once around the time of the Happily Ever After Fireworks Show. You can watch the show from any of the Magic Kingdom Resorts.
Best viewing locations for Electric Water Pageant:
Disney's Polynesian Village Resort– Begins at 9:00 p.m.
Grand Floridian Resort & Spa (including Narcoossee's) – Begins at 9:15 PM p.m.
Fort Wilderness Lodge– Begins at 9:30 p.m.
Disney's Fort Wilderness Resort and Campground– Begins at 9:45 p.m.
Contemporary Resort– Begins at 10:10 p.m.; in instances when the Happily Ever After fireworks show takes place at 10:00 p.m., the Electrical Water Pageant will begin shortly following its conclusion
Right outside the entrance of Magic Kingdom park – Begins at 10:35 p.m., during Extended Theme Park Hours only
Please note that times do change based on the season, so always check Disney's website for the current parade times.
16 – Get Your Free Lei at Disney's Polynesian Resort
When you arrive in the lobby of the Polynesian Resort, you can get a free lei placed upon your neck even if you're not a hotel guest.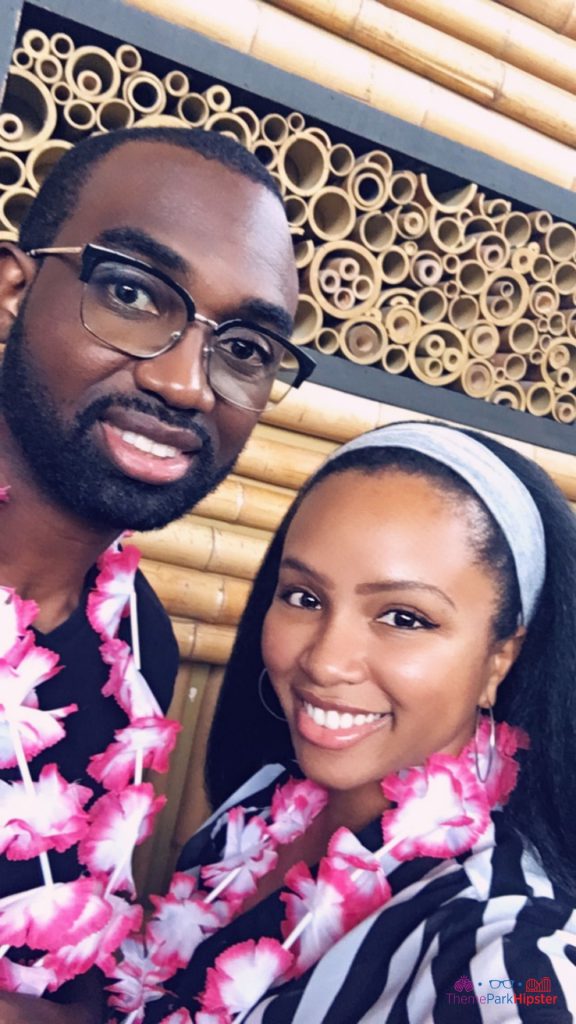 17 – Don't Miss Cinderella Outside the Parks
There's a free promenade of Cinderella (and sometimes the Prince), where they gather in the lobby of the Grand Floridian Resort & Spa for a magical waltz.
This promenade takes place at around 3:30 p.m. each day.
18 – Pick Up a Free Balloon
You should always stop by the front desk of your Disney Resort to see if they have any balloons to hand out that day. Balloons are a nice Disney freebie and a great way to spruce up your hotel room.
Free Things to Do at Disney Springs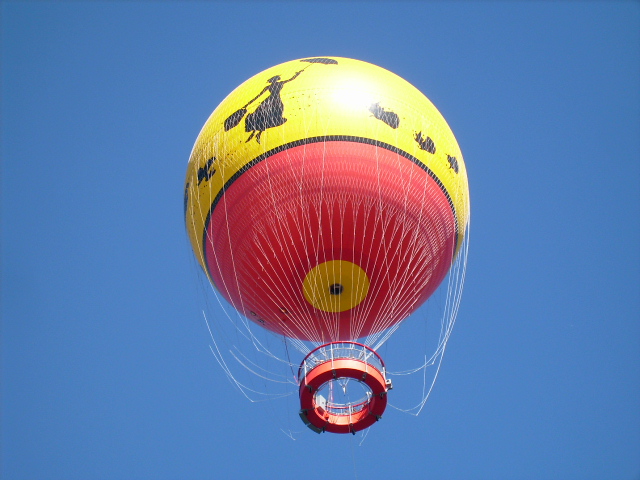 Disney Springs is a must do stop on your solo vacation. While there you'll be able to shop, dine, and enjoy some incredible entertainment.
19 – Free Parking
You can park for free at Disney Springs. If you want to see the other resorts throughout Walt Disney World, you can use the buses for free and you can even do some theme park hopping.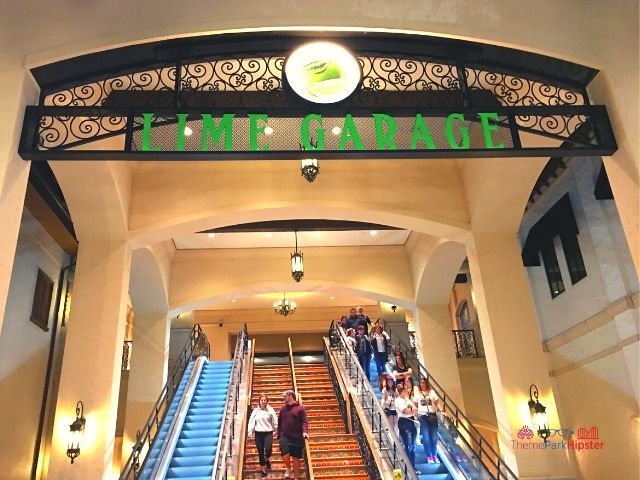 20 – Enjoy the Outdoor Play Area and Fountains
Disney Springs has a free outdoor play area with interactive fountains that are perfect for cooling off on those hot Florida days.
21 – Play with LEGOs
The Lego Imagination Center is filled with thousands of LEGO blocks. It also has a free outdoor play area over 3,000 square feet.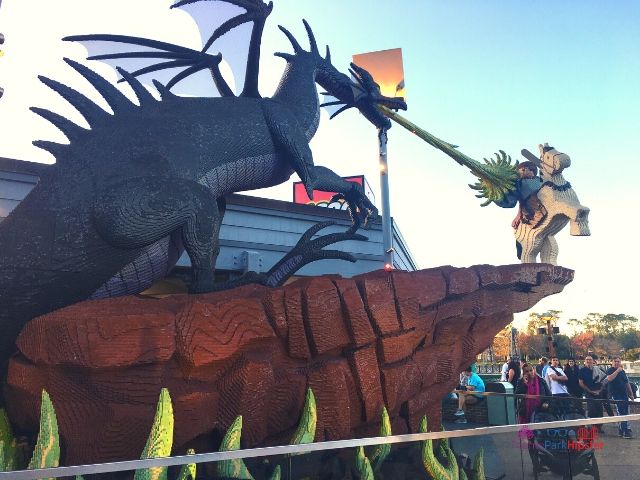 Once a month, there's a mini model build that usually falls on the first Tuesday. Children ages 6-14 can even take home a free mini model at the event!
22 – Taste Free Chocolate Samples at Ghirardelli in Disney Springs
In the Ghirardelli Chocolate Shop, a Cast Member near the entrance will be there with a basket handing out free squares of Ghirardelli chocolate.
The best part about this Disney Freebie is that the samples change for each season! So, be sure to grab your free chocolate sample!
23 – Enjoy Welcome Center Amenities for Free
Inside the Welcome Center, you'll be treated with free cold water, air conditioning, and some comfy chairs to take a break from all your shopping.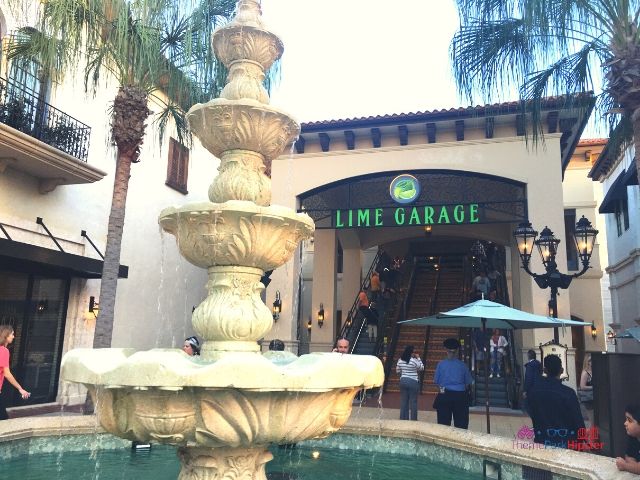 You can also get any additional Disney information you may need from Cast Members inside.
24 – Enjoy the Free Live Entertainment
Disney Springs has so many local bands for you to enjoy. You can find them in areas such as:
The Westside food truck courtyard area
Area near Paddlefish
Next to Ghirardelli Chocolate Shop
By the Orange parking garage
Disney Springs entertainment usually starts around 7 p.m. during most evenings during the peak season.
The perks don't stop there either.
In addition to the free things to do at Disney, there are a variety of souvenirs you can pick up before you exit the parks at no additional cost to you.
Free Souvenirs at Disney World (Things to Take Home)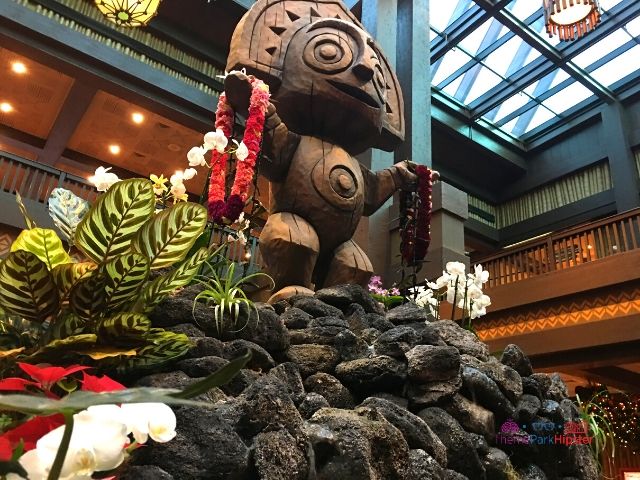 Part of the magic at Disney are the mementos you can take with you to remember your day at the park(s).
25 – Grab Free Epcot Crafts
If you're the crafty type, you can enjoy the free crafts from around the Epcot World Showcase. It's one of the best Epcot free souvenirs to grab on your trip.
26 – Get a Passport from the Various Epcot Festivals
The festival passport is a pamphlet that allows you to personalize it with your name, country, date issued, and date of completion.
It also includes the locations of the topiaries, the outdoor kitchen offerings, merchandise options, and concert information.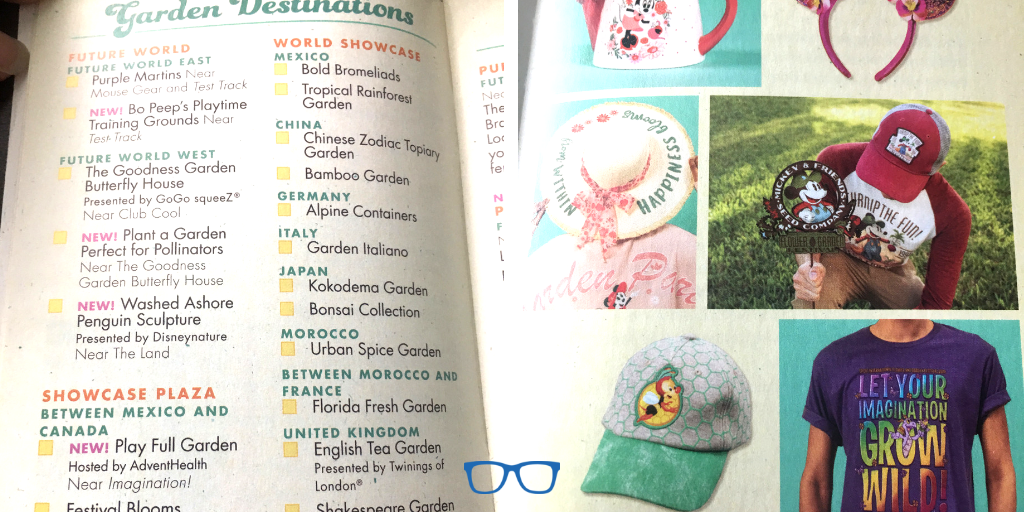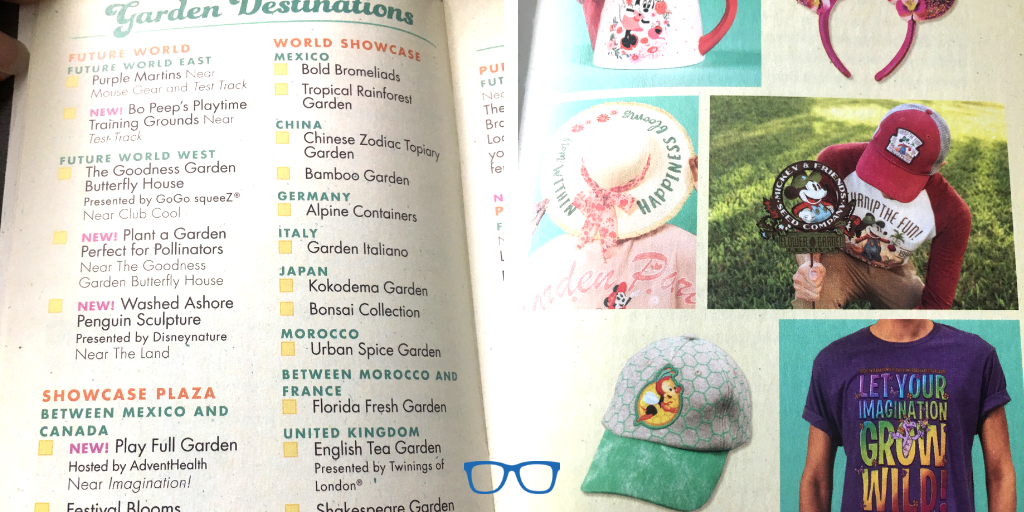 Stickers are also included for you to mark off which kitchen or booth you've visited.
You can find this free Disney booklet during the Epcot Food & Wine Festival, the Epcot Flower & Garden Festival, and the Epcot International Festival of the Arts.
Read: What You Need to Know About Epcot's Yearly Festivals
27 – Get a Free Disney Stickers
Throughout Walt Disney World property you'll find various Cast Members carrying around Disney-inspired stickers. They love passing them out to the little ones, but don't be afraid to ask for one for yourself.
They're always at any of the Disney Vacation Club stands.
28 – Grab a Celebration Button
If you are celebrating a special moment in your life like a birthday, anniversary, or first visit to Disney, then make sure you stop by Guest Services at any Disney Park and receive your very own celebration button.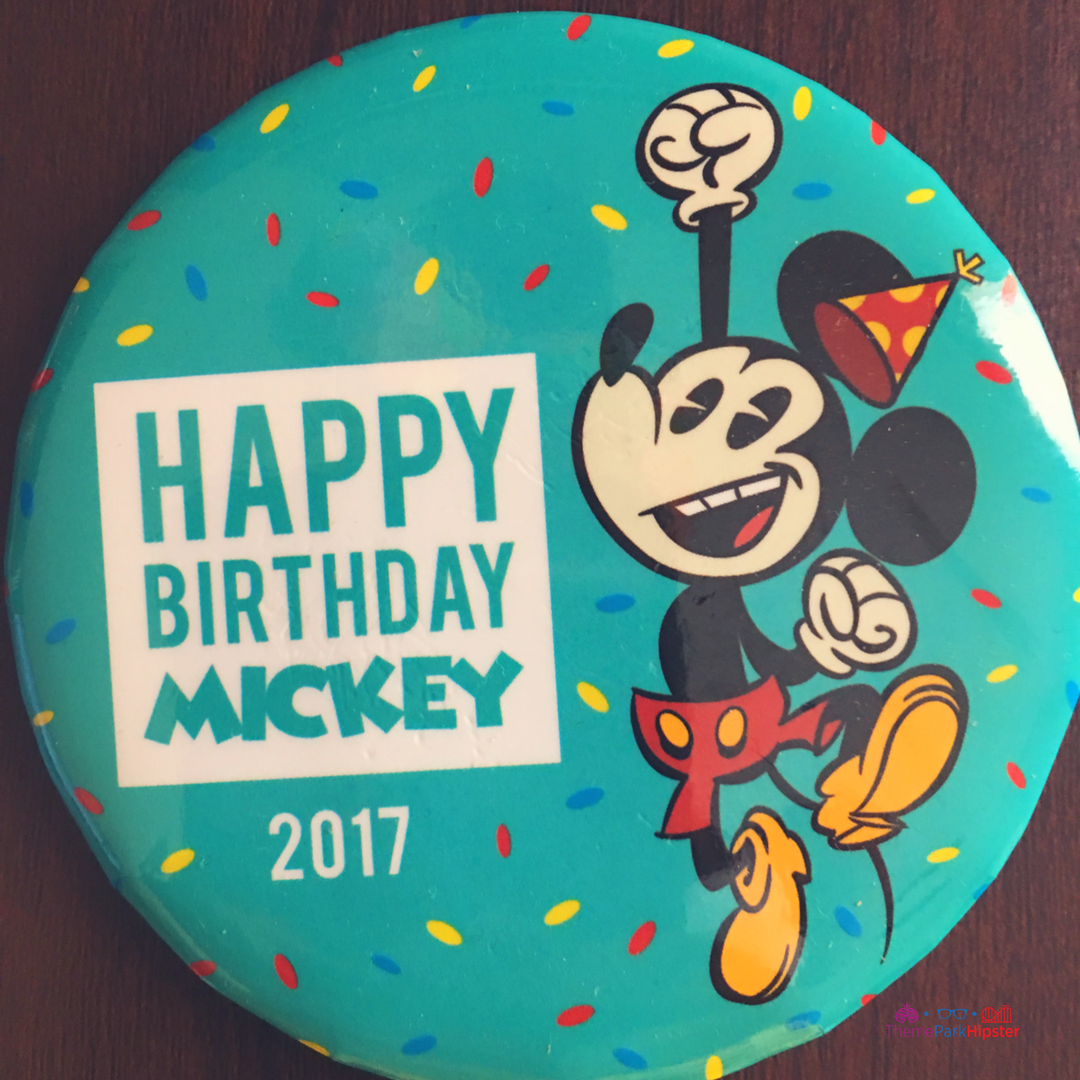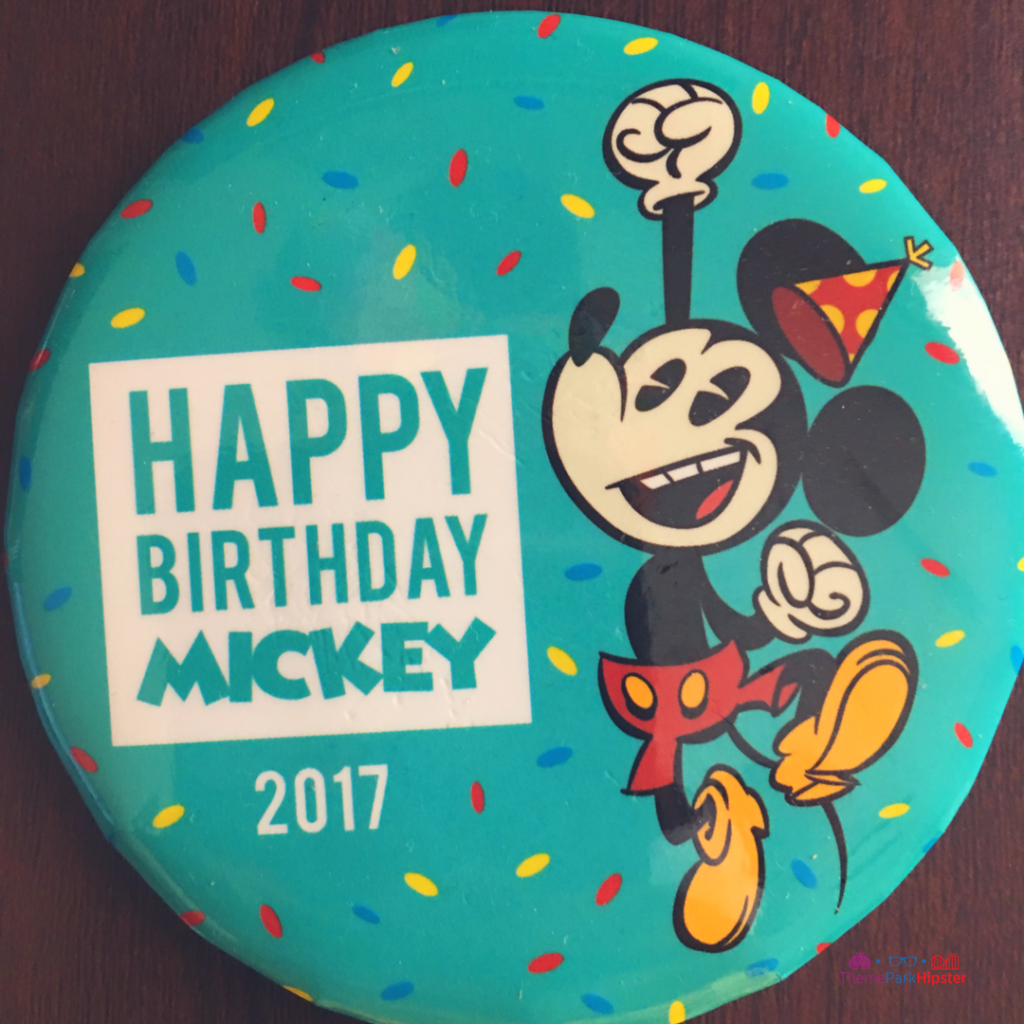 29 – Pirates Adventure Maps
At the Magic Kingdom you can join the swashbuckling voyage in an interactive game inside Adventureland. During the game you'll receive a free map that will help guide you on your journey to hunt for secret treasures!
Both the map and the game are free!!!
Read: 21 Magnificent Things You Must Do at Magic Kingdom – The Ultimate Checklist
30 – Watch Free Disney Vacation Videos
Before your trip, you'll want to watch the free Disney vacation planning videos that give a full breakdown on what to expect at Walt Disney World.
A new one comes out each year and it's a perfect way to get excited for your solo Disney trip!
31 – Start Collecting Sorcerers of the Magic Kingdom Trading Cards
Sorcerers of the Magic Kingdom Cards game's objective is to stop Hades' grand plan by defeating Disney villains who can be found in portals throughout the park.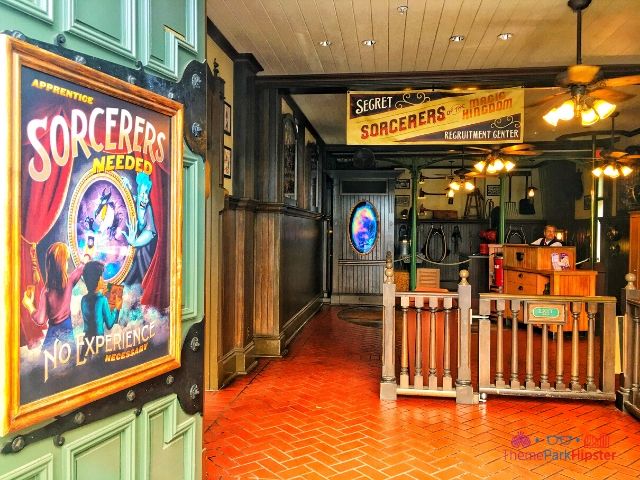 There are 60 cards you can get for free that are given out in blind packs of 5.
Each time you start a new game, you'll receive a fresh pack of cards. However, each new pack is only given out once per day to the same person.
32 – Collect Disney Park Guide Maps
These are my favorite Disney freebies!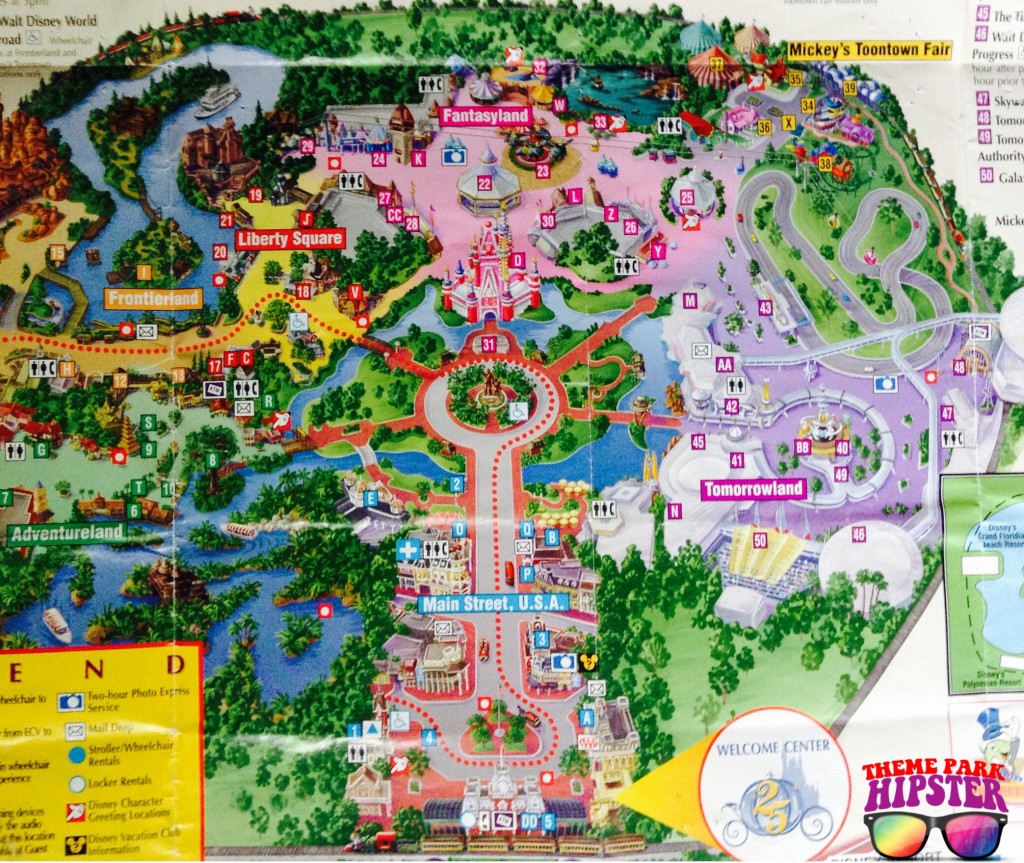 I have been collecting theme park maps since I was a child and love watching just how much they've change throughout the years.
They are great souvenirs to help you remember you amazing Walt Disney World vacation!
33 – Collect Free Wilderness Explorer Badges
You can collect the Wilderness Explorer Badges at Animal Kingdom like the ones Russell would get in the movie Up.
34 – Get Your Free Wilderness Explorer Souvenir
Become a part of the explorer society with Russell and go on a scavenger hunt all around Animal Kingdom using your Wilderness Explorer booklet.
This is a free activity and a great souvenir to take home.
Free Things at Disney World for Your Birthday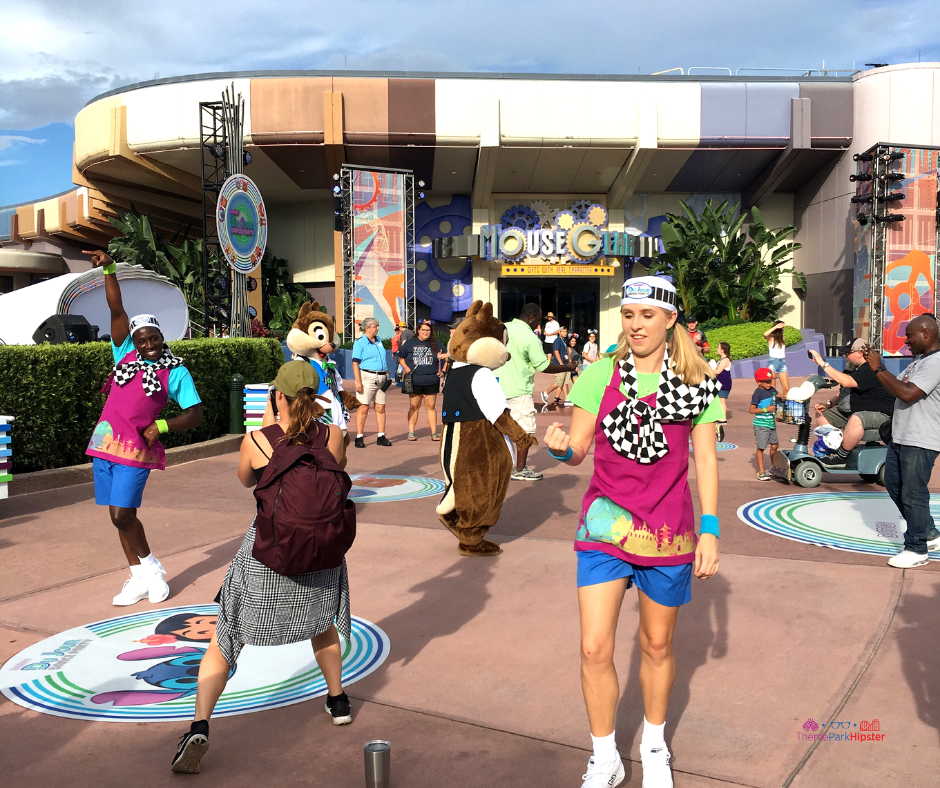 35 – Enjoy Magical Moments
Disney Cast Members looooove making you feel special on your birthday. So, be sure to pick up your special birthday badge from Guest Services that way you'll have lots of birthday surprises during your Disney vacation.
You never know what free upgrade you may get!
36 – Have Free Starbucks Drink at Disney Springs
If you sign up for the Starbucks Rewards program, you'll be eligible to receive a free drink on your birthday from the Starbucks location inside Disney Springs.
37 – Enjoy a Free Birthday Dessert
On your birthday, make sure you mention the special day to your restaurant server. It's Disney, so plan on them giving you something sweet to commemorate your day!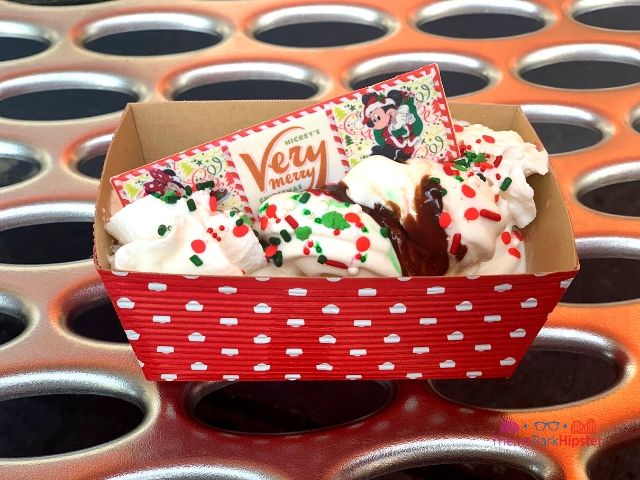 38 – Get Your Sprinkles Birthday Cupcake
If you sign up for the Sprinkles Perks, you'll be eligible to get a free cupcake for your birthday. This is valid for the Disney Springs location.
39 – Enjoy a Free Steak on Your Birthday from Shula's
Shula's is top-rated steakhouse on Walt Disney World property. This restaurant is located inside the Dolphin Resort. Shula's has a rewards program that allow you to have a free entrée on your birthday with the purchase of another entrée.
You can learn more about the Team Shula rewards program here.
40 – Grab Your Free Birthday Sandwich in Disney Springs
At Earl of Sandwich, you can sign up for their loyalty program which allows you to get a free sandwich on your birthday.
As you can see, you can have a day where every meal is completely free for you on your birthday at Disney World.
Can you think of any other birthday freebies I might be missing? Please let me know in the comments section below. I'd love to add your suggestion to this article!
Disney Freebies for Annual Passholders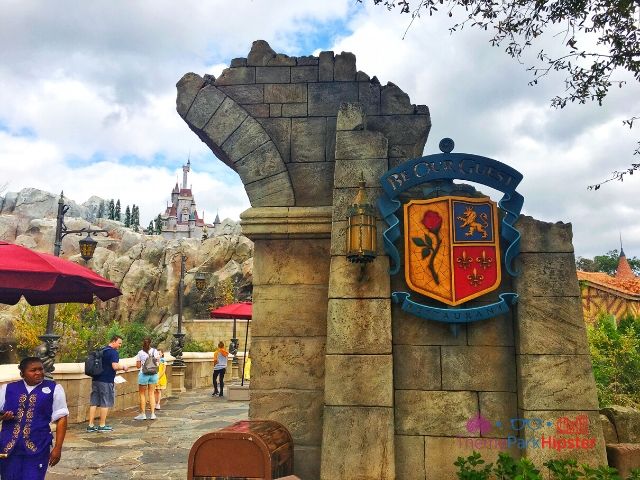 41 – Take Advantage of Free Parking
If you're a Disney Annual Passholder, then be sure to take advantage of the free parking at the Disney Parks.
42 – Pick Up Your Free Epcot Food and Wine Festival Souvenirs
As an Annual Passholder, you can get free and exclusive Epcot Food and Wine Festival mementos. The past few years we've been given wine glasses, well-designed beverage cups, and car magnets.
Hipster Power Tip: Look for some more Passholder freebies at the other Epcot Festivals.
43 – Download Your Free PhotoPass Pictures
As if being an Annual Passholder wasn't awesome already, if you are a Platinum or Platinum Plus Annual Passholder, then you are able to receive unlimited PhotoPass photos.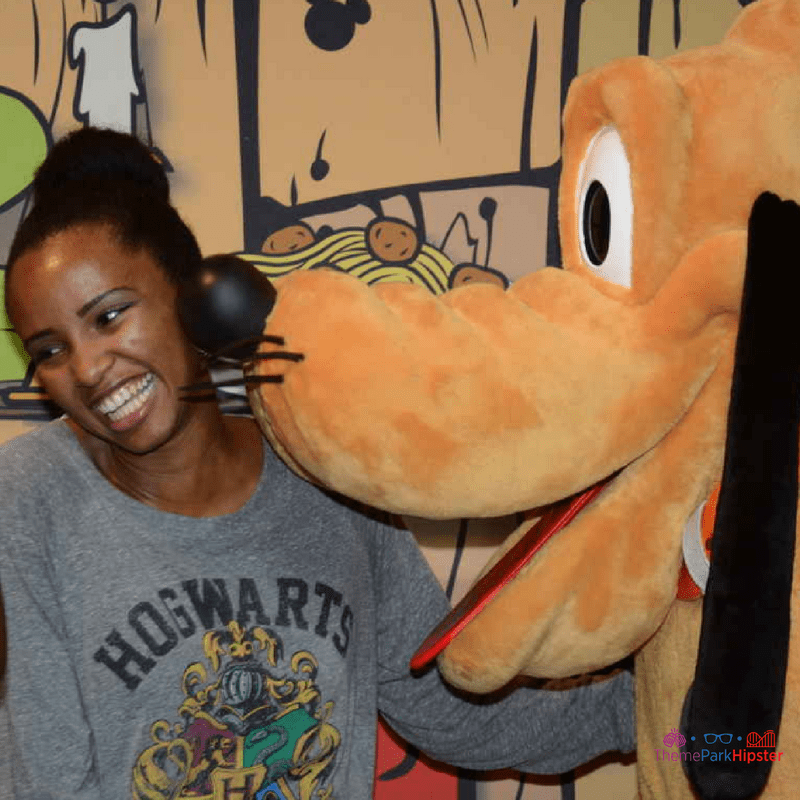 The pictures will be connected to your MagicBand once the photos are taken by Cast Members or captured on the Disney rides.
You'll then be able to download your photos from your MyDisneyExperience account.
44 – Order Your Free MagicBand
If you are an Annual Passholder or if you have a Walt Disney World Resort vacation package, then a free personalized MagicBand is included with your purchase.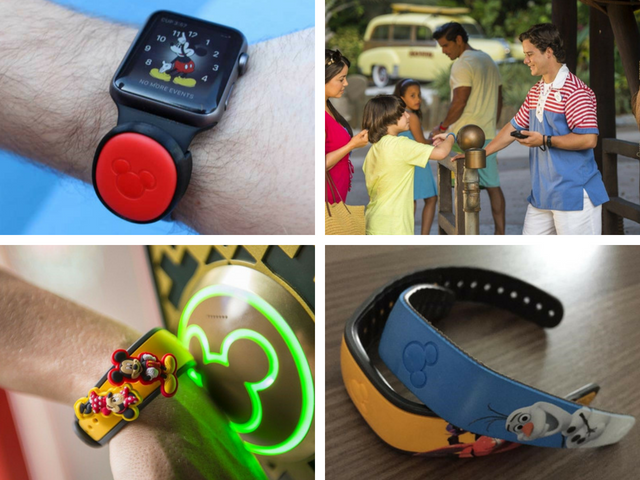 Listen: How to Use Your MagicBand for Your Disney Trip
Secret Free Stuff at Disney World
Did you know that there are some secret Disney World freebies that many people do not know about? Let's go through a few below.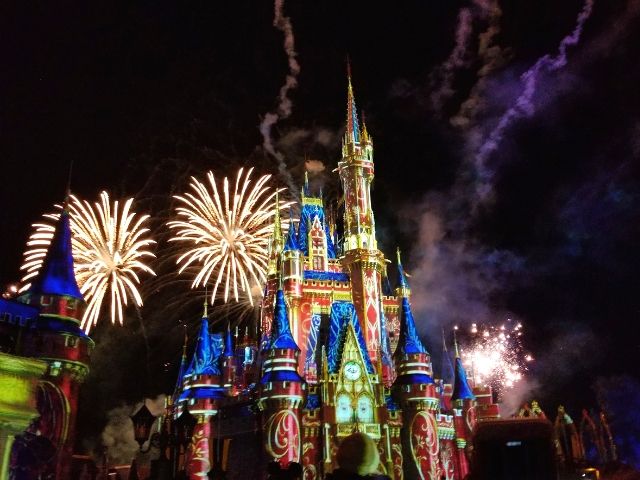 45 – Get Free Pirate Flags
If you're one of the first visitors at Pirates of the Caribbean in the Magic Kingdom, you may be given a special pirate flag for free!
46 – Pick Up Your Free Transportation Cards
Cast Members working in the different transportation areas may have free transportation cards for you. You can find these in the following areas:
Monorail Station
On the Busses
Boat Docks
On the Ferries
47 – Get Pixie Dusted
In the Magic Kingdom, you can head into the Harmony Barber Shop to get a little sprinkle of pixie dust.
You can also head over to Hollywood Studios and get pixie dusted by a Cast Member usually hanging around the Center Stage section of the park.
48 – Enjoy the Free Special Resort Secret Activities
You may not know it, but may of the Disney resorts have some cool resort amenities like:
Cast Member storytelling
Coloring
Crafting
Hidden Mickey scavenger hunts
Resort pool games
Always check with the front desk staff for an up-to-date activity list.
49 – Get a Free Birthday Call
On your birthday, you can get a wake-up call from most popular Disney characters. Just check with front desk to let them know that you want this set up.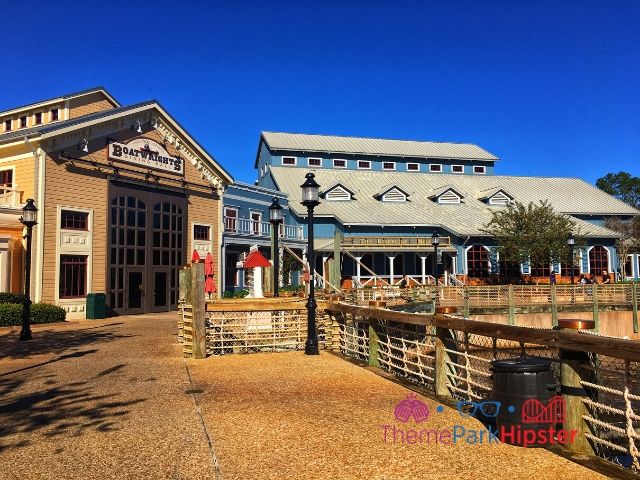 Did you know that you can possibly get the Disney characters to call you right inside the parks?
If you're lucky, a Disney Cast Member working in one of the shops may set up a little surprise for you. Hopefully, you'll be able to experience this on your next birthday trip to Walt Disney World.
50 – Get Free Basic Medical Supplies
You may not know it, but each Disney World park has a medical center. Here you can get basic medical items like Band-Aids and common over-the-counter products to help your day go smoother.
51 – Hike The Disney Wilderness Preserve for Free
This Disney freebie is about 20 miles from the parks and includes more than 1,000 species of plants and animals on 11,500-acres. The Disney Wilderness Preserve if free for you to hike and is an essential part of the Everglades ecosystem with 3,500 acres of restored wetlands.
The Disney Wilderness Preserve hours are from 9 a.m. to 4:30 p.m., but please call ahead before your visit to make sure that the reserve is open that day. You can reach them at (407) 935-0002.
Use the Free Disney Transportation
Traveling by monorail, boat, or bus is a great way to travel considering the value of a relaxed, air-conditioned ride at a $0.00 price tag.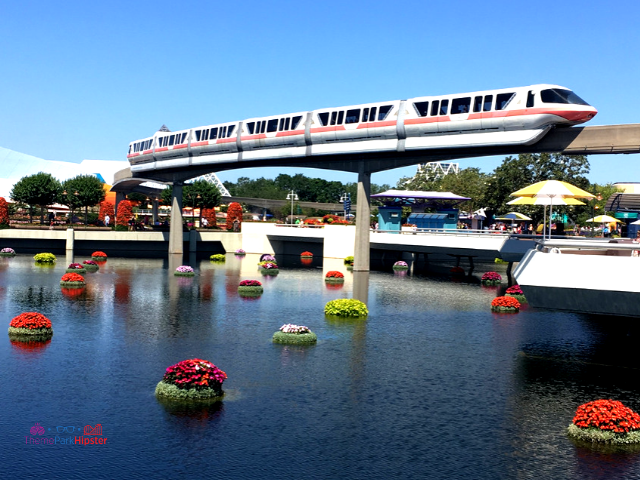 52 – Ride the Monorail for Free
You can experience one of Disney's most magical forms of transportation, the Monorail.
The Monorail "ride" takes you to all three resorts (Polynesian Resort, the Grand Floridian Resort and Spa, and the Contemporary Resort) on the Magic Kingdom loop.
You can also use the Monorail to get a sneak peek to the inside of Epcot.
To get to the Monorails you will need to take a bus ride to one of the Monorail resorts. Once there, just hop on the Monorail and enjoy your ride.
Hipster Power Tip: Parking for free at Disney Springs to catch the bus to a resort is cool, just know that although you won't have to pay with money you will pay with time. Traveling on the buses at Disney can eat up a lot of your travel time.
53 – Take a Boat Ride
Boat rides are especially family friendly and can even be rather romantic if you travel by night.
The boats visit Contemporary Resort, Fort Wilderness, Magic Kingdom, and even the Wilderness Lodge. There are also boats that head to Grand Floridian and Polynesian giving you plenty of free options to choose from.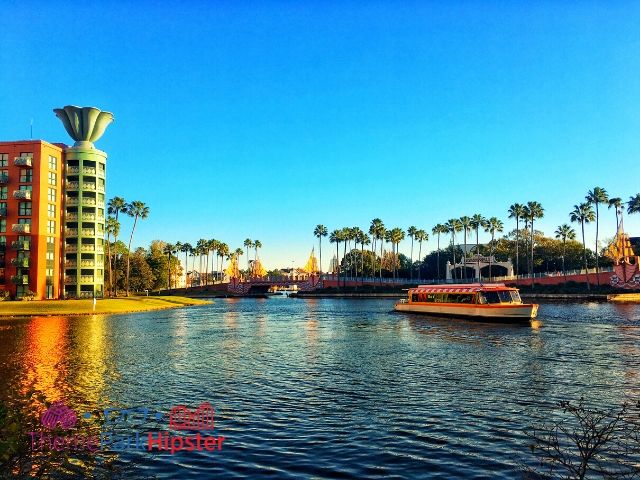 More Disney Boat Routes to take:
Crescent Lake area around the Epcot resorts (Boardwalk, Yacht and Beach Club, Swan and Dolphin, and even Hollywood Studios theme park)
Sassagoula River area around Disney Springs (Port Orleans and Old Key West)
54 – Take Advantage of the Magical Express
Disney Magical Express is a free airport transportation service offered by Disney if you plan on staying at their resorts.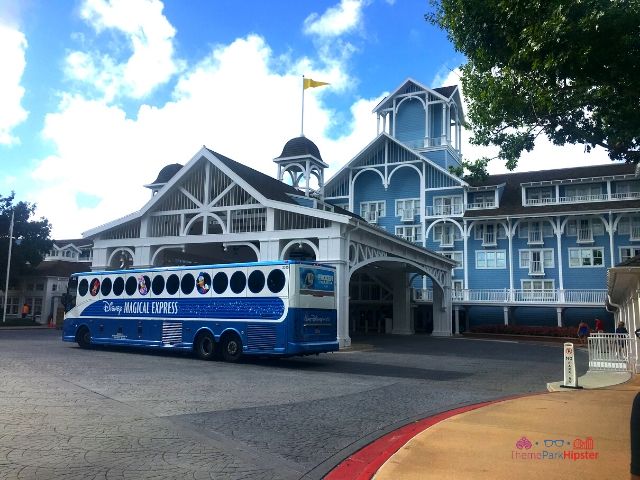 The Disney Magical Express buses were made to make your trip much easier by dropping you and your luggage off at your Disney Resort hotel.
55 – Use the Free Disney Buses
You can use the Disney buses for free to get throughout all of Walt Disney World Resort. Just park your car at Disney Springs and enjoy your magical adventure discovering the area.
Hipster Power Tip: You can now use the new Skyliner transportation to enjoy the Hollywood Studios and Epcot are resorts!
Other Free Stuff at Disney World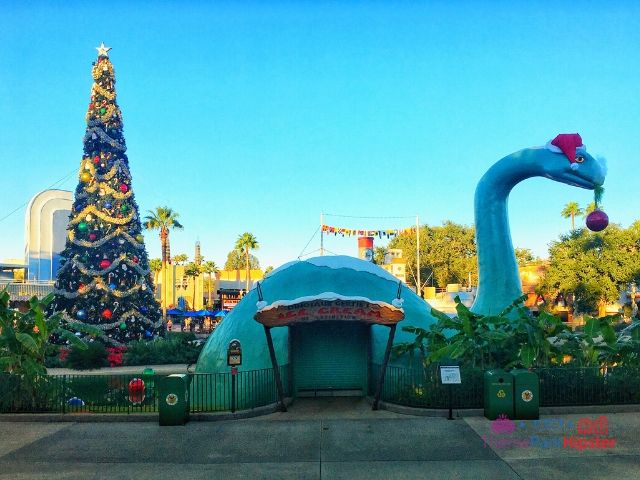 56 – Free Water at Disney World
You can get courtesy cups of ice water at theme park kiosks and most quick service locations to keep you hydrated while you brave the hot sun.
57 – Get Your Disney Shopping Items Delivered to You for Free
You are able to get your packages delivered for free from the Disney World gift shops to your hotel.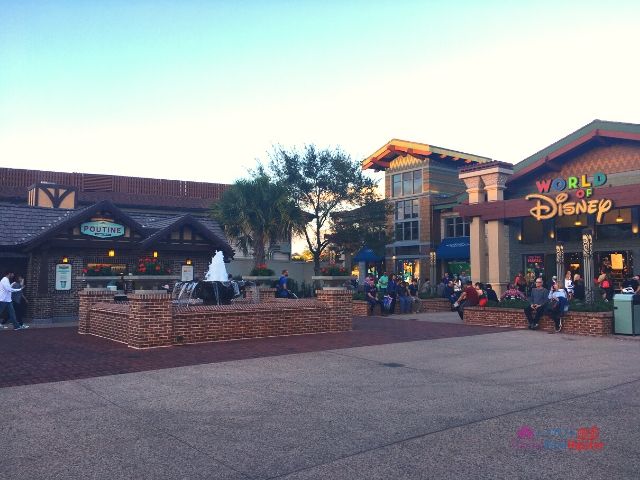 So, you won't have to stress about whether you'll have to carry all your Disney goodies around with you for the whole day.
58 – Watch Free Concerts at Epcot
Be sure to watch one of the free concerts that take place throughout the year at Epcot. You can watch popular bands like Boyz II Men at events such: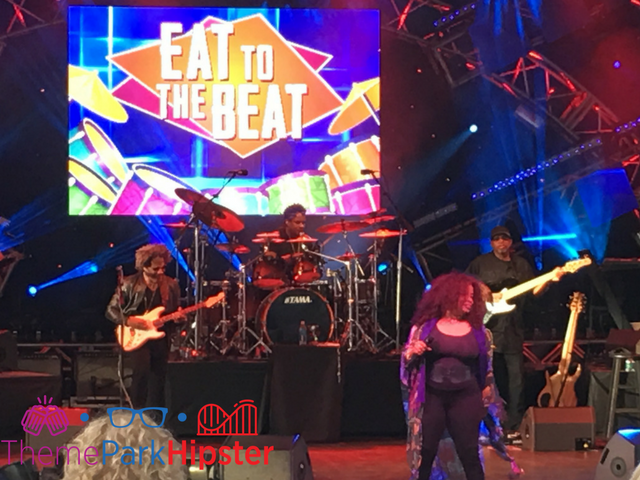 This is the perfect way to enjoy all of the festival food, drinks, and culinary adventures with a musical treat to end the day.
The annual concert series usually features popular bands from the 80s, 90s, and the 2000s. It takes place on the American Gardens Theater stage in the American Adventure Pavilion at Epcot.
59 – Get as Many Autographs as You Can
If you're a true fan of the Disney magic, then you have to plan out your character meet-and-greets to get those coveted autographs.
Hipster Power Tip: Some resorts have character breakfast experiences for you to meet them instead of going into a Disney theme park.
60 – Collect Your Free Timon & Pumba Safety Cards
You can collect a total of 22 Wild About Safety collectible cards throughout the Walt Disney World Resort. These free cards feature Timon and Pumba who help you learn about park safety.
This is such great free souvenir for you to take home from your Disney vacation!
61 – Free Character Photo with a Disney Visa Card
You can be eligible for a free souvenir 5×7 picture with a Disney Character at Epcot's Future World from 1 p.m. to 7 p.m. This freebie will apply to you, if you're a Chase Card Member that has a Disney logo or Disney inspired debit or credit card.
62 – Pin Trading
Trading Disney-inspired pins is a cultural phenomenon in the Disney community. It's a fun new hobby for you to try on your solo trip.
Plus, you can trade with any Cast Member anywhere in Walt Disney World.
63 – Complete the Agent P's World Showcase Adventure (Rumored to be replaced with Disney's DuckTales World Showcase Adventure)
This activity involves guests trekking around the countries of World Showcase to defeat Doofenshmirtz's evil plot.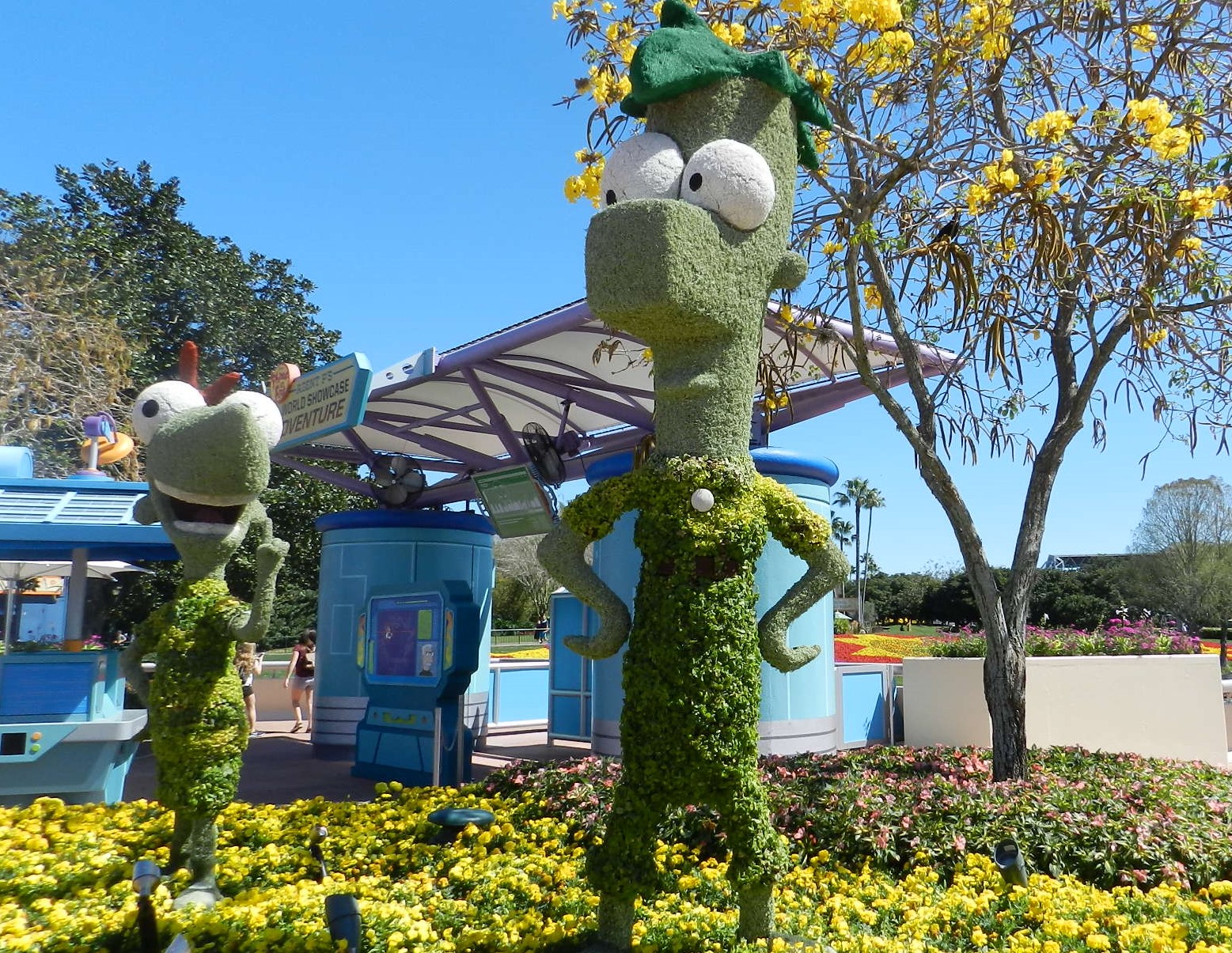 I did this once in the Norway Pavilion, but I would like to complete each conquest in all the World Showcase countries.
64 – Have Your Own Hidden Mickeys Scavenger Hunt
Hidden Mickey's can be found all over the Walt Disney World Resort area. Even in the most uncommon places, so keep your eyes open.
Hipster Solo Trip Challenge: Create your own list of each Hidden Mickeys you want to find on your next Walt Disney World vacation?
You can get the full list of Hidden Mickey's here!
65 – Look for Instagram-worthy Photo Spots
You can create your own free photo shoot around some of the most colorful places outside the Disney Parks. These resorts are the most Instagram-worthy locations to make any of your friends jealous!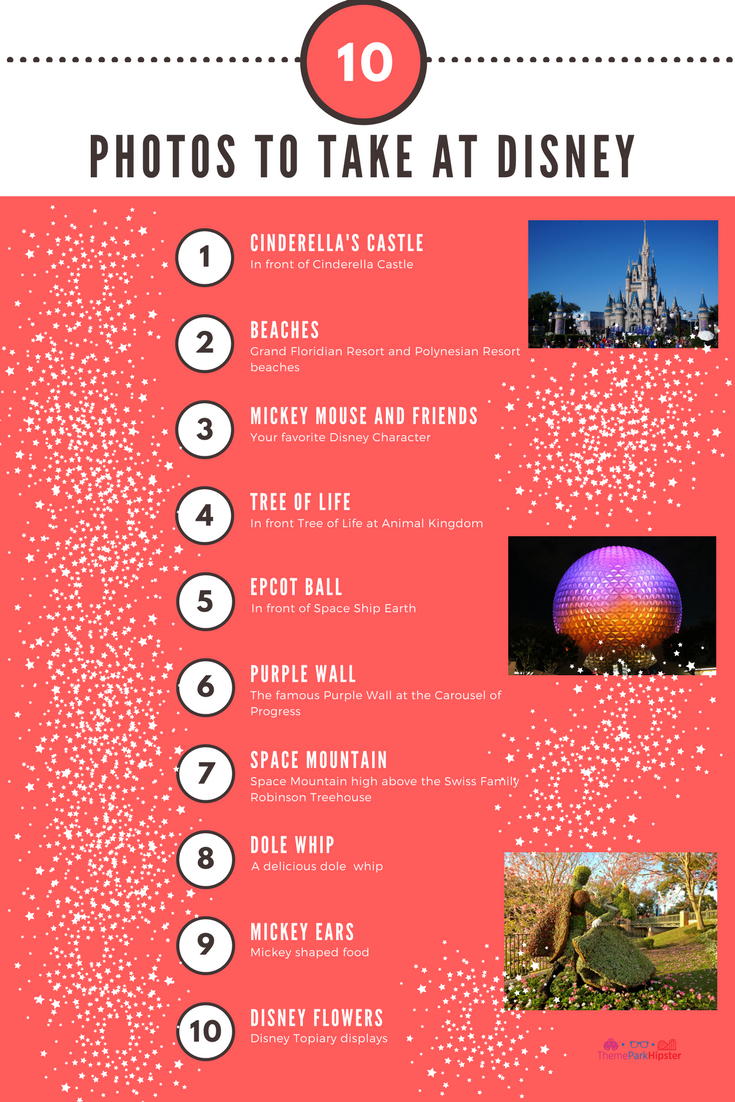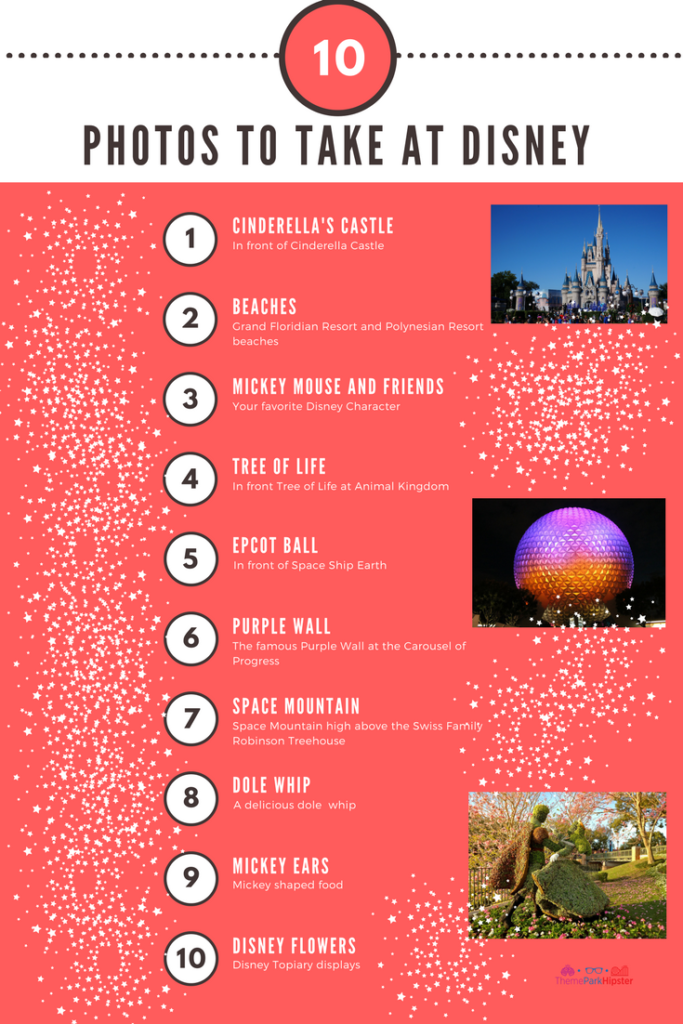 Best Disney Resorts to Take Photos:
Disney's Art of Animation Resort
All Star Sports Resort
Disney's Pop Century
66 – Use the Free Wi-Fi Throughout the Disney Parks
You will not have to worry about Wi-Fi on your Walt Disney World trip. Every Disney Park and resort comes with free Wi-Fi to the public.
67 – Get Free Disney Vacation Planner
You can sit back and relax while an authorized Disney Vacation Planner plans your whole trip for you for FREE!
A Disney travel agent is a specialist in all things Disney. They stay up to date on all the upcoming attractions and can customize your itinerary based on all the interests of you and your family.
Many agents even attend a special Disney college to make sure they know the best way to put your package together.
68 – Enjoy Free Wine Tasting at Jiko
Did you know that you can enjoy a free wine tasting at the Animal Kingdom Lodge Resort?
On Wednesday's a Disney sommelier takes you on an African journey of wines paired with delicious cheeses from this beautiful continent. And like I previously mentioned, it's FREE!
Free Things to Do Outside of the Disney World Parks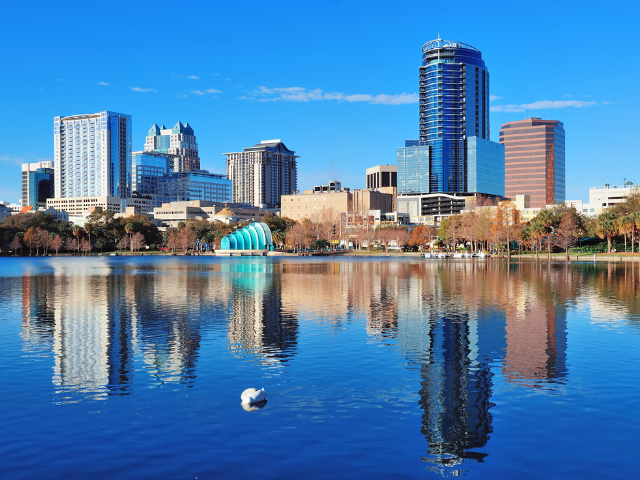 69 – Tour Celebration, Florida
Market Street, located in Celebration, Florida, has monthly events like car shows and craft festivals that vary throughout the year.
These events are often season-themed like the "Now Snowing Nightly" event that features "snowfall" about four times a night complete with visits from Santa.
The price?
Zip. Zilch. Nada!
Celebration is just a ten-minute drive south of Walt Disney World and was a planned community initially established by the Walt Disney Company.
More free things to do in Celebration, Florida
Enjoy the Lakeside Boardwalk
Walk around the shops on Market Street
Discover the Bohemian Hotel Celebration
70 – Explore International Drive
International Drive is a walkable area in the heart of the Orlando tourist scene. It's filled with world-class attractions, entertainment, dining and shopping fun that is perfect for a quick getaway from the parks!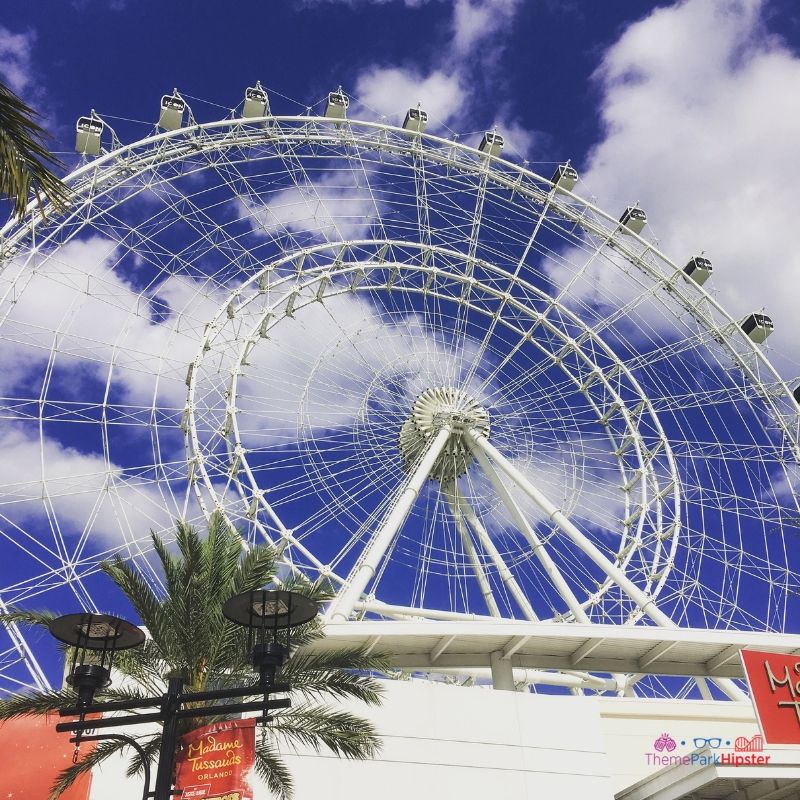 I recently had an amazing first-time experience doing the Orlando Game Room challenge.
Questions You May Have About Finding Free Things to Do at Disney World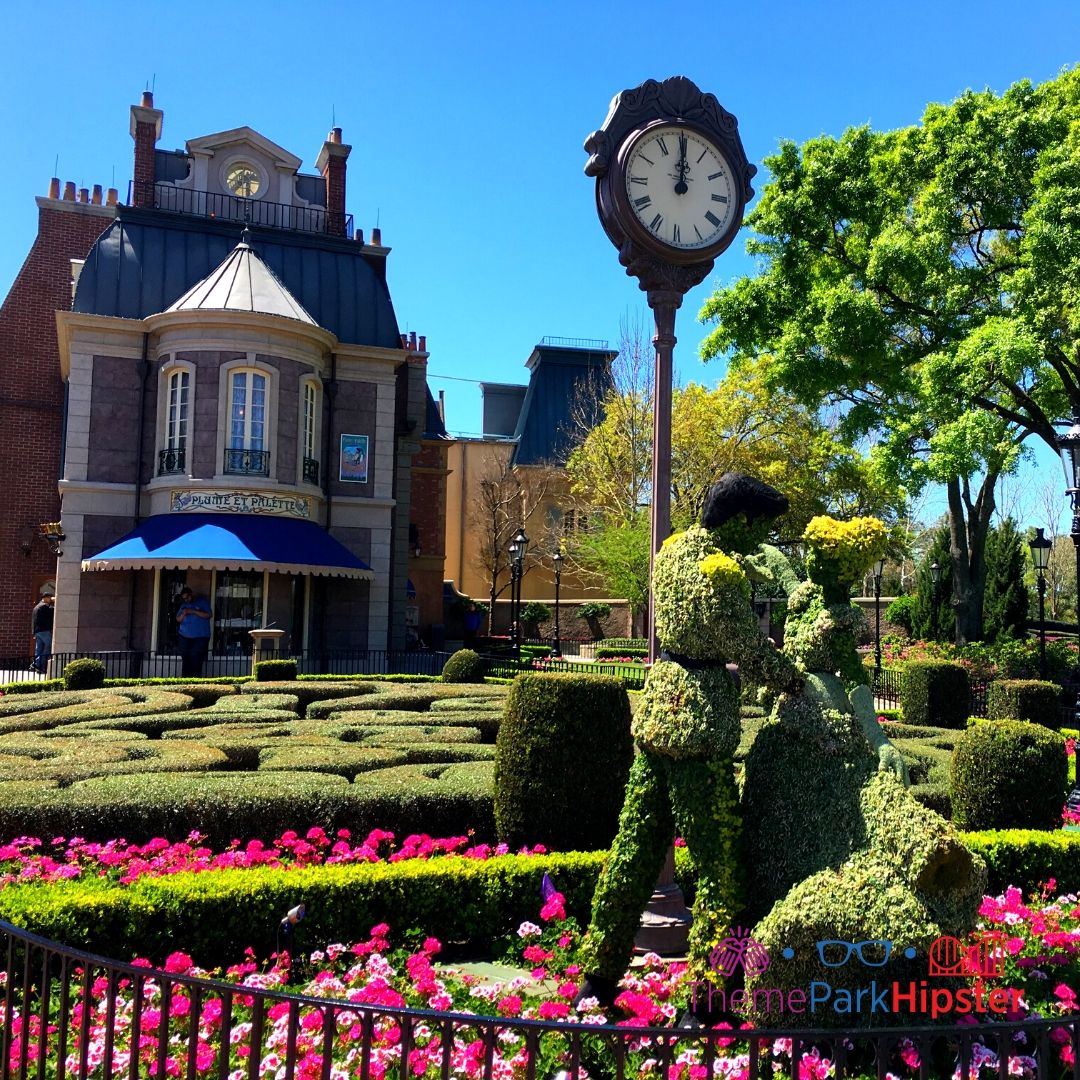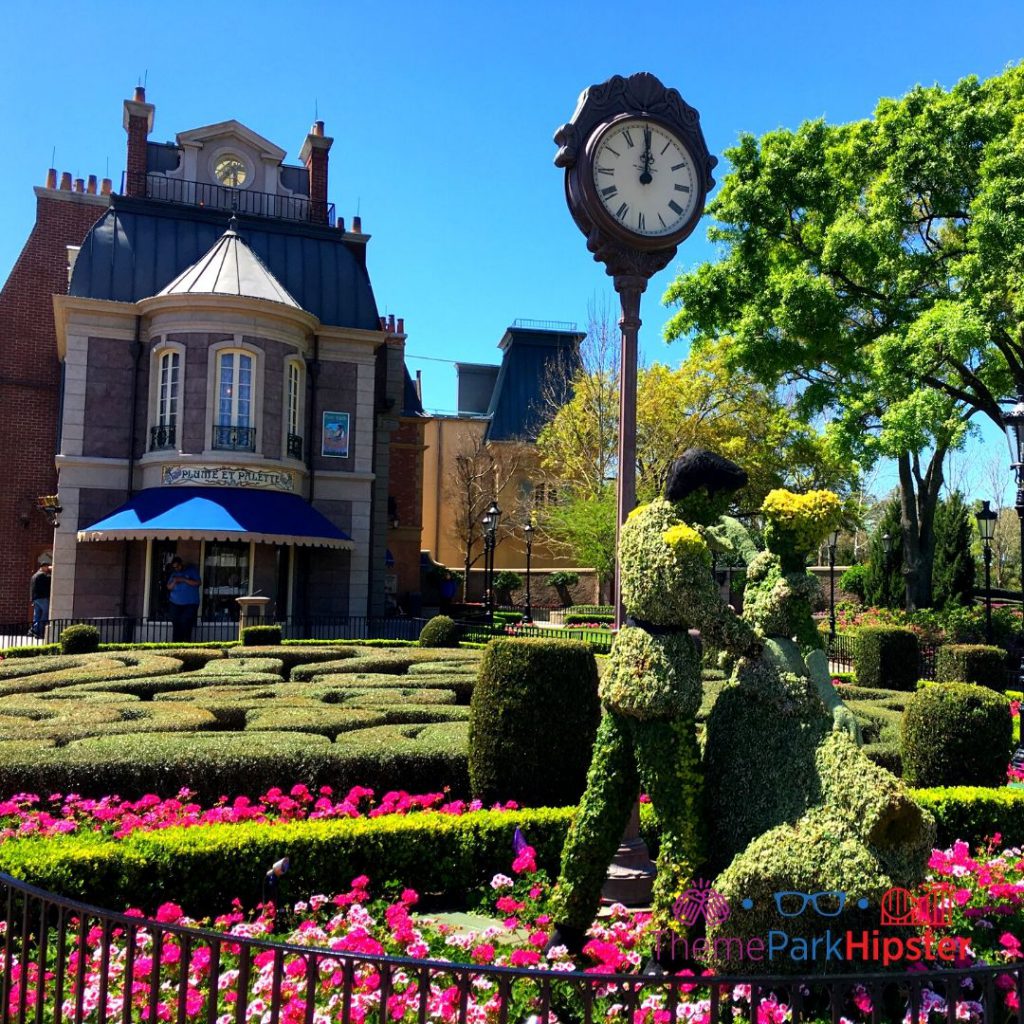 Is Disney World free on your birthday?
Walt Disney World is still the ultimate place to celebrate your birthday!
In 2009, they had one of the best promotions going on called "What Will You Celebrate." This incredible yearlong promotion allowed you to come to any of the Disney Parks for free on your birthday.
Unfortunately, the deal ended on December 31, 2009.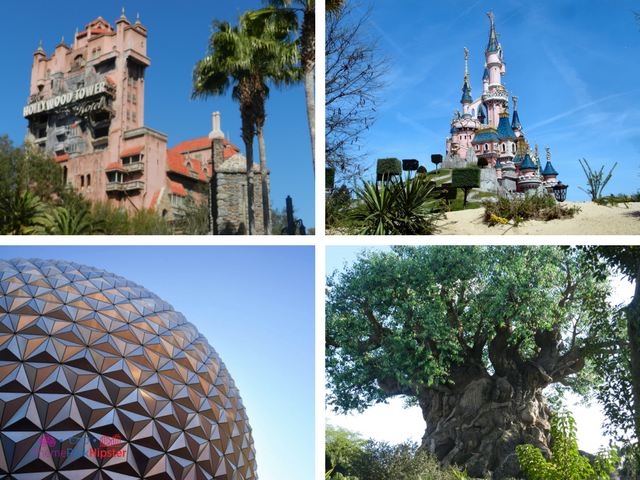 Remember that you can always get cool Disney Freebies on your birthday such as the Happy Birthday button from Guest Relations and possibly some free dessert if you continue to let Cast Members know it's your big day!
Read how to have the best birthday trip to Walt Disney World!
How can I do Disney for cheap?
Now that's a big question to answer. In order for you to conquer your trip to Disney World at a good cost, you'll have to budget appropriately.
Yeah, I know we all hate that word budget, but in order for you to make the most of your money you have to think about these five things:
Which park or parks you want to visit?
What will be the total cost of your trip?
How to save for Disney in 6-months?
When to book your vacation?
How to track your spending while on vacation?
I recommend buying the multi-day ticket if you're planning a vacation or visiting Walt Disney World for more than three days in one year.
Plus, you can save $20 when purchasing the 3-day or longer tickets online.
Booking through certain travel agencies or authorized Disney planners gives you an opportunity to set up a payment plan. Once you've paid for half of your vacation, continue saving the other 50%.
Final Thoughts
Despite the fun, visiting Disney can get very expensive, very quickly–especially if you're not traveling alone.
Even so, there are a few gems you can do without adding to your total vacation costs. Sightseeing at Disney World certainly doesn't disappoint!
I hope this list of free things to do at Disney World helps you successfully plan your next theme park trip!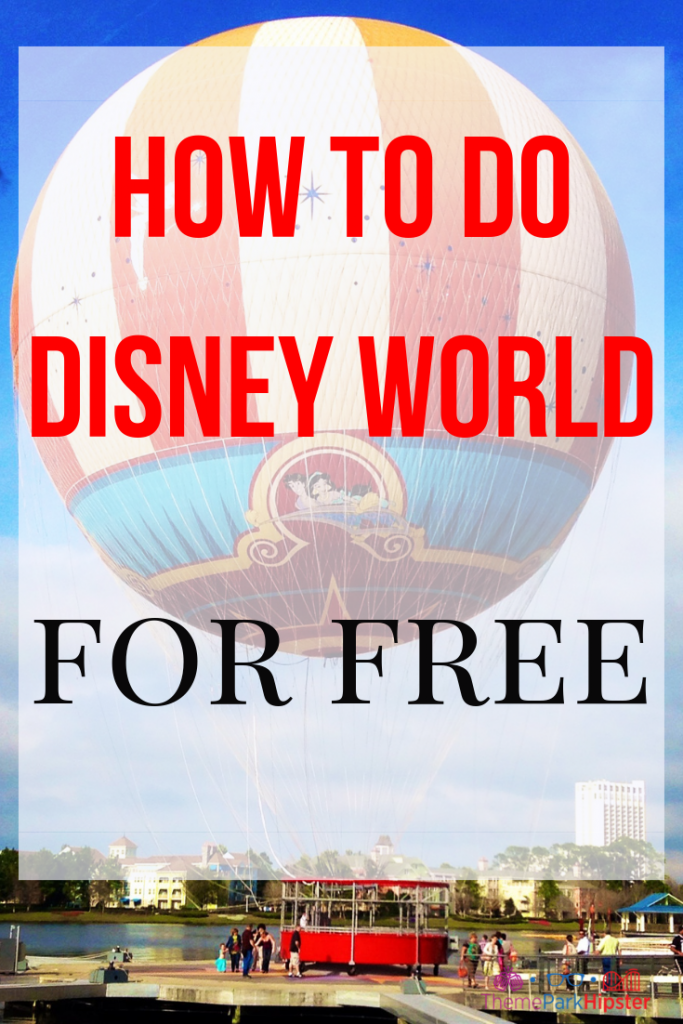 ---
Get more of your Disney questions answered below:
Until next time, Happy Park Hopping Hipsters!
NikkyJ
(Original date June 2018/Updated May 23, 2020)