What do you call an experience globetrotting the many cuisines of multiple countries and eating the best food in one day? I call it Tasting Your Way Around the World through the Epcot Food and Wine Festival menu!
The past events have been really peaceful and enjoyable especially with good friends. I was able to taste most of the new Disney food and wine festival dishes and cocktails just for you.
Plus, I want to show you some of the best food at Epcot Food and Wine Festival from the past years.
THIS POST MAY CONTAIN AFFILIATE LINKS. PLEASE READ MY DISCLOSURE FOR MORE INFO. Thank you!
Listen to the Podcast Episode 57 of the Best Food at Epcot Food and Wine Festival Below
Top 15 Best Food at Epcot Food and Wine 2022
Over the past few years, there have been some incredible food at Walt Disney World. But during the Epcot Food and Wine Festival, there's so much international cuisine to choose from that you'll leave highly satisfied and a bit lighter in your wallet.
This past year is filled with so many delicious dishes that I'll know you'll find a few winners on your trip such as:
A Warm Raclette Swiss Cheese with Baby Potatoes, Cornichons and Baguette (The Alps
Soy-Glazed Sticky Ribs with Green Onions and Peanuts (The Swanky Saucy Swine)
Frozen Apple Pie (Appleseed Orchard)
The Belgian Waffle with Warm Chocolate Ganache (Belgium)
Pão de Queijo: Brazilian Cheese Bread (Brazil)
Frozen Caipirinha with Cachaça (Brazil)
Garlic-Parmesan Wings with Celery and Ranch (Brew-Wing in the Odessey)
Canadian Cheddar and Bacon Soup served with a Pretzel Roll (Canada)
Oysters Rockefeller (Coastal Eats)
Mongolian Beef Bao Bun with Onion (China)
Fireworks: Jose Cuervo Gold Tequila, Smirnoff Vodka, Orange and Mango (China)
Smoked Corned Beef with Crispy Potatoes, Cheese Curds, Pickled Onions and Beer-Cheese Fondue (Flavors From Fire)
Brioche aux Escargots, Sauce Crème à l'ail et Persil: Escargot Brioche with Creamy Garlic and Parsley Sauce (France)
La Passion Martini Slush: Vodka, Grey Goose Le Citron, Cranberry and Passion Fruit Juice (France)
Fry Flight: Sea Salt and Malt Vinegar Fries (plant-based), Barbecued Bacon Fries with Smoked Aïoli, and Sweet Potato Casserole Fries with Candied Pecans, Toasted Marshmallow Cream and Caramel Whisky (The Fry Basket)
Ready to start planning your next Disney World vacation? Listen to the latest podcast episode on Apple or on your non-Apple device now!
Enjoying the Best Food from the Epcot Food and Wine Festival Through the Years
One of the fun things to do at the Epcot festival is to participate in the incredible beverage seminars.
It's an absolute must do if you're a connoisseur of wine or any other tantalizing adult concoction. Sommeliers and other beverage experts share their knowledge during the 45-minute presentations.
Let's go through a few of my most memorable moments from the Epcot International Food and Wine Festival!
Murphy-Goode Winery Comes to Disney
One of the very first seminars I participated in was with the Murphy-Goode Winery presentation a few years ago.
I was able to sign up last minute for the Wine Seminar conducted by Margaret Curry of Murphy-Goode Winery from Sonoma County, CA.
Wine Tasting at Epcot
We (everyone in my seminar class) were given a nice hearty sample of the Fumé, a sauvignon blanc that gave off a nice crisp grassy, floral smell with peachy, melon hints.
The next wine was the Homefront, which was a red wine blend (syrah, merlot, petite sirah, and zinfandel) with full robust essence of black cherry, raspberry and vanilla as well as an oaky, smooth nice long finish.
Ready to plan your theme park trip? Watch the best vacation planning tips on YouTube. Get started here!
Operation Homefront Wine
The Homefront was definitely my favorite and the best thing about this wine is that for every bottle sold Murphy-Goode will donate 50 cents to Operation Homefront.
Operation Homefront is a national nonprofit that provides emergency and financial assistance to the families of service members and wounded warriors.
Have a DIFFERENT kind of Orlando vacation with a Resort home next to Disney World. Find Your Disney Resort Vacation Rental here!
More Wine – Liar's Dice
The final wine that was sampled was the flagship wine called Liar's Dice. This wine is pulled from the old vines of both Dry Creek and Alexander Valley in Sonoma County.
While drinking Liar's Dice you will not miss the dark berry smell that hits your nose quickly upon your first sip.
I was very impressed with Murphy-Goode Winery especially because they are all about the love of making great wine, priceless time with family and friends, and abundant laughter; something a ThemeParkHipster is all about.
Eating Around the World at Epcot Food and Wine Festival
After my time in the Festival Center I was ready for my senses to be overloaded with the many tastes that come with the Food and Wine Festival.
The atmosphere was alive with ThemeParkHipsters ready to conquer the "world"…well at least the EPCOT world 🙂
Scotland Comes to Disney
First stop was the new marketplace of Scotland where I sampled the Seared Scottish Salmon with Cauliflower Puree, Watercress and Malt Vinaigrette. A true highlight of 2013.
To be honest this was not one of my favorite dishes, but it was still pretty decent for an introductory item into the Food and Wine Festival.
If you are a scotch connoisseur, then you ought to make a stop at the Scotland marketplace to try the Glenfiddich® Scotch Flight (12, 15, &18 year).
Brazil Comes to Disney
Up next was Brazil where I got a bit adventurous and tried the Crispy Pork Belly with Black Beans, Onions, Avocado, and Cilantro. I was hesitant due to the term "pork belly," but this was my favorite dish this year.
The fatty layer made the crispiness of the pork very juicy with flavors that complimented each other very well. Don't let the name push you away.
You must try this dish if it ever returns to the Epcot Food and Wine Festival. I promise you will love it 🙂
Australia Comes to Disney
After Brazil I made a quick stop at Australia to undertake the pricey, but scrumptious Grilled Lamb Chop with Mint Pesto and Potato Crunchies that was succulent and perfectly seasoned which left me satisfied despite the cost.
I washed it down with my 'of age' spirit, the Singapore Sling featuring Hendrick's Gin and Cherry Heering garnished with an All Natural CherryMan® Farm to Market Maraschino™.
Belgium Comes to Disney
I completed one of my first trips to the Epcot Food and Wine Festival with a sweet treat.
At the Belgium marketplace I indulged my sweet senses with the oh so tantalizing Belgian Waffle with Warm Chocolate Ganache (I just love saying that word, lol) and Whipped Cream.
7 Best Snacks at Epcot Food and Wine Festival from the Past Years
Warm Raclette Swiss Cheese with Baby Potatoes, Cornichons and Baguette (2019, 2020, 2021, 2022)
Loaded Macaroni & Cheese with Nueske's® Pepper Bacon, Cheddar and Leeks (2019, 2020)
Black Pepper Boursin® Soufflé with Fig Marmalade (2019)
Lump Crab Cake with Napa Cabbage Slaw and Avocado-Lemongrass Cream (2019)
The IMPOSSIBLE™ Burger Slider with Wasabi Cream and spicy Asian Slaw on a Sesame Seed Bun (2019)
The Steakhouse Blended Burger: Blended Beef and Mushroom Slider with Brie Cheese Fondue, Arugula, and a Truffle and Blue Cheese Potato Chip on a Brioche Bun (2019)
Freshly Baked Carrot Cake with Cream Cheese Icing (2020, 2021, 2022)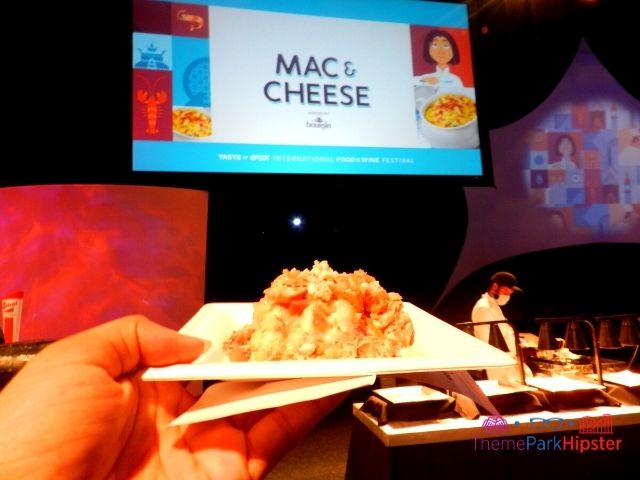 Final Thoughts on the Epcot Food and Wine Festival Menu List
I always have a blast during the opening weekend of the Epcot International Food and Wine Festival.
Each year gets better and this year I am determined to have my Discovery Passport stamped with every International Marketplace!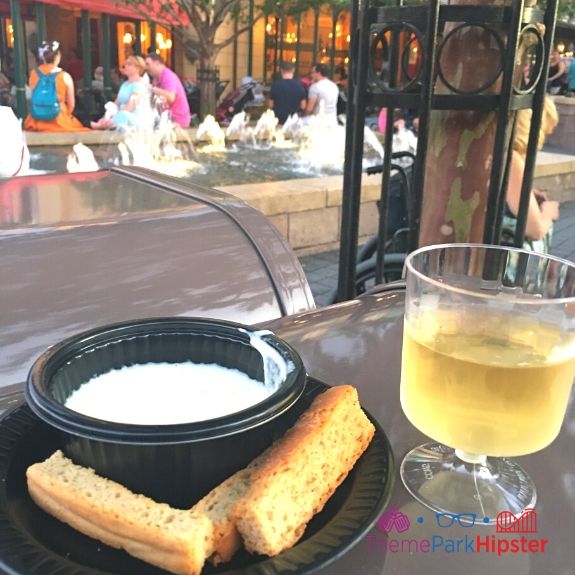 I will be going continuously until the very last day. Keep checking the site for new posts on my many worldly voyages to come this year.
Get more powerful Epcot Festival tips here!
Thanks for Reading and Listening!
To share your thoughts:
To help out the show:
Leave an honest review on iTunes. Your ratings and reviews really help and I read each one.
Subscribe on iTunes.
Until next time, Happy Park Hopping Hipsters!

NikkyJ
(Original Article Date October 14, 2013/Updated July 9, 2022)