Are you ready to find the BEST of the BEST Drinking Around the World at Epcot shirts?
Someone really smart once said: "You know what would be awesome? One place where you could try drinks from all over the world."
And that is how folks, Drinking Around the World at Epcot was born! (Not really, no)
I'm sure that someone is snoozing in a hammock in the Bahamas with pockets full of cash right now because THAT'S AN EPIC IDEA!
I mean why travel the world when you have a one-stop global drinking destination right here in the USA? It's simply genius!
But there is one thing that they didn't really think of until way after– souvenirs. You see, people go to different parts of the world and get keepsakes of memorable places or events.
If you went to Epcot and had a great time trying out drinks from 11 countries, you would have nothing to show for it!
THIS POST MAY CONTAIN AFFILIATE LINKS. PLEASE READ MY DISCLOSURE FOR MORE INFO. Which means if you click on certain links, I may receive a small commission at no additional charge to you.
What to Expect With Your Disney-Inspired Shirt
Fortunately enough, Disney (and some entrepreneurs on Etsy) caught on to this soon and started making souvenirs for drinking around the world at Epcot.
Making a different shirt for each pavilion would be kind of wastage so instead, they designed the most perfect drinking around the world at Epcot shirts.
Some of these shirts had checklists, some had cute puns, some even looked similar to Justin Beiber's world tour shirts. Human creativity truly knows no bounds.
ORDER NOW to secure your ticket reservation in the parks! GET MY DISNEY TICKETS!
Best Drinking Around the World Epcot Shirts
Today, I will show you seven of our favorite drinking around the world at Epcot shirts (Look out for some tips at the bottom!). I have searched long and hard to compile a list featuring only the best of the best. 
1. Drinking Around the World T-Shirt
You all know we don't like to pick favorites but this sassy T-shirt has our heart. It's such a mood– you know you want to do it but you need a little push.
If this isn't the perfect shirt to be wearing while throwing back tequilas and smiling at random people, I don't know what is.
Plus, it has all the ThemeParkHipster colors (cue puppy eyes).
2. Adult Vacation Epcot Drinking Around the World T-Shirt
If Drinking Around The World at Epcot was an actual challenge or 'thing' of its own, this is what its official merchandise would look like.
There the skylines of all 11 countries of Epcot as well as a little checklist at the bottom you can use to keep track of where you've been after all the drinking. 
Get your Epcot shirt here!
3. Blittzen Women's Racerback Tank of Mary Poppin Bottles
Mary Poppins is a legend, alright? But if she lived in this day and age, you know what one of her favorite activities would be after watching kids all day?
You guessed it– poppin' bottles! This is for two reasons: children are a nightmare and she pops them really well.
Get your Mary Poppins inspired shirt here!
4. Drinkerbell Fairy Tank Top
Tinkerbell is such an icon, really. She is beautiful, kind, magical, fast and smart but she also worries if her hips are too wide. The only thing missing in her hand is a happy glass of wine.
The seller nailed this one: presenting Drinkerbell!
Get your Drinkerbell Fairy Tank Top here!
5. Conquering the World, One Drink at a Time T-shirt
Drinking Around The World at Epcot in its most literal form is embodied by this T-shirt. It wins the best design category for sure! There's a wine glass, classic Disney font and even a medal!
While you're stumbling from pavilion to pavilion this shirt will keep you looking cute and not as tipsy.
You have absolutely no reason not to buy this shirt. For goodness sakes, they have Minnie Mouse on there too!
6. Disney Drinking Shirts
If you have decided against doing it solo, this T-shirt combo is perfect for you and your crew. Me? I would just get all of them for myself they are so cute!
Each T-shirt has a sassy and fun quote on it ranging from 'Finding Vino' to 'The bottle did say drink me'.
Truly, we live for punny shirts like these. As the cherry on top, they also feature the classic Minnie Mouse ears prominently so no one is left wondering where exactly you have been finding vino.
7. Drink Around the World Tour Epcot Shirt, Cheers in all the Epcot Countries
Ever stood in line for a ridiculously expensive shirt at a concert? Yeah me too. Something about all those cities listed at the back just make them great souvenirs.
Lucky for you, someone creative on Etsy decided to make an Epcot-themed one!
These shirts and tank tops have a huge variety of country-list types you can print on the back of your T-shirt– Disney font, birthday edition, tour type or even a simple 'Drink, drink and repeat'.
5 Easy Tips for Drinking Around The World at Epcot
Now that we know what the best Drink Around the World Epcot Shirts are, let's go through a few tips to help you have a fun and safe trip!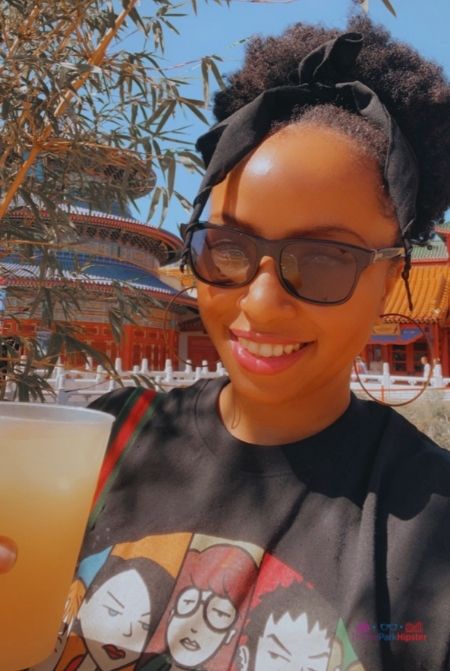 1. Be forewarned and prepared
If you are a solo ThemeParkHipster taking on the Drinking Around The World at Epcot challenge, you must be prepared. You need to ask for water every hour or so because alcohol (along with the Florida sun) will dehydrate you to crisp!
Second, you will need to start with a meal or keep having food throughout the entire experience to avoid alcohol poisoning (and a terrible hangover)
2. Drink, EAT and make merry
In most cultures, drinks are enjoyed with food. If you don't do this, you might be missing out on a lot of fun!
For example, the Norway pavilion offers the most delicious Viking Coffee at Kringla Bakeri Og Kafe, but it falls short if it's not paired with a mouth-watering cream-cinnamon-coconut School Bread.
3. Go the other way
Most people ask you to start from the Mexican pavilion and go around drinking 'the right way'. The so-called wrong way is actually the smart way (in most cases in history). At the Mexican pavilion, they offer the most amazing tequilas and cocktails in Epcot.
These drinks are pretty sizable and strong. If you start in Mexico, it is quite unlikely that you will make your way all around the globe.
4. Take breaks… seriously
Epcot has 11 pavilions. In the Drinking Around The World at Epcot challenge, you will have at least 11 drinks by yourself at least and more if something really cool catches your eye.
With so much alcohol in your system, it's important to pace yourself– not only to avoid an ugly scene but to be able to enjoy Epcot fully.
5. Wear smart
Think about this: you are going to be tipsy/drunk most of your time at Epcot if you decide to do this. You don't want to be wearing a leather miniskirt (sticky and keeps riding up) or scratchy pants that 'look really really good'.
Wear something comfy, something you can be a little silly in but still manage to look cute at the end of the day.
Recommended: Get More Disney Food Reviews and Tips here!
What to Know Before Drinking Around The World at Epcot
Now that you have your best tips for Epcot, let's go through a few of the most commonly asked questions when it comes to choosing your drink around the world Epcot shirt.
How much does it cost to drink around the world at Epcot?
The least you can expect to spend Drinking Around The World at Epcot is $110 total. And that my friend is if you are strictly on a budget. If you are planning to have two drinks at each pavilion and have snacks with it, you have to raise the bar at least 50%.
Although to be honest, I'm not entirely sure you would be capable of walking around after that.
Is Epcot worth visiting in 2022 or 2023?
On the surface, the answer looks like a no. But really, 2022-2023is going to be the most eventful year for Epcot. With all the upcoming attractions Disney has planned, you will be drowning in fun things to do.
And everything that is being torn down to make space for this are not "important" in the general sense. Plus, the crazy crowds will be missing too!
You should definitely not be missing that.
Is Epcot worth the money?
Epcot is a once-in-a-lifetime experience (unless you're me and Epcot is your summer home). I do believe that everyone should experience it at least once.
You might find out that you're not a very Epcot-y person but no one can truthfully say that they didn't enjoy the food there.
Unless you are going through financial hardships and would rather spend your money elsewhere, Epcot is a must-do!
How much time do you need at Epcot?
Epcot is an enormous sprawling ground of experiences. In order to be able to cover Epcot completely, you might need two days at the very least.
One day or at least most of it will be spent in Future World and half of World Showcase. The other day can be used to fully "globe-trot" around Epcot.
Ready to plan your theme park trip? Watch the best vacation planning tips on YouTube. Get started here!
Wrapping Up…
Which of the 7 drinking around the world Epcot shirts was your favorite? Do comment down below and let me know!
Before you go, we would also like to inform you that Epcot also offers some lip-smacking mocktails in case you're don't want to drink (and drive back home). Either way, you will get a taste of eleven countries alright!
UP NEXT: Epcot for Adults the Complete Guide
(Original Article Date: January 21, 2021/Updated on April 14, 2022)