Welcome back fellow ThemeParkHipsters! Today we're going to dive into one of the most magical places on earth…Walt Disney World. Particularly, the Canada Pavilion at EPCOT in World Showcase!
We love EPCOT because for the price of less than one airplane flight, you get to travel the whole world!
As you might already know, the EPCOT World Showcase has eleven different country pavilions where you are free to eat, window shop, and interact with unique attractions.
Sometimes called the "theme park for adults," there truly is no other park like EPCOT because it's more than rides, it's a cultural experience.
THIS POST MAY CONTAIN AFFILIATE LINKS. PLEASE READ MY DISCLOSURE FOR MORE INFO. Which means if you click on certain links, I may receive a small commission at no additional charge to you.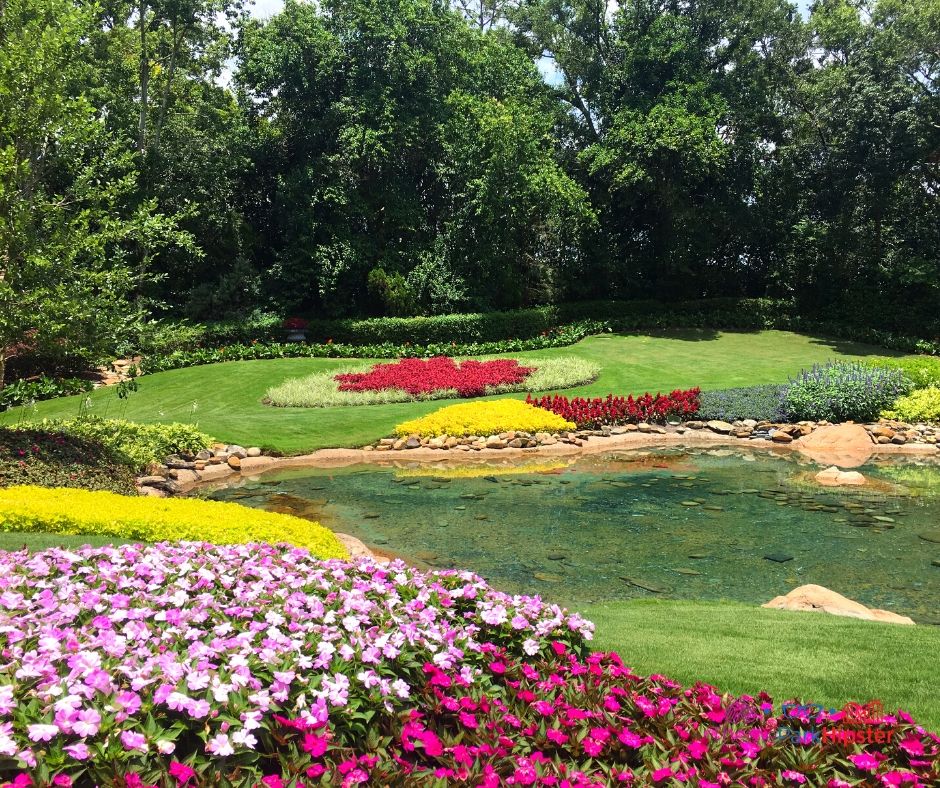 If you want an overview of all the countries you can visit in the EPCOT world showcase, you can read all about it in our previous comprehensive post here.
Because today, we're going to go in depth with one of the first countries you may encounter while exploring EPCOT.
More specifically, if you were to enter the park's main entrance, pass the Spaceship Earth Globe (jokingly referred to as the "giant golf ball"), and take a right, you would find yourself in Disney's one and only Canada Pavilion, EPCOT.
History
On October 1, 1982, EPCOT, Walt Disney World's second park, opened to the public. At that time the park opened with nine different country pavilions for you to visit, just two shy of the park we know and love today.
That's because the Morocco and Norway pavilions were added in 1984, and 1988, respectively.
Nevertheless, the Canada Pavilion in EPCOT has always stood in the same spot, from the day the park opened until now.
On the grand opening day in 1982, the Canada Pavilion in EPCOT greeted guests with the "Caledonian Pipe Band," meant to immerse guests in the country's traditional folk music.
And aside from a few minor adjustments to dining and the film attraction mentioned more in depth below, the Canada Pavilion looks and operates the same today as it did back on opening day.
Goal for the Pavilion
The original hope of Disney representatives was for the Canadian government itself to fund the construction of this pavilion. In fact, this was their hope for all of the nine country pavilions.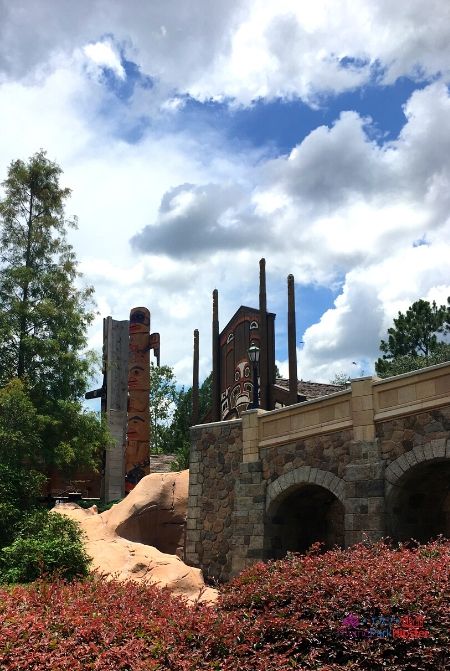 While all of the proposed countries' governments refused (except Morocco), Canada did so on the grounds that Disney's design plan took too stereotypical of an approach to depicting the nation.
It is rumored that because Disney proposed ideas such as having attractions based around lumberjacks, Canada refused to donate money to perpetuate such inaccurate cliches.
And believe it or not, EPCOT's Canada Pavilion would run into a similar problem just a few years later.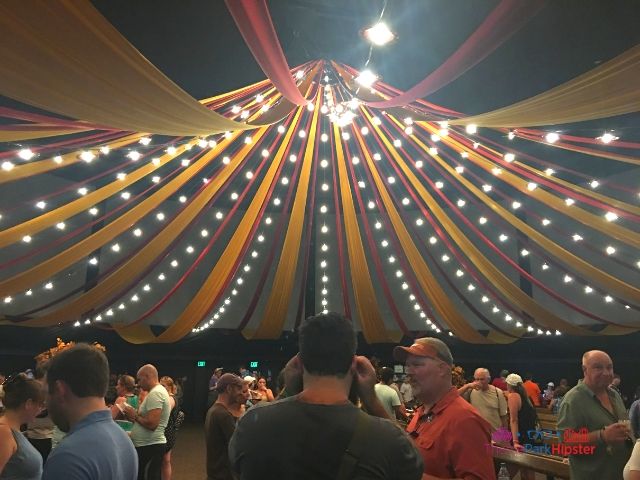 This was because the government requested the outdated film attraction O, Canada! to be updated as to not give out of date information concerning the Canadian lifestyle.
As you'll see in the next section, this request was eventually fulfilled.
Have a DIFFERENT kind of Orlando vacation with a Resort home next to Disney World. Find Your Disney Resort Vacation Rental here!
Live Entertainment and Attractions
Probably the most intriguing attractions in the Canada Pavilion are tucked away in the pavilion's far right corner. If you don't walk down the path that lies behind the small garden area, Victoria Gardens, you'll miss them entirely.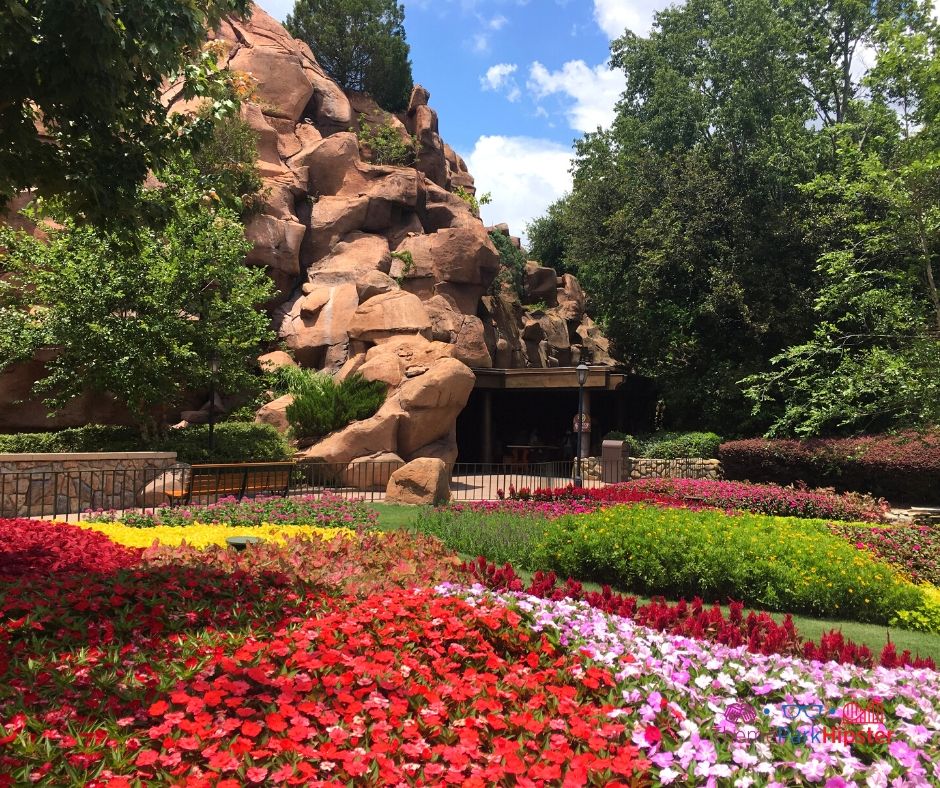 These main attractions are The Canada: Far and Wide film and the 30 foot tall Rocky Mountain waterfall display.
Canada: Far and Wide
The Canada: Far and Wide film just opened earlier this year, in January 2020. It features famed Canadian actors Eugene Levy and Catherine O'Hara. Both most recently acclaimed for their appearances as John and Moira Rose in the hit TV series Schitt's Creek.
Just like the film attraction the pavilion had before, O Canada, this 12-minute movie takes a comedic approach to introducing you to the many cultural and natural experiences found in Canada.
It is also presented in Disney's acclaimed Circle Vision 360 technology.
More specifically, this movie was filmed by nine cameras arranged in a circle, and you will experience the film in the same way: on nine large screens that surround them 360 degrees.
And, because guests are encouraged to constantly redirect their focus, this indoor attraction does not have any seating; guests are encouraged to stand to get the full, immersive experience.
While some guests are disappointed to find that this film lacks seating, it also means that there is no bad "seat" in the house.
Wherever you happen to stand in the Canada: Far and Wide theater you are sure to get an obstructed view of the film above.
Rocky Mountains
And, as you make their way down the winding path to enter the film, you will be met with the Rocky Mountains waterfall replica. And although it is quite small in comparison to the real thing, make no mistake.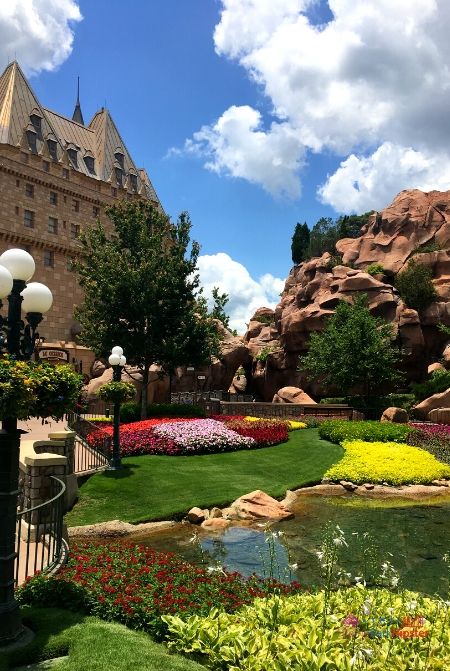 These waterfalls stand many meters high and will get you wet if you stand too close!
Either way, this area is certainly a nice break from the crowds of people you'll often see in EPCOT. Plus, it's the perfect spot for a photo opp!
Canadian Band
The final attraction available to you in the EPCOT Canada Pavilion is perfect for those who love music or live shows. Year round, you can hear the band "Alberta Bound," among others, perform traditional Canadian folk and pop music.
You'll need to check your park map or the My Disney Experience App ahead of time for their scheduled set times, but it's certainly an exciting attraction that many guests look forward to.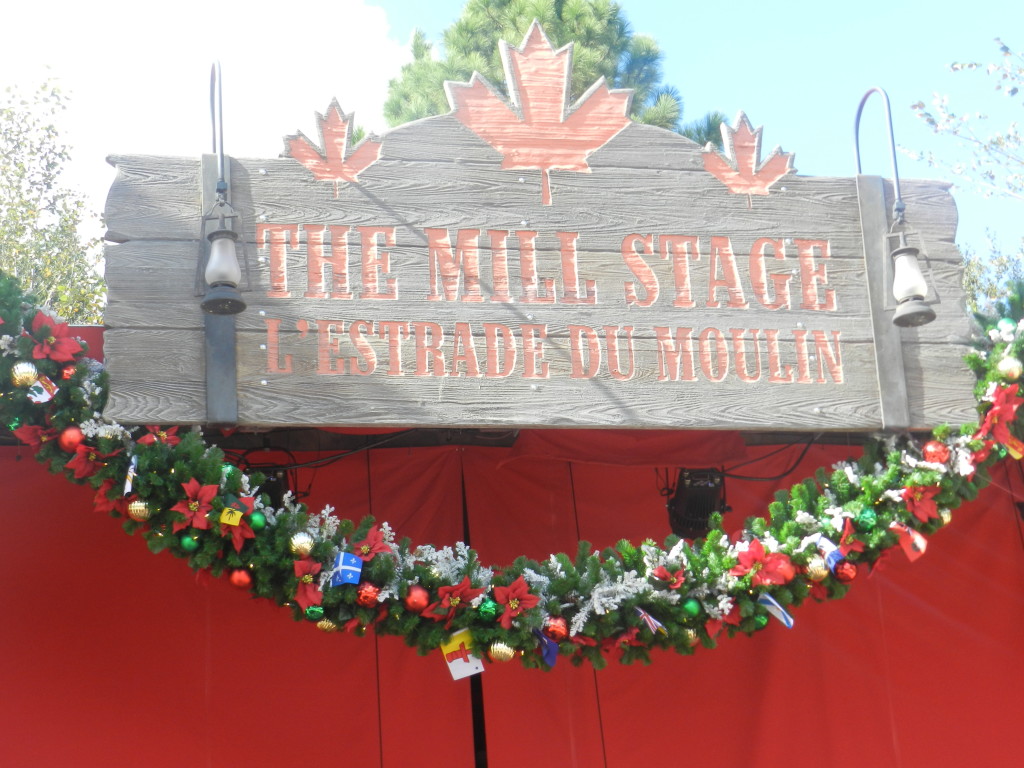 Taking place at the Mill Stage outdoor concert band shell, there's no seating available here, so make sure you bring your dancing shoes!
Read: 9 Super Awesome Disney Solo Tips for Epcot
Canada Pavilion Food Options at Epcot
Believe it or not, one of the most highly rated restaurant options on all of Walt Disney Property is tucked away right in the Canada Pavilion in Epcot.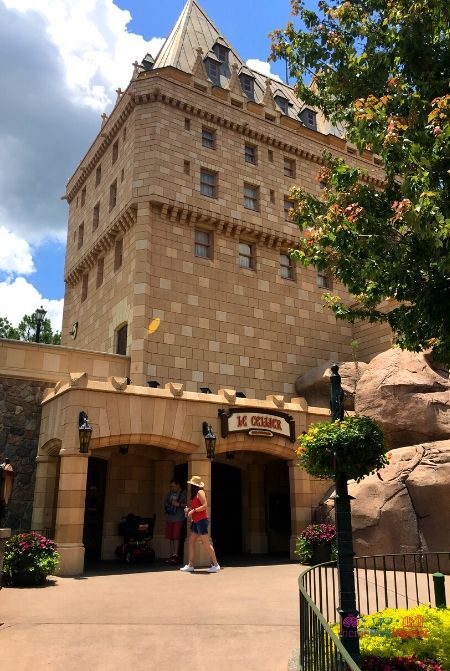 Just through the Victoria Gardens, you will find the Le Cellier Steakhouse. And due to its popularity and price point, we'd like to warn you ahead of time: this is not a casual drop by and dine option.
If you hope to enjoy the delicacies of this menu, a reservation (and substantial budget) are recommended.
Le Cellier Steakhouse
As you enter this restaurant, you'll most definitely get the intended ambiance of a wine cellar. Dim lighting, formally dressed servers, and wine bottle displays are just a few of the aesthetic features that make this restaurant higher end.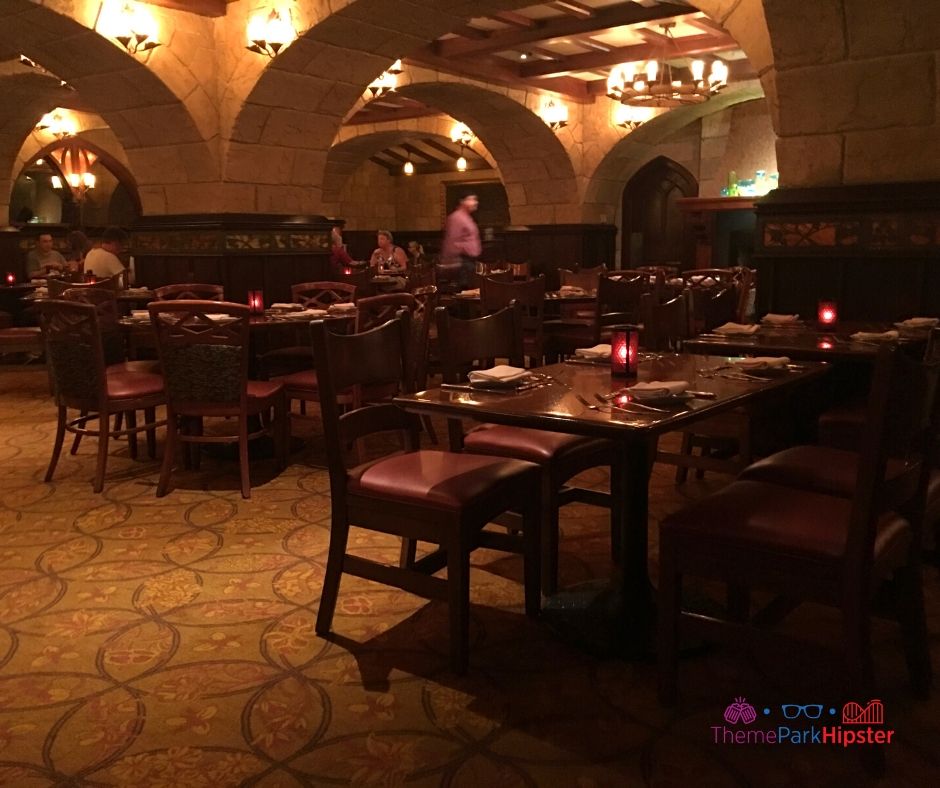 But of course, what is a great restaurant without its food?
Some of the most popular menu items at Le Cellier Steakhouse include:
Appetizers of the Artisan Cheese Plate and Steamed Mussels (both $19 each)
Entrees of "Le Cellier" Filet Mignon ($59) and Bison Strip Loin ($129, meant to serve two)
Desserts of Maple Cream Creme Brulee ($13) and Maple Leaf Cheesecake ($12)
Of course, you are also encouraged to indulge in craft beers, top of the line wines, and decadent poutines.
Popcorn Cart
For a more casual snacking option in the Canada Pavilion, you can also enjoy quick treats from the Popcorn Cart.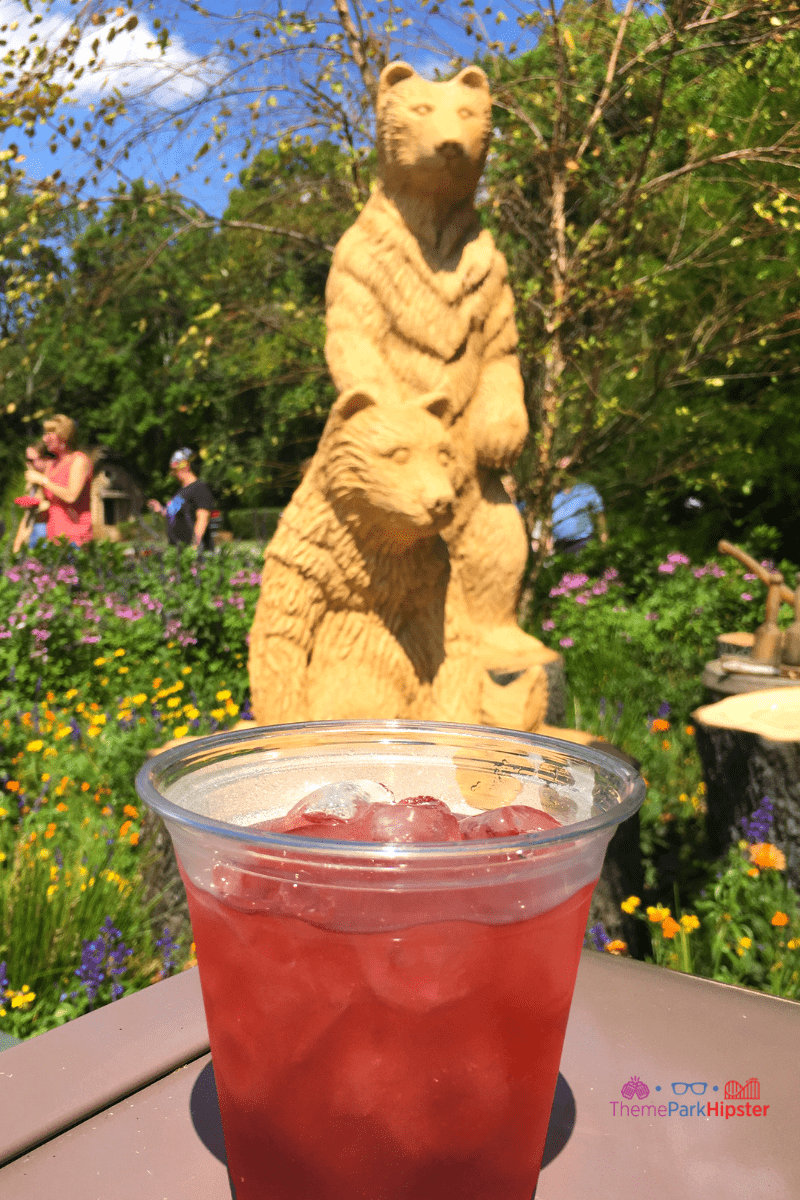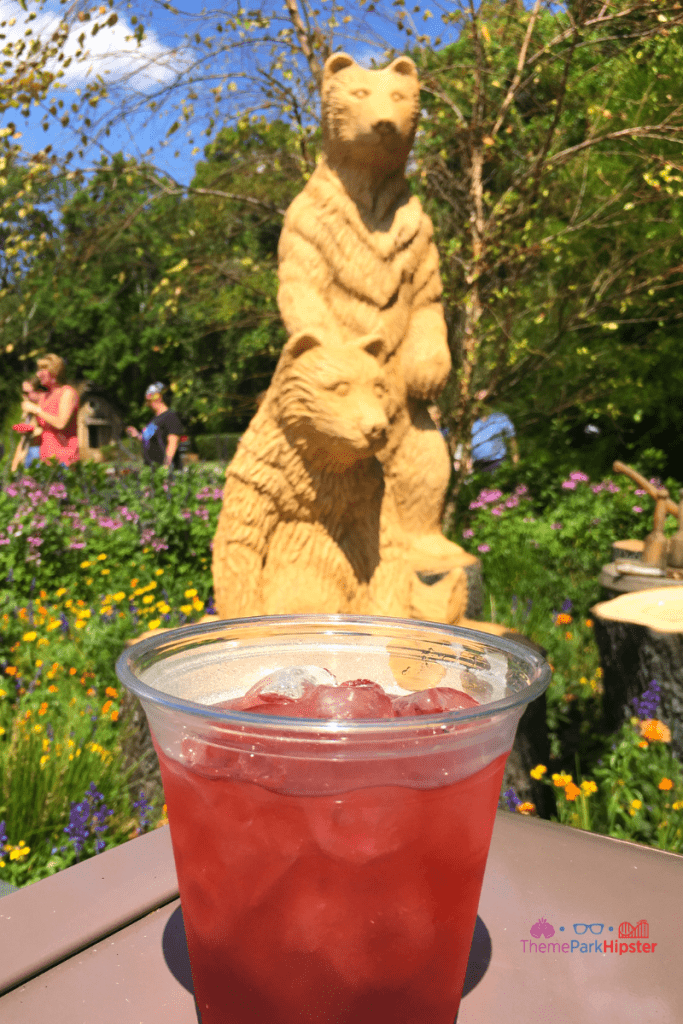 Here you can indulge in popcorn (an eligible snack credit on the Disney Dining Plan) and an assortment of lagers, beers and the fan-favorite drink the Ottawa Apple.
Read: 21 Best Drinks in Epcot – Your Cheat Guide
Shopping Options
What is the EPCOT experience without a little bit of window shopping? The Canada Pavilion does a great job theming their shopping area to feel like the wilderness of native Canada.
Decorated with meticulously carved totem poles and themed wooden carts, the shopping area of the Canada Pavilion was actually modeled after a traditional native longhouse.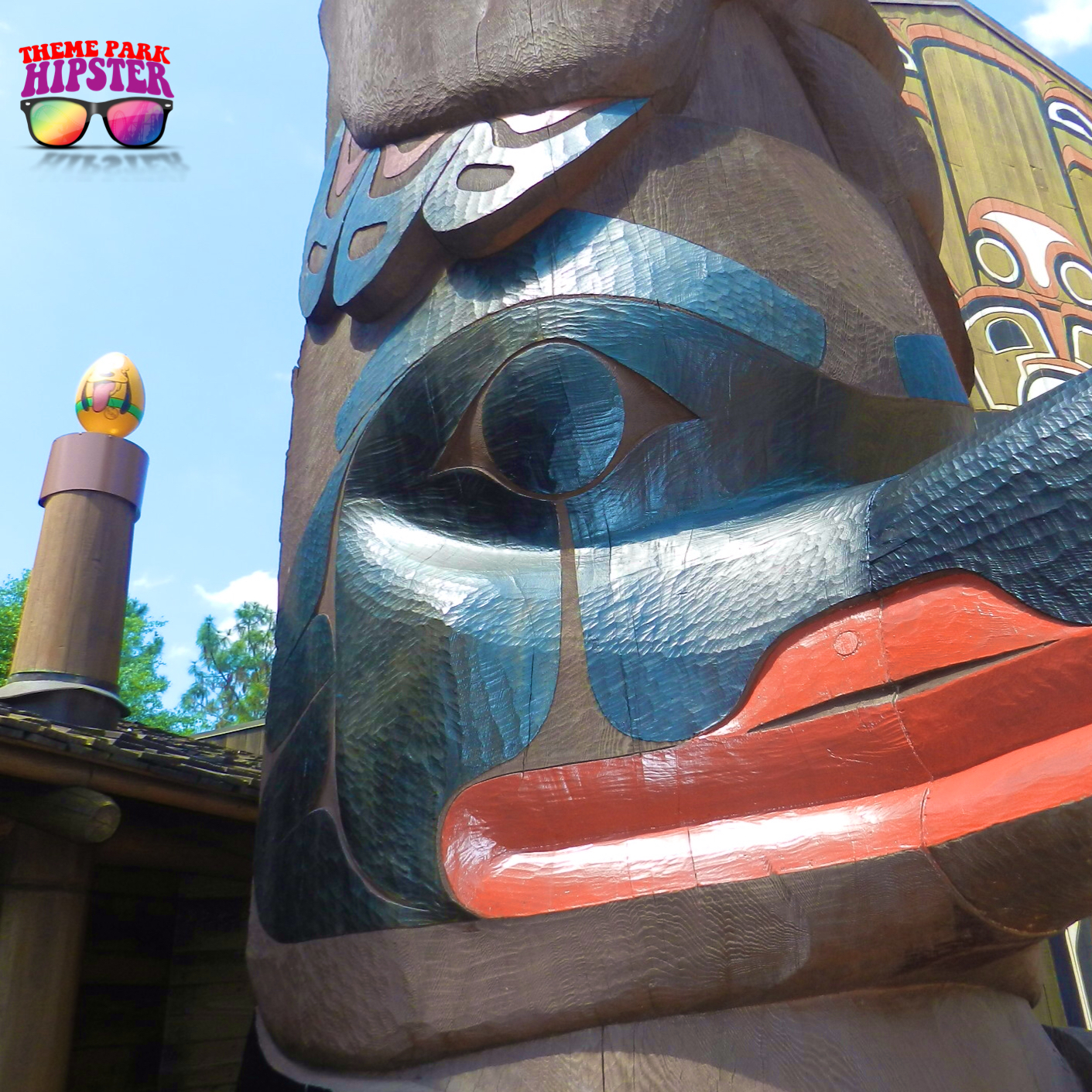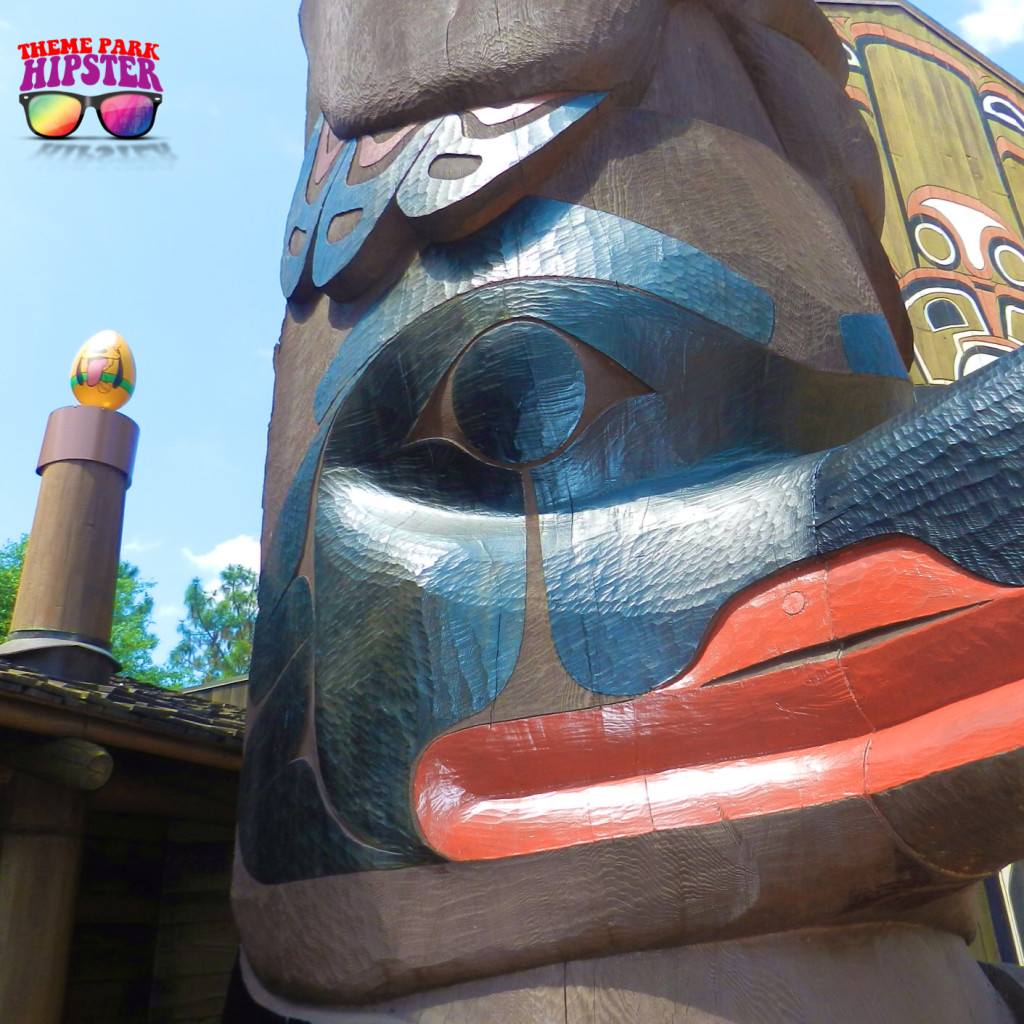 Northwest Mercantile
More specifically, you'll see that this pavilion's main indoor shopping option, the "Northwest Mercantile" is centrally located and easy to find.
Here, popular Canadian items such as hockey jerseys, maple syrup, Christmas ornaments, Canadian wines, and themed animal plushies are available for purchase at this Canada-inspired store.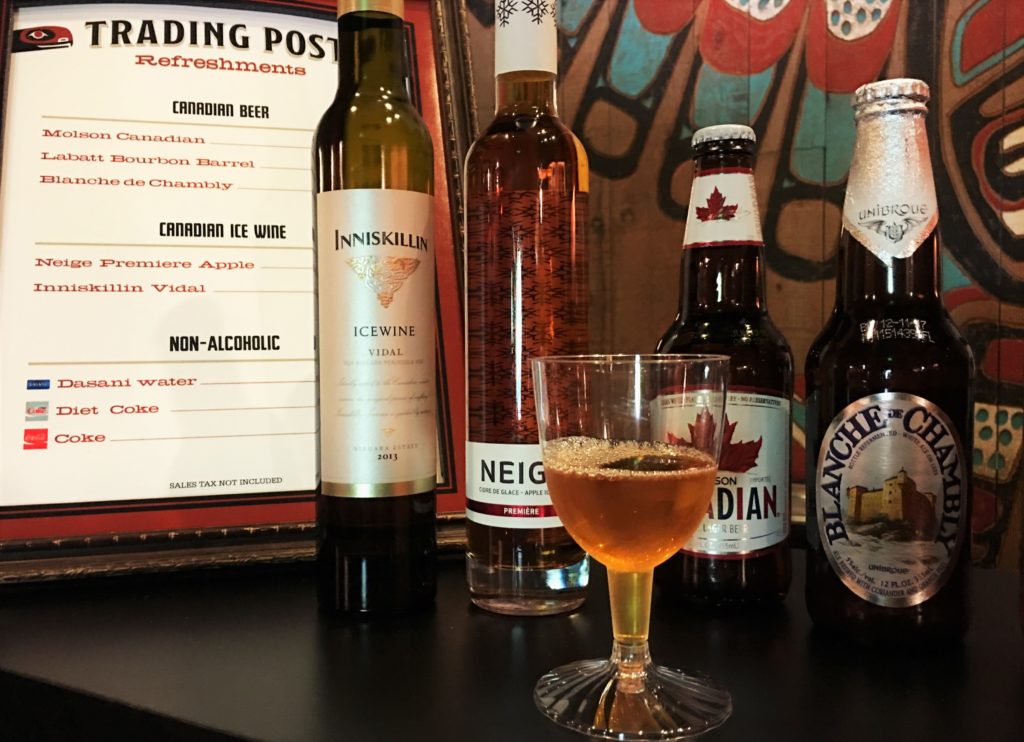 Wood Cart
"The Wood Cart," is the second, more casual shopping option available in the Canada Pavilion. You simply can't miss this option. It's displayed right out in the open, just past the Mill Stage.
It features smaller merchandise such as wine glasses, miniature flags, and stuffed animals.
Additionally, this is one of a handful locations throughout the Disney Parks where you can get custom leather engravings done.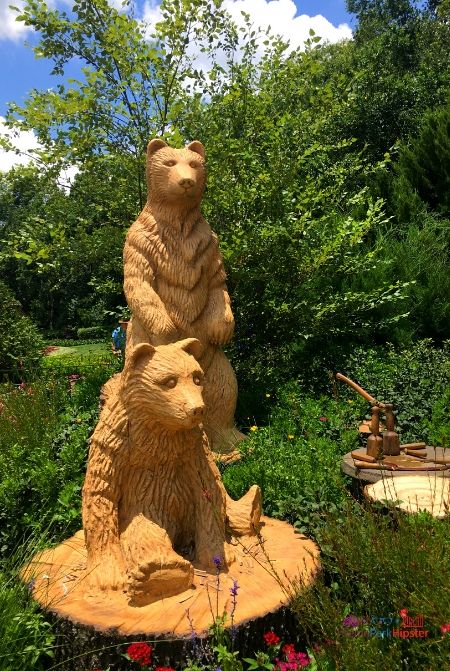 You can choose to engrave leather merchandise options such as leather cuffs, bracelets, cell phone straps, and more.
Read: What You Need to Know About Epcot's Yearly Festivals
Unique Experiences (and Hidden Mickeys!)
In typical Disney fashion, as the year passes by, different unique experiences are available to guests. And of course, the Canada Pavilion is no different.
During the Food and Wine Festival, guests simply cannot get enough of the Canada Pavilion! At this time, typically late August to November, Canada is usually a standout for guests with amazing poutines around the $10 mark!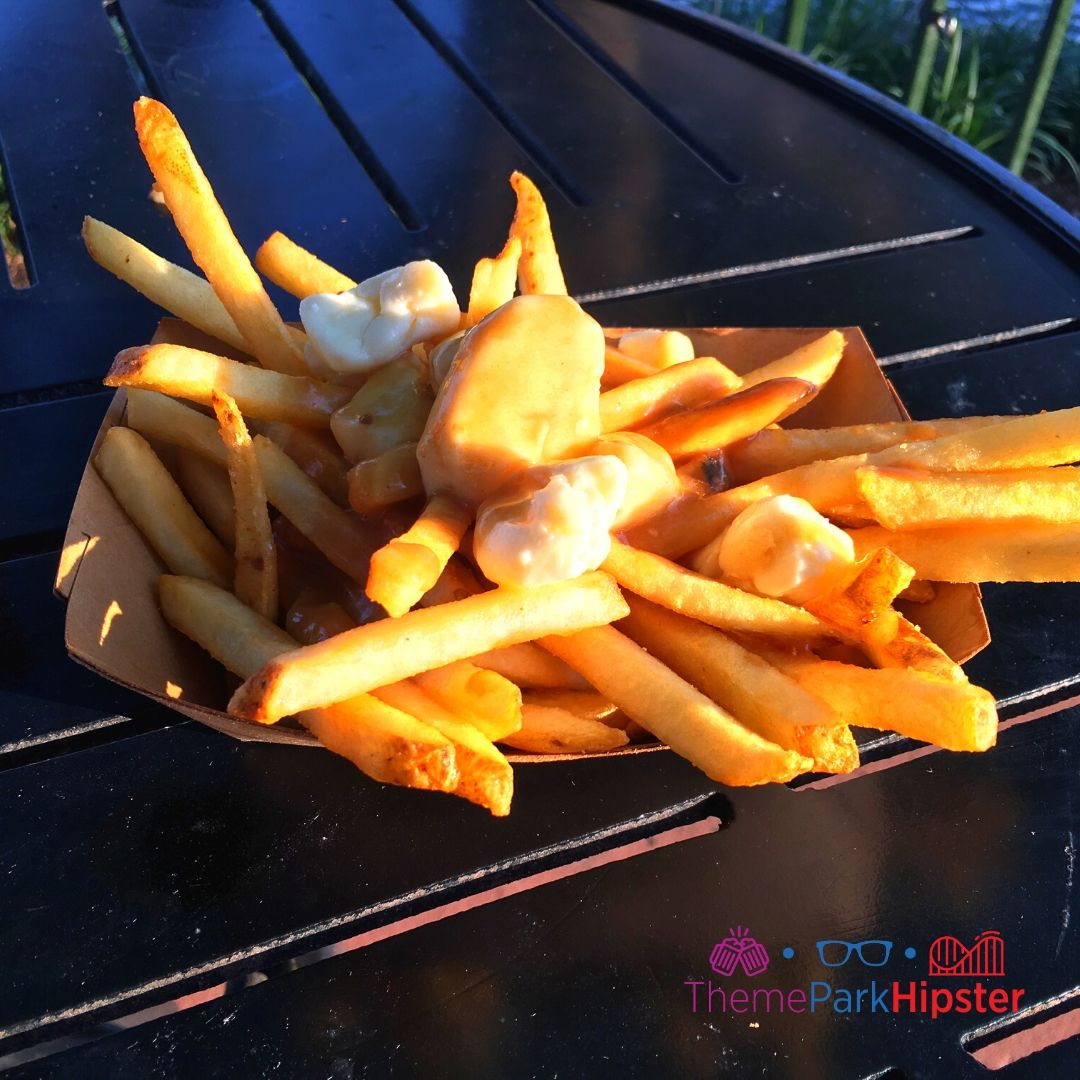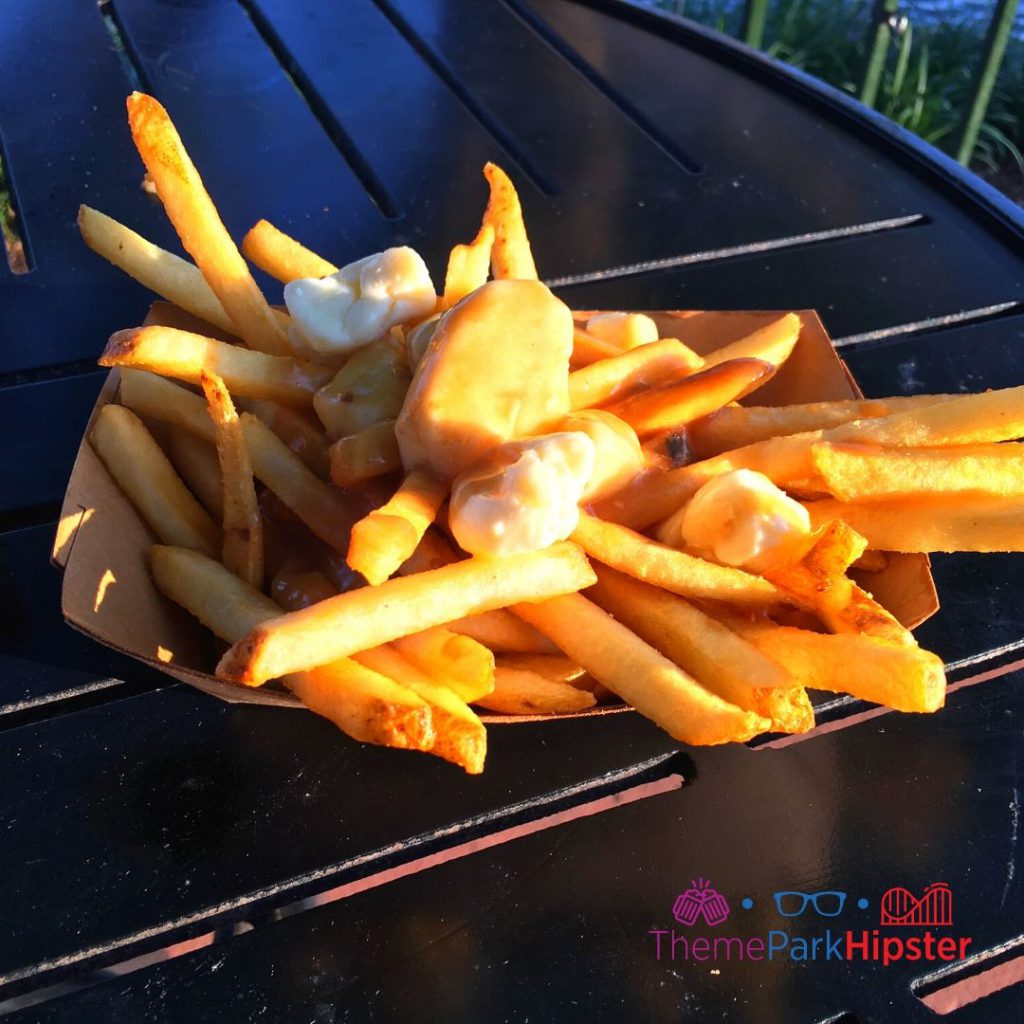 And, if you were to visit close to the magical holiday season, you would see the Canadian Holiday Voyagers at the same Mill Stage outdoor concert shell mentioned before.
As you might have guessed, in the same traditional Canadian fashion, this band serenades guests with holiday music while explaining the nation's holiday traditions.
And now that we've covered temporary seasonal attractions, let's talk about something in the Canada Pavilion that's always there to stay: Hidden Mickeys!
Hidden Mickeys
For those hidden Mickey detectives out there, you'll find three different ones in the Canada Pavilion alone.
Hidden Mickey #1
The first is located in Le Cellier Steakhouse just behind the hostess counter. Here, in a floor to ceiling wine display, you'll have to look towards the top center to find what you're looking for: one large bottle of wine forms the head as two smaller ones create the ears.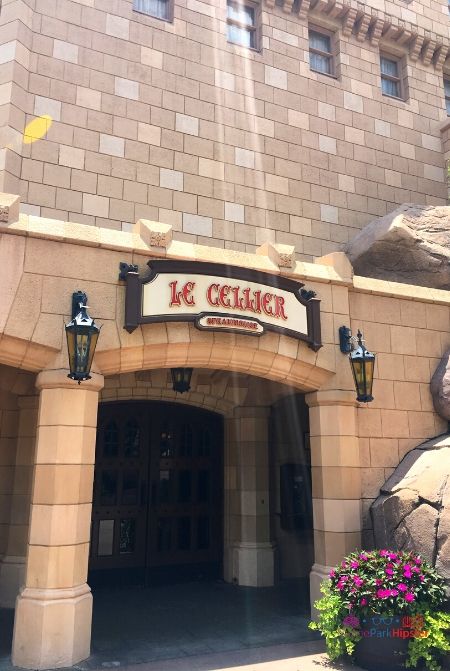 Hidden Mickey #2
If you don't have a reservation at Le Cellier though, don't sweat it! There are still two more hidden Mickeys artfully placed, out in the open.
The first is a clear Mickey head shape at the top of the tallest totem pole outside of the pavilion's main store, the Northwest Mercantile.
As you look at the pole, you'll notice that two bird-like wings jut out from the sides. Next to the one on the left, on the pole itself, you'll see a tiny but clear Mickey head shape!
Hidden Mickey #3
The last hidden Mickey appears inside of the Northwest Mercantile gift shop. Just like the previous two hidden Mickeys, if you want to see this one, you'll have to look up!
Hanging from a crate along the back wall of the store is a fake fish. Its body is colored with light green, red, white, and some black speckles.
And yes, it's in those black speckles you'll have to look if you want to find this final hidden Mickey.
Read: 50 Spectacular Epcot Hidden Secrets You Must Know About
Tips + Strategies for Your Visit
We know that as a Theme Park Hipster, you probably want the inside scoop to make the most of the Canada Pavilion in EPCOT. If that sounds like you, keep reading, we've got you covered!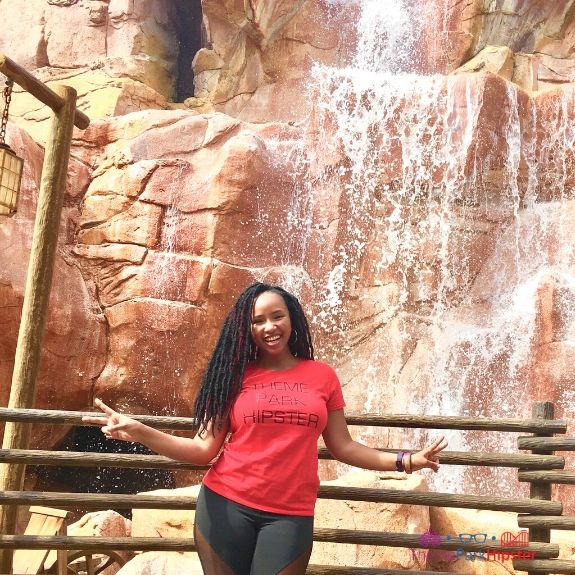 1 – Take a Break from the Heat
One of our best tips for the Canada Pavilion is to visit during the hottest part of the day. As we all know. Florida can be extremely hot.
A long day in a theme park can be exhausting if you're not used to how strong the sun can be. For some relief, we recommend visiting the Canada Pavilion sometime between 12 p.m. and 4 p.m., if possible.
This is because the Canada: Far and Wide film takes place in a large air conditioned dark room.
In fact, it might be one of the only places in EPCOT where you can actually spread out and get some air!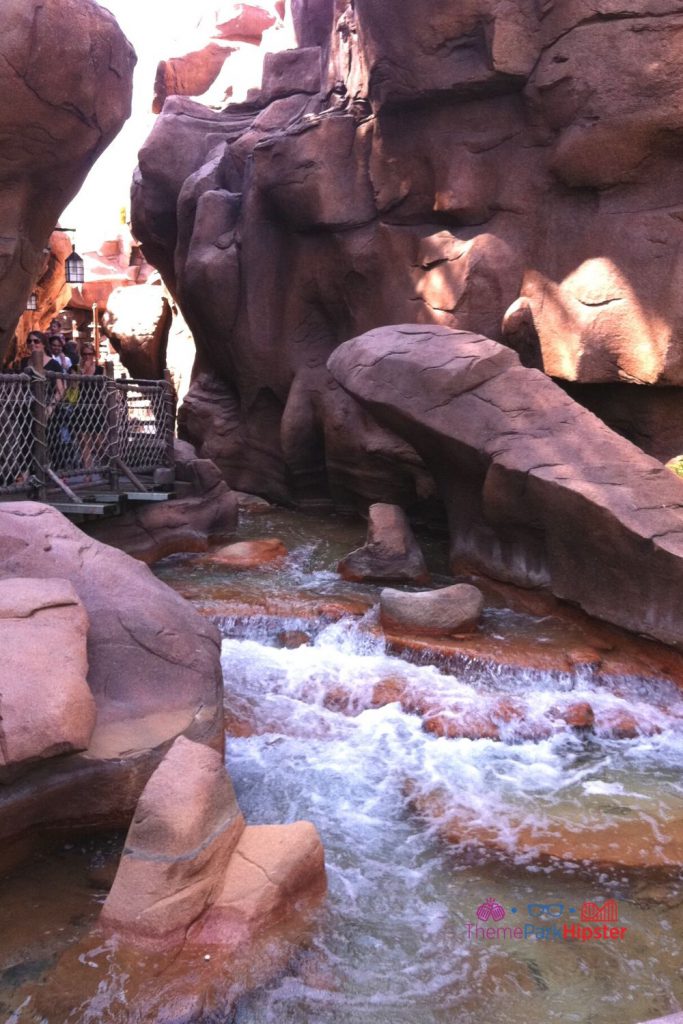 Plus, the waterfall display just outside provides some refreshing mist and outdoor seating!
2 – Save Your FastPasses for Another Attraction
Also, as far as Fast Passes go, we wouldn't recommend using them here in the Canada Pavilion.
With just one movie attraction that allows in about a hundred people at at time, there are certainly higher demand rides to save your Fast Passes for.
Ready to start planning your next Disney World vacation? Listen to the latest podcast episode on Apple or on your non-Apple device now!
Final Thoughts on the Canada Pavilion
Overall, I hope you found this guide helpful for planning your next trip to EPCOT and the Canada Pavilion. While oftentimes the Canada Pavilion can be overlooked due to its lack of "exciting" attractions, it certainly is still a worthwhile experience.
From the Zagat rated Le Cellier Steakhouse to the gorgeous Victoria Gardens and 30-foot waterfall, the Canada Pavilion is the place to go for a memorable, delicious meal and peaceful sightseeing.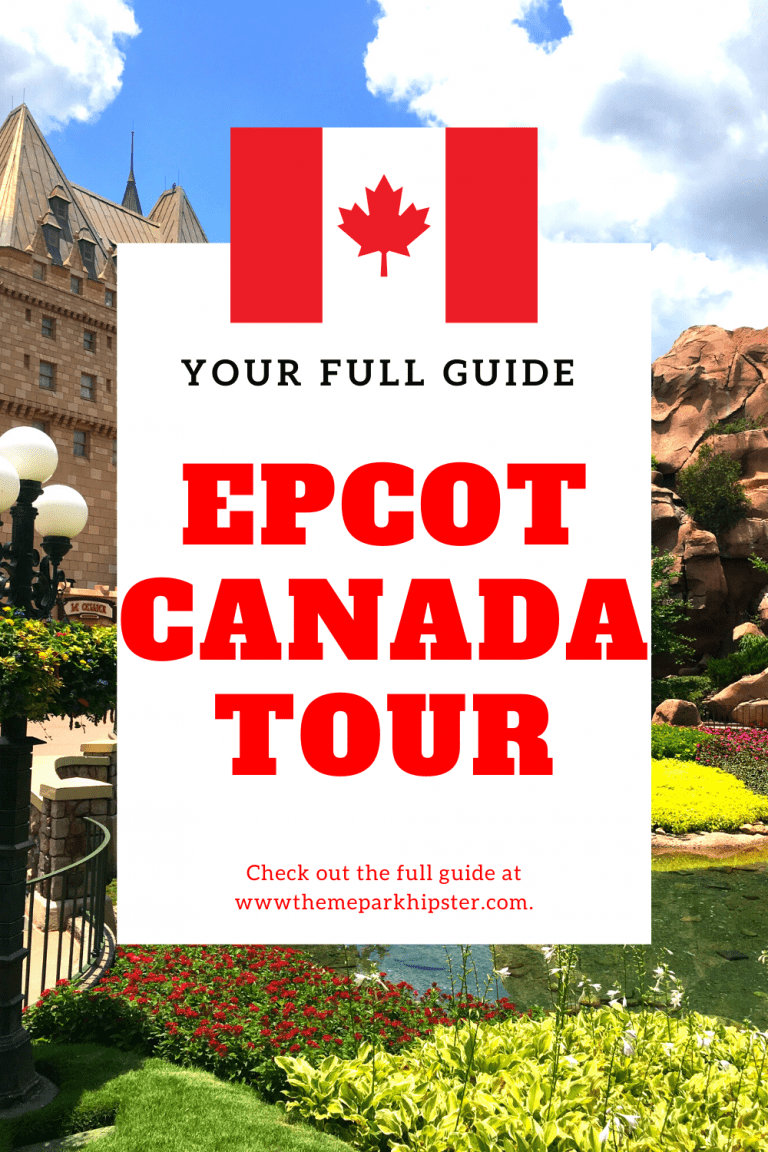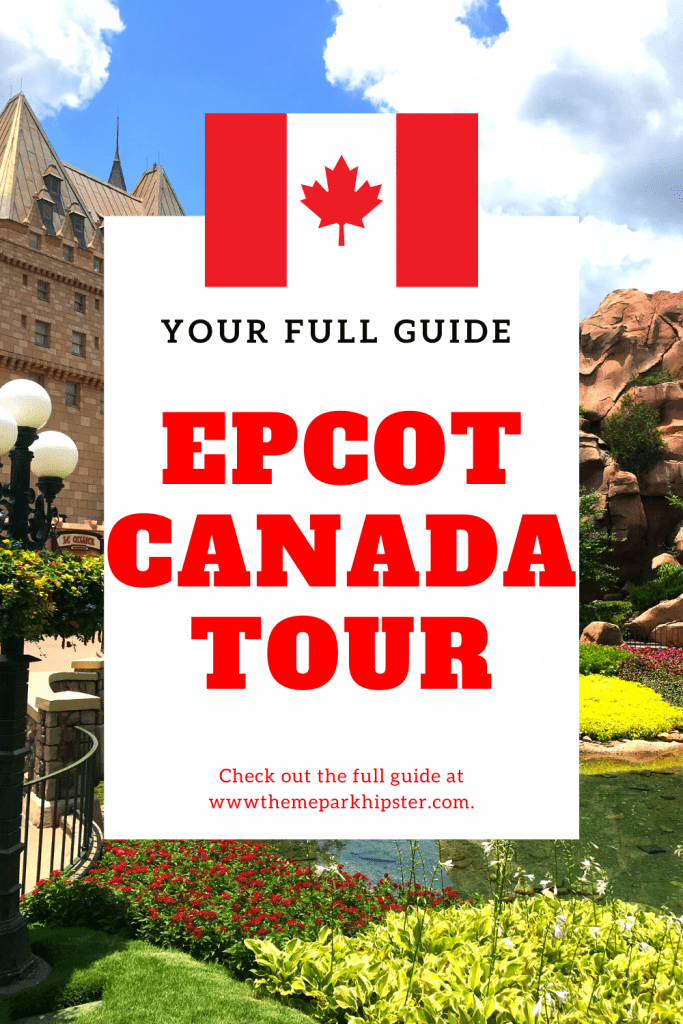 Plus, with a brand new film attraction that just opened five months ago, you'll be one of the first to enjoy this pavilion's newest addition!
Have you recently visited the Canada Pavilion at EPCOT? Did you have any experiences you'd like to share? Got any other tips or tricks? We'd love to hear all about it in the comments below!
Until next time, Happy Park Hopping Hipsters!
UP NEXT: Let's Tour the Epcot Mexico Pavilion (Complete Guide)