If you've ended up at this post, chances are you're ready for a Best Breakfast in Disney Springs head-to-head battle!
Which Disney Springs restaurants have got the best sweet breakfast options? Which ones boast a more savory menu? And of course, and most importantly, which one has a drink menu I can get on board with!
Well ThemeParkHipster, it's our hope to answer all these questions, and more, in this comprehensive breakfast at Disney Springs guide! Are you ready for it?! GREAT!
OH – and before we forget – make sure to drop your FAVORITE breakfast at Disney spot in the comments below before you leave this page – because teamwork makes the best breakfast dreams work!
THIS POST MAY CONTAIN AFFILIATE LINKS. PLEASE READ MY DISCLOSURE FOR MORE INFO. Which means if you click on certain links, I may receive a small commission at no additional charge to you.
10. Maria and Enzo's Ristorante
If you like your breakfast Italian style – then Maria and Enzo's is the best option for you! From sweet Italian sausage to burrata, to calamari, to frittatas, to Orangecello Mimosas, you'll definitely be happy you said "Bon Apetit" at this elegant and tasty spot!
Price Range: $$
Fan Favorite Item: Nutella-Stuffed French Toast – Nutella stuffed brioche bread with whipped cream and warm berries for $17
Special Brunch Offerings: Yes! Sundays from 10:30 a.m. – 1:30 p.m.
Ready to make your trip out to Walt Disney World Resort, then get your no obligation, FREE Quote by filling out the form with The Park Prodigy by Clicking HERE!
9. Earl of Sandwich
Let's just start off by saying that you can't go wrong with Earl of Sandwich anytime of day!  But, I especially love it as a breakfast at Disney because it's quick, inexpensive, and easy to eat on the go AKA a busy theme park day home run!
Plus, you just can't go wrong with their tasty staple breakfast menu items like ham, egg, and cheese sandwiches and breakfast BLTs!
Price Range: $
Fan Favorite Item: Breakfast Burrito – Bacon, double eggs, cheddar, and breakfast sauce in a whole wheat wrap for $7!
Special Brunch Offerings: Nope! Breakfast sandwiches are served at Earl of Sandwich everyday!
8. STK Orlando
We already hear you saying – "a steakhouse… for breakfast…. Really?!"  But listen, STK DEFINITELY holds its own on this best breakfast at Disney Springs list, with mouthwatering brunch entrees like truffle and egg steak, chicken and waffles, and bacon mac and cheese!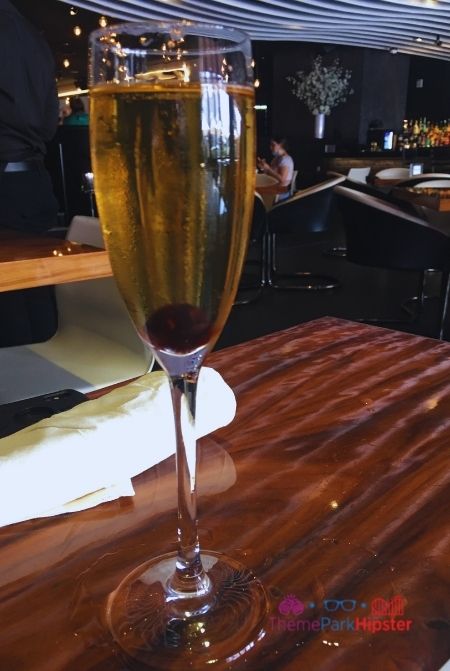 And don't worry – if sweet brunch choices are more your thing, you can always go for the bag o' donuts or cinnamon French toast, and wash it all down with a mimosa or Bloody Mary!
Price Range: $$$
Fan Favorite Item: Lobster and Eggs Benedict topped with baby spinach and caviar hollandaise for $35.
Special Brunch Offerings: Yes! STK only offers their decadent brunch menus on weekends from 11 a.m. to 3 p.m.!
7. City Works
I'm sorry, but even if you don't like breakfast foods – you've just gotta experience this breakfast at Disney Springs for the puns! 
Whether it's the Jon Bun Jovi (a cinnamon roll), Donut Stop Believin' (powdered sugar donuts served with an assortment of dipping sauces), or The Johnny Hash (braised short rib with jalapeño sauce and sunny side up eggs), your stomach, and your mouth, with be smiling ear to ear at CityWorks.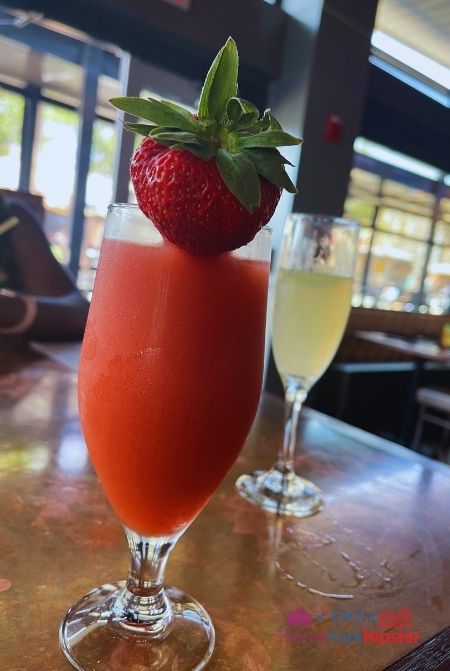 Making it one of the best places to get brunch in Orlando.
Price Range: $$
Fan Favorite Item: Mother's Little Helper AKA: The Hangover Bowl – smoked cheddar grits, braised pork belly, breakfast sausage, and fried eggs for $22.
Special Brunch Offerings: Yes! The brunch menu is served Saturdays and Sundays from restaurant open until 3pm.
6. Wolfgang Puck Bar and Grill
When I talk about Wolfgang Puck's brunch menu I don't know what's more impressive… the food or the drinks! 
With strawberry Bellini's and Maryland Blue crab cakes, this restaurant will have you feeling bougie and blessed from appetizer to dessert!
Plus, the classic rustic barnyard feel inside certainly makes for an easy, relaxing environment to start your lazy Saturday or Sunday.
Price Range: $$$
Fan Favorite Item: Old School Breakfast – Two eggs, however you want, with applewood smoked bacon, Tuscan potatoes, and toast for $21
Special Brunch Offerings: Yup! Get brunch at this delectable breakfast at Disney Springs pick Saturdays and Sundays from 12 p.m. – 3 p.m.
5. Raglan Road
Did you say brunch and a show? Well, when it comes to this Disney restaurant, you get top of the line Irish performances along with your authentic, Grade A food.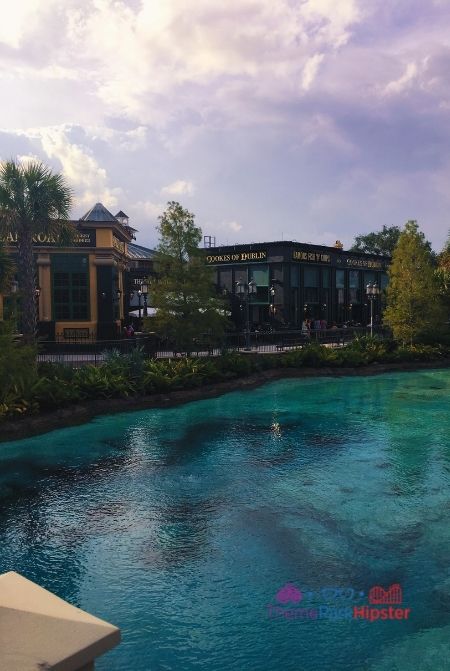 So you've been warned: only go here if your ears and your taste buds are ready for some big volume stuff – like the Whisky BBQ Lollipop Chicken, Nom Nom Wings, and Pancakes Diaspora!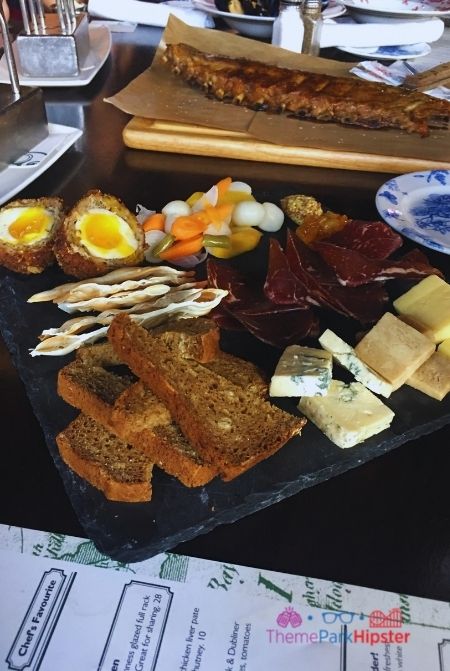 Price Range: $$
Fan Favorite Item: Salmon Royalty – A new item which boasts smoked salmon, poached eggs, sautéed spinach, and caper hollandaise all on top of Irish soda bread for $20!
Special Brunch Offerings: Weekends from 9 a.m. – 3 p.m.; however entertainment doesn't start until 12 p.m.; making an ideal reservation time 11:45 a.m.!
4. D-LUXE Burger
"Breakfast at Disney" is only an appropriate term to use for this Disney Springs dining spot if you're ok with burgers for breakfast! 
From barbecue burgers, to buffalo chicken sandwiches, to YES! even plant-based burgers, there's no such thing as non-burgers on the menu here!
But with that being said, this breakfast at Disney location doesn't even open until 11 a.m., so that's a socially appropriate time for burgers any day… right?!
Price Range: $
Fan Favorite Item: Black Widow Burger – Beef patty with Widow's Bit Scotch sauce, ninja radish slaw, and all your fav burger fixings for $13.50!
Special Brunch Offerings: On the contrary, while D-Luxe Burger opens at 11 a.m., they don't truly have a breakfast/brunch menu… So burgers for brunch any day of the week it is!
3. House of Blues
Breakfast at Disney Springs truly used to be synonymous with House of Blues thanks to their AMAZING Sunday morning gospel brunches!  
The House of Blues has still got some brunch items to fill your appetite in the meantime! 
Like chicken 'n' maple bacon donuts, Tennessee toast (covered in smashed avocado and roasted corn salsa), and pig grits and shrimp!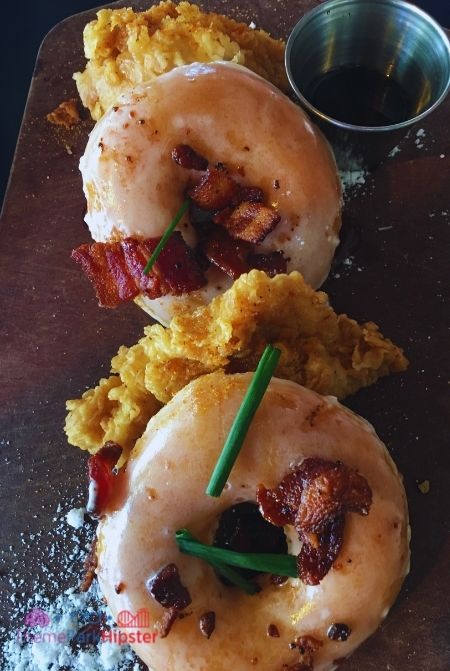 Prince Range: $$
Fan Favorite Item: The Morning Smash Burger, AKA two patties, cheddar, bacon, bacon ketchup, bacon aioli, and a sunny side up egg topped with honey sriracha on a brioche bun for $17!
Special Brunch Offerings: Weekends only, 10 a.m. to 2 p.m.!
2. Wine Bar George
If you're choosing Wine Bar George for your breakfast at Disney Springs – get ready for a SERIOUS wake up call!  No… like seriously – that's the name of their espresso-infused liqueur specialty drink!
But all jokes aside, this is definitely the best breakfast at Disney Springs as far as "classiness" goes.  I mean – they have a whole section of the menu dedicated to just Charcuterie Boards! 
So, be sure you're dressed your best for this classy breakfast at Disney pick.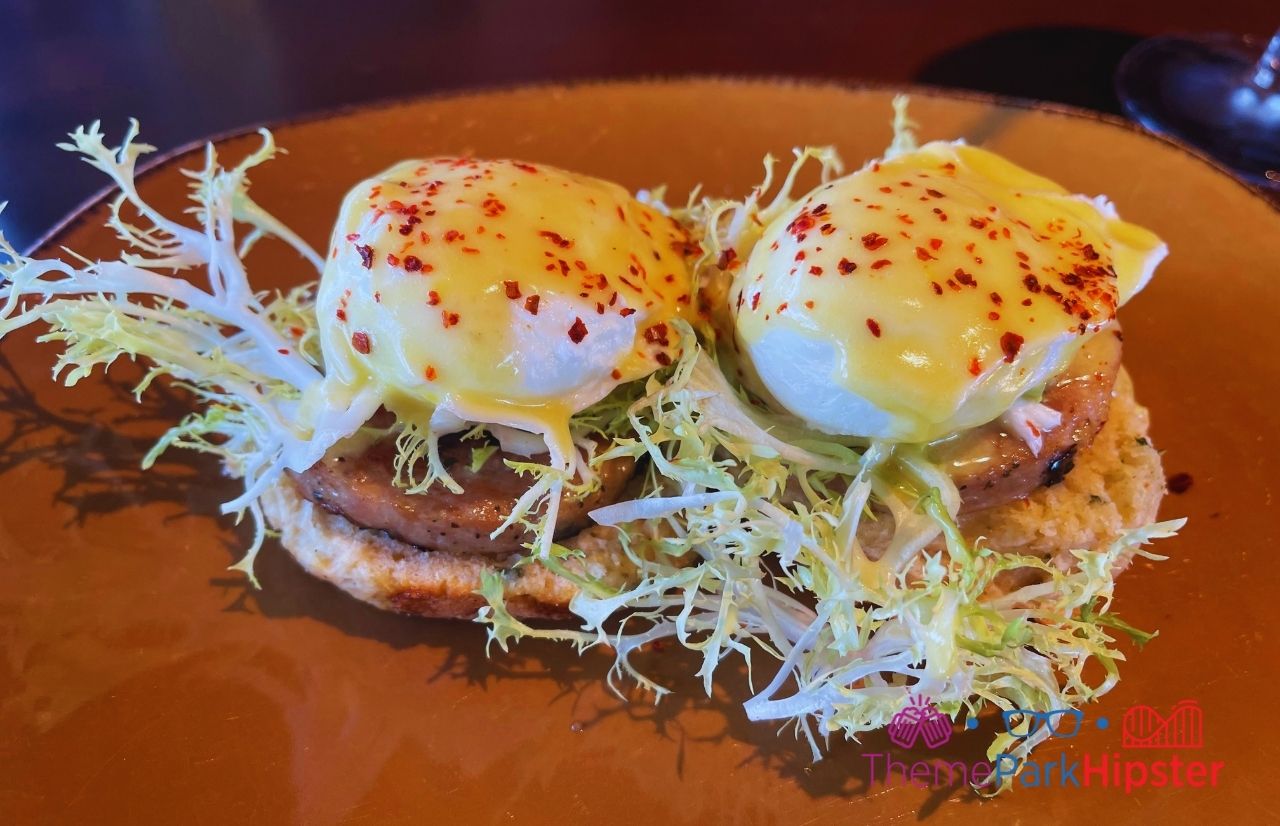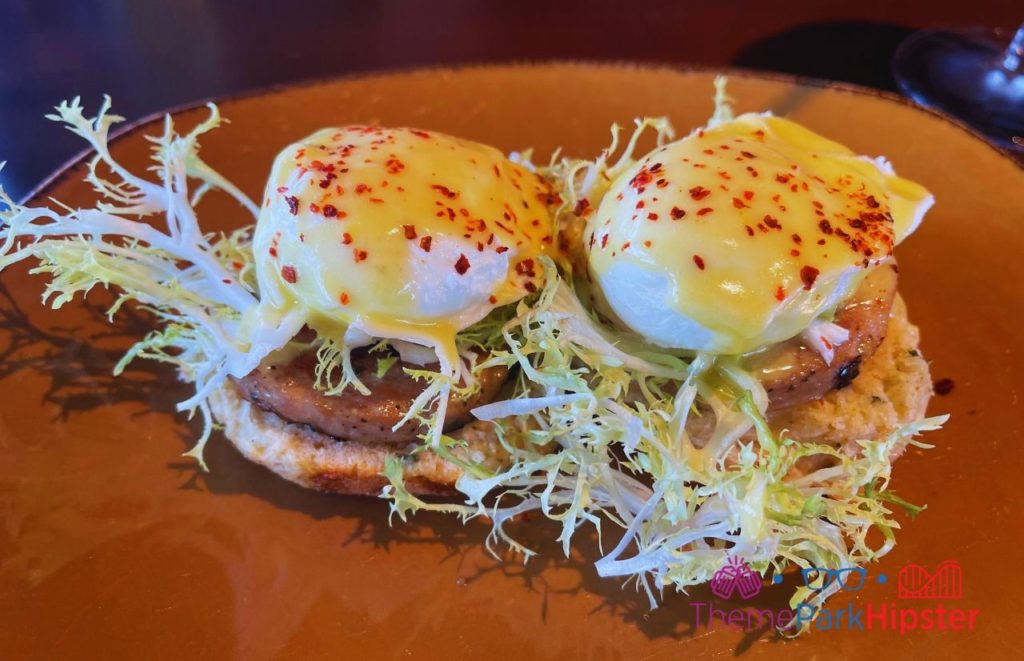 Prince Range: $$$
Fan Favorite Item: Burrata – topped with avocado and bacon, served on ciabatta bread for $22.
Special Brunch Offerings: Saturday and Sunday 10:30 a.m. – 2 p.m.
Well y'all, if southern comfort food's your thang, then THIS is the best breakfast at Disney Springs for you, BY FAR!
From friend chicken and donuts, to pecan-smoked bacon, there's no shortage of sweet or savory brunch items here!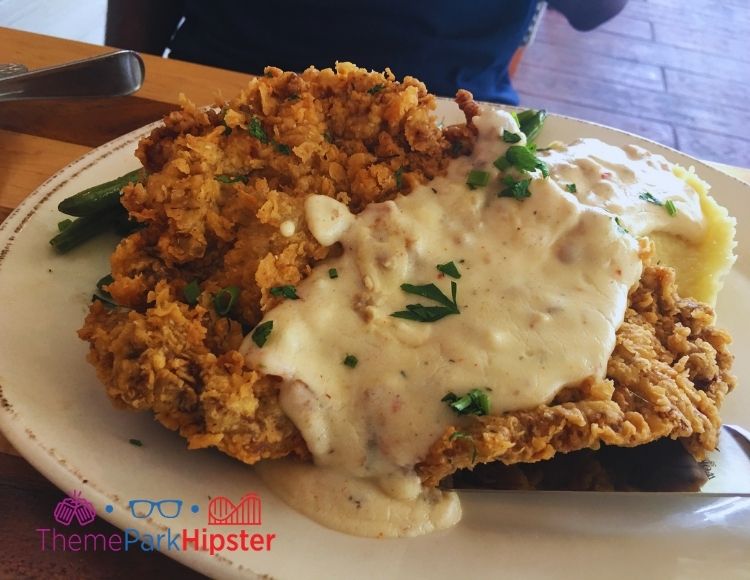 Please, the cocktail menu is creative AND extensive, with blueberry mimosas, white peach sangria, and watermelon infused moonshine, just to name a few.
Price Range: $$
Fan Favorite Item: Hush Puppy Benedict – Hush puppy cakes topped with fried chicken tenders, poached eggs, griddled ham, and pimento hollandaise sauce!
Special Brunch Offerings: 10 a.m. – 2 p.m. Saturdays and Sundays
ORDER NOW to secure your Walt Disney World theme park ticket! GET MY TICKETS.
What You Should Know About Disney Springs Dining Before You Go
Now that you know where to find the best breakfast in Disney World, let's go through some of the most commonly asked questions.
Is parking free at Disney Springs?
Luckily ThemeParkHipster, not only is parking free at Disney Springs, but so is Disney resort transportation! 
So, whether you've brought your own car, or want to rely on the Disney bus system, you're all covered for your breakfast at Disney Springs!
Ready to plan your theme park trip? Watch the best vacation planning tips on YouTube. Get started here!
Do these Disney Springs restaurants require a reservation?
Aside from Earl of Sandwich and D-LUXE Burger, which have a more open seating approach, it's definitely recommended that you grab a reservation ahead of time to these Disney Springs restaurants!
Especially if you plan to go on the weekend for limited brunch time offerings.
Which of these Disney Springs restaurants serve breakfast food every day of the week?
If you're looking for the best breakfast at Disney Springs on a weekday, then Earl of Sandwich is your best bet! 
It might be a quick grab and go type of breakfast sandwich, but at least they don't require a reservation, so you know you can get your yummy eggs and bacon whenever you want!
Additionally, Wolfgang Puck Express, Starbucks, and Amorette's Patisserie also offer reasonably priced, quick service breakfast foods all days of the week too!
Disney Springs Dining Tips
Now that you're ready to eat to your heart's delight, let's go over a few tips to help you plan a better Disney dining vacation.
1. Manage Your Dining Reservations with the My Disney Experience App
While you can make, modify, and cancel dining reservations by calling Disney Dining or heading to https://disneyworld.disney.go.com/dining/disney-springs/.
By the far the most convenient and efficient way to do so is with the My Disney Experience App!
Here you can search dining reservation availability by time, restaurant, and number of people in your party.
Plus, there's no penalization for canceling your reservations more than 24 hours prior, so feel free to book multiple dining reservations in advance, and cancel as you solidify your plans!
2. Enjoy a Disney Springs Happy Hour
You already know that Disney is not JUST for kids! 
House of Blues
Raglan Road
Edison
City Works
STK
3. Check Out the Disney Springs AMC for Movies and a Meal!
Ok, so it's not breakfast at Disney necessarily, but it is something really cool to experience if you don't have a dine-in movie theatre available in your hometown.
Basically, at the Disney Springs AMC movie theater, the six most popular movies are scheduled to show in a dine-in theater. 
This means that in front of each row of seats is a counter space where during the movie food such as burgers and milkshakes will be served!
Prior to the movie, an attendant will take your order, and it will typically be served within the first few minutes of your movie.
Then, if you want any more food items during your movie, you'll have access to a server button that'll alert your server to come back and take your order – talk about magical customer service!
Ready to plan your theme park trip? Watch the best vacation planning tips on YouTube. Get started here!
Final Thoughts on the Best Breakfast at Disney Springs
Well ThemeParkHipster, I hope this Best Breakfast at Disney Springs guide was everything you were expecting, and more!
Hopefully you'll walk away with a better idea of the options available to you when it comes to breakfast at Disney, so you can make an informed decision on your next Disney Springs trip!
But, before you go… I've GOT to know… Which restaurant on this list is your favorite? Any that are a DEFINITE no for you? Any "must-tries" that we missed? Let us know in the comments below!
Until next time, Happy Park Hopping Hipsters!
About the Author
UP NEXT: 11 BEST Things to Do at Disney Springs for Adults
(Original Article Date: August 16, 2021/Updated on May 31, 2022)