If it's been a while since you last visited Orlando, you're probably wondering What the heck is the Disney World Skyliner?
Lucky for you, you've come to the best guide!
The Disney Skyliner is the latest addition to Walt Disney World's wide array of transportation options across their property. It has officially joined the famous monorail, boats and busses.
At first glance, it probably looks terrifying, but don't worry.
I am here to ease your worries, inform and share why the on-site Resort Hotels with the Disney Skyliner stations are so coveted these days compared to other resorts.
Today I will go over:
History of the Disney World Skyliner
Station Stops on the Disney Skyliner
Things You Must Know Before Your Visit
Tips for Using the Disney World Skyliner
THIS POST MAY CONTAIN AFFILIATE LINKS. PLEASE READ MY DISCLOSURE FOR MORE INFO. Which means if you click on certain links, I may receive a small commission at no additional charge to you.
What is the Disney Skyliner?
The Walt Disney Disney Skyliner is a fully elevated gondola lift system that takes guests to various resorts and parks at Walt Disney World.
But to understand the conceptualization of Disney Skyliner, we have to first understand that it is not first of its kind at any Disney park.
ORDER NOW to secure your Walt Disney World theme park ticket! GET MY TICKETS.
History of the Walt Disney World Skyliner
Disneyland had Skyway, which connected Fantasyland and Tomorrowland.
Magic Kingdom had its own version of Skyway that closed in 1999, with its Fantasyland and Tomorrowland stations demolished in the early 2000s to make way for other projects, mainly New Fantasyland.
Tokyo Disneyland had one upon its opening in 1983. To this day, Skyway no longer exists at any of these parks.
However the Fantasyland and Tomorrowland stations at Tokyo Disneyland were repurposed for newer park experiences.
Thus, Disney Skyliner was born from the idea of Skyway, its idea expanded to the entire resort, rather than one park.
Planning for the Disney Skyliner Begins
Plans began as early as February 2017, with Reedy Creek filing the designs blueprints to the South Florida Water Management District.
During the D23 Expo of that same year, former CEO of The Walt Disney Company, Bob Chapek, confirmed that it was coming.
He stated that it would connect four of the resort's hotels to Disney's Hollywood Studios and EPCOT, giving riders sweeping views.
At that point, no opening date was revealed but by 2018, construction started.
Most of the stations and towers were finished by summer with Disney Parks Blog announcing in July 2019 that Disney Skyliner would open September 29, 2019.
Ready to plan your theme park trip? Watch the best vacation planning tips on YouTube. Get started here!
What makes the Skyliner at Disney World so special?
As of right now, Disney Skyliner is the only gondola system in the country with double loading and a second double loading aerial system.
Meaning that at the end of each terminal, most cabins unload immediately after decelerating at the station. They would then turn around and load guests on the other side of the terminal.
However, Disney Skyliner has the ability to switch some cabins to a second load and unloading system to better assist disabled passengers and those who require more time to board.
They will stop the cabins at a platform briefly before bringing them back to the main routes.
Where does the Disney Skyliner go?
The Walt Disney World Skyliner has three main routes:
Art of Animation & Pop Century Line
Disney's Hollywood Studios Line
EPCOT Line
Skyliner Route at Disney World
The main hub is located at Caribbean Beach Resort which is one of the 5 stops. There are also other Disney skyliner stops that include:
Hipster Power Tip: There is watercraft transfer at Caribbean Beach and EPCOT. Meaning you'll have to get off of your skyliner to enter the line for a transfer to the path leading to Hollywood Studios or the path leading to EPCOT.
Art of Animation/Pop Century Resort Skyliner Route at Disney World
The Art of Animation and Pop Century Resort line is the shortest of the routes.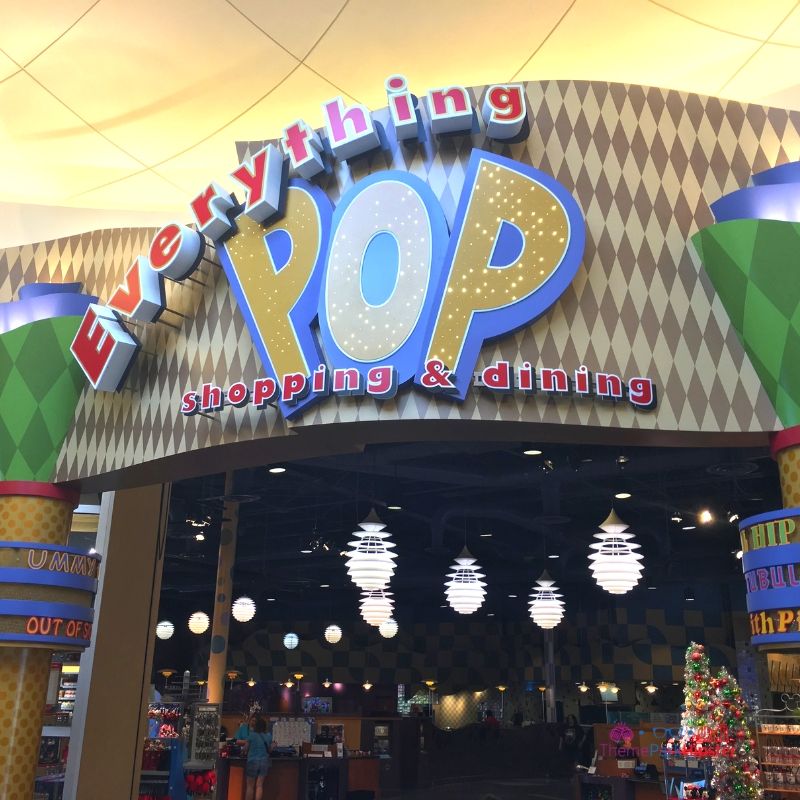 Caribbean Beach Resort Skyliner Route at Disney World
From Caribbean Beach Resort, you will travel over a bit of natural setting before passing the north building of art of animation.
It travels across the hourglass lake landing at the platform in the middle of the lake. One way is an estimated 4 minute ride.
Hollywood Studios Skyliner Route at Disney World
The Hollywood Studios line is the second shortest route, with a one-way journey lasting 5 minutes.
When leaving Caribbean Beach Resort to go to Hollywood Studios, you will travel over a bit of forest before going past the tollbooth for Hollywood Studios.
You'll then go over the parking lot and landing at the station near the bus stop. The station is located right at the park's entrance as well.
Recommended: Where to Stay in Orlando: Top 10 Hotels and Resorts for ALL Budgets
EPCOT Skyliner Route at Disney World
The longest of the three routes is the EPCOT line, with a one-way journey lasting 11 minutes.
Leaving Caribbean Beach, you'll travel over the Aruba and Jamaica villages of the resort before hitting a mid-station at Disney's Riviera Resort.
You will travel along Buena Vista Drive, reaching The Boardwalk tennis court parking lot and hitting your second mid-station.
You will then pass behind France Pavilion in World Showcase at EPCOT, giving you a nice view of the new addition to the park.
Eventually, you will arrive at International Gateway, where you can enter EPCOT through the back way at World Showcase.
When to Buy Flights tool, Get the Lowest Fare at CheapAir.com!
What to Know Before You Start Your Walt Disney World Vacation
Now that you know what to expect on the Skyliner at Disney World, let's go through the most commonly asked questions.
How fast does the Disney Skyliner go?
Something you should know is that the Disney Skyliner isn't terribly fast. The Max Speed is 11.2 miles per hour.
What time does Disney Skyliner open and close?
This is dependent upon the theme parks, but the Disney Skyliner hours range from opening as early as 6:30 a.m. or 8:30 a.m. and closing as late as 10 p.m or 11 p.m.
What is the cost to ride Disney Skyliner?
You'll be happy to know that the Disney Skyliner is free of charge! So that's one less thing you have to worry about paying for at Walt Disney World.
Does the Skyliner go to Disney Springs?
Unfortunately at this time, the Skyliner does not offer services to Disney Springs. Hopefully this will change in the future.
How to ride Disney Skyliner for free?
There are a few ways to ride the Skyliner at Disney World for free. Let's go through them:
If you're staying at a Disney Resort on the path, just find your nearest station.
Disney Annual Passholders can park at Hollywood Studios and hop on the Skyliner from that station since parking is included with your pass.
Non-Disney guests can park at Disney Springs and take a ride to one of the resort hotels with a station on the path such as Pop Century Resort.
Get the best price on your Walt Disney World Vacation Package… Guaranteed!
Is there air conditioning on Disney Skyliner?
Unfortunately, there is no air conditioning as the gondolas utilizes window vents to allow breezes to come through. It can still get a bit warm occasionally but not often.
How many guests can ride on Disney Skyliner?
The Disney Skyliner has over 300 cabins, some themed to various Disney properties that features bench style seating. It can hold 10 people in total with 5 people on each bench.
If boarding with an Electric Conveyance Vehicles (ECV) or wheelchair, you can seat about 5 to 6 people.
Are strollers allowed on Disney Skyliner?
Strollers are allowed but if they are larger than 30 x 48, they will have to be folded down.
What if i need extra time to board the Disney World Skyliner?
Cast Members will direct you to a different loading area that has stationary cabins.
What happens if Disney Skyliner goes down temporarily?
You'll be happy to know that Disney will send out busses from each station to get you where you need to go!
Are Food and Drink allowed on the Disney gondolas?
Yes, they are allowed but if riding with others not in your party, I would be mindful and not eat on the Skyliner at Disney.
Is the Disney Skyliner like Guardians of the Galaxy: Cosmic Rewind where I might get motion sickness?
It isn't likely that you will get sick but if you do, there are motion sickness bags on board.
What if there is an emergency on my Disney Skyliner?
Something you should know is that there are emergency call boxes in all gondolas.
Can anyone ride the Disney Skyliner?
You do not need to be a Walt Disney World Resort Guest to ride!
As mentioned early, you'll most likely you will have to board at the EPCOT and Hollywood Studios stations which are located outside park entrances.
Get up to 76% off of the Orlando attractions with Groupon TODAY!
3 Beginner Tips for the Disney World Skyline
Before I end this guide, there are a few helpful tips below if you plan to use the Disney Skyliner!
1. Take the EPCOT line as a way to gain easier and faster access to the Boardwalk area.
The Boardwalk is a very short walk from the EPCOT terminal.
2. Get to Your Station Early
If you plan to use Disney Skyliner to rope drop EPCOT or Disney's Hollywood Studios, plan to get to your station about an hour before.
3. Choose the Perfect Room
As a travel agent, if one of your main points of booking a Disney Skyliner access hotel is the Skyliner itself, you may want to book the following rooms at these resorts to be nearby:
For Caribbean Beach, the main hub, will be Jamaica, Aruba and Barbados.
Pop Century and the Art of Animation don't have internal bus systems like Caribbean Beach does so just be aware you will have a long walk to the lobby. But for both, I would request or book a water view room.
Ready to start planning your next Disney World vacation? Listen to the latest podcast episode on Apple or on your non-Apple device now!
My Final Thoughts
Hopefully all your questions and concerns were answered when it comes to Disney World Skyliner.
Admittedly, I was nervous when I rode it for the first time but once you see the awesome views as you travel across the resort, you may find that it will become your favorite mode of transportation on property.
Be sure to share your Skyliner photos in our Facebook Group!
Until next time, Happy Park Hopping Hipsters!