One of my absolute favorite places to dine at the Walt Disney World hotels is Topolino's Terrace at Disney's Riviera Resort.
The rooftop restaurant serves breakfast and dinner in a beautiful dining room surrounded by floor to ceiling windows that give panoramic views of Walt Disney World.
If you're thinking about dining at the popular restaurant keep reading for everything you need to know, a few tips on getting a coveted table, and of course my suggestions on what to order off the menu.
THIS POST MAY CONTAIN AFFILIATE LINKS. PLEASE READ MY DISCLOSURE FOR MORE INFO. Which means if you click on certain links, I may receive a small commission at no additional charge to you.
What is Topolino's Terrace at Walt Disney World?
Topolino's Terrace at Walt Disney World is a table service restaurant at Disney's Riviera Resort. The restaurant has both a character breakfast and a non-character dinner.
Topolino's Terrace has an incredible cuisine that is inspired by the Italian riviera with everything from house-made pastas to incredible baked breads.
Where is Topolino's Terrace and How Do I Get There?
This incredible Disney dining spot is located on the 10th floor of Disney's Riviera Resort. To get to Topolino's Terrace Flavors of the Riviera you'll have to park at the resort, walk inside of the lobby, make a left near the cafe, then the first right.
You'll then see a set of elevators from the hallway where you'll make another right to hop onto the elevator.
There will most likely be a Disney Cast Member there to double check your reservation before you're escorted to the elevator.
Is Topolino's Terrace All You Can Eat?
Topolino's Terrace at Disney is not an all-you-can-eat spot like some of the other character dining experiences. Instead, you'll pay one price for your breakfast which comes with bread service, non-alcoholic drinks, and one entree.
Dinner is like your standard restaurant with multiple options on the menu to choose from and is also not an all-you-care-to-eat dining experience.
What is the vibe like inside Topolino's Terrace?
The breakfast and dinner vibe at Topolino's Terrace Flavors of the Riviera are completely different. Breakfast is high-energy with the characters walking around and dancing.
Things are quite different at dinner with it being much more calming, romantic and with an adult atmosphere.
ORDER NOW to secure your Walt Disney World theme park ticket! GET MY TICKETS.
How do I get a reservation for Topolino's Terrace?
The easiest way to get a reservation for Topolino's Terrace is through the My Disney Experience app.
You can also make reservations through the Walt Disney World website or by calling the reservation line to Walt Disney World.
A word of warning though: reservations for Topolino's Terrace are incredibly challenging to get. If you see one you should take it, even if its not at a prime time.
It's always easier to modify an existing reservation than it is to attempt to make a new one.
If for some reason you decide you don't want to dine at Topolino's Terrace you can cancel your reservation without penalty up to 24 hours before your dining time.
What if I can't get a reservation for Topolino's Terrace at Disney?
There are a few options if you can't get a reservation for Topolinos Terrace. The first option is to get to the restaurant right when they open and get one of the lounge or bar seats.
Topolino's Lounge and Bar Area
The lounge seats are made up of a community table and a few booths, while the bar seat is up against the drink bar.
In both the lounge and the bar you can order off the regular menu and enjoy the same experience as guests with a dining reservation.
The other option is to join the walk-up waitlist, which can be done through the My Disney Experience app.
You will need to be somewhat close to the hotel to do this, so don't expect to be able to join from inside the Magic Kingdom.
If there is availability on the waitlist you can click on the restaurant and add your name. Then when your table is ready you'll get a push notification and a text message.
What's on the menu at Topolino's Terrace?
Both breakfast and dinner at Topolino's Terrace are fan-favorites at Walt Disney World, though they do offer very different experiences and foods.
Topolino's Terrace Breakfast
Breakfast at Topolino's Terrace is a character breakfast that's a set price. The cost for Topolino's Terrace is $42 for an adult meal and $27 for a kids meal.
The adult price includes all of your non-alcoholic drinks like coffee, tea, juice, and soda, along with your selection of entrees. Yes, I said entrees, because here you can order as much as you like.
Top Dishes on Topolino's Terrace Breakfast Menu:
When I'm going here with family, I typically order the Quiche Gruyere for myself, and a Fruit Plate for the table.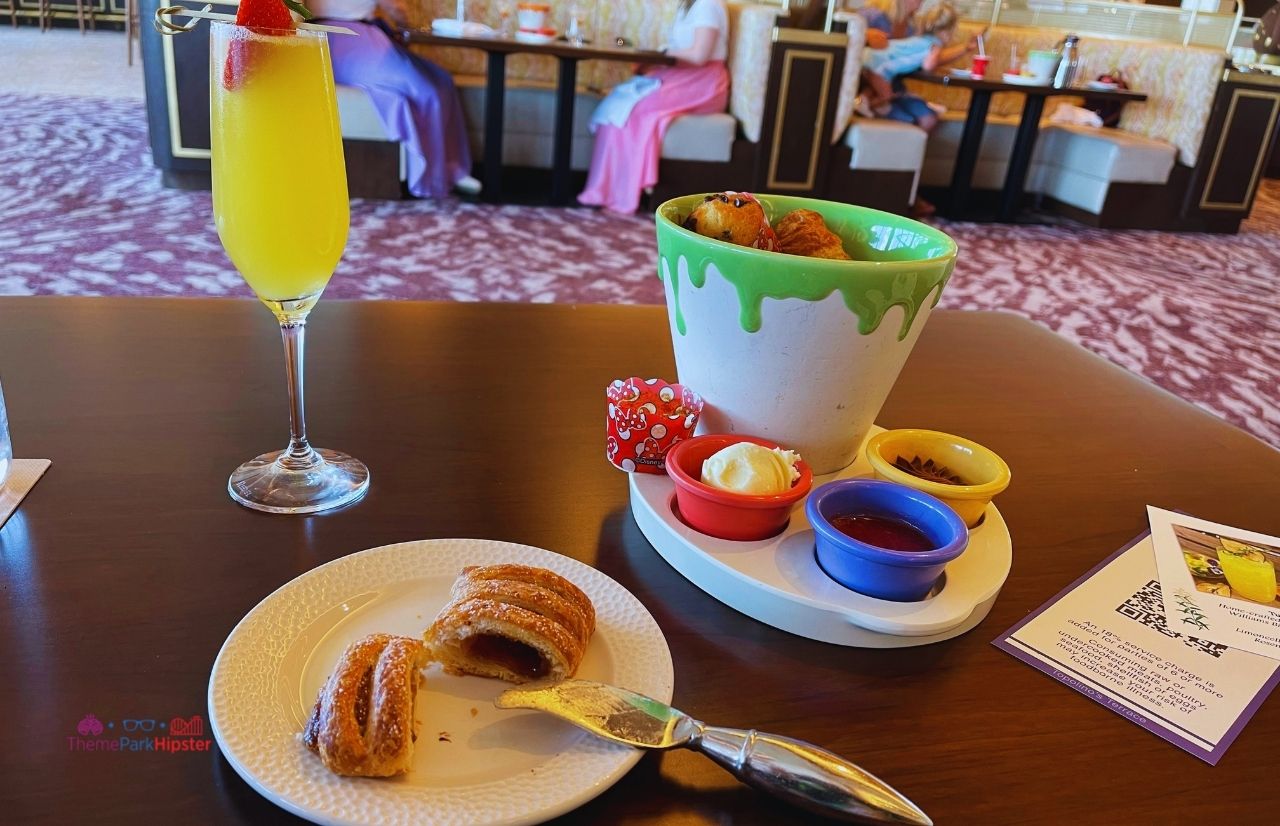 The Sour Cream Waffles, Smoked Salmon Bagle, and Wood Fired Butchers Steak are also great options. If you do order two or more entrees just know you won't get all of the sides with your second entree.
So if you're like me and order the quiche but also want the waffles, pick which one has the sides that sound better to you and just get the main component to the second dish.
Topolino's Terrace Dinner
Dinner at Topolino's Terrace is a standard table service meal without any characters. It is quite pricy, but worth it for all of the things that are made in house, like the pasta and the ricotta cheese, the latter of which I always start out with.
Top Dishes on Topolino's Terrace Dinner Menu:
The Rigatoni Dish is a favorite pasta dish and comes with a creamy chicken and wild mushroom sauce.
If you're looking for a fish dish, the Classic Sole Meunière is sure to delight. It comes with sea beans, briny capers, bright lemon, cauliflower, artichokes and perfectly roasted potatoes.
What to Know Before You Go
Now that you know what to expect at Topolino's Terrace at Walt Disney World, let's go through a few of the most commonly asked questions.
Does Topolino's Terrace take any discounts?
As of writing, Topolino's Terrace does accept Annual Passholder and Disney Vacation Club discounts.
What characters are at Topolino's Terrace?
At breakfast you'll see Mickey Mouse, Minnie Mouse, Donald Duck, and Daisy Duck all dressed in adorable outfits representing the arts while having breakfast at Topolino's Terrace.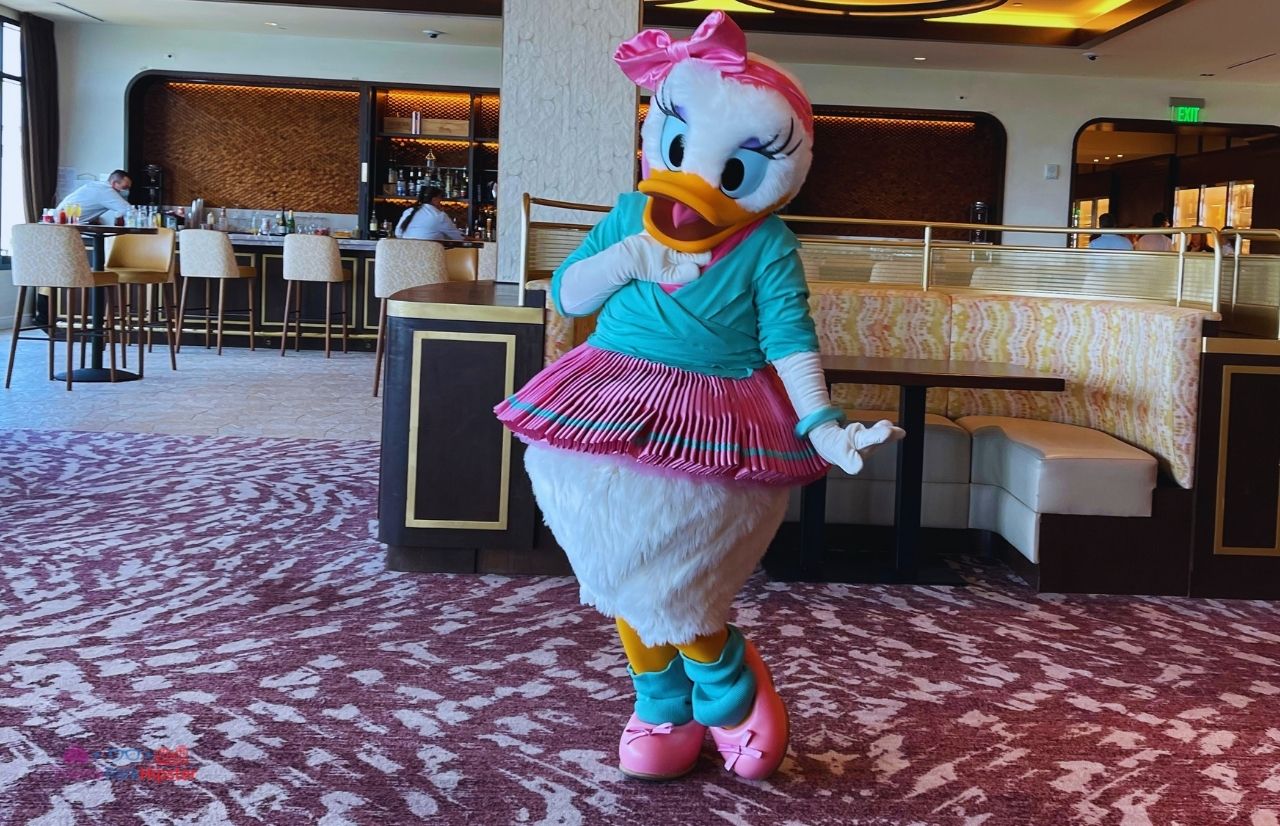 Can you see the fireworks from Topolino's Terrace?
Yes, if you book your reservation later in the evening, you'll be able to see the EPCOT fireworks from the outdoor terrace. It's a pretty awesome view!
Hipster Fun Fact: You can actually see all four Walt Disney World theme parks from the outdoor area of Topolino's Flavors of the Riviera restaurant!
Final Thoughts and Review of Topolino's Terrace
Topolino's Terrace is a fantastic option for dining while at Walt Disney World. The food is worth the splurge and the views from the restaurant are unbeatable.
Here are a few tips to help you out for your Disney dining vacation:
Security at the gate of Disney's Riviera Resort is usually very stingy about letting people in unless they have a confirmed dining reservation. If you plan to try your luck at the lounge or with the walk-up waitlist, your best option to actually get into the resort is to use the Disney Skyliner from EPCOT or Disney's Hollywood Studios or to take a Disney bus from one of the theme parks or Disney Springs.
If you're dining at breakfast, know that characters are not currently stopping at tables to sign autographs. At the end of your breakfast you will get a pre-signed card with all of the characters signatures on it.
I hope this guide helps you narrow down on the places you want to eat at when visiting Walt Disney World.
For more theme park tips and tricks, follow ThemeParkHipster on YouTube.
Until next time, Happy Park Hopping Hipsters!
If you enjoyed this article, then you'll love these:
About the Author