Have you ever heard of Rafiki's Planet Watch at Disney's Animal Kingdom?
I find that when guests visit Disney's Animal Kingdom, most people are so focused on getting to the Avatar: World of Pandora, Expedition Everest or any of the other bigger attractions.
What people fail to remember is the purpose of the park, which is to educate about nature, creatures and how to help with conservation.
Guests also fail to take some time to slow their roll. And so, Disney decided to resolve that problem with Rafiki's Planet Watch. It's so hidden that most guests do not even realize what or where it is despite it being on a park map or asking questions to Cast Members.
And yes, Rafiki's Planet Watch is still open at Animal Kingdom.
Now if you prefer certain attractions or shows, that's understandable. However, allow me to gather your attention as we dive into what makes Rafiki's Planet Watch worth a visit.
THIS POST MAY CONTAIN AFFILIATE LINKS. PLEASE READ MY DISCLOSURE FOR MORE INFO. Which means if you click on certain links, I may receive a small commission at no additional charge to you.
What is Rafiki's Planet Watch?
Rafiki's Planet Watch is a section in Disney's Animal Kingdom dedicated to giving you an up-close and personal experience with some of the wildlife at this theme park.
Activities such as learning how the animals are cared for and what we can do to help protect our planet for all creatures living here are just a few offerings in this area of Animal Kingdom.
Where is Rafiki's Planet Watch and How Do I Get There?
While Disney is usually very particular about making sure no backstage areas are seen by guests, with Animal Kingdom's Rafiki's Planet Watch, this is not the case.
Located in the Africa section of this Disney Park is the Wildlife Express Train. Once you arrive, you will board the train at Harambe Railway Station to make the seven-minute journey to Rafiki's Planet Watch. As far as the story goes, it is a part of the Eastern Star Railways for the land.
During the journey, you will be able to see various buildings such as the animal holding areas for the rhinos, elephants and more!
Overall, the entire roundtrip journey to and from Rafiki's Planet Watch is 1.2 miles in total.
ORDER NOW to secure your Walt Disney World theme park ticket! GET MY TICKETS.
What is There to Do at Rafiki's Planet Watch?
This hidden gem in Walt Disney World offers some fun and unique things for you to do on your visit. Let's go through a few of my favorites!
1. Affection Section
One of the highlights and favorites for visitors coming to Rafiki's Planet Watch is "Affection Section." At first glance, it looks like a standard petting zoo, which is an absolute delight to guests of all ages.
Here you will actually find a wide variety of exotic wildlife like goats, pigs, sheep and so much more. Guests really enjoy being able to interact and speak to the Cast Members who get to spend time with these animals and care for them daily.
Hand washing at the fountains is encouraged as you pet, brush, feed and get to know these fantastic creatures.
2. Animal Care Viewing Areas
Inside the first building you will see upon your arrival to Rafiki's Planet Watch is specialty viewing areas. These viewing areas are for curious minds who would like to see animal exams and surgical procedures.
Disney takes pride in showcasing to guests the great lengths and care they take to make sure the animals that call this park home are given the best care available.
3. Meet Your Favorite Disney Characters at Rafiki's Planet Watch
This building is also where you can meet several characters like Rafiki himself and Doc Mcstuffins of Disney Junior fame.
4. Chat with Animal Care Experts
Experts are also available in the building to educate you regarding the care given to the animals like food prep, medicinal care and anything you could think of regarding vet care for the animals.
5. Watch the Animals Across the Park
Not to mention, there are cameras in the building that will allow you to take a peek at what some of the animals are doing around Disney's Animal Kingdom or even find conservation efforts near your hometown, so you can help after you learn from the park.
6. Visit Habitat Habit
You can check out "Habitat Habit!" while you are exploring. I personally came across this exhibit during my last visit back in 2019. This is a small animal trail which boasts a small group of Cottontop Tamarin Monkeys.
It is also a peaceful trail and a great way to see and learn about smaller, exotic animals and ways to help with protecting them through the various signs as you walk through.
7. Enjoy a FREE Art Class
Lastly, we have the "Animation Experience at Conservation Station." Back in the day, you could take a small animation drawing class in Animation Courtyard, which was located where Star Wars Launch Bay currently stands at Disney's Hollywood Studios.
Fortunately, you can have that experience at Disney's Animal Kingdom and be able to see inside the animator's chair.
You can do this while learning how to draw the real animals that inspired some the most beloved Disney Characters like Simba, Timon or Pumbaa from "Disney's The Lion King."
As of late, Disney Guests are learning how to draw Tuk Tuk from "Disney's Raya and the Last Dragon."
Is There Any Shopping or Dining Options at Rafiki's Planet Watch in Animal Kingdom?
While there are not any dining options at Rafiki's Planet Watch, there is a gift shop called "Out of the wild!"
Ready to plan your theme park trip? Watch the best vacation planning tips on YouTube. Get started here!
Wrapping Up…
It may seem like there isn't much to do at Rafiki's Planet Watch, but trust me when I say that you could spend at least an hour exploring this area.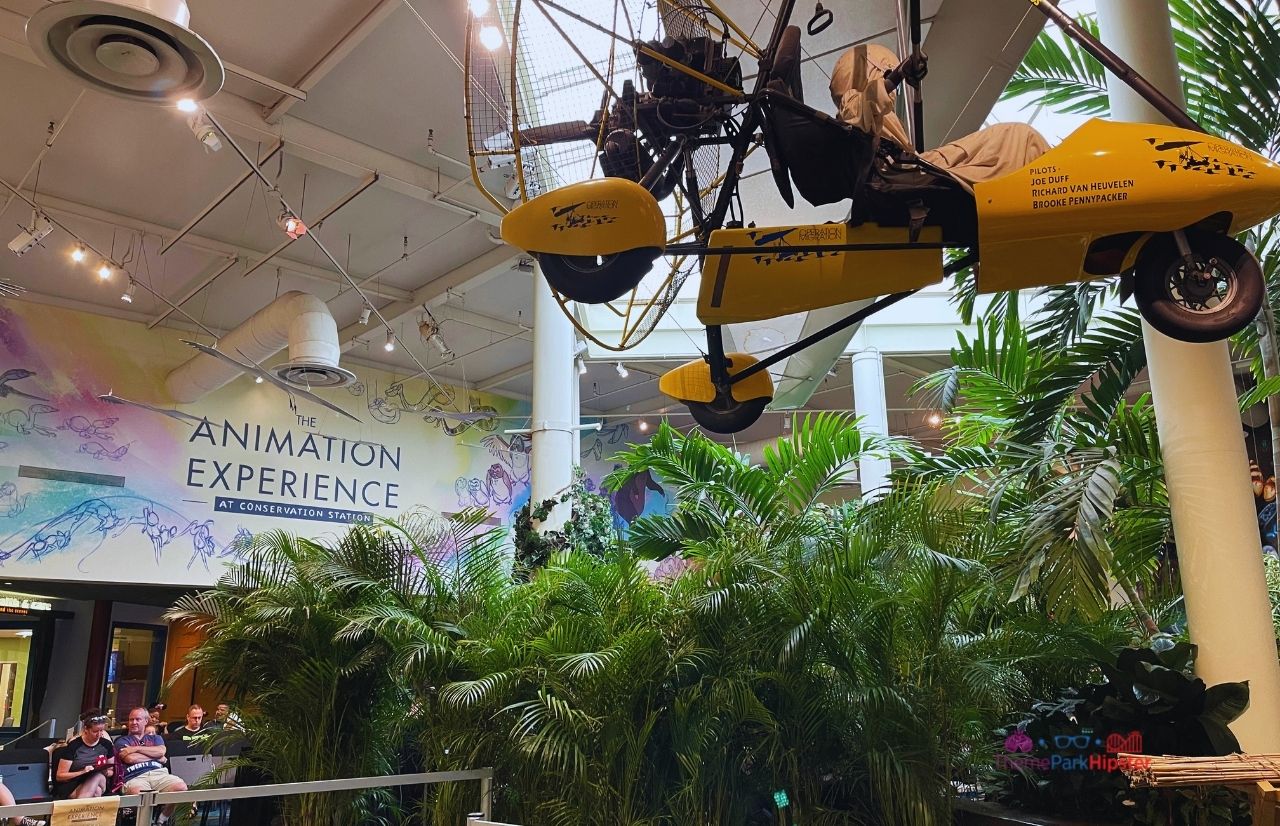 It is a very enjoyable, peaceful and educational area that is the only land not connected to Discovery Island.
At times, you forget that you are at Animal Kingdom as you are learning about the animals through all your senses.
Rafiki's Planet Watch is an excellent physical example of Disney's "Edutainment." There is something for everyone here and I assure you that Rafiki would love to have you come pay a visit!
Until you are able to make it up there, share your thoughts about Disney's Animal Kingdom and how you feel they are doing with its conservation efforts in our Facebook Group.
Until next time, Happy Park Hopping Hipsters!
About the Author
UP NEXT: What's The Best Counter Service at Animal Kingdom? These 5 Will Help You Decide!