Are you ready to experience Christmas at Disney World?
Another Yuletide season is here and I couldn't be more excited because it's a time when our inner child comes to live in anticipation of all the new holiday experiences at Walt Disney World.
It is a season when we share good tidings with friends and family, take some time off our busy lives and schedules, and most importantly spend time creating colorful and exhilarating new memories with the people that matter most to us, our family.
THIS POST MAY CONTAIN AFFILIATE LINKS. PLEASE READ MY DISCLOSURE FOR MORE INFO. Thank you!
The Joy of Christmas at Disney World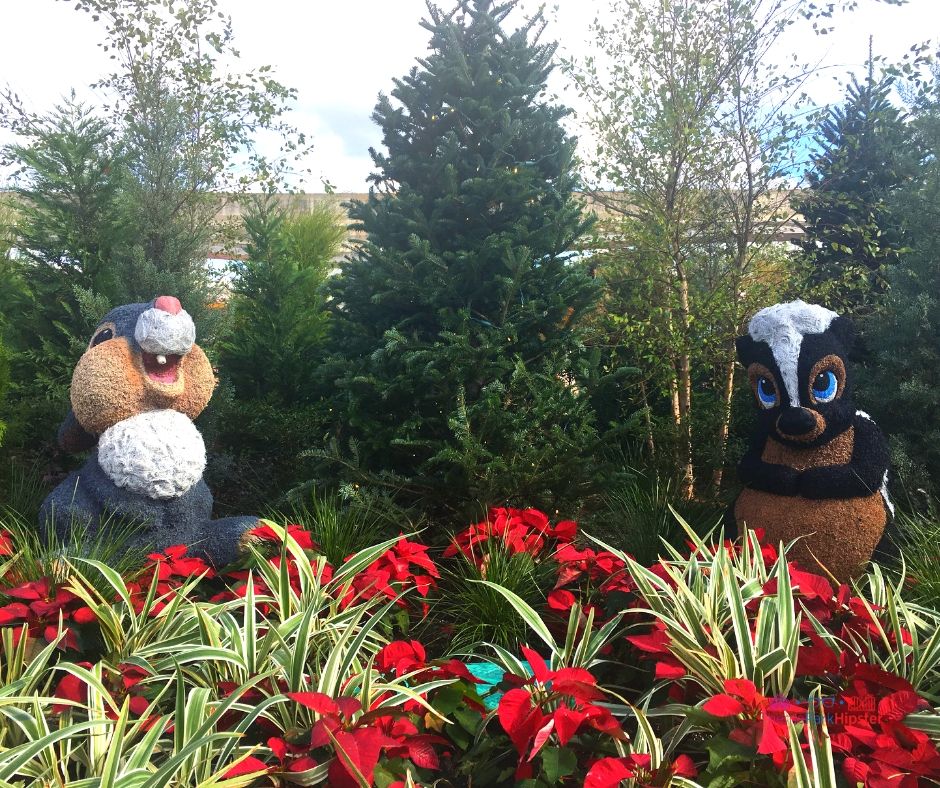 Chances are, at this Christmas just like the rest, families like yours will be looking to a visit fun destination where you all can make magical, new holiday memories and have the experience of a lifetime.
There is no better place to write a new holiday story, let your inner child out, experience all the magic you can in one than at Walt Disney World in Orlando, Florida.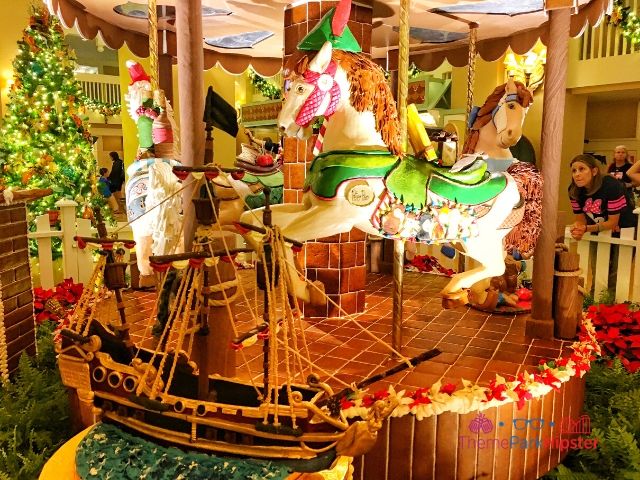 If you have visited uncle Walt's wonderful theme park in the past then you already know what marvels and amazement awaits you because there is always something new to experience and see.
But, if you have not visited Disney World before, then this is one location you have got to visit at least once in your lifetime. Especially during Christmastime.
ORDER NOW to secure your theme park ticket reservation in the parks! GET MY TICKETS.
What to Expect During the Holidays at Walt Disney World Resort
On your Disney trip you can expect to see so many Christmas decorations that are unlike anything in the world.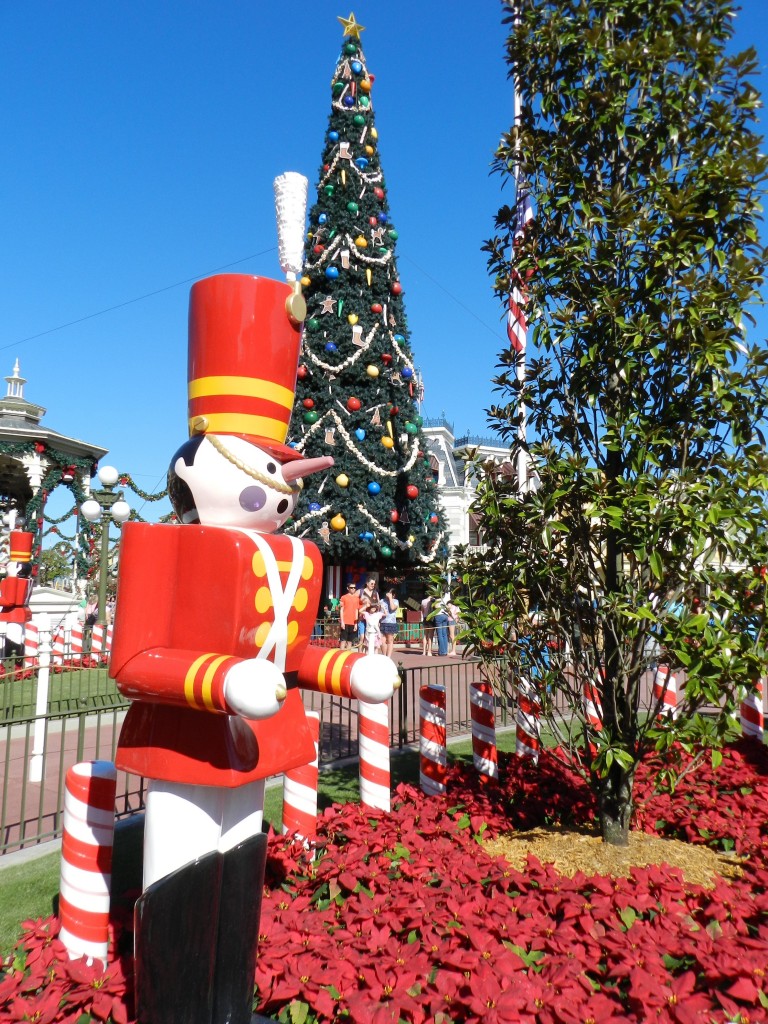 You'll get to see a castle covered in thousands of ice-inspired lights to some of the largest Christmas trees you probably ever seen.
There are so many other things to see and do during this season at the resort such as:
A Star-studded Twist on Christmas at Hollywood Studios
A Wild Holiday Adventure at Disney's Animal Kingdom
Holidays Around the World at Epcot
Mickey's Very Merry Christmas Party
You'll also get to meet the famous Disney characters like Mickey Mouse, Minnie Mouse and Goofy in all their holiday gear.
As you can see, Walt Disney World will leave you speechless and under its spell during the holidays.
Celebrating Christmas at Disney World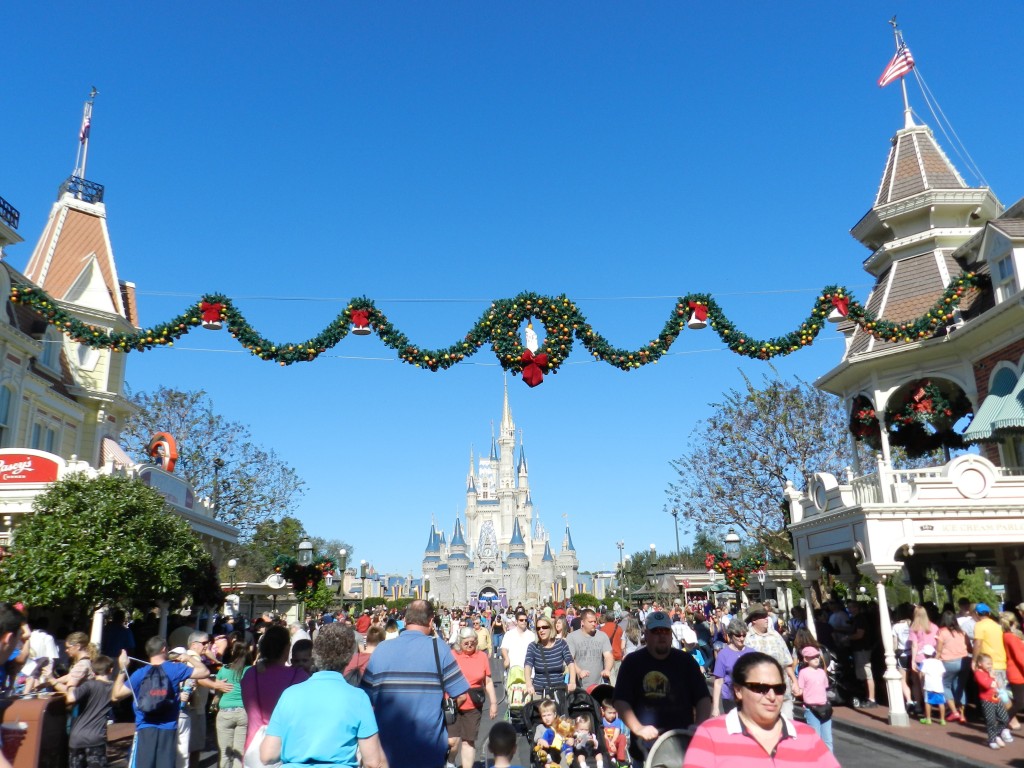 As we go through this holiday guide, my goal is to answer your top questions about visiting Disney at Christmas. Plus, I want to inform you on all the popular events you can attend while at the parks.
I'll also give you some handy tips that will help you have the most fun while sticking to your budget.
So, let's get right to it and learn about the magic and hidden treasures of Disney World at Christmastime.
Magic Kingdom Christmas Events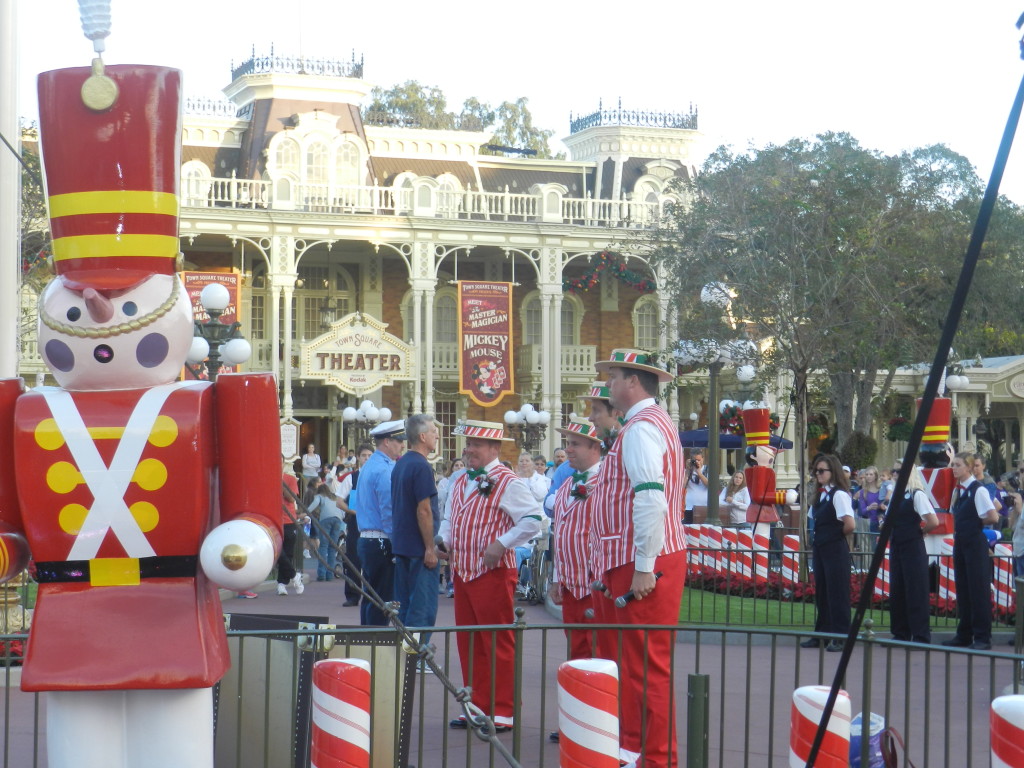 Orlando is one of the best places in the world to be at during the holidays especially at Christmas.
Since there are a many theme parks in Orlando competing for our attention during this season, it's great to be in this area for the holidays.
But Disney is undoubtedly the most famous comes out on top each year as the best destination for Christmas in Orlando.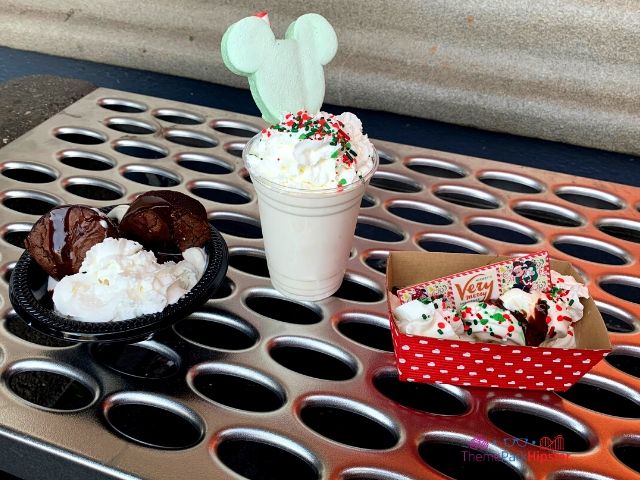 Especially with the holiday happenings at the Magic Kingdom theme park.
Here the holiday season will transform the Magic Kingdom into a winter wonderland complete with specialty treats, a Frozen-inspired castle and so much more!
Fun Fact: During the holidays, Magic Kingdom is home to 40 trees, 147 wreaths and 590 garlands that measure a total of 5,188 feet.
Mickey's Very Merry Christmas Party
Mickey's Very Merry Christmas Party features special shows including Mickey's Once Upon A Christmastime Parade, grand fireworks, over the top dance parties, photo ops with Disney characters as well a handful of other unique activities.
There's also the new nighttime show called Minnie's Wonderful Christmastime Fireworks which will take you through some of the most heartfelt holiday stories on select nights from until December 29th.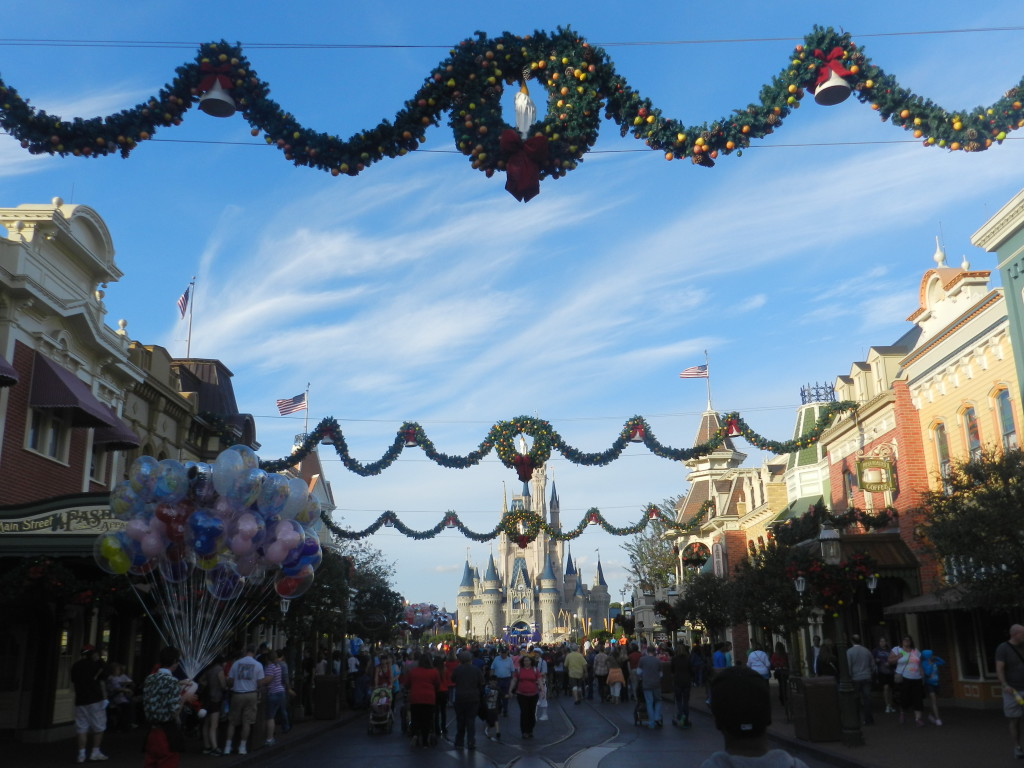 More Fun Activities at Mickey's Very Merry Christmas Party:
A Frozen Holiday Wish Show: Watch Queen Elsa magically transforms Cinderella Castle into an ice palace
Holiday Fireworks Dessert Parties: Enjoy tasty treats with a beautiful view of the fireworks show and is offered nightly during each
A Totally Tomorrowland Christmas and Mickey's Most Merriest Celebration: These two stage show transports you into a fun holiday addition to the Disney magic
Jingle Cruise: This classic Disney attraction gets a holiday overlay with all the sarcastic jokes you can handle
Fun Christmas Treats: Delight yourself in all the holiday exclusive treats at the Magic Kingdom
Snow in Florida: Enjoy the magical snowfall in the heart of Main Street, U.S.A.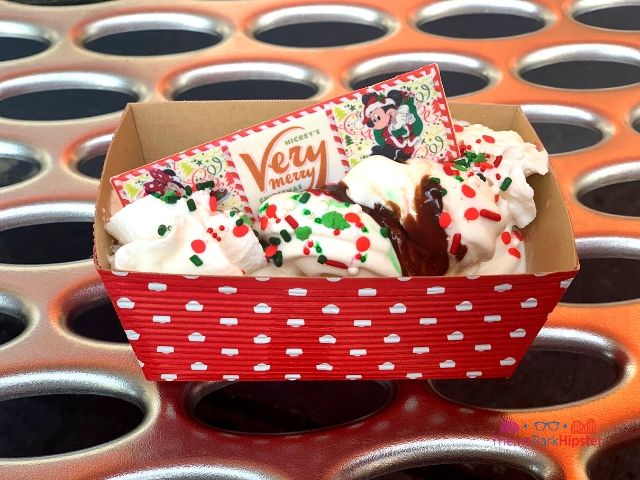 Mickey's Very Merry Christmas Party Dates and Times 2019
The Mickey's Very Merry Christmas Party starts at 7 p.m. for each event with dates on:
November 8, 11, 12, 14, 15, 17, 19, 21, 22, 24
December 1, 3, 5, 6, 8, 10, 12, 13, 15, 17, 19, 20, 22
Learn how to find your perfect vacation home rental near Disney World by Clicking HERE!
Ticket's for Mickey's Christmas Party
This after-hour party requires you to purchase a special ticket outside of the regular park tickets that will gain you admission into the spectacular evening festivity.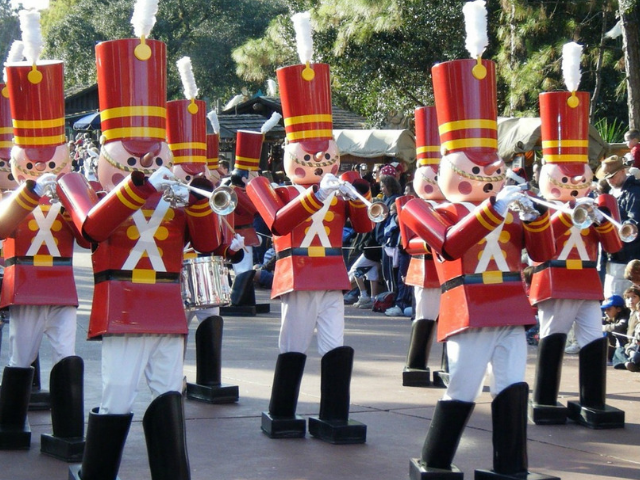 Also, the tickets are quite pricey and start at $99 depending on the day you will be attending.
If you want to save a few dollars, you'll should buy your tickets for the weeknights as they are less expensive and will have fewer crowds.
14 Tips for Mickey's Very Merry Christmas Party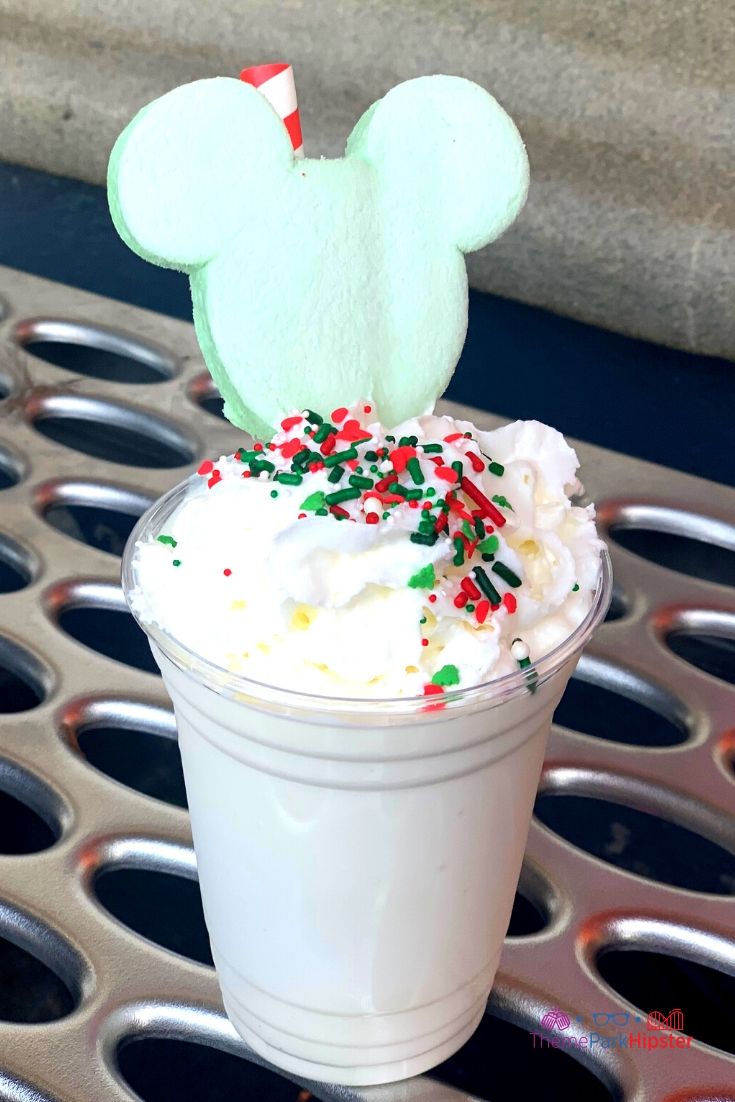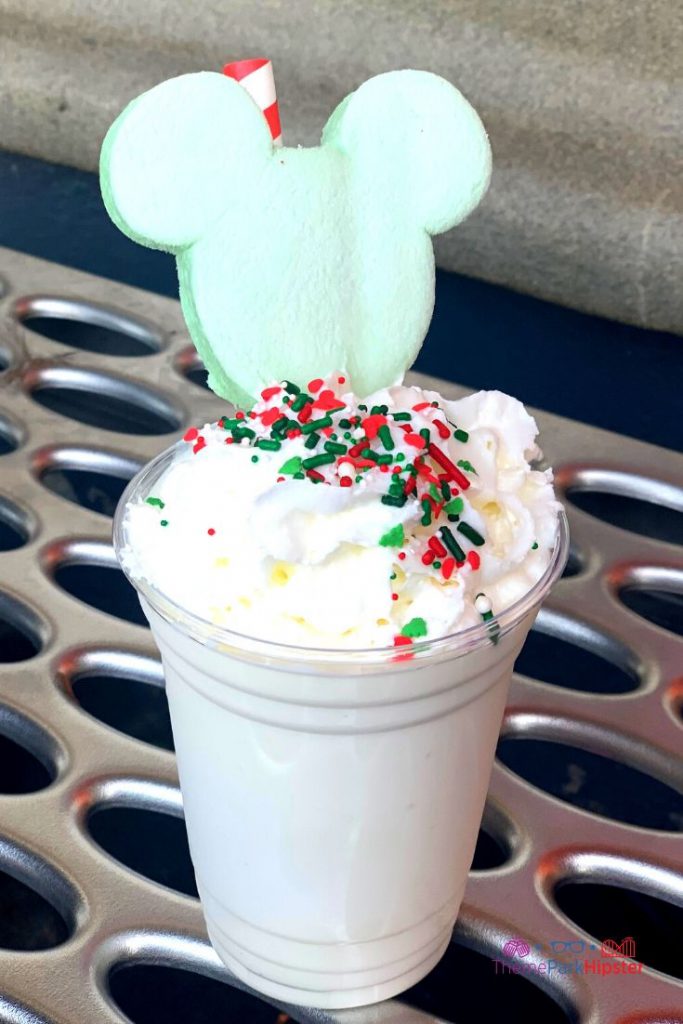 Now that we have an idea of what to expect at the Magic Kingdom for Christmas, let's go through a few tips to make the most of your time at the party.
Buy your tickets ahead of time as this event is know to sell out
Go during the weekday to avoid the crowd and to pay lower amount on your admission ticket
Have a game plan set before your trip in order to know what characters your want to see the most in between all the entertainment that will be offered to you
Start early by getting to the front gates of the Magic Kingdom by 4 p.m. to maximize your time (although party officially starts at 7 p.m., you can ride the attractions early and enjoy the Christmas festivities later)
Don't miss the nightly lighting of Cinderella's Castle
Ride Jingle Cruise before the party start (between 4 p.m. to 6 p.m.) to avoid the crowds
Don't miss all the stage shows such as A Totally Tomorrowland Christmas and Mickey's Most Merriest Celebration
Taste your way through the sweet Christmas treats exclusive during the holidays
Watch the second parade which less crowded than the first
Take advantage of the Magic Shots which add a little bit of holiday flare to your photos
Pace yourself and try not to be unhappy if you're not able to see everything
Watch the spectacular fireworks show
Make more than one round on the treat stops where you can get your free milk and cookies
Check the weather before you go because during this time it may be a chilly night or a muggy, warm night in Florida
Christmastime at Epcot
Epcot is another theme park within Disney world that was originally built to celebrate cultures from around the world and human achievements.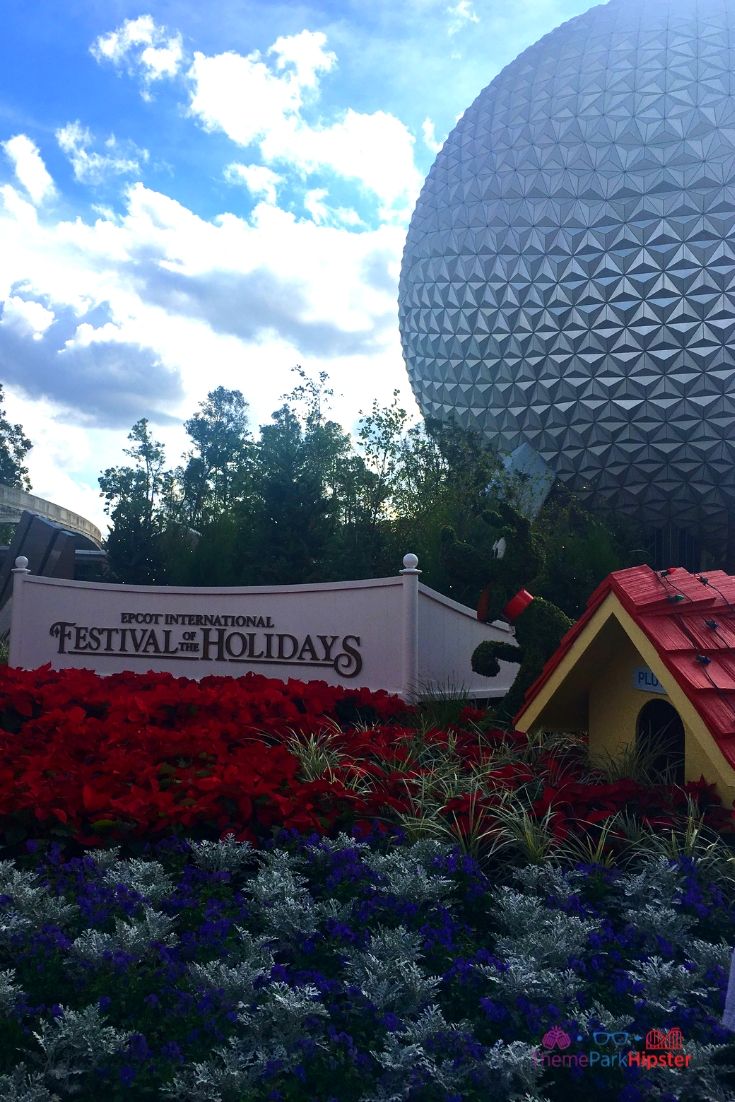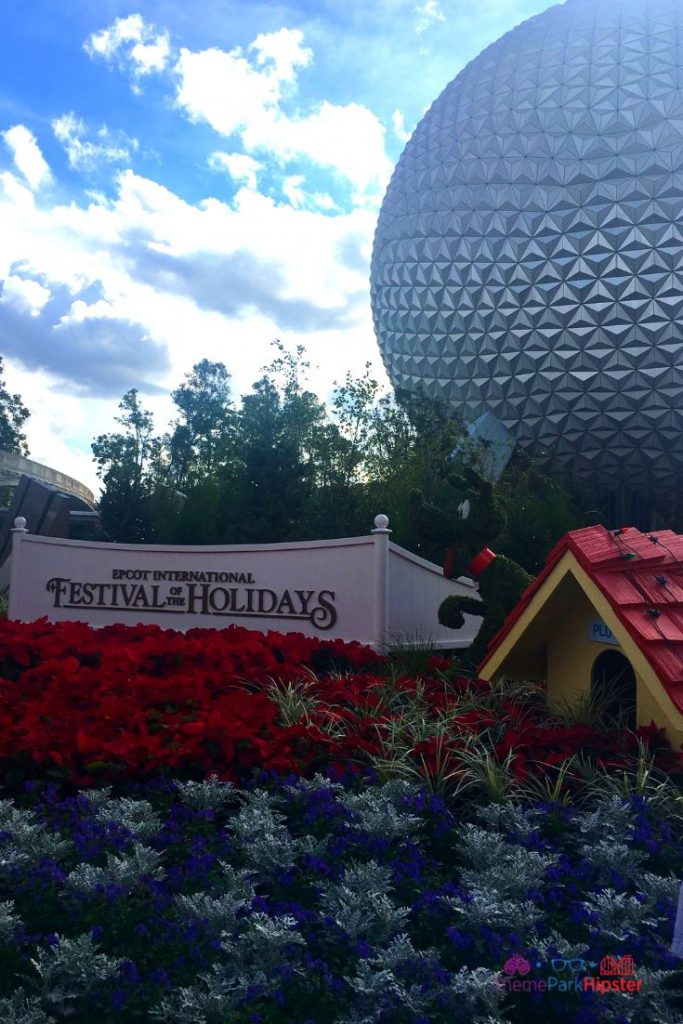 If you are visiting Disney World for the first time and you want to explore on your own, you will find the Epcot theme park the perfect place to start your solo adventure!
This part of Disney is especially exciting to visit as you are treated to a plethora of seasonal fun designed to thrill you and your family.
Epcot International Festival of the Holidays
In the holiday season, this Disney park hosts the Epcot International Festival of the Holidays. The festive annual event showcases delicious food and wine, traditional storytelling, a Candlelight Processional and so much more!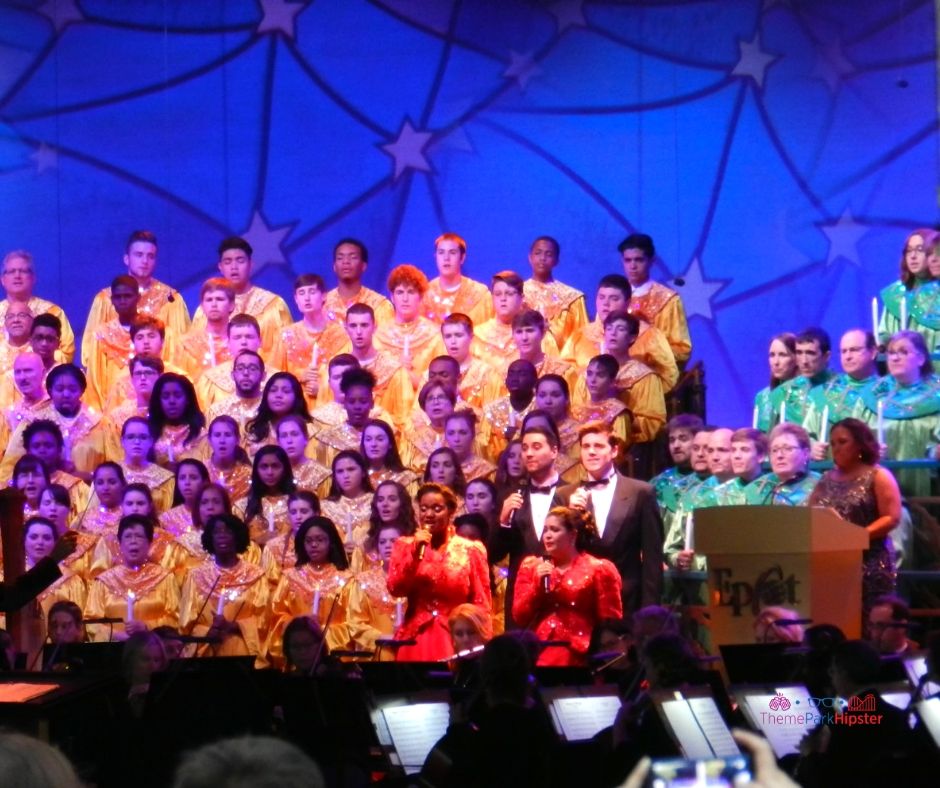 The Epcot Candlelight Processional
At the annual Epcot International Festival of the Holidays, the Candlelight Processional show is a must do especially if you love Yuletide carols and listening to the Story of Christmas.
Fun Fact: The Candlelight Processional will be performed 96 times at Epcot this holiday season with a 50-piece orchestra, mass choir and 12 different celebrity narrators.
At the show, a celebrity narrator retells the Nativity story while a mass choir performs in between portions of the narration, alongside a large, majestic orchestra.
The Epcot Candlelight Processional is guaranteed to give you goosebumps and truly put you in the mood for Christmas.
When is the Epcot Candlelight Processional?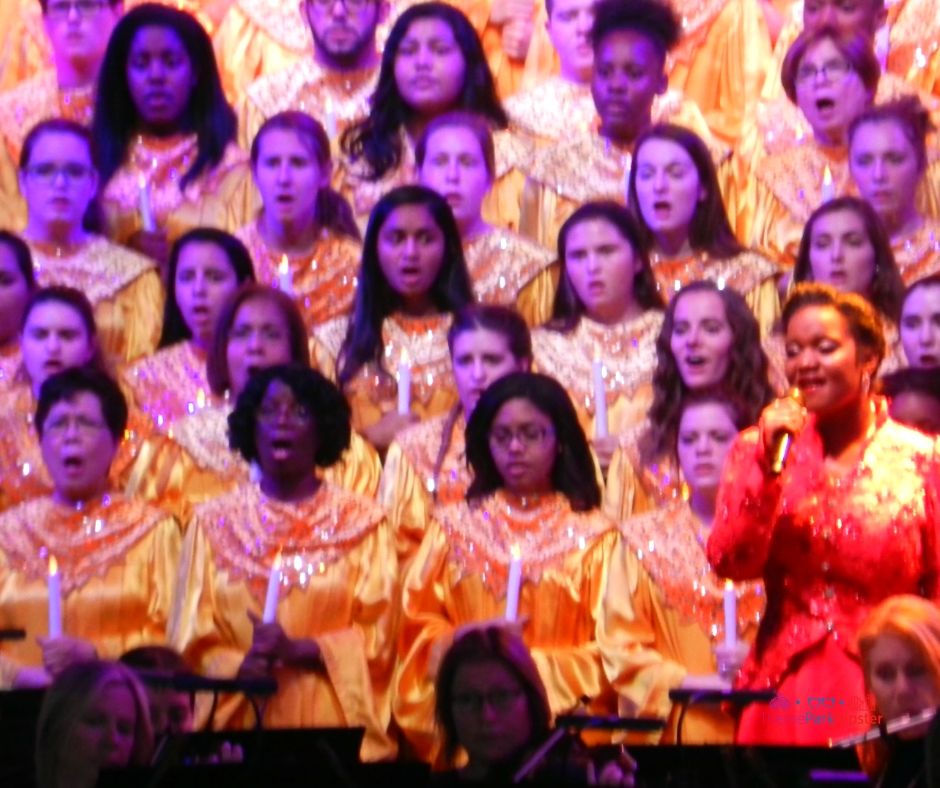 The Candlelight Processional happen three times every night from November 29th to December 30th at the American Garden Theatre in Epcot.
Hipster Power Tip: This show is extremely popular so expect huge crowds. I recommend getting the Candlelight Processional Dining Package (if it works in your budget) as this will guarantee you good food and a great seat to watch your top narrator.
Holiday Storytellers at Epcot
Epcot's World Showcase offers some entertaining international storytellers who love to engage the crowd with stories, folklore, and songs from their countries.
These incredible performers share oral holiday and Christmas traditions from their countries with songs and stories.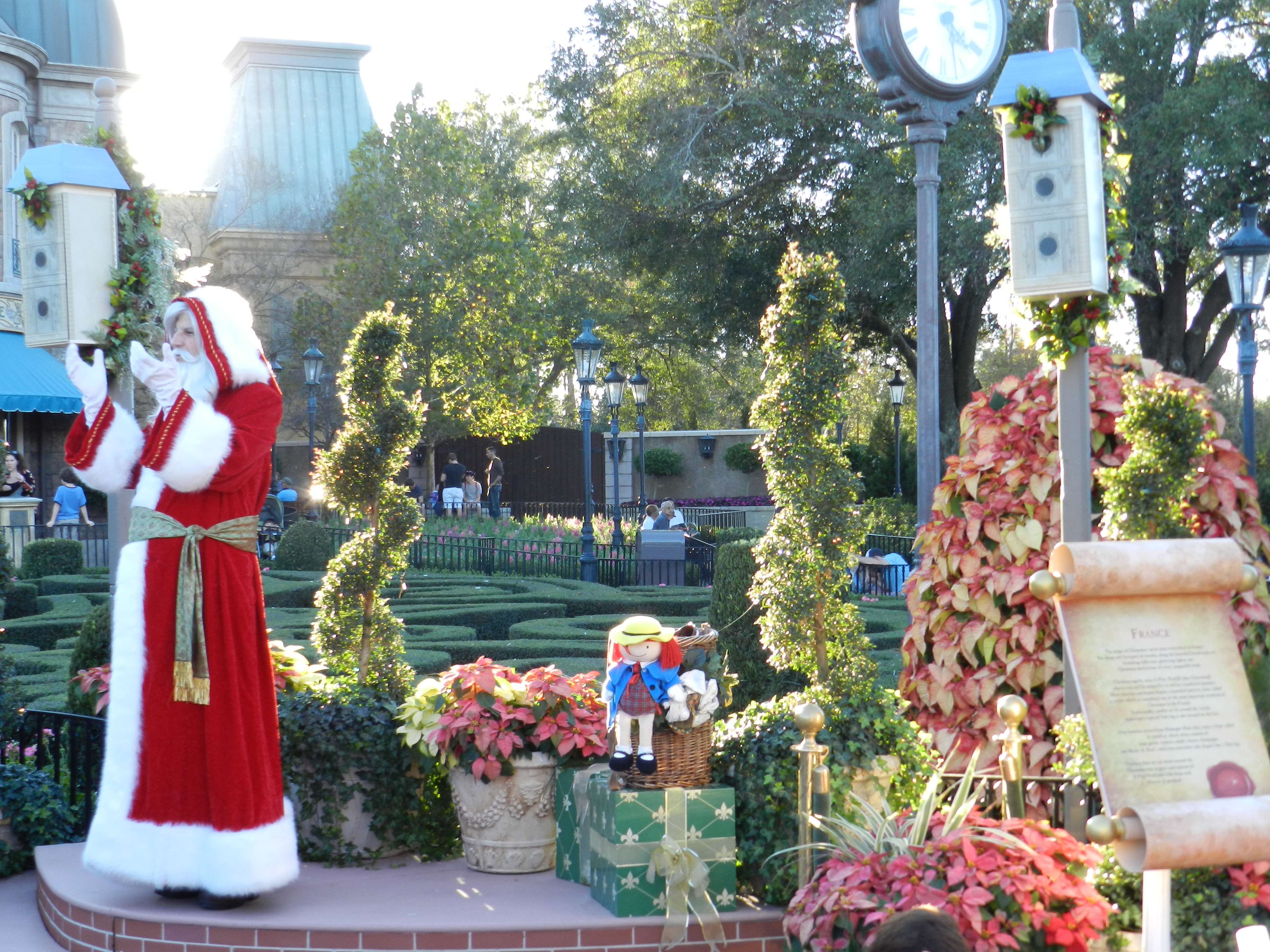 2019 Holiday Storytellers
Mexico (Listen to tunes of Fiesta de Navidad with mariachi band and dancers)
Norway (Watch the mischievous Barn Santa try to help tell the Christmas storyteller in Norway)
China (Watch the Chinese New Year lion dance)
Germany (Listen folk music inspired by the holidays)
Italy (Learn how Italy celebrates the Epiphany)
The American Adventure (Meet Santa and Mrs. Claus and learn about Hanukkah and Kwanzaa)
Japan (Learn about the Daruma doll)
Morocco (Listen to festive band play their own holiday music)
Between Morocco and France (Learn about the Hanukkah celebrations across the globe)
France (Listen to Père Noël speak on the Magic of Christmas)
United Kingdom (Learn about the holiday traditions of the U.K. from Father Christmas)
Canada (Learn about the Great White North holiday traditions)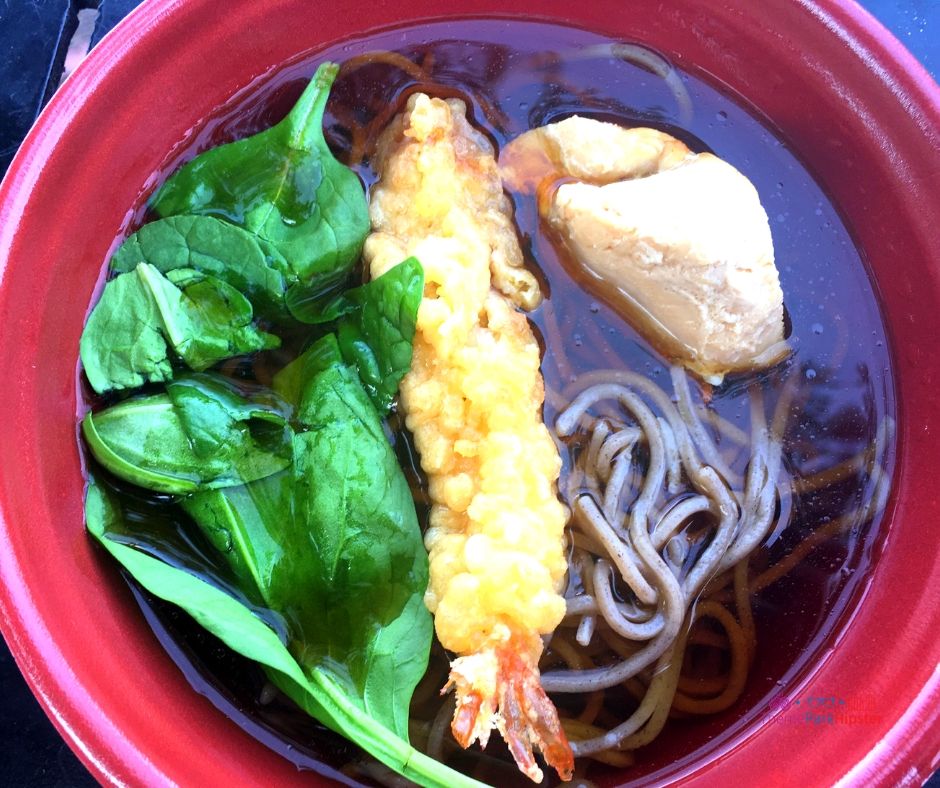 More Fun Activities at Epcot Festival of the Holidays:
Listen to Voices of Liberty sing classic holiday songs
Watch Joyful! A Gospel Celebration of the Season as they bring down the house with their incredible voices
Get a photo with Santa
Do the Cookie Stroll which allows you to go to a few select locations where you buy a cookie and get your passport stamped with a special design
Do the Chip & Dale's Christmas Tree Spree Scavenger Hunt
Try a new holiday dish at all the Kitchens in Epcot
Christmas at Hollywood Studios Holiday Events
Although Disney's Hollywood Studios is the smallest theme park in Walt Disney World, it really comes alive during the holidays with lights and decorations all throughout the park.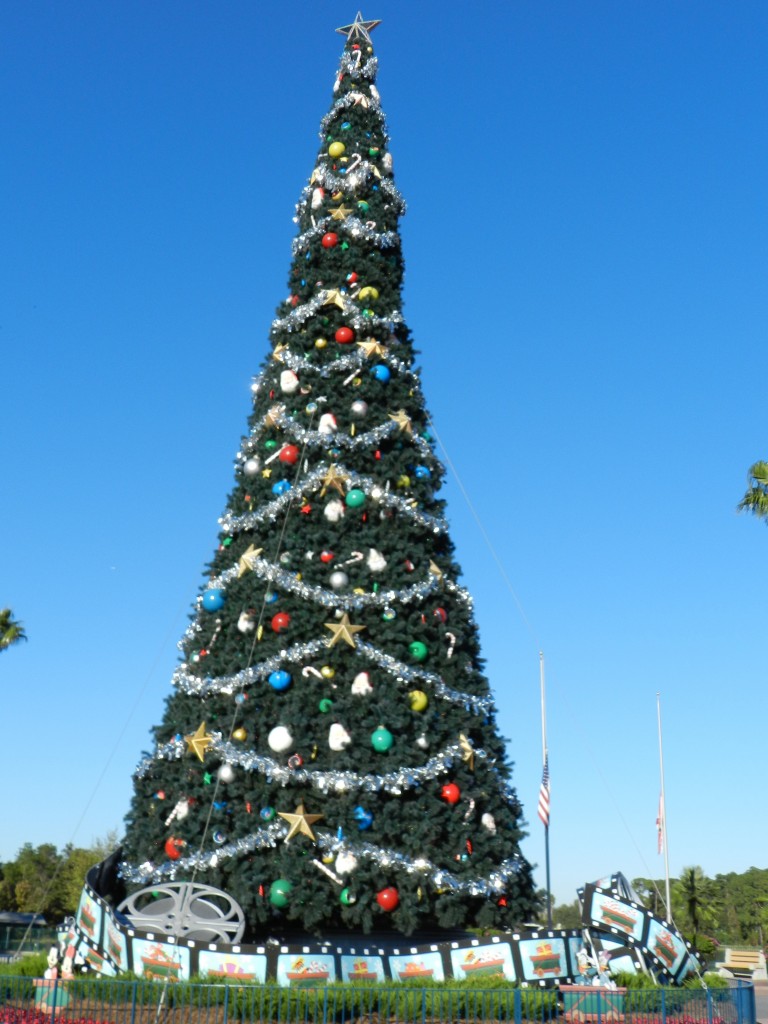 There are also some shows that you definitely should catch like the Jingle Bell, Jingle BAM! and the Sunset Seasons Greetings.
Jingle Bell, Jingle BAM!
At Jingle Bell, Jingle BAM!, you will be thrilled by grand fireworks and incredible visual displays on the roof of the Chinese Theatre.
You'll get to follow along with elves Wayne and Lanny as they hunt for Santa through complete with wonderful songs of the season.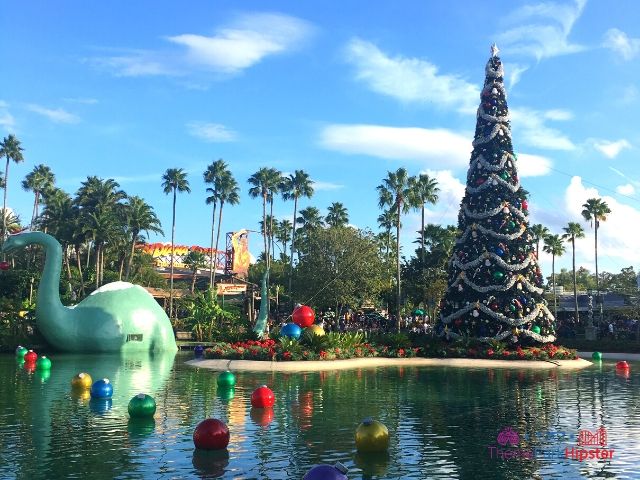 Sunset Seasons Greetings
The Sunset Seasons Greetings is a projection show that takes place at the park and features some pretty cool light and laser effects complete with falling snow at Sunset Boulevard.
The event is meant to mesmerize you with all the colorful lights and stories by Mickey, Minnie, Olaf and others.
Hollywood Studios Christmas Decorations
The Echo Lake Holiday Décor is also definitely a sight to behold at Hollywood Studios as it displays larger-than-life ornaments with dinosaur Gertie dressed in holiday cheer.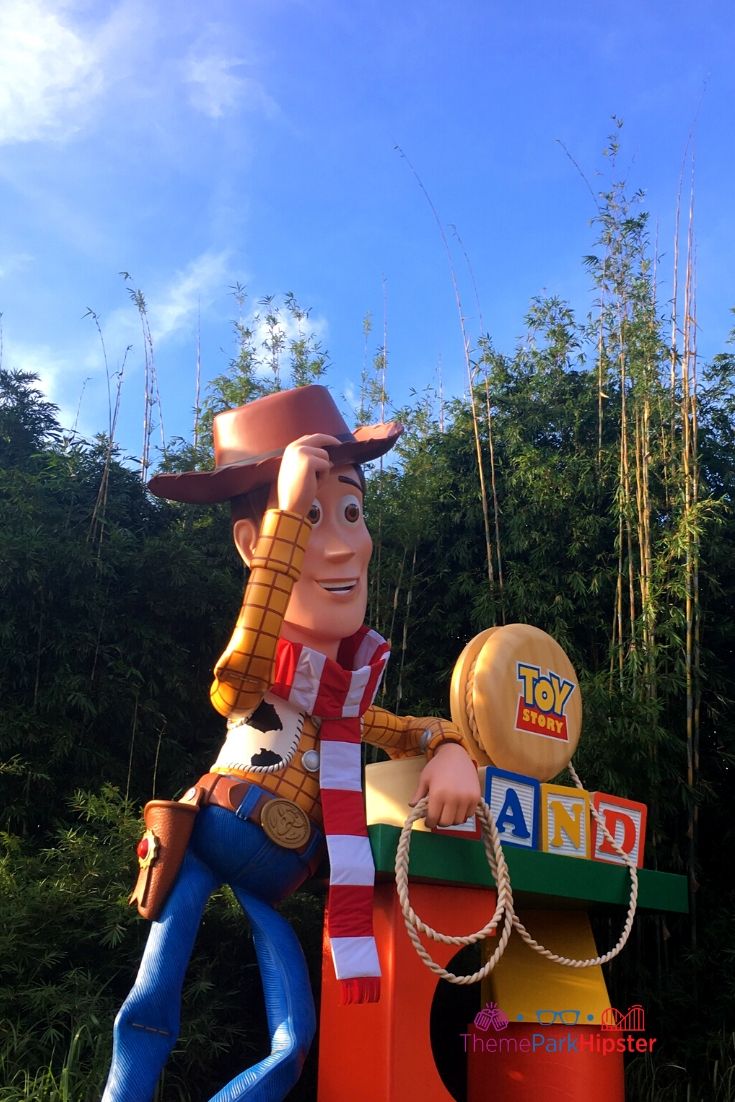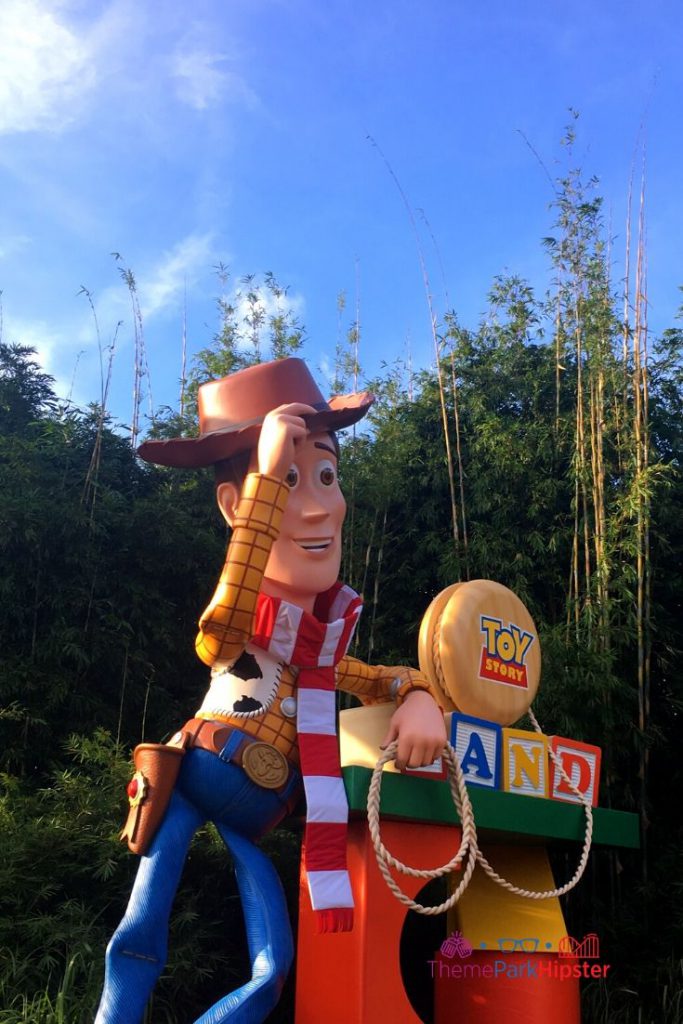 Plus, there's a giant Christmas tree centered on Echo Lake that brings everything together to create a breath-taking view of the lake.
You'll also want to head over to Toy Story Land to see all the fun holiday décor in Andy's backyard.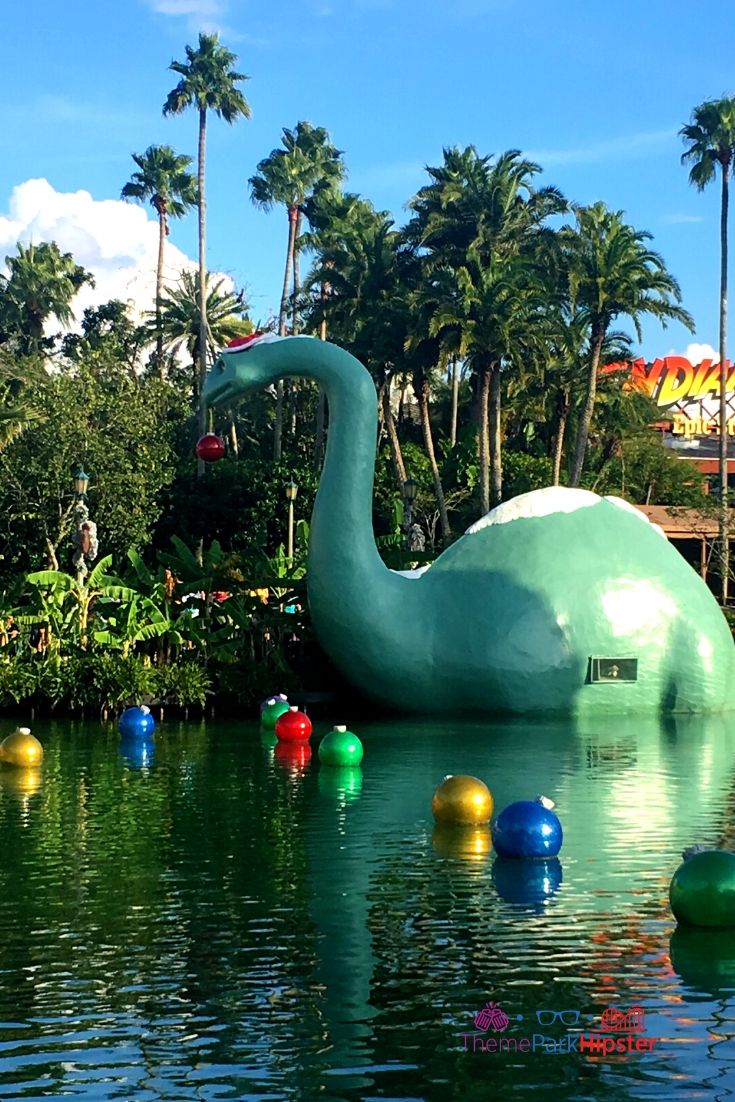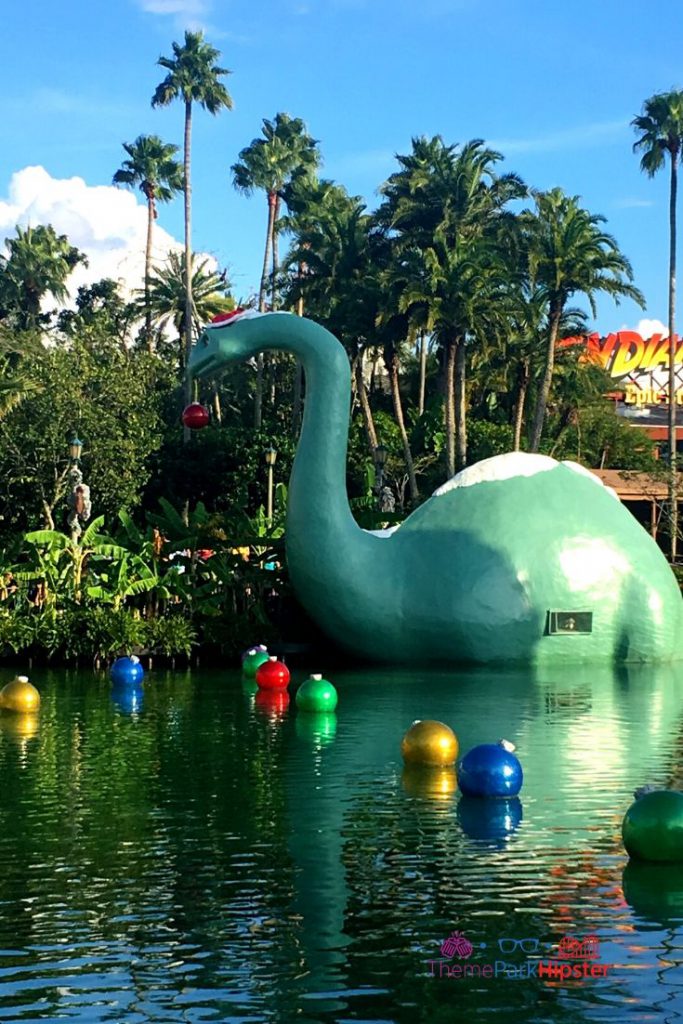 Fun Fact: The Christmas tree on Echo Lake is 65 feet tall, with a 25-foot-wide base.
Animal Kingdom Christmastime Events
Disney's Animal kingdom will also be lit up in Christmas decorations all through the park for the first time this year.
You be able to see the magic of nature during the holidays at Animal Kingdom starting in Discovery Island, continuing in Pandora, and heading all the way over to Dinoland U.S.A.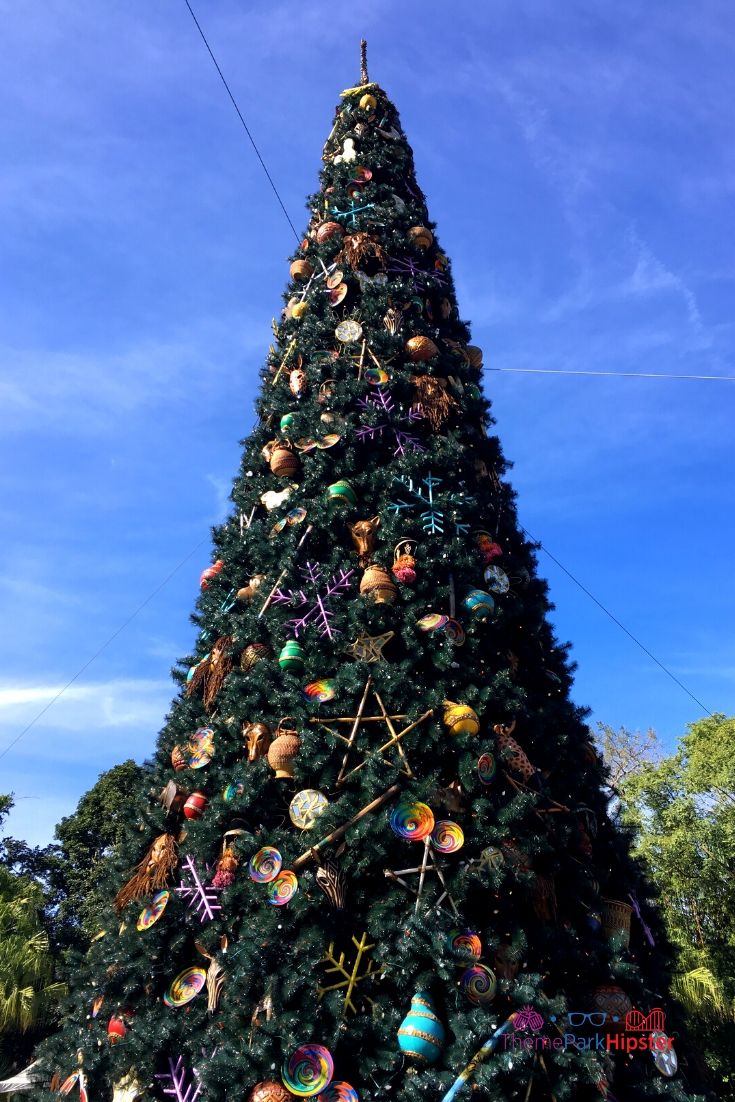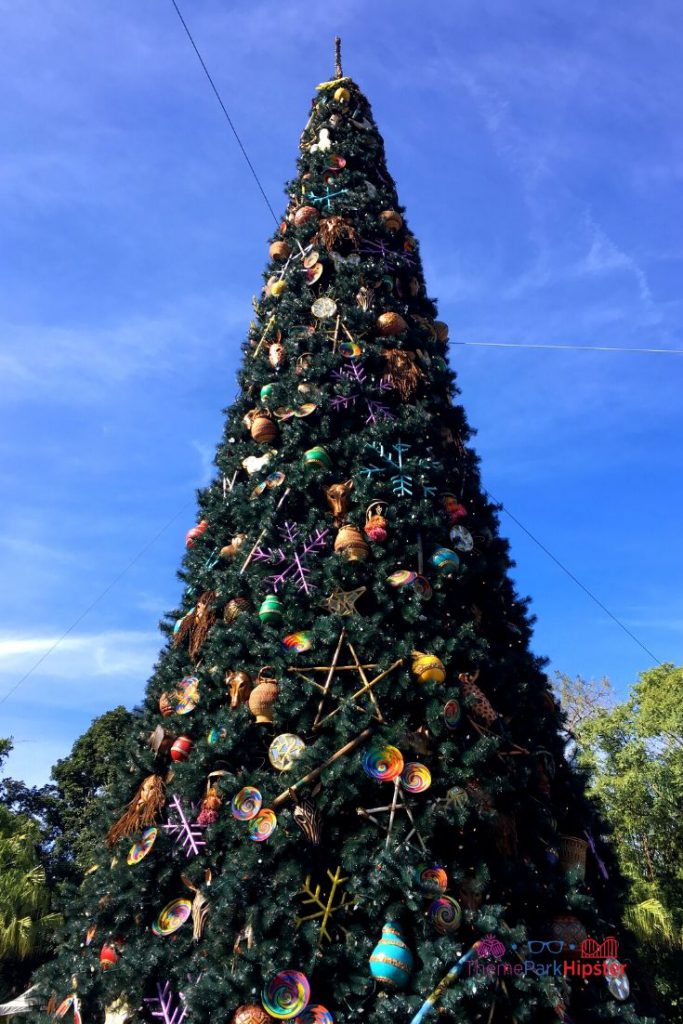 Don't forget to snap a photo in front of the towering Christmas tree that is covered with hidden animals and other unique ornaments in front of the park gates.
Fun Fact: 148 animal-inspired luminaries cast a warm and festive glow throughout Discovery Island as 10 artisan-sculpted puppets resembling winter animals roam and interact with guests throughout the land.
More Fun Activities at Disney's Animal Kingdom for the Holidays
Discovery Island: During the day you'll enjoy life-sized animal puppets in their wintery majesty and at night you'll see the rooftops illuminate for the holiday
Tree of Life: As the evening progresses, you get to see magic of nature combine effortlessly with holiday tunes each evening on the Tree of Life
Dinoland, U.S.A.: Dance your heart out in the Holiday Hoopla Dance Party with Chip 'n Dale and tour the area for unique Christmas decorations inspired by not only Donald and Daisy Duck, but local residents too
Diwali, the Holiday Festival of Lights in India: Learn about the traditions of this wonderful event from the residents of Anandapur
Harambe in Africa: You'll get to learn about African holiday traditions through décor, colors, clothing and song
Pandora – The World of Avatar: Go see how Ex-pats living and working on the moon of Pandora enjoy the holiday season around Pongu Pongu
Theme Park Hacks at Your Finger Tips. Plan your next vacation with the latest tips and tricks on the ThemeParkHipster App. Download Today!
Disney Springs Christmas Events
The streets of Disney Springs come alive with carolers, Christmas décor, a holiday dance party and holiday performers.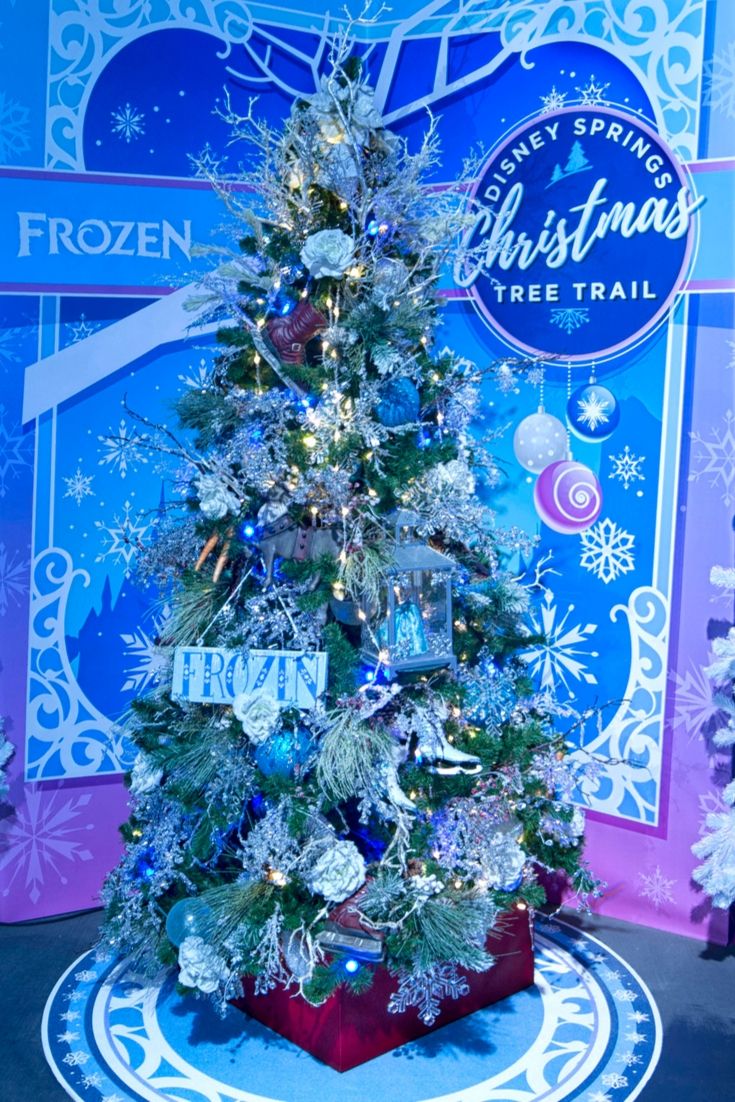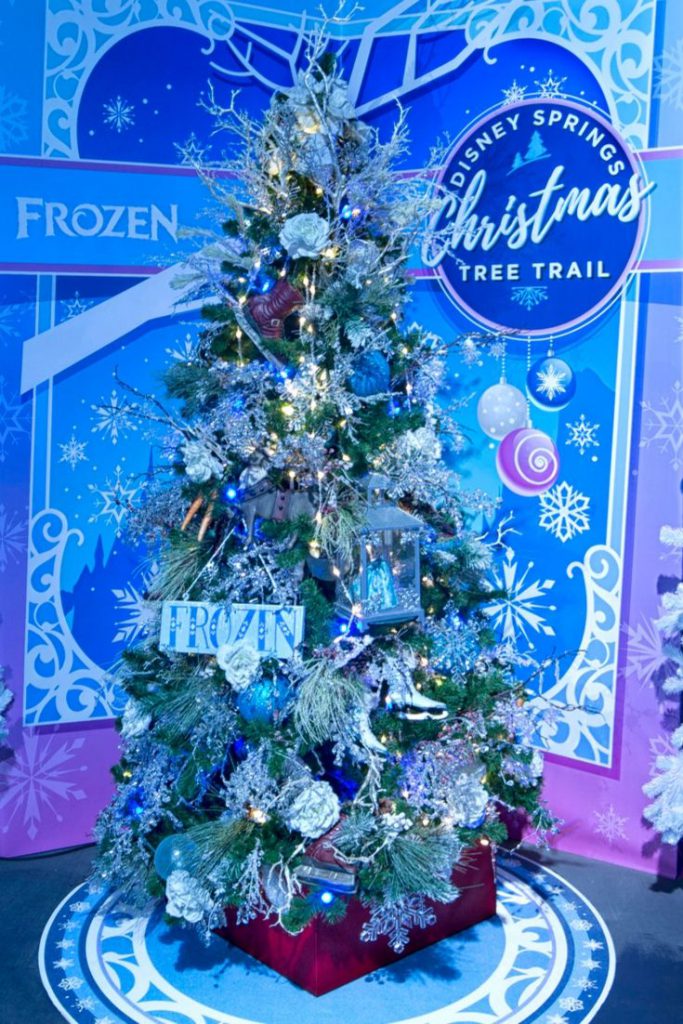 There are also lots of dining and shopping locations for you to get lost in during the holidays at Disney Springs.
But, the best part about enjoying the season in Disney Springs is the Christmas Tree Trail.
Christmas Tree Trail at Disney Springs
The Christmas Tree Trail will send you on an adventure through custom-decorated holiday trees.
Every tree on this Disney Springs trail is decorated to perfection and themed bases on a popular Disney character, movie, attraction or event.
What to Know Before You Visit Disney During Christmas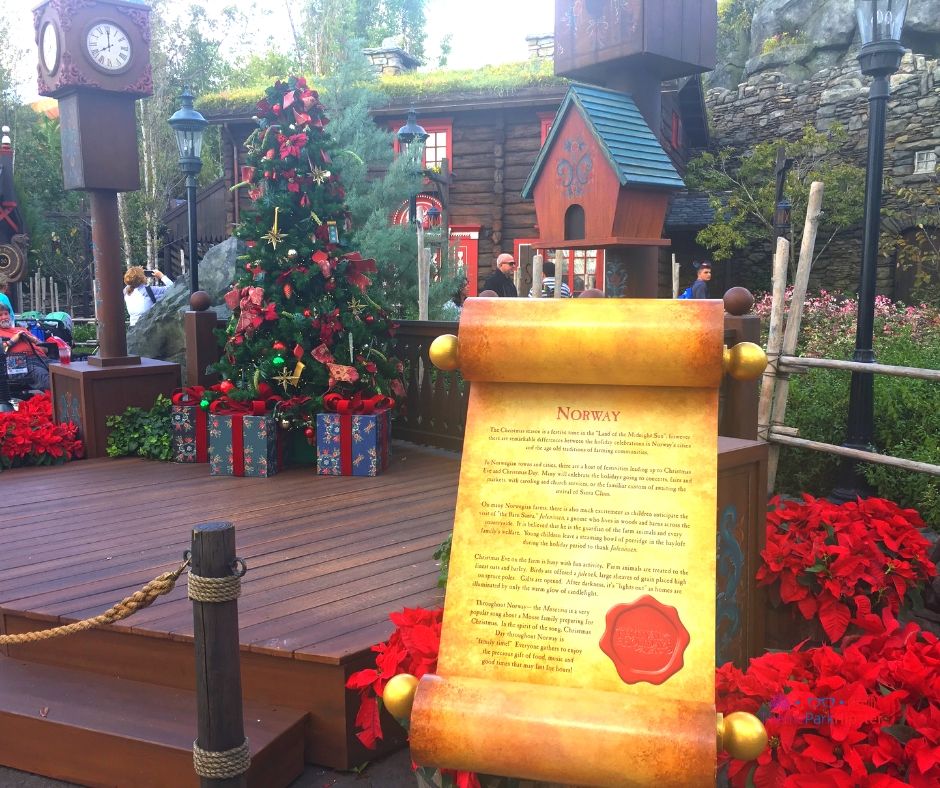 To wrap up the guide, I will be answering some of the most Frequently Asked Questions about a Disney World vacation during Christmastime.
When is the best time to visit Disney World in December?
The best time to visit Disney World in the holidays depends on your preference really.
If you would prefer low crowds but still want to enjoy the sights of the season, then I recommend vising Disney World the first two weeks of December as this is the least crowded time of the month.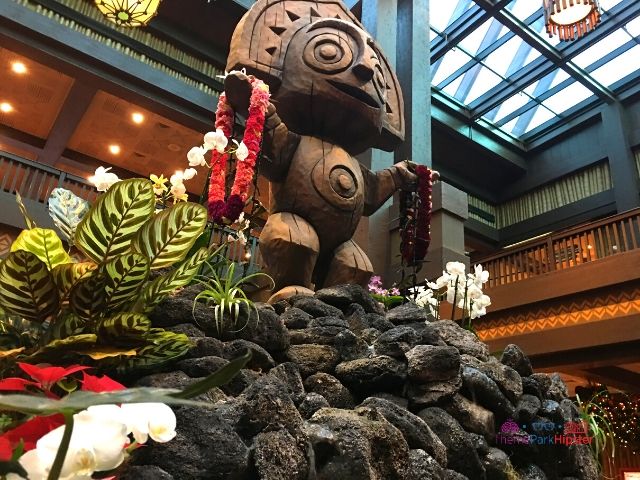 For instance, if you enjoy large crowds then it is best to visit the week of Christmas as the holiday hype is at its peak with the number of days until Christmas begin to dwindle.
December Days to Avoid:
Last two weeks of December
Christmas Eve and Christmas
New Year's Eve and New Year's Day
How crowded is Disney World on Christmas Day?
Christmas Day at Disney World is the busiest day at the resort especially at the Magic Kingdom.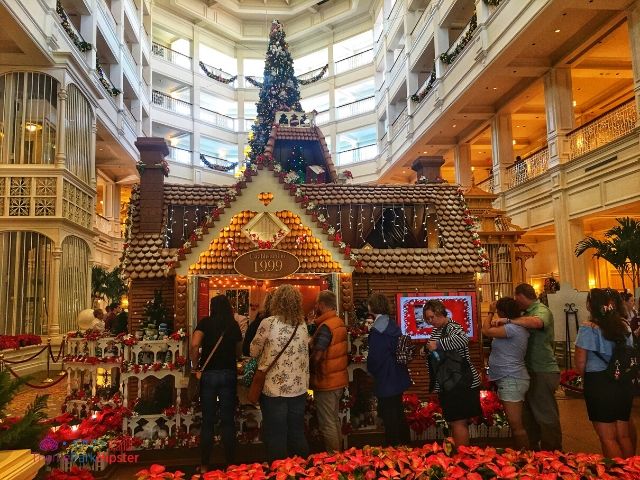 For parents, this can be a bit tricky. Taking your child(ren) to Disney World sounds like the best gift ever!
The only issue is every other mom and dad has the same exact idea.
Of course, that doesn't mean you can't take your kids to Disney for Christmas season or any other holiday for that matter; it just means you'll need to be prepared for a lot of company.
You can read how to beat the crowds at Walt Disney World here!
When does Disney World decorate for Christmas?
As previously highlighted, Christmas decorations are put up in early November, usually at the end of the first week.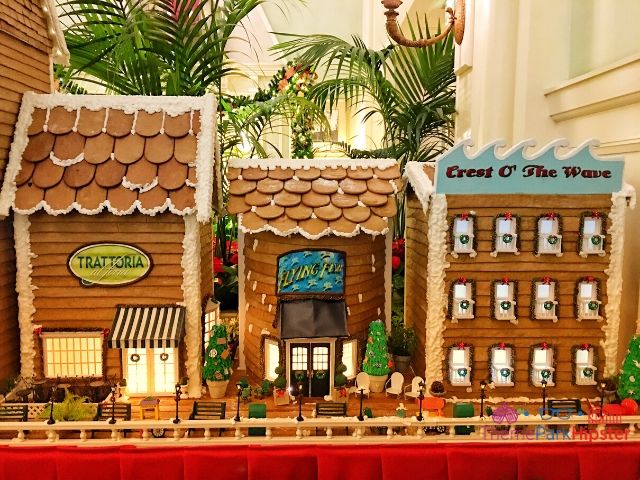 Decorations at Disney first start with Christmas merchandise placed in parks like Epcot and Hollywood Studios, then the décor moves on from the stores to the outdoor areas of the parks.
The Magic Kingdom Christmas decorations start right after Mickey's Not-So-Scary Halloween Party while the resort hotels, Hollywood Studios and Animal Kingdom can start much earlier.
Epcot Christmas decorations usually don't start until the last week of the Food and Wine Festival.
How do you plan your days at Disney World?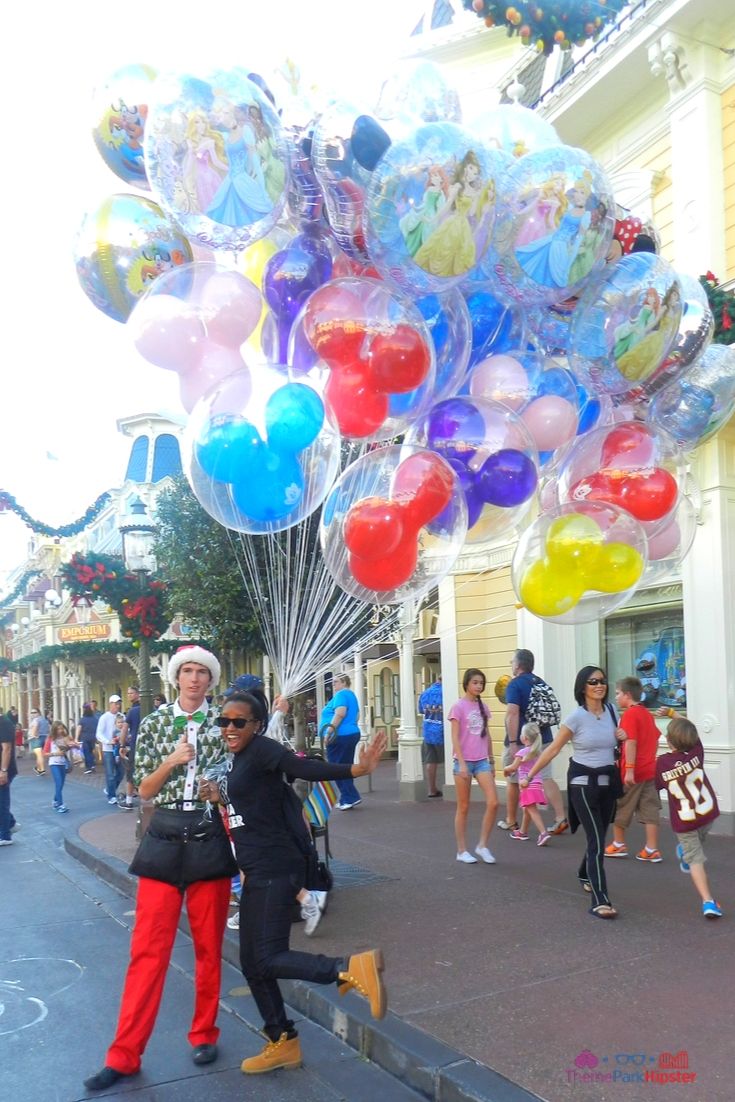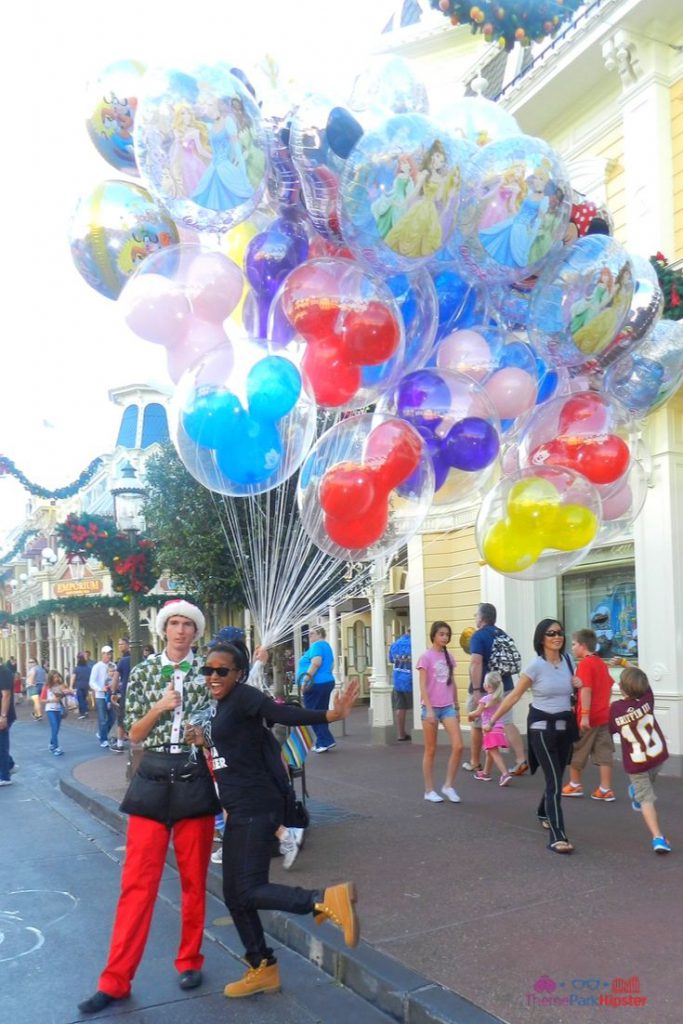 One thing you need to know that while being at Walt Disney World during the holidays can be fun, all the activities you might likely want to fit in your schedule can be a bit overwhelming.
So, you need to plan each day carefully to prepare you for the activities as they come.
Read how to maximize a short vacation at Walt Disney World here!
If you are staying on Disney World property, then it is best that you get an early start and take advantage of Disney extra magic hours.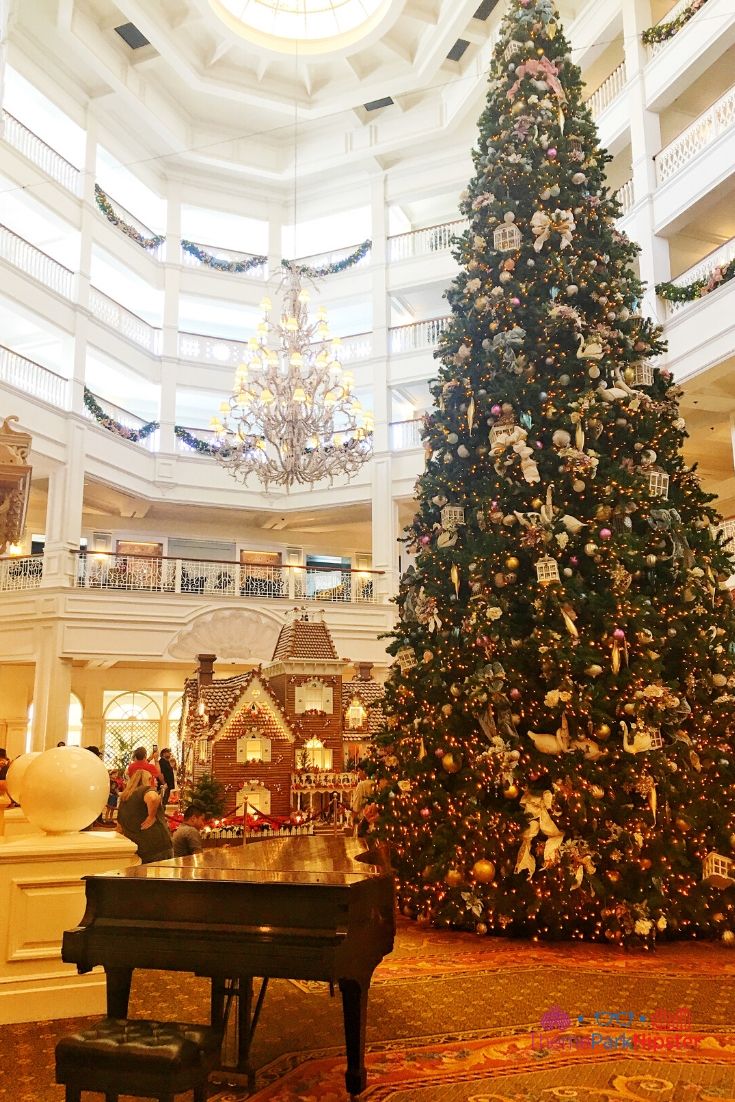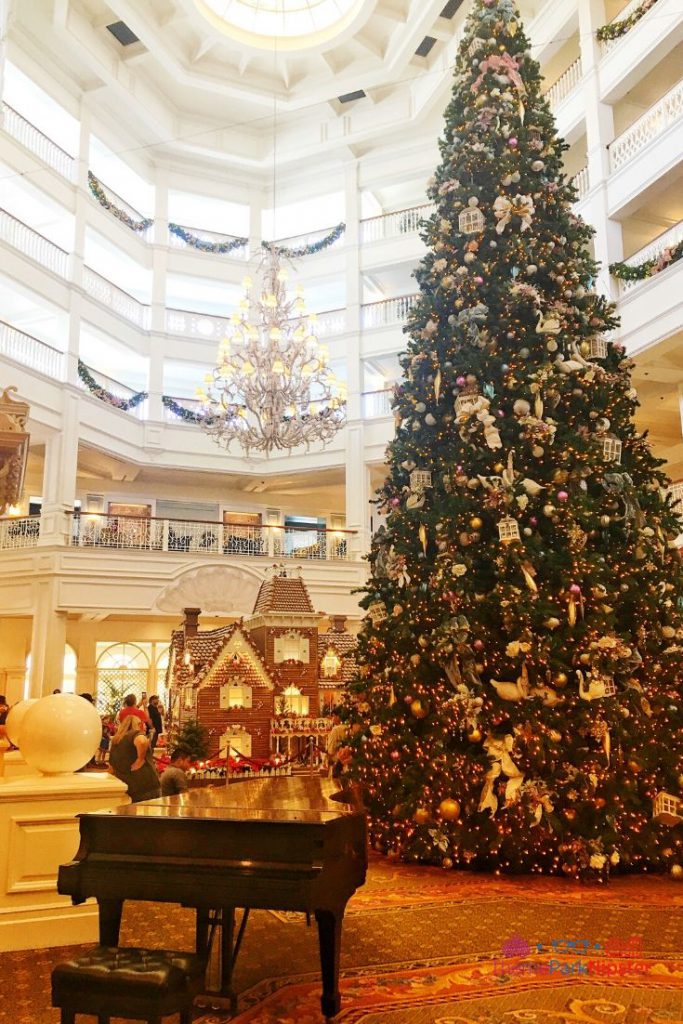 This will help you avoid the unending queues that form during the holidays and get you on your way to enjoying your day.
Hipster Power Tip: Use the Disney FastPass+ system to make sure that you're able to experience your top attraction even on a busy Christmas day.
How to do Christmas at Disney on a budget?
In order to successfully have a budget-friendly Disney vacation, you'll want to list out everything you need for your trip such as lodging, tickets, food, and souvenirs.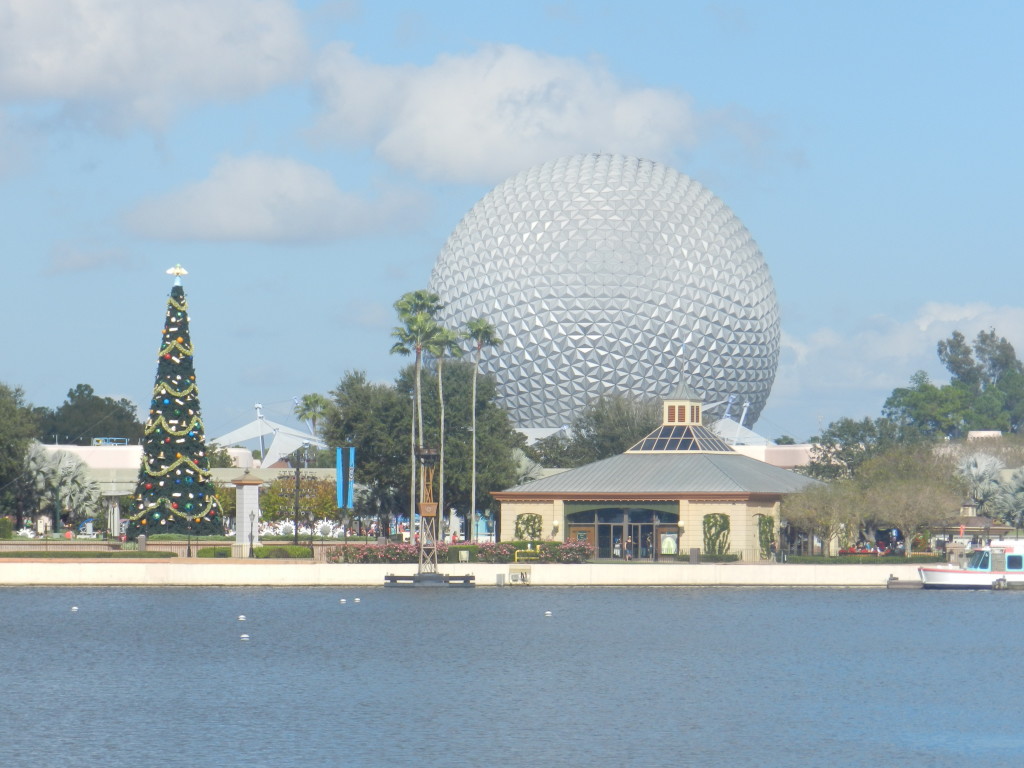 You'll also want to buy your Disney tickets early and online from a reputable source that offers discounts tickets such as Undercover Tourist.
Price for tickets are constantly on the rise, but buying a ticket way before the holiday season can help you save a little bit of money.
Once you're at the parks, try to stick to your budget as best as you can.
Hipster Power Tip: Use an Authorized Disney Vacation Planner to help you set a budget, stick to it, and still experience all your must-do Disney events without breaking the bank.
What should I wear to Disney World in December?
The weather in Orlando can vary around this time of year, so I always recommend checking the weather forecast for the period you will be there and pack appropriately.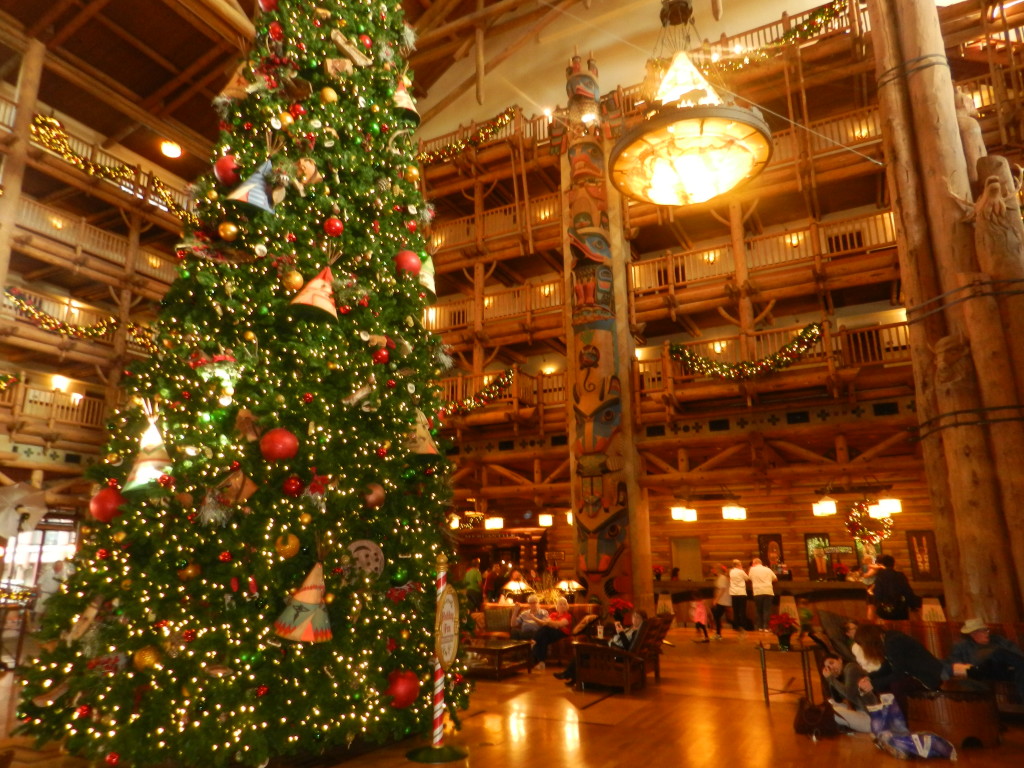 Not only should you check the weather before your trip in December, you'll want to get one last look at the forecast the night before as the weather does change frequent in Florida.
To be on the prepared side, you can pack a variety of clothing items from sweatshirts and pants, shorts and t-shirts, to a light jacket and gloves.
You can read the full Walt Disney World Packing List here.
Where to Stay at Disney World during Christmastime?
The Walt Disney World Resort hotels offer so many picturesque photo opportunities for the season.
Disney onsite hotels are already exquisite, but the holiday detail added by Cast Members puts a magical finish to the décor.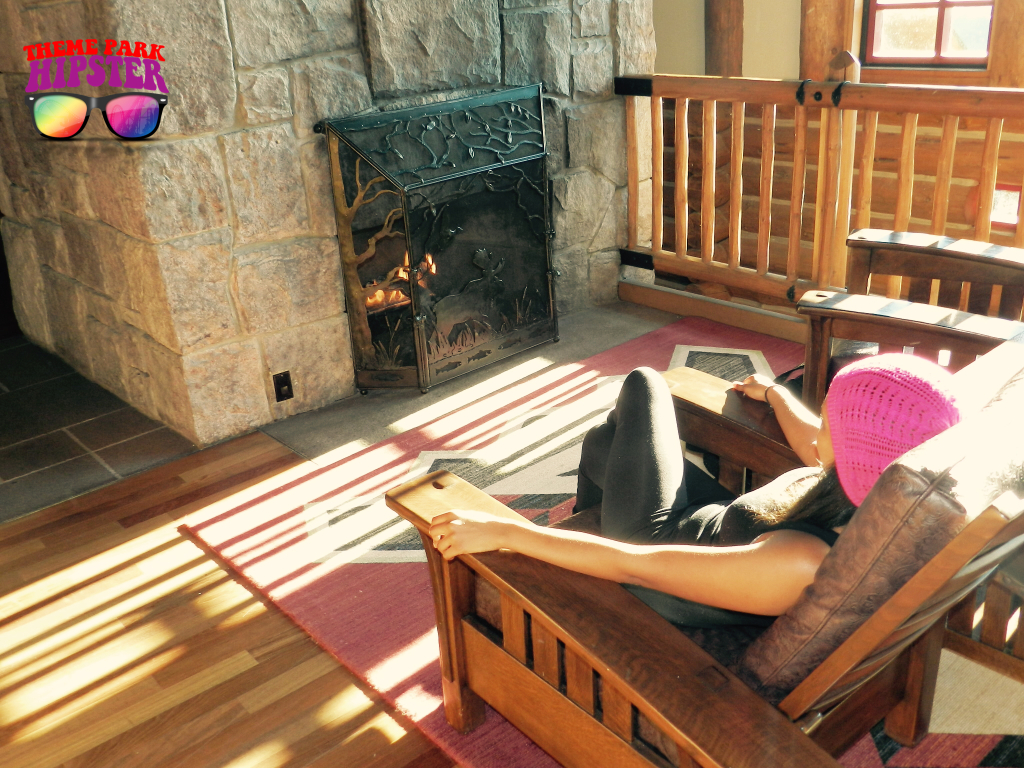 If it's in your budget, I recommend that you stay on Walt Disney World property to fully immerse yourself in the Yuletide adventure.
By staying on-site, you'll get access to free transportation to parks, enjoy extra magic hours, and have your in-park purchases delivered to your hotel room.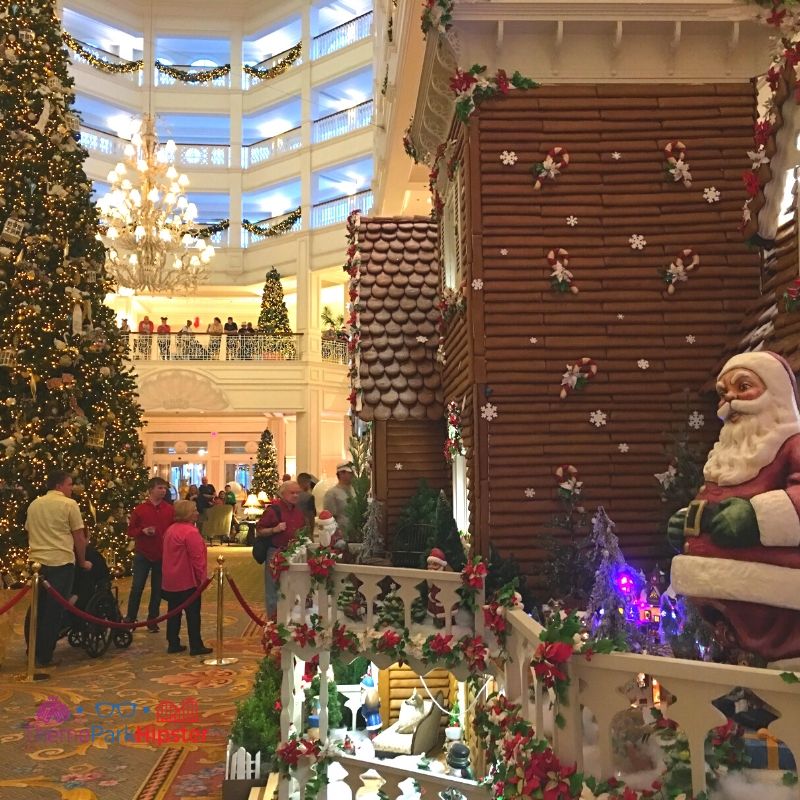 My Top Five Walt Disney World Resort Hotels for the Holidays
Fun Fact: Disney's Animal Kingdom Lodge is home to a 45-foot-tall tree featuring authentic African décor and reproductions of traditional African masks.
Final Thoughts on Christmas at Disney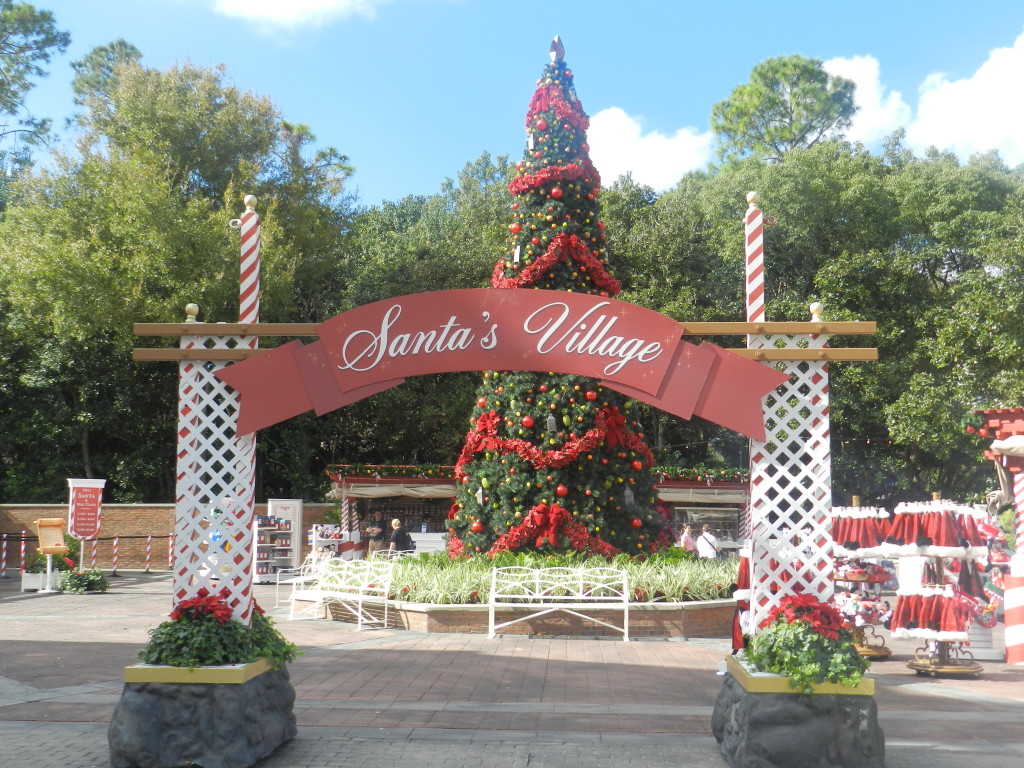 Visiting Disney World during the Christmas season is something every family or solo traveler should experience.
There's nothing like the holiday season at Walt Disney World.
Even if it's just sitting cozily next to a fireplace with family or feeling the spirit of Christmas while walking around the Walt Disney World onsite hotels.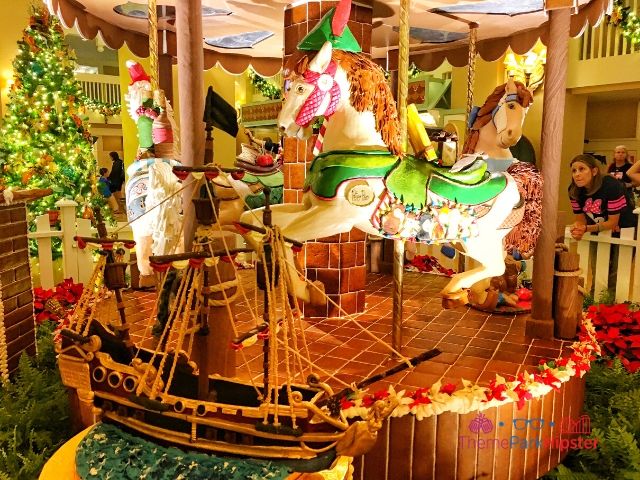 So, start planning today for you chance to visit Disney during the holidays. After all, it's the Most Magical Place on Earth!
For schedules, pricing information and reservations, you can visit DisneyWorld.com or call (407) WDW-DINE.
What's your favorite thing to do for Christmas at Disney World? Let us know in the comments section below.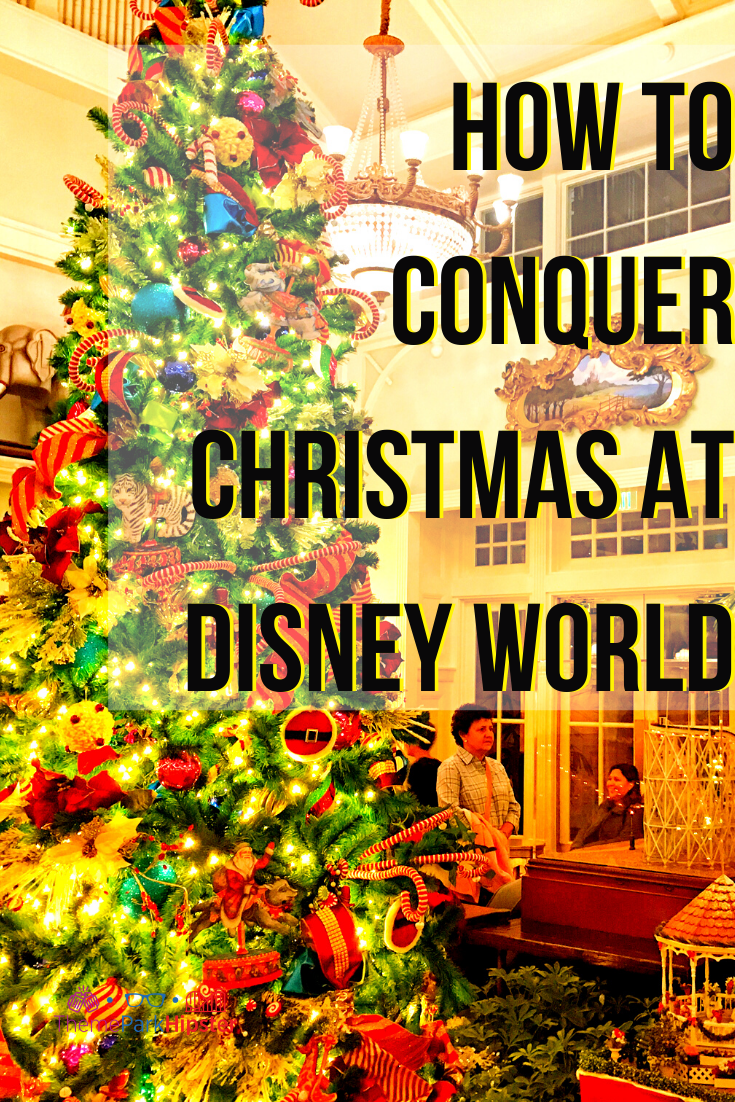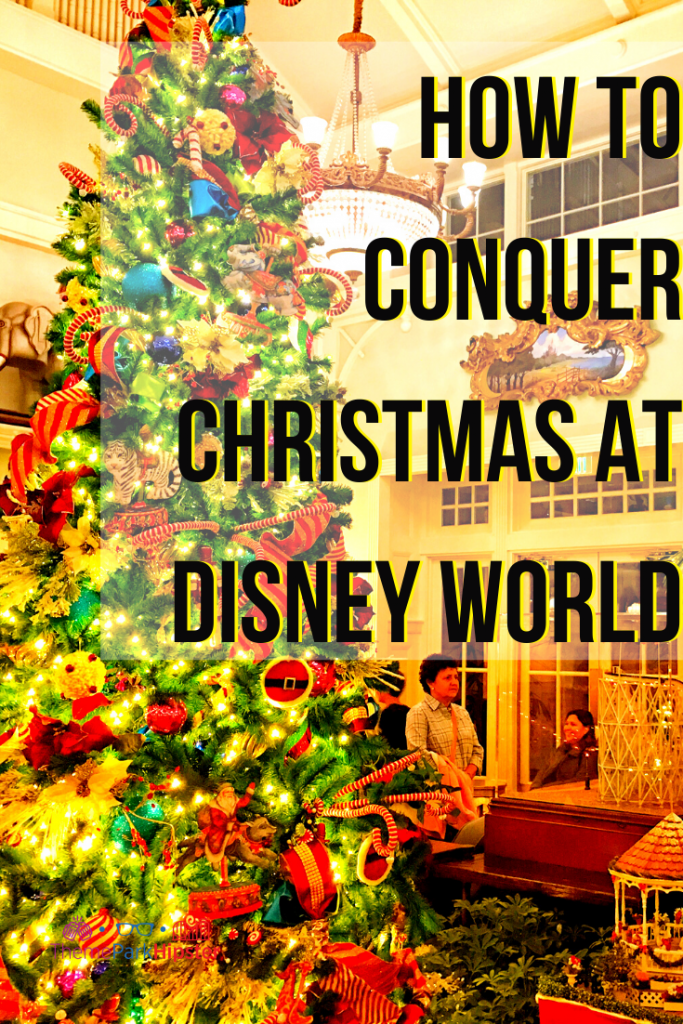 If you enjoyed this article, then you'll love these:
Read the Disney Vacation Planning Guide for your next dream trip!
Until next time, Happy Holidays Hipsters!
NikkyJ
(Original Article Date: November 12, 2014/Updated December 3, 2019)