Are you wondering what are the BEST Epcot Mexican restaurants? Or… Ever love a particular cuisine so much that you have considered relocating for it?
I have.
It's Mexican food all the way for me! I love the flavors, the spice, the way they make it, oh my. You may relate with me (even if its a teensy bit) because who does not like Mexican food right?
Well, I've got good news for you.
You don't need to relocate to Mexico to find good Mexican food. Epcot offers plenty!
Epcot Mexican restaurants are all stomach-grumblingly mouth-watering (if there is such a word). You can start with tacos, move on to enchiladas, throw back an avocado margarita and end the feast with some flan. Of course, this is but a fraction of what's on the menu!
THIS POST MAY CONTAIN AFFILIATE LINKS. PLEASE READ MY DISCLOSURE FOR MORE INFO. Which means if you click on certain links, I may receive a small commission at no additional charge to you.
Prepping for Your Epcot Trip
Sadly, you must choose one (or two if you're really keen) restaurant to visit during your trip to Epcot. It's surprisingly hard to do that– especially since all of them lie of the high end of the yum scale.
Luckily, you don't have to worry about that decision at all! I have done all the hard work for you.
In this article, I'm going to give you all the information you need to make a restaurant choice– I'm talking about menus, location, deals, ambience, service, crowdedness, yumminess and so much more.
ORDER NOW to secure your ticket reservation in the parks! GET MY DISNEY TICKETS!
5 Best Epcot Mexican Restaurants You MUST Try
I bet you're quite excited at this point. So I'm going to open the proverbial door to Mexico and say "Shall we?"
1. San Angel Inn Restaurante
Traditional just does not cut it. You can practically smell the culture at San Angel Inn Restaurante. It is built at the foot of the Mayan pyramid replica and it's always twilight here.
Under the purple sky, there are rows of tables filled with merry chatter. Delicious aromas waft around as the waiters serve the food. You can close your eyes, take a deep breath and say "I'm in Mexico".
The restaurant is modeled after a 17th-century hacienda which was a ginormous estate in rural Mexico. Also, the architecture is quaint with arches, stucco walls and pillars everywhere from the entrance to the dining area.
The mural of a Mexican sunset is without a doubt my favorite.
But enough about the atmosphere. Let's see if the menu satisfies our tummies the way the view satisfied our eyes.
San Angel Inn Restaurante Menu
One look at the menu and my mouth starts to water. I would not say they have a great selection of items but oh boy do they do them well!
Each item has so many different aspects to it and the portions seem quite sizable (read lots and lots of food).
You can have an amazing three-course meal here. They have the ultimate favorites– tacos, salsa de Verde and the yummiest guacamole you will ever have.
Best Food on the Menu at this Epcot Mexican Restaurant:
Guacamole: Topped with Mango and Toasted Pumpkin Seeds served with Chicharrónes and Salsa Valentina
Tacos de Ribeye: Ribeye, thinly sliced, with Poblano peppers, red onions, bacon and Monterey Jack cheese served with corn tortillas and plantains, topped with crema Mexicana and cotija cheese
Enchiladas de Pollo: Corn Tortillas filled with Chipotle Chicken covered with Salsa Verde, Crema Mexicana, Cotija Cheese and Crispy Onion Straws atop Refried Beans served with Plantains topped with Crema Mexicana and Cotija Cheese
Pescado A La Veracruzana: Seared snapper atop potatoes with a cilantro-lime vinaigrette made with capers, olives, bell peppers, Spanish onions and tomatoes
Chocolate "Fiesta" Pyramid: A festively decorated Chocolate Pyramid filled with Mexican Chocolate Mousse and Toffee atop a traditional Tres Leches Cake, and accompanied by Ice Cream.
Why We Love This Epcot Mexican Restaurant
The best part is that a vegetarian/vegan menu is also available. You just have to ask for it!
Now, let's talk about drinks. I have never seen such a tempting array of cocktails in my life.
They all sound so interesting– I want to try them all! I have heard special praise about the La Cava Avocado though so if I were you, I would go with that.
The prices do lie on the expensive end of the spectrum (especially when it comes to drinks) but let's be honest most Epcot restaurants are not cheap. However, the kids' menu has quite a reasonable price structure.
Read: 7 Best Restaurants at Epcot that You MUST Try
2. La Hacienda de San Angel
My ears are ringing with all the praise I have heard about this restaurant. Some believe that it is not only the best of Epcot Mexican restaurants but the best of all Epcot restaurants. 
You may be thinking "Oh, that's a lofty claim!". But let me tell you, La Hacienda puts all other fine dining experiences to shame.
When you walk into this restaurant (or shall we call it an experience), you will feel like a Disney princess/prince.
The muted lighting, high ceilings, chandeliers, beautifully folded napkins and the soft, spacious seats all have an old-world charm that makes you nostalgic. 
But the real showstopper is the view. Huge floor-to-ceiling glass windows give you a stunning panorama of the World Showcase Lagoon. If you decide to have dinner here you can see the twinkling lights from all the international pavilions.
And if you're lucky, you can also watch the famous Epcot evening fireworks show.
Always ask for a seat at the window at this restaurant or you will be missing out on a big chunk of your experience.
La Hacienda de San Angel Menu
But views won't satisfy your hunger, will they? Let's take a look at La Hacienda's menu!
La Hacienda's selection offers more variety than that of San Angel Inn's. According to trusted sources, a man could be blind-folded while choosing an item off the menu and still be mighty happy when the order arrives.
Of course, that might not work out so well if you're vegan but you can do the same with the vegan menu which is available upon request.
A little birdie told me about the two must-have dishes at this restaurant which I will share with you– Costillas en Salsa de Chile (braised ribs) for the entrée and Empanada de Manzana (caramel apple delight with lychee ice cream).
A top dish is the shrimp tacos– words cannot describe how delicious it is.
Best Food on the Menu at this Epcot Mexican Restaurant:
Calamares Fritos: Crispy calamari tossed with salsa macha with a side of chipotle aioli
Flautas: Fired Tortillas filled with Chipotle Chicken, Potato, Cheese, and Ranchera Sauce
Pollo Poblano: Roasted Chicken Breast with Poblano Cream Sauce, served with Brussels Sprouts, Sweet Potatoes, and Oyster Mushrooms
Osso Buco a la Mexicana: Braised Short Rib with whipped Boniato, Carrots, and roasted Asparagus
Pastel de Chocolate: Double chocolate sponge cake layered with sugar wafers, hazelnut nougatine and chocolate ganache with a strawberry coulis
Why We Love This Epcot Mexican Restaurant
But surprisingly enough, there is one more thing that puts this restaurant in the running for best Epcot restaurant. And it is the free chips and salsa you get while waiting for your order!
The drinks are surprisingly affordable by Epcot standards. You get handcrafted premium margaritas for around $16, and their selection is quite extensive.
I say grab a Harchata and wash down your shrimp tacos (yep, still thinking about them)!
Read: 19 Do's and Don'ts of Drinking Around the World at Epcot
3. La Cantina de San Angel
Maybe the entire fine-dining-jazz-music-ball-gown thing isn't what you want. Maybe you're just looking to grab a quick bite. In that case, you're in luck!
La Cantina de San Angel is a quick-service restaurant on the shores of World Showcase Lagoon. The architecture of the restaurant complements the breath-taking view of the Showcase Lagoon.
There is an old-world arch to usher you in. The entire restaurant is like an open pavilion help up by beautifully designed pillars.
Especially in the evening, La Cantina looks stunning. The sparse lighting causes everything under to roof to glow gold.
When you step through the arch, it's like you're in another world. You could get a river-side seat and pretend you're on a cruise in Mexico. And of course, have delicious snacks while you wait for the fireworks to begin.
La Cantina de San Angel Menu
Snacks are not the only thing on the menu. La Cantina serves many mind-blowing entrees like Pollo Casabelle, Tacos de Barbacoa and the heavenly, ultra-cheesy Empanadas con Queso.
The only drawback I can see in this restaurant is the lack of vegetarian options. But hey, you can always get the fruit popsicle (I'm sorry).
Best Food on the Menu at this Epcot Mexican Restaurant:
Arroz con Pollo Bowl: Marinated Grilled Chicken, Rice and Corn topped with a spicy Tomato Sauce, Pickled Onions, Queso Fresco, and Cilantro
Tacos de Barbacoa: Shredded Beef on homemade Corn Tortillas topped with Red Salsa and Cilantro. Served with Rice and Black Beans with Queso Fresco
Nachos: Tortilla Chips topped with White Nacho Cheese, Ground Beef and Beans, Tomatoes, Jalapeños, and Sour Cream
Empanadas con Queso: Fried Flour Tortillas filled with Cheese, topped with Sour Cream, Salsa Verde, and Queso Fresco. Served with Rice and Black Beans with Queso Fresco
Bottom line is: if you like eating churros and watching the epic fireworks show in the evening, make your way to La Cantina!
Ready to plan your theme park trip? Watch the best vacation planning tips on YouTube. Get started here!
4. La Cava del Tequila
Now this one got me very excited because I'm am a novice tequila connoisseur. And Mexican tequila? I'm practically jumping out of my seat!
Now before we proceed any further I would like to tell you that this restaurant is more of a bar.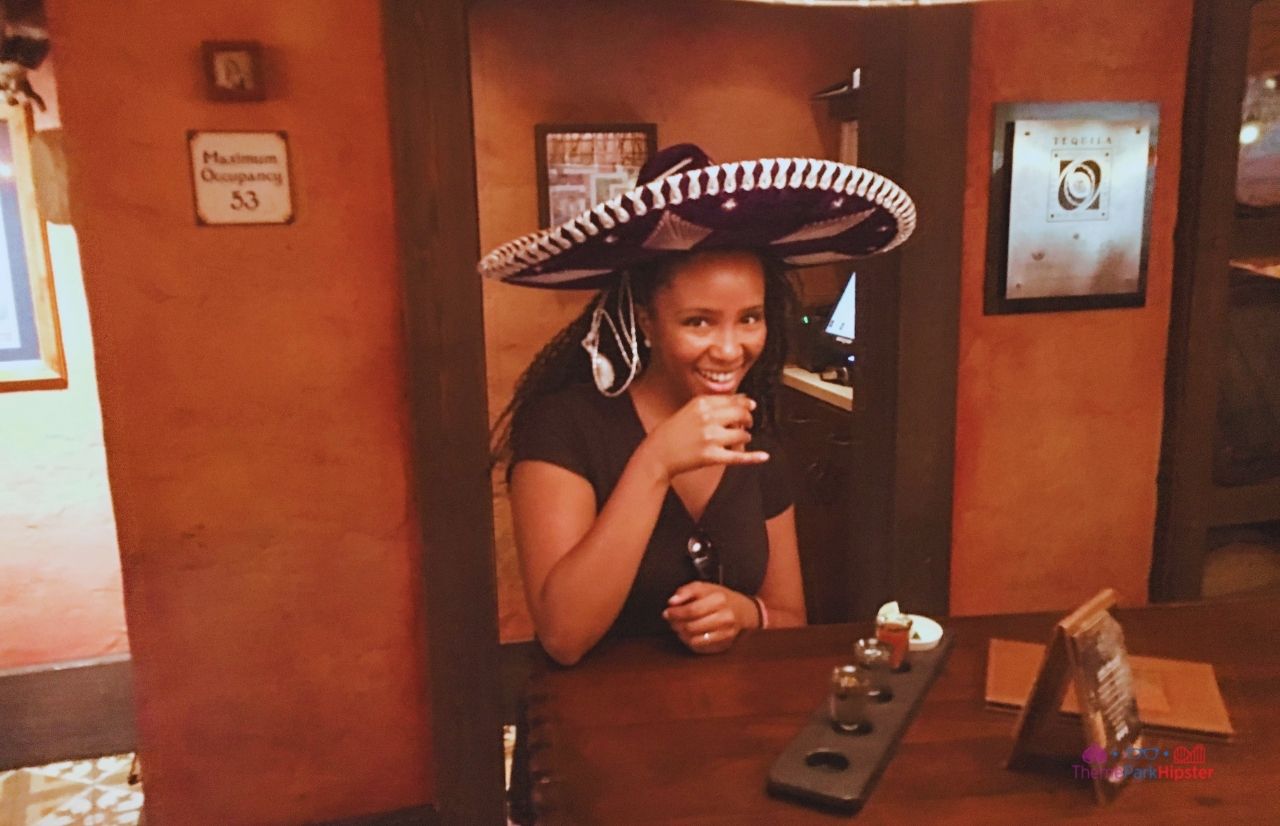 But since they do provide lip-smacking snacks along with the drinks, I believe it can be included in the list.
La Cava del Tequila Menu
The first page of the menu proudly boasts to offer over 70 types of 'authentic tequila'. If you weren't aware of tequila's role in Mexican culture, the menu educates you about that too in one line:
"The soul of Tequila is the essence of Mexico; to drink it is to absorb stories and be initiated into a world of legends."
With that soulful quote, you should get an idea of the passion that goes into making this tequila.
There are five categories of tequila you can get at the bar, apart from the delectable specialty margaritas (which are to-die-for).
First, there's Tequila Blanco which is about two-three-month-old tequila which is clear and crisp. It has lots of flavor and is light.
The next category is Tequila Reposado which consists of vanilla, fruit and spice with just a hint of oak. It is also from the same age category as the former.
The third category is Tequila Anejo which is soft and sweet. It is usually aged for a year and is layered with rich earthy flavors.
The last two categories are the Specialty Tequilas and the Flights which are pretty self-explanatory.
Beer and Sangria are also included in the menu but seem like they have been reluctantly shoved to the back.
I would recommend you to start off with a basic, order a flight and then when you have no notion of budgetary restrictions remaining, go for the Specialty Tequilas!
Oh, I almost forgot about the snacks which are mainly Mexican bar food like tortilla chips with guacamole, queso and salsa.
La Cava Experience
If you like tequila (even a little bit) La Cava de Tequila is the place for you! Also, don't forget to do the INCREDIBLE Tequila Tasting Experience that happens on select days at Epcot.
You get a private one-on-one guide through the history of this intoxicating drink with your very own Tequila Ambassador.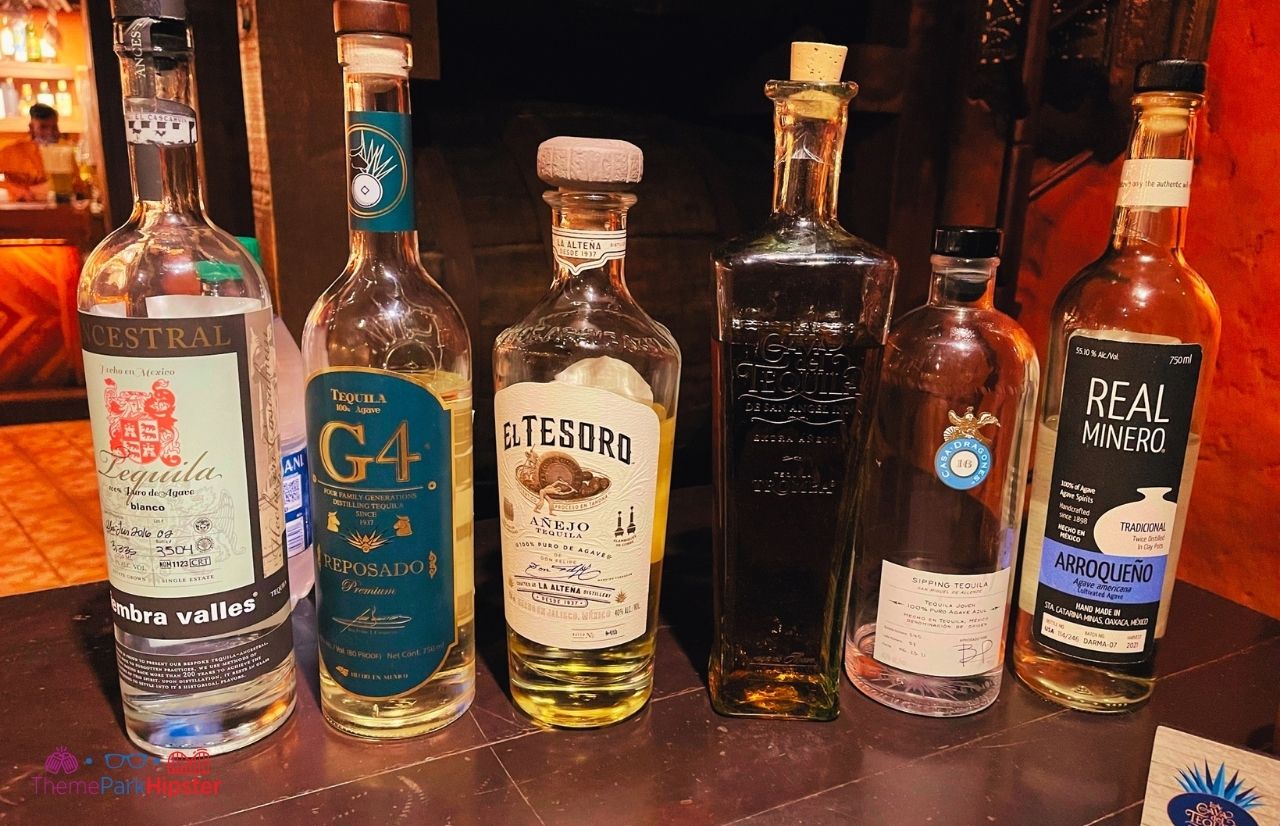 Ready to plan your theme park trip? Watch the best vacation planning tips on YouTube. Get started here!
5. Choze de Margarita
This is yet another honorary restaurant-bar-thing. Choze de Margarita is a casual outdoor quick-service Mexican restaurant with a penchant for making the best margaritas.
The atmosphere here is very different from all the other restaurants I have reviewed so far.
Located next to the Mayan pyramid, Choze de Margarita has an endearingly rustic vibe. First, there is a thatched roof giving shade to the various service counters at the bar. There are short fences made of dried earth with beautiful Mayan inspired carvings on them.
They also have small huts which they seem to have plucked straight out of a Mexican village. The surrounding foliage only enhances the rural look. Oh, and they also have this lamps-slash-fruit thing hanging on trees which sets the scene perfectly at night.
Overall, there is nothing to complain about except maybe the lack of seating. But they do have bar-top standing tables built into the fence for you to put your drinks on.
Choze de Margarita Menu
The fact that this bar always has loads of people queued up should give you an idea of the quality of their drinks.
The menu contains eight of the most delicious and unique margarita blends along with beer options that you can choose from.
You can have a signature handcrafted margarita or you can beat the heat with a frozen margarita! Either way, I can promise you that the flavors will explode on your tongue and the experience will be unlike anything you have had before.
My personal favorite is the Guava Pink Peppercorn Margarita. I was super skeptical about it but once I tasted it, I was in heaven! I even chewed a peppercorn with it and my oh my did it taste amazing!
Of the frozen margaritas, I would go for the fiesta margarita simply because you get three layers of different flavors all in one margarita. But if you have a definite leaning towards a particular flavor, go for it!
Best Food on the Menu at this Epcot Mexican Restaurant:
Guacamole: Topped with Mango and Pumpkin Seeds. Served with Tortilla Chips
Elote: Sweet Corn on the Cob smothered with Chipotle Aioli, Queso Cotija and Tajin Chile-lime Powder
Empanada de Barbacoa: Empanadas filled with Barbacoa Beef, topped with Chipotle Sauce, Crema Mexicana and Queso Fresco. Served with a side of Corn Esquites
And now for the food. I excepted the tortilla chips with an array of sauces again. But surprisingly, they also serve tacos, empanadas and of course, the ever-present tortilla chips.
Get your Mickey's Not-So-Scary Halloween Party Tickets TODAY!
What to Know Before You Go to Epcot
Now that we have the basics out-of-the-way, let's go through a few of the most common questions.
What is the Mexican restaurant at Epcot called?
There are five Mexican restaurants in Epcot– Choze de Margarita, La Cava del Tequila, La Cantina de San Angel, La Hacienda de San Angel and lastly San Angel Inn. If you are not sure about which restaurant to choose we have an ultimate guide to Epcot Mexican restaurants that you can check out.
We have reviewed every restaurant over many parameters like atmosphere, food, price and drinks.
Which Mexican restaurant in Epcot is better?
La Hacienda de San Angel is widely regarded as one of the best restaurants in Epcot. It is a fancy Mexican fine dining experience that overlooks the World Showcase Lagoon and sometimes (if you're lucky) you can see the Epcot fireworks show through the floor-to-ceiling glass windows! 
However, restaurant choice differs from person to person. You can check out the entire review to learn more about the other Epcot Mexican restaurants.
Can you go to Epcot for dinner only?
Yeah, you can, but you have to be prepared to pay the full price for it! As of now, there is no such ticket that allows you to go there for dinner only. So, it may be more economical to just do the entire experience instead of dinner only.
Is there a Coco attraction at Epcot?
The Mexican Pavilion wouldn't be complete without an attraction based on the much-loved movie Coco.
Much to our delight, Disney unveiled the new Coco addition in 2018. Sadly, it was a little overshadowed by the Toy Story attraction which opened around the same time.
What are the best table service restaurants at Epcot?
It is completely up to personal preference but I love the service at Spice Road Table. I also have tons of friends recommending it to me. However, my love for Japanese food also leads me to Takumi Tei.
Another great option (in Mexico) is La Hacienda. I cannot deny that you will feel like a princess/prince after sitting on a huge sofa there under the chandeliers and looking out onto the sparkling World Showcase Lagoon.
What is the largest pavilion in Epcot?
A little bit of trivia for you here. Spoiler alert: it is not the Mexican Pavilion (although I maintain that it is the best).
Patriotism dictates that the American Pavilion be the biggest. It is called American Adventure. The American Pavilion takes up four acres compared to the usual two-three acres other pavilions take up. It has lots of attractions. 
Read: Why Coral Reef Restaurant is One of Epcot's Hidden Gems
Final Thoughts on the Epcot Mexican Restaurants
Whew! That was a lot of food talk! Now my stomach is making the rumblings that only enchiladas can satisfy! I bet you want some Mexican food too!
Just remember Epcot Mexican restaurants next time you go there– they serve the yummiest food ever. Don't forget to book well in advance. They are very popular and you don't want to be hangry during a hot afternoon at Epcot!
What's your Mexican craving? Comment down below so we can compare notes (while scrolling through DoorDash simultaneously).
UP NEXT: These Best Restaurants at Disney World are Worth Adding To Your Dining List
(Original Article Date: November 15, 2020/Updated by Editor on July 21, 2022)