Finding the best quick service foodie spot at Disney Springs doesn't have to be hard on your visit to Walt Disney World.
Disney Springs is a great place to spend a day at Walt Disney World without a theme park ticket.
The sprawling shopping, entertainment, and dining complex is known for its abundance of unique things to do like catch a Cirque de Soleil show, dance under the stars, and enjoy Florida's only master sommelier led wine bar.
When it's finally time to stop and get something to eat after shopping and exploring there are plenty of table service and quick service options at Disney Springs.
For those who want to eat quickly and get back to the fun faster, consider these seven best quick service spots at Disney Springs.
THIS POST MAY CONTAIN AFFILIATE LINKS. PLEASE READ MY DISCLOSURE FOR MORE INFO. Which means if you click on certain links, I may receive a small commission at no additional charge to you.
1. The 4 Rivers Cantina Barbacoa Food Truck
4 Rivers is a bbq restaurant that started in Orlando and has since expanded throughout the state. The southern style bbq has made its way to Disney Springs with the 4 Rivers Cantina Barbacoa Food Truck, which specializes in more Mexican-leaning dishes.
My Top Foodie Recommendation
One iconic dish that is a must-try on your next Disney Springs day is the Taco Cone. This dish starts with a fried flour tortilla that's made into the shape of a cone.
You then get your choice of filling, and shredded lettuce, guacamole, sour cream, pico de gallo, queso, cilantro, jalapeno, and a lime wedge are all stuffed on top. The Taco Cone is messy, so be sure to grab a few extra napkins.
Hipster Power Tip: While there are not a ton of tables around the for truck there are benches to sit at while you enjoy the warm Florida sun and your taco cone.
2. Blaze Fast-Fire'd Pizza
One thing you can never go wrong with is pizza. At Blaze Fast-Fire'd Pizza you get to customize your own pizza from the crust and sauce to all of the toppings. The fast casual restaurant is located at the Town Center section of Disney Springs.
How to Make Your Pizza at Blaze?
To get started on your pizza, you walk through a toppings line and let the employee helping you know what you want for completely custom pizza.
The best part about dining here is that the cheapest pizza is $8, and it's super filling.
My Top Foodie Recommendation
If you're not into the pressure of making your own pizza then one of the Signature Pizzas, which come with plenty of toppings.
My favorite is the White Top pizza, which starts with a base of white cream sauce, mozzarella cheese, then adds bacon, garlic and oregano, and is finished with fresh arugula.
3. Chicken Guy!
Just past the Coca-Cola Store you'll find the entrance to Flavortown at Chicken Guy! This quick service restaurant is the brain child of none other than Food Network star Guy Fieri.
The Chicken Guy! serves a variety of chicken-based dishes like sandwiches, strips, loaded fries, and salads.
Pro Tip for Visiting the Chicken Guy! in Disney Springs
Don't let the extremely long line fool you into walking past in lieu of somewhere else. The line moves quickly, but once you're inside you're basically going to need to know what you want because the distance from the door to the register isn't long.
One thing that sets Chicken Guy! apart from its competitors is the 22 sauces that you can choose from to go with your meal. The sauces range in style from basic bbq sauce to more exciting wasabi honey.
My Top Foodie Recommendations:
You can't go wrong with any of the chicken tenders, but be sure to try the fried pickles… you'll thank me later!
4. D-Luxe Burger
Sometimes a simple burger and fries sounds like the best meal, and the best place to get that at Disney Springs is D-Luxe Burger. The fast-casual spot is located in the Town Center section of Disney Springs and has a lovely outdoor patio to enjoy the view of the springs.
Each of the burgers here start off with two pressed patties, then comes the creative toppings with everything from jerky aioli and mango salsa to fried green tomatoes and pimento cheese.
Enjoy the BEST Fries at Walt Disney World
Do not forget to order a side of the hand-cut fries, which are in the running for the best fries at Disney. After you order, hit the sauce bar where you can load up on house-made sauces for dipping your fries into.
My Top Foodie Recommendations:
Spicy Caribbean Jerk Burger: Two-Pressed Signature-blend Patties with Spicy Jerk Aïoli, Pineapple-Mango Salsa, Pepper Jack, Plantain Sticks, Lettuce, Tomato, and Grilled Onions
El Diablo Burger: Two-pressed Chorizo and Signature-blend Patties, Fried Banana Peppers, Pepper Jack, Lettuce, Tomato, Grilled Onion, and Chipotle Mayonnaise
Southern Burger: Two-pressed Signature-blend Patties topped with a Fried Green Tomato, Pimento, Lettuce, Grilled Onion, and Bacon
ORDER NOW to secure your Walt Disney World theme park ticket! GET MY TICKETS.
5. Earl of Sandwich
The Earl of Sandwich has a cult following of foodies that can't get enough of the mile-high sandwiches that are served here.
One sandwich that always brings people coming back for more is the Holiday Turkey, which is essentially a turkey dinner on bread, and it's served year-round.
Those who only want Thanksgiving food on the actual holiday can also enjoy things like cuban sandwiches and perfect pizzas made on the hearth-baked bread.
This is the spot to be for a filling lunch that will keep you going throughout the day and into the night at Disney Springs.
My Top Foodie Recommendations:
Holiday Turkey: Turkey, Cornbread Stuffing, Turkey Gravy, Cranberry Sauce and Mayonnaise
Earl's Club: Turkey, Bacon, Swiss, Lettuce, Roma Tomato and Sandwich Sauce
The Original 1762® Roasted Beef, Cheddar and Horseradish Sauce
Chipotle Chicken Avocado: Grilled Chicken, Bacon, Cheddar, Avocado, Lettuce and Chipotle Sauce
6. Gideon's Bakehouse
One of the newest places to open its doors at Disney Springs is Gideon's Bakehouse. The bakery is known for its half-pound cookies and towering cake slices.
The sweets shop is a favorite of locals and tourists who can't get enough of the masterfully created treats.
Get in Line ASAP!
Gideon's Bakehouse often has a line that can be hours long, so the best time to get there is right when Disney Springs opens, and get your name on the virtual queue list.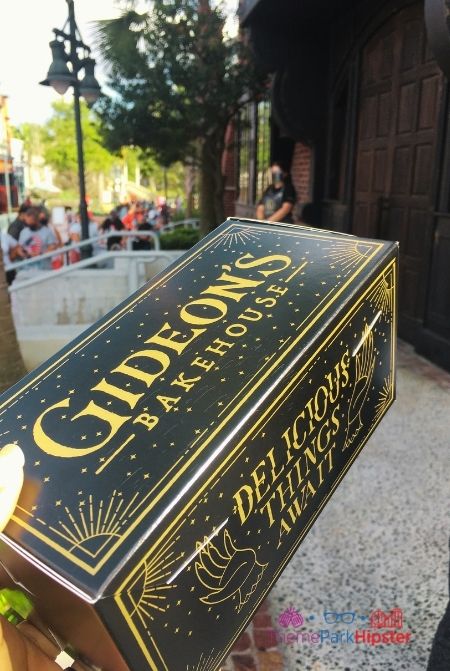 When it's your turn you'll get a text message to return to the shop and gaze upon all of the cookie and cake options. If you get to Gideon's Bakehouse early enough you might even be able to get some of the prized morning-only coffee cake cookies.
My Top Foodie Recommendations:
Original Chocolate Chip Cookie
Pistachio Toffee Chocolate Chip
Cookies & Cream
Recommended: The Solo Theme Park Traveler's Guide
7. Morimoto Asia Street Food
The downstairs patio area at Morimoto Asia is home to the quick service spot Morimoto Asia Street Food. Here you can get everything from ramen bowls with beef or chicken to pork egg rolls and pork ribs.
While the menu here is small the food is delicious and filling. The patio space is also a nice area to sit back and enjoy some people watching and get off your feet for a while in the middle of the day. This makes it one of the best quick service restaurants in Disney Springs.
If you're still hungry after eating here, head inside to Morimoto Asia and snatch a seat at the bar for some fresh sushi or dumplings.
My Top Foodie Recommendations:
Spicy Kimchi Ramen: Bulgogi Beef, Scallion, Kimchi, Soy Marinated Egg, Beef and Chicken Broth
Morimoto Baby Ribs: Pork Ribs, Cilantro and Hoisin Sweet Chili Glaze
What to Know Before You Go
Now that you know where to eat when you visit Disney Springs, let's go through a couple of the most commonly asked questions.
Can you eat at Disney Springs without a reservation?
Yes, all of the restaurants featured here do not require reservations, so whenever you're hungry you can just walk in and eat.
Can you use Disney gift cards at Disney Springs restaurants?
Most restaurants at Disney Springs do accept Disney gift cards, though its best to check with the hostess before you order to be sure.
Ready to start planning your next Disney World vacation? Listen to the latest podcast episode on Apple or on your non-Apple device now!
Final Thoughts on the Best Quick Service at Disney Springs
Many of the Disney Dining spots on this list have some of the best views in Disney Springs and the food is fantastic!
Before you leave, check out a few top Disney Springs dining tips to make the most of your trip:
You can get to Disney Springs from Saratoga Springs by walking. This is a much faster option than driving or taking Disney transportation if this is where you're staying. Both Port Orleans Resorts and Old Key West also offer boat transportation to Disney Springs.
Try to eat at "off" times for meals, especially at quick service locations. These are often the busiest times and the lines for restaurants can be long.
Did I leave out your favorite Disney Springs restaurant on this list? Leave your top pick below in the comments section.
For more theme park tips and tricks, follow ThemeParkHipster on YouTube.
Until next time, Happy Park Hopping Hipsters!
About the Author
UP NEXT: What's the Best Restaurant in Disney Springs? These Are The Top 5!