Recently, the popularity of Figment at Epcot became the topic of global speculation, leading to some slight ridicule of adult Disney fans as the world could take a glimpse into the Disney fan bubble.
Publications like CNN and platforms like Twitter and TikTok showcased hours long lines during Epcot's International Festival of the Arts for what?
A Figment shaped popcorn bucket filled with rainbow flavored popcorn.
These buckets started memes and were being sold on Ebay for hundreds of dollars for an item that cost no more than $20. But this raised the question to outsiders of the fandom, "Who is Figment?"
Epcot purists and Disney fans alike debate about Journey into Imagination, home to the purple dragon. One thing we usually all agree on is that Figment is a delight and that his legacy in Epcot is important.
And yes, the Figment ride is STILL at Epcot…
Join me as I dive into the history of Figment the purple dragon who has sparked the imagination of people for generations!
THIS POST MAY CONTAIN AFFILIATE LINKS. PLEASE READ MY DISCLOSURE FOR MORE INFO. Which means if you click on certain links, I may receive a small commission at no additional charge to you.
Today, I will touch base on the following:
Figment's Creation
Connection to ride and his role
Resurgence in recent years
The Creation of Figment at Epcot
If I told you that this small purple dragon was inspired by an episode of Magnum P.I, would you believe me?
Figment's creator, Disney Legend and former senior vice president of creative development at Walt Disney Imagineering, Tony Baxter and former Disney Imagineer Steve Kirk are the brains behind Figment.
According to Baxter, he came up with the name for the small purple dragon after watching an episode of Magnum PI, where Higgins has his flowers eaten by a goat and in response he exclaims, "Don't tell me the goat is a figment of my imagination. Figments don't eat rare tropical flowers!"
Figment takes on many roles at Epcot, but his main role is to inspire creativity.
With the help of the Sherman Brothers, we were able to get a full description of Figment in an uplifting and quirky song called "One Little Spark." The lyrics are as follows:
"Two tiny wings, eyes big and yellow, horns of a steer, but a lovable fellow. From head to tail, he's royal purple pigment, and there, voila, you've got a Figment." In short, he is meant to be the physical embodiment of the phrase "Figment of your imagination."
Although the Imagination Pavilion itself has existed itself since 1982, Figment did not become the mascot for it until its ride's debut on March 5, 1983 and has been ever since.
ORDER NOW to secure your Walt Disney World theme park ticket! GET MY TICKETS.
Epcot's Imagination Pavilion and Figment's Role
For those who aren't in the know, the Journey Into Imagination ride that we know today isn't the original version. It's a very watered-down version of what opened in 1983. The original 1983 version actually featured another original character named "Dreamfinder."
The Dreamfinder
The story concept behind the original is simple. Dreamfinder, a happy go lucky kind of wizard/scientist, sets forth to work on how to teach figment about how to use his imagination.
In the ride, you were introduced to Dreamfinder as he explains his Dreammobile is the way he creates ideas in order to create fantastic new things.
Speaking of fantastic new things, shortly after, Dreamfinder creates Figment and together they fill up Dreamfinder's "idea bag."
The idea bag eventually gets full, and it's decided that the bag has to be emptied into the Dreamport. As we continue on, we enter various rooms including a storage room where the ideas are sorted, and rooms dedicated to the arts, literature, science and the performing arts.
During the journey, figment takes on many roles like a pirate, mountain climber, cowboy and superhero, but his looks in recent media seems to lean towards his favorite role to play being an astronaut.
In the end, the Dreamfinder tells Figment and the audience that the key to unlocking the hidden wonders of the world is Imagination.
Guests could then exit into Imageworks, an interactive playground that allowed visitors to express their creativity in various ways. The crown jewel was the rainbow tunnel which would have the Instagram girls shaking.
Ready to plan your theme park trip? Watch the best vacation planning tips on YouTube. Get started here!
The All-Star Duo: Dreamfinder and Figment
Dreamfinder and Figment were two beloved original park characters, but especially since they were the mascots of the extremely popular pavilion.
The duo was beloved due to their acceptance and encouragement to people of all ages that no idea was silly. no dream was too extreme.
Every idea and every dream were worth pursuing and the ride and their pavilion were truly the most positive spark to inspiring everyday guests.
Dreamfinder and Figment at one point were walk-around characters that delighted guests daily. To this day, friends of Dreamfinder are still beloved and cherished for the core memories they instilled in Disney fans who visited during the 1980s.
However, even Walt said, "Progress is impossible without change."
Journey Into Imagination with Figment Ride at Epcot
In 1998, the ride was closed for a major refurbishment and in 1999, it reopened with a new story and Dreamfinder was replaced with Dr. Nigel Channing as a host.
The general consensus amongst fans is that the refurbishment, ruined the character and the imagination theme.
Guests complained about Figment's minimized role and Dreamfinder was completely gone. Budget cuts were an issue as well and so the ride track was greatly reduced.
ORDER NOW to secure your Walt Disney World theme park ticket! GET MY TICKETS.
Disappointing Reviews of the Figment Ride at Epcot…
The complaints were heard, and the ride went down again for another refurb in 2001. In 2002, figment returned with a larger role and was included in every scene. The focus of the ride was the five senses rather than imagination.
Guests still were not satisfied and its up for debate whether the 3rd incarnation of the ride and Figment's part in it is up to snuff. But this is an opinion best left to the individual rider themselves.
As far as figment's role in the ride, in the original version, he is a creation of Dreamfinder and we go along as Dreamfinder mentors him to showcase the different ways we can utilize our imagination.
In the new version, Disney's Figment takes on the role in a comedic, quirky and chaotic way. He shows that you do not have to always take the conventional path to create ideas, but rather encourages guests to think outside the box more and to be more open minded to new things.
Regardless, his role in the attraction is always to be a Segway to convey the message of Imagination and its importance to riders.
Figment's Recent Resurgence at Epcot
Our favorite purple dragon, Figment, has seen a recent return in the age of the internet as nostalgic Disney fans shared their fond memories of Dreamfinder, Figment and their ride.
Figment has made cameos in Disney Pixar films, Toy Story 4 and Inside Out. Inside Out was particularly special due to the character of Bing Bong, who plays a similar role as Figment for the main character, Riley.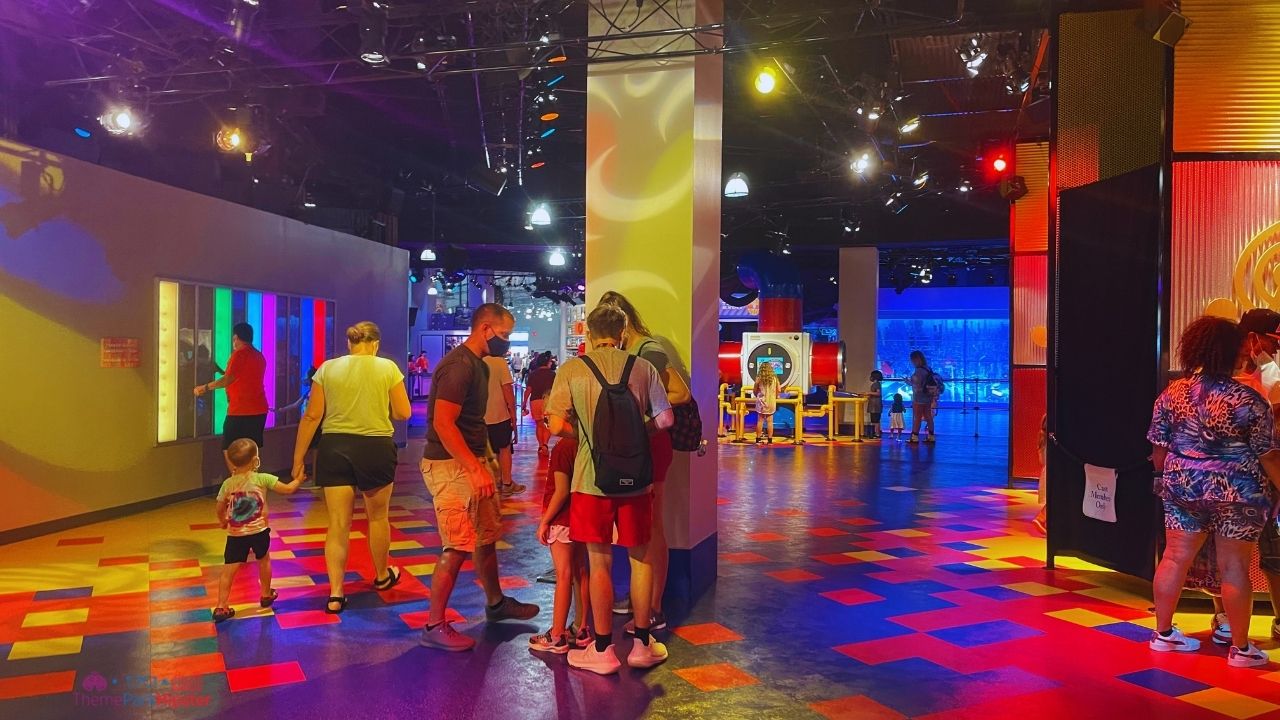 Disney began to capitalize on the fans when they worked with Marvel to present a Figment comic book miniseries in summer 2014.
It was called "Disney Kingdoms: Figment" that followed the origins of the beloved purple dragon and his creator and mentor, Dreamfinder. It became so successful that a sequel series was released the following year.
Marvel seems to love Figment a lot as he is an Easter Egg in the Guardians of the Galaxy: Mission Breakout attraction in Disney California Adventure.
For Walt Disney World, he is usually utilized as the mascot for EPCOT's festival mascot. Anytime Figment appears, whether it be in digital media, literature, merchandise or in the parks, he continues to be loved by generations of visitors.
Why is Figment at Epcot so loved?
We have no come full circle to the recent popcorn bucket chaos of EPCOT's International Festival of the Arts and the question "Who is Figment?"
Now that we have gone through and answered that question, it's time to answer one more. "Why is Figment so loved?"
In this writer's honest opinion, I believe that Figment represents the child in all of us. During our childhoods, that is when we are the most optimistic, curious and imaginative generally.
Our favorite purple dragon, Figment, is relatable in that way to us, not to mention he is full of optimism while encouraging all of us to not suppress our sparks.
Figment is a reminder that we still have that spark within us, and we can still utilize it to create a better world full of hope and imagination.
Without imagination, we would not have developed as wonderfully as we have as a society. AND without figment, we would not be reminded of the spark that we all have to create, inspire and achieve things we might not ever thought possible.
In short, Figment, the physical embodiment of "figment of your imagination" is a reminder when we step foot into EPCOT that imagination is truly the key to the hidden gems of the world.
Do you have any memories with Figment from past visits? Let us know in our Facebook Group.
Until next time, Happy Park Hopping Hipsters!
About the Author
UP NEXT: 9 BEST Epcot Rides and Attractions You MUST Do! (Magic of Possibility)