You may be wondering to yourself, Is the Epcot Food and Wine Festival worth it in 2023?
The Epcot International Food and Wine Festival look a little bit different this year thanks to the pandemic.
And while your favorite food is probably still on the menu, there are some things you should know about touring the new hybrid version of the Epcot International Food and Wine Festival.
Here at ThemeParkHipster, our favorite time of year at Epcot is fall. The weather is cooler to walk around World Showcase and the park seems empty some days.
Plus, it's when Disney puts on its annual food and wine festival.
After going to the festival for many years, we decided to share some of our best tips, tricks, and touring strategies.
Especially if you want to experience everything at the Epcot International Food and Wine Festival.
THIS POST MAY CONTAIN AFFILIATE LINKS. PLEASE READ MY DISCLOSURE FOR MORE INFO. Which means if you click on certain links, I may receive a small commission at no additional charge to you.
When is the 2023 Epcot International Food and Wine Festival?
This special event takes place July 27th through November 18th of 2023. 
New experiences will include the return of the popular Eat to the Beat Concert Series and the dining packages that come with it..
What are the Epcot Food and Wine Hours
The Epcot Food and Wine Festival hours are from 11 a.m. until 9 p.m. every day.
Your theme park pass will allow you to come and go from the park as many times as you want throughout that same day.
Check out my latest theme park adventures on Instagram TODAY!
Epcot Transportation Options for the Food and Wine Festival
There are a few options to get to and from the park from your Disney hotel. If you have a car you can drive yourself.
This is our favorite option right now since the bus and Skyliner can take a while to get to and from a destination.
If you're staying at one of the resorts that services the Disney Skyliner, you could hop aboard a gondola to get to Epcot.
Disney Skyliner Resorts:
Note that if you are staying at Pop Century or Art of Animation that you will need to transfer to the Epcot line at Caribbean Beach.
Taking the bus is always an option for every resort, but can take a while as you'll have to take into account the time it takes to wait for the bus and the load time.
This is really only a good option in the middle of the day when the line to get to the park via bus is short.
The monorail from the Magic Kingdom Resorts to Epcot are now operating.
ORDER NOW to secure your Walt Disney World theme park ticket! GET MY TICKETS.
What's New at the Epcot Food and Wine Festival 2023
As mentioned earlier, the Epcot International Food and Wine Festival looks a little bit different this year due to the global crisis we went through.
This has caused Disney to requiring theme park reservations for your Epcot visit.
However, temperature checks are no longer required for entry into the festival.
You can do this through the new Park Pass Reservation System on your My Disney Experience account.
As you experience a the EPCOT International Food & Wine Festival, you'll also notice a few things still missing such as the special tours and seminar classes. Hopefully they'll return next year.
Although some of your favorite treats and experience may be there, you'll notice a few changes on trip to Epcot Food and Wine Festival.
Let's go through some of the top new strategies for experiencing this annual Epcot festival.
1. Know What NEW Food You Must Get While At Epcot
There are dozens of food booths to try while exploring the Epcot International Food and Wine Festival, but some aren't open yet.
Below are the new Epcot Food and Wine Festival Food Booths for 2023:
Char & Chop – Available September 22, 2023 (NEW)
Food
Roasted Porchetta with Lemon-Parsley Salsa Verde and Shaved Fennel Salad
Grilled Impossible™ Spicy Sausage with Herbed Polenta, Puttanesca Sauce and Ricotta
Meat Assorti: Trio of Shaved Meats with Baby Arugula, Pickled Mustard Seeds, Truffle Oil and Grilled Ciabatta
Beverages
Krombacher Pilsner, Kreuztal, Germany
North Coast Laguna Baja Vienna Lager, Fort Bragg, CA
Motorworks Brewing Midnight Espresso Coffee Porter, Bradenton, FL
GoGi 'Birdie' Pinot Noir, California
Bloody Mary with Seaside Grown Bloody Mary Mix and Kurvball Barbecue Whiskey
Beer Flight
Wine & Wedge – Available September 22, 2023 (NEW)
Food
Assorted Artisanal Cheeses and Accoutrements (NEW) (Emile's Fromage Montage item)
Fig and Balsamic Boursin Soufflé with Fig Tapenade (NEW) (Emile's Fromage Montage item)
Southern Pimento Cheese with Bread-and-Butter Pickled Vegetables and Grilled Bread (NEW) (Emile's Fromage Montage item)
Cheese Flight – includes all 3 cheeses on the menu
Cheese and Beverage Flight – all 3 cheeses and all 3 beverages served on an Artist Palette
Beverages
Selbach-Oster Zeltinger Sonnenuhr Riesling Spätlese, Mosel
Hartley Apple Brandy, Kentucky
Florida Orange Groves Winery Black and Blue Port, St. Petersburg, FL
Beverage Flight – includes all 3 beverages on the menu
Bubbles & Brine – Available September 22, 2023 (NEW)
Food
Jumbo Shrimp Cocktail with Prosecco Cocktail Sauce and Grilled Lemon (NEW)
King Crab and Avocado Timbale with Petite Lettuces and Lemon-marinated Hearts of Palm with Champagne Cream and Sparkling Rosé Sauce (NEW)
Beverages
Moët & Chandon Impérial, Epernay, France
Veuve Clicquot Rosé, Reims, France
Dom Pérignon, Epernay, France
Champagne Flight
Swirled Showcase – September 22, 2023 (NEW)
Food
Liquid Nitro Cake Pop
Soft Serve in a Waffle Cone
Vanilla
Cinnamon
Caramel
Fanta® Grape Float with Vanilla Ice Cream
Beer Floats
Berry Fizz with Vanilla Ice Cream
Beverages
Frozen Apple Pie (nonalcoholic)
Cinnamon Apple Cider (nonalcoholic)
Coca-Cola®, Barq's® Root Beer, Fanta Grape (nonalcoholic)
Orange Blossom Brewery Toasted Coconut Porter, Orlando, FL
As the festival progresses more and more food booths will open.
When we asked a Cast Member, they mentioned more booths would open around the time that the Food and Wine Festival would typically start, which is mid-August!
No matter where you decide to eat you may still find Plexiglas has taken over. Disney has installed Plexiglas on the food booths at the registers and at the pickup window.
The barrier between you and the Cast Member serving you does make for a safer environment. However, hearing what the Cast Member is saying can be challenging.
Be sure to speak up when telling someone what you want to order, and listen carefully to what they are saying in return.
Have a DIFFERENT kind of Orlando vacation with a Resort home next to Disney World. Find Your Disney Resort Vacation Rental here!
2. Celebrate the 100th Anniversary of Disney Stories
While you're enjoying this year's festivities, be sure to explore all of the "The World's Most Magical Celebration" honoring the 100th Anniversary.
It's a time for us to reflect on the wonderful storytelling of the Disney Company.
Don't forget to check out the NEW Journey of Water, Inspired by Moana that will be opening in Fall 2023.
3. New Technology for the Epcot Food and Wine Festival
Throughout World Showcase you'll find pillars with menus and QR codes or recommendations to download the Disney World app.
So instead of the traditional booklets with the list of festival booths and menus you can use the digital booklet.
The booklet can be brought up on your phone by scanning any of the QR codes with a smartphone or you can download the MyDisneyExperience App to view the Epcot Food and Wine Festival menu.
The Disney World app features:
All of the menus for the festival
Where you can find entertainment
Things kids can do just for them
Where to find merchandise
This also means that you will use a lot of the battery on your phone so be sure to have an extra rechargeable battery nearby.
4. New Changes in Available Entertainment
Throughout Epcot you might notice the slow addition of regular entertainment being added back to the park.
Character Meet and Greets
Previously at random times throughout the day you would've spotted some of your favorite Disney characters making their way through Epcot's World Showcase in a character cavalcade.
These short parades are now suspended at Epcot as the actual character meet-and-greets have returned to the park.
Eat to the Beat Concerts in the America Gardens Theater
At set times throughout the day you can take a break at the America Gardens Theater to enjoy some live music as the Epcot Eat to the Beat Concert series finally returns!
The annual concert series features popular bands from the 80s, 90s, and the 2000s. It takes place on the American Gardens Theater stage in the American Adventure Pavilion at Epcot.
More Epcot Festival Entertainment
While at Epcot Food and Wine Festival, don't forget to check out The Voices of Liberty, the JAMMitors, and the Mariachi Cobre.
Kidcot
If you're taking kids to Epcot, you'll be pleased to know that Kidcot is still available.
This free activity usually has kids do an activity and interact with the cultural representatives from each country represented around World Showcase.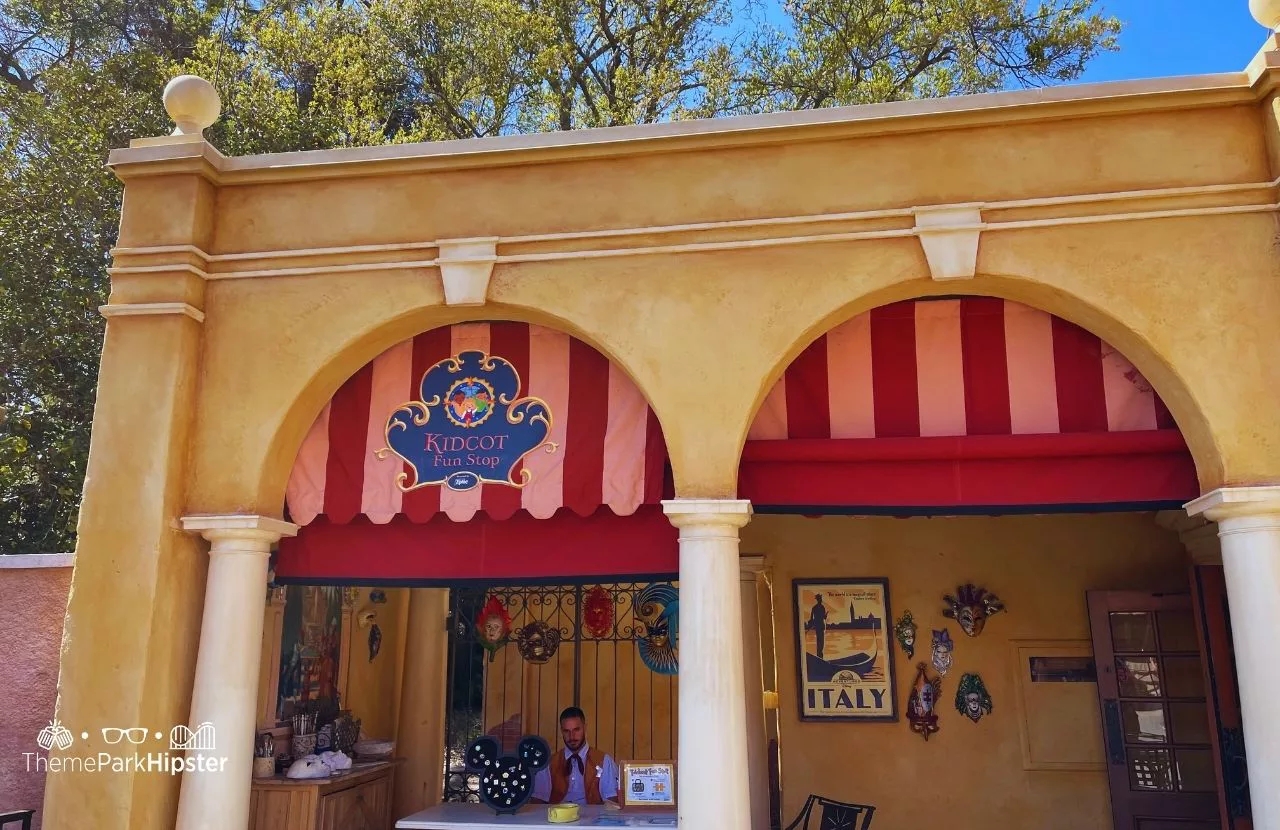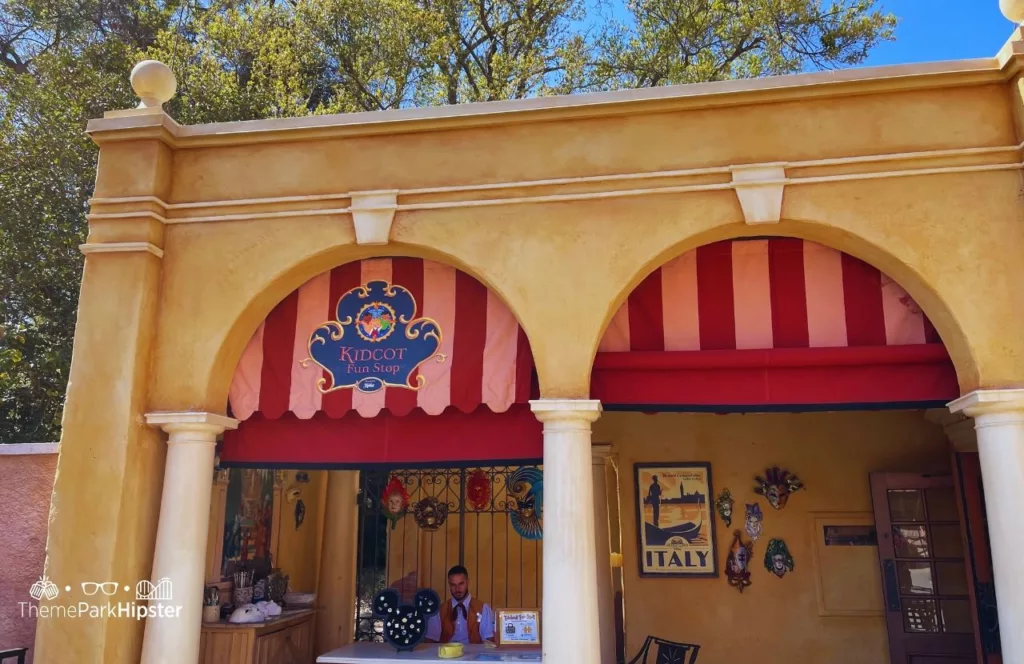 To get started, you're going to want to pick up one of the Kidcot packets from any normal Kidcot station. These stations can be found in each country in World Showcase.
Inside the themed ziplock you'll find all you need to complete a journey around World Showcase.
Recommended: The Solo Theme Park Traveler's Guide
5. New Epcot International Food and Wine Merchandise and T-Shirts
A true ThemeParkHipster must bring home a nice souvenir to commemorate your time at the Epcot Food & Wine Festival.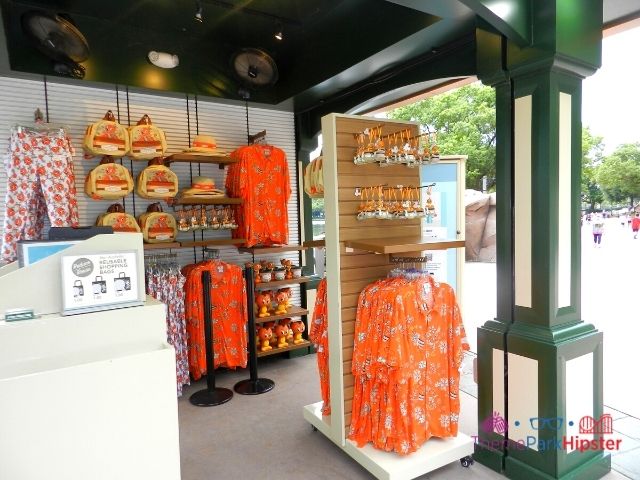 You can find the Festival merchandise throughout Epcot theme park. Epcot Food and Wine Festival merchandise can also be found on shopDisney.com.
ORDER NOW to secure your ticket reservation in the parks! GET MY DISNEY TICKETS!
Our Top 5 Dishes You Must Try at Epcot Food and Wine Festival
After strolling around Epcot and trying a variety of things we've come up with the ThemeParkHipster top five dishes to get.
This list was made before the second wave of festival booth openings and could change later in the season.
A Warm Raclette Swiss Cheese with Baby Potatoes, Cornichons and Baguette (The Alps)
Pão de Queijo: Brazilian Cheese Bread (Brazil)
Frozen Caipirinha with Cachaça (Brazil)
Garlic-Parmesan Wings with Celery and Ranch (Brew-Wing in the Odyssey)
Parisian Cosmo Slush: Vodka, Grey Goose Le Ctiron Vodka, Grand Marnier and Cranberry Juice (France)
Budgeting for the Epcot Food and Wine Festival
The best and easiest way to keep a budget while munching on treats and eats around Epcot is to purchase a wearable Disney gift card once you get inside the park.
The gift cards can be found at most merchandise locations.
Being able to load a specific amount of money onto the wearable gift card makes the day so much easier.
Mainly because you don't have to pull your wallet or phone out every time you want to pay for something.
The cards are reloadable, so if you do decide to add more money then it's super easy. Just go into any shop where merchandise is sold and they will be able to help you.
To know how much you might want to put on the gift card, do a little searching for the food booth menus with prices. You'll then want to add up the total of everything that sounds good.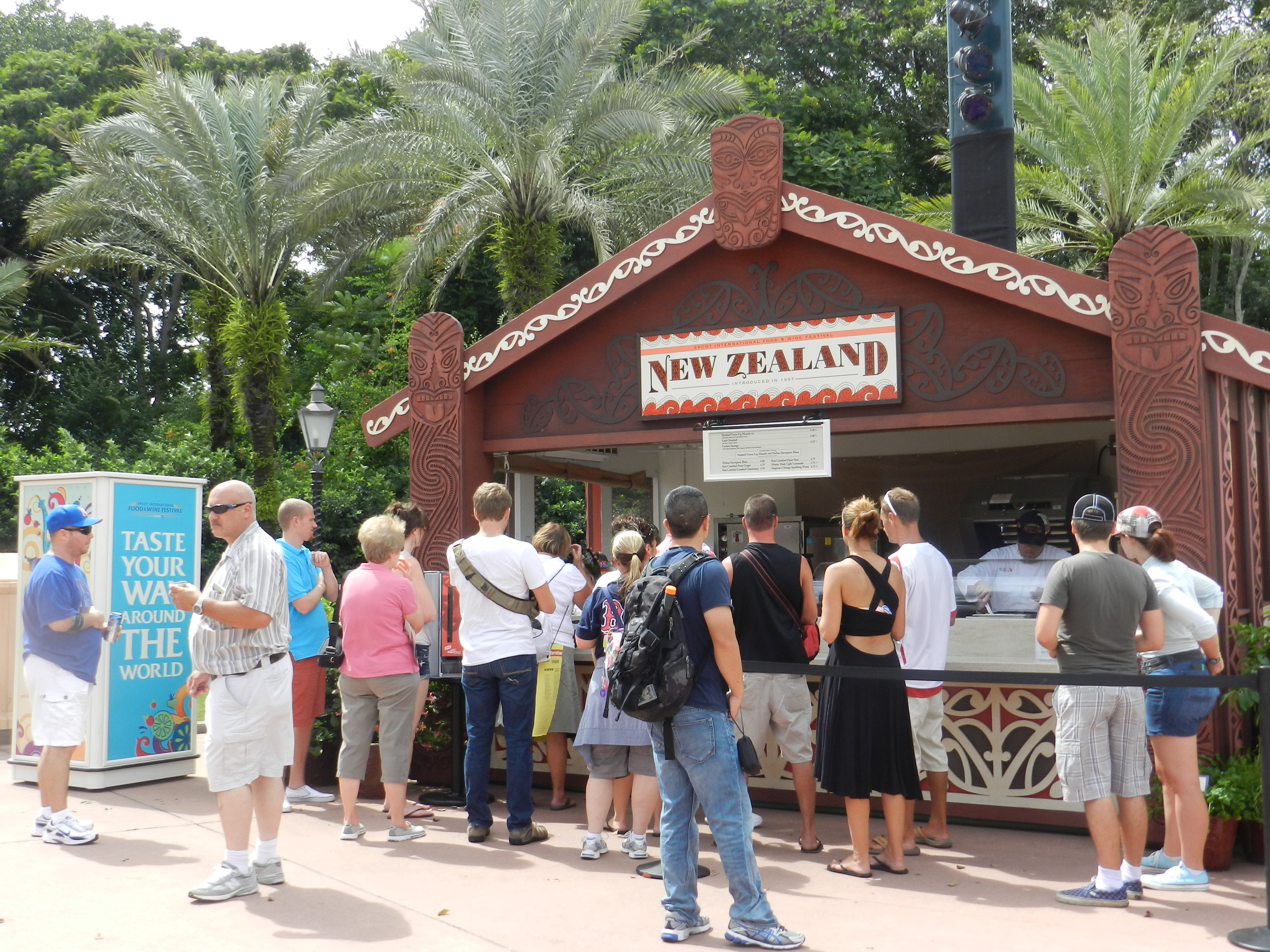 Even if you don't try everything on your list (we sure didn't) you'll know about how much you'll likely be spending.
Safety Tips at Disney World
The safety of guests and Cast Members is Disney's top priority right now, so we have listed a few of our best tips for your visit to the Epcot Food and Wine Festival.
1. Keeping Your Hands Clean
There are multiple hand washing and hand sanitizing stations throughout the park to keep your hands clean after rides and before you eat.
This is definitely a win for anyone doing Disney during the Epcot International Food and Wine Festival.
Check out my latest theme park adventures on Instagram TODAY!
2. Wear Face Coverings and Masks
If you're still not comfortable about being around people, you may want to bring a couple of masks with you.
Especially for the moments when you'll have to wait in the line of an indoor queue.
Be sure to have a backup pair, just in case yours gets wet from sweat or rain.
Join the Conversation on the Solo Disney Traveler Community on Facebook!
3. Take Frequent Breaks to Cool Off
It's hot in Florida. That's just a fact of life. One thing that is necessary while touring any Disney park is to drink a lot of water.
At Epcot you can still get water from quick service food and beverage locations and Starbucks for free.
If you need to cool off, be sure to take breaks every 45 minutes indoor so that you won't experience any heat related illnesses.
Top 5 Epcot Food and Wine Festival Tips
After visiting Epcot for the Taste of Epcot International Food and Wine Festival we've come up with our top five touring tips that we want to share with you.
1. Take extra masks and take lots of breaks
This seems obvious but so many people don't do either of these. Wearing a mask that's hot and sweaty all day long just does not sound fun to us.
So, when we stopped inside for breaks, we swapped masks for something clean.
2. Plan out your top eats
After looking at the menus at home we knew exactly what we wanted to get from Epcot to eat.
This was a great way to be sure we didn't get too full before making our way to the other side of World Showcase, and it kept us within our budget.
3. Get on attractions
Even if attractions aren't your main priority when visiting Epcot, they should be on your list for right now.
One reason is because all of Epcot's attractions are inside, which gives you relief from the sun. Another is because it's a nice little break from walking around the park.
4. Go back to your room in the middle of the day
Taking a break in the middle of the day to go back to your room might seem counterproductive when the parks have shortened hours, but it's not!
Even with doing Epcot for a few hours then going back to your room then heading back after it cools off in the evening, you should be able to get everything done.
And you even got some time to completely cool down, take a nap, or hop in the pool.
5. Split the Cost
Going with a friend or two or three lowers your budget and makes the event memorable. You can share multiple dishes without leaving Epcot broke.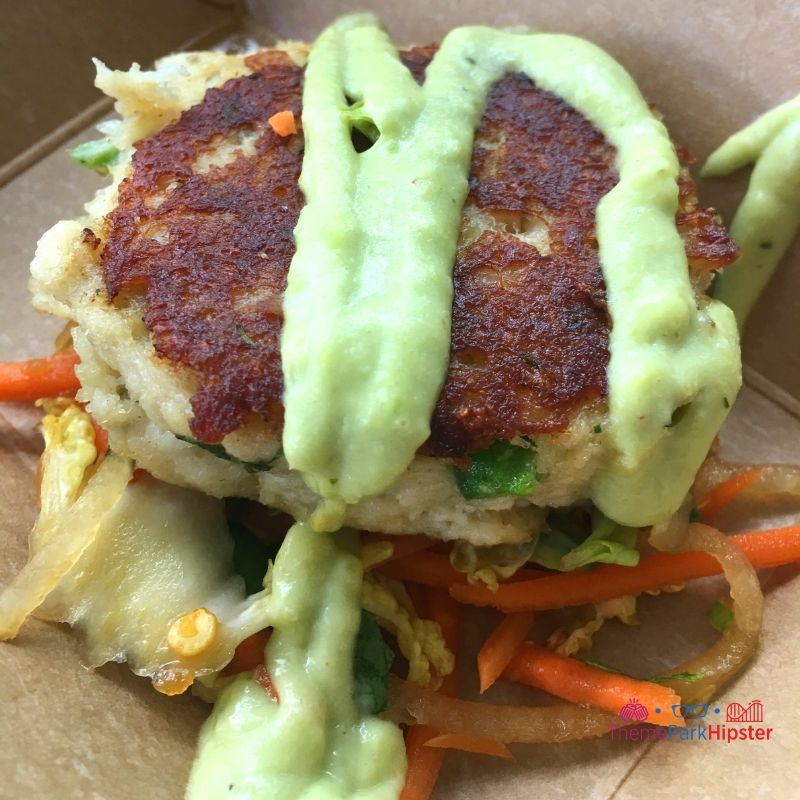 Hipster Power Tip: Share a beer or wine flight with a friend. Each flight contains 3 to 4 samples.
Get your Mickey's Not-So-Scary Halloween Party Tickets TODAY!
Is the Epcot Food and Wine Festival Worth It?
The Epcot Food and Wine Festival is definitely worth a visit, especially if you wait until later in the fall when it gets cooler.
It's one of our favorite festivals at Epcot and we can't wait until it's back to its former glory.
I hope this post helped guide you towards a great experience at the Epcot International Food & Wine Festival!
Don't worry if you're not able to see and do everything. I just want you to have fun and enjoy exploring all the different countries.
What Epcot Food and Wine Festival tips do you think is the most helpful for making the most of your time? Leave your comment below!
Until next time, Happy Park Hopping Hipsters!
Authors: Megan duBois and NikkyJ
UP NEXT: Taste Your Way Around the World: Best Food at the Epcot Food and Wine Festival
(Original Article Date: August 24, 2020/Updated by Editor on July 26, 2023)