The Epcot International Food and Wine Festival look a little bit different this year thanks to the pandemic.
And while your favorite food is probably still on the menu, there are some things you should know about touring the new hybrid "Taste of Epcot International Food and Wine Festival."
Here at ThemeParkHipster, our favorite time of year at Epcot is fall. The weather is cooler to walk around World Showcase and the park seems empty some days. Plus, it's when Disney puts on it's annual food and wine festival.
After going to the festival opening week, we decided to share some of our tips, tricks, and touring strategies. Especially if you want to get everything at the Taste of Epcot International Food and Wine Festival done in one day.
THIS POST MAY CONTAIN AFFILIATE LINKS. PLEASE READ MY DISCLOSURE FOR MORE INFO. Which means if you click on certain links, I may receive a small commission at no additional charge to you.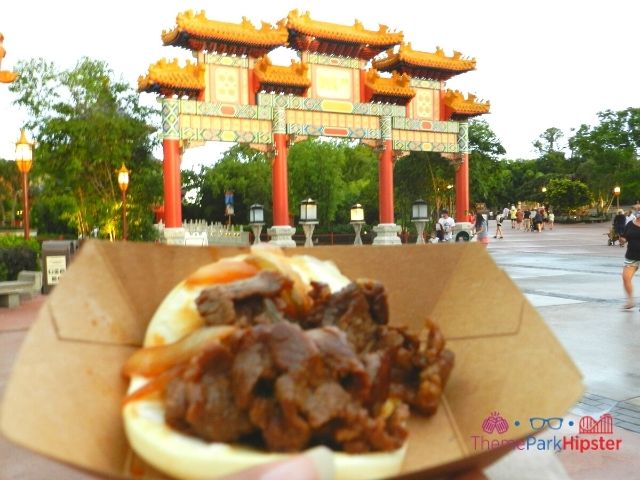 Epcot's New Hours, Transportation, and Temperature Checks
Getting to Epcot is a little bit different with all of Disney's new health and safety standards due to the ongoing pandemic. Before you even get to Walt Disney World, you're going to want to be sure to get a Disney Park Pass.
You can do this through the new Park Pass Reservation System on your My Disney Experience account.
Epcot's Operating Hours
Epcot is currently open from 11 a.m. until 9 p.m. every day. Your park pass will allow you to come and go from the park as many times as you want throughout the day.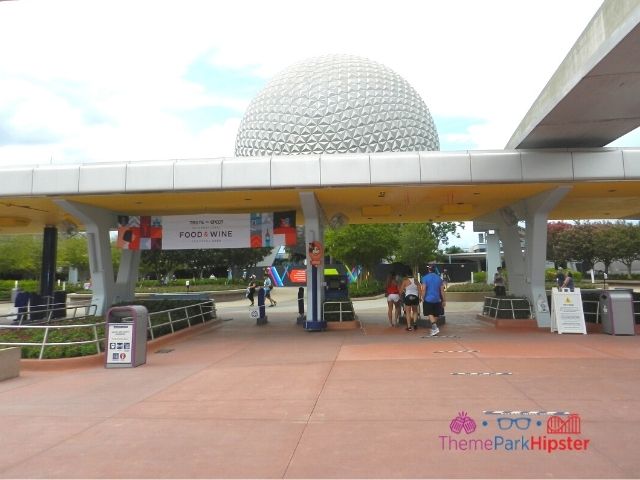 Epcot Transportation Options
There are a few options to get to and from the park from your Disney hotel. If you have a car you can drive yourself. This is our favorite option right now since the bus and skyliner can take a while to get to and from a destination.
If you're staying at one of the resorts that services the Disney Skyliner you could hop aboard a gondola to get to Epcot.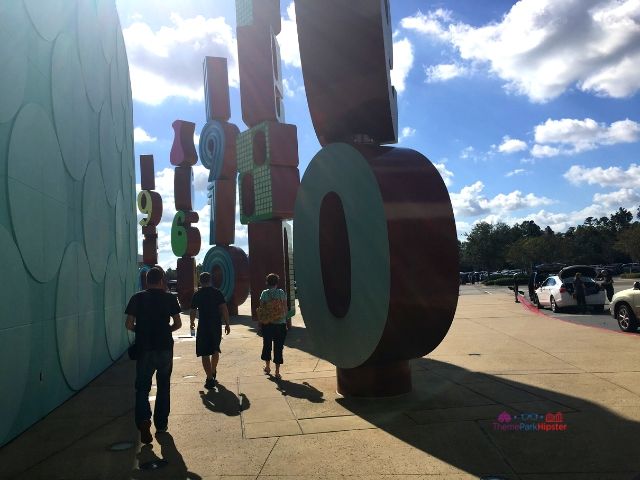 Disney Skyliner Resorts:
Note that if you are staying at Pop Century or Art of Animation that you will need to transfer to the Epcot line at Caribbean Beach.
Taking the bus is always an option for every resort, but can take a while due to lowered capacity on the bus. This is really only a good option in the middle of the day when the line to get to the park via bus is short.
The monorail from the Magic Kingdom Resorts to Epcot are not operating right now.
Temperature Screenings
No matter what park you visit, you will have your temperature checked before security. This is part of Disney's new emphasis on health and safety.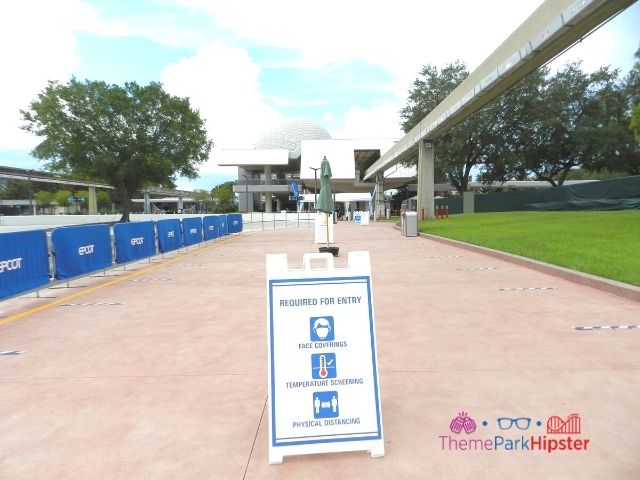 At Epcot, the temperature screening for the main entrance is near the monorail station. If you are entering through the International Gateway, you'll find the temperature screening just before the security checkpoint.
If your temperature registers above 100.4, you will be directed to sit in a "cool down tent." This is done to see if your temperature is in fact going down.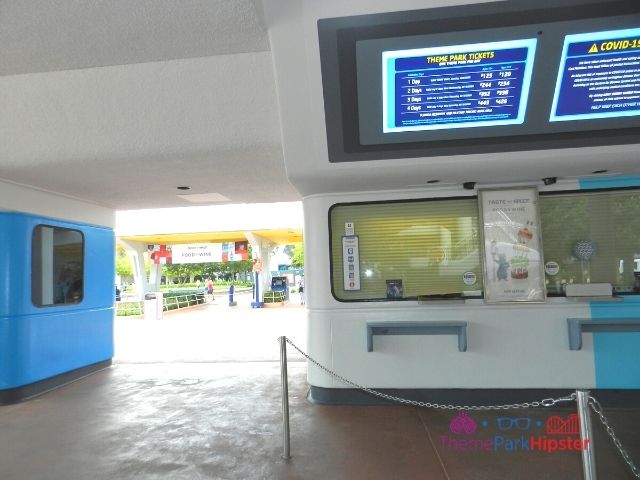 Once it goes below 100.4 you'll be able to enter the park. If it does not then you will be told to leave.
ORDER NOW to secure your ticket reservation in the parks! GET MY DISNEY TICKETS!
What is the Taste of Epcot International Food and Wine Festival?
Once inside Epcot you'll be able to experience all that the Taste of Epcot International Food and Wine Festival has to offer. This new festival is a hybrid between Food and Wine and Flower and Garden.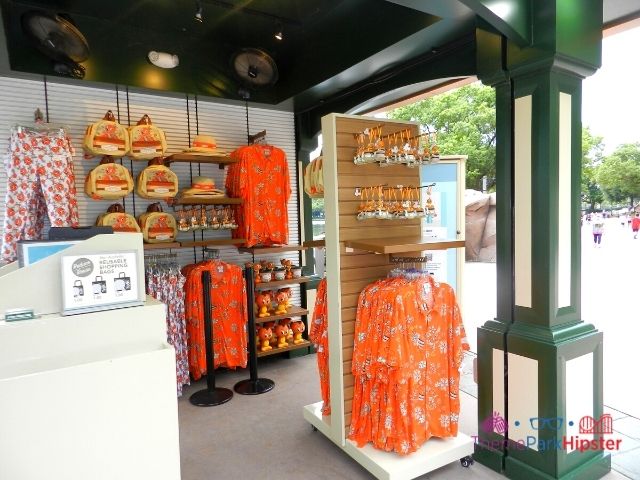 Around Epcot you'll still find some elements of Flower and Garden including topiaries like Remy and select merchandise. Eagle-eyed fans will also notice some of the dishes from Flower and Garden have made the menus for the festival.
What are the 2020 Epcot Food and Wine Festival dates?
This year's festival is the longest Epcot has ever hosted, starting July 15 and has no official ending date.
What Food Should I Get While At Epcot?
There are dozens of food booths to try while exploring the Taste of Epcot International Food and Wine Festival, but some aren't open yet.
As the festival progresses more and more food booths will open.
When we asked a Cast Member, they mentioned more booths would open around the time that the Food and Wine Festival would typically start, which is mid-August!
No matter where you decide to eat you'll find Plexiglas has taken over. Disney has installed Plexiglas at each of the food booths at the registers and at the pickup window.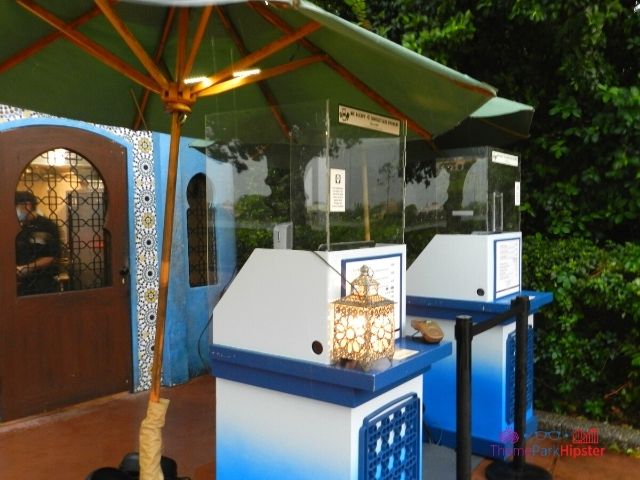 The barrier between you and the Cast Member serving you does make for a safer environment. However, hearing what the Cast Member is saying can be challenging.
Be sure to speak up when telling someone what you want to order, and listen carefully to what they are saying in return.
World Showplace Has Four Booths Inside
Even if you've never been inside World Showplace at Epcot, you've definitely walked by it. The space is used for private and public events, and sometimes there are even characters in the walkway leading up to the space.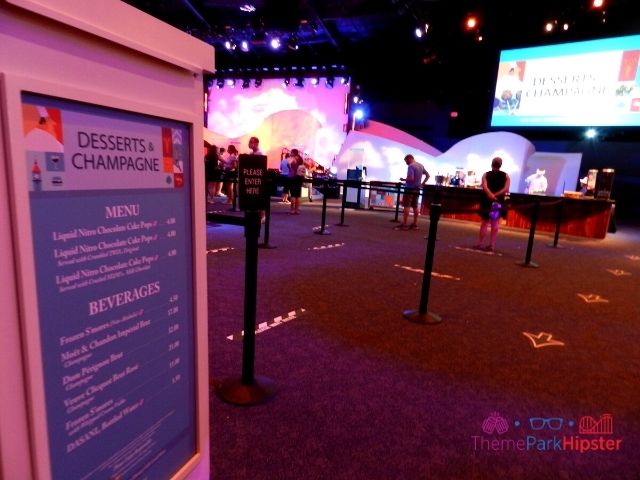 Inside World Showplace you'll find four festival booths, tables and chairs, bathrooms, and the all important air conditioning.
This area of the park has a limited capacity so there may be a wait to get inside. When we were there the wait was only a few minutes so we decided to stick it out. If the waits become longer, Disney could implement a virtual queue.
Virtual Queue for World Showplace
To join the virtual queue you'll need to find a Cast Member in the area who will take down your phone number and enter your information into the virtual queue.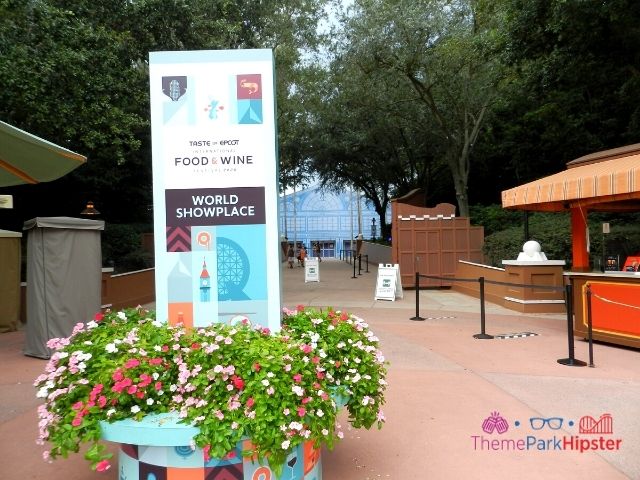 You'll receive a text message when it's your turn to enter World Showplace, so until then you can wonder around Epcot and enjoy more of the festival.
Our Top 5 Dishes at a Taste of Epcot Food and Wine Festival
After strolling around Epcot and trying a variety of things we've come up with the ThemeParkHipster top five dishes to get.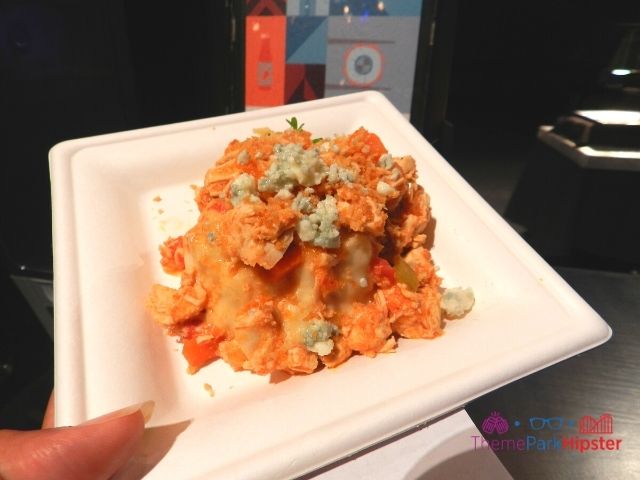 This list was made before the second wave of festival booth openings and could change later in the season.
Liquid Nitro Chocolate Cake Pops from the Desserts and Champagne booth
Tempura Donburi from the Japan booth
La Vie en Rose Frozen Slushy from the France booth
Lobster Tail with Meyer Lemon Emulsion and Grilled Lemon from the Citrus Blossom booth
Gourmet Macaroni and Cheese with Boursin® Garlic and Fine Herbs Cheese topped with Herbed Panko from Mac and Cheese Hosted by Boursin® Cheese
Have a DIFFERENT kind of Orlando vacation with a Resort home next to Disney World. Find Your Disney Resort Vacation Rental here!
Technology and the Festival
Throughout World Showcase you'll find pillars with menus and QR codes. In lieu of traditional booklets with the list of festival booths and menus Disney has opted for a fully digital booklet.
The booklet can be brought up on your phone by scanning any of the QR codes with a smartphone.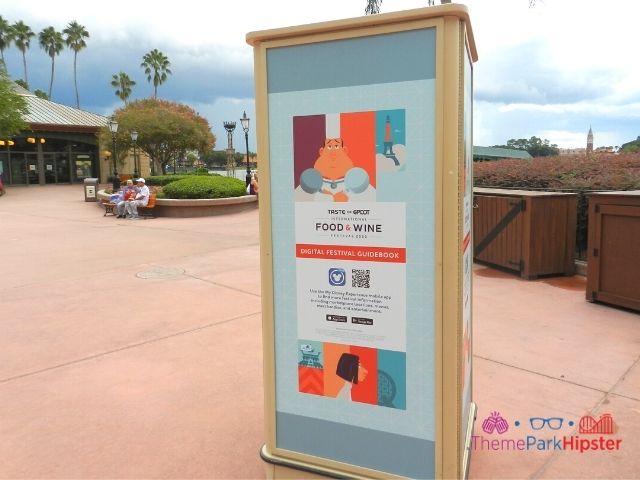 The QR code will redirect you to the Walt Disney World website with a new interactive space just for the Taste of Epcot International Food and Wine Festival. This space features:
all of the menus for the festival
where you can find entertainment
things kids can do just for them
where to find merchandise
The one bad thing about the QR code is if you open the link too many times it will redirect and close the site.
When this happens you will have to find another pillar to scan the QR code to bring the website back up on your phone. This also uses a lot of the battery for a phone so be sure to have an extra rechargeable battery nearby.

Available Entertainment
Throughout Epcot you might notice a lack of regular entertainment, but you can still find some if you know where to look.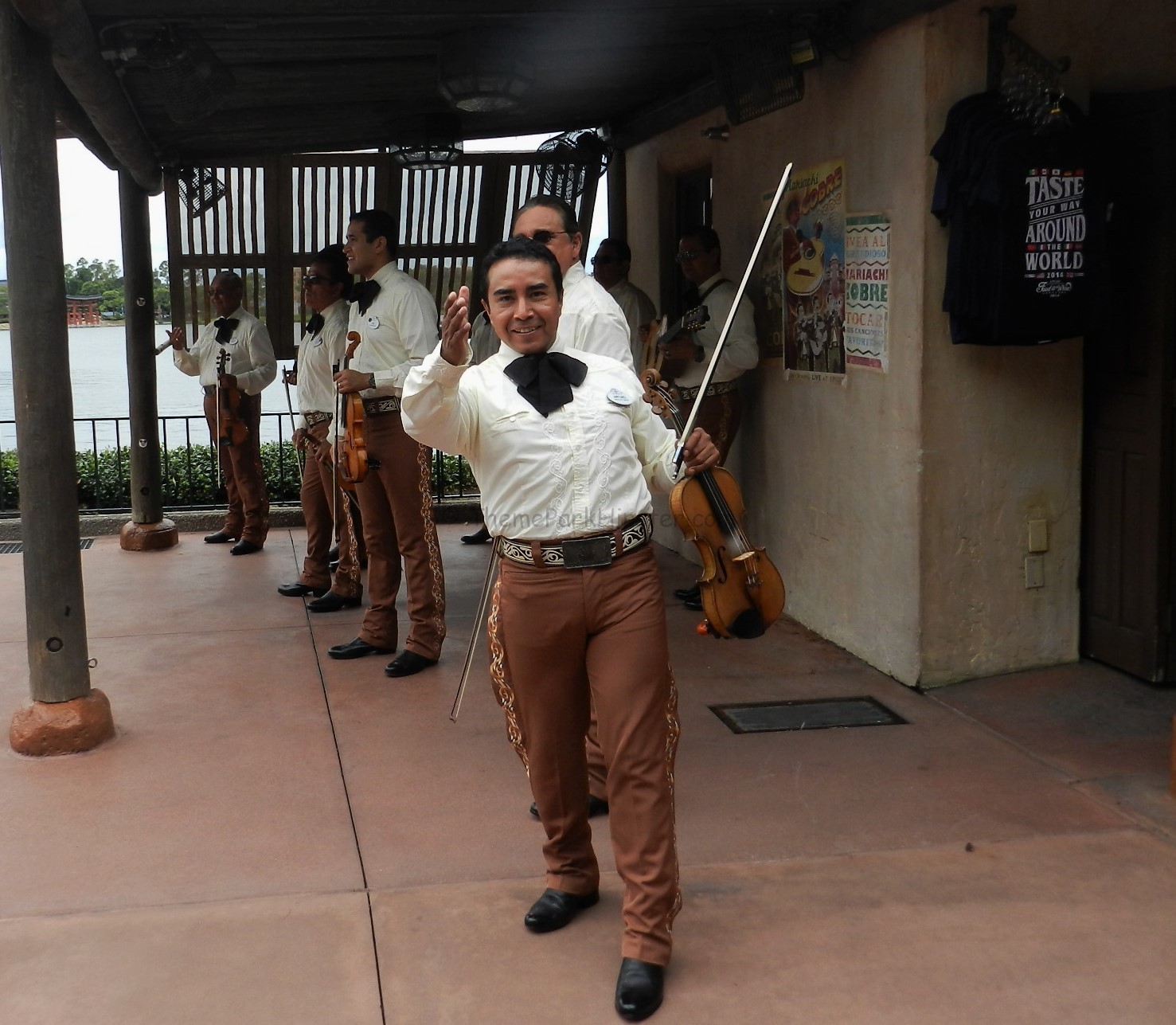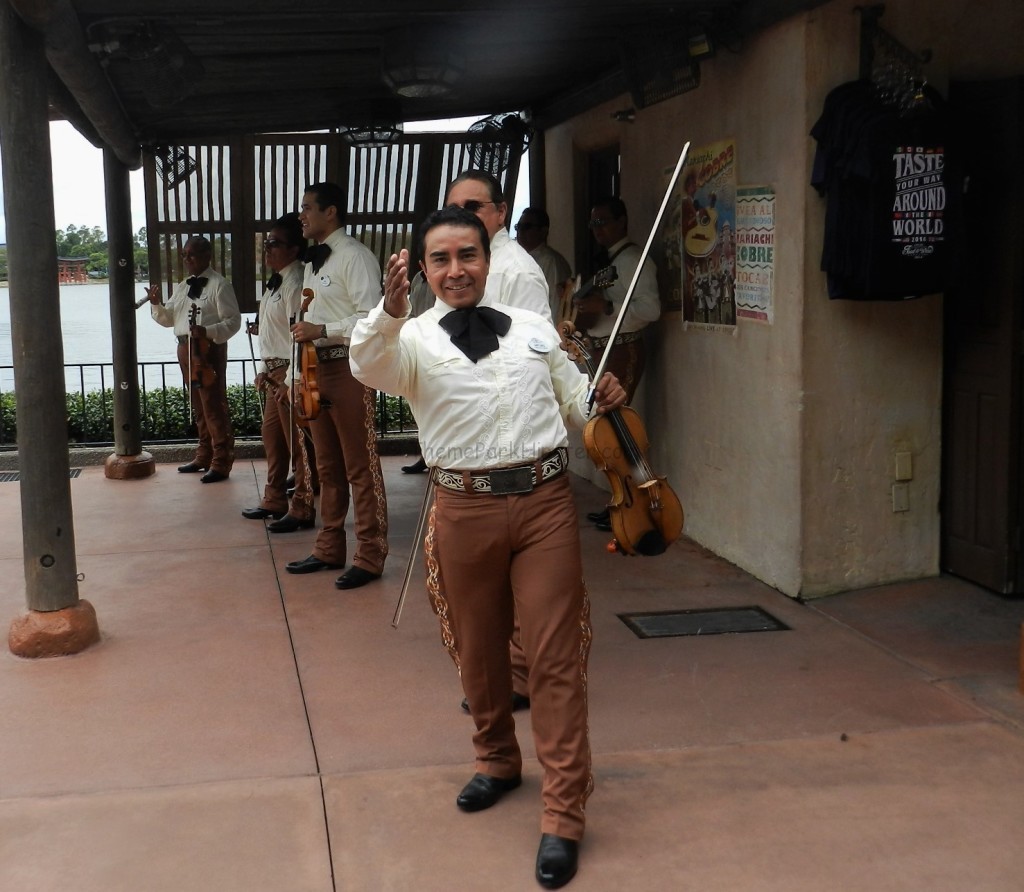 Character Cavalcades
At random times throughout the day you might spot some of your favorite Disney characters making their way through Epcot's World Showcase in a character cavalcade.
These short parades are a great way to see characters since Disney has halted character meet and greets for the time being.
There are three different character cavalcades that you might encounter at Epcot:
Mickey and friends
Disney princesses
The sisters from Frozen
America Gardens Theater
At set times throughout the day you can take a break (with your mask on) at the America Gardens Theater to enjoy some live music.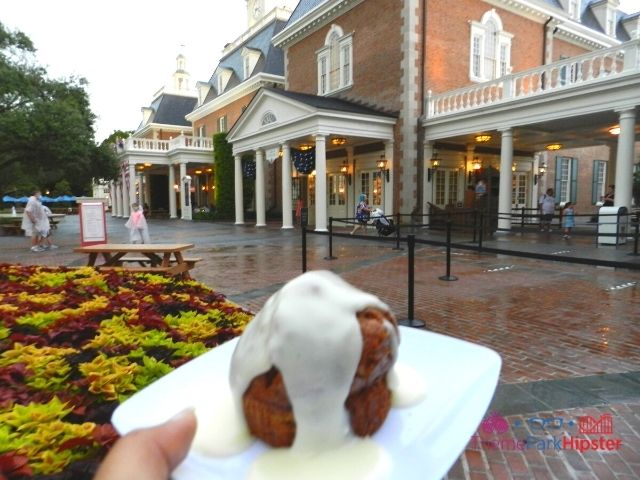 Because of Disney's health and safety standards, the regular concerts that are done each night at Epcot have been canceled. Now Disney is inviting guests to enjoy some of their favorite Epcot-original acts at the theater.
At the theater you can watch the JAMMitors and Mariachi Cobre.
Kidcot
If you're taking kids to Epcot, you'll be pleased to know that Kidcot is still available. This free activity usually has kids do an activity and interact with the cultural representatives from each country represented around World Showcase.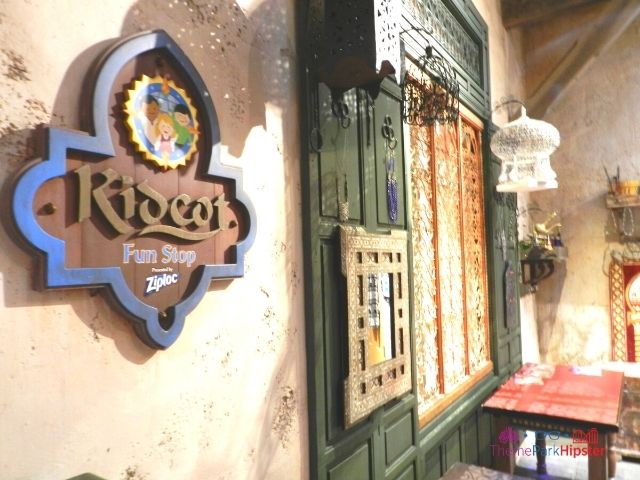 Since there are limited cultural representatives and Disney is trying to limit contact the activity is fully self-guided right now.
To get started, you're going to want to pick up one of the Kidcot packets from any normal Kidcot station. These stations can be found in each country in World Showcase.
Inside the themed ziplock you'll find all you need to complete a journey around World Showcase.
Budgeting for Epcot
The best and easiest way to keep a budget while munching on treats and eats around Epcot is to purchase a wearable Disney gift card once you get inside the park. The gift cards can be found at most merchandise locations.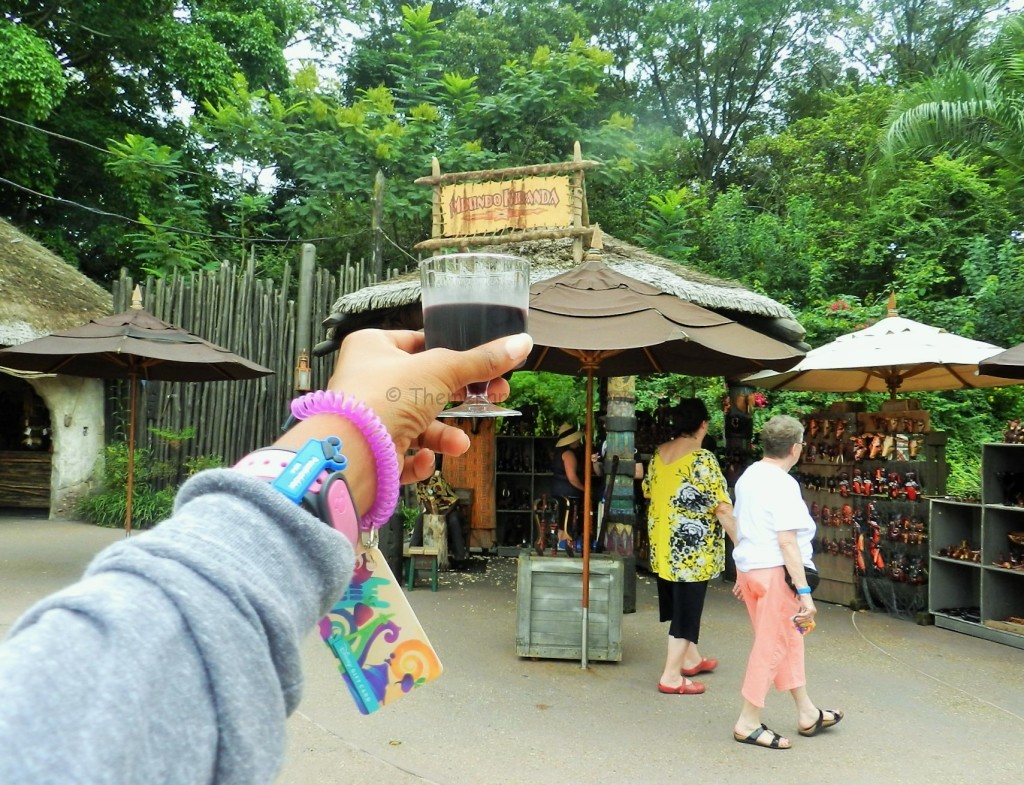 Being able to load a specific amount of money onto the wearable gift card makes the day so much easier. Mainly because you don't have to pull your wallet or phone out every time you want to pay for something.
The cards are reloadable, so if you do decide to add more money then it's super easy. Just go into any shop where merchandise is sold and they will be able to help you.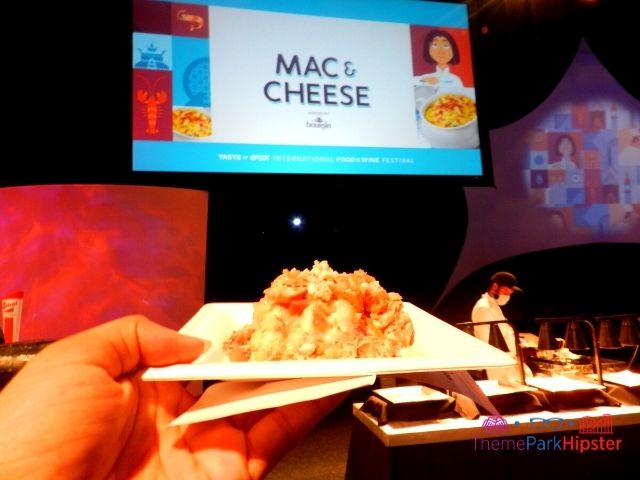 To know how much you might want to put on the gift card, do a little searching for the food booth menus with prices. You'll then want to add up the total of everything that sounds good.
Even if you don't try everything on your list (we sure didn't) you'll know about how much you'll likely be spending.

Safety Tips at Disney
Safety of guests and cast members is Disney's top priority right now.
1. Keeping Hands Clean
There are multiple hand washing and hand sanitizing stations throughout the park to keep your hands clean after rides and before you eat. This is definitely a win for anyone doing Epcot during the Taste of Epcot International Food and Wine Festival.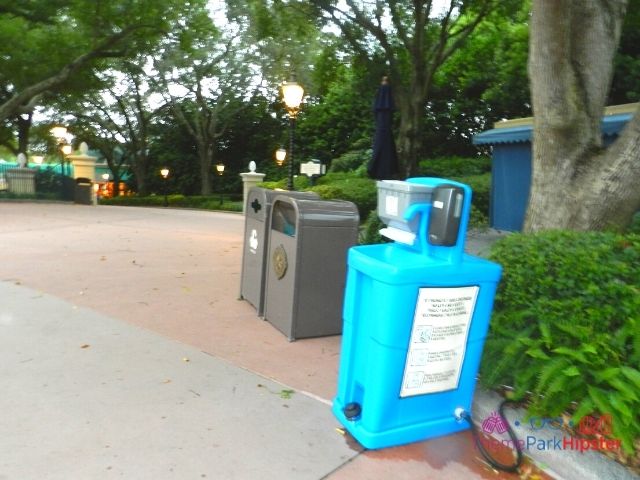 2. Wear Face Coverings and Masks
Something else that you'll need is a face covering or mask. Disney is very strict about people wearing a mask and wearing it correctly at all times. According to Disney:
"Face coverings are required for all Guests (ages 2 and up) and Cast Members. Please bring your own face coverings and wear them at all times, except when dining or swimming. You may remove your face covering while actively eating or drinking, but you should be stationary and maintain appropriate physical distancing."
All face coverings (whether disposable or reusable) must:
Be made with at least 2 layers of breathable material
Fully cover the nose and mouth and secure under the chin
Fit snugly but comfortably against the side of the face
Be secured with ties or ear loops and allow the Guest to remain hands-free
Also, "at this time, based on guidance from health authorities, neck gaiters, open-chin triangle bandanas and face coverings containing valves, mesh material or holes of any kind are not acceptable face coverings."
3. Take Frequent Breaks to Cool Off
It's hot in Florida. That's just a fact of life. One thing that is necessary while touring any Disney park is to drink a lot of water. At Epcot you can still get water from quick service food and beverage locations and Starbucks for free.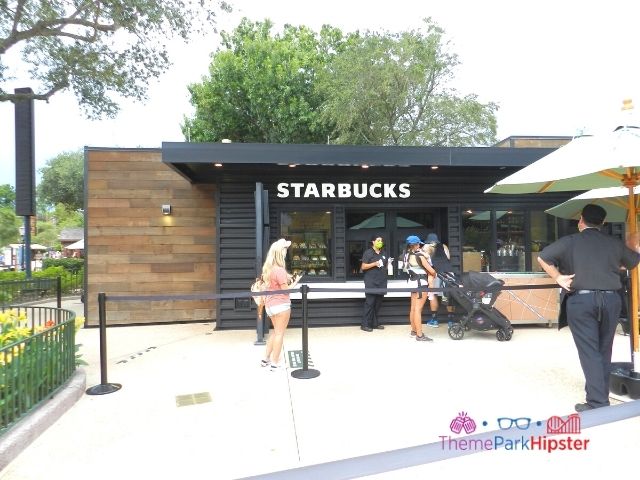 If you need to cool off and take your mask off for a few minutes then you're going to want to visit one of the mask relaxation zones.
There are three Mask Relaxation location scattered throughout Epcot, and only one is air conditioned.
The first one is near Test Track and is outside
Second is near the water at the United Kingdom pavilion and is outside
The third is at Akershus Royal Banquet Hall in the Norway Pavilion and is inside
Top 5 Epcot Food and Wine Festival Tips
After visiting Epcot for the Taste of Epcot International Food and Wine Festival we've come up with our top five touring tips that we want to share with you.
1. Take extra masks and take lots of breaks
This seems obvious but so many people don't do either of these. Wearing a mask that's hot and sweaty all day long just does not sound fun to us.
So, when we stopped in each relaxation station we swapped masks for something clean.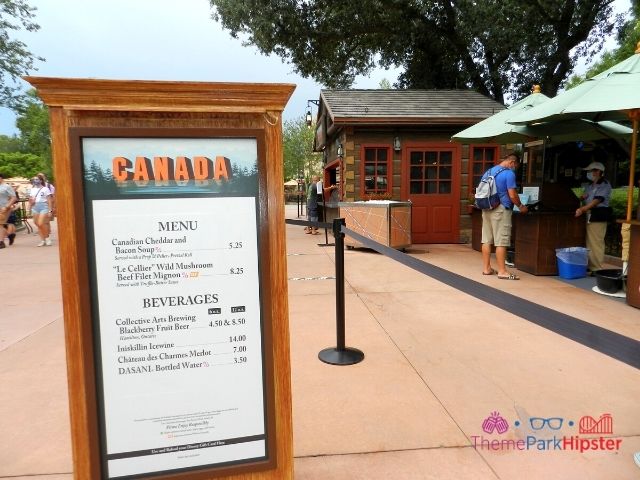 2. Plan out your top eats
After looking at the menus at home we knew exactly what we wanted to get from Epcot to eat. This was a great way to be sure we didn't get too full before making our way to the other side of World Showcase, and it kept us within our budget.
3. Get on attractions
Even if attractions aren't your main priority when visiting Epcot, they should be on your list for right now.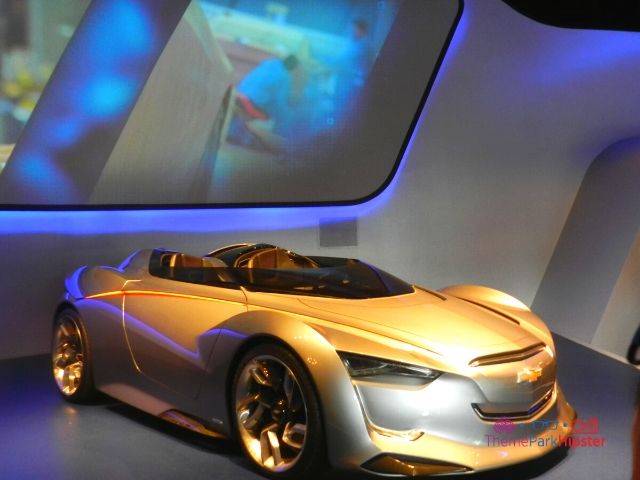 One reason is because all of Epcot's attractions are inside, which gives you relief from the sun. Another is because it's a nice little break from walking around the park.
Lastly, attraction wait times are super low due to a decrease in park capacity!
4. Go back to your room in the middle of the day
Taking a break in the middle of the day to go back to your room might seem counterproductive when the parks have shortened hours, but it's not!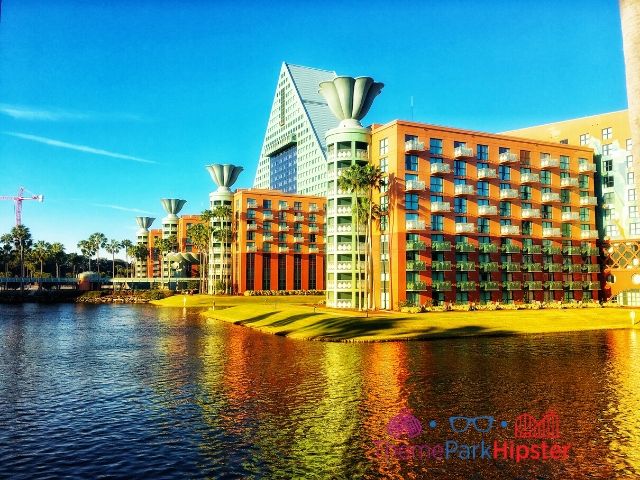 Even with doing Epcot for a few hours then going back to your room then heading back after it cools off in the evening, you should be able to get everything done. And you even got some time to completely cool down, take a nap, or hop in the pool.
5. Listen for music changes
When the music changes or gets louder in World Showcase you'll know that a character cavalcade is coming.
Sometimes the characters take a while to catch up to where you are when you first heard the music, but this just gives you time to pull out your phone for a perfectly timed selfie with Mickey!
Final Thoughts
I hope this post helped guide you towards a great experience at the Epcot International Food & Wine Festival!
Don't worry if you're not able to see and do everything. I just want you to have fun and enjoy exploring all the different countries.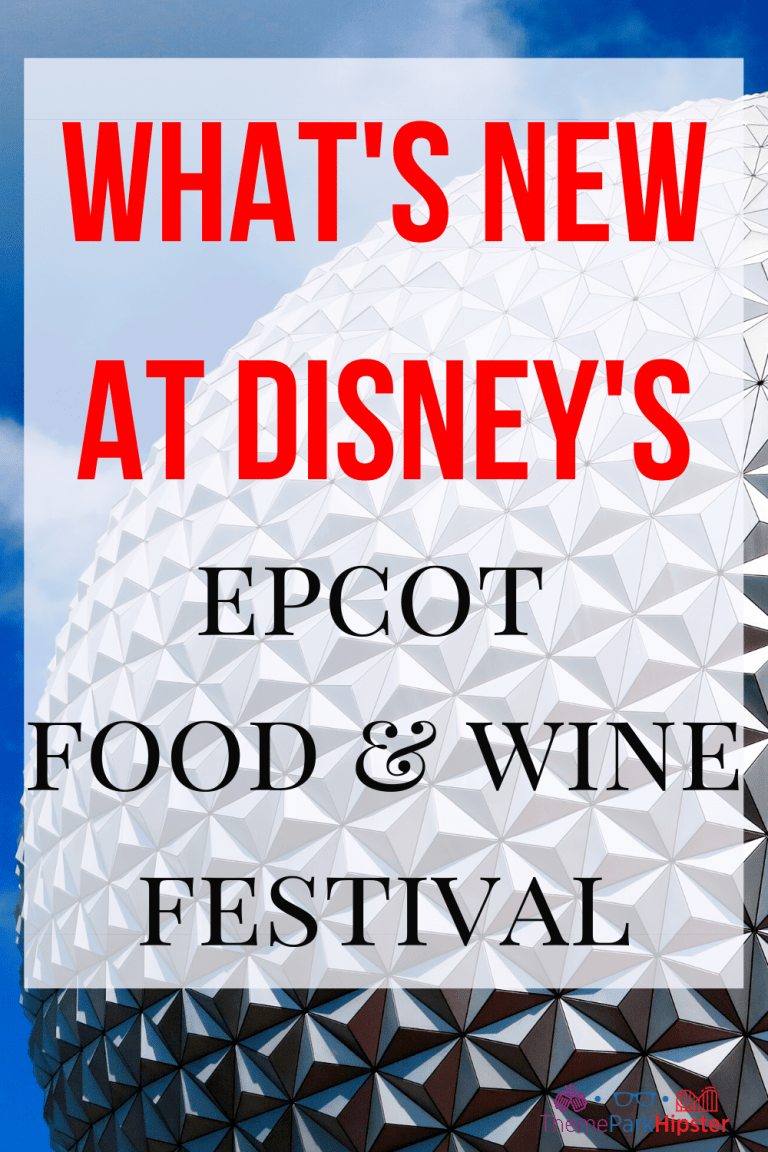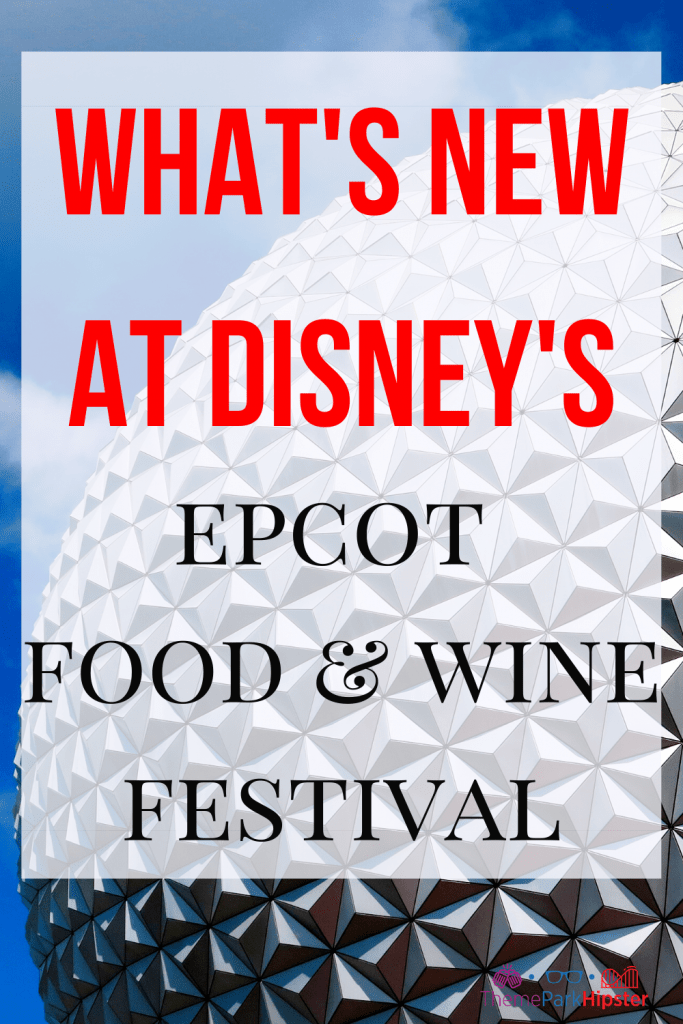 What Epcot Food and Wine Festival tips do you think is the most helpful for making the most of your time? Leave your comment below!
Until next time, Happy Park Hopping Hipsters!
About the Author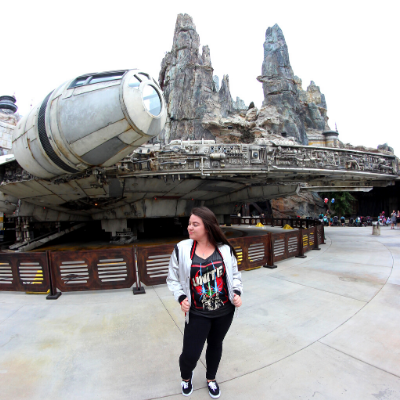 Megan is a theme park expert and frequent traveler to magical places. She covers all things Disney and Universal and runs marathons for fun.
She thinks you can tell a lot about someone by the name of their signature lipstick, and hers is NARS Dragon Girl.
UP NEXT: Taste Your Way Around the World at Epcot Food and Wine Festival