Are you looking for the best Disney World resorts for adults traveling to Orlando?
If you are here, you are a Disney Parks lover, plain and simple. Also, if you're reading this, you may not be a frequent visitor and a solo traveler.
I am here to let you know one thing above many. That is that the Disney Parks are not just for families.
Disney Parks has adapted over the years and has begun recognizing its adult fanbase. This has allowed for them to better market to us as adult solo travelers.
It's great for those who are collectors of their merchandise but even in their own property offerings.
If you want to have a vacation at one of Disney World's resorts, this list is for you!
Today, I will discuss which Disney resorts fit the needs of adult the best and why, what to expect, activities and dining offerings, price ranges and final tips.
THIS POST MAY CONTAIN AFFILIATE LINKS. PLEASE READ MY DISCLOSURE FOR MORE INFO. Which means if you click on certain links, I may receive a small commission at no additional charge to you.
1. Disney's Riviera Resort
Disney's Riviera Resort is one of the latest additions to the property. It is a deluxe villa located in the EPCOT resort area. Riviera Resort is very upscale and transports you to a land where you can't help but want to fully relax and live luxuriously.
This is considered a Disney Vacation Club resort too. It's an excellent option for adults who want to get away.
Upon arrival, you will be greeted by the artistic and stylish facade of the hotel with a palm tree lined boulevard leading you towards a true paradise.
What to Expect at Disney's Riviera Resort?
You can take a moment to appreciate the mix of modern and 20 century furnishings and artwork, along with the Disney touches you have grown to love over the years.
The outdoor ambiance treats you to an exhilarating waterfront, lush gardens and beautiful, bubbling fountains.
Disney's Riviera Resort was inspired by Walt's version of the Riviera that he fell in love with upon his own visits.
Why Is This Disney Resort Perfect for Adults?
The crown jewel of the resort is Topolino's Terrace- Flavors of the Riviera restaurant. Inspired by the cliffside restaurants of the riviera, this dining establishment serves up a character breakfast with Mickey and friends.
You will want to indulge in the French and Italian inspired dishes at dinner while you're there.
Don't forget to enjoy sweeping rooftop views of the resort as you dine on handcrafted pasta and specialty seafood and meats, paired with wine from an impressive Mediterranean collection.
If you're like me, you like a nice, refreshing alcoholic drink with your pool view. Bar Riva serves this along with scrumptious small bites to eat near the open-air pool bar.
And speaking of the pool, there is a quiet pool for the adults far away from the hustle and bustle of crowds and families splashing about at Beau Soleil.
The resort has the exclusive access of having Disney Skyliner transportation as well as boat and bus access all over the property.
Be sure to admire the stunning Disney mosaics in the Skyliner tunnel on your way to board. Making it one of the best Disney World resorts for adults!
ORDER NOW to secure your Walt Disney World theme park ticket! GET MY TICKETS.
2. Disney's Animal Kingdom Lodge
Nestled into the far corners of Disney World property lies a true adventure not for the faint of heart.
While Disney's Animal Kingdom allows you to step inside the territory of animals, learn about them and how to help them with conservation efforts, staying at the resort allows you to live amongst them.
What to Expect at Disney's Animal Kingdom Lodge?
Imagine waking up to get ready for a breakfast at the resort. You take a moment to step onto your balcony to see what today's weather is like and below you see a giraffe or zebra having their own breakfast.
This is one of the magical experiences reminiscent of Walt's True Life Adventures documentaries.
If the fact that this resort is decently far away from most of the hustle and bustle doesn't get you excited. Let's talk about the theme.
Why Is This Disney Resort Perfect for Adults?
To start, the resort is host to one of the largest collections of African art in north America. You will be amongst over 30 species of African wildlife which you can spot from your hotel room where you can identify them all with the Wildlife field guide in the room.
Or you can get a bit closer on the outdoor patio, where an animal specialist is usually around to share information and answer questions about the animals.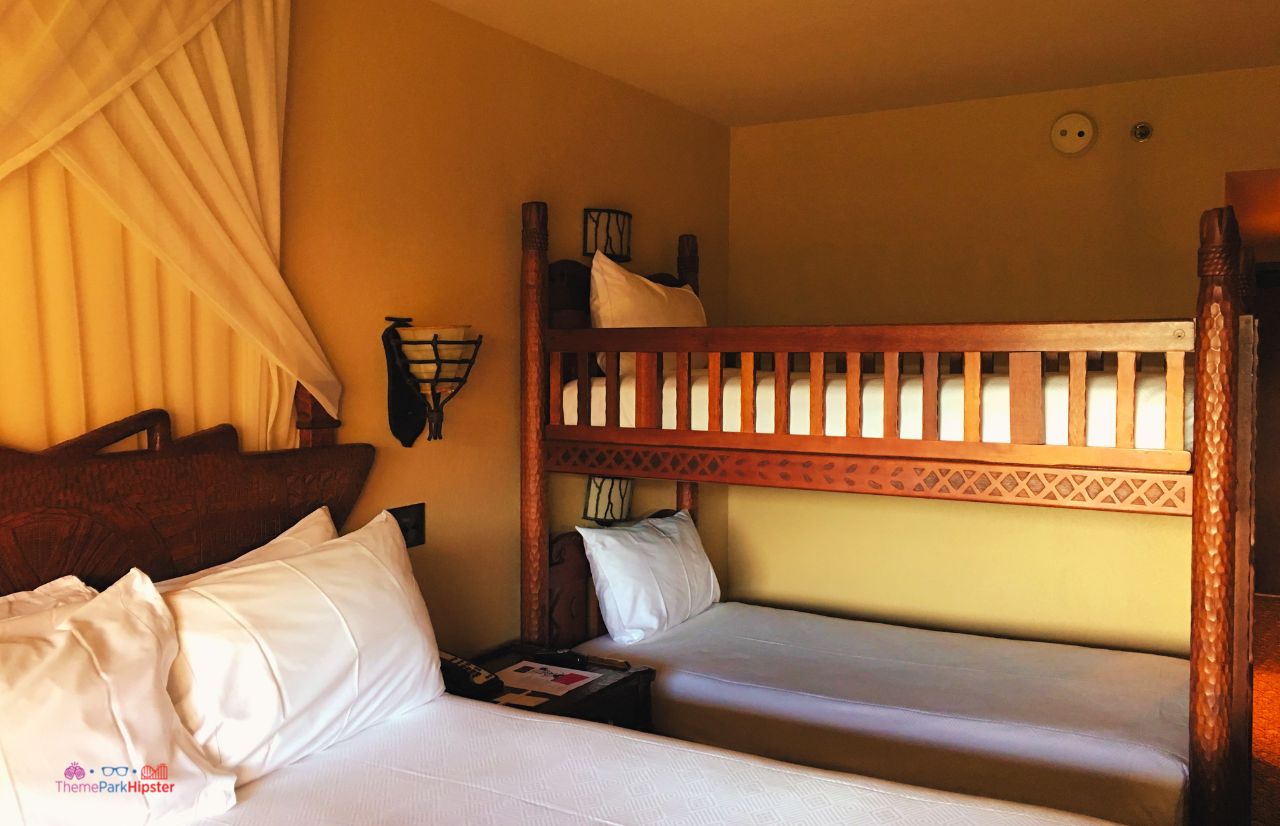 If you really want to go into a big adventure, you can sign up for the Wanyami Safari and Dinner where you get closer than you could possibly fathom while enjoying a multi course meal afterwards.
Dining at Animal Kingdom Lodge
Speaking of dining, there are a plethora of restaurants and dining experiences to meet your needs.
Jiko-The Cooking Place, Sanaa and Boma- Flavors of Africa are three of the best dining establishments on property to indulge in a meal ripe with spices and flavor.
Don't miss out on the fan favorite, Zebra Dome, while you are staying. Along with the safari dinner experience, you can partake in a wine tasting at Jiko.
This will allow you to try out South African fares or have lunch with one of Disney's Animal Specialists at Sanaa and discuss details about the wildlife roaming right outside the restaurant.
Disney's Animal Kingdom Lodge is particularly unique and special with offerings that are perfect memories that will last for years with any adult solo traveler. Making it one of the best Disney World resorts for adults!
3. Disney's Polynesian Village Resort
Disney's Polynesian Village Resort opened as one of the main resorts for the property on opening day! It sits directly across the Seven Seas Lagoon near the Magic Kingdom and is known as the location where the Beatles infamously broke up.
Since its debut 50 years ago, it has undergone several expansions and continues to be upgraded as we speak. Nonetheless, it's these changes that allow the resort to be a AAA Four Diamond Award Winner.
What to Expect at Disney's Polynesian Resort?
The resort celebrates the lovely spirit of the South Pacific with its architecture, dining and agriculture. Disney did a phenomenal job of capturing the tropical island atmosphere within an already tropical landscape.
The main building, The Great Ceremonial House, is modeled after a Tahitian royal assembly lodge and houses the main dining and shopping locations.
Why Is This Disney Resort Perfect for Adults?
You will have access to sandy beaches that will transport you to a true island paradise. Or you can take a trip to Oasis pool to partake in a quieter swim.
Recreation is amazing since you are near the lagoon, you can rent a boat, go fishing or play volleyball with other guests.
Not to mention you can watch the fireworks without leaving your resort. Disney pumps the music through speakers on the beach for a more exciting solo travel experience. And the beloved and classic Water Pageant can be seen anywhere around the Seven Seas Lagoon.
Transportation to and from Magic Kingdom or EPCOT will be a breeze with monorail access right at your resort with connecting service to the EPCOT monorail line.
Or you can take a short walk to the Ticket and Transportation center to catch the ferry. If you are looking to get your steps in, a walkway connecting the main Magic Kingdom resorts and the park was recently completed.
Dining at Disney's Polynesian Village Resort
Disney's Polynesian Resort is home to several dining staples and snacks like the famous Dole Whip treat that can be found at Pineapple Lanai!
At Kona Cafe is where you find the absolutely delicious Tonga Toast for breakfast and sushi for lunch and dinner.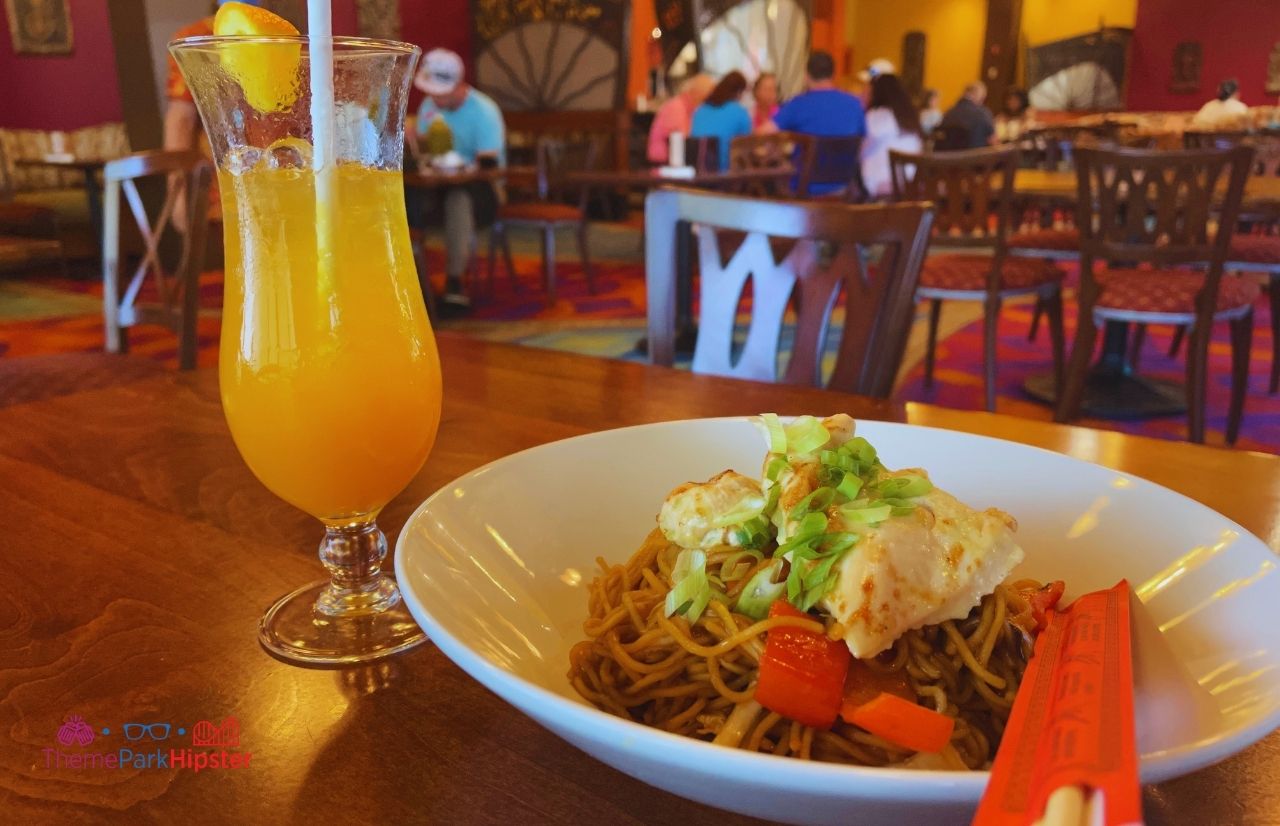 Ohana serves up a specialty themed dinner with awe dropping views of the castle and fireworks if you time it right!
And last but certainly not least, Trader Sam's Grog Grotto is a very special themed bar where every drink gets its own spotlight. It is so popular that people wait an hour before it opens (4 p.m.) to get in.
4. Disney's Boardwalk Inn
One of the big draws for this resort is the fact that it's smack dab in the middle of the Boardwalk District.
What to Expect at Disney's Boardwalk Inn?
Surrounding Crescent Lake, a small stroll to EPCOT, a cozy boat ride to Hollywood Studios or a Disney Skyliner ride to both parks, Boardwalk Inn truly puts you in the middle of everywhere an adult solo traveler would most likely be.
Heck, you can rent a surrey bike to tour the entire boardwalk!
Not to mention take part in some fishing, tennis and a session of yoga on the resort's courtyard lawn.
Why Is This Disney Resort Perfect for Adults?
Disney's Boardwalk Inn boasts 2 leisure pools with whirlpool spas for maximum relaxation. Two mini golf courses are just a short journey for some fun that will take you back to your youth!
Here is another resort near the Disney Skyliner and with so much surrounding the resort, it's no wonder it's become a secret favorite of frequent visitors! Disney solo travelers will absolutely find this resort to be one of the best.
Dining at Disney's Boardwalk Inn
As far as dining options, well, with the boardwalk at your doorstep, you can have your pick! There are far too many options to list here so be sure to check out the list on Disney's website.
5. Disney's Saratoga Springs Resort & Spa
Another DVC Resort on the list and the seventh to make its debut, Saratoga Springs is nestled nearby Disney Springs.
Inspired by its namesake of Saratoga Springs, New York, its theme takes from the city and its historic roots as an 1800s Victorian retreat. Just as Saratoga Springs in New York was known for its spas and horse racing, so does the resort that takes inspirational liberties too.
What to Expect at Disney's Saratoga Springs Resort & Spa?
The resort is close to the Lake Buena Vista golf course and has the biggest health spa of all the resorts on property.
Not to mention the 3 leisure pools, each with a whirlpool spa. Senses Spa is located here while the other is at Disney's Grand Floridian Resort & Spa.
Quietly tucked in between spacious green and sparkling blue water, you won't even feel like you're at a Disney resort, although they always include their soft, minor touches.
Take up a round of tennis or basketball, fishing or rent a bike and explore the vast resort and surrounding areas.
Indulge yourself in self-care more or get in touch with your inner artist with a session with a Disney inspired painting class in the community hall.
Why Is This Disney Resort Perfect for Adults?
Whether you are an expert or beginner, it's a great way for solo travelers to try something new and bring home a handmade souvenir.
The only downside to this resort is possibly the transportation because it's so far away from it all.
Busses run throughout the resort, or you can catch a ride if you cross the bridge to Disney Springs. Boat service goes to Disney Springs, Old Key West Resort and Port Orleans Resort. However, this isn't a bad thing if you simply want solitude.
Not to mention, you will have your pick of restaurants, shopping and more across the bridge so I would say this is certainly one of the best Disney World resorts for adults to choose from.
6. Disney's Beach Club Resort
Another Epcot resort on this list is Disney's Beach Club, sister of Yacht Club. While I would hate to pick a favorite amongst the two, this is my go-to winner.
If you are looking for charm and elegance, you will find it in this new England styled hotel, taking its inspiration from the sparkling seaside cottage of Newport circa 19th century.
It stands out from its sister with its light blue facade that matches the oceans those visitors to Newport looked out upon.
What to Expect at Disney's Beach Club Resort?
Disney's Beach Club is another AAA Four diamond hotel and what allows it to stand out is the magnificent and impressive outdoor water area for its guests.
Stormalong Bay is 3 acres and features one of the highest water slides on property. It has a lazy river, whirlpool spas and a tanning deck.
If you don't want t deal with too much noise, there are 3 leisure pools at your disposal. You can even rent a private cabana for maximum tranquility and privacy.
Other fun and entertaining recreational activities include fishing, renting a motorboat for some quick sightseeing around the area, volleyball and tennis.
Why Is This Disney Resort Perfect for Adults?
The resort, similar to Boardwalk Inn, has access to Disney Skyliner and boat transportation to get you around. Bus transportation is provided too, and you will be close to the Boardwalk Inn, Epcot and Hollywood Studios.
Disney's Beach Club Resort is the pinnacle of elegance and relaxation and thus why it was chosen as the favorite between the sister resorts. AND making it one of the best Disney World resorts for adults!
Dining at Disney's Beach Club Resort
Offerings include Beaches and Cream, known for its famous "Kitchen Sink" challenge, Ale and Compass and Yachtsman Steakhouse. You can peruse the complete list here.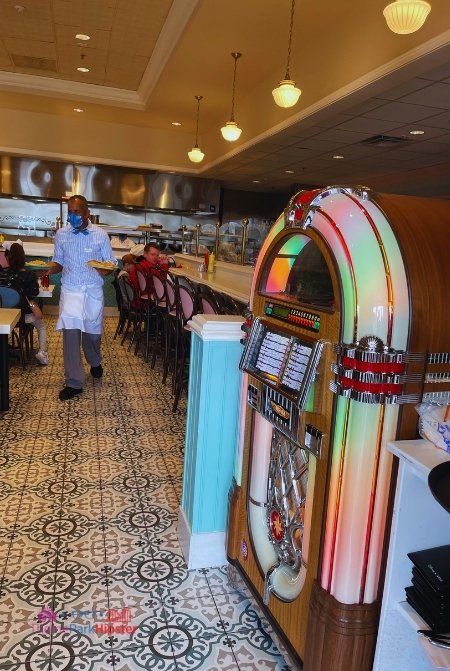 ORDER NOW to secure your Walt Disney World theme park ticket! GET MY TICKETS.
7. Disney's Port Orleans Resort-Riverside
By far one of the most spectacularly stunning pieces of architecture on Walt Disney World property is in the form of Port Orleans Riverside.
Port Orleans consists of two hotels in one, one that represents New Orleans and its famous French Quarter, while Riverside takes its inspiration from the Old southern homes of yesteryear.
What to Expect at Disney's Port Orleans Resort-Riverside?
While controversial, we can all appreciate the grandeur and beauty of the buildings, sweeping green hills that are nestled so sweetly next to the beautiful, calm and peaceful river that flows throughout the resort.
It takes it beauty and charm inspiration from the homes along the Mississippi River. The romance of rural Louisiana thrives in this credit to its architectural history.
This side of the resort is known for its "Royal Guest Rooms" in the very back. They are specially themed with special nods and touches from the Disney Princesses and Princes.
Why Is This Disney Resort Perfect for Adults?
The rooms are very charming and fun if you want to feel extra special! This is one of the few pet friendly resorts too which is great for solo travelers who feel guilty like I do sometimes leaving their pets back home.
Riverside is close to Disney Springs, so boat transportation is the way I would recommend getting there.
Similar to Yacht and Beach Club, guests are welcome to go in between the hotels to try out jambalaya, gumbo, beignets or you can head over the big windmill, you can't miss it, and dive into five different food stations.
Dining at Disney's Port Orleans Resort-Riverside
The downside might be its lack of food offerings; however, The Boatwright's Dining Hall is one Disney restaurant you can't miss!
8. Disney's Coronado Springs Resort
Coronado Springs is Disney's first attempt at a moderate resort. While it is classified as a moderate, it certainly allows you to feel as though you're in a Deluxe Disney Resort, especially if you take my advice and shoot to stay in Destino Tower.
What to Expect at Disney's Coronado Springs Resort?
The resort takes its inspiration from colonial and ancient Mexico. Touches of Southwestern culture, tradition and style come together to concoct the perfect lakeside oasis with modern comfort.
Some of the highlights of the resort is its central hub and crossroads that are a tribute to explorers and dreamers. It's right next to the crystal lake where most of the recreation and dining is located.
The only way to get around for the moment from this resort is bus but the crown jewel of the resort has to be its spectacularly themed pool, The Lost City of Cibola, which is one heck of a name for a pool.
It is home to a 50-foot Mayan pyramid with water cascading down its steps and the biggest hot tub on property, able to fit 22 people in total!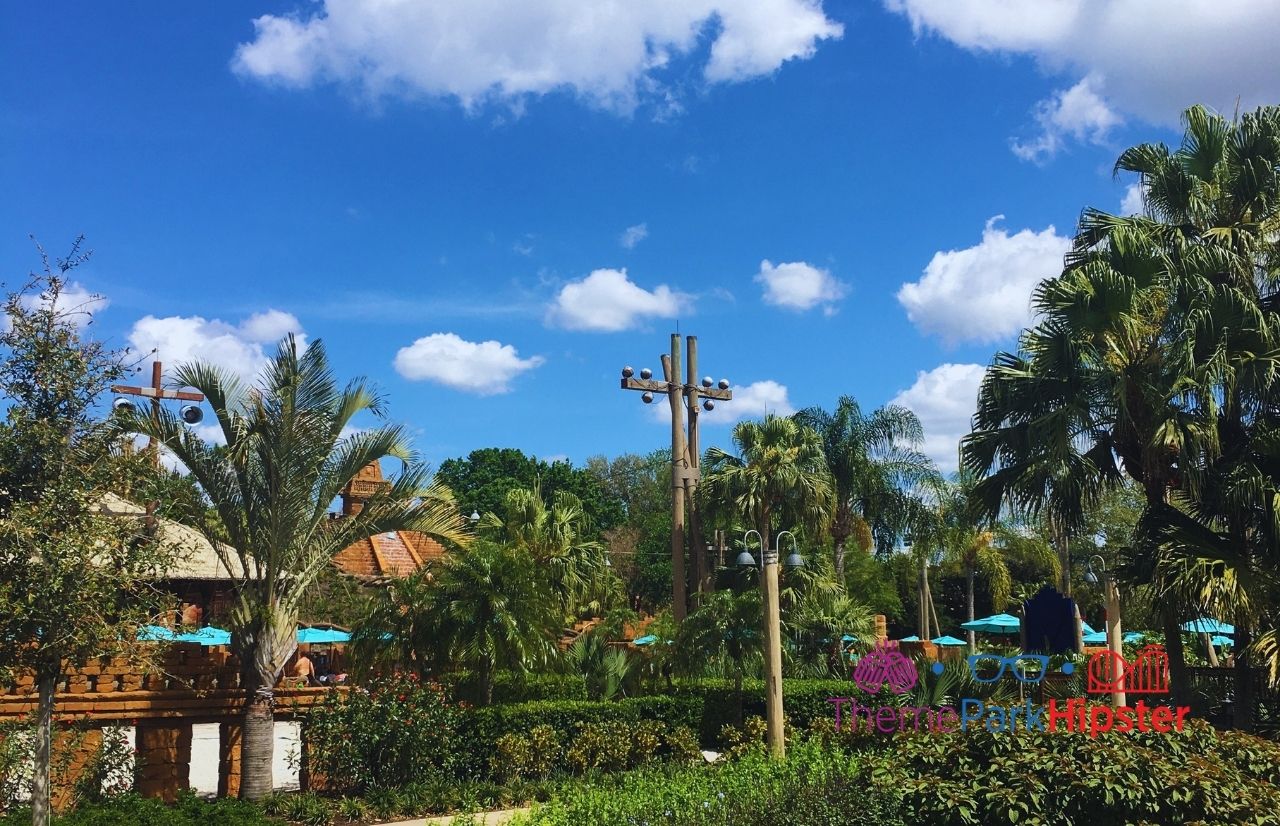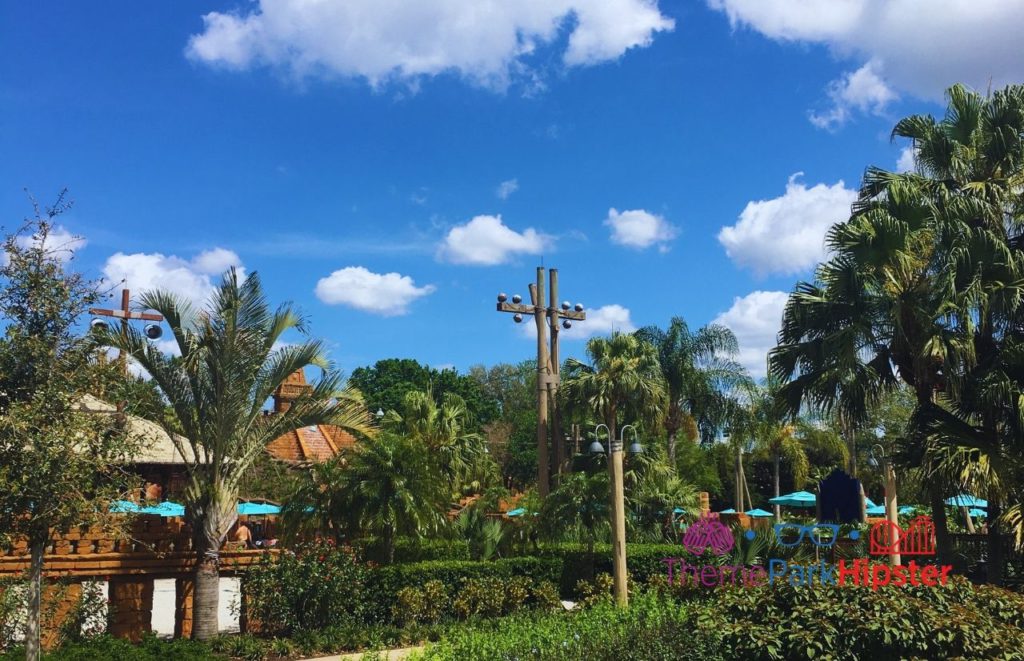 Normally, I would recommend going to one of the 3 leisure pools, but in this instance, I insist you check this pool out!
Why Is This Disney Resort Perfect for Adults?
Here you can partake in sunrise meditation or channel your art through creating your own Spanish mosaic or painting.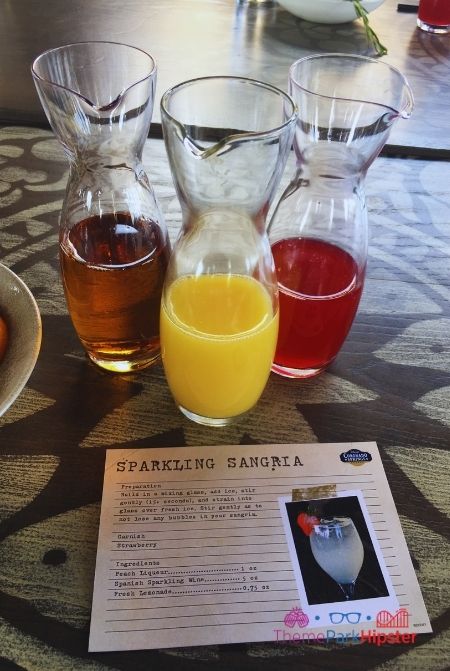 The big winner for most solo travelers is the Sangria University, which we have touched base on before! It's worth it to try out!
Dining at Disney's Coronado Springs Resort
Three Bridges Bar and Grill in the centralized hub are absolutely not to be missed and neither is the view. And the lounges each have something unique to offer to the explorers who are willing to try.
Lastly, you have to check out Toledo, the resort's very cozy rooftop restaurant that offers you sweeping and breathtaking views while serving up Spanish inspired fares. Making it one of the best Disney World resorts for adults!
Disney did a phenomenal job of bringing the art, lore and architecture to the resort, especially in Destino Tower, inspired my Walt and Salvador Dali's "Destino" partnership in which the tower gains its inspiration. True tranquility can be found here.
9. Disney's Wilderness Lodge
This Magic Kingdom resort stands out for several reasons. To start, while it's a Magic Kingdom area resort, it is the only one not on the monorail loop unlike its neighbors Polynesian Village, Contemporary and Grand Floridian. But this adds to its quiet charm!
What to Expect at Disney's Coronado Springs Resort?
Another AAA Four diamond resort on our list, its inspiration comes from the national parks located in western United States.
A blend of natural and native American pieces allows for the turn of the century great American northwest vibes. This is a great choice if you don't want to super secluded within Fort Wilderness but still have the hotel amenities.
Wilderness Lodge's main building is modeled after a hotel located in Yellowstone National Park named "Old Faithful Inn."
The building features 55-foot authentic totem poles and houses an 82-foot fireplace to represent the Grand Canyon. They even went so far as to add a manmade geyser and hot springs on the grounds.
The tribute to the Pacific Northwest shines through in its combination of American craftsmanship and the great, untamed outdoors.
Why Is This Disney Resort Perfect for Adults?
Being close to Fort Wilderness Campgrounds allows you to partake in various activities like horseback riding or visiting the horses at Tri Circle D Ranch.
Relax by one of the two majestically relaxing heated pools. Copper Creek Springs pool is built into the rocks and has hot and cold whirlpool spas to enjoy while you sip on a beverage from Geyser Point Bar and Grill.
Boulder Ridge Cove pool offers more laid-back vibes with its zero-depth entry pool nearby the peaceful oasis. Making it one of the best Disney World resorts for adults!
Dining at Disney's Wilderness Lodge
Two of the restaurants at the resort that gets everyone talking is Whispering Canyon and Storybook Dining at Artist Point.
Storybook Dining, in my personal opinion, is one of the best character dining experiences on property, decently priced, great food options and overall, the experience is awesome for solo travelers.
You will be able to chat and get photos with Snow White, her friends and her enemy.
With Whispering Canyon serves up all-you-care-to-enjoy breakfast, lunch and dinner with old west flair! I will highly recommend that you ask for ketchup with your meal for a special magical moment.
Getting to the Magic Kingdom from Wilderness Lodge
Transportation, as I mentioned, is different than the other Magic Kingdom Resorts. While you can take the busses to other areas around property, to get to Magic Kingdom, boat transportation is also available.
I would suggest you use this option because seeing the sunrise on your way to the park on the water is a gorgeous sight!
Join the Conversation on the Solo Disney Traveler Community on Facebook!
10. Disney's Caribbean Beach Resort
Lastly, we come to one of the most fitting resorts to end with, Caribbean Beach Resort. I find that Disney solo travelers love to visit tropical islands.
It makes sense to end with this EPCOT area resort. Nearby is Typhoon Lagoon Water Park for more water fun!
What to Expect at Disney's Caribbean Beach Resort?
This resort celebrates the natural beauty and historical elements of Barbados, Martinique, Trinidad, Aruba and Jamaica by encompassing you in its vibrant, tropical colors and deep green lush shrubbery and landscapes.
And of course, this kind of paradise would not be complete without having several pristine beaches throughout the resort adorned with swinging hammocks.
One thing to note is that if you're a solo traveler who enjoys big space for your room, this resort may be a skip since there are no suites. Otherwise, King bedrooms are available.
Why Is This Disney Resort Perfect for Adults?
Each area is named after one of the tropical locations i named above which surround Barefoot Bay. Every area also has its own unique pool area, so you do not have to go to the ends of the earth to get to relaxation.
At Barefoot Bay, you can visit their marina and indulge in some water sport activities like jetting on a speed boat or taking a nice relaxing turn about the bay on a paddle boat.
If you are social solo traveler, you can invite some new friends to play beach volleyball.
Personally, I would indulge in the beach but the Old Port Royale pool is something to give a try too!
Themed to be an old Spanish citadel, it has a zero-depth entry pool and an 82-foot water slide. A nearby whirlpool spa capable of seating 12 people awaits those who seek sweet comfort while being surrounded by beautiful florals.
This is another moderate resort that allows you to feel as if you are living in relaxing luxury at a deluxe. Making it one of the best Disney World resorts for adults!
Disney Skyliner is one of the stops at this resort which gives solo travelers easier access to EPCOT and Hollywood Studios. The resort is vastly large and has its own internal bus system to get around on top of the regular bus system to get around Walt Disney World.
Final Thoughts on the Best Disney World Resorts for Adults
As it stands, there are over 25 resort hotels at Walt Disney World. Out of those, we have just explored a bit of the 10 best for adult solo travelers.
These resorts hold different experiences for every variety of solo traveler regardless of budget, style or personality.
All of these resorts will offer charm, tranquility and the ability to transport you to an immersive world so wonderful that you may not even want to visit the parks.
Did your favorite Walt Disney World Resort hotel make the list? Share your experiences with other solo travelers in our Facebook Group and consider booking with me for your next solo adventure to Walt Disney world resort!
About the Author
UP NEXT: Disney World for Adults (21 Unique Things For Grown-ups to Do at Disney)