Are you struggling to find the best resorts in Orlando that are NOT at Disney?
With all the perks of staying in on Disney property, do you even need to know about the best non-Disney Resorts in Orlando? I think so.
I love Disney resorts, but sometimes I like to enjoy some downtime from the magic. Plus, for some of you, staying off-Disney might even be more convenient and worthwhile.
This is particularly true if you want to travel all of Orlando or are visiting during peak season when all on-site resorts are already full or expensive.
So, here's a list of the best resorts in Orlando that are not Disney.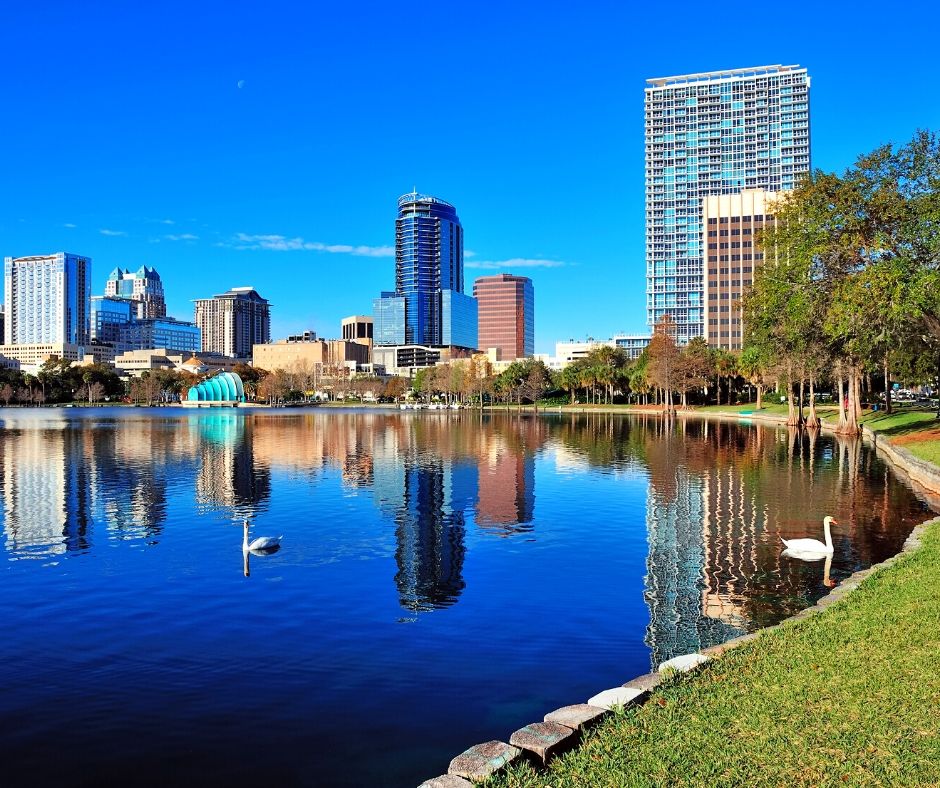 THIS POST MAY CONTAIN AFFILIATE LINKS. PLEASE READ MY DISCLOSURE FOR MORE INFO. Which means if you click on certain links, I may receive a small commission at no additional charge to you.
1. Encore Resort at Reunion
Resorts in Orlando seldom get better than Encore Resort. With comfy 3-bedroom set to massive 13-bedroom villas, Encore offers a befitting accommodation for groups of all sizes. You could travel solo or with 20 people!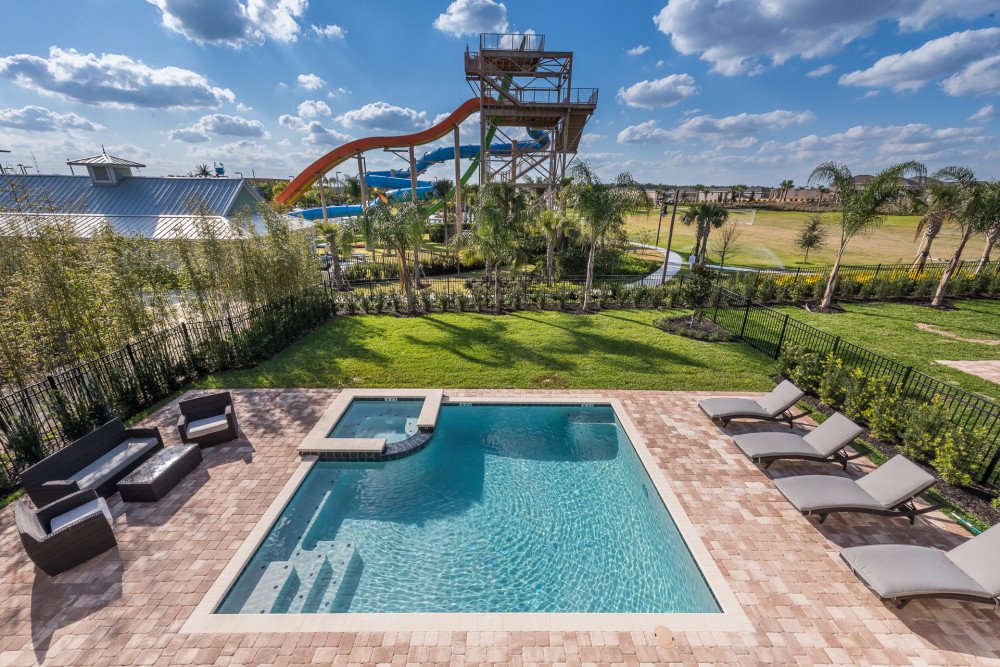 Its most celebrated accommodation option is the 9-bedroom with a well-equipped kitchen, a private pool and 8.5 bathrooms.
Select this resort for an eye-popping, hair-raising water park experience with the luxury of a vacation home. Think kid-friendly hotels in Orlando with water slides!
Top Amenities at this Orlando Resort
Oodles of onsite luxuries make Encore Resort one of the best places to stay in Orlando. They include airport shuttle service, free Wi-Fi, a gym, a well-stocked bar, 2 swimming pools, an ATM, a multi-cuisine restaurant, private pools at each home and free parking.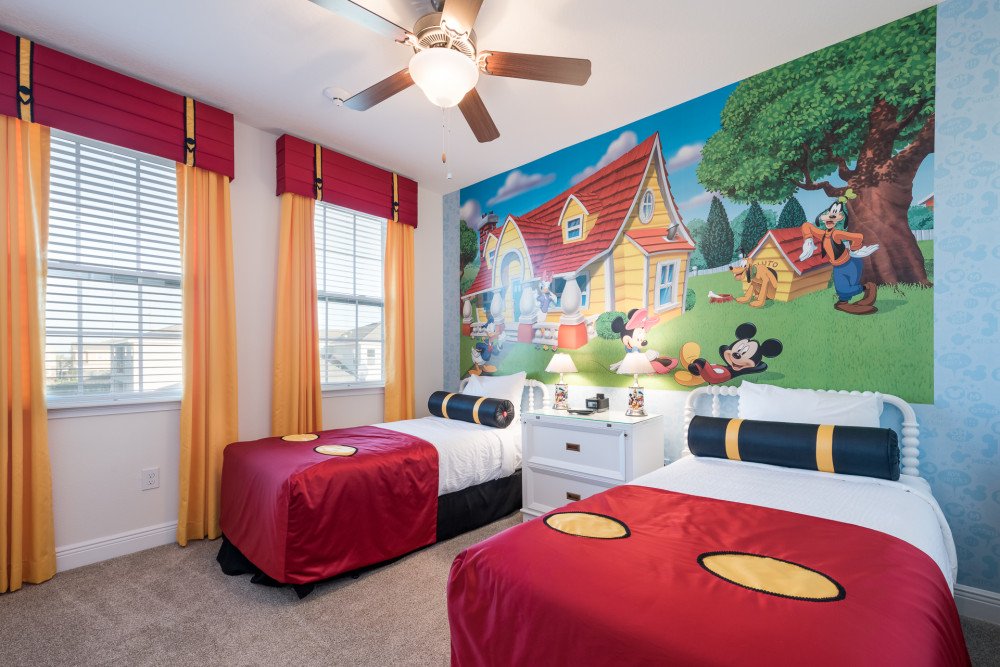 Location-wise it is just 10-minute-drive from Hollywood Studios and Animal Kingdom.
ORDER NOW to secure your Walt Disney World theme park ticket! GET MY TICKETS.
Is Encore Resort for you?
If you are traveling in a large group and need an amenity-laced, comfortable place to stay, then YES Encore Resort is for you. It is a home far from home and is one of the best Orlando resorts for families and friends.
Book your room at Encore Resort here.
2. Margaritaville Resort in Orlando
Nestled in the heart of Orlando, just outside the Disney World gates, Margaritaville Resort is an excellent choice for accommodation.
Its Key West theme is a hit among visitors looking for the best hotel in Orlando with lots of activities and amenities. The expansive premise is not just about beaches and pools, but also houses lots of dining and shopping options.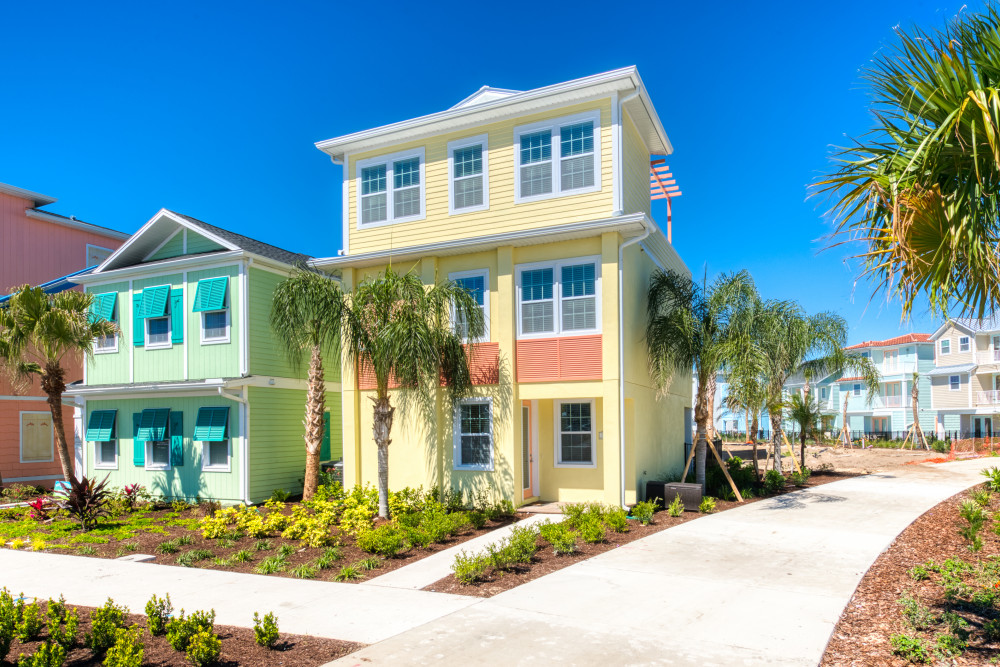 Oh, how I call it the vacationer's paradise!
The bedrooms follow the tropical island-inspired aesthetic too. Suites feature seating areas and upgraded facilities like pool view.
With the Parakeet's Kids Club, Margaritaville is among the most reliable kid-friendly resorts in Orlando.
Top Amenities at this Orlando Resort
Oozing of luxuries, the resort is home to a swimming pool, an onsite bar, and airport shuttle service. PETS ARE ALLOWED.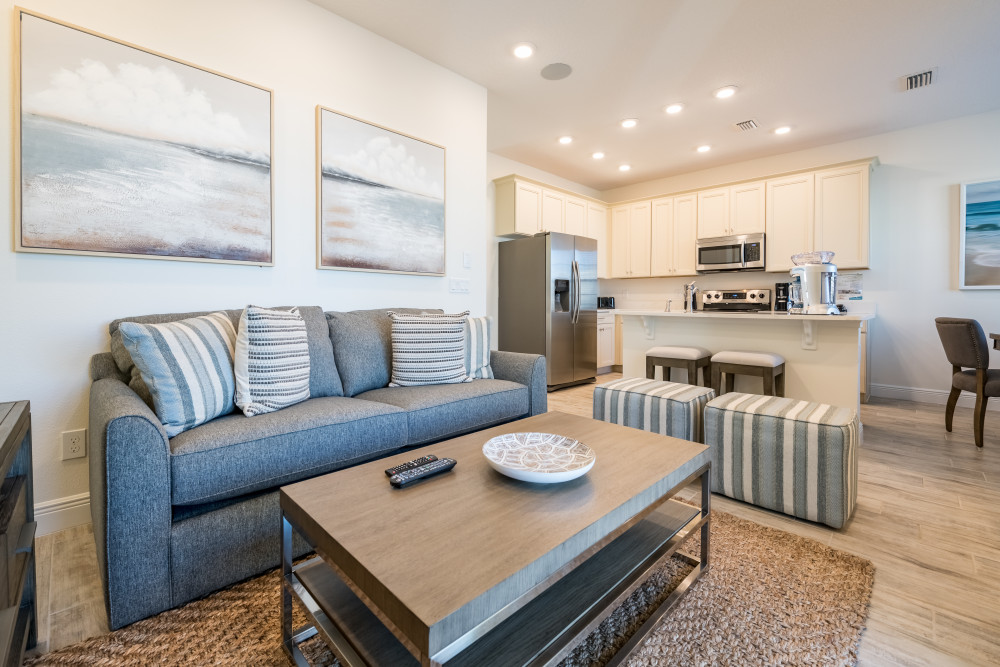 This resort also houses private villas and a massive waterpark on-site.
Location wise it is just 16 miles from Universal Orlando Resort, 12 miles from SeaWorld Orlando, and 3 miles from Walt Disney World Resort.
Is Margaritaville Resort for you?
If you are traveling solo, with pets, love beaches, and/or are hoping to stay in a feature-packed resort, then Margaritaville is for you.
The resort, just a short trolley ride from Sunset Walk (my favorite shopping and dining area near Disney), and is a great base to explore the best of Orlando.
Book your Margaritaville Resort room here.
3. Four Seasons Resort
The Four Seasons need no introduction. It is synonymous with luxurious amenities, style, and services all around the world. If I were to list the best Orlando hotels with a lazy river in a top-to-bottom order, Four Seasons would definitely come first.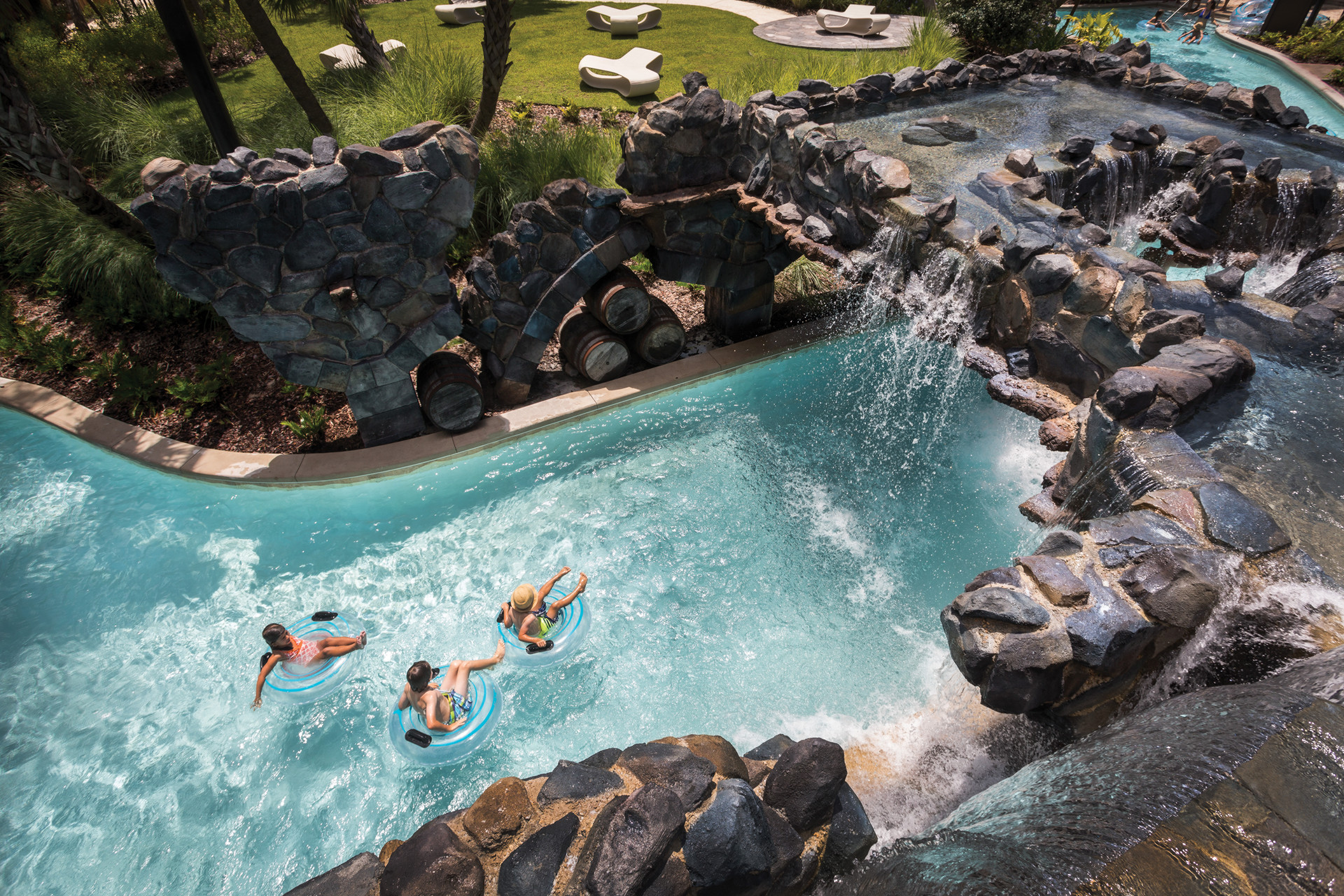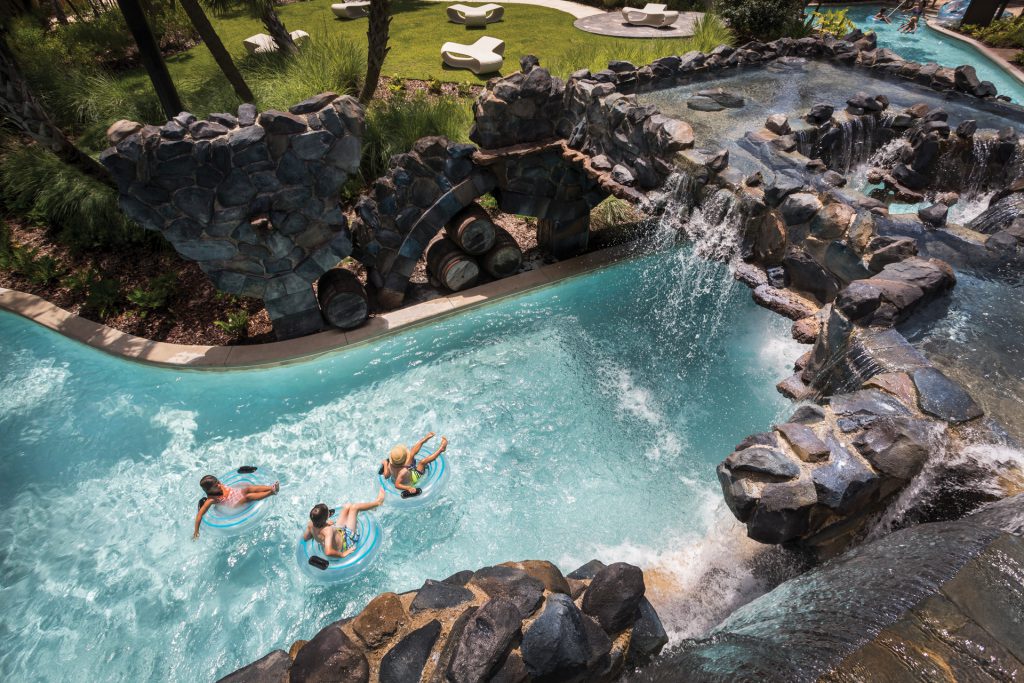 Tucked in a secluded, residential setting within the Walt Disney World Resort area, it is the #1 option for those in Orlando solely for the mousey magic.
Inside the resort is a gem of a AAA Five Diamond Resort with gardens, pools, palms, and cypress.
A lush haven!
Top Amenities at this Orlando Resort
In this resort, you can tee off at the golf course, have fun with kids at Explorer Island, enjoy evening fireworks at the onsite rooftop restaurant, and revitalize at a soothing spa.
Plus, you can enjoy a Disney character dining experience here as well with Goofy and His Pals!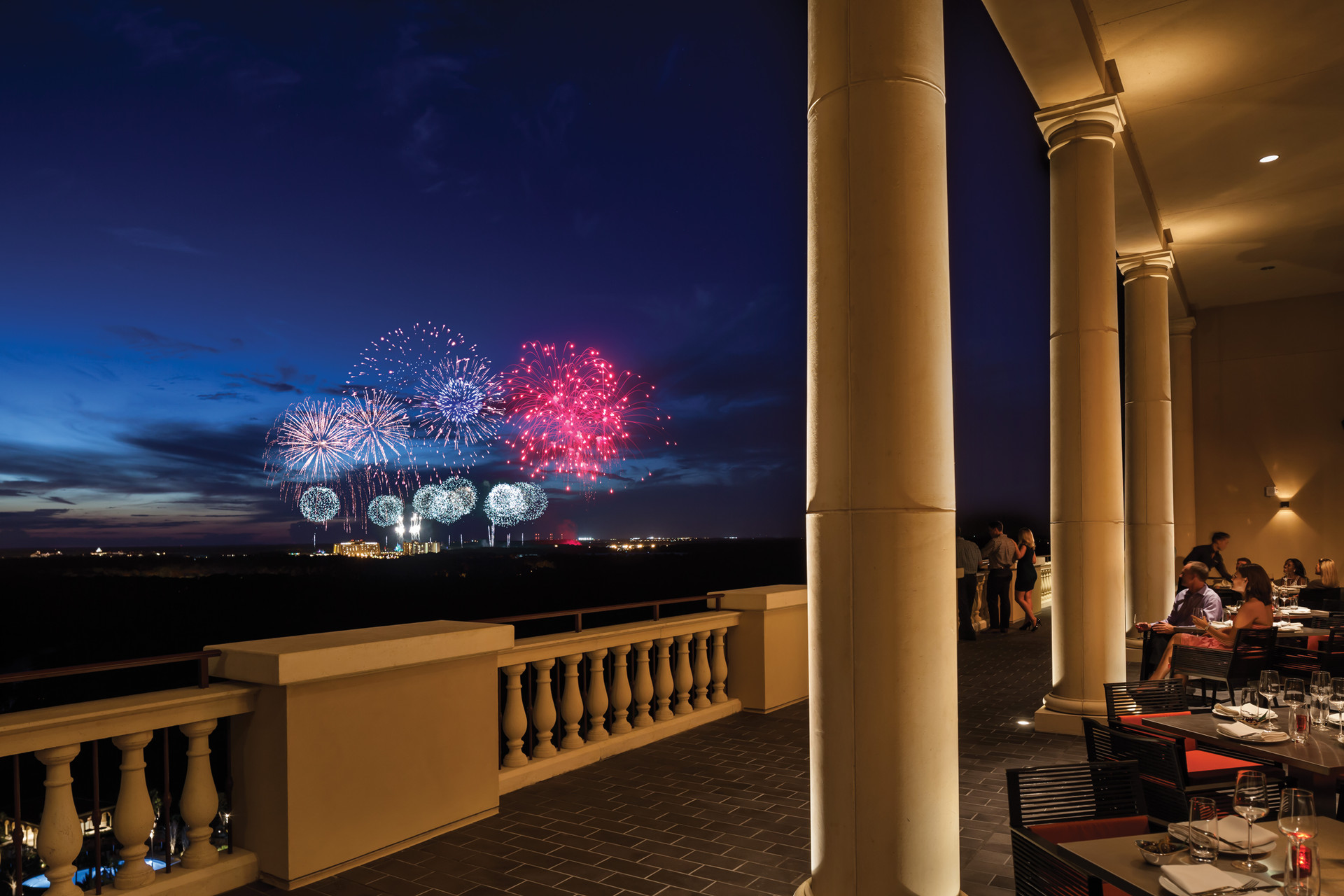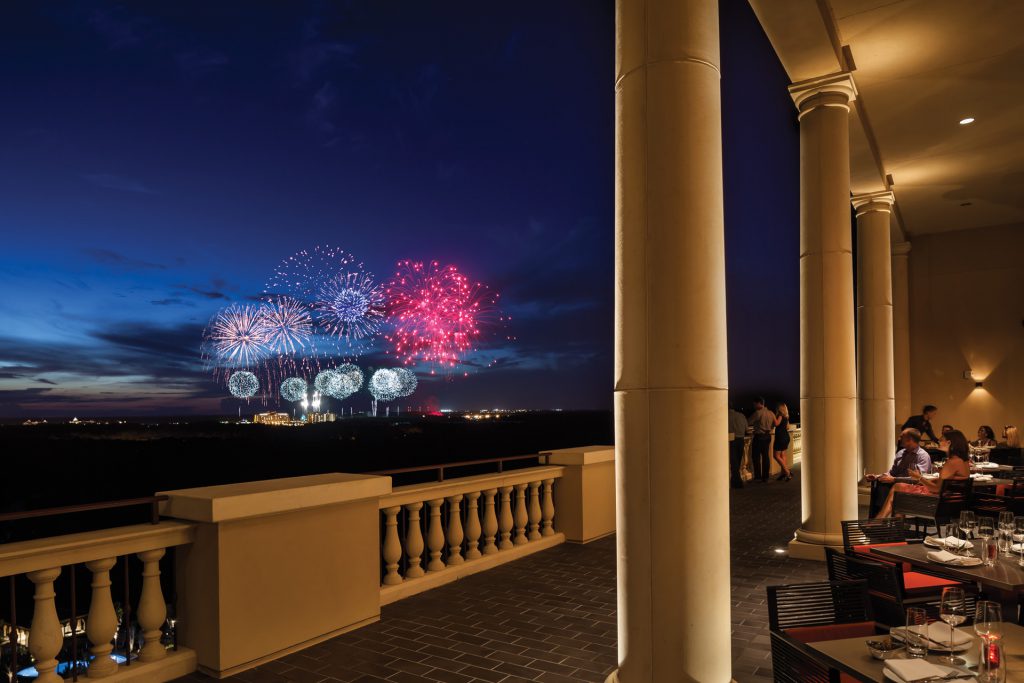 What's more, with bookings at Four Seasons, you get transportation to the parks and Disney's Extra Magic Hours too! There's also no resort fee here, but the cost of the resort overall is quite pricey.
Is Four Seasons Resort for you?
Interested in Disney perks? Like the luscious natural setting? Enjoy being on Disney's premise? In for endless fun?
Then YES, Four Seasons is for you.
Book your Four Seasons room here.
4. Reunion Resort
The opulent Reunion Resort exudes a rich, sophisticated vibe. Housed in a soft-pastel, multi-story building, it is home of the best villa resorts in Orlando. With its endless facilities, it rivals the on-site Disney resorts.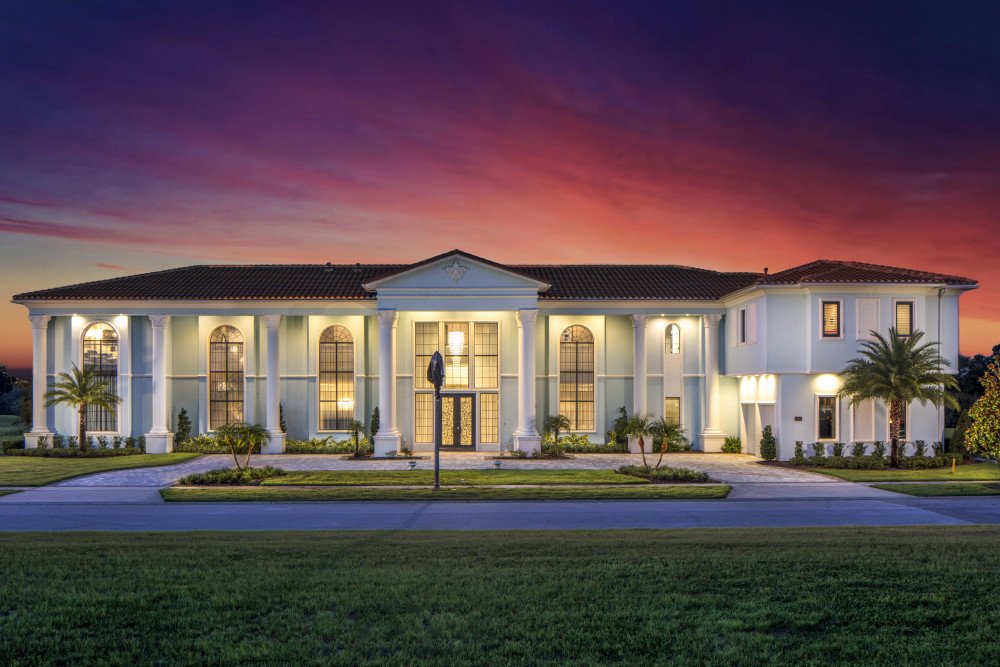 Top Amenities at this Orlando Resort
Reunion boasts 10 community pools, a children's water park, 3 signature golf courses (designed by the golf greats Jack Nicklaus, Arnold Palmer and Tom Watson), 6 onsite restaurants, a sushi bar, a gym, a tennis court, 1000-ft lazy river and concierge service.
Depending on whether you're traveling solo or in a group, you can rent a 1- to 3-bedroom suite-style villa.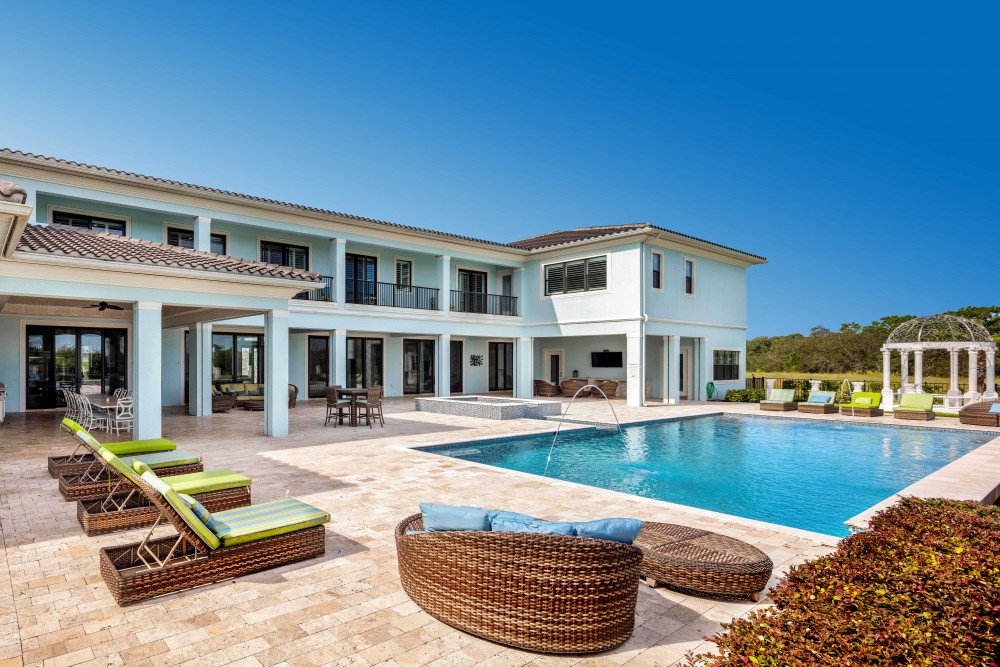 All luxury villas typically include a living area, dining space, and full-size kitchens. Several feature upgrades like private pools and game rooms too.
Located 6 miles away from WDW Resort, it is a convenient base of Disney fans.
Is Reunion Resort for you?
If you are not afraid to live it up on what can only be described as a jetsetter's dream, then yes Reunion Resort is for you.
Book your Reunion Resort room here.
5. Hyatt Regency Orlando, Grand Cypress
Transport yourself into a tropical paradise at Hyatt Regency. You heard me right! If you are iffy about booking a non-Disney hotel in Orlando, then Hyatt might just seal the deal.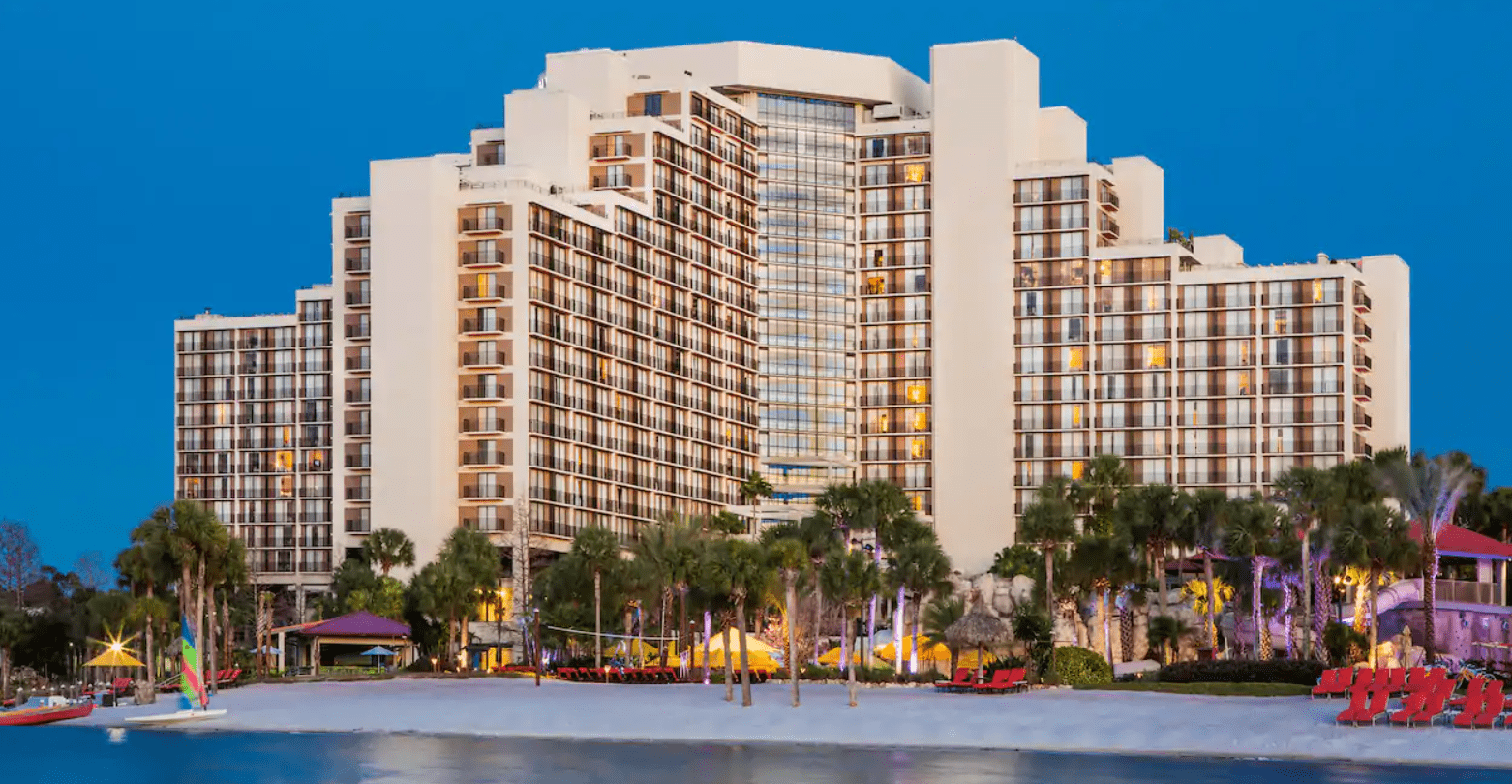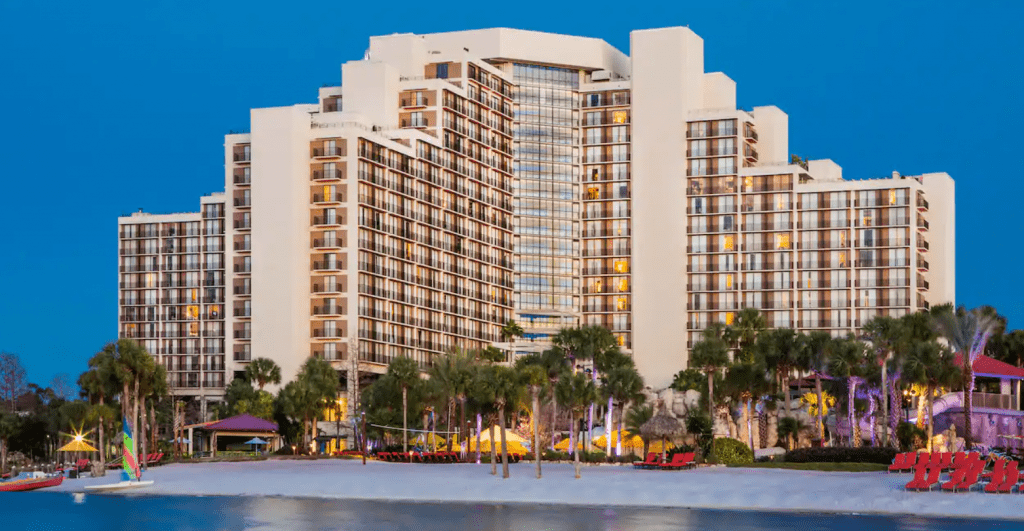 Sprawled across 1,500 acres of lush landscape, the resort shows off a private lake, a lagoon-style pool with a water slide, and Jack Nicklaus Signature golf course.
Top Amenities at this Orlando Resort
Add to this an inviting full-service spa, a tennis court, 6 onsite dining locations, poolside hammocks, boating activities, and what not! Be ready to lose yourself to the exotic surroundings at Orlando Hyatt.
Expect nothing less of the rooms; they typically come with a balcony, iPod docking station, a safe, and a work desk. Select rooms offer private club lounge access.
For the city-trotters and Disney explorers, the resort runs scheduled shuttles to WDW Resort, Universal Orlando Resort™, and SeaWorld®.
PS: PETS ARE ALLOWED!
Is Hyatt Regency for you?
If you are all for outdoor activities, natural surroundings, spacious rooms with surplus amenities, and a location right next to Disney, then Hyatt is your best pick.
Book your Hyatt Regency room here.
6. ChampionsGate Resort
Nestled in the heart of Central Florida, just 14-minute-drive from Disney World, the Villas at ChampionsGate Resort are a sumptuous treat. From lazy river to water slides and concierge, they offer it all.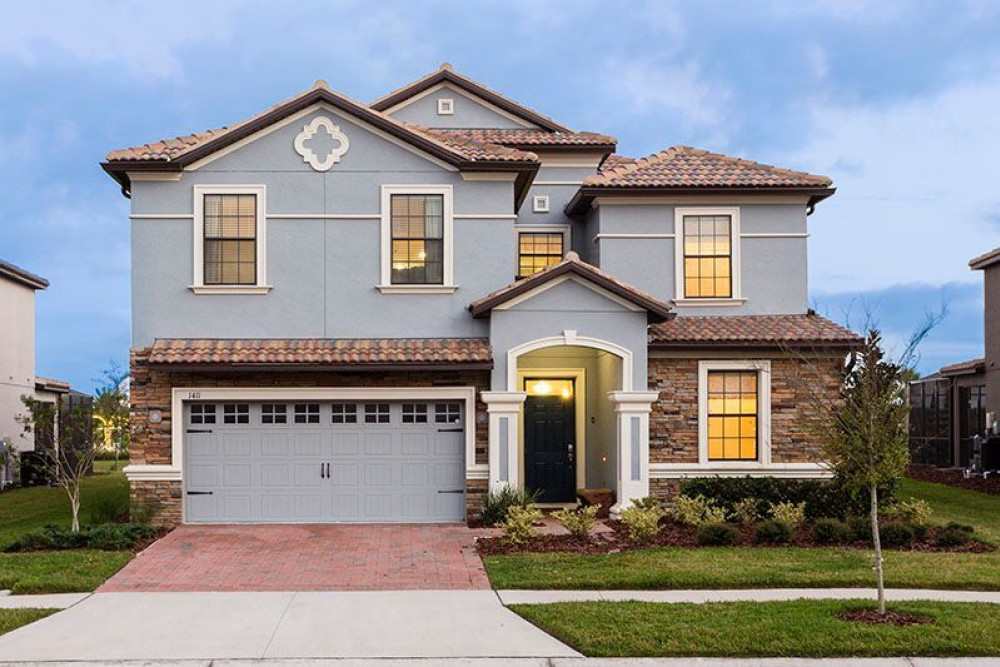 Top Amenities at this Orlando Resort
Traveling in the cooler months but don't want to miss on outdoor pool fun? Head to the ChampionsGate Resort for its heated year-round outdoor swimming pool with cabanas. Or enjoy your own private pool in your luxury villa.
Love golfing and hoping to tee off on signature courses? Book ChampionsGate Resort for its 36-hole Greg Norman-designed golf course. Always up for a memorable meal?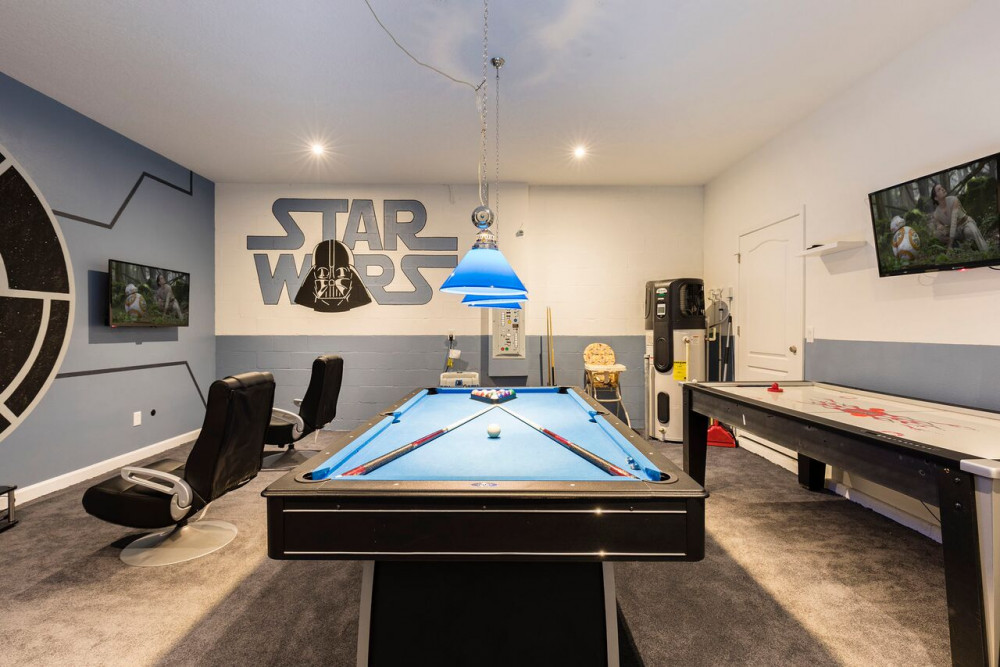 Reserve the resort for its 7 onsite restaurants, lounges, and eateries. Those in Orlando for a revitalizing vacation will love the European-style spa here.
A 4-bedroom townhouse at ChampionsGate starts at around $146 per night.
Is ChampionsGate Resort for you?
If you have ever caught yourself searching for the best pools in Orlando, then this resort is the ideal pick for you. It is the highest point of ChampionGate Resort. The setting might even feel like mini-Maldives to you.
Book your ChampionsGate Resort room here.
7. Renaissance Orlando at SeaWorld
Housed in an elegant atrium, the Renaissance Orlando is a stylish accommodation boasting cozy rooms with modern décor and work desks. Select rooms come with a balcony overlooking SeaWorld®.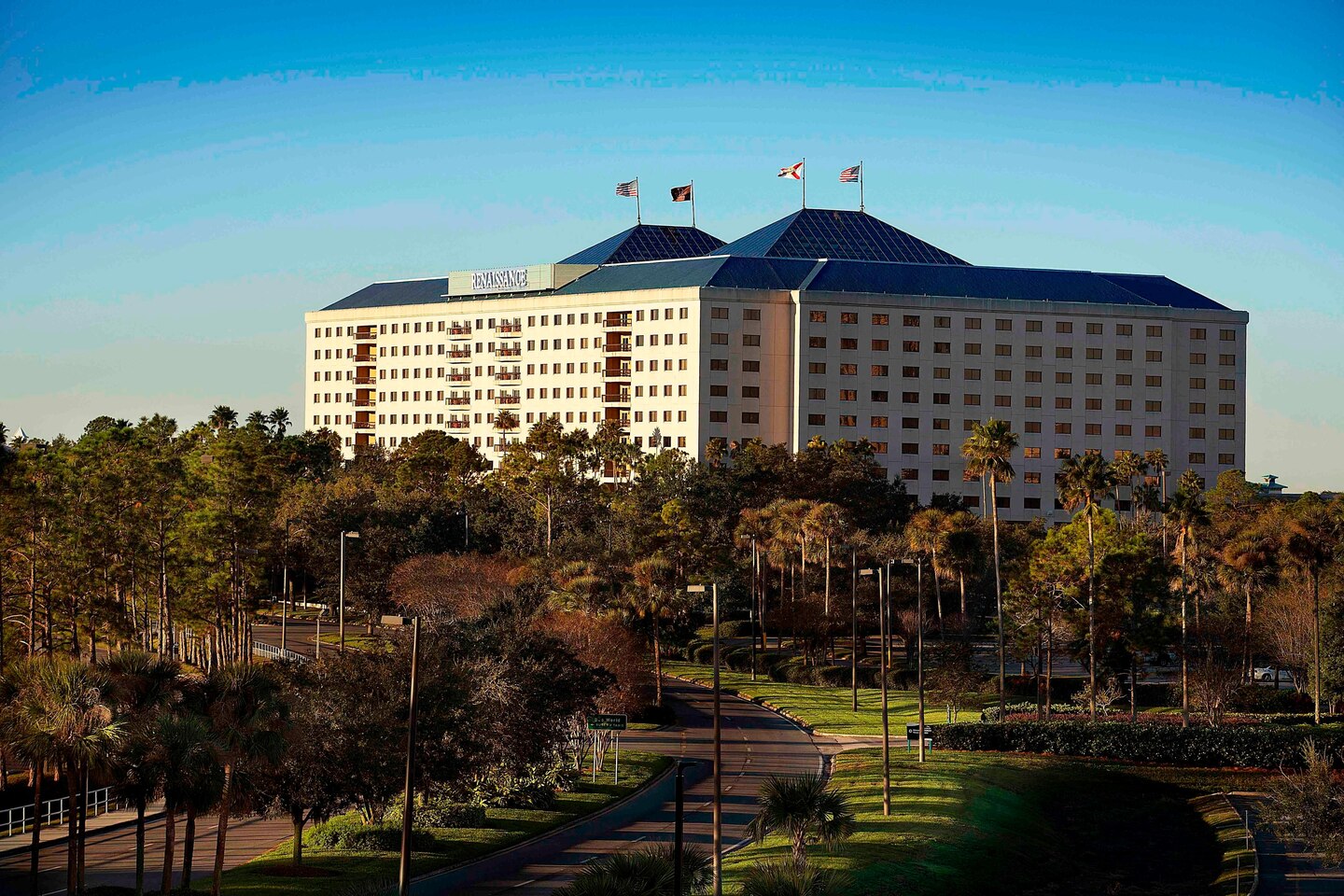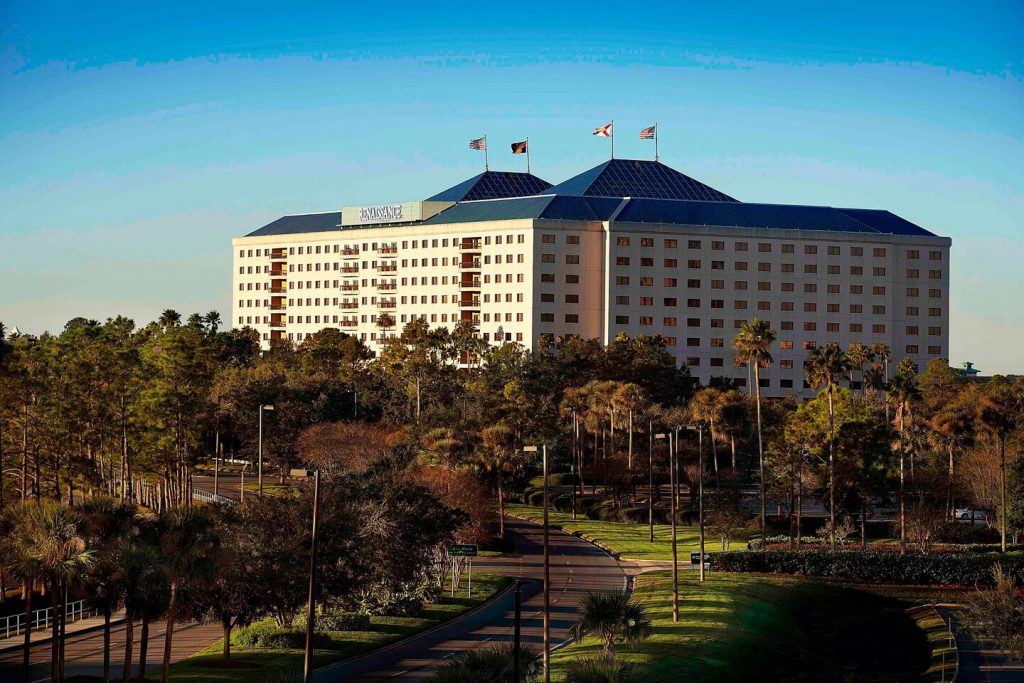 Foodies will find specialty restaurants – Japanese Mist Sushi and Spirits and Tradewinds Restaurants.
Top Amenities at this Orlando Resort
A sprawling outdoor pool with lounges all around offers a great place to unwind with a glass of innovative tropical cocktail straight from one of the onsite bars. If you need to revitalize, you can head to the soothing spa while the rest of your party cools off at the waterslides.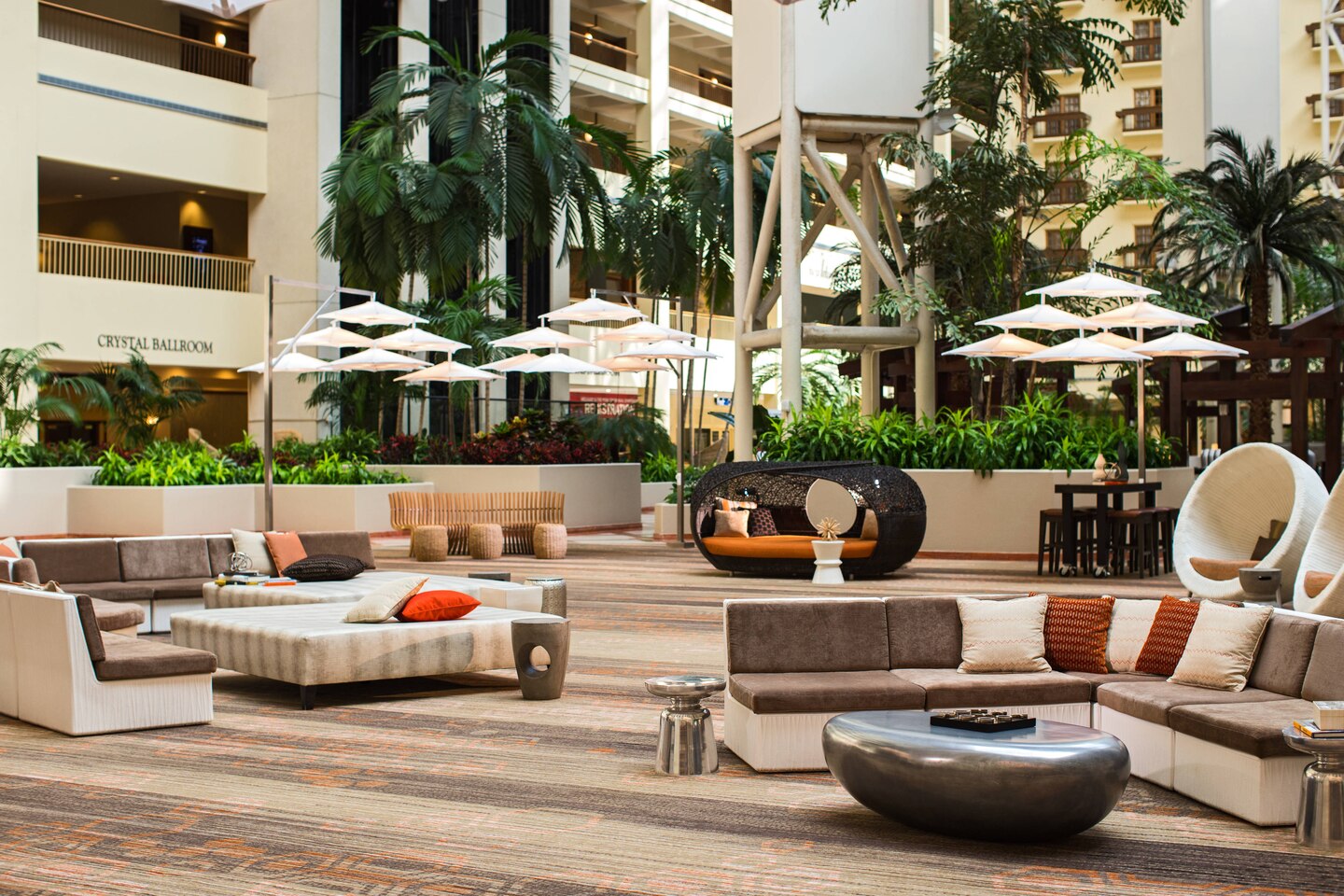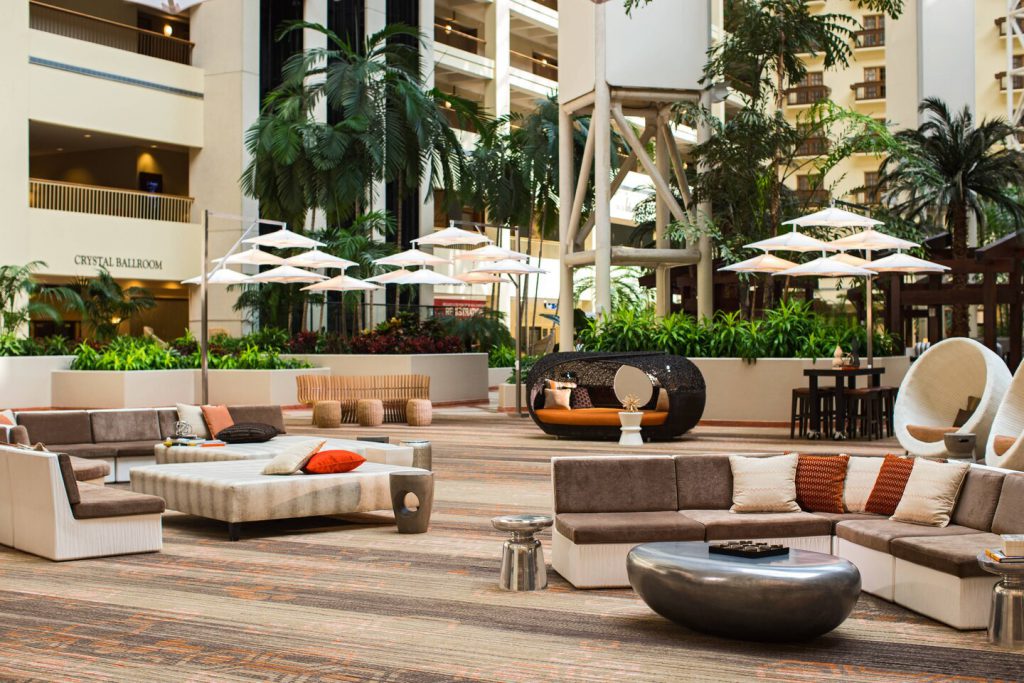 Features like Netflix streaming on in-room flat-screen TVs make it a wonderful bonus for the vacationers. After all, days at the Renaissance Orlando are meant to be comfortable, full of effortless relaxation, and blissfulness.
Location wise it is right across the street from SeaWorld Orlando, 5.3 miles from Walt Disney World and 17-minute-drive from Orlando International Airport.
Is Renaissance Orlando for you?
If you are looking for a resort to relax after a long day at the Orlando theme parks, then this destination is for you. The cozy rooms with Netflix streaming make it the perfect Orlando resort for adults traveling solo.
Book your Renaissance Orlando room here.
8. Hilton Orlando Bonnet Creek Resort
I know I have listed some exotic and super luxurious resorts so far, but Hilton Orlando Bonnet Creek Resort has to be blindingly underrated of them all.
Located within the borders of Walt Disney World Resort, nestled on a quiet nature preserve, it offers key Disney resort perks. It's one of the best places to stay in Orlando for Disney without the Disney price-tag!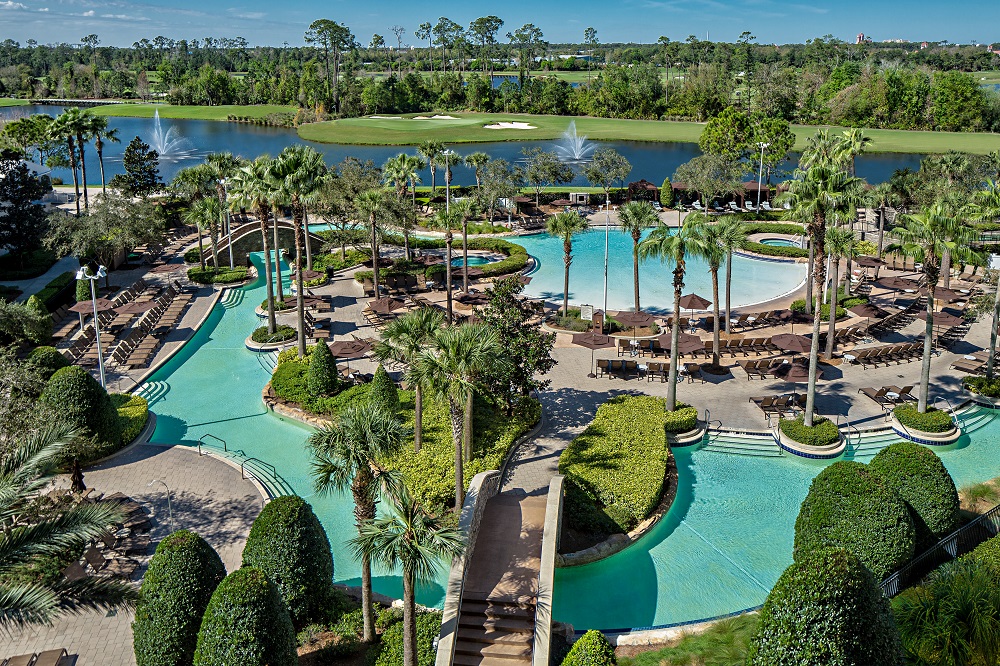 The multi-story resort is a cluster of 1001 elegantly-designed accommodations with ample facilities to call it ultra-luxurious.
Top Amenities at this Orlando Resort
Its highest points include a notable lobby that recites the story of Bonnet Sisters with motifs, free-form pool with lazy river, 12 restaurants and 2 poolside bars, the full service spa and adapted rooms for guests with disabilities.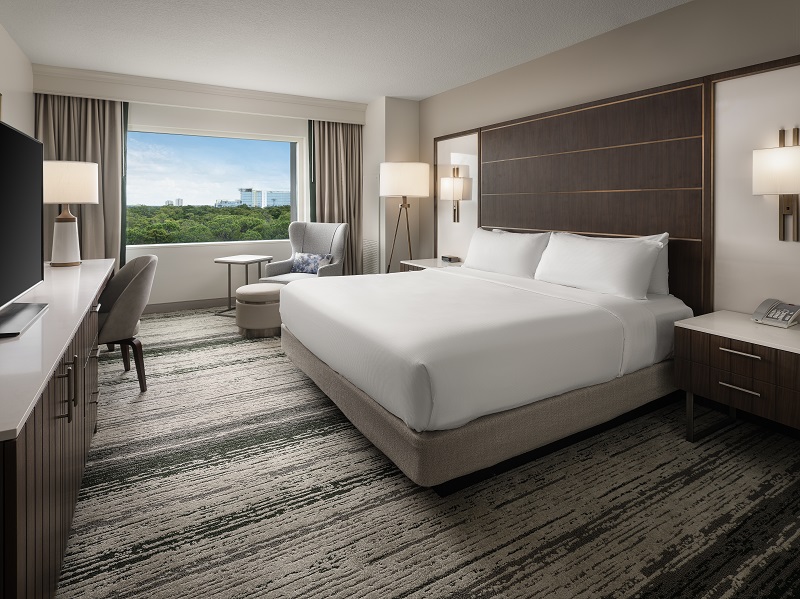 You can also view Hollywood Studios fireworks from the resort in certain rooms.
Ready to plan your theme park trip? Watch the best vacation planning tips on YouTube. Get started here!
Is Hilton Orlando Bonnet Creek Resort for you?
If you are a solo traveler, working traveler, or a couple looking for a convenient and quiet spot in the heart of the theme park, then this resort is best for you. The only downside is the daily resort fee here.
The location is superb and one of the reasons it has made this list.
Book your Hilton Orlando Bonnet Creek room here.
9. JW Marriott Orlando, Grande Lakes
Stretching across half of the Grand Lakes area, sharing it with Ritz-Carlton, JW Marriott is a splendid flagship for the JW brand. Its unique location is best described as off-beat, yet makes a great base to reach Orlando airport and attractions.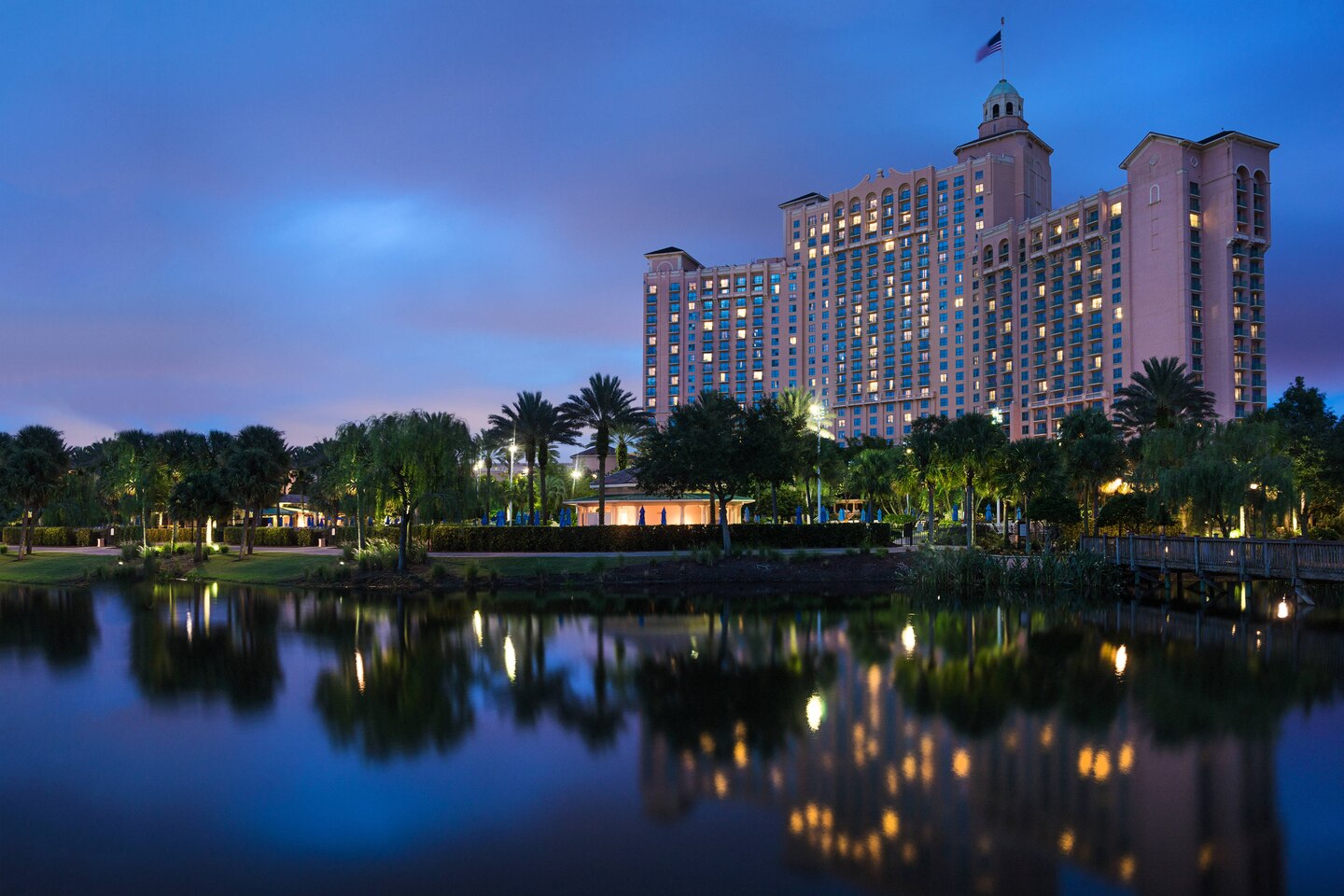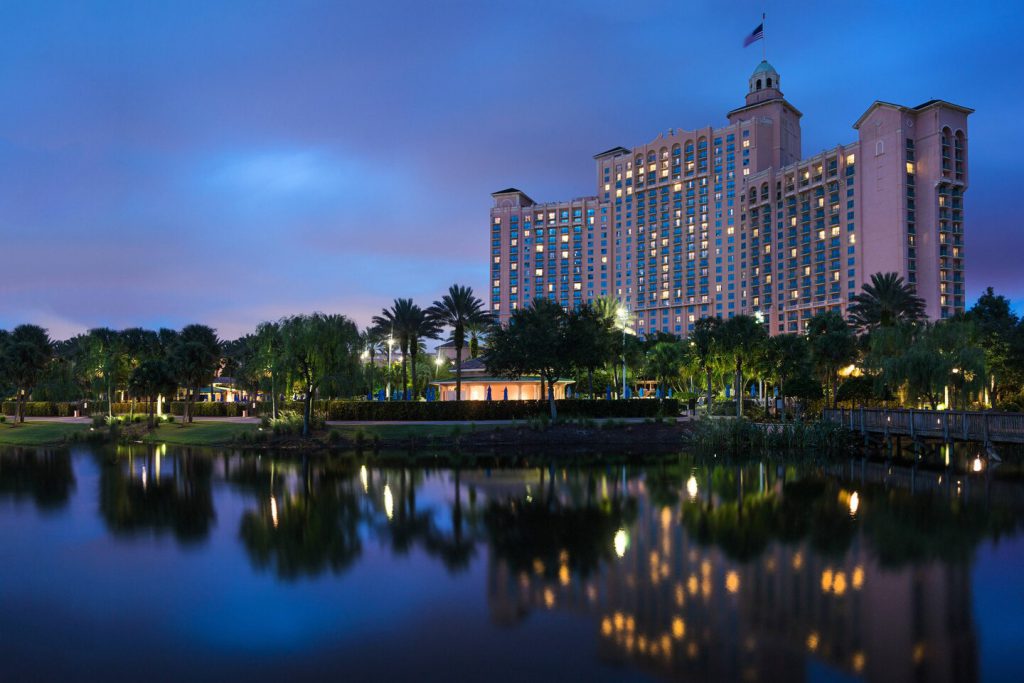 The resort offers complimentary shuttle service to Disney World, Universal Studios, and SeaWorld.
Top Amenities at this Orlando Resort
Inside its imposing architecture is a grand lobby, supremely elegant rooms, an indoor shopping area, a Starbucks, and Café Bodega. Outside the towering hotel is a scenic landscape ringed with pools, palm trees, biking trails, and walking trails.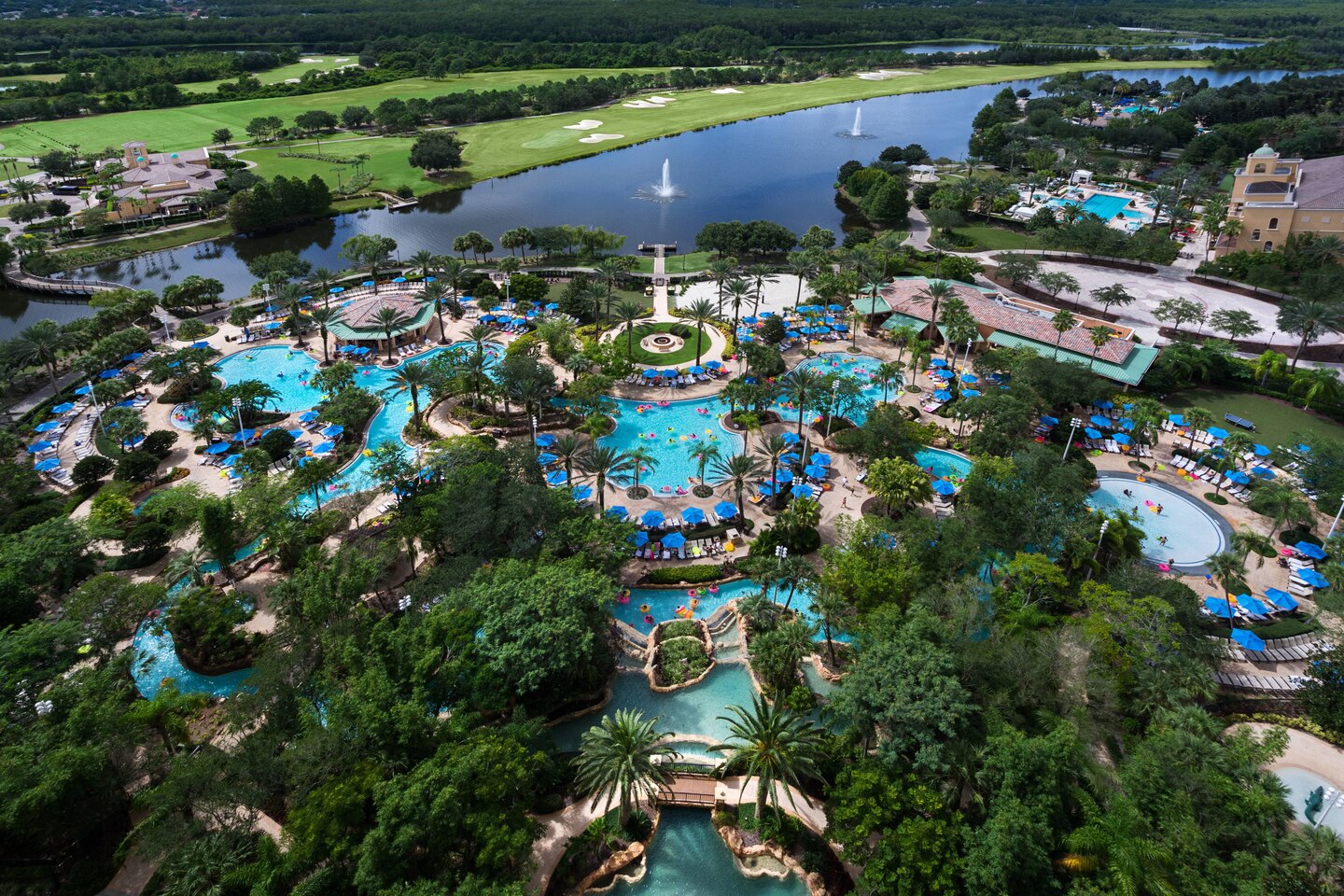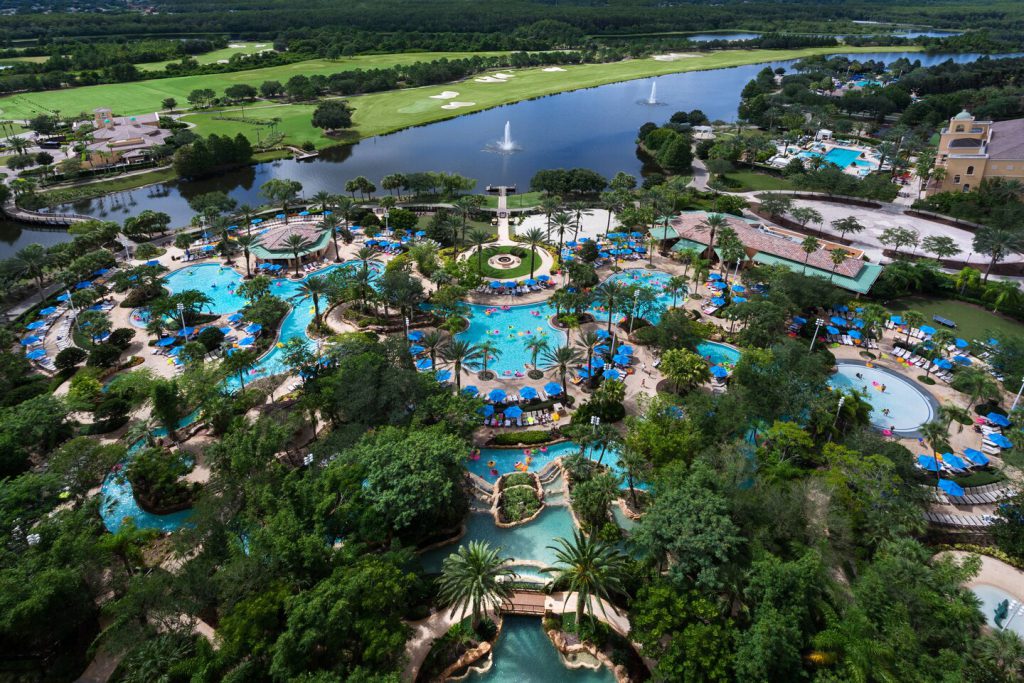 Recreational activities like boating, eco-tours, golfing, bicycle rentals and fishing are also galore. Alongside a gym and a full service spa, you also get a steam room and a sauna.
In addition to select rooms, pools and lazy river are also adapted for guests with disabilities.
Is JW Marriott for you?
If you do not mind the high cost daily resort fee, there is no way you can ever say no to this paradise.
Book your JW Marriott Resort room here.
10. Gaylord Palms
Tucked 5 miles away from Walt Disney World, Gaylord Palms is a multi-faceted resort with an enormous range of amenities. Its highlights surround water features like an expansive pool area and water-slides, which appeal to adults and kids alike.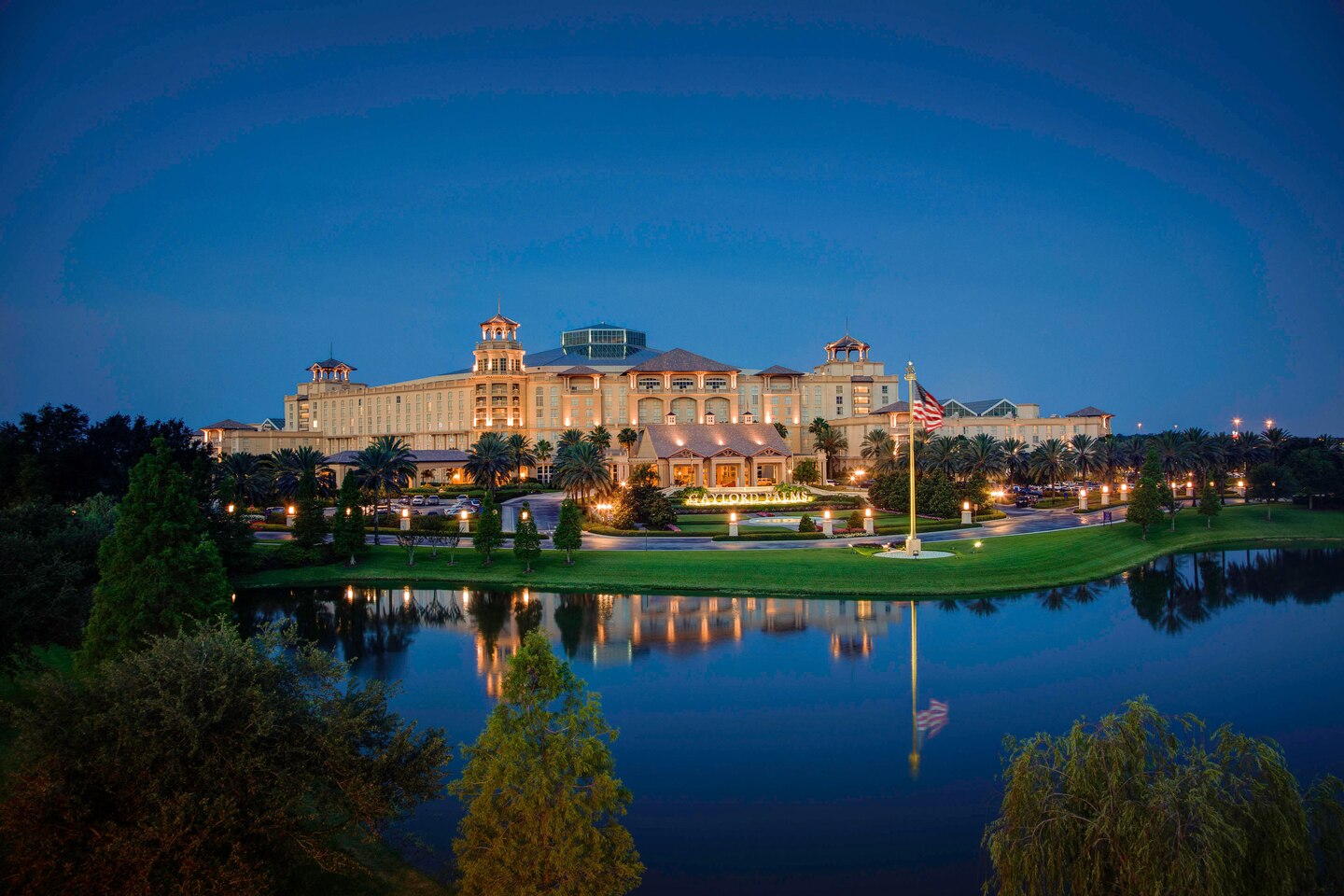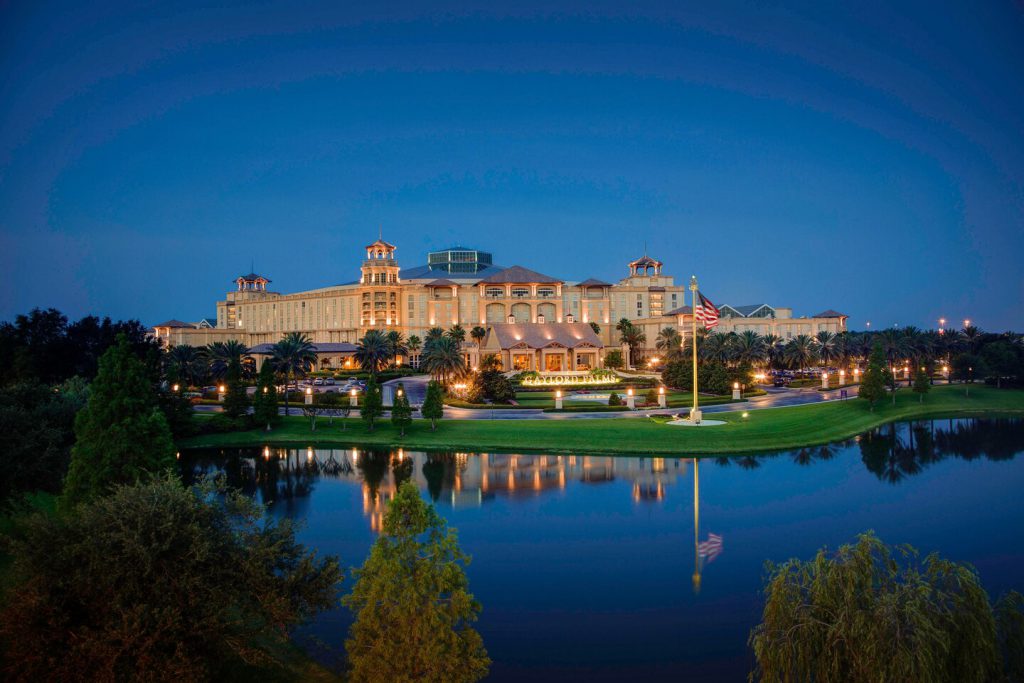 Luxury-prowlers will love its elaborate design elements such as the recreated historic fortress and a wide range of restaurants inside its enchanted garden themed environment.
In a nutshell, Gaylord Palms is just like a theme park, only without the rides.
Top Amenities at this Orlando Resort
Inside this highly rated Orlando resort are 6 restaurants and 2 bars/lounges, a full service spa, 2 outdoor pools, free shuttles to the Disney parks.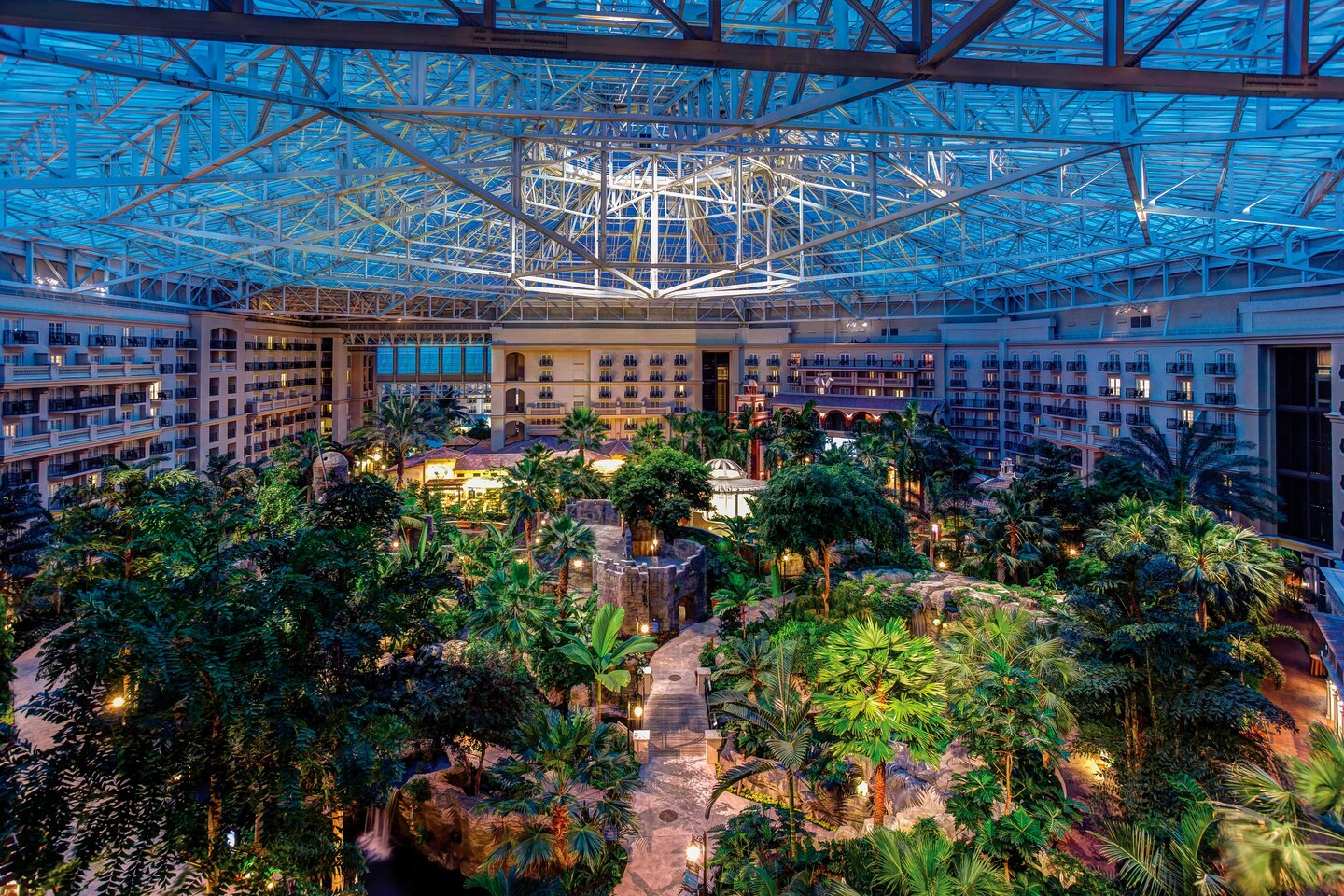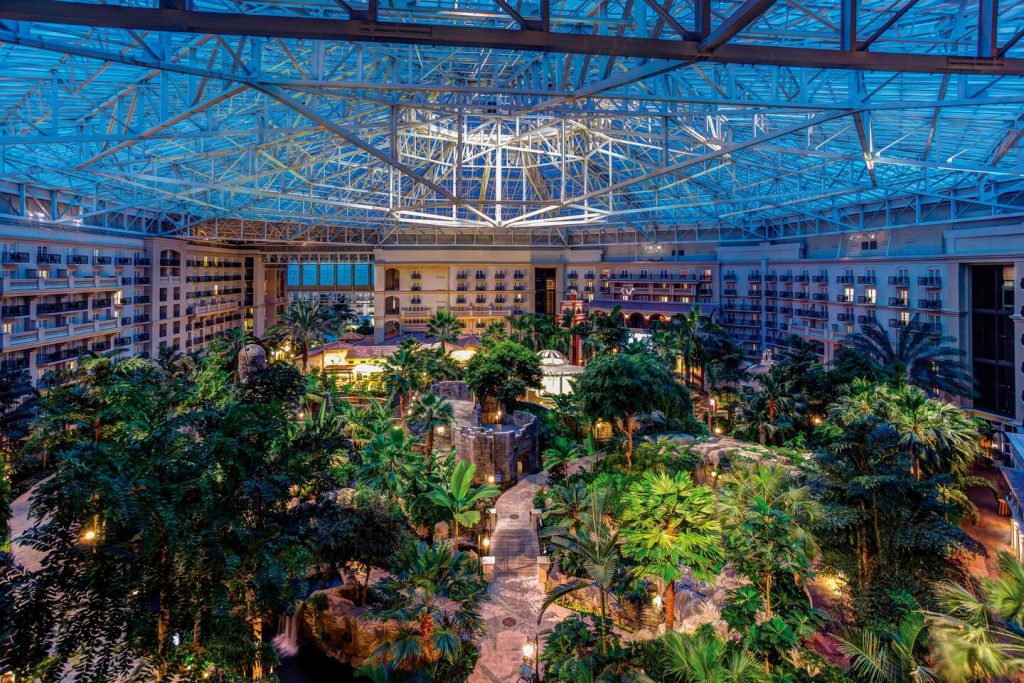 Plus, disability-friendly rooms boasting modifications such as roll-in showers and visual alerts. The public areas here are fully disabled-accessible too.
Is Gaylord Palms for you?
If you want to enjoy a theme park outside Disney, with something impressive at every turn, this is the best resort for you.
Book your Gaylord Palms Resort room here.
11. CLC Regal Oaks
CLC Regal Oaks is yet another one of the dreamy resorts in Kissimmee. Pegged in a peaceful area with a lake, the resort oozes serenity.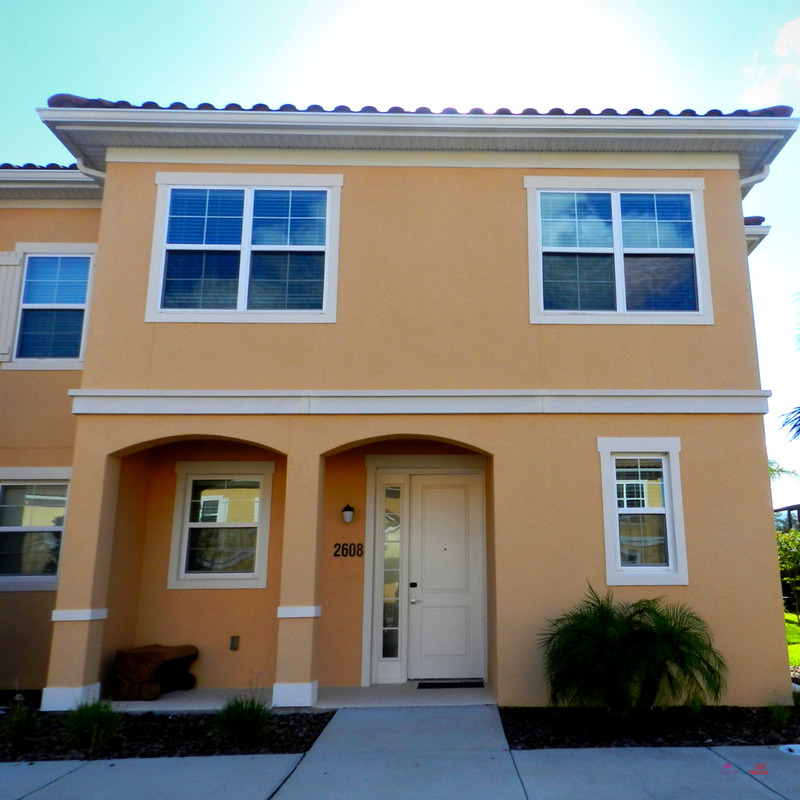 Its magnificent building comprises of spacious 2- to 4-bedroom townhomes. All are typically accented with plush bedding, a living area, a private patio, a well-equipped kitchen, and launderette.
CLC Regal Oaks will always have a special place in my heart as it was the first spot I went to in order to clear my mind from the death of my mom a few years ago.
Top Amenities at this Orlando Resort
Onsite concierge service helps you  curate a perfect Kissimmee-Orlando expedition. Onsite tickets, free parking, dual kid-friendly waterslides, terrace jacuzzi in each townhouse, and an upscale Italian Bar and Grill eatery add to the comforts of staying here.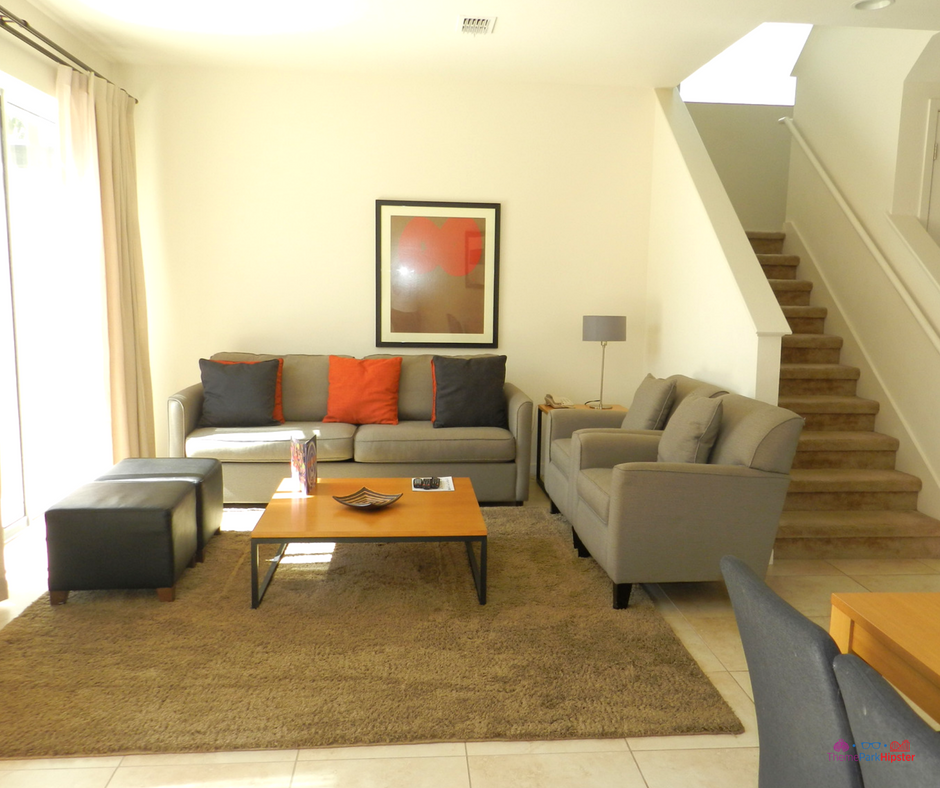 Location wise, the lavish hotel is just a 10-minute-walk from Fun Spot and Old Town, 10 miles from SeaWorld, and 7-minute-drive from Disney World.
Is CLC Regal Oaks for you?
If personal spaces like beautiful townhomes are your something that matches your taste, then CLC Regal Oaks is the Orlando resort for you.
Book your CLC Regal Oaks room here.
What to Know Before Your Orlando Vacation
Now that you know what the best Orlando resorts are for your trip, let's go through a few of the most commonly asked questions for your vacation!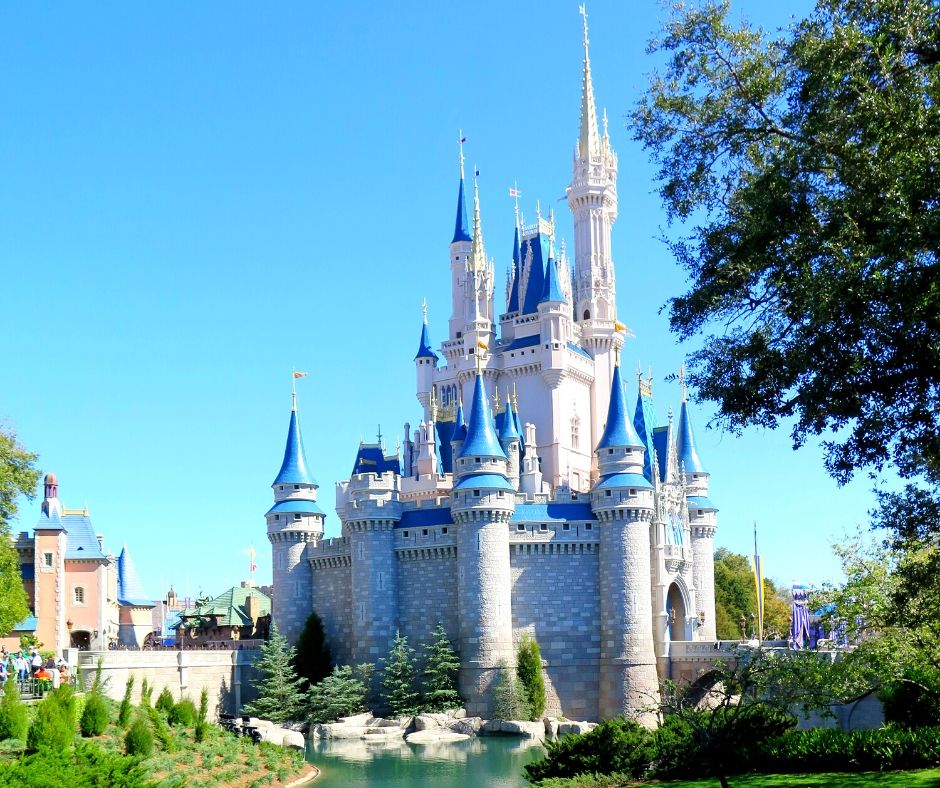 Is it worth staying in non-Disney resorts?
The biggest perk that comes with staying off-property is that you don't pay for the Disney name-tag. Competitive rates, even when you are going all opulent, offers more value off-site.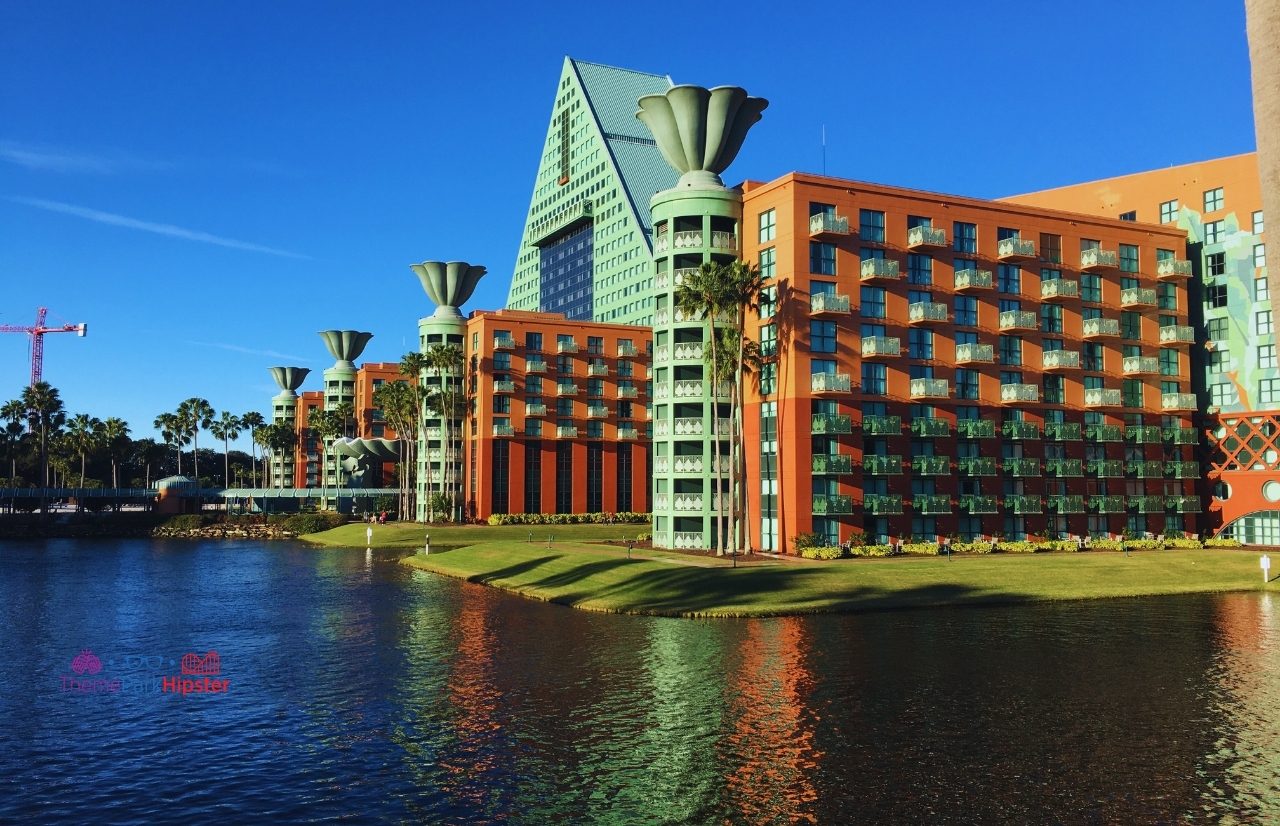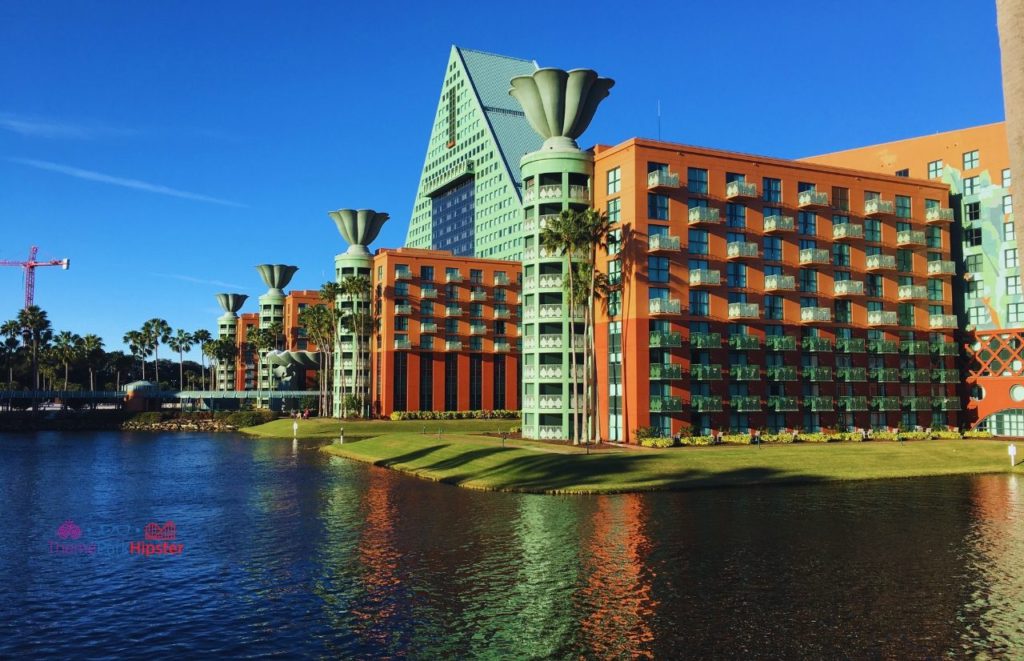 Plus, on-site non-Disney resorts like the Swan and Dolphin, Four Seasons and Hilton Orlando Bonnet give you the best of both worlds.
Can I visit Disney Resort even when I am not staying there?
Yes, you can.
When you're at the Disney resorts you're paying for convenience. Many of the resorts in Orlando that are not Disney offer similar perks and amenities with a shuttle to take you to the parks.
Final Thoughts on the Best Resorts in Orlando that's Not Disney
While many Disney fans are steadfast evangelists of on-property Disney hotels, I will say that staying off-property has its own perks.
Even if it's in a luxurious resort, you are likely to find more variety, privacy, and price value. Plus, solo adults and couples on Disney tour can also feel more confident staying outside the Walt Disney World premise.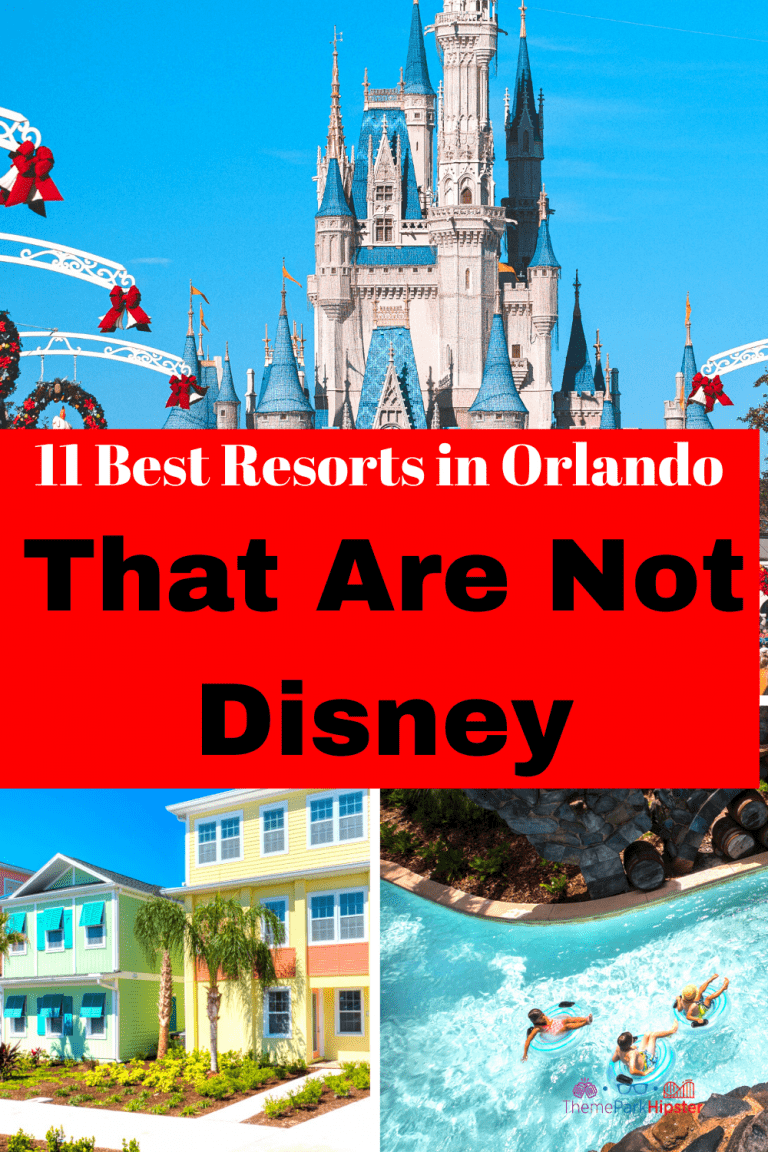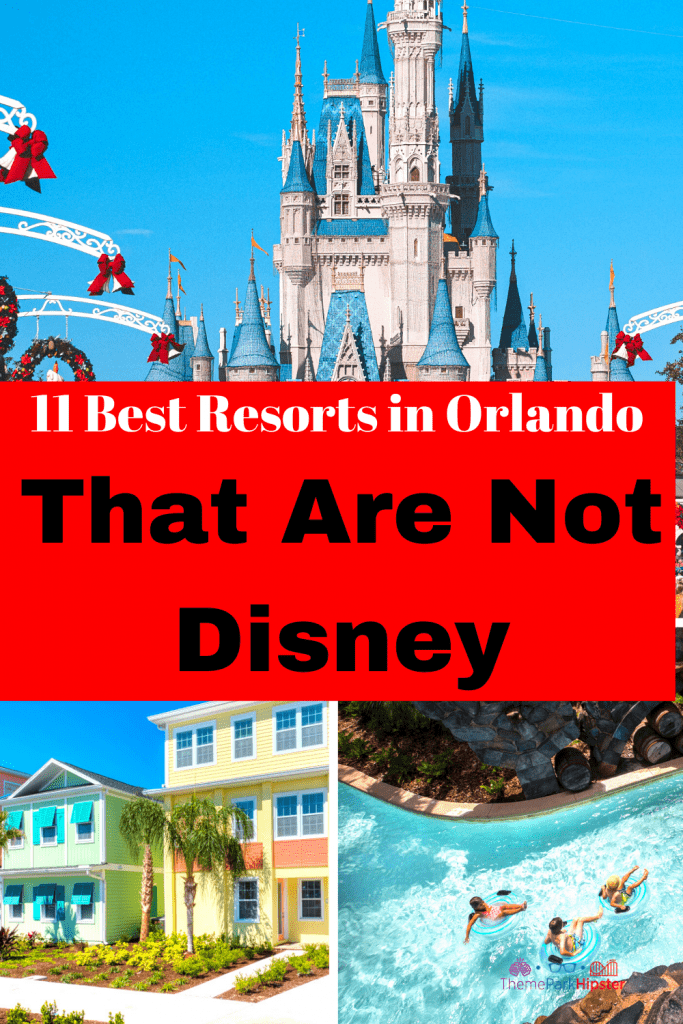 Which Orlando resort on this list are you thinking about staying at? Let us know in the comments section below.
Until next time, Happy Park Hopping Hipsters!
UP NEXT: How to Find Vacation Homes Near Disney World
(Original Article Date: July 9, 2020/Updated on June 23, 2022)