Are you trying to figure out which EPCOT Japanese restaurant you should visit on your trip?
EPCOT attracts foodies from around the world to its theme parks with an extraordinary gastronomic scene. The food offerings at EPCOT encompasses everything from home-style American burgers to a delicious platter of authentic Japanese sushi.
Scattered across this eater's paradise are over 50 restaurants, of which some of the top choices are in Japan Pavilion alone.
It should be no surprise that gourmands often visit this Walt Disney World park, especially to sample multiple cuisines. In this post, I will guide those of you who are in pursuit of scrummy Japanese dishes. Get ready to chop-chop with the chopsticks.
Here is a list of best EPCOT Japanese restaurants.
THIS POST MAY CONTAIN AFFILIATE LINKS. PLEASE READ MY DISCLOSURE FOR MORE INFO. Which means if you click on certain links, I may receive a small commission at no additional charge to you.
1. Tokyo Dining (Table-Service Restaurant)
It is hard to make an EPCOT Japanese Restaurant list without Tokyo Dining. It is the go-to place for pescatarians and foodie lovers alike.
Housed in a traditional Japanese building, the diner sits on top of the popular Mitsukoshi Department Store.
Sprawled across the second floor, it shares space with yet another sought-after Japanese restaurant EPCOT, Teppan Edo (scroll down for more on Teppan Edo).
Ambiance at This Restaurant
Boasting clean, dim-lit interior and minimal furnishing, Tokyo Dining has an upscale bar-like feel. The cool recessed lighting relies on the views of the World Showcase Lagoon.
The large windows offer views of a pictorial scenery similar to what you might see in Tokyo – thus, the name Tokyo Dining.
You can admire the sight outside or/and watch the chef create masterpieces at the Sushi Bar.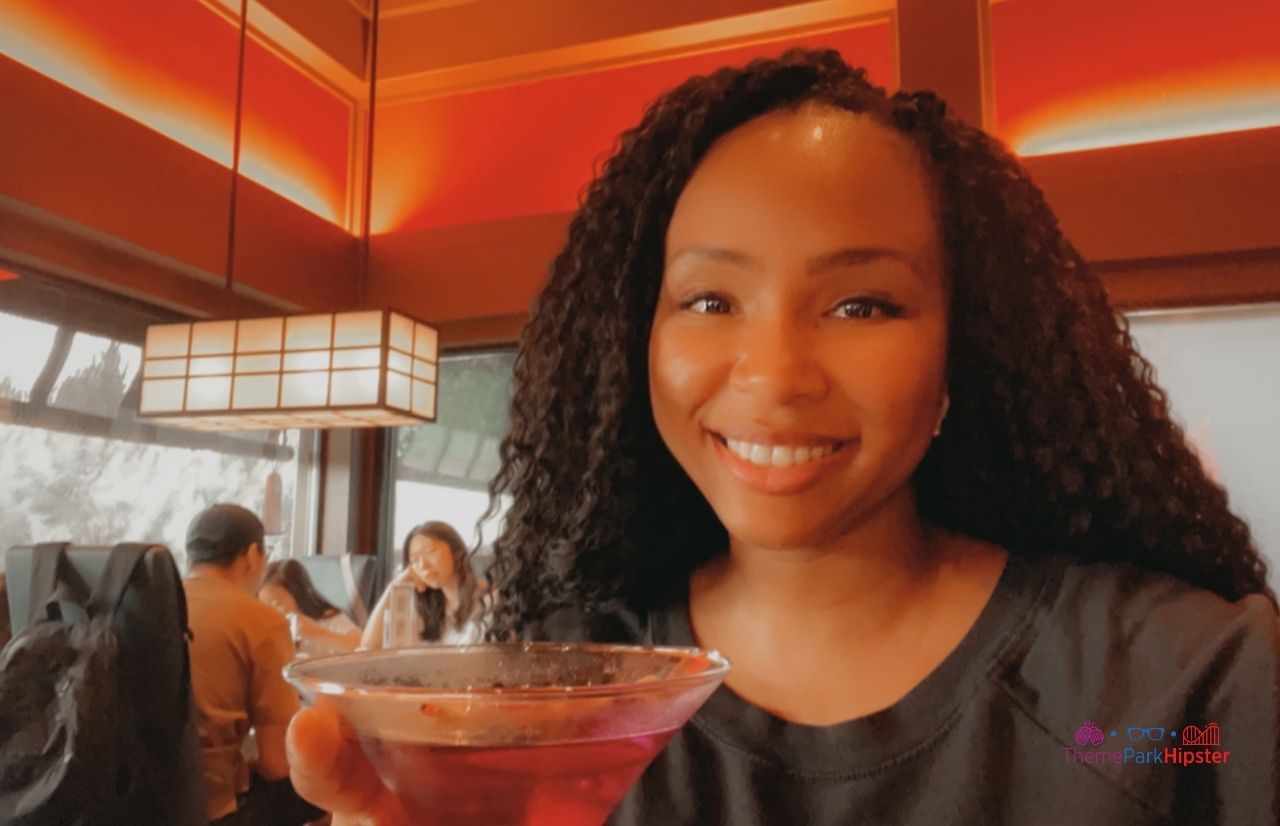 Inside Tokyo Dining is also a screen that features iconic Japanese sites that transports you to the Land of the Rising Sun.
ORDER NOW to secure your Orlando theme park ticket reservation in the parks! GET MY TICKETS.
Tokyo Dining EPCOT Menu
The EPCOT restaurant serves delicious surf appetizers like sushi, udon, spicy calamari tempura, and Asari clam miso soup.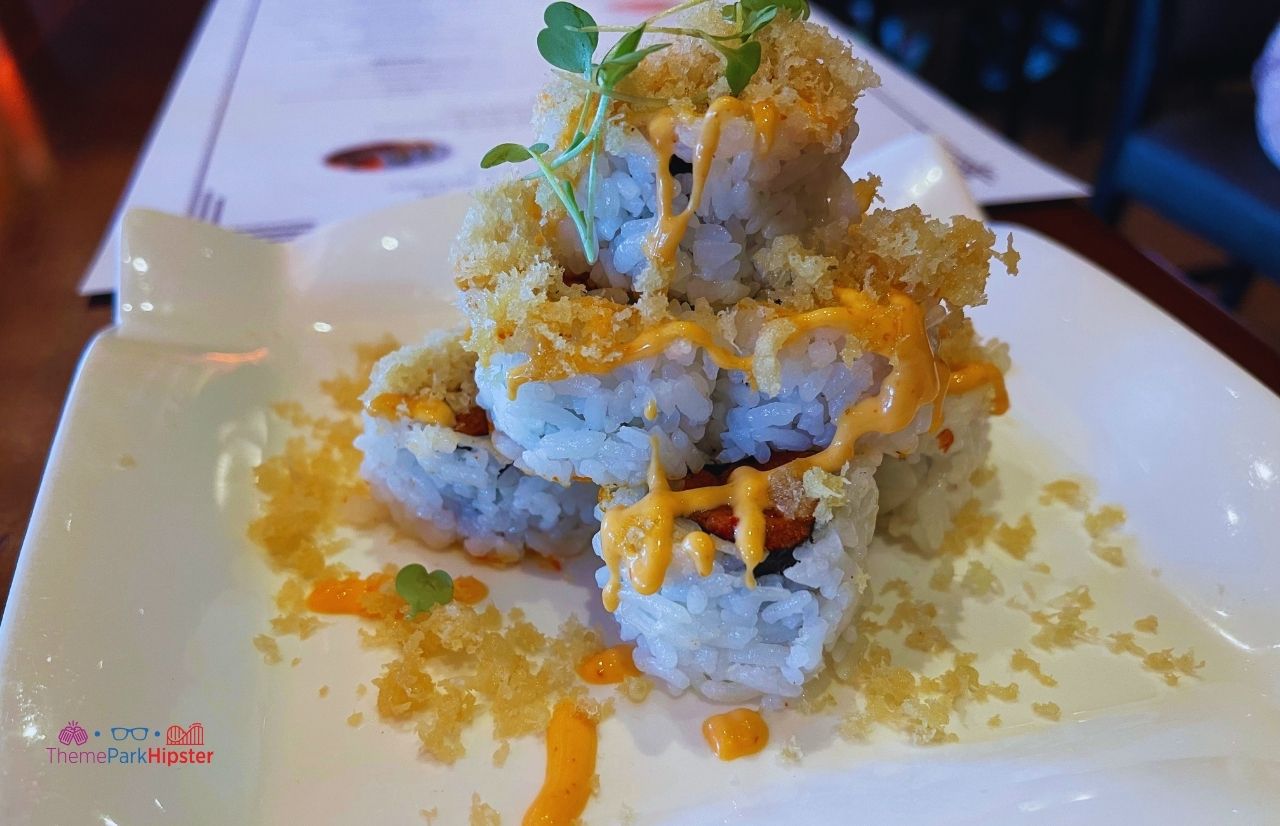 Perhaps, the unmissable dishes include the Dragon Monster Roll that is served with eel and fresh sashimi sampler with four different fishes.
The turf options include the likes of filet mignon and teriyaki butter-grilled chicken. Vegetarian dishes are also available here.
The beverage selection brims with options like martinis, vodka, juices, frappes, and gin cocktails. Talk about an adult Disney trip going right!
You can check out their complete menu here.
How Pricey is Tokyo Dining?
You'll love the restaurant more when I tell you that Tokyo Disney food prices are between $7-$36.
You can order the Chef's Creation Bento Box, viz traditional Japanese lunch box, for $36. It packs tempura, teriyaki, salad with dressing, tuna, salmon, shrimp nigiri, and a veg roll.
Do You Need Advanced Reservation?
Being popular, Tokyo Dining gets houseful quickly It is best to book in advance.
Final Verdict on Tokyo Dining Review
Apart from its cultural authenticity, delicious surf-n-turf menu, and great prices, the restaurant is also known for its top-notch service.
Cast Members here bring Tokyo to EPCOT with their Japanese hospitality.
I rate Tokyo Dining an 8/10 and recommend you get ready to bow.
2. Katsura Grill (Counter-Service Restaurant)
Perched atop a slight hill, the Katsura Grill EPCOT sits at the very back of the Japan Pavilion and is almost a hidden gem.
Come here, not just to taste the scrummy dishes, but also to enjoy the stunning pavilion views and escape the bustling of the World Showcase.
The back area around this place is a nice quiet place to relax that not too many people know about.
Ambiance at This Restaurant
This EPCOT Japanese restaurant boasts ample outdoor seating with incredible views and illuminating lanterns. It sits in a manicured garden and patios, where you reach by crossing a wooden bridge.
Set in a picturesque natural setting, the restaurant overlooks a koi pond. To sum it up, the place shows off quaint, castle-in-the-woods feel.
The inspiration of this bookish charm comes from Kyoto's 17th-century, Katsura Imperial Villa – hence, the name Katsura Grill.
Katsura Grill Menu
The menu here offers fairly unique dishes for a quick service theme park restaurant. In addition to sushi, teriyaki, and udon, there is edamame too. If you are on a special diet, the restaurant's steamed rice and salad with serve as the healthiest option at the park.
You'll also be interested in their iced green tea and delicious Shrimp Tempura Udon soup. If you are a green tea connoisseur with a sweet tooth, try their Green Tea Cheesecake, it's satiating.
At Katsura Grill, you can complete the traditional Japanese order with sake (cold or hot), or opt for craft beer, plum wine, and cocktails.
How Pricey is Katsura Grill?
The prices are just as you'd expect from a quick service in WDW. The sushi rolls here are around $8, the Shrimp Tempura is $12, and teriyaki fares at $10. The entrées at KG start at $11 and go up to $14.
Do You Need an Advance Reservation?
Although semi-hidden, the restaurant can fill quickly during peak season. During shoulder- or off-peak seasons, it might do without bookings. But, to avoid taking chances, make reservations before reaching EPCOT.
Final Verdict on Katsura Grill Review
Set in the beautiful scenery, offering a comprehensive menu, and boasting lovely imperial architecture, Katsura Grill is a heart-winning EPCOT Japanese restaurant.
In my opinion, it is 7/10.
3. Kabuki Café (Kiosk Service)
I know, I know! Not a restaurant. But Kabuki Café is definitely a must-try kiosk in EPCOT. There's more to the Japan Pavilion that just sushi and teriyaki.
It may not serve the upscale traditional dishes, but it is a wholesome stop to sample Japan's street food.
Ambiance at This Kiosk
No interior plus street-style setting equals casual roadside feel. But, notice the architecture. It flaunts a Japanese style roof, artsy boards, lanterns, and minimal accents.
Kabuki Café Menu
As expected, the menu isn't anything like the upscale Japanese restaurants in EPCOT. Instead, savory frozen treats are the specialty here. Stop by the kiosk to taste its highlight snack – Kaki Gori, shaved ice dipped in fruit syrup.
Other must-tries include Sake Mists, Hello Kitty Mochi, and Mochi Ice-cream. Apart from the nibbles, you also get alcoholic beverages like plum wine, draft beer, and Sake Mist.
How Pricey is Kabuki Café?
The Kaki Gori comes in several flavors, and depending on it, the snacks can cost anywhere between $3.50-$4.50. Ice creams and edamame are also available for a similar price that goes up to $5. The beverage prices range between $7-$9, Sake Mist being the most expensive.
Have a DIFFERENT kind of Orlando vacation with a Resort home next to Disney World. Find Your Disney Resort Vacation Rental here!
Do You Need an Advance Reservation?
There is no need for reservations to stop by this kiosk.
Final Verdict on Kabuki Café Review
For a kiosk, Kabuki Café is a must-visit for foodies.
With its more-comprehensive-than-expected menu, the eatery deserves a 6.9/10.
4. Teppan Edo (The Hibachi Restaurant in EPCOT)
Watch the incredible art of gastronomy as chef flips vegetables, jokes about shrimp tail, and makes a pun about sauces. If you are traveling with kids and would like to distract them to enjoy a peaceful meal, then Teppan Edo is the spot for you.
On the other side, if you aren't a fan of communal dining, then Teppan Edo isn't the restaurant for you. Here, you sit in groups of eight around the hibachi grill tables.
Ambiance at This Restaurant
Teppan Edo is a table-service Japanese steakhouse-like restaurant boasting elegant, pagoda-style architecture. The interior consists of multiple rooms, each with its several teppanyaki stations.
Since the restaurant shares space with Tokyo Dining, it also shares the dim-lit, high-end ambiance. The furniture is kept minimal, and walls flaunt Japanese art.
However, there's a wrinkle in its elegance. Due to the spacious seating area, the restaurant might feel less authentic to some against the intimate, small-seating restaurants of Japan (not the pavilion).
Teppan Edo Menu
The menu here is a subtle fusion of American-Japanese cuisine. Beyond the hibachi dishes and seven-piece sushi sampler, it includes California Roll, NY Cut Steak, and Julienned Steak.
Accompanying the menu is a wide selection of beverages, including sake, wine, beer, cocktails, and non-alcoholic drinks.
To put it simply, if you liked Benihana, you will like Teppan Edo.
Recommended: 10 BEST Places to Get Hibachi in Orlando
How Pricey is Teppan Edo?
Teppan Edo prices are very similar to the rest of the top Japanese restaurants in EPCOT. The appetizers start at $4 for Miso Soup, going up to $14 for Wafu Ribs.
You can order sushi for $13, entrées for $24, and combos for $36. It is the add-ons and enhancements like Wagyu Steak that can hike the bill by $78.
Do You Need an Advance Reservation?
Making reservations beforehand is highly recommended.
Final Verdict on Teppan Edo Review
You will love to visit the restaurant for its side entertainment, hibachi-style food, and familiar dishes. Even if you have visited a local teppanyaki restaurant, I'd suggest you still experience dining at Teppan Edo.
I give this restaurant a strong 9/10!
5. Takumi Tei (The Best Japanese Restaurant in EPCOT)
Takumi Tei is a signature EPCOT restaurant housed in the ultimate tall-pagoda edifice. With its unique architecture, delicious food, and traditional omakase dining, Takumi Tei, despite being new, out-famed the popular Tokyo Dining.
Ambiance at This Restaurant
The setting of Takumi Tei exudes tranquility amidst the boisterous park. Various colors and textures decorate the wall, soothing music plays in the background, the aroma of delicious food fills the air, and purposely-plated dishes boast creative presentation.
Five themes remain dominant throughout the interior – wood, stone, paper, earth, and water – and are reflected in the haikus displays. In short, Takumi Tei gets as sophisticated and artistic as it can get.
Takumi Tei Menu
This EPCOT Japanese restaurant offers a slew of unique dishes like Teien, Hama no Kani, Kamo, and Tataki. Included in the menu is also a variety of Maki Sushi and Sashimi.
The highlight is the Omakase Tasting Menu with seven options to pick from. Add to the drink selection featuring Japanese beer, wine, mimosa, and cocktails.
How Pricey is Takumi Tei?
The prices are Takumi Tei are between $12 and a whopping $150. An adult, on average, will spend around $60 for a wholesome dining experience.
The Omakase Beverage Pairing and costs an additional $75 in addition to the Omakase price. The good news is that all of these are available individually too for prices as low as $17.
Do You Need an Advance Reservation?
Advance reservation for Takumi Tei is highly recommended.
Final Verdict on Takumi Tei Review
Takumi Tie is the place to enjoy a good meal for gastronomes. From brilliant architecture to a traditional ambiance and eclectic menu, the restaurant excels at everything.
I give it a 9.5/10 EPCOT Japanese restaurant!
What to Know Before You Go to Epcot
Now that you are confident about choosing the best EPCOT Japanese restaurant for your trip, let's go through a few of the most common questions.
Is it worth going to EPCOT just for dining purposes?
Is EPCOT Japanese dining kid-friendly?
Yes. The restaurants at EPCOT include an exclusive Kid's Menu. Takumi Tie also has a Kid's Dessert Menu.
Do EPCOT Japan restaurants have dress codes?
No, you can wear casual theme park attire to the restaurants.
Let's Wrap It Up
Dotted by over 50 restaurants in EPCOT, dining here can get really overwhelming. You definitely won't want to settle for the gloppy hibachi, when you want to dig into something a bit more unique to Japan.
It is exactly why I have curated this detailed list of best EPCOT Japanese restaurants. From sushi and sake to their prices.
Everything about these eateries are explained just for you, so you come up with a well-informed EPCOT dining plan itinerary.
どうぞお召し上がりください (enjoy your meal)!
Until next time, Happy Park Hopping Hipsters!
UP NEXT: 7 Best Restaurants at Epcot that You MUST Try
(Original Article Date: November 26, 2020/Updated June 17, 2022)