Are you still trying to figure out what the best restaurants at Epcot are for your trip?
For anyone planning a visit to Walt Disney World, one of the first things you must consider (whether you're going alone or with family) is your feeding arrangements.
A trip to Epcot would definitely turn out to be eventful and exciting, but you definitely can't rule out the fact that you'd most definitely get tired after a long day.
And the best thing for you would be to retire at a choice location to enjoy a fine dining in one of the numerous restaurants inside the park.
THIS POST MAY CONTAIN AFFILIATE LINKS. PLEASE READ MY DISCLOSURE FOR MORE INFO. Which means if you click on certain links, I may receive a small commission at no additional charge to you.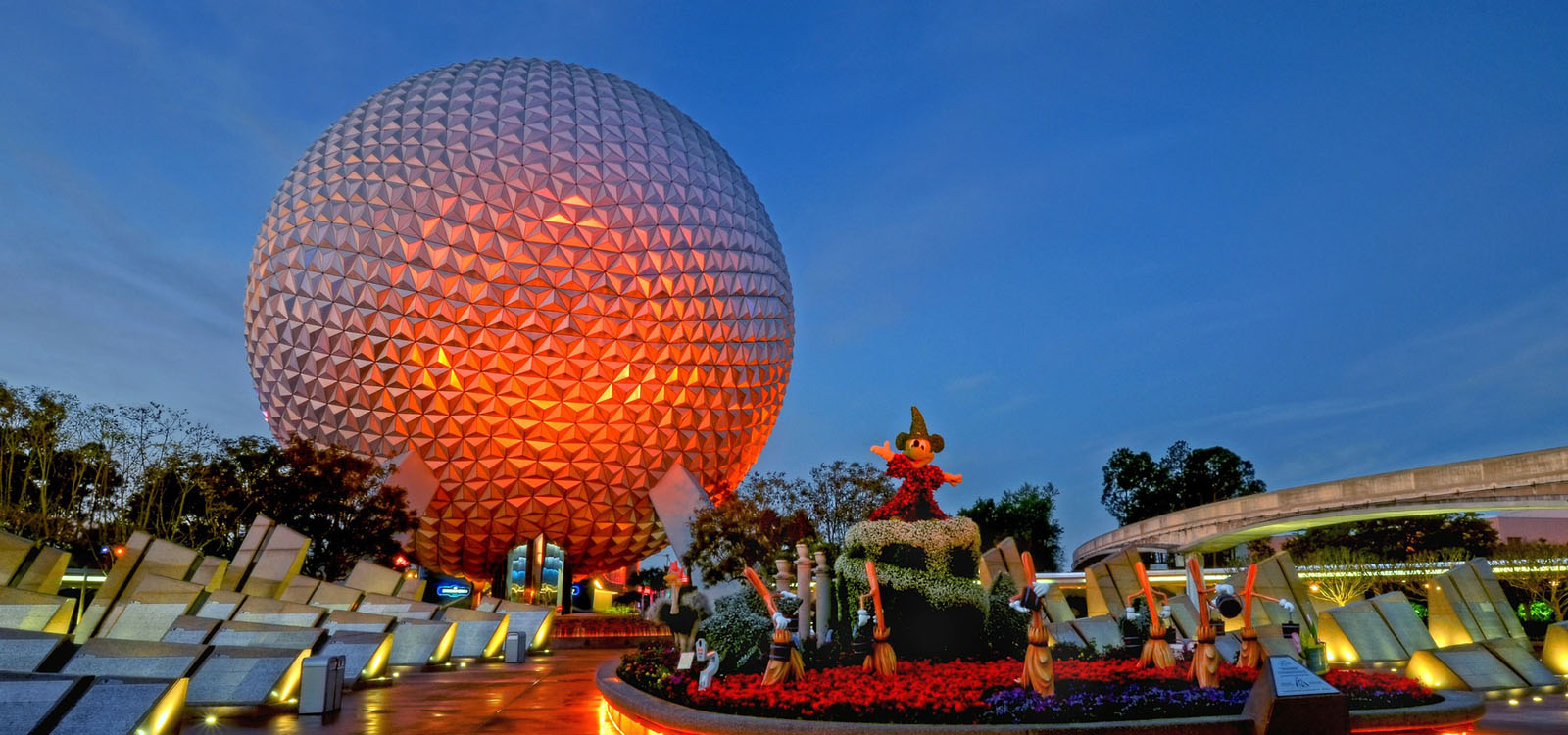 Why Choose Epcot for Your Dining Experience
For anyone who has visited the Disney World in the past, or have read about this land of wonder and fantasy, you'd agree that it's the best theme park destination in the world.
It also houses some of the best restaurants you can find anywhere in the world.
Regardless of where you are coming from, the truth is, you'd most definitely find a restaurant that offers your cravings at Disney.
In spite of the abundance of fine dining and top-notch restaurants at Disney, there is no denying the fact that some restaurants offer better services compared to the others.
In terms of quality restaurants that you may want to check out the bookings before or after you get to Disney World. We can assure you that there is no better place to find these restaurants than at the iconic Epcot.
Over the years, Epcot has become the home for the best restaurants at Disney.
It not only houses the top dining locations in Disney, the ambiance of the environments are creatively themed well and offer many unique experiences.
Have a DIFFERENT kind of Orlando vacation with a Resort home next to Disney World. Find Your Disney Resort Vacation Rental here!
What to Expect on this Disney Food Guide
Even in Epcot, choosing the best restaurants out of the many amazing options available could be quite tricky.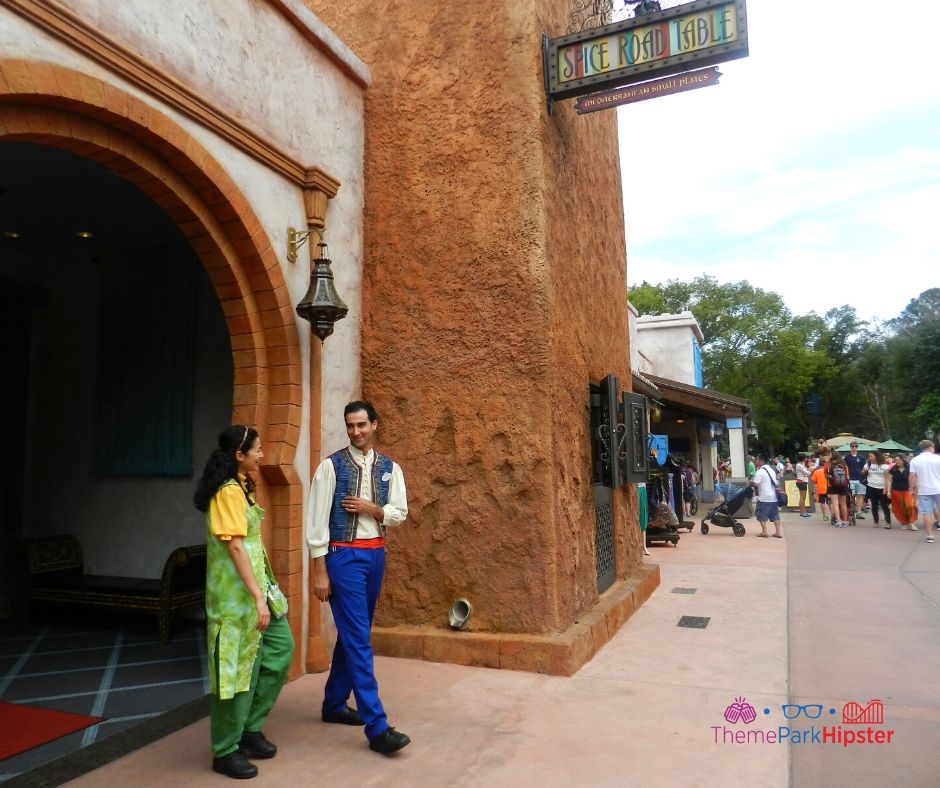 Not to worry though, this article will help you pick the best restaurants that you should be visiting while you are at the Disney World.
For the purpose of this guide, we will be narrowing our list to just the top seven (7) options available for you to choose from.
You should know that all the restaurants that made this list got there on merit, and we arrived at our decisions after a careful examination of many factors.
Things such as ambiance, price, dining experience, and a lot more were considered in making this list.
Our Top 7 Picks for the Best Restaurants at Epcot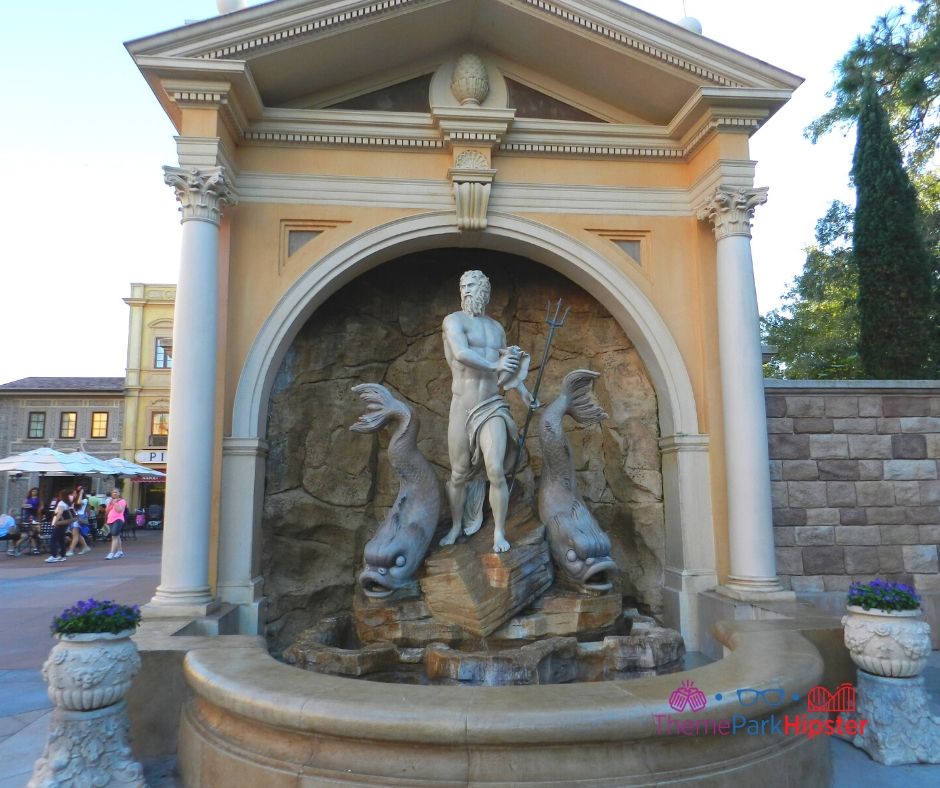 1 – Le Cellier Steakhouse
Le Cellier Steakhouse tops our list, and you would most definitely find it at the top or nearly at the top of every list you can find. That is how good this restaurant has been over the years.
Le Cellier serves mostly American and Canadian cuisine, while also offering some French dishes. This steakhouse is also known widely across Disney World as one of the best signature restaurants.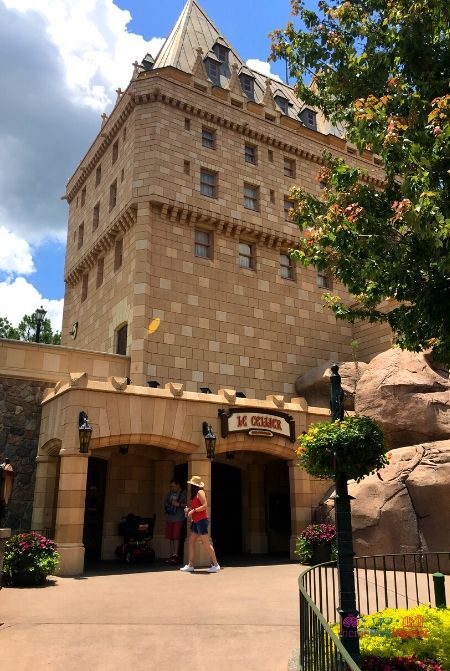 Dining Options
They have variety of offerings in this Canadian château for both adults and children, including steaks, traditional poutine, seafood, soups, and all sorts of drinks.
Unlike some of the signature restaurants available at Epcot, you don't need a special kind of dressing to be admitted into this restaurant.
As a matter of fact, you can walk directly into Le Cellier Steakhouse with your shorts and shirts on that you are wearing on your tour of Epcot.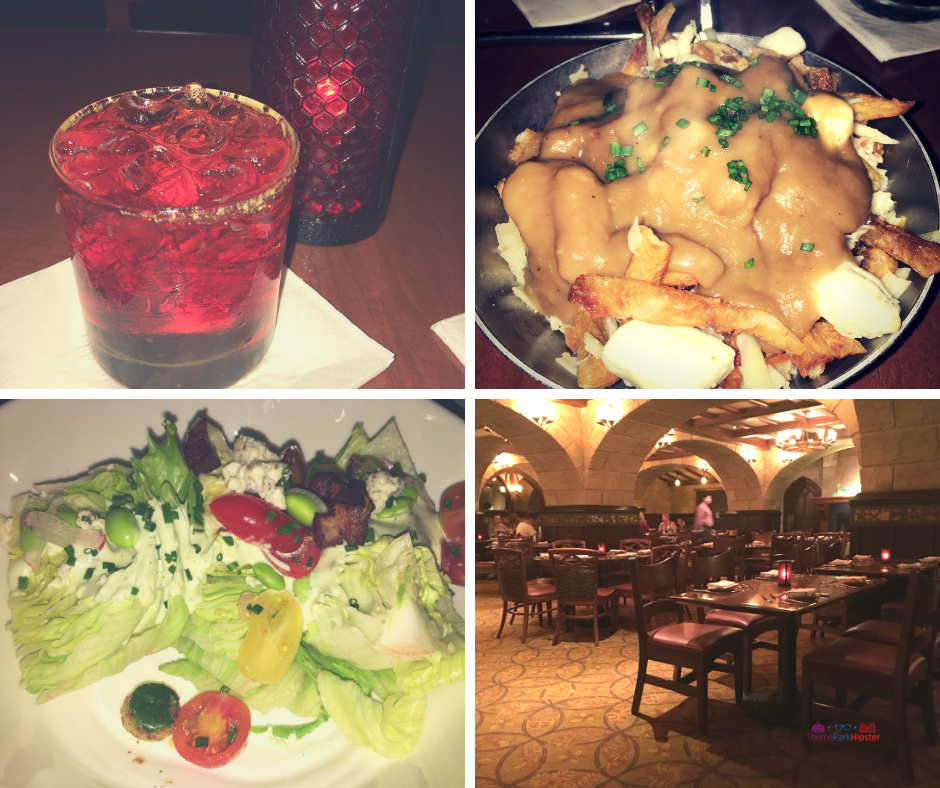 Top Dishes
On your trip, look for some of the top dining options below:
Prime Beef Tartare
Canadian Cheddar Cheese Soup
Winter Wheat Lager Steamed Mussels
Le Cellier Filet Mignon
Pan-seared Golden Tilefish À la Paella
Le Cellier Signature Poutine
Maple Leaf Cheesecake
Blueberry Icewine Martini
Ottawa Apple
Hipster Power Tip: To save money, visit during lunchtime to take advantage of the Prix Fixe menu. This special menu allows you to enjoy an appetizer, entrée and dessert for one budget-friendly price.
Pricing
In terms of price, you would get some of the most favorable options at an Epcot restaurant here. Prices ranges between $10 to $60 depending on the type of meal or drink you are ordering.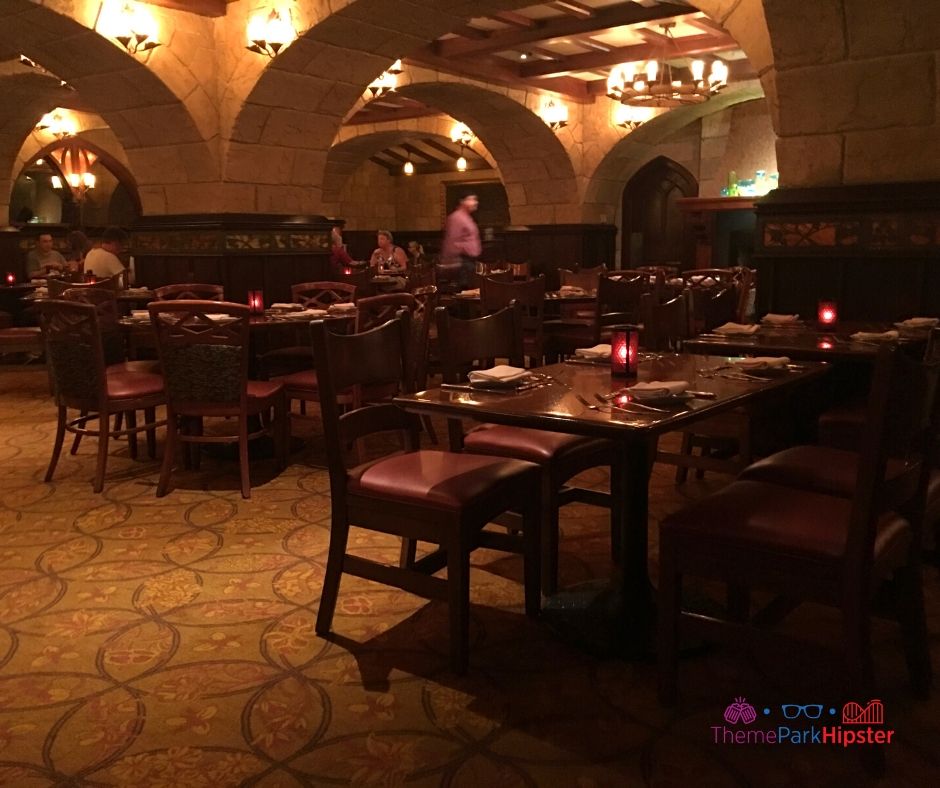 Why You Should Visit
If you need further proof as to this, look no further beyond their customer ratings which you can find across popular review sites.
Also, you may find it helpful to know that the ambiance here is welcoming, warm, intimate, and romantic. Making it one of the best dining experiences on property.
2 – La Hacienda de San Angel
Are you in the mood for some fine and unadulterated Mexican dining? Then, look no further than the La Hacienda de San Angel located in the Mexico Pavilion.
This restaurant prides itself in serving arguably the best Mexican cuisine you can find in Epcot, and by extension, the whole of Disney World.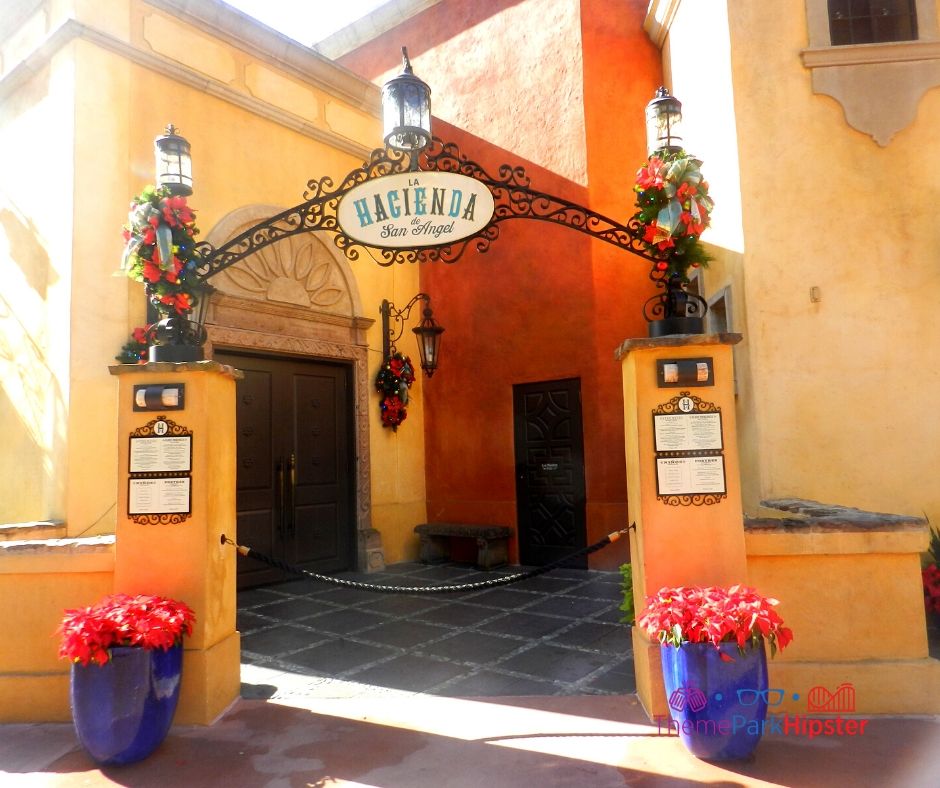 This restaurant offers one of the best views and ambiance you can get in Epcot as it is located on water. Yes, you heard that right; La Hacienda de San Angel sits prettily on the World Showcase Lagoon.
Dining Options
Specialties at this restaurant include chicken, seared meat, Poblano sauce, avocado margaritas, smoked and flavored beef, to mention but a few.
Top Dishes
Flautas, Queso Fundido
Crema de Elote (Cream Corn Soup with spicy Tortilla Strips and Mexican Sour Cream )
Chile Relleno con Camarón (Shrimp and Rice-stuffed Poblano Pepper in a Ranchera Sauce topped with Cotija Cheese)
Pricing
On an average, prices of food and drinks cost between $8 and $60 at this restaurant. You should also know that this restaurant is very good for kids.
Why You Should Visit
The atmosphere is mainly casual, and you will most likely meet a lot of people from all over the world, who are here to enjoy some great Mexican experience.
If the food and people aren't enough to entice you to visit this place, then the spectacular views of World Showcase Lagoon should. Just be sure to book a reservation closer to the fireworks display so that you can cap your dining experience off with an ultimate hitch!
3 – Monsieur Paul
There is something elegant and romantic about French dining, and we can bet this is what you would get by walking through the doors of the Monsieur Paul.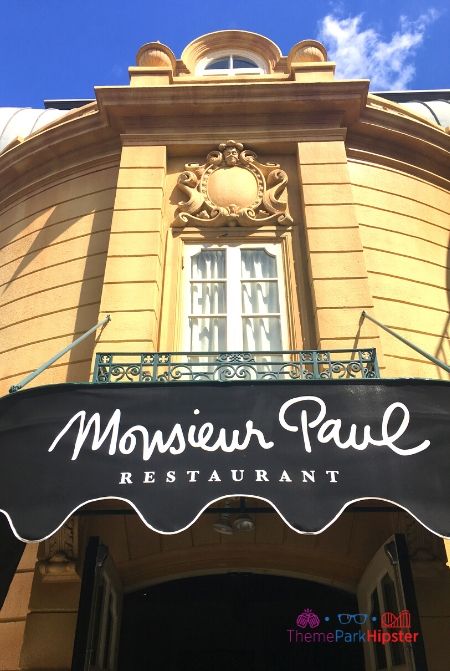 This restaurant is one of the most sophisticated options that you can find in Epcot, and by extension, the entire Walt Disney World.
Regardless of the time you are dining at this restaurant, you can be sure of having an amazing experience.
This restaurant has a chic design and look, just like what you would expect from a French restaurant, and it boasts some of the best wines that are available at Disney World.
The dining admits both adult and kids, and they have offerings for both groups. If you are looking for the perfect dinner date choice at the Disney World, this might be it for you.
In the night, you will be able to enjoy a full view of the colorful Epcot fireworks show from your table at the Monsieur Paul.
Hipster Power Tip: There is a dress code. Men must wear khakis, slacks or dress shorts and collared shirts. Jeans may be worn if in good condition. Sport coats are optional. Women must wear Capri pants, skirts, dresses or dress shorts. Jeans may be worn if in good condition.
Dining Options
Popular cuisines to enjoy at this restaurant include, Soup aux truffles, Homard forestier, Cassolette d'escargots, Ballotine de poulet, Rouget Atlantique, among others.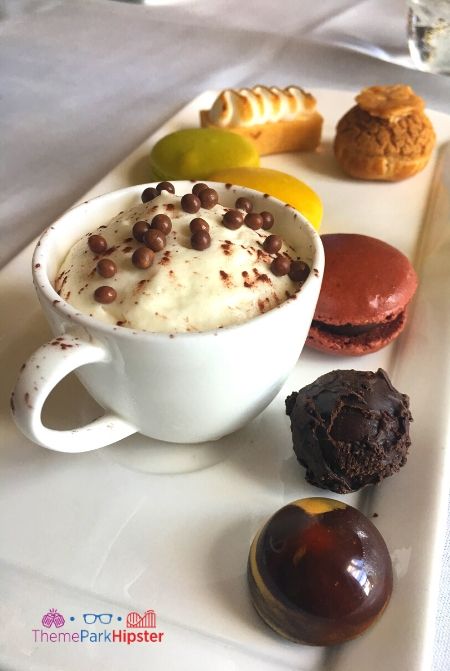 Top Dishes
Escargot Cromesquis
Smoked Fish Assortment
Chicken Breast Terrine
Black Sea Bass
Oxtail Broth
La Sphère
Pricing
In terms of price, Monsieur Paul is not cheap, but it is not one of the most expensive restaurants around too, but you can be sure you'd get value for your money at every visit.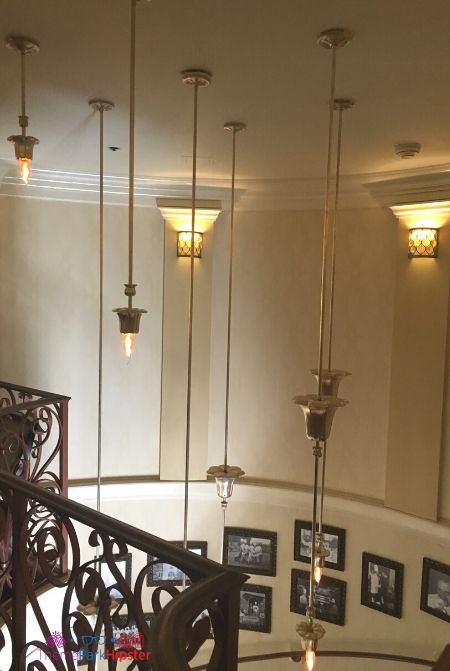 On an average, prices of food and drinks cost between $11 and $119 at this restaurant.
Hipster Power Tip: We recommend dining off of the Prix Fixe Menu as it allows you to taste of a variety of dishes with multiple courses at one set price.
Why You Should Visit
Overall, this restaurant offers a robust combination of great soups, fish, meat, and great French desserts. Plus, you'll enjoy a combination of some of the most amazing French wines you've ever tasted served in an elegant environment.
Read: Is Chefs de France at Epcot Good?
4 – Rose and Crown Dining Room
The Rose and Crown Dining Room is another magnificent Epcot restaurant that makes our top seven picks. This restaurant is located at one of the choice spots at Epcot, and it serves mainly British cuisines.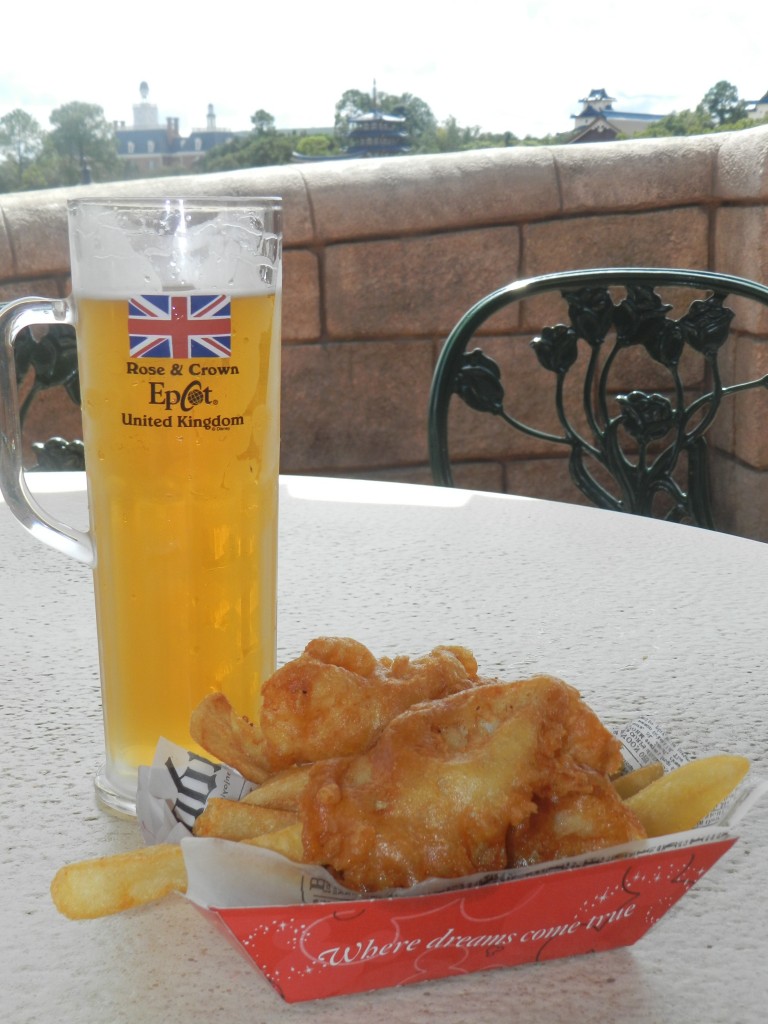 Just as it is expected with everything that has 'crown' affiliated to its name, this restaurant oozes in both royalty and tradition.
This Epcot dining location is divided into three sections: a bar, the indoor area, and the outdoor area where you can sit and have some fun with friends or take in the scenic views of the lagoon on your solo trip.
Dining Options
Some of the signature cuisines at this restaurant include, bangers and chips, the Scotch egg, the Welsh pub burger, shepherd's pie, among others. This restaurant also serves British wines and other popular drinks.
Top Dishes
Fish and Chips
Corned Beef and Cabbage
Chicken Masala Curry
Shepherd's Pie
English Trifle
Pricing
In terms of price, this restaurant offers one of the most affordable prices around the Epcot location, with prices of foods and drinks ranging between $10 and $50.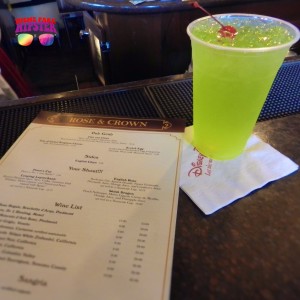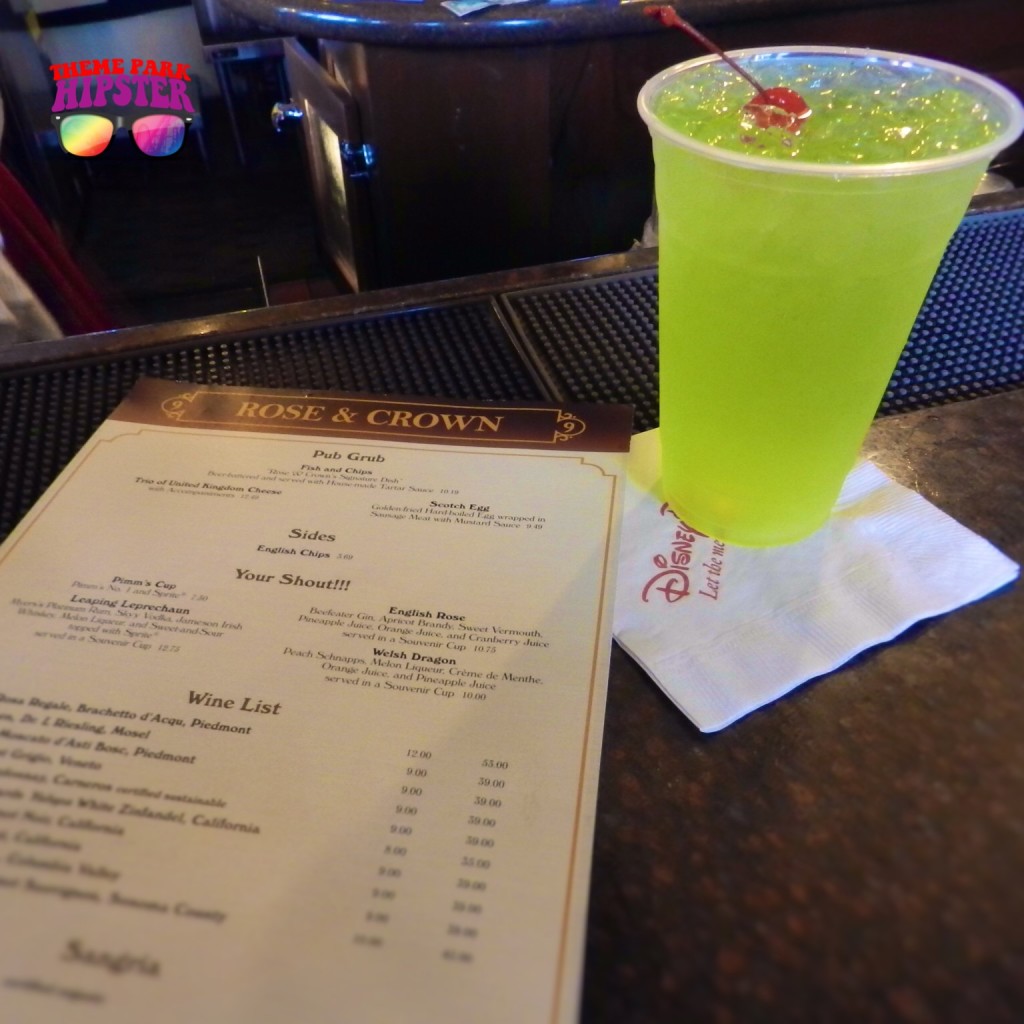 Why You Should Visit
Since it is located around water, this dining offers great ambiance, and the service experience is top-notch.
5 – Spice Road Table
If you are looking for something that offers intercontinental dishes, then one of the first options you might want to consider is the Spice Road Table.
The Spice Road Table brings a new flavor to Epcot. Its wonderful waterfront views and spacious eating area for both outdoor and indoor dining make it one of my favorite Epcot restaraunts.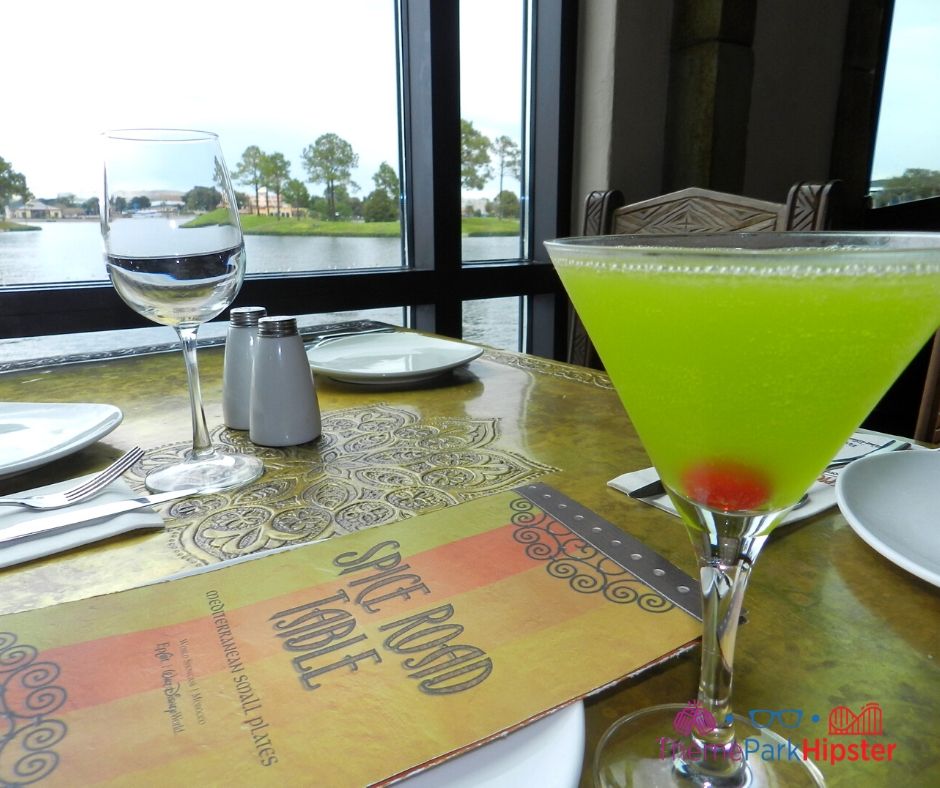 If you have never visited this restaurant, the initial warmness and welcoming feeling you get on your first visit will keep you coming back. The Cast Members are so friendly and love sharing information about their country to you.
Just ask…
…I promise they will be happy to have a conversation with you. Especially if your on your solo Disney trip.
Dining Options
This restaurant serves mainly Moroccan meals and drinks, but it is popular across board with many Disney Guests.
Some of their best offerings include: hummus fries, fish croquettes, shrimps, fried calamari, sangria, mix grew skewers, among others.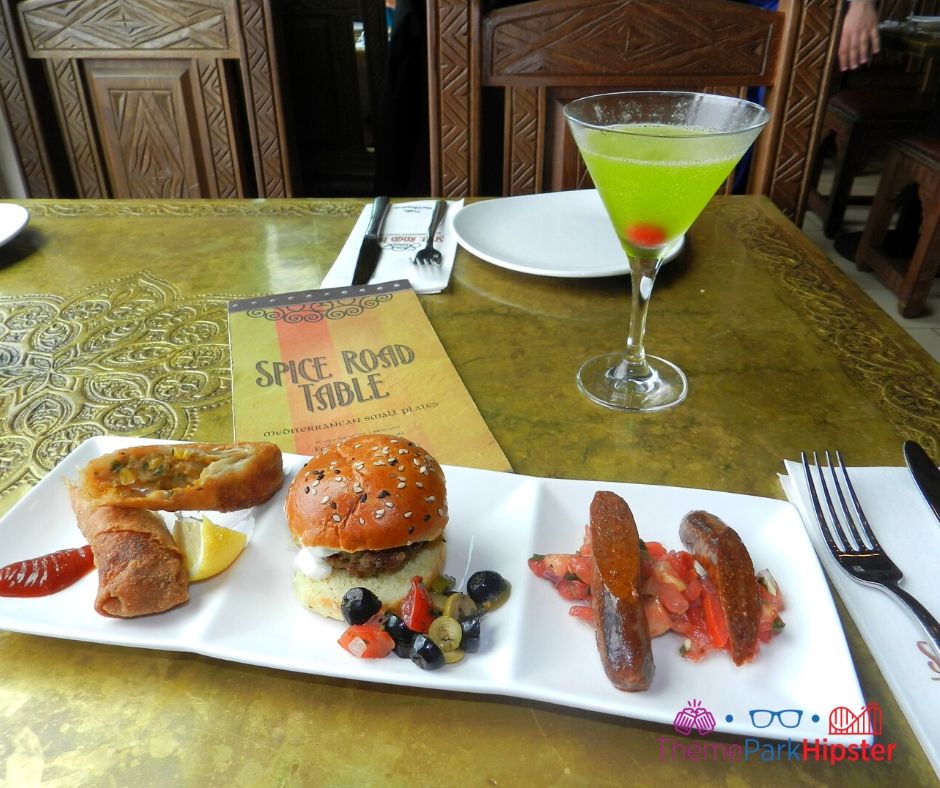 Top Dishes
Meditterenian Vegetable Platter
Lamb Sliders
NY Strip Steak
Mix Grill Skewers
Yellowfin Tuna
Corian Spicy Garlic Shrimp
Moroccan Lamb Sausage
Hummus Fries
Fried Calamari
Harissa Chicken Roll
Andalusian Nights
Cyprus Sun
Pricing
Prices of meals and drinks differ depending on what you are going for, but their offerings are affordable. For instance, the small plates start around $10, while entrees can go for as low as $23.
Why You Should Visit
Spice Road Table uses a unique blend of cultures to properly decorate inside the restaurant. You will find artifacts, prints, and replicas of relics from Africa, Asia, and Europe.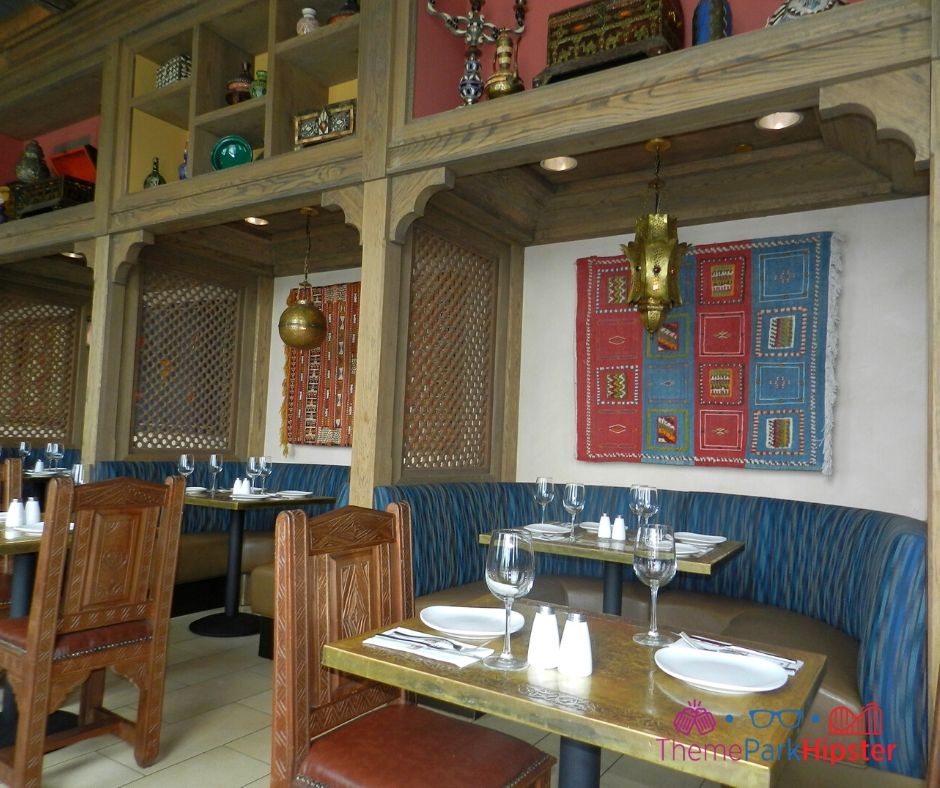 One of the attributes that contributes to the popularity of Spice Road Table is the amazing view of World Showcase Lagoon.
Your experience at this dining would be much better if you can secure a table beside a window or outside, as it allows you to take in all the amazing views surrounding this classic restaurant.
Read: Solo Dining: Tips for Eating Alone at Disney World
6 – Takumi Tei
As you walk through Takumi Tei, you'll notice the natural beauty of Japan infused everywhere inside of the table service restaurant.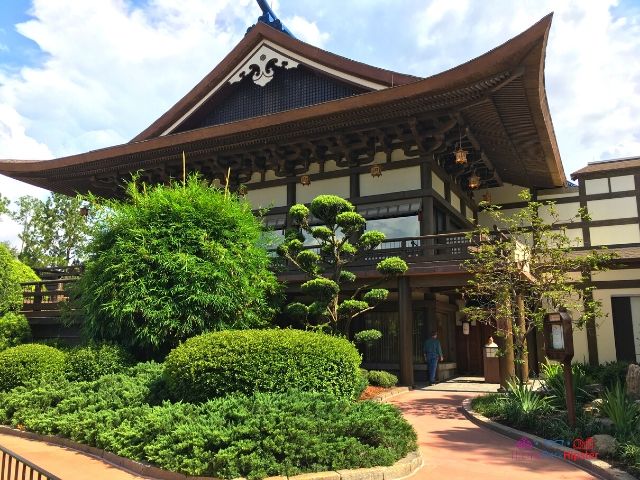 Once you are guided to your seat, you'll be immediately placed into a peaceful state-of-mind as you observe the mixture of nature and artistic craftsmanship of the world presented.
Dining Options
Takumi Tei offers a wide range of Japanese dishes and drinks that would leave you asking for more.
Some of their signature meals include, Wagyu steak, Ochakuze sea bass, Wagyu beef, and Sea beans. This restaurant also boasts of some impressive Japanese beer and whisky.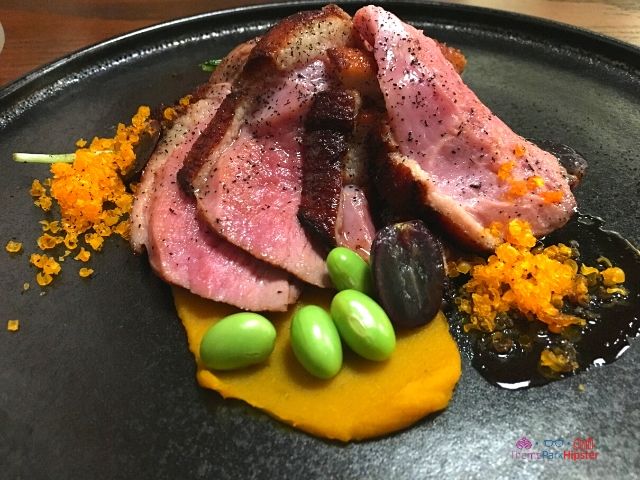 Top Dishes
Kinoko Dashi (Mushroom Broth, Baby Shiitake, White Rice, Furikake)
Takumi Gyuniku – Artisan Beef
Ochazuke – Misoyaki Sea Bass
Kamo – Marinated Duck
Kami (Roku Gin, Sayuri 'White Lilly' Nigori Sake, Calipco, Lychee)
Pricing
I will say it is very pricey. You can expect to spend about $65 to $100 per person. So, keep that in mind when planning your day at the park.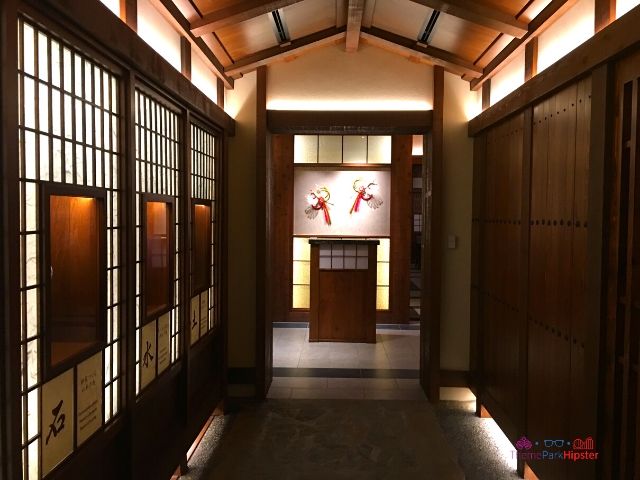 Why You Should Visit
You'll be pleasantly welcomed by the ambiance and décor as you walk in the doors. You'll also notice that the entry hall lined with the 5 elements that Takumi Tei is based on.
They are:
Water
Wood
Earth
Stone
Washi Paper
The décor is simple, but sophisticated. Which is something you don't see in theme park dining locations.
7 – Tutto Italia Ristorante
There is something so unique about a good old Italian dinner. If you are one of those who are mesmerized by the great choices of foods and drinks offered at any Italian restaurant, Tutto Italia Ristorante should be your choice spot at Epcot.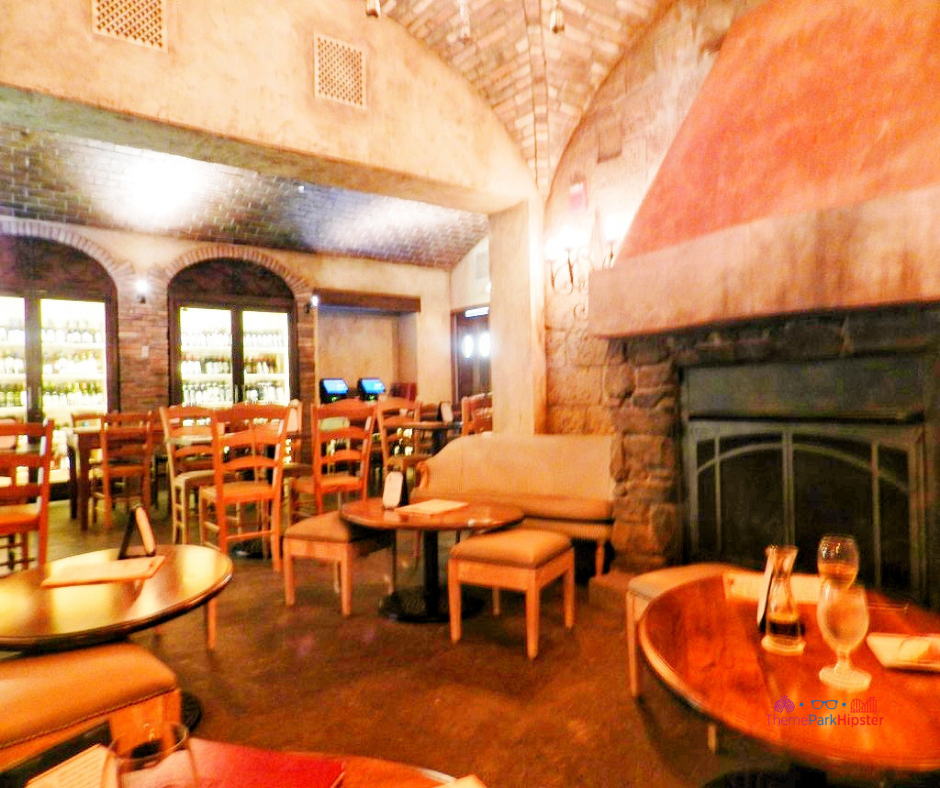 This restaurant offers everything you would need, from entrees, desserts, wines, beers, drinks, soups, meat and fish, and their offers are available to both the young and the old.
Tutto Italia Ristorante is designed like a classic Italian restaurant, with Italian murals, vintage woods, retro designs and decors very visible within the restaurant.
Dining Options
Some of their signature meals include, burrata cheese, potato dumplings, penne pasta, ricotta, shrimp scampi, spaghetti, and pork meatballs.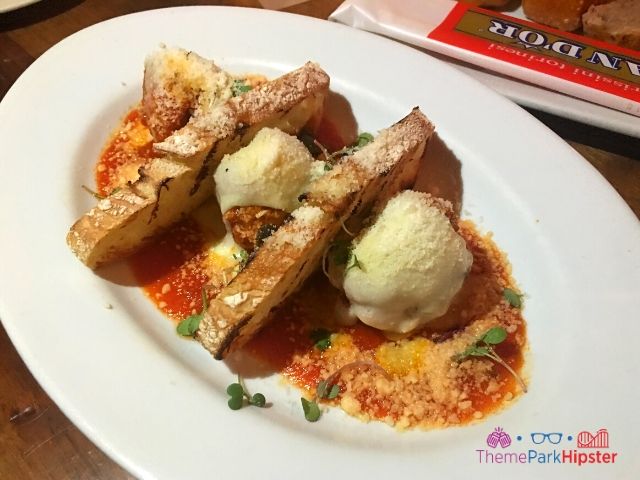 Top Dishes
Lasagna alla Bolognese
Tortellini Panna e Prosciutto
Involtino di Pollo (Stuffed chicken breast)
Gnocchi Sorrentina
Italian Margarita
Italian Martini
Cannoli
Mocha Tiramisu
Pricing
In terms of price, this restaurant offers one of the most affordable prices around the Epcot location, with prices of foods and drinks ranging between $10 and $36.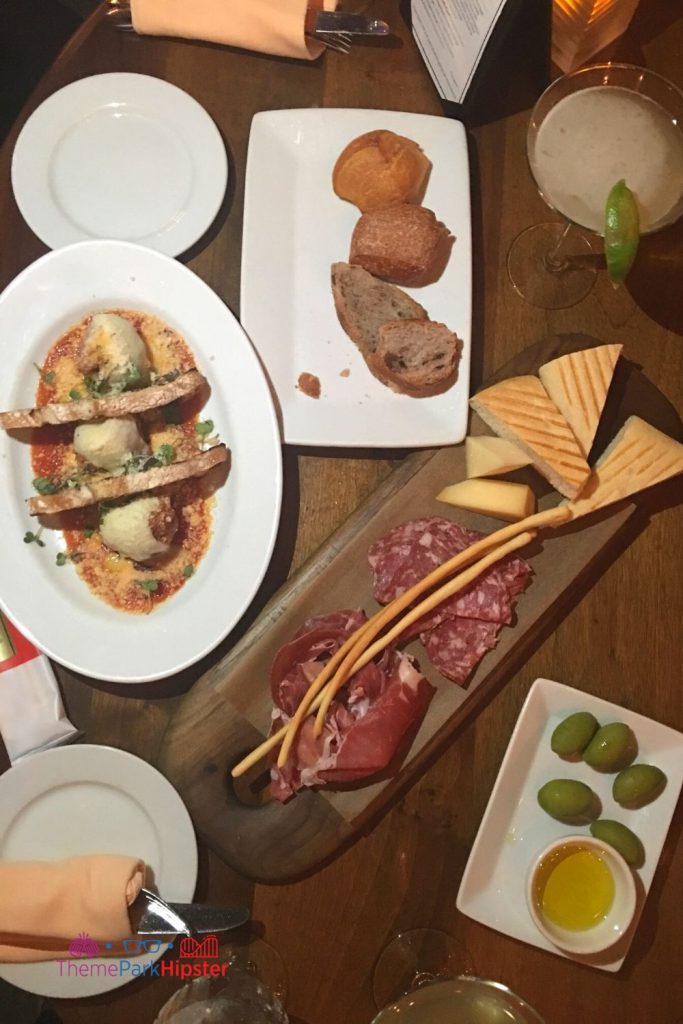 Why You Should Visit
Without a doubt, the ambiance is amazing, and the service is as good as you can come across anywhere else.
This restaurant would be a good choice for a romantic dinner with your partner while you are at Disney World.
Read: 21 Best Drinks in Epcot – Your Cheat Guide
Final Thoughts
Once you have decided to pay a visit to the Walt Disney World, one of the most important things you must do is to plan for the restaurant you would be using while on the trip.
Adding one these best Epcot restaurants should make your trip one to remember.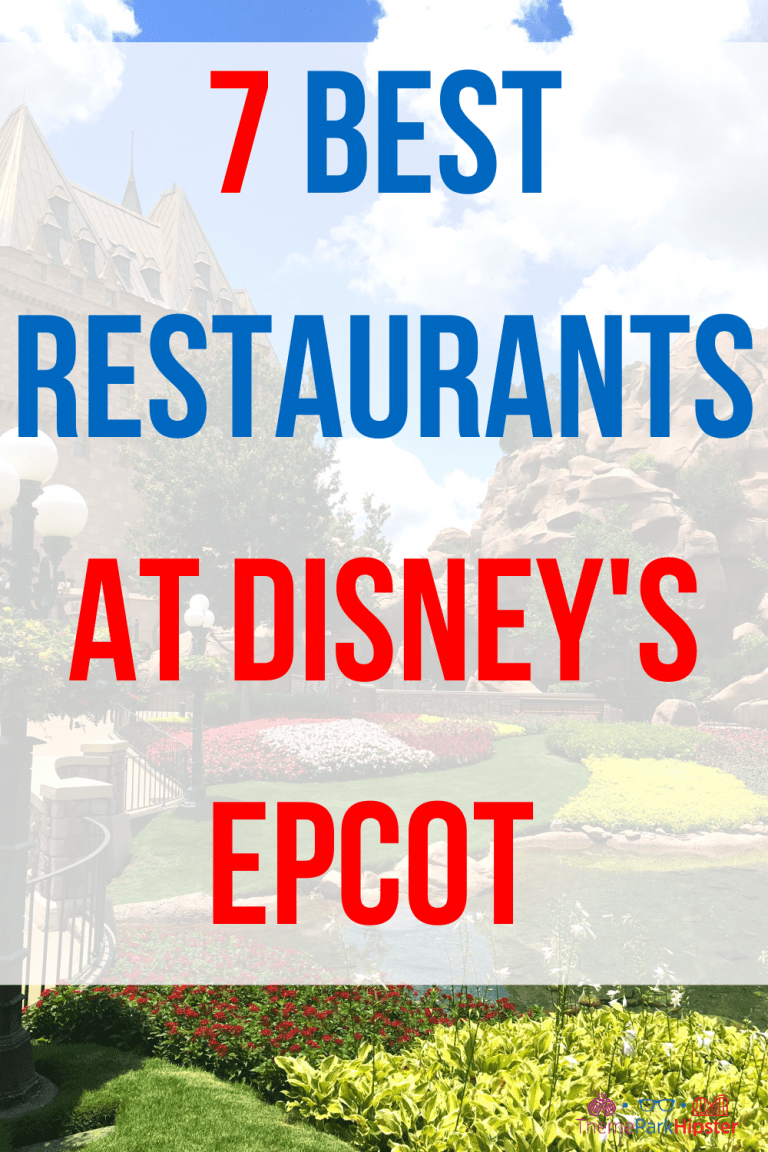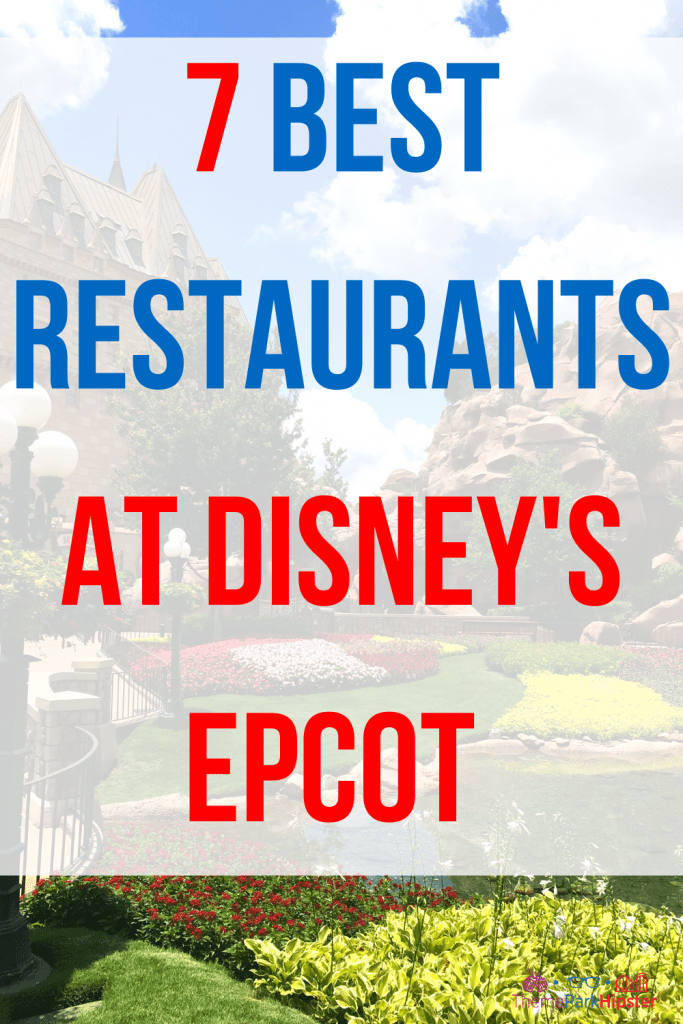 Which restaurant is you favorite? Let us know in the comments section below.
Until next time, Happy Park Hopping Hipsters!
UP NEXT: Around the World in One Day: The EPCOT Pavilion Experience!