Do you know when are the slowest times at Disney World?
Disney World is one of the most iconic travel destinations in the world, with its charm drawing millions of visitors from all corners of the world.
The staple of the resort, the Magic Kingdom, records an average of fifty eight (58) million Guests annually, making it the most visited theme park in the world.
People of all races, religion, and color have been captivated by the allure, wonders, magic, fantasy and adventure that Disney World has to offer. So much so that there is certainly no down time in the Disney World.
The resort is so full of life and fun, that you will undoubtedly basks in all the childlike pleasures from it.
THIS POST MAY CONTAIN AFFILIATE LINKS. PLEASE READ MY DISCLOSURE FOR MORE INFO. Which means if you click on certain links, I may receive a small commission at no additional charge to you.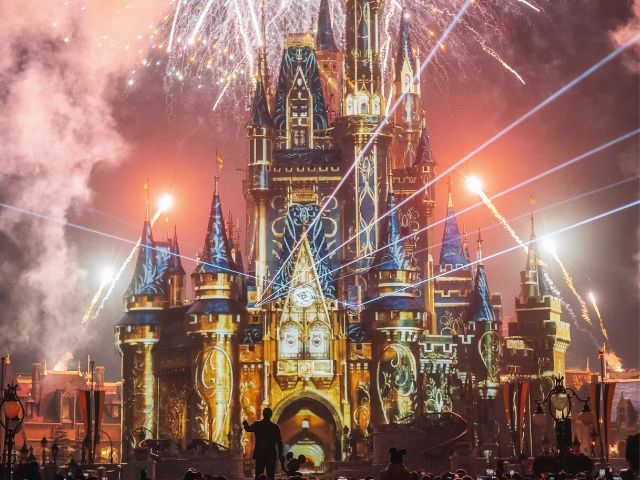 Why You Need to Be Thinking About the Best Time to Visit Disney
Because of the popularity of Disney World, it is safe to say that you can't really count yourself fulfilled as a tourist if you haven't been to this center of marvel yet.
As great and fun as Disney is, every serious Guest would still want to draw up a plan to cover for the next trip.
The last thing you would want happening to you as a Disney Guest is to be caught unawares or hung out to dry while on your trip due to the crazy crowd.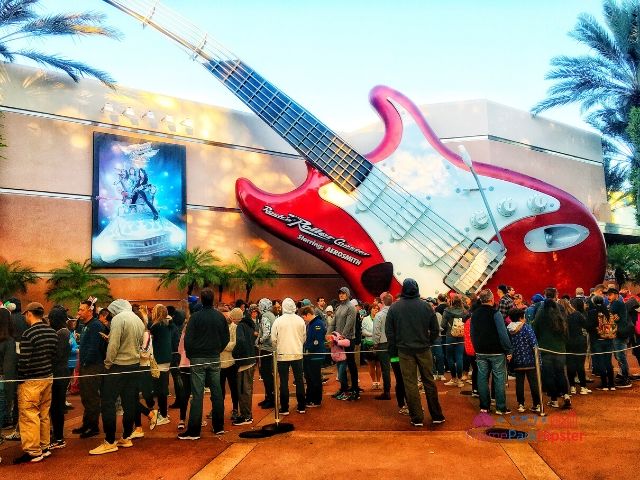 Your goal should be to go out there and have fun, and the only thing that would help you to achieve that is a proper planning of your tour before even stepping out.
If you are a Guest with an intention to visit Disney World anytime soon, then you are reading this guide just in time!
Have a DIFFERENT kind of Orlando vacation with a Resort home next to Disney World. Find Your Disney Resort Vacation Rental here!
What are the Slowest Times at Disney World?
Over the years, Disney has made sure its parks are not overcrowded through some amazing planning and management. This means that you will still enjoy your time in Disney World regardless of the time you visit.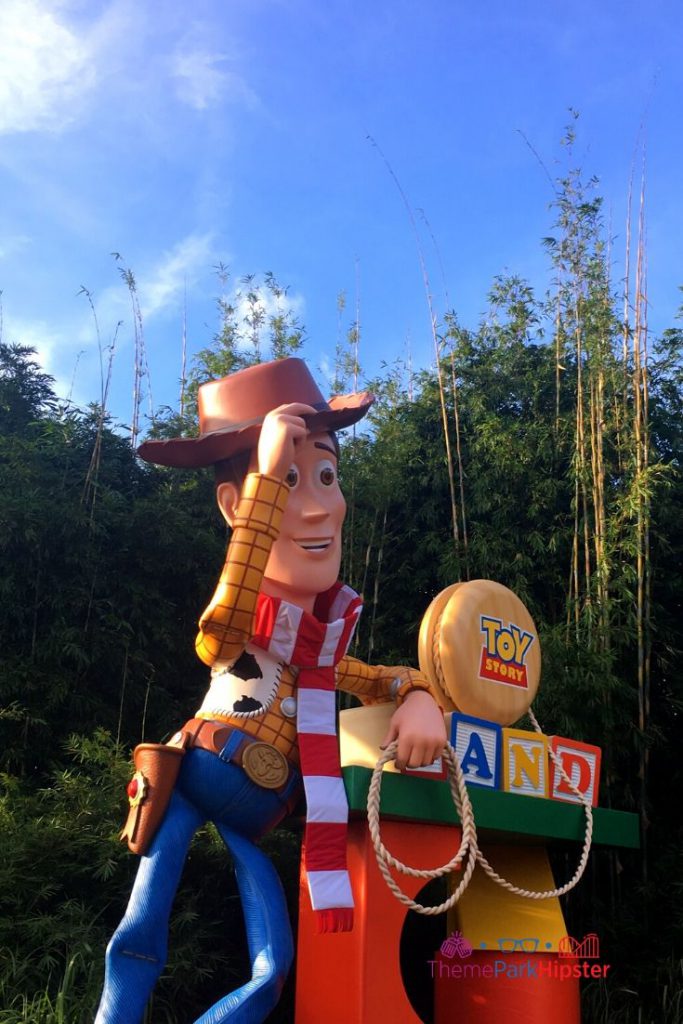 Now, in spite of all this, there is no denying the fact that the resort is becoming a lot busier despite your planning to visit Disney during the slowest days when compared to the crowds of the previous years.
Busiest Times to Visit Disney World:
School and National Holidays
Periods of Special Events in the Disney World (like runDisney or an Epcot Festival)
Weekends
Summer Breaks
Spring Breaks
During these periods, the Disney World is likely going to be very busy, and you are advised to plan your vacation accordingly in other to get the best experience out of your day.
What Time of the Year is Disney World Least Crowded?
Like we said earlier, great planning and management over the years has meant that the Disney World is always alive and kicking every time you visit.
However, there are still some times that are not as bust and crowded as the others.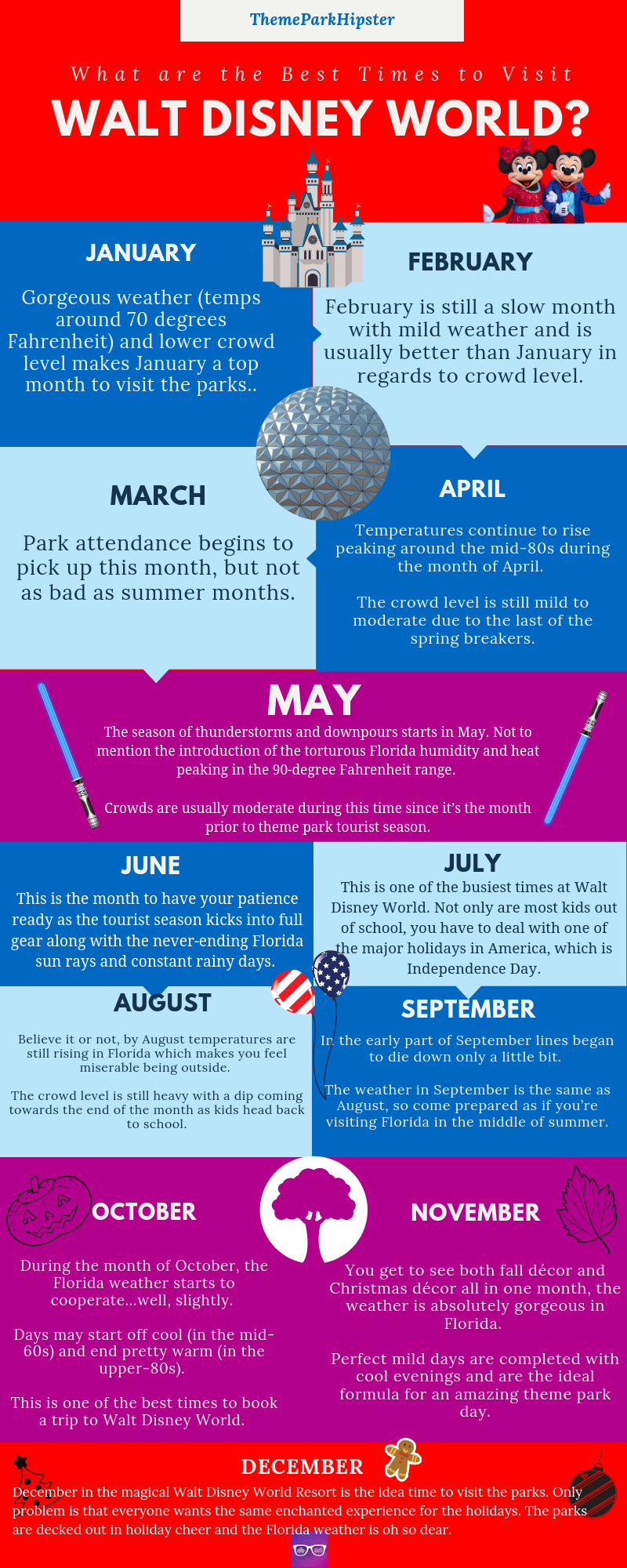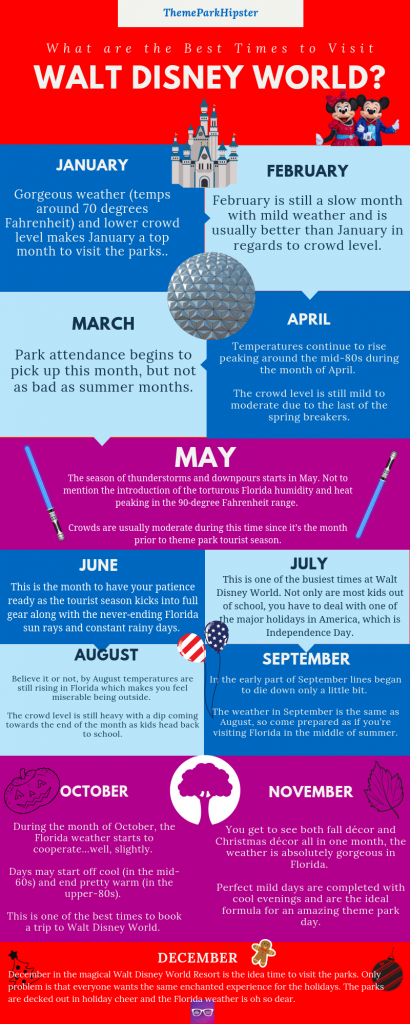 There are a lot of factors responsible for this, and some of them have a direct correlation with the availability of people at different points in the year.
For instance, you can't compare the number of Disney Park Guests in the cold winter months to the numbers that would be visiting in the summer when the weather is favorable and everyone is in the mood to go out to places.
Slowest Days to Visit Disney World
Historically, the Disney World is least crowded around during the days of mid-November to early December. This is the time that a lot of people are focused on the upcoming yuletide season.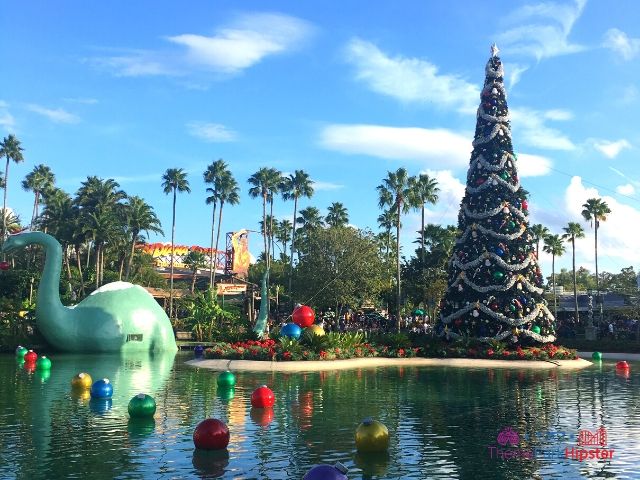 After this period, there is also the period around early September when the schools reopen.
Usually, people go to Disney as a family, and a lot of people would rather focus on getting their kids to school and figuring out preparations for the new academic session, instead of taking their kids to the parks.
Also, this period is still at the tailwind of a brutal Florida summer which would also contribute immensely to the lesser Guests around that time.
What is the Best Month to Go to Disney World?
Disney World attracts tourists from all over the world every single month of the year.
It is safe to say the theme park remains a fun and enjoyable place to be regardless of the month or time of the year you are visiting.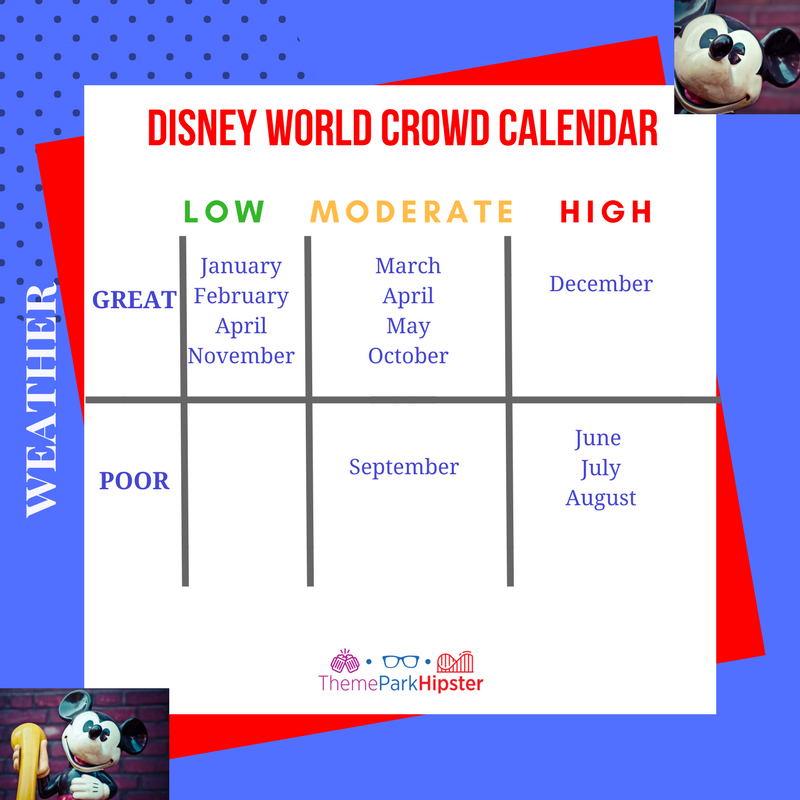 There is also no denying the fact that visiting the Disney World at some particular period in the year could turn out to be much more fun.
Going by the reviews of past Guest experiences and the list of events available at Walt Disney World, we can safely say that the month of December is the best month to visit the Magic Kingdom in terms of the holiday offerings.
Since there are a lot of fun experiences lined up for you to usher in the Christmas season.
During December, you are treated to a wide range of shows and events that make the holidays at the Disney Resort such a wonderful adventure.
Hipster Power Tip: Although December is the best month to visit Walt Disney World, it can also be the busiest time to visit. So, make sure you try to book your vacation during the first two weeks of that month to enjoy the festivities with a lower crowd level.
Do I Need a Disney Fastpass if I Visit Disney During the Slowest Times?
If you do not know, a Disney Fastpass is a service created by Disney to give you easier and faster access to the top-notch attractions while on your vacation.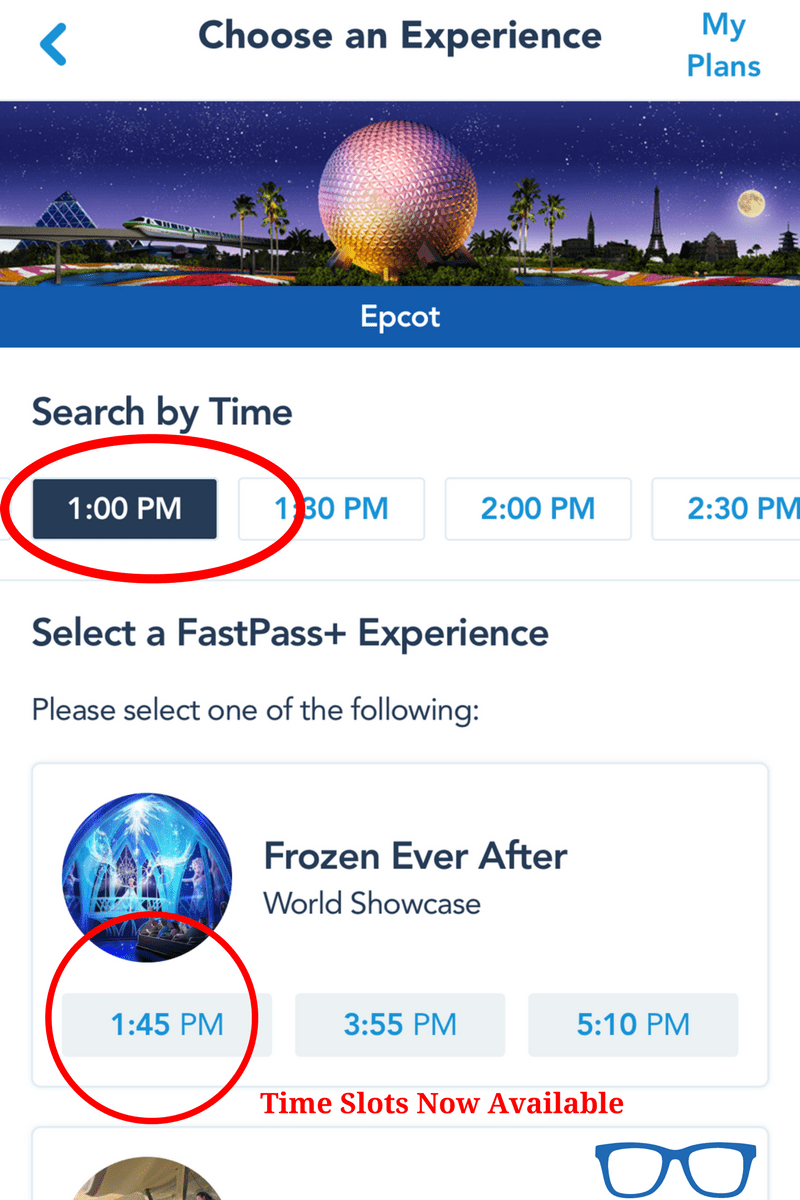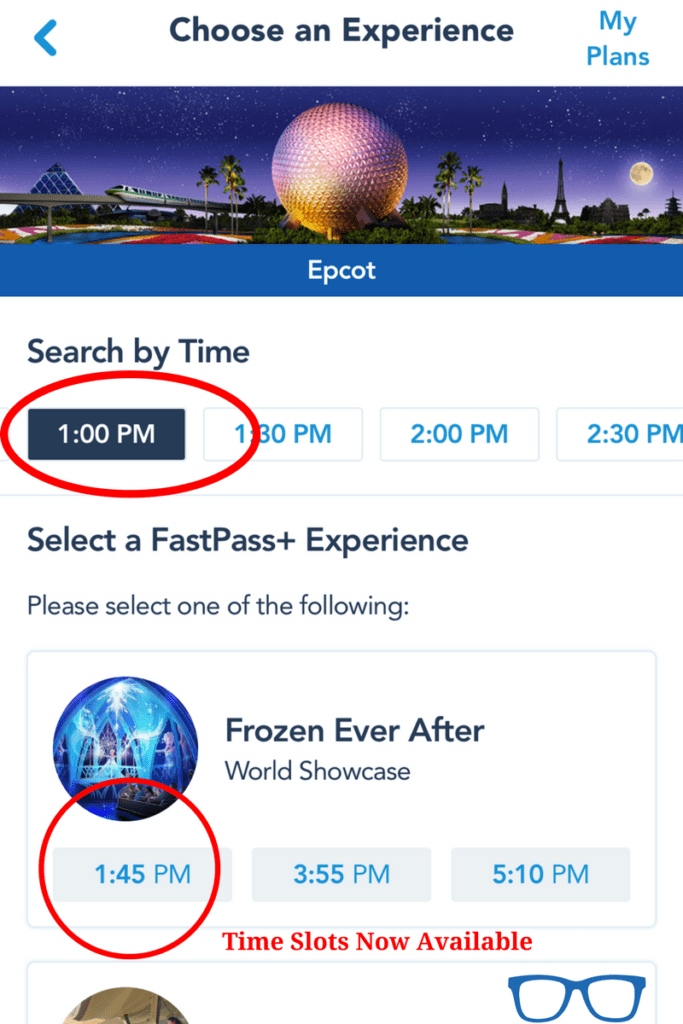 During the slow times, it is a fact that you may still end up waiting a little bit longer for an attraction. Sometimes, this wait may take a considerable amount of time, which could be tiring and discouraging on your trip.
I recommend getting your FastPasses together no matter when you go. Even if it's during a slower time at the parks.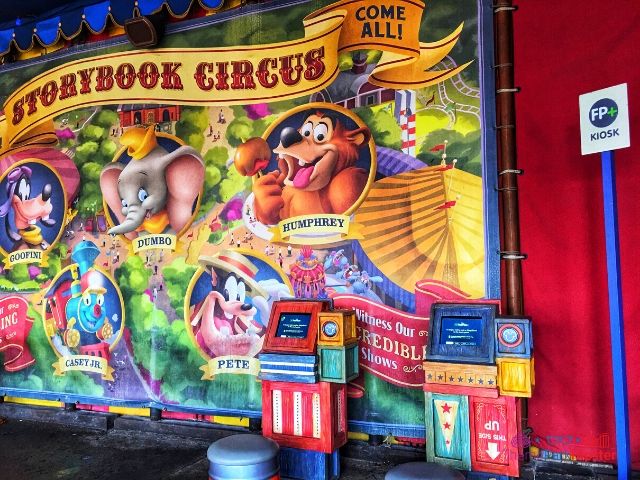 This will guarentee that you will get to enjoy your must do rides at a theme park like the Magic Kingdom. The good thing about it is that you won't even need to pay an extra cost for this service.
Where Do I Find a Disney World Crowd Tracker?
The Disney World Crowd Tracker or calendar is an important tool that we recommend for you if you are visiting any of the four Disney World theme parks.
What the Disney Crowd Tracker does is to help you in determining the likely amount of crowd or attendance that could be expected at the Disney theme parks at a particular day.
Most times, these trackers are capable of helping you to track and predict the number of Guest that could be expected at the parks on many consecutive days.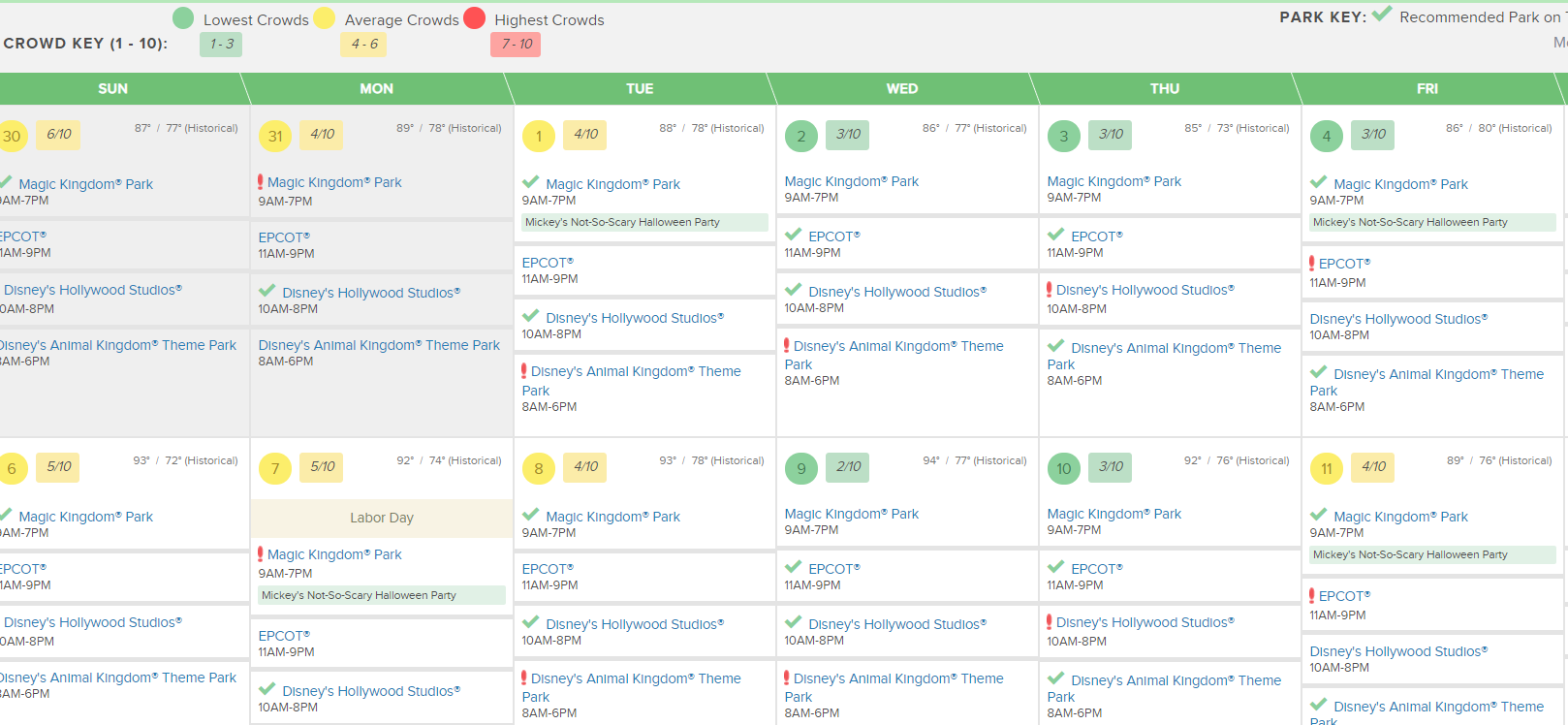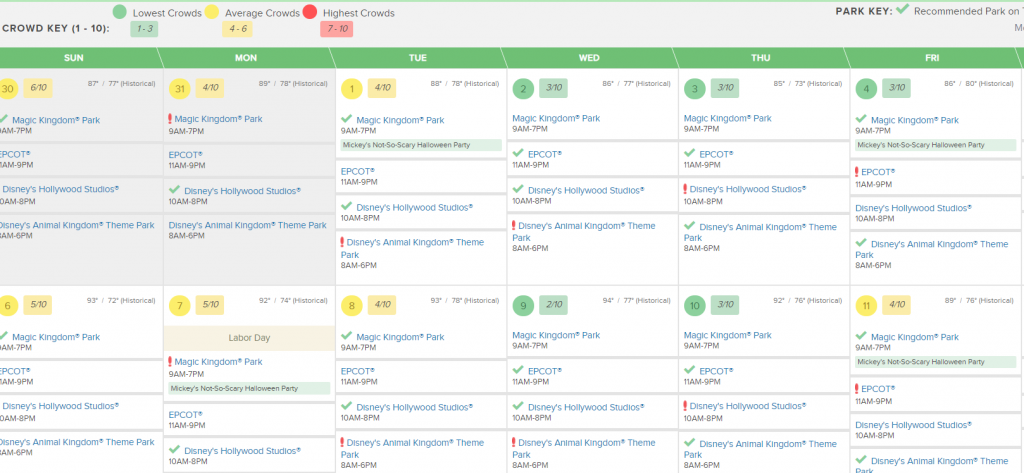 With this information, you will be able to make plans concerning your own tour and pick the likely date that would suit you.
Usually, the Disney Crowd Tracker is available with a number of local tour planners and guides. In some cases, they are free, and in some other cases, you may need to subscribe to their pages or newsletters to get your hands on the trackers.
What is the Worst Time to Visit Disney World?
While we would have to admit that the Disney World is always a sight to behold, offering a lot of wonder and magic along the way, it is also important to say that there are times you may not enjoy a visit to this 'wonderland.'
Especially, if you care about having a serene environment where people can at least catch their breath, admire things and revel in special moments.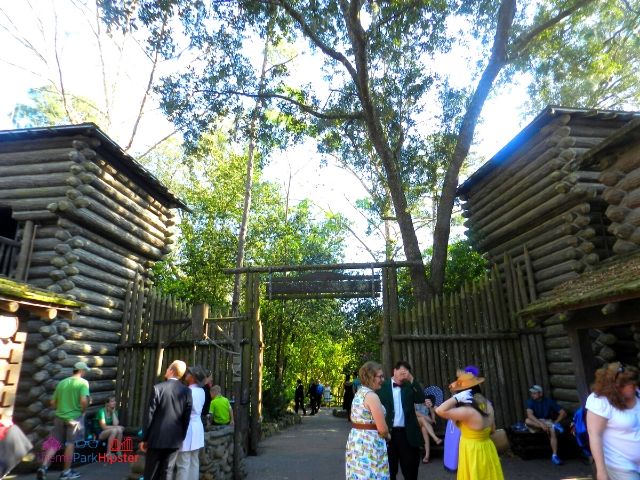 Yes, there are days that you won't be able to do all of those things at Disney and these are the days we call the worst times to visit the Disney World.
Historically, the worst time to visit the Disney World is between December 26th and 31st. These are the days immediately after Christmas and a day to the new calendar year.
There is always an unbelievable number of people in the parks during these five days that it turns out to be a lot crazy. It's always a rush, and at times you would have to think the Disney World would be permanently cancelled after those days.
If you can, avoid visiting the Disney World within those days, as you may not like the experience.
Hipster Power Tip: Independence Day is a close runner up to the Christmas holiday. These are the times you must avoid at Disney if you want to miss out on the crowds.
15 Easy Tips and Strategies to Help You Plan Your Disney Vacation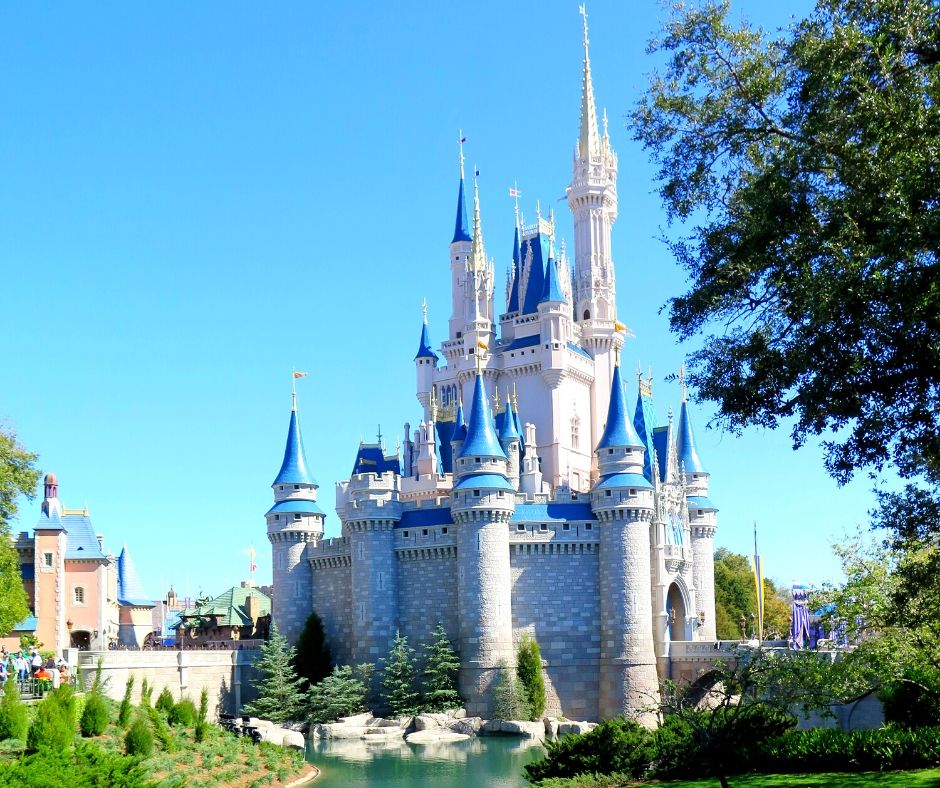 If you are planning a visit Disney anytime soon, we have come up with some tips and strategies just for you!
Choose a tour date that would be favorable to you and reach out to an Authorized Disney Vacation Planner to make your bookings.
After securing a date, you should continue by making reservations for accommodations. There are lots of hotels at Disney that you can make use of, but you can save a significant amount of money by choosing one of the Vacation Home Resorts around the theme parks.
Buy your tickets ahead of your trip dates, as this would most likely save you some costs.
Read up about free offers available at Disney before your tour dates and take up the opportunities when you arrive.
Make plans for your meals ahead of your visit. You'll know the hotels or restaurants that serve your favorite foods even before you arrive.
Pack comfortable, breathable clothing. There are fun activities at Disney and you will need to walk around a lot of the time.
Play around with the Disney app. This will make your experience a lot easier since you'll be comfortable navigating the resort app.
Subscribe to our Disney Planning List. Receive tips that will help you plan your upcoming vacation and will help make it a lot easier for you.
Understand the Crowd Calendars and use to use them.
Don't go over your budget while at Disney World.
Explore Disney deals and other promo offers.
Book your FastPasses ahead of time.
Make sure you take advantage of Extra Magic Hours.
Don't pay for water as every quick service restaurant has a free cup of water to offer you.
Go to Disney Solo and see what it feels like to explore the resort alone.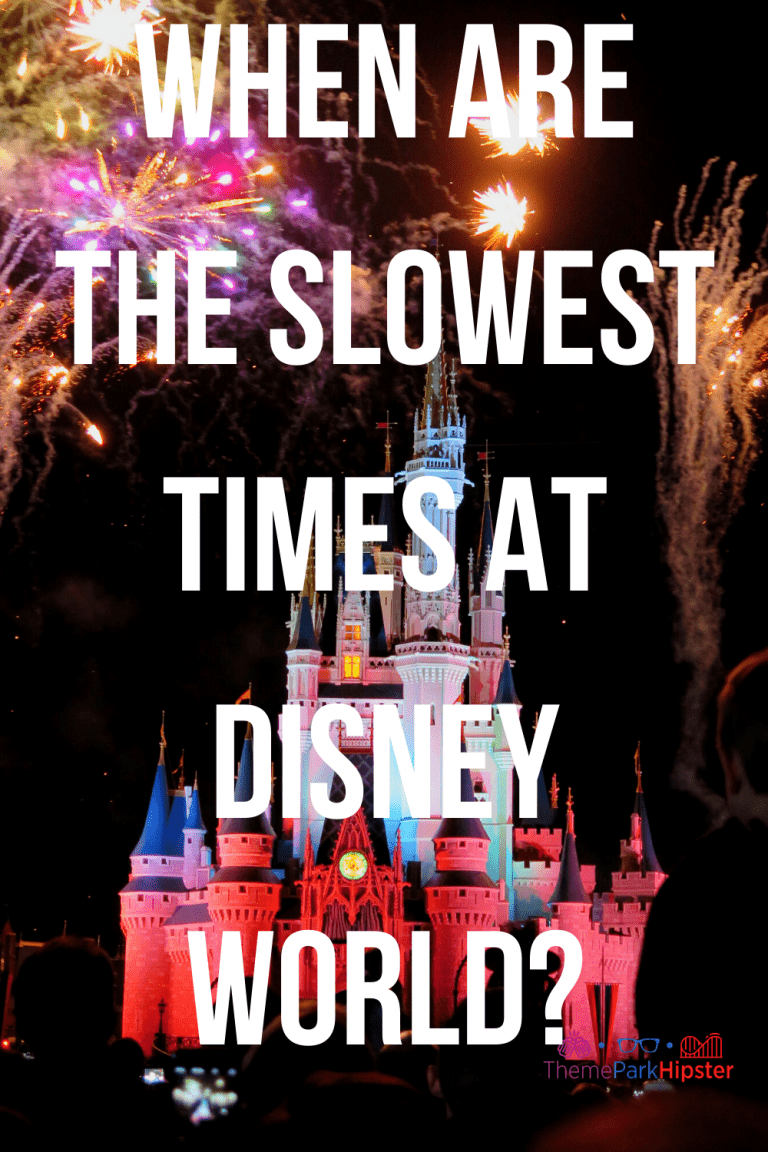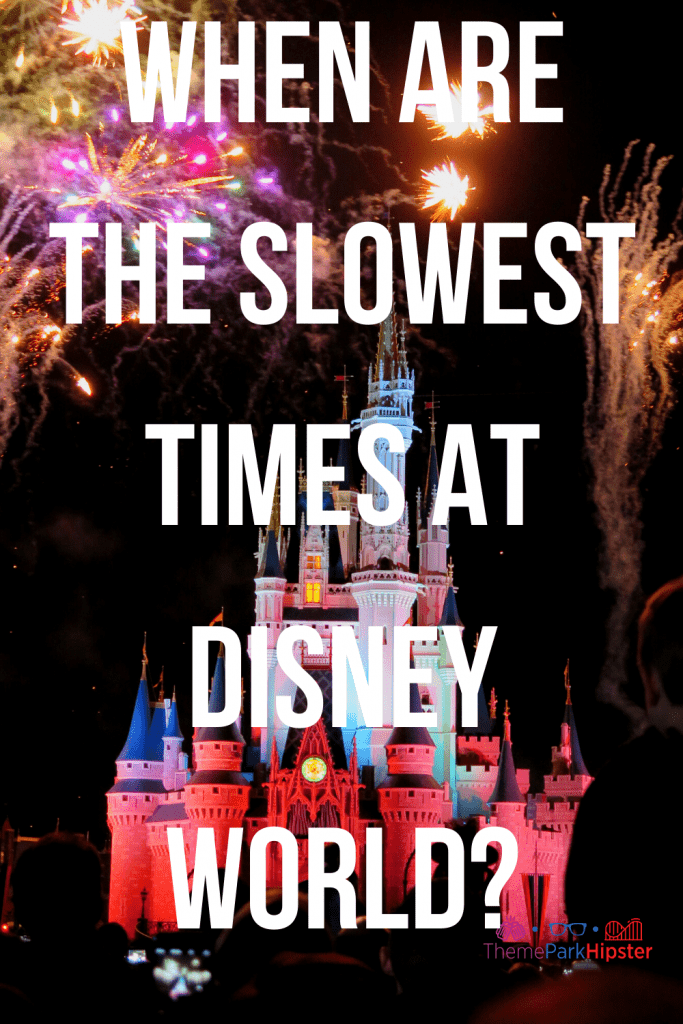 Final Thoughts
A trip to Disney World could turn out to be the most memorable experience of your lifetime. But, it could also turn out to be a miserable experience if you do not plan it well.
We hope the information in this article will help you to plan your vacation properly at Walt Disney World.
Until next time, Happy Park Hopping Hipster!
Planning a trip soon? If so, read the Disney Vacation Planning Guide for your next dream trip!