Are you wondering if you should you go to Mickey's Very Merry Christmas Party this year?
Some of us live Halloween 24/7 (plus 365 days a year) and that's totally cool! But for most of us, when the clock strikes midnight on October 31st, we know what's about to happen.
As soon as the last Guests leave the beloved last Halloween party of the year, Disney Magic touches the kingdom.
Overnight, Main Street U.S.A. becomes decked out in Christmas holiday cheer!
THIS POST MAY CONTAIN AFFILIATE LINKS. PLEASE READ MY DISCLOSURE FOR MORE INFO. Which means if you click on certain links, I may receive a small commission at no additional charge to you.
Why We Love Christmas at Walt Disney World
Garlands and trees go up and you can hear the trolley kids come down the street singing and dancing to holiday classics.
The Dapper Dans crank out holiday puns and songs and treats can be found at the confectionary and all across the parks.
Hollywood Studios follows up with vintage holiday style and décor all over their parks while Epcot celebrates holidays all over the world as well as Hanukah and Kwanzaa.
Animal Kingdom brings out adorable animal puppets to interact with guests entering discovery island to spread some cheer.
With that being said, let's talk about what Mickey's Very Merry Christmas Party will feature and offer to visiting guests during the Walt Disney World 50th anniversary season:
Prices, Dates and Hours
What's Offered to You for the Holiday Party
Tips for Mickey's Very Merry Christmas Party
Is it Worth Going to Mickey's Very Merry Christmas Party?
Let's hop in that sleigh and take a ride through the ins and outs of this festive party!
Ready to plan your theme park trip? Watch the best vacation planning tips on YouTube. Get started here!
Prices, Dates and Hours for Mickey's Very Merry Christmas Party
Before we dive into the good stuff, we might as well get the informative stuff out of the way.
Mickey's Very Merry Christmas Party Tickets and Dates:
Tickets for Mickey's Very Merry Christmas Party are limited and can be purchased on the Walt Disney World website with prices ranging from $149 – $199 per person.
When is Mickey's Very Merry Christmas Party 2022?
November: 8, 10, 11, 14, 15, 17, 18, 20, 22, 27, 29
December: 1, 2, 4, 6, 8, 9, 11, 13, 15, 16, 18, 20, 22
Get Your Disney Very Merriest Tickets here!
what time does mickey's very merry Christmas party start?
The hours for Mickey's Very Merry Christmas Party is similar to Mickey's Not-So Scary Halloween Party starting at 7 p.m. and lasting until 12 a.m. for a total of five hours of holiday merriment for you to enjoy.
With this, you can enter as early as 4 p.m. which allows you to enjoy some of the park activities, including a viewing of the new and upcoming nighttime spectacular, Enchantment.
Hipster Power Tip: Wait until after December 22nd 2022 to catch the Christmas Parade and Holiday Fireworks without having to be a part of the "Mickey's Very Merry Christmas Party " event.
9 Fun Things to Do at Mickey's Very Merry Christmas Party
We got the price tag, dates and hours out of the way and now it's time to get to the good stuff!
With this party, you get to experience incredible adventures that place you deep in the holiday magic such as:
Fantastic entertainment
Delicious treats
Divine and festive décor that you have come to know and love with Disney over the years
Ready to plan your theme park trip? Watch the best vacation planning tips on YouTube. Get started here!
1. Watch Mickey's Once Upon a Christmastime Parade
This year, you will see the return of the cherished "Once Upon a Christmastime" parade.
This is a must-do holiday experience at the Magic Kingdom that features the man himself, Santa Claus, as he joins Mickey Mouse and friends.
Recommended: 10 BEST Magic Kingdom Shows You Have to See!
2. Enjoy Minnie's Wonderful Christmastime Fireworks
The event will mark the return of "Minnie's Wonderful Christmastime Fireworks."
So, be sure to join Minnie Mouse as she creates a dazzling nighttime holiday show in the sky complete with castle projections and holiday songs!
3. Enjoy the Holiday Rides and Attractions
Not only will you be able to spot your favorite Disney characters in various areas of the park, you'll be able to enjoy festive overlays of some classic Disney attractions.
Just like Mickey's Not-So Scary Halloween Party, the Christmas Party upgrades the rides and attraction with a festive overlay.
This year you'll get to experience this on the Jungle Cruise (AKA Jingle Cruise), Space Mountain, Tomorrowland Speedway, Monsters Inc. Laugh Floor and Mad Tea Party.
Speaking of attractions, you can expect those low wait times for select attractions that will be open to guests during the event like Haunted Mansion, Big Thunder Mountain Railroad and Seven Dwarfs Mine Train.
What rides are open during Mickey's Very Merry Christmas Party?
"It's a small world"
Astro Orbiter
Buzz Lightyear's Space Ranger Spin
Dumbo the Flying Elephant
Mad Tea Party
Peter Pan's Flight
Pirates of the Caribbean
Prince Charming Regal Carrousel
Space Mountain
Splash Mountain
The Barnstormer
Magic Carpets of Aladdin
The Many Adventures of Winnie the Pooh
Under the Sea ~ Journey of The Little Mermaid
Keep in mind that this list may change at any time during the event.
4. Play in Snow at Mickey's Very Merry Christmas Party
You can twirl on Main Street U.S.A. as snow magically falls upon you in FLORIDA! It's truly Disney Magic!
5. Use the Holiday PhotoPass Features
Disney PhotoPasses that are holiday themed will be available throughout the park for Mickey's Very Merry Christmas Party.
They will be available for purchase unless you have Memory Maker or are an Annual Passholder with the PhotoPass add-on.
6. Eat ALL of the Holiday Food at Mickey's Very Merry Christmas Party
You can also sink your teeth into ice cream treats, popcorn, select beverages and other special seasonal treats throughout the night to get you into the holiday spirit.
One of my favorite things about this Mickey's Very Merry Christmas Party is all of the free cookies and hot cocoa throughout the Magic Kingdom.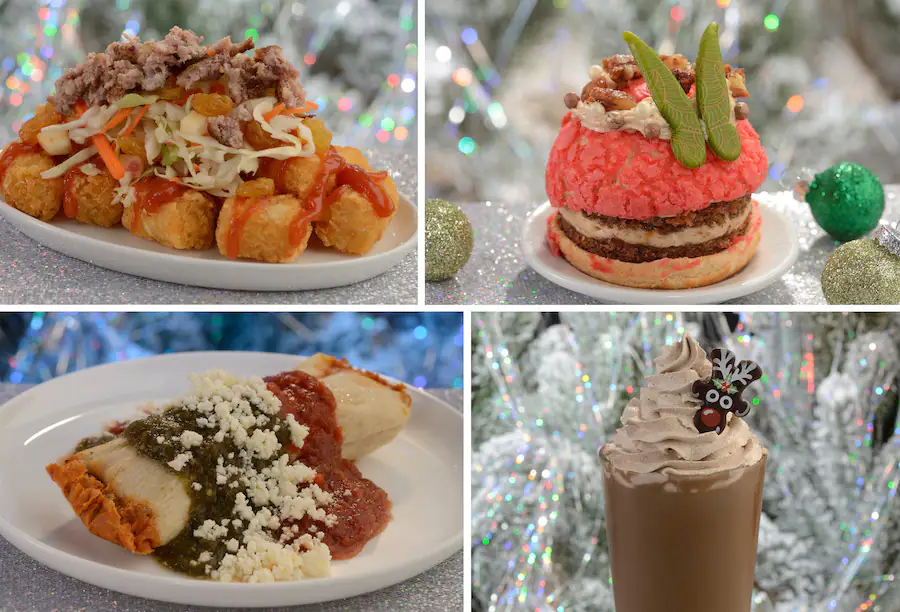 So, have your belly ready to take in the sugary goodness.
Check out more Magic Kingdom holiday treats on this Christmas guide here!
7. Watch Mickey's Most Merriest Celebration
Join Mickey Mouse and his pals as they give you a wonderful holiday show on Cinderella Castle stage for a Christmas spectacular.
As you explore the limited capacity event, you can see specially themed projections, lighting, music and so much more throughout the party!
8. Party It Up at A Totally Tomorrowland Christmas
Don't forget to check out Buzz Lightyear, Mike Wazowski, and Stitch for a fun holiday stage show on the Rockettower Plaza Stage in Tomorrowland.
Your heart will grow 3 times its size when you experience the holiday fun Disney has to offer this year during the 50th anniversary.
9. Get the Best Disney Christmas Merchandise
You know that you can't make a trip out to Mickey's Very Merry Christmas Party without bringing back some of the most festive holiday souvenirs from Disney.
And don't forget to visit Ye Olde Christmas Shoppe is a year-round holiday store located in Liberty Square where you can find some of the coolest Disney Christmas items to gift yourself or someone you love this year.
Ready to start planning your next Disney World vacation? Listen to the latest podcast episode on Apple or on your non-Apple device now!
5 Beginner Tips for Mickey's Very Merry Christmas Party
Now that you have an idea of what to expect at the Magic Kingdom for Christmas, let's go through a few tips to make the most of your time at the party.
1. Make Your Decision Now
One of the biggest tips I could give when considering this event is to not let too much time pass away as you consider attending the event.
If history serves with Mickey's Not-So Scary Halloween Party, tickets will sell fairly quickly.
You will want to think about if you will have time during your visit to squeeze in all of the offerings at the party AND if it's worth the price.
2. Use The Disney App
Take advantage of the My Disney Experience app as it will tell you times for entertainment, where characters will be and wait times for attractions.
Hipster Power Tip: Wanna see the fireworks without a party ticket? Book a reservation at California Grill for amazing views!
3. Get to the Magic Kingdom Early
Start early by getting to the front gates of the Magic Kingdom by 4 p.m. to maximize your time.
Although party officially starts at 7 p.m., you can ride the attractions early and enjoy the Christmas festivities later.
4. Skip the First Christmas Parade
Watch the second parade at Mickey's Very Merry Christmas Party. It's less crowded than the first and towards the end of the night.
This is the perfect way to end your festive journey at Disney World.
5. Get Your FREE Holiday Cookies
Be sure that you make more than one round on the Christmas treat stops where you can get your free milk and cookies throughout the party!
Recommended: Top 10 Christmas Lights in Orlando You MUST See!
Is Mickey's Very Merry Christmas Party Worth It?
Holiday parties are Magic Kingdom have been a staple since 1983 and has spread to the resorts and even Disney Springs.
Even if you can't attend the party, there is so much holiday love all over the resort including the Trail of Trees at Disney Springs or the ornate Gingerbread Houses specially crafted and uniquely themed to the resorts they are in.
In the meantime, get ready for the most wonderful time of the year at Walt Disney World during its 50th anniversary celebration and check out what to expect from the event in my article here!
What is your favorite holiday memory with Disney? Share with us in our Solo Traveler Facebook Group!
Until next time, Happy Park Hopping Hipsters!
About the Author
UP NEXT: Your Perfect Disney Resort Christmas Decorations Tour (and it's FREE)
(Original Article Date: October 11, 2021/Updated by Editor on November 13, 2022)