Can you believe it's already almost that time of year again? Are you looking for some Disney Christmas ears to sport this season?
From snowfall in Disney Springs, to Magic Kingdom's iconic Christmas Tree – that's right Theme Park Hipsters; it's time to start thinking about the most wonderful time of year in the Happiest Place on Earth!
And while you might already have plans for everything you want to do IN the theme parks during the Christmas Season…do you know what you're going to wear TO the parks to show off your holiday spirit?!
Your theme park holiday photo-ops are only as good as your outfits after all, and that's why today we're excited to show you our 12 favorite Disney Christmas ears – so you can go park hopping in holiday style!
And, more than that, you might even find that one of these adorable Disney Christmas ears is just the item that special someone on your Christmas shopping list has been missing!
So, whether you're searching for the perfect Disney accessory for yourself, or a gift to give someone else, search no further!
THIS POST MAY CONTAIN AFFILIATE LINKS. PLEASE READ MY DISCLOSURE FOR MORE INFO. Which means if you click on certain links, I may receive a small commission at no additional charge to you.
My 12 Favorite Disney Christmas Ears for ALL Budgets!
Because these Disney Christmas ears below make for the most magical holiday gift list you ever did see!
1. Ugly Sweater Minnie Mouse Ears
So, you know how in recent years ugly Christmas sweaters have become all the rage?
Well, even the stylish Miss Minnie Mouse is no stranger to that concept, and that's why these authentic ears take the number one spot on our favorite Disney Christmas ears list!
We're sure they'll go great with any sweater, ugly or otherwise! Plus, the fluffy red ears are sure to keep you warm on those chilly Orlando nights.
Rating: 4.7 Stars
Special Features: Authentic Disney Parks Product
Get yours here on Amazon!
2. Minnie Mouse Disney Gingerbread Cookie Ears
Gingerbread cookies, peppermints, and bows...oh my! Those are just a few of the things you can expect from these Disney Christmas ears. And one of my other favorite features?
They are super soft and lightweight; so you'll have no problem wearing them throughout the entirety of your busy, park hopping day!
Plus they're gingerbread-inspired, so you can't go wrong there.
Rating: 4.7 Stars
Special Features: Exclusive Disney Parks holiday ears
Get yours here on Amazon!
3. Pack of Two Holiday Minnie Mouse Ears
Yes Theme Park Hipsters – you did read the title right… Two Minnie mouse ears for the price of one – can you even believe it?!
These Disney Christmas ears are the perfect gift for you and a friend, you and your sister, your granddaughters, twin daughters…you name it, they'll love them!
Especially because each pair compliments the other: one pair has a red sequin bow with a green accent, and the other pair has just the opposite!
Rating: 4.5 Stars
Special Features: Pack of Two!
Get yours here on Amazon!
4. Fuzzy Holiday Minnie Mouse Ears
If you like the "sweater weather" feel of the first Disney Christmas ears on this list, but are more of a muted color person, then these are the ears for you!
A gray and white sweater material make up the bow and headband parts of this headpiece, while black, fluffy ears top off this accessory with some extra texture and warmth!
Rating: 4.7 Stars
Special Features: Authentic Disney Parks Product
Get yours here on Amazon!
5. Disney Park Light Up Minnie Ears
If you believe that the holiday season truly is merry and bright, then these are the Disney Christmas ears for you!
Complete with LED lights, you'll certainly be the life of the party with these bright, glowing ears.
Past fans of these Minnie Disney Christmas ears even comment that these ears draw in LOTS of compliments – so, warning! DO NOT purchase these ears unless you're prepared to be the center of attention!
It's an excellent gift and extremely hard to find…
Rating: 3.5 Stars
Special Features: They ACTUALLY light up! …Need we say more?!
6. Red and Green Glitter Minnie Mouse Ears
I love these Disney Christmas ears because they've got lots of sparkle…Sequins AND glitter to be exact! These handmade ears are every Disney enthusiast's dream.
They're lightweight, bright, and reasonably priced…can we even ask for anything more?!
Rating: 4.2 Stars
Special Features: Other color and design options are also available from this seller
Get yours here on Amazon!
7. Red and Green Sequin Snowflake Minnie Mouse Ears
For those Theme Park Hipsters out there that want to bring their dreams of a "White Christmas" to Disney with them, we recommend these ears!
Not only does this seller have plenty of color combinations and style options to choose from, but they also have a one-of-a-kind snowflake design that is hard to pass up!
Rating: 4.5 Stars
Special Features: An "Amazon's Choice" Product and the seller has so many handcrafted Disney ears to choose from
Get yours here on Amazon!
8. White and Blue Sequin Minnie Mouse Ears
We know so far our list has been inundated with red and green ear options…but what about some Frozen blue?
Well, if you're more of a "Blue Christmas" fan, then we have the perfect Disney Christmas ears for you!
Blue sequined ears, a red sequin bow, and lots of tiny snowflakes make for some adorable ears that are full of Christmas cheer!
Rating: 4.4 Stars
Special Features: Other color and design options are also available from this seller
9. Christmas Tree Minnie Mouse Ears
When we visited our favorite online handmade market, Etsy.com, we were able to find some adorable, reasonably priced Disney Christmas ears too!
This first pair has more of a vintage holiday feel with pastel Christmas trees scattered on a white, fabric background.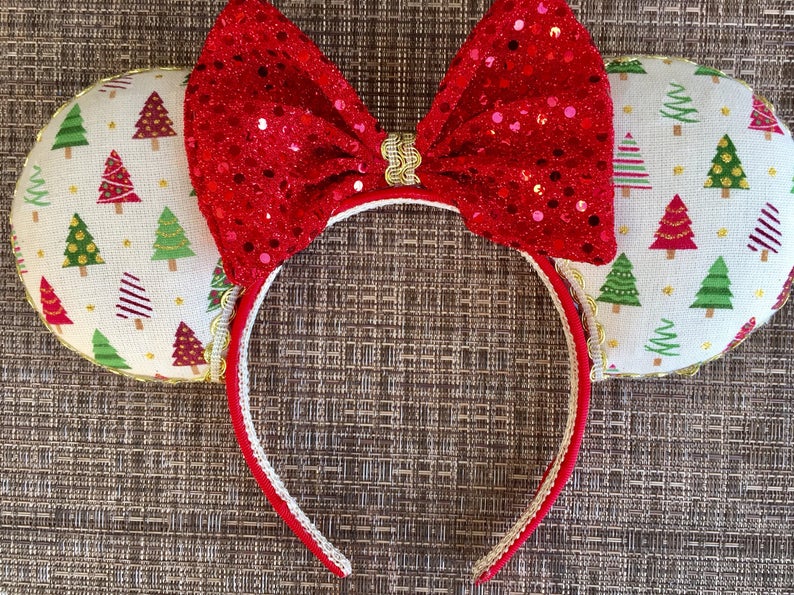 We also love the flecks of gold used in the thread throughout – definitely a more refined pair of Disney Christmas ears for those more understated ThemeParkHipsters.
Hurry, they always sell out fast!
Rating: 5 Stars
Special Features: Custom orders are welcome!
Get yours here on Etsy!
10. Minnie and Mickey Graphic Ears
Double the bows, double the mice, these ears are definitely a statement piece to say the least! We love how the voluminous red sequined bow is framed by another silver one.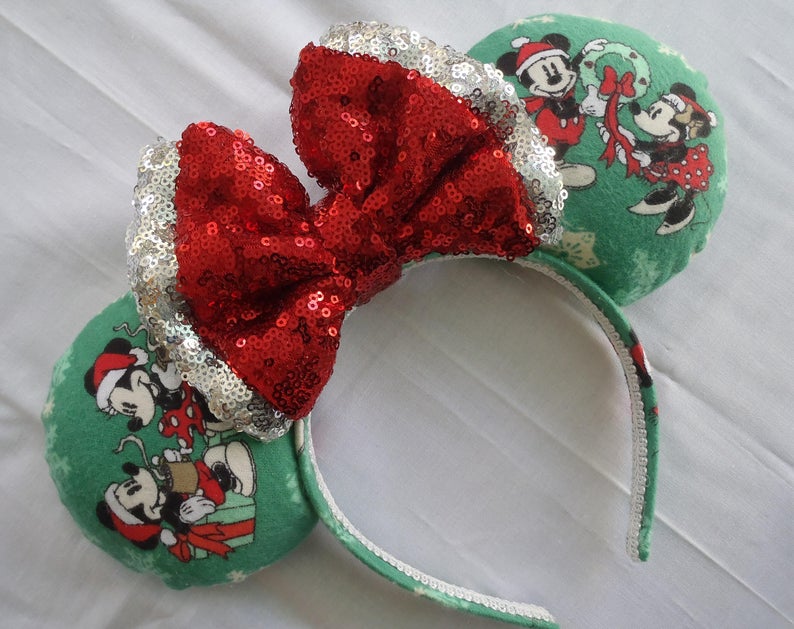 And of course, you can't go wrong with the classic love birds themselves, Mickey and Minnie, making a prominent appearance on both of the ears!
But the best part by far? You can contact this Etsy shop seller to substitute out any trim or bow for ones you would prefer!
Rating: 5 Stars
Special Features: Customizable!
Get yours here on Etsy!
11. Peppermint Candy Minnie Mouse Ears
If you've got a sweet tooth, then you MUST purchase these adorable Disney Christmas ears. The glittery peppermint swirl pattern of these ears look good enough to eat!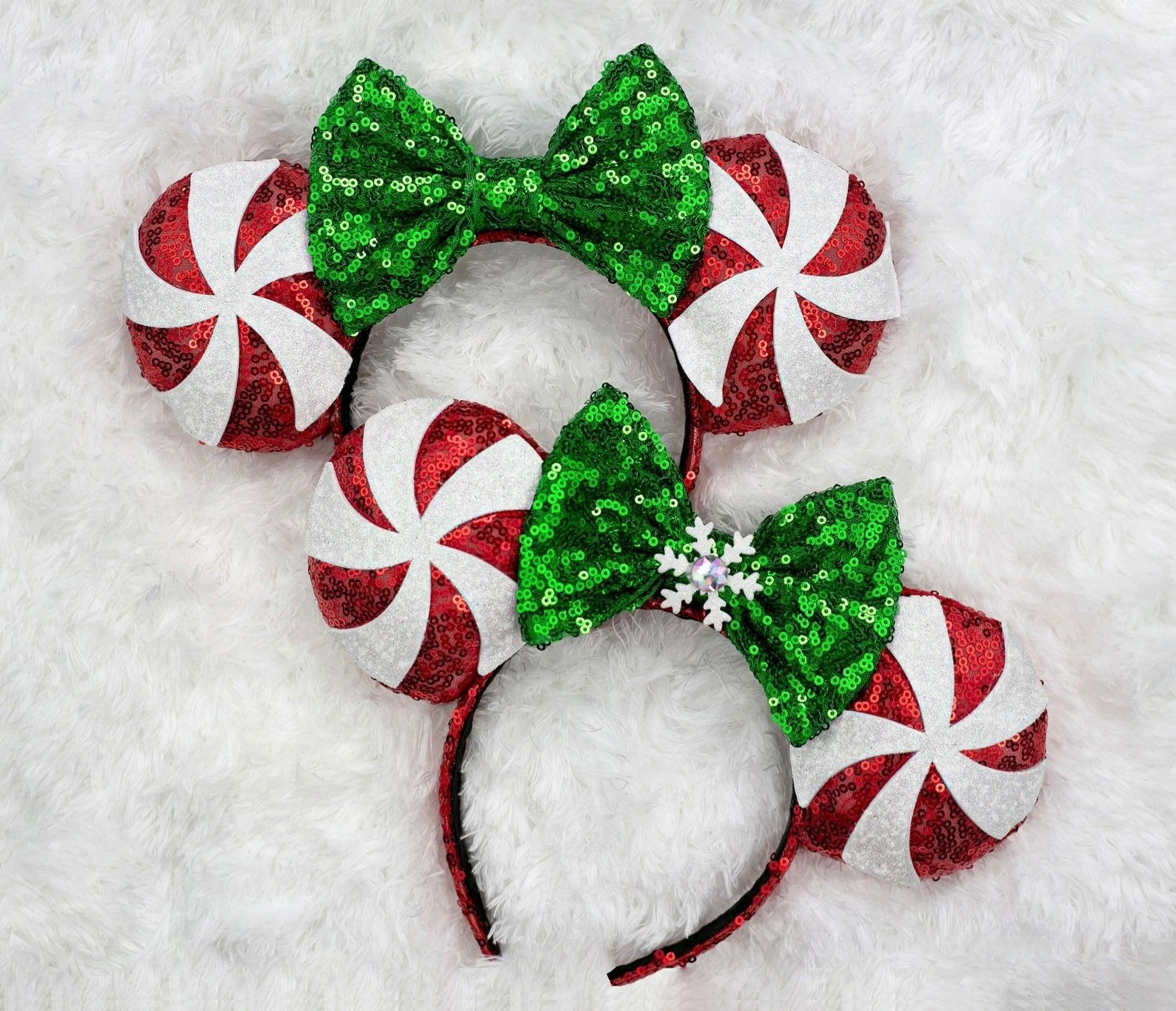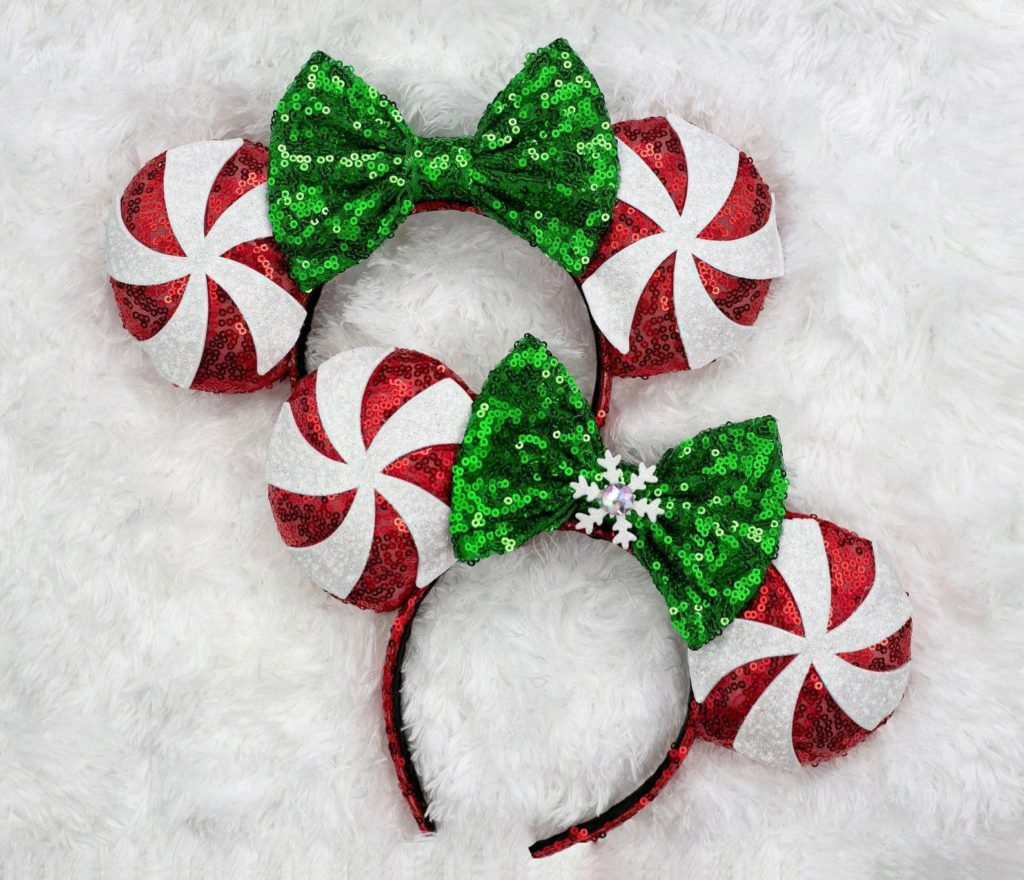 And reviewers say they're comfortable enough to wear all day long.
Rating: 5 Stars
Special Features: Buy multiple items from this Etsy store, and get Free Shipping!
12. Holiday Light Minnie Mouse Ears
Reviewers are constantly in awe of the craftsmanship of these ears, and we MUST agree!
With a satin backed bow and string of lights that wrap around the back and front – amazing attention to detail is an understatement to describe these Disney Christmas ears!
But, if you're interested in them, make sure you order well ahead of time; craftsmanship like this doesn't happen overnight!
Rating: 5 Stars
Special Features: Made to Order
BONUS EARS FOR 2022: Loungefly Disney Christmas Gingerbread Bag Purse with Minnie Ears
This is by far my favorite holiday ears from Walt Disney World this year. They are not only gorgeous, but they come with a Loungefly bag too!
As you can see, the ears and the holiday bag will complement your Disney World outfit perfectly.
Get your Christmas Loungefly Bag and Ears here!
What to Know Before You Buy Your Mickey Ears
Now that you know what Disney ears are they best picks for the holiday season, let's go through a few questions that I get asked about the most.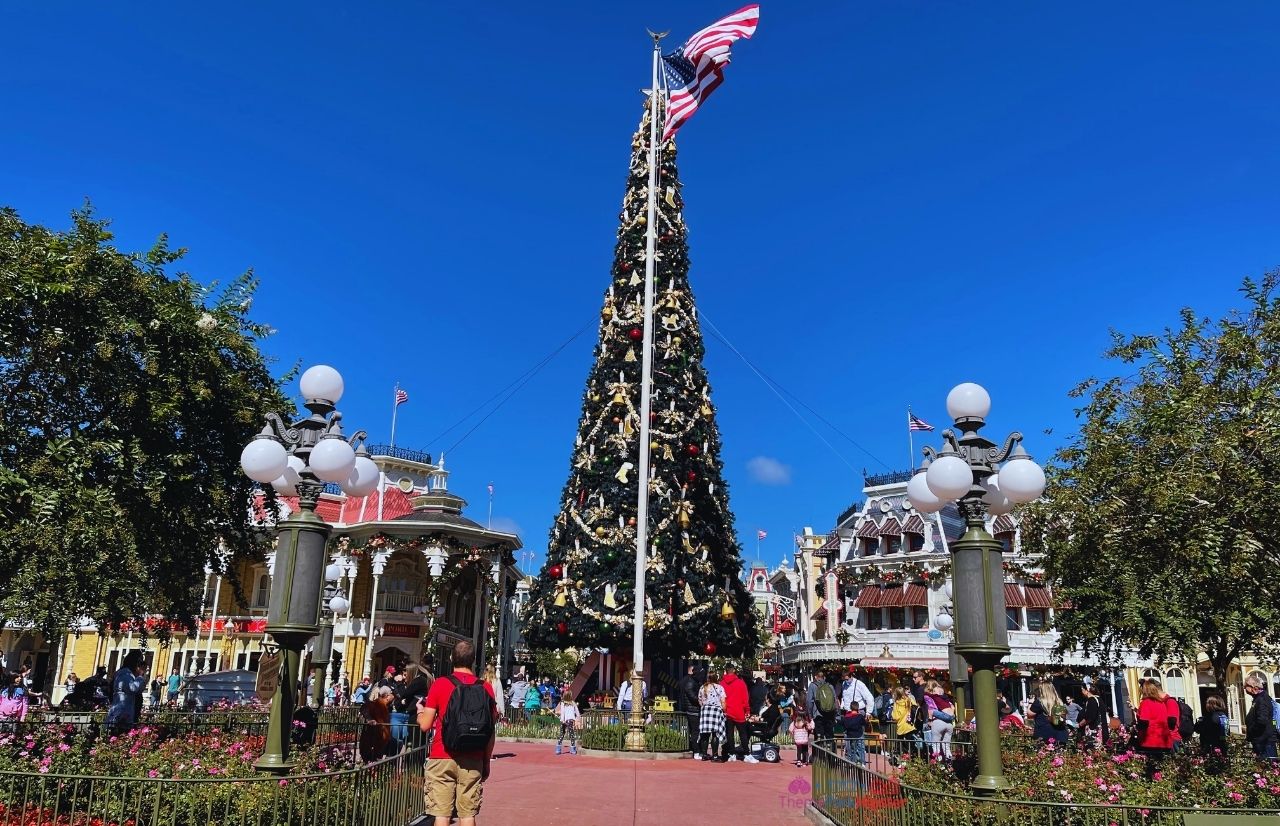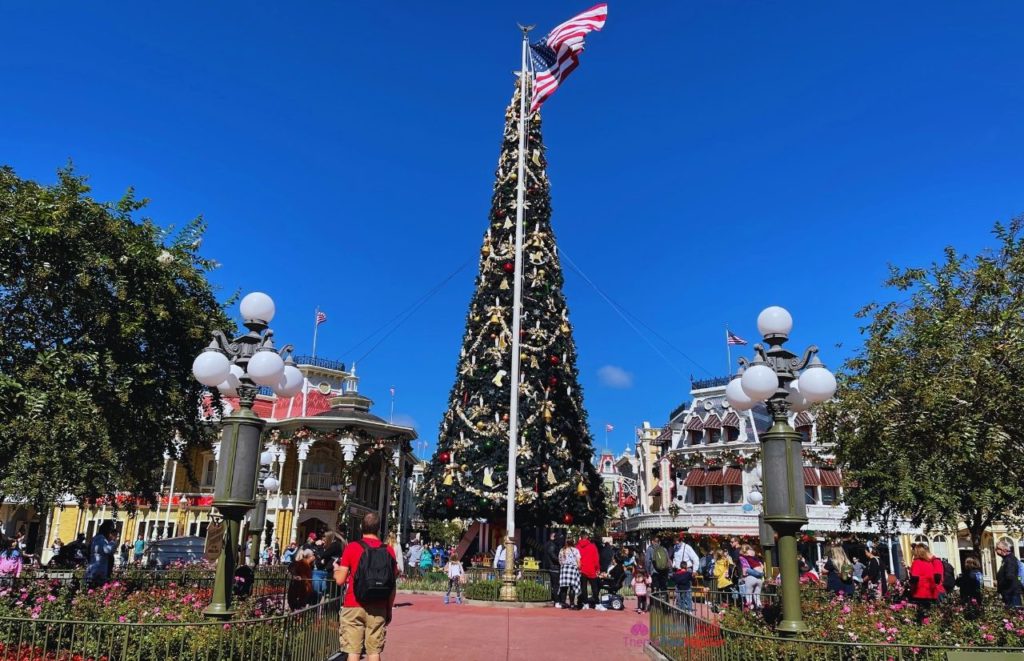 What size ears should I order?
Luckily for you, when it comes to ear buying, one size fits all! So there's no need to worry about what size to order.
A typical pair of ears should fit a child aged 8+ and all adults no problem!
Get more Disney Christmas Ears here on shopDisney.com
How much do Disney Christmas ears cost if I buy them on Disney property?
Typically, any limited time themed ears bought on Disney property cost $30 – $35 (as compared to standard year-round ears, which cost $22 – $28).
But, as you can see, all of the Disney Christmas ears we listed above cost less than that!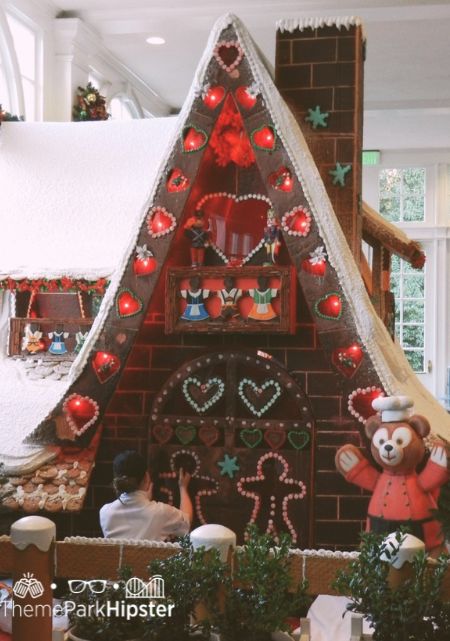 Plus, by buying your favorite Disney Christmas ears online ahead of time, you'll have the peace of mind of having them prior to your park visit.
Because no trip to Disney is spoiled more than when your desired limited time souvenir item is out of stock or discontinued!
ORDER NOW to secure your ticket reservation in the parks! GET MY DISNEY TICKETS!
How far in advance should I order my Disney Christmas ears?
If you have a special event to attend that you plan on wearing your Disney Christmas ears to, then it might be a good idea to order ahead of time!
Let's say that the ears you like are sold on Amazon, sellers recommend you order a good 7 to 10 days ahead of when you hope to receive them, as most of these orders are not Prime eligible.
If your desired pair of Disney Christmas ears is on Etsy though, you'll need to plan ahead even more!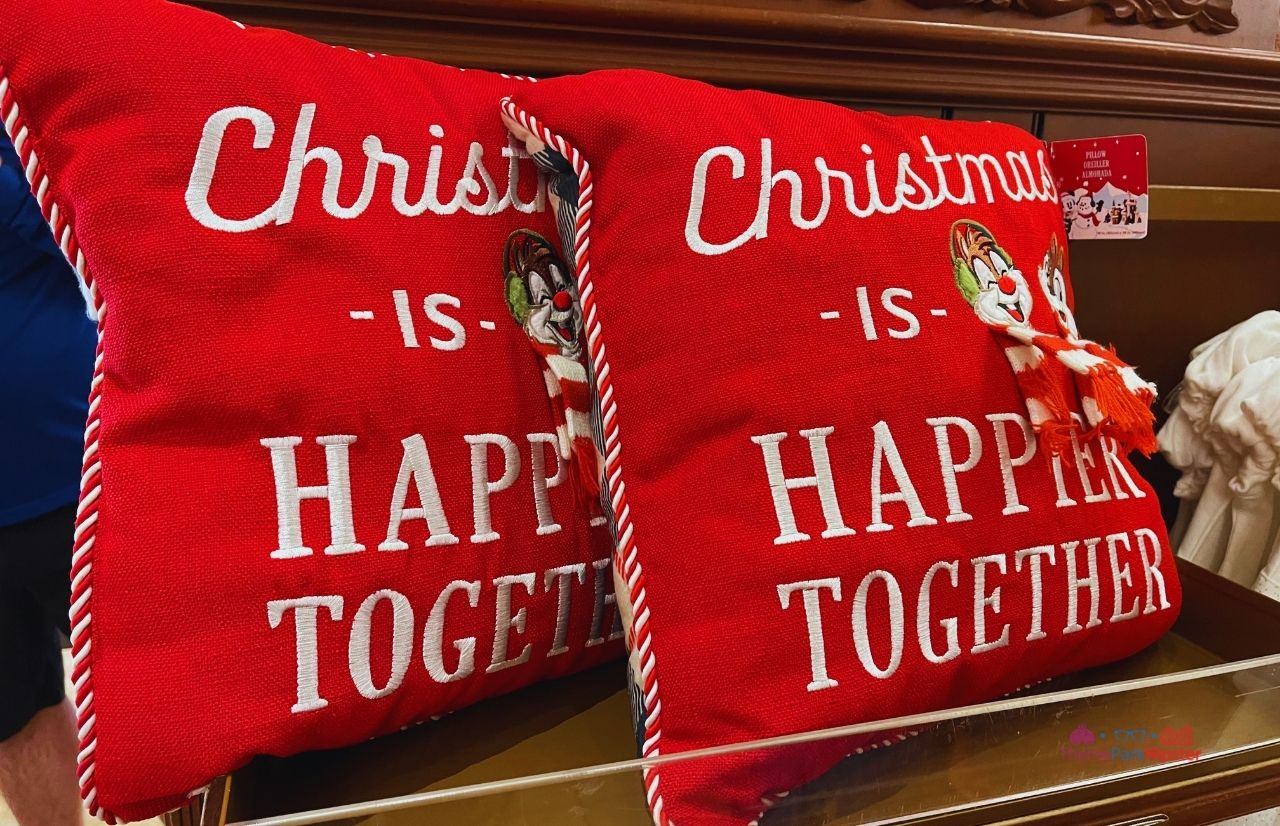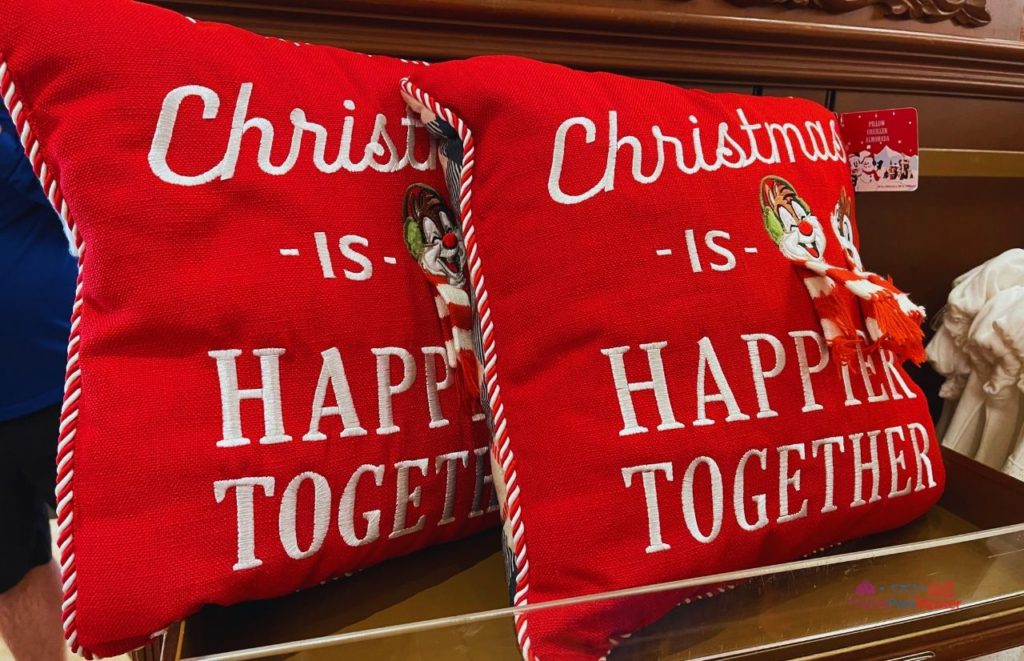 Give a good buffer of 6 weeks, given that most ears are made to order and Etsy sellers have lots of orders to get to in a short amount of time.
Ready to plan your theme park trip? Watch the best vacation planning tips on YouTube. Get started here!
Wrapping up…
Well ThemeParkHipsters, that about wraps it up for our guide on all things Disney Christmas ears!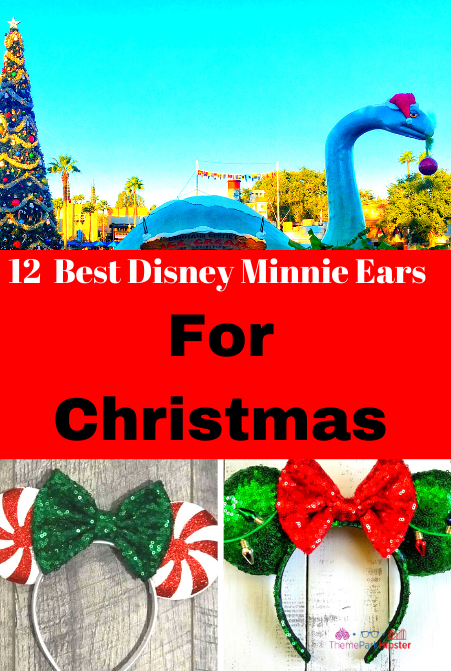 We hope you found a pair that you LOVE…and remember, Christmas is the season of giving. So, don't be afraid to buy an extra pair for a loved one!
Do you have a favorite pair of Disney Christmas ears? Got any other ear suggestions that we missed? Let us know in the comments below! We'd love to hear all about your unique Theme Park Hipster style!
Until next time, Happy Parking Hopping Hipsters!
If you enjoyed this article, then you'll love these:
About the Author
About the Author
Gina is a former Walt Disney World and Disney Cruise Line Cast Member who enjoys reliving the magic by writing helpful tips and tricks for future guests! 
Check out more about her Disney adventures and writing endeavors at www.ginaarfi.net.
UP NEXT: 25 Best Christmas Disney Movies and Shorts You MUST WATCH
(Original Article Date: October 18, 2020/Updated by Editor on October 22, 2022)