When Guests dine at Epcot in Walt Disney World, they are usually drawn in by the dining options at World Showcase. This is how Coral Reef Restaurant in Future World usually gets glossed over when it comes to choosing where to eat when visiting this park.
Coral Reef Restaurant is a place that should not be missed and locals of the parks would agree!
It offers a classy and unique dining experience, with scrumptious, gourmet seafood and an atmosphere that will make you feel like you are dining in King Triton's palace in Atlantica.
THIS POST MAY CONTAIN AFFILIATE LINKS. PLEASE READ MY DISCLOSURE FOR MORE INFO. Which means if you click on certain links, I may receive a small commission at no additional charge to you.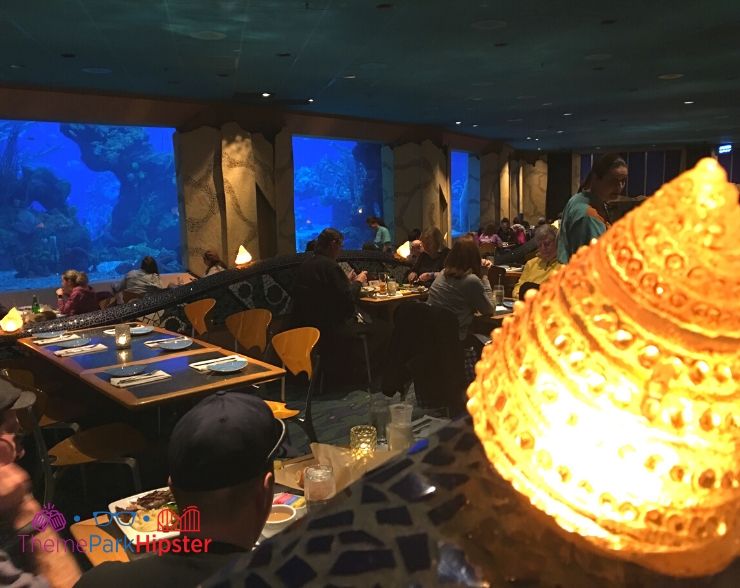 What to Expect at Coral Reef
It's very renowned since it was featured on "The House Meets the House Part 1" episode of Full House. TripAdvisor has also ranked it 4 out 5 stars with the restaurant being a recipient of the "Certificate of Excellence 2017" award.
This means you have a chance to dine in a award winning restaurant at Disney World and one that was featured on one of the most iconic shows to ever grace television.
I had the immense pleasure to dine here for the very first time. In today's article, I will be sharing my full review of my experience and details regarding what the restaurant offers.
I will also be sharing what to expect due to reopening changes due to the global crisis and how this may affect your experience.
Have a DIFFERENT kind of Orlando vacation with a Resort home next to Disney World. Find Your Disney Resort Vacation Rental here!
Best Features of Coral Reef
While the menu is small, it should not be overlooked. This is what draws many fans to this fabulous Disney Dining location and makes them want to return every visit.
1- Wonderful Menu
What brings us to the restaurant is the quality and taste of the food, which has to be up to snuff for Disney fans.
There is a certain expectation with any restaurant to bring the absolute best they have to offer to the forefront and Coral Reef at Epcot delivers.
Coral Reef is known for its mouthwatering meat and seafood entrees featuring chicken, fish, and shrimp.
If you are new to trying seafood or picky about the kind of seafood you consume, this is honestly a great place to start.
Mainly because they keep an excellent balance of simplicity with unique flavors and familiarity in their dishes.
If you are a fan of desserts, this is also a fine place to try some delicious sweet treat with a good variety of alcoholic choices.
2- Aquatic Atmosphere
An appealing draw to Coral Reef is the architecture of the establishment!
With this restaurant being attached to The Seas with Nemo and Friends attraction, it was important to continue the experience and immerse the guests in an experience where you feel you are underwater.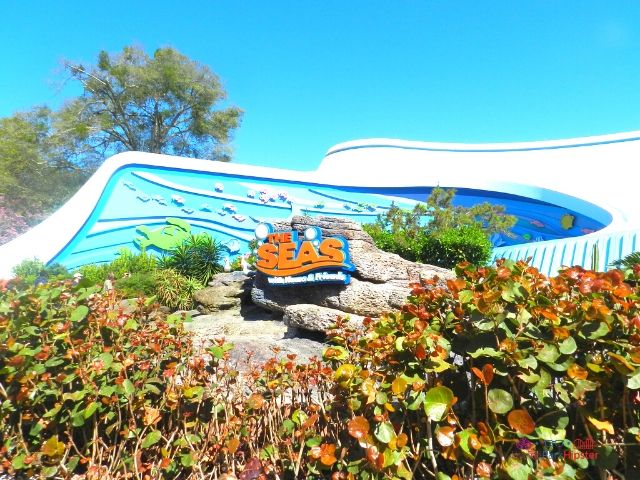 They have the inside decorated with serene shades of blues and greens to enhance the underwater effect that they achieve.
The lobby itself has unique architectural choices, fitting to its menu's theme and its aesthetically pleasing.
The most famous part is the 8 ft high windows that displays the beauty and wonder that is The Living Seas aquarium.
Plus, the tiered seating assures that everyone in the restaurant can have spectacular views while dining.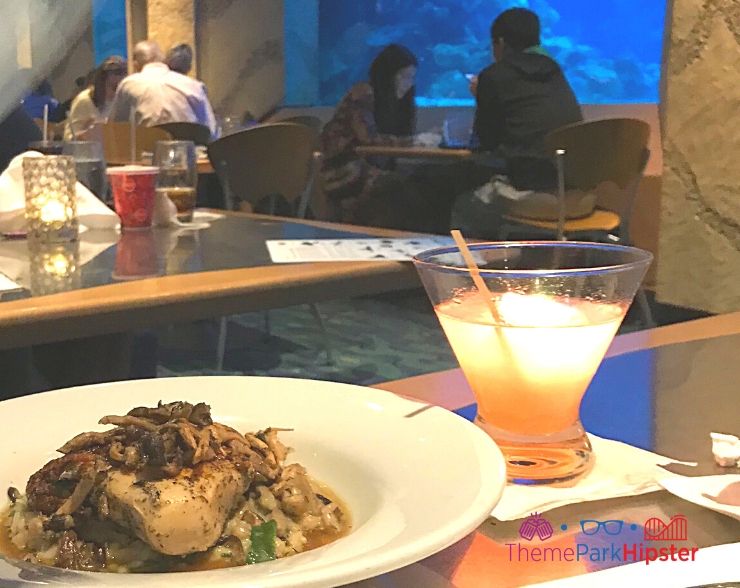 If you recall, this is one of the spots Danny Tanner attempted to propose to Vicky during the Walt Disney World episode of "Full House."
Some more truly perfect reasons this restaurant is considered an Epcot staple.
Ready to start planning your next Disney World vacation? Listen to the latest podcast episode on Apple or on your non-Apple device now!
3- Astounding Service
Walt Disney World is world renown for their excellent customer service and Coral Reef is not the exception.
The Cast Members are extremely helpful and full of recommendations for anyone's person taste.
They are admirable, humble and joyful to guests and are a superb part of the overall experience.
Coral Reef Menu
As mentioned earlier, the menu is great for seafood lovers and picky eaters alike.
While the appetizers and entrees lack a bit in quantity, it is made up for it through the quality and taste of the food as well as the offering of Vegetarian and Allergy free dishes.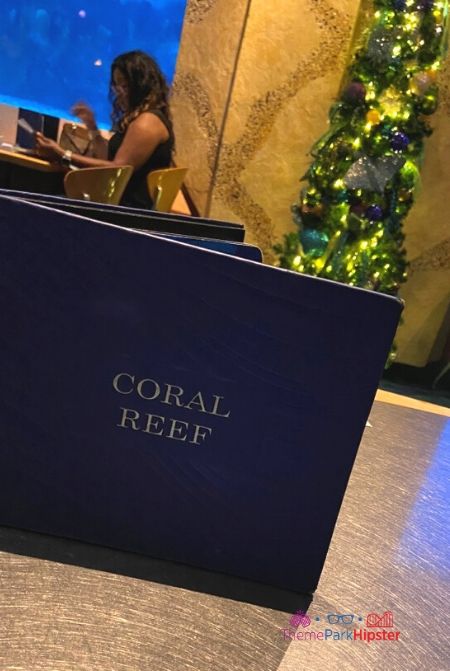 The restaurant has an delicious variety of cocktails, wines, beers and specialty coffee to quench anyone's thirst.
Featured Entrees
Seared Mahi Mahi- Jasmine Rice, Coconut and Cilantro-Lime Sauce, Caribbean Shrimp Salsa (My personal choice!)
Grilled Vegetable Skewer with Impossible Tefta- Basmati Rice, Lentils, Smoked Eggplant Salad
10 oz Slow Roasted Grilled Rib Eye- Loaded Mashed Potatoes with Bacon, Bercy Butter
Oven Roasted Herb Chicken- Seasonal Vegetables, Curry Vinaigrette
Shrimp & Grits- Sautéed Shrimp, Cheddar Cheese Grits, Local Corn Succotash, Andouille Sausage, Creole Spice Emulsion
Be sure to look at the menu here for more as it is always changing for lunch and dinner.
Before you Dine: What to Know
Now it's time to answer some burning questions that I am sure you have regarding Dining at this establishment.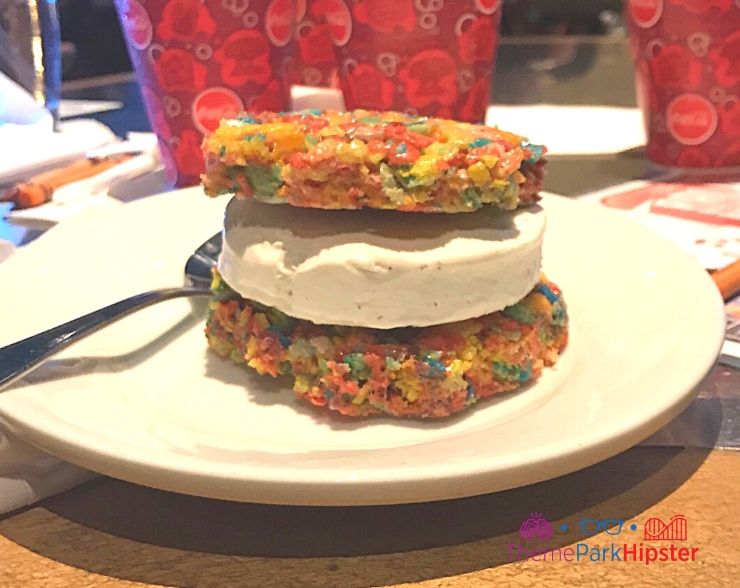 Will this restaurant be open when the parks reopen?
Coral Reef restaurant is among the restaurants that will open with its respective park. It is currently accepting reservations starting on July 15th.
As a reminder, you will need a Park Pass reservation to Epcot for your dining day as well as this reservation for dining. They will not accept walk ins.
Masks will be required as well except while eating.
How do I reserve my Disney dining reservation?
With Walt Disney World reopening, they have changed some procedures affecting dining at the parks temporarily.
Disney has put capacity limitations on everything so it's important to know that if you really want to dine at a particular location, to be ready to reserve.
Instead of the normal booking window of 180 days before arrival, it will now be 60 days.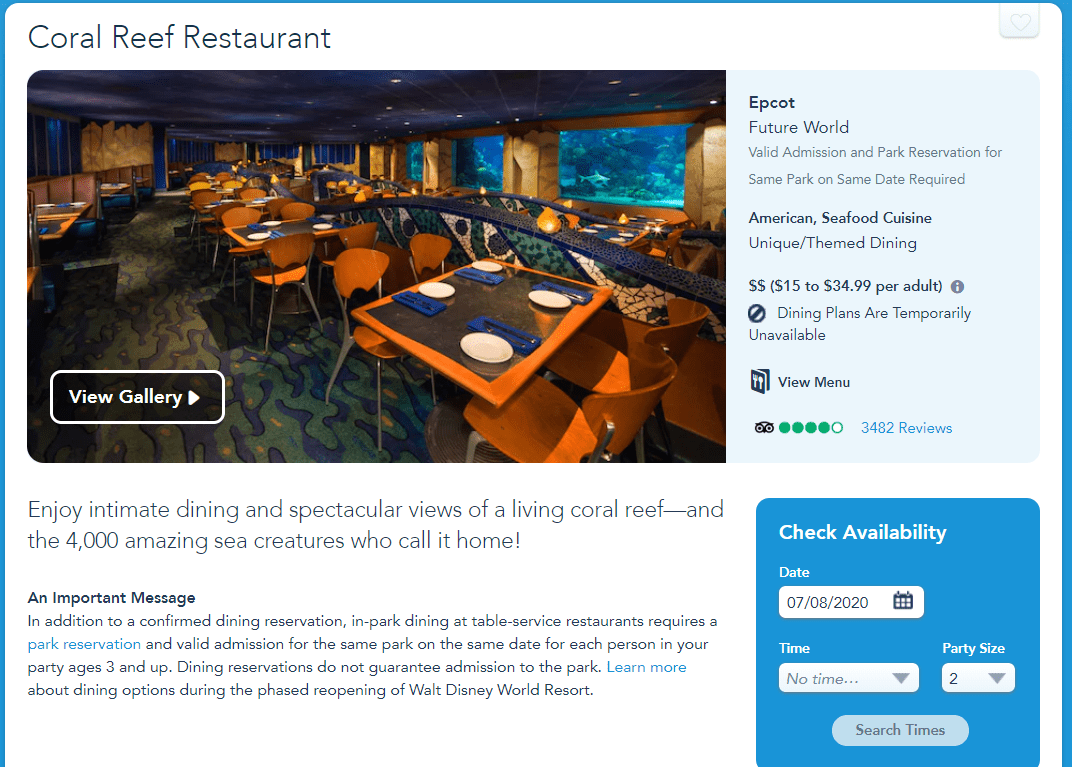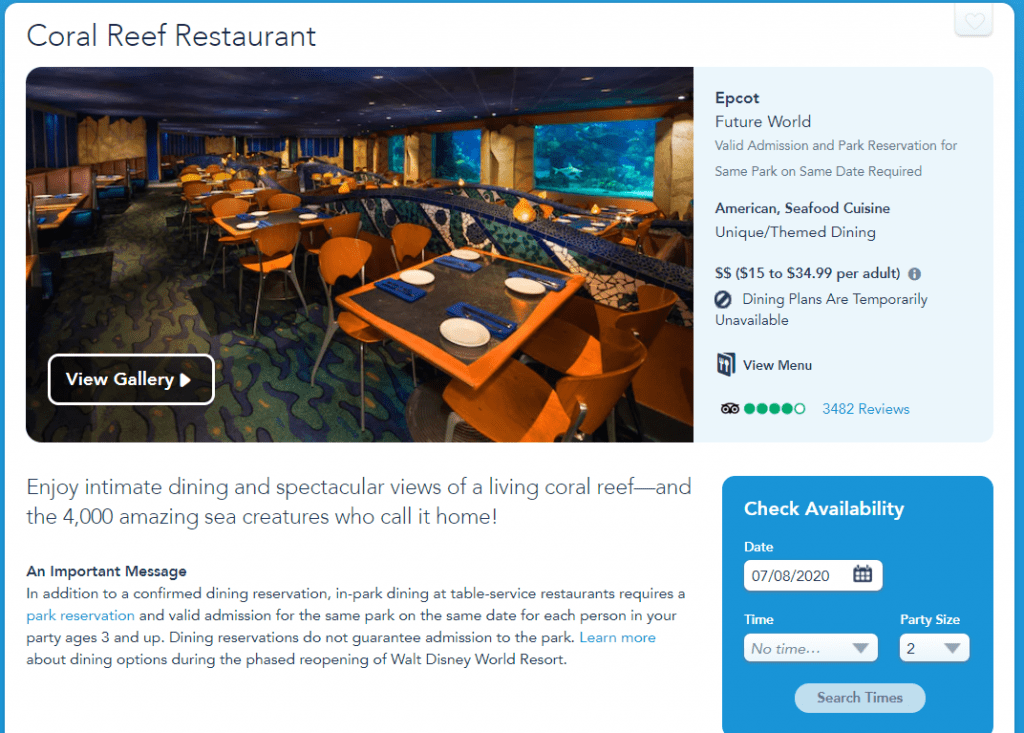 Booking for your dining reservation is the same as always.
For those who aren't familiar, you will find the booking window when you click on "Things to do" tab on Disneyworld.com, "Make reservations" and searching for the restaurant of your choice, in this case, Coral Reef.
Once you choose the restaurant, on the side it will have an availability window where you choose the date, lunch or dinner and your party size. It will give you time options accordingly.
Will they accept the Disney Dining Plan?
Currently, no Disney restaurants are accepting the Disney Dining Plan as they have been temporarily suspended.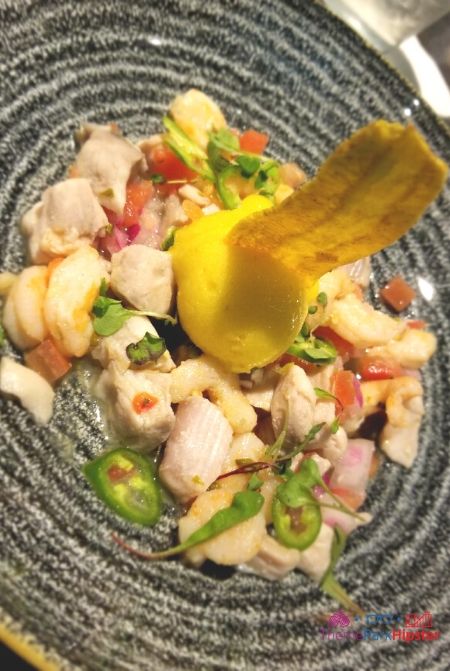 This has been done in favor of contactless payment such as apple pay and other methods but will still accept cash or card.
Dining Review of Coral Reef at Epcot
Let's dive into what you came for! I have spoken on the immersive atmosphere and architecture of the restaurant, but here come my thoughts on the food.
I come from a big seafood town, so I was very excited to see what Coral Reef had to offer.
Seared Mahi Mahi
I was originally in favor of the Shrimp and Grits, but I wanted to try something different as I had a similar dish at Chef Arts Homecomin' in Disney Springs the evening prior.
So, I asked the Cast Member attending us their favorite and she stated the Seared Mahi Mahi.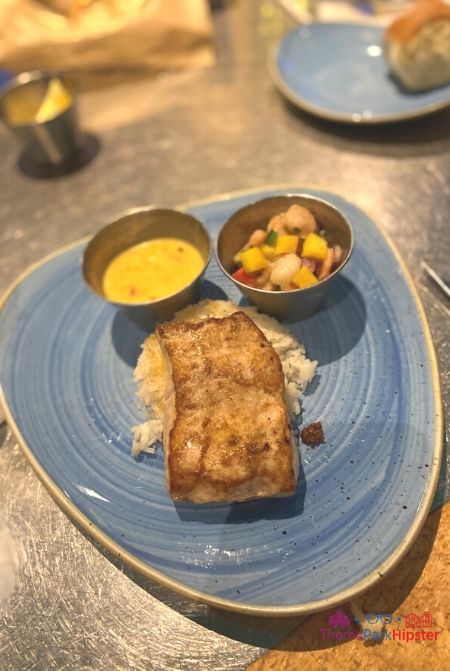 I am familiar with jasmine rice as I use it at home for my own cooking but the flavor from the coconut and cilantro-lime sauce combined blew my mind with its comforting yet bold flavor. I honestly couldn't get enough!
The Mahi Mahi was cooked delicately and well. I detected hints of Old Bay and other wonderful seasonings that made me feel perfectly at home.
I coated a few bites with the shrimp salsa and I was expecting it to be spicy and yet it wasn't. It had a little bit of kick and enhanced the flavor of the Mahi Mahi, complimenting it extraordinarily well.
The Chocolate Wave
I was still full from lunch earlier so I had skipped an appetizer this round. However, I couldn't resist getting dessert, especially when the Cast Member told me it featured Gelato, one of my favorites.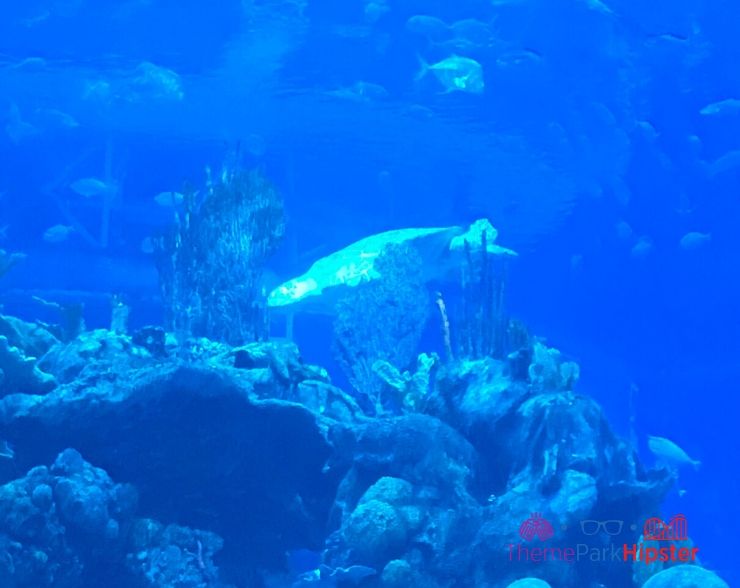 The Chocolate Wave intrigued me as it is flourless and I was curious to see how it would affect the taste. Spoiler Alert: It doesn't!
The cake seemed to be very light compared to normal chocolate cakes I have tried where it uses flour, which I appreciated in combination with the raspberry gelato.
Gelato is a bit healthier than regular ice cream and I prefer it. Combined with the cake, it was quite a delectable treat. To the untrained taste buds, you would honestly think it was a normal chocolate cake.
Drinks
Now you know I had to get an adult beverage!
I'm a big fan of rum drinks and the Cast Member recommended the Rum Swizzle to me. All of her suggestions that evening were on point for me.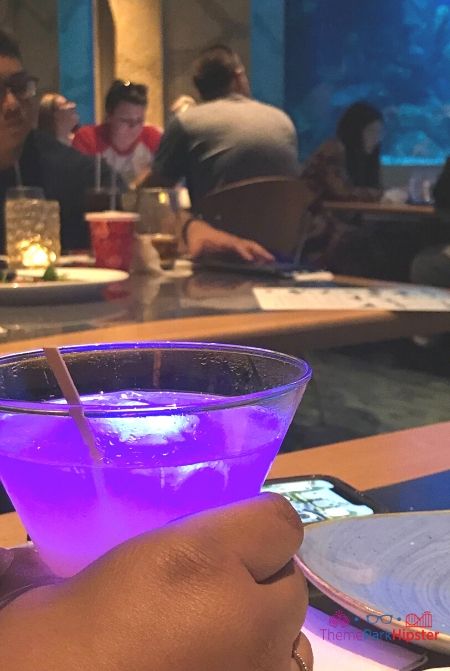 So, I love the idea of rum with tropical fruit juices, so this one was right up my alley.
I wasn't too fond of the guava flavor but that's truly the only thing, otherwise this was quite a scrumptious beverage!
Read: 19 Do's and Don'ts of Drinking Around the World at Epcot
Price
With its unique and themed dining, its menu matches. Food ranges between $15 to $35 but it's very much so worth the price.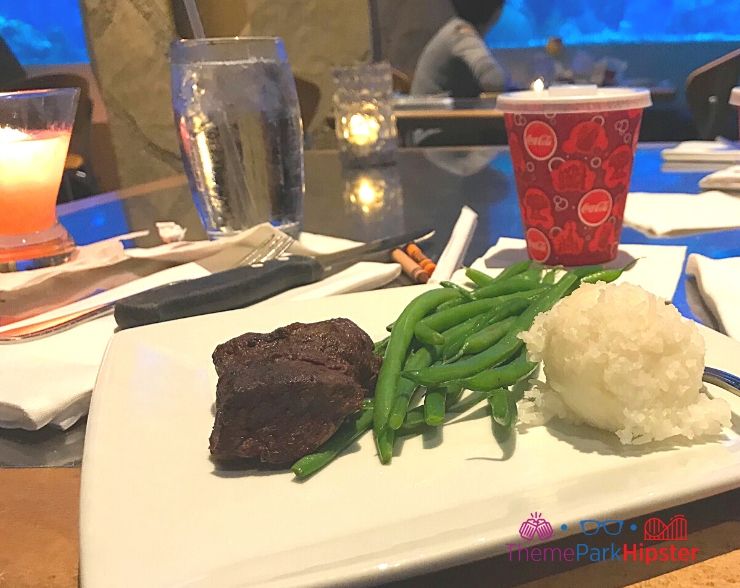 You get quality, flavorful food with spectacular, one in a kind view. I think this was a fantastic dining option for a solo traveler. It's also around the same price range as other restaurants at the park.
Its atmosphere allows it to stand above the pack.
Final Thoughts
While there are many fabulous places to dine on Walt Disney World Property, this one should be at least tried once.
I was skeptical at first due to my high regard when it comes to seafood but I was thoroughly impressed with my experience at Coral Reef.
I came in and was very pleased with everything. It has quickly risen to one of my top places to dine on property for dinner.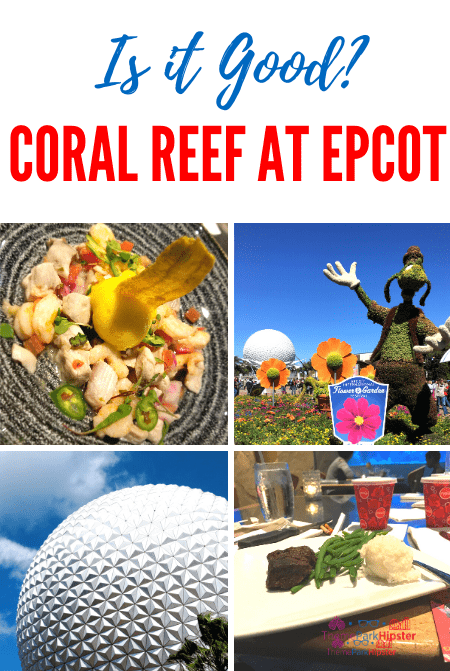 Have you ever dined at Coral Reef in Epcot? Let us know in the comments section below.
Until next time, Happy Park Hopping Hipsters!
About the Author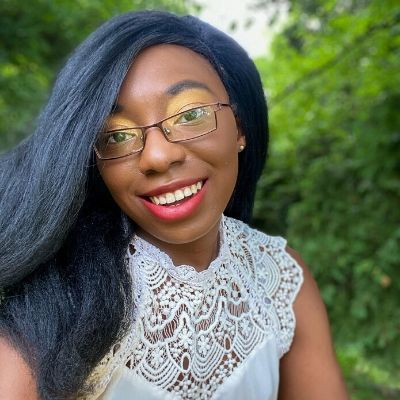 About the Author
Victoria is a professional solo traveler here to make your solo trips as stress free AND enjoyable as possible for you.
She has over 5 years of Disney and Non-Disney travel experience and was featured by POPSUGAR as one of the Top 50 Black Disney Creators you should follow.
She is a Proud Native to Baltimore, Md but always will call Disney World home. You can find her at Disney Tea with V.
UP NEXT: Around the World in One Day: The EPCOT Pavilion Experience!