If you want to experience everything there is to do at the most magical place on earth, you're going to need to know the absolute best days to visit Disney World parks!
It is important to note that while every season has its own special perk at Disney World, specific days are not created equal.
In fact, there are some that are downright hidden gems! I'm talking light crowds, low wait times, and even cheaper flights to get there!
So, hang on tight – I'm about to take a deep dive into the best days to visit Disney World Parks, the best times to visit Disney World, and demystify the coveted Disney World Crowd Calendar!
THIS POST MAY CONTAIN AFFILIATE LINKS. PLEASE READ MY DISCLOSURE FOR MORE INFO. Which means if you click on certain links, I may receive a small commission at no additional charge to you.
What Are the Least Crowded Months at Disney World Parks?
In general, there are four months out of the year that stick out as the least crowded time to visit Disney World:
End of August
September
Late January
Early February
Now, notice that I did not say that these were the best times to visit. Simply, the least crowded.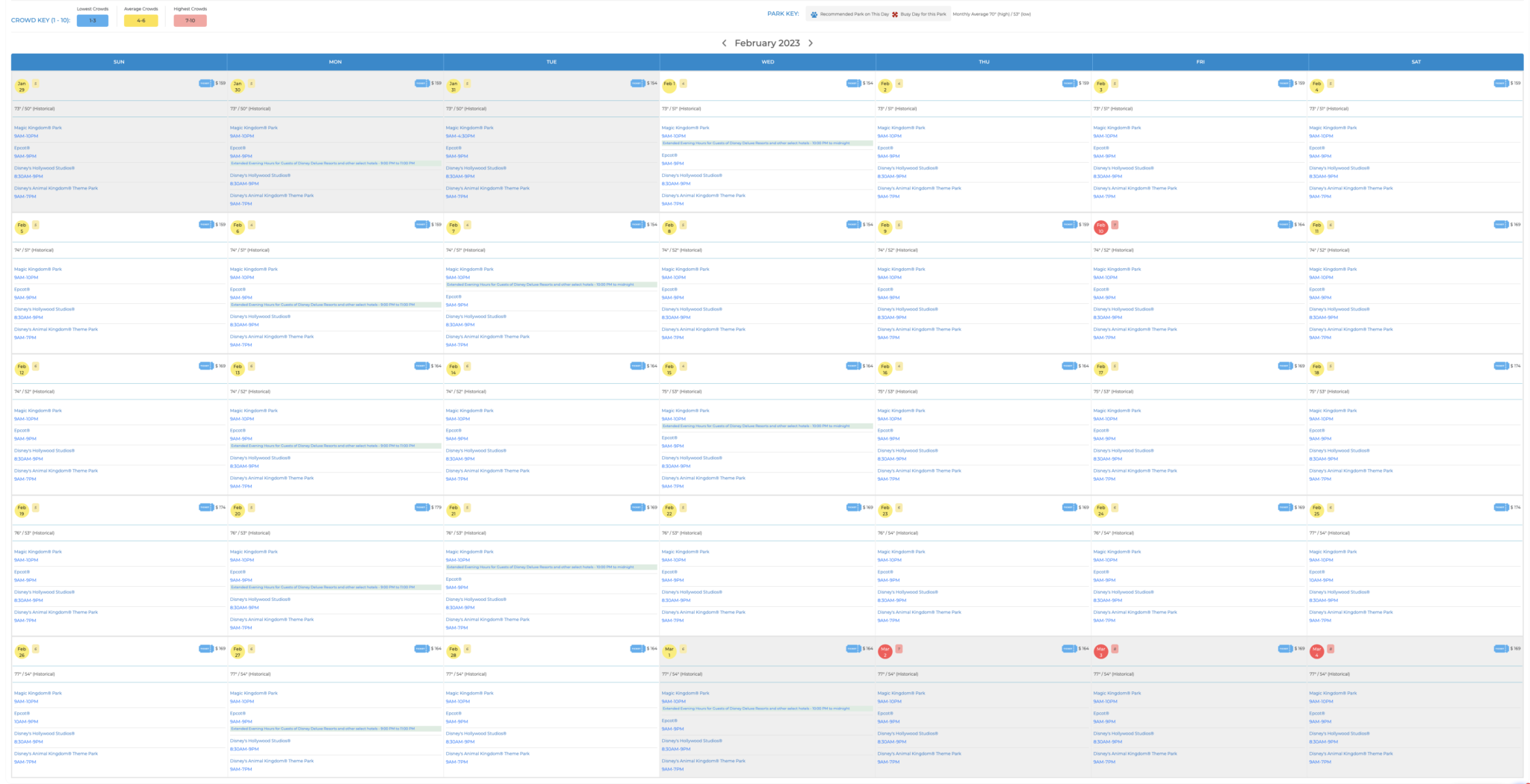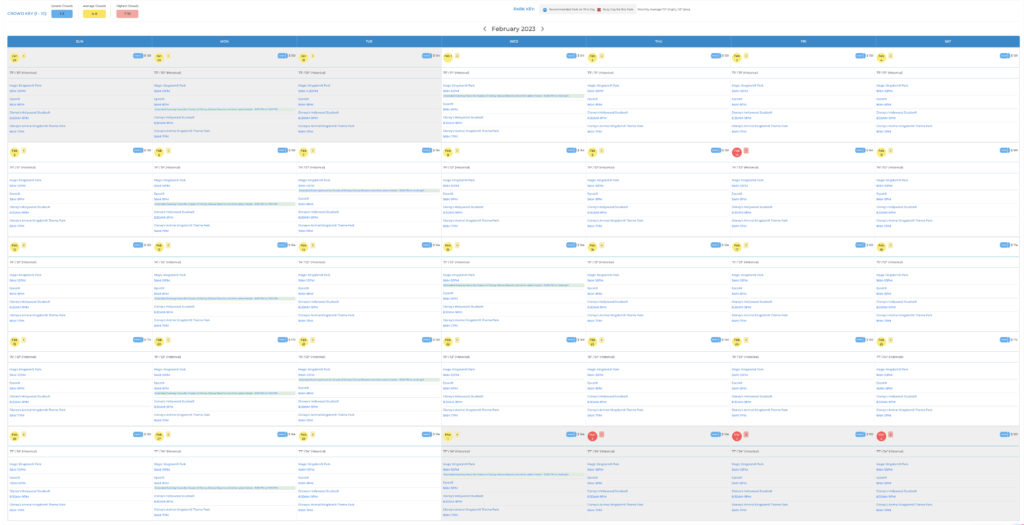 You have to be sure to factor in weather, as well as Crowd Calendars, into the equation!
ORDER NOW to secure your Walt Disney World theme park ticket! GET MY TICKETS.
What Are the Least Crowded Days at Disney World Parks?
Now, let's narrow our scope just a bit! I now know the least crowded months, but what about the least crowded days?
Recommended: 7 Best Pools at Disney World Resorts You Have to See!
Best Time to Visit Disney World Parks for the Weather
By now, we have established not only the least crowded months to visit Disney World, but the specific dates, as well. But what about weather?!
When to visit Disney World weather wise is subjective! If you love the heat, the choice is pretty obvious!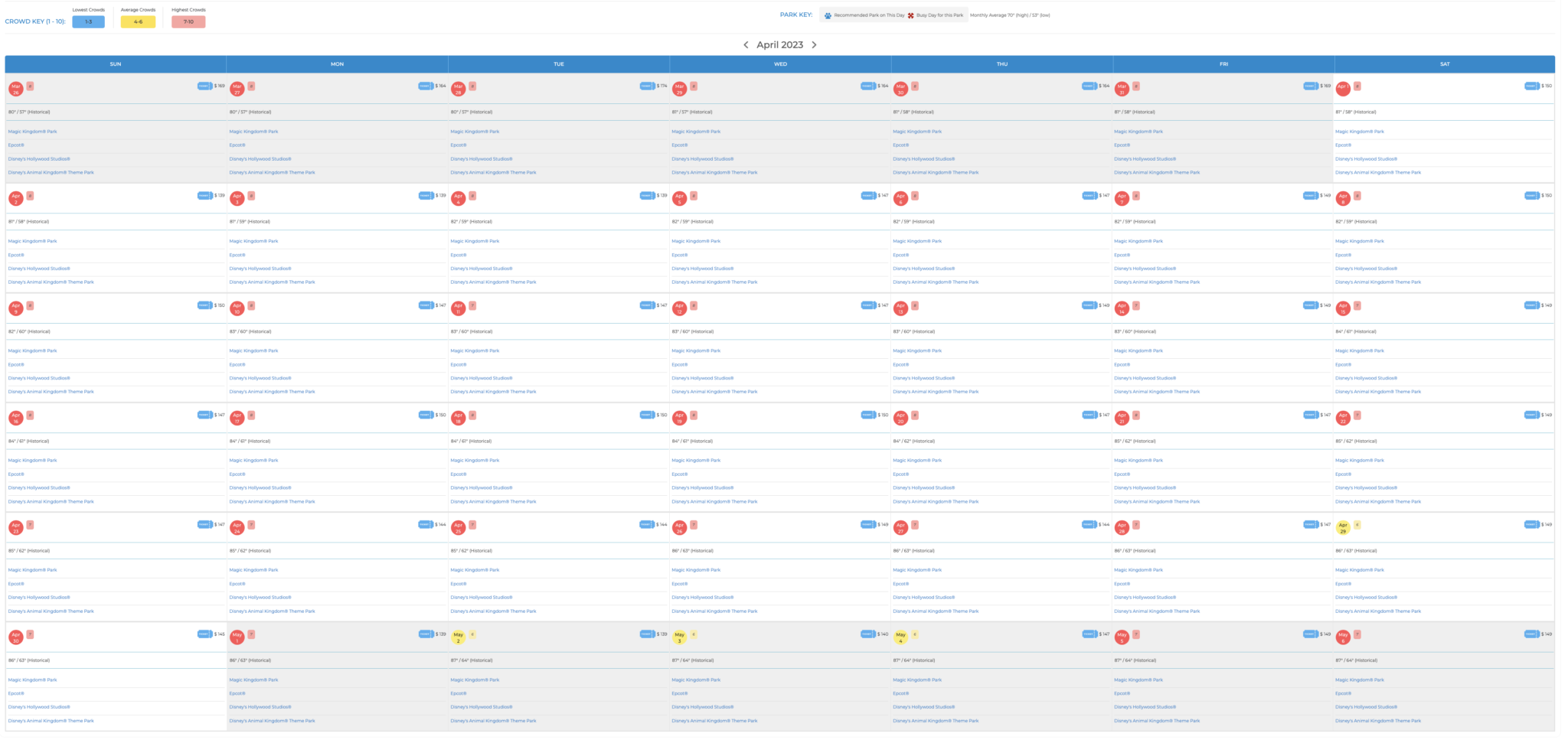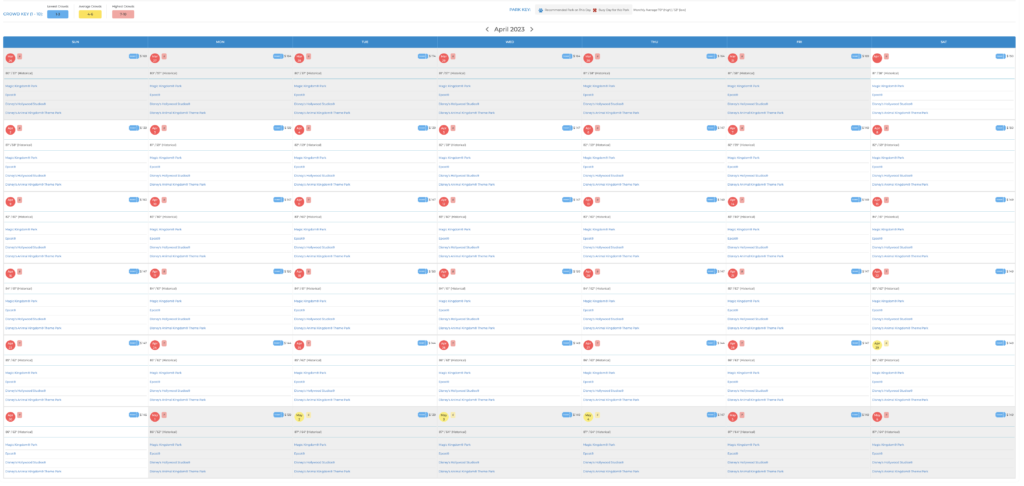 While this may not affect your travels throughout the park midday, those late-night dips in the resort pool may feel more like an ice bucket challenge!
What are the Best Days of Week to Visit Disney World Parks?
Alright, now we're really getting somewhere, ThemeParkHipster! I've got months, date ranges, and weather on lock.


Uh-oh… I've totally skipped over the part where I pick which day of the week to visit each park!
Best Days to Go to Magic Kingdom
Tuesday
Wednesday
Thursday
Monday
Friday
Sunday
Saturday
The Best Days to Go to EPCOT
Tuesday
Wednesday
Thursday
Monday
Friday
Sunday
Saturday
Best Days to Go to Disney's Hollywood Studios
Thursday
Wednesday
Monday
Thursday
Friday
Sunday
Saturday
Best Days to Go to Disney's Animal Kingdom Theme Park
Wednesday
Thursday
Tuesday
Monday
Friday
Sunday
Saturday
Put It Together and What Have You Got?
Wow… that was a lot of information! So, what is the optimum daily schedule? I tend to prefer the following format:
Monday: EPCOT
Wednesday: Animal Kingdom
Depending upon your arrival and/or departure, I strongly suggest you make Friday a repeat day. Take this time to go back and do your favorites or hit attractions you've missed.
If possible, use Saturday as a Relax Day at the Resort. Frankly, you'll avoid major crowds, frustrating wait times, and give your feet a break!
What is the Disney Crowd Calendar and How Does it Work?
Are Disney Crowd Calendars 100% Accurate?
Despite these curve balls, the Disney Crowd Calendars are still incredibly useful. Treat them as a helpful study guide and you won't go wrong!
Check out this fun video to find out about Universal Crowd Calendars here on YouTube!
Top 3 Tips for Picking the BEST Days to Visit Walt Disney World
Now that you know when to visit Disney World, let's go over a few tips to help you make the most of your vacation!
1. Add an Extra Day
However long you think you may need for your upcoming trip to Disney World, add an extra day.
You never knew when your favorite attraction may go down or that new nighttime spectacular will get rained out.
Leave yourself a little flex room. I promise, you'll never be mad at having an extra few hours at the Most Magical Place on Earth.
2. Use Extra Magic Hours
If you are staying of Disney property, don't overlook those Extra Magic Hours / Early Entry times.
Thirty minutes may not seem like much, but trust me… it can be the difference between 1 to 3 attractions!
Save up to 50% on over 25 Things to Do in Orlando: Kennedy Space Center, LEGOLAND Florida, kids activities, airboat ride, WonderWorks & more TODAY!
3. Don't Forget to Have Fun!
Just make sure you take a second to push that spreadsheet aside, jump off the MyDisneyExperience App, and be present in the moment.
Enjoy the journey and the destination will be that much sweeter!
Ready to make your trip out to Walt Disney World Resort, then get your no obligation, FREE Quote by filling out the form with The Park Prodigy by Clicking HERE!
My Final Thoughts on the Best Days to Visit Disney World Parks
And there you have it, ThemeParkHipster! I hope you enjoyed my breakdown of the Best Days to Visit Disney World Parks!
Hopefully you'll walk away with a better idea of when to visit the parks!
If you're still unsure of where to go from here or are in need of some resources, we are here to help! Be sure to subscribe to our YouTube channel for more Walt Disney World planning tips.
Until next time, Happy Park Hopping Hipsters!
Planning a trip soon? If so, read the Disney Vacation Planning Guide for your next dream trip!
(Original Article Date: January 19, 2022/Updated by Editor on January 30, 2023)