Are you trying to figure out what this "drinking around the world in Epcot" is and how to do it?
You've heard of "around the world in 80 days," right? Well what if we told you at Epcot you can drink around the world in 8 hours!
Sounds like quite the challenge, doesn't it?
But, if you're up for it, today we're going to walk you through all things alcohol in EPCOT. From how to do it, to what drinks we recommend, we're about to spill all the (spiked) tea on this awesome adventure!
THIS POST MAY CONTAIN AFFILIATE LINKS. PLEASE READ MY DISCLOSURE FOR MORE INFO. Which means if you click on certain links, I may receive a small commission at no additional charge to you.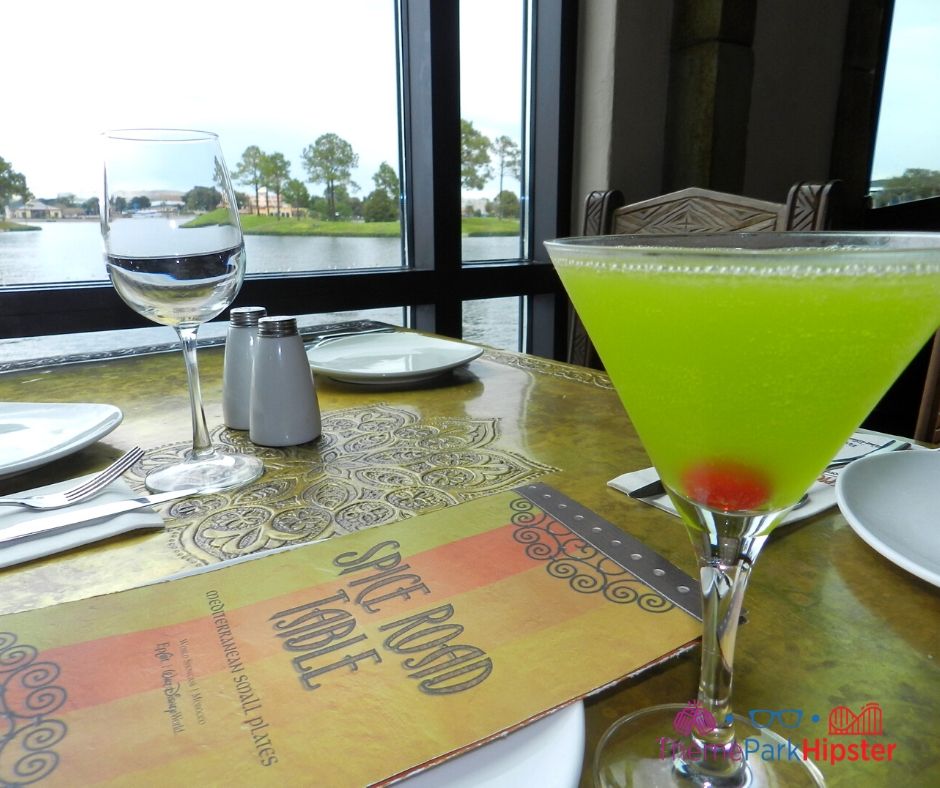 EPCOT Drinking Around the World Passport: Your Ticket to Success!
So, it's no secret by now that EPCOT is your one stop shop for taking a trip around the world. United Kingdom, Italy, Germany, France, and more…they're all within your reach with one park ticket!
Of course, you'll need an EPCOT Drinking Around the World Passport to make it happen!
Conquering EPCOT and it's 11 country pavilions can be quite overwhelming without a little bit of planning, and that's why we're excited to share this exclusive secret with you!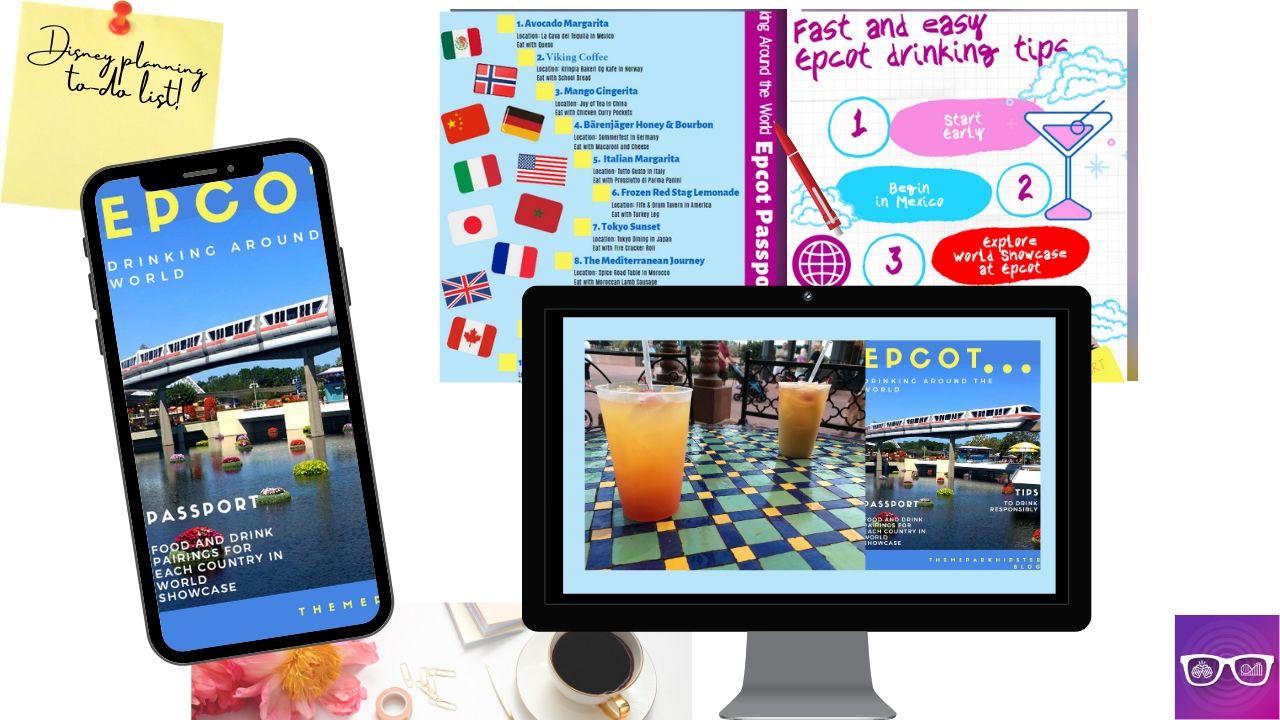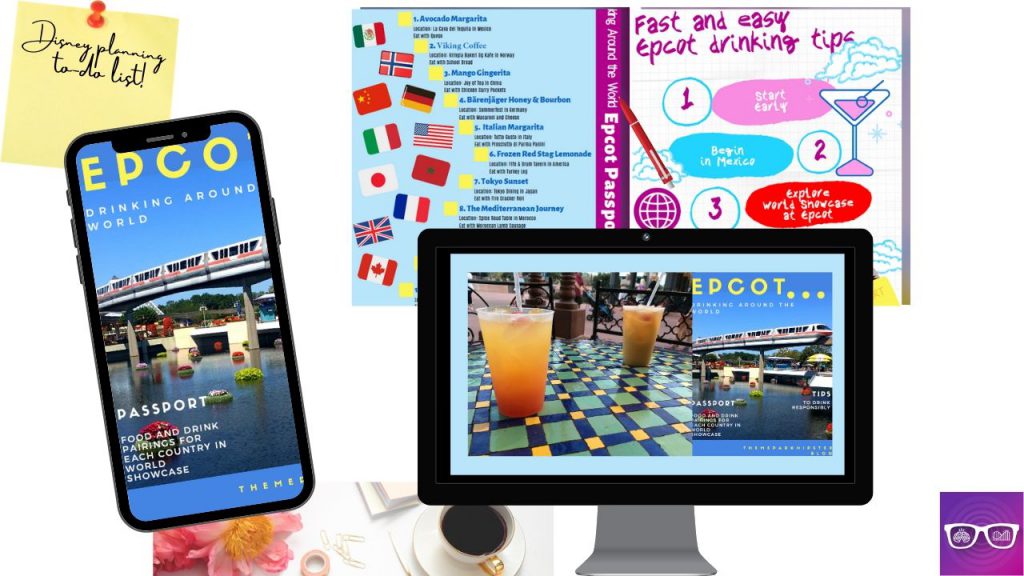 What is an EPCOT Drinking Around the World Passport?
Ok, we'll be honest with you.This EPCOT Drinking Around the World Passport isn't exactly what you might think…
…it doesn't permit international air travel; but that doesn't mean it isn't packed with a whole lot of culture and fun!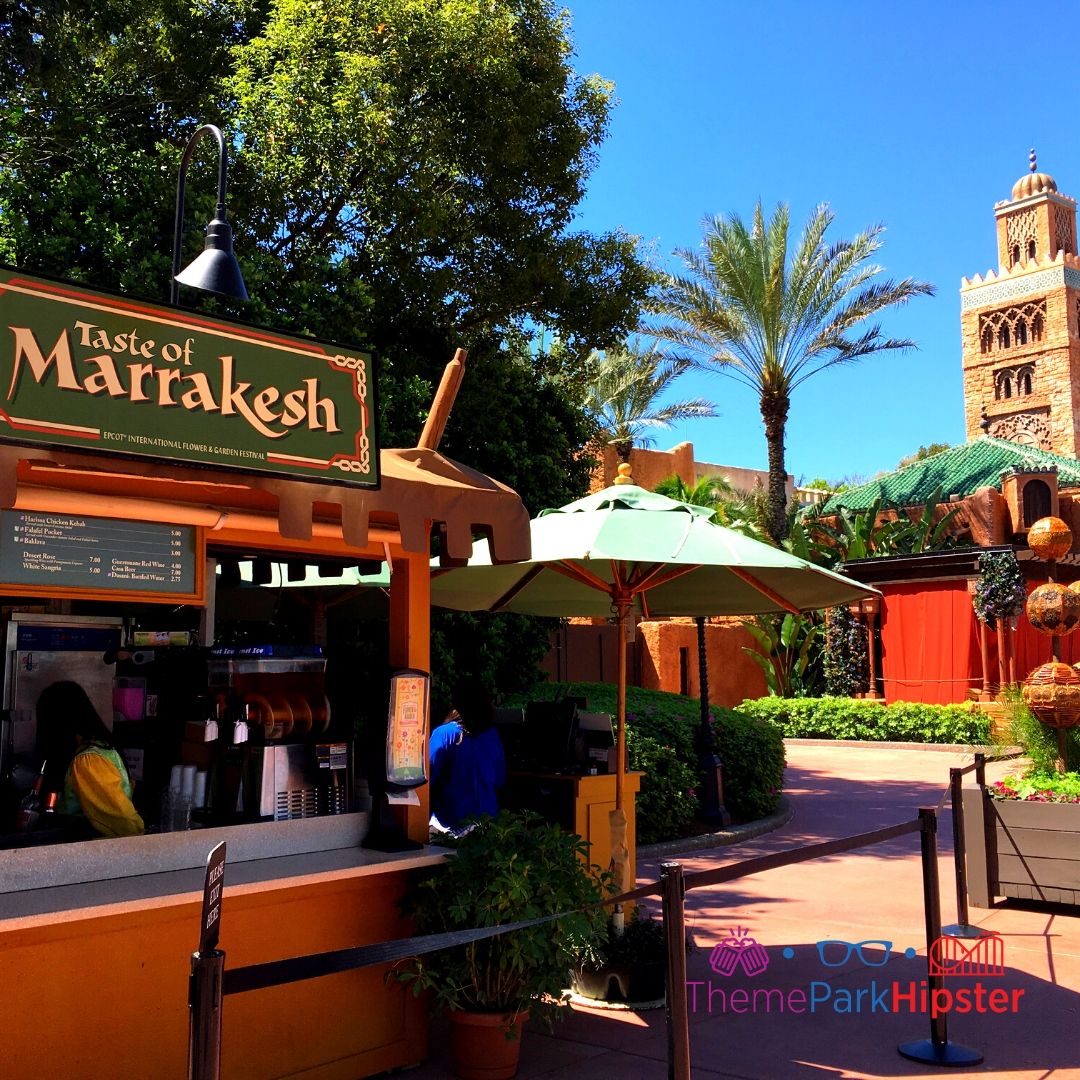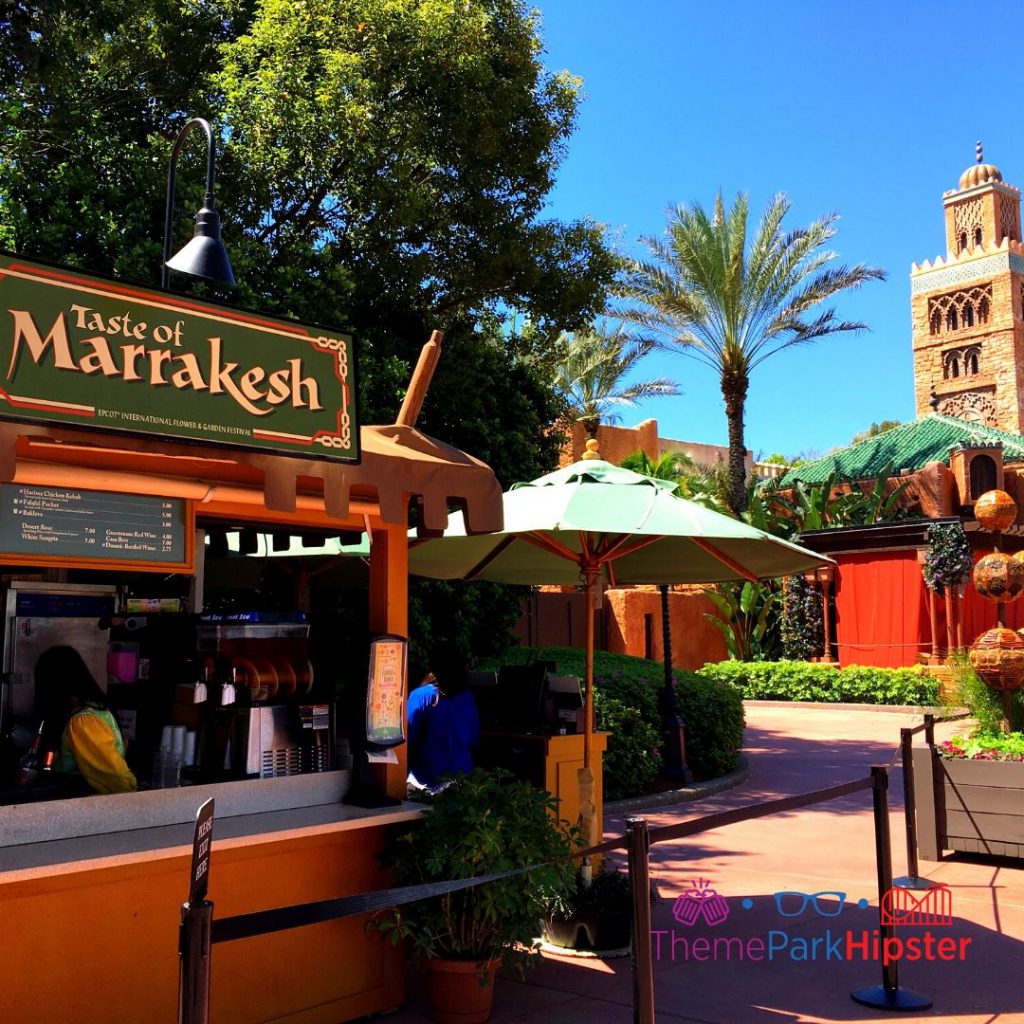 This digital file is all you need to successfully drink around the world in Disney's EPCOT!
Why?
Because not only does it have all the countries in the order they're organized in the park (since they are laid out in a circle), but it also gives you our insider suggestions on the best drinks available in each pavilion.
Why you need an EPCOT Drinking Around the World Passport
So, what we're telling you is, with one simple purchase you can have the order of the countries, a fan-favorite drink suggestion, checkbox, and an amazing food pairing, right at your fingertips!
This valuable information is not available anywhere on Disney Property, so why pass it up?
Planning for a day in Walt Disney World is already such a huge time commitment, why waste another second on this?
Allow us to guide you to our favorite food and drinks with an organized checklist that you can easily print out or save to your phone!
Your Drinking Around the World Game Plan
We're not going to lie. Drinking around the world in EPCOT is not for the faint of heart.
It costs a bit of money (think anywhere from $7 – $15 per country) and a lot of self-control (we don't suggest getting through this challenge as quickly as possible).
Between the Florida heat and the long distance you'll have to walk to make it from Pavilion 1 to Pavilion 11 (about 1.3 miles), it's a good thing you're doing your research before attempting this feat!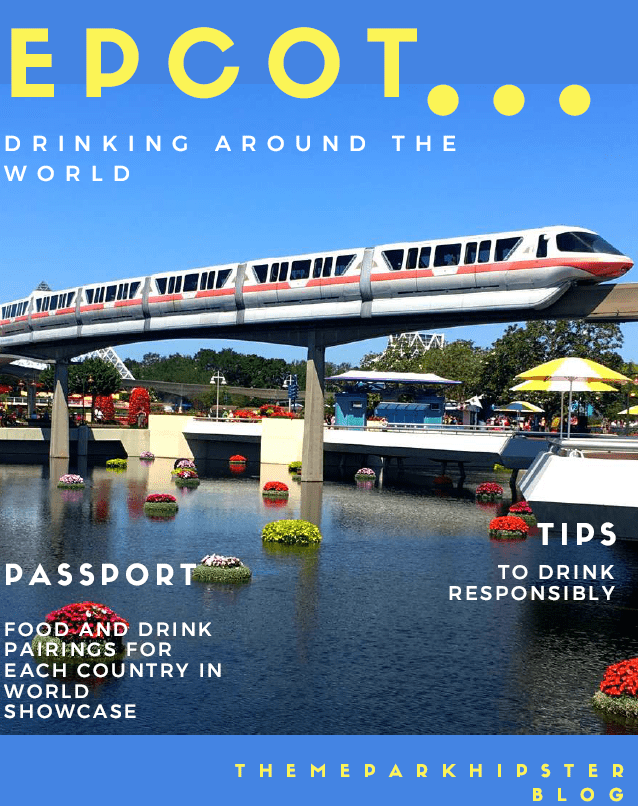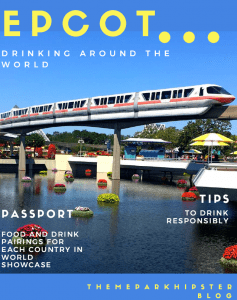 So in addition to our EPCOT Drinking Around the World Passport, here's our best tips and tricks to make it even easier!
1. Drink In Order
As you may or may not already know, EPCOT's country showcase is laid out in a circle. That's why our EPCOT Drinking Around the World Passport displays the countries in the order you'll come across them.
Depending on your chosen route, when you enter the country showcase, you'll either encounter Canada first (by taking a right from Future World), or Mexico (by taking a left).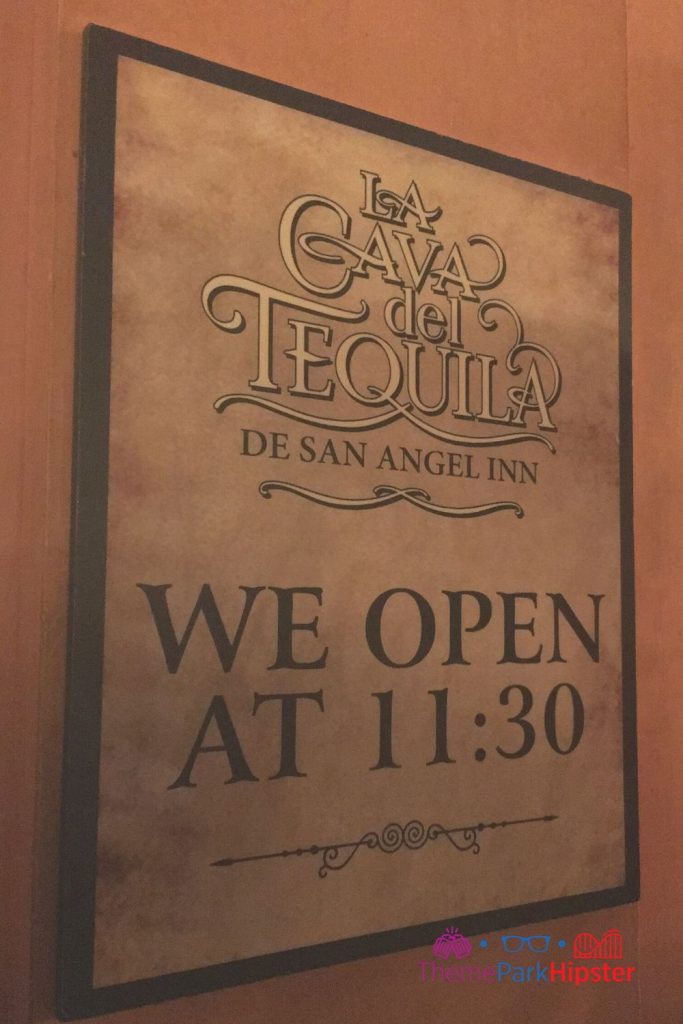 Our EPCOT Passport lays the countries out in this order so you'll know exactly what drinks, food, and atmosphere to expect next.
Plus, if you go in our suggested order (checking off your countries from either top to bottom of the passport, or bottom to top) you'll have the most direct route and the least amount of walking.
And trust us, on a humid day in a packed park, the last thing you want to do is walk more than necessary.
2. Take It Slow
We know, any challenge, including Drinking Around the World, sounds like it should be done in a fast and furious manner. But, to be honest, we would strongly advise against this.
First of all, doing so will hinder your ability to truly enjoy the EPCOT park. The rides, the entertainment, the shopping…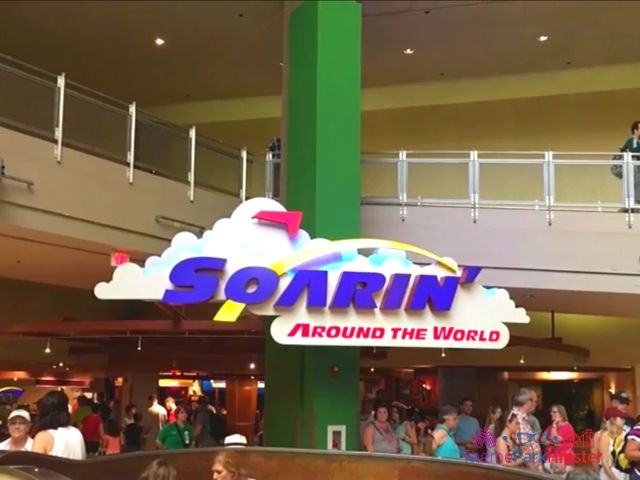 … you'll miss out on some of the park's best hidden gems if you're merely there just to drink.
Additionally, drinking as fast as you can simply isn't safe. Remember, Disney World is targeted towards children, and Disney Cast Members tend to take this seriously.
If they find any adults who are too far under the influence they will take action, and the last thing you want is to be escorted out of EPCOT or listed on a permanent no-park admission list.
3. One Alcoholic Beverage to One Free Glass of Water
We know, this is probably the same advice your mom gave you when you became of legal drinking age, but still, we think it also applies to the EPCOT Drinking Around the World Challenge.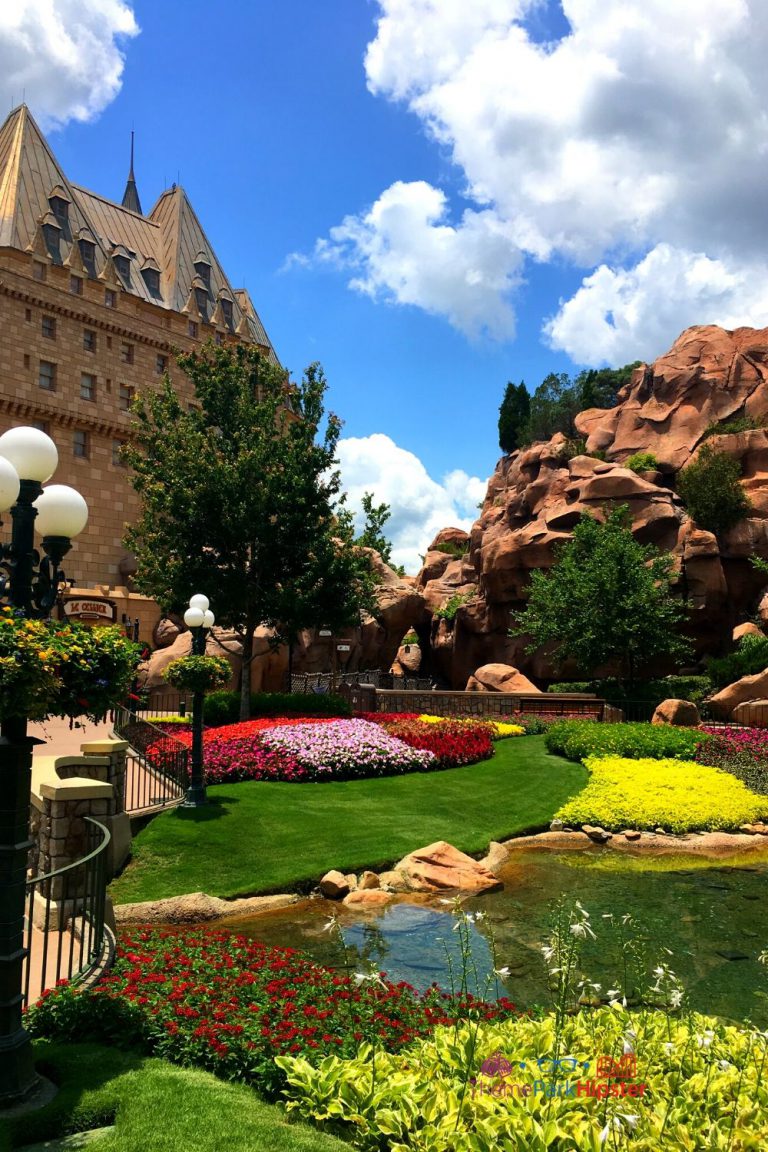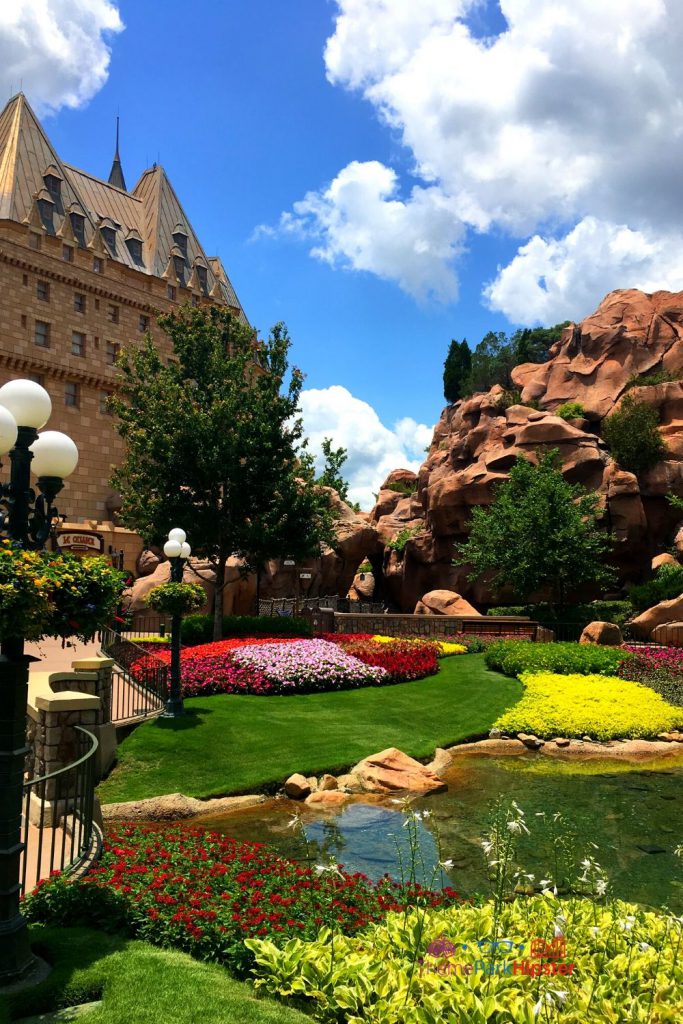 At Disney, or any other theme park for that matter, you are entitled to a free cup of ice water at any eatery or beverage station. Take advantage of this during your Drinking Around the World Challenge!
With every alcoholic drink you order, ask for an ice water as well. This will keep you hydrated, alert, and energized for your full park day!
4. Bring a Friend
We know that many of you ThemeParkHipsters are strong, independent, solo-adventurers, and we love that!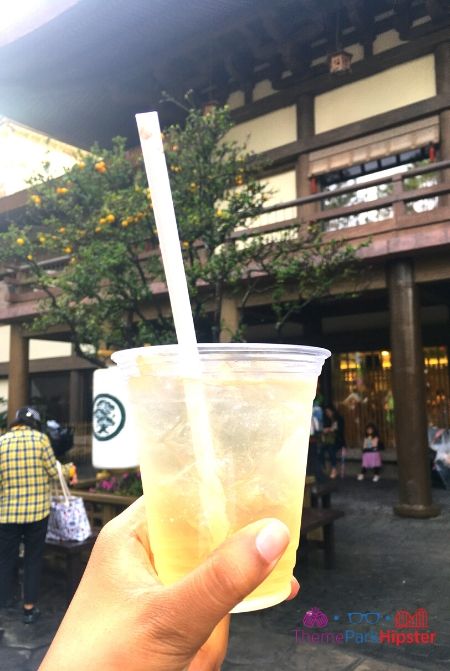 If you plan on tackling this experience alone, all the power to you! Just make sure you really take your time (one drink and glass of water per hour) and budget (around $130 to complete the whole challenge).
However, if you do plan on going to EPCOT with a friend or family member in the near future, this might be the best time to take on the Drinking Around the World challenge!
For starters, you can each alternate the countries you buy drinks at. Now your $130 drink budget just got slashed to $65, not too shabby, huh?
Additionally, you can split the drinks. Instead of feeling intimidated by drinking 11 drinks all by yourself in one day, share them!
Now you'll only have to drink a total of 5.5 which is a much friendlier number for a long park day.
5. Stop for Food
Of course with all the delicious, culturally diverse food options in EPCOT, we probably don't have to say much to encourage you to stop for some food or snacks along the way!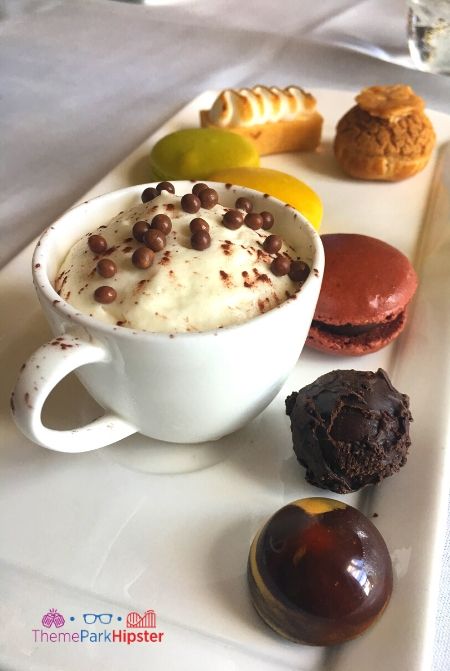 But, beyond doing this to get the full park experience, we also encourage it so you have the stamina to complete your Around the World Drinking Challenge.
Luckily, in our EPCOT Eating Around the World Passport, we offer you our favorite food/drink pairings in each country, so you don't have to think twice about it!
But, nevertheless, please do make sure you're not doing this challenge on an empty stomach! (You'll thank us later.)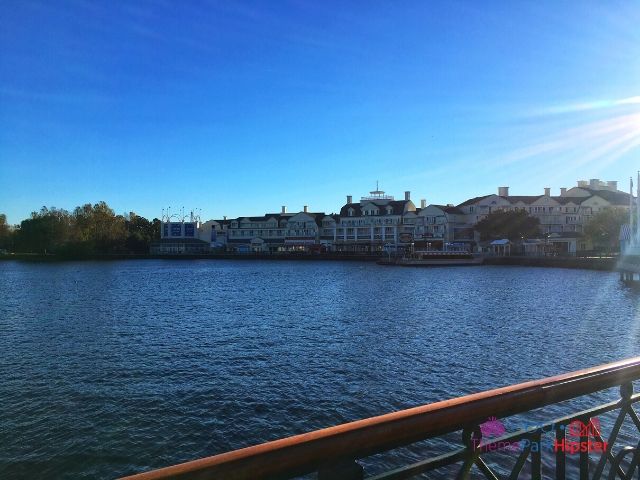 Start the day with a hearty breakfast at your home or hotel. Then, feel free to pack snacks (Disney allows for lunch boxes and non-glass drink bottles at park entry) or stop for food or a small bite every three countries or so.
Your stomach will be grateful!
Drinking Around the World Showcase at Epcot
So now for the part you've been waiting for! Our official food and drink tips and suggestions for each of the eleven countries in the EPCOT World Showcase.
And, as you're reading through these, if you wish you could have them in a more succinct version for your park day, do not fret!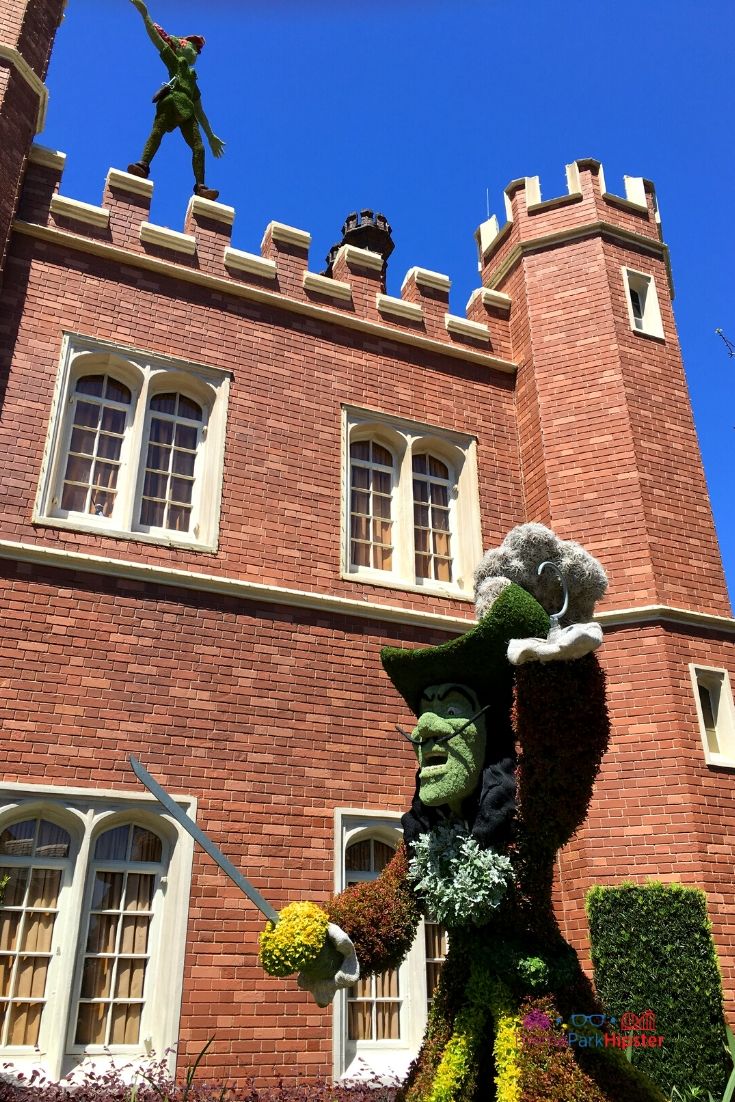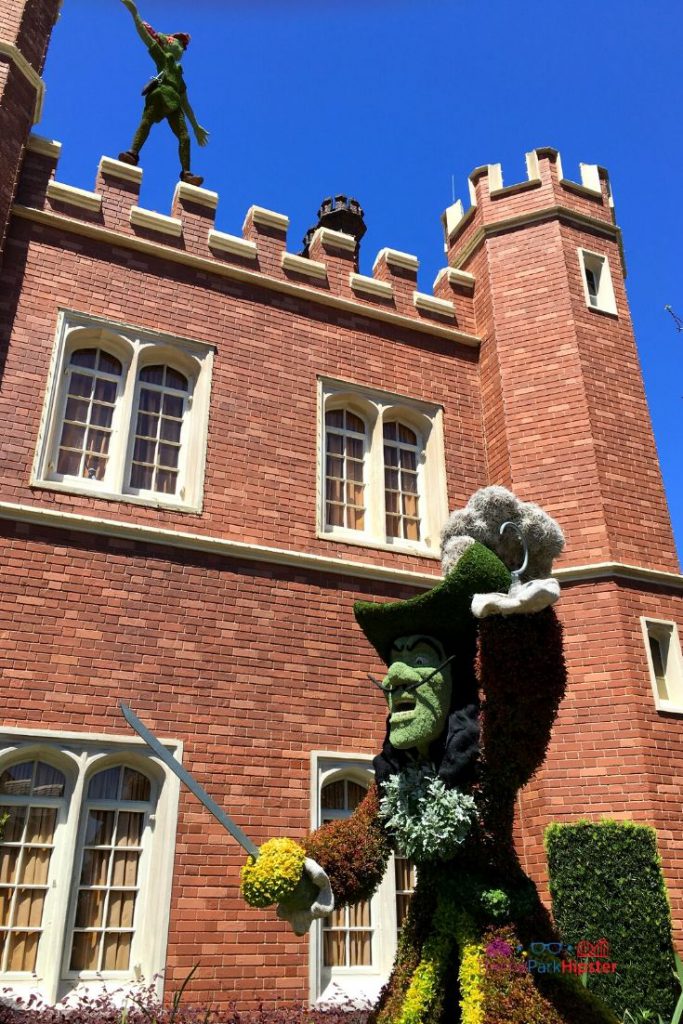 Our EPCOT Drinking Around the World Passport is just that. A quick, easy to read checklist that will keep your EPCOT Drinking Around the World Challenge focused and fun!
The following list starts with Mexico and ends with Canada, as if you were to enter the World Showcase from Future Land and turn left.
But of course, you are welcome to start with Canada and use this list or our EPCOT Drinking Around the World Passport from bottom to top!

P.S. Remember, that all prices and items are subject to change!
Mexico
Best Drink: La Cava Avocado (Margarita) at La Cava del Tequila – $15.50
Food Pairing: Tortilla Chips and Queso
Drink and Food Pairing Type: Salty and Savory
Pavilion Tip: This lounge style restaurant bar is located inside of Mexico's Hacienda, which is definitely not a sight to be missed! Aside from the awesome cultural atmosphere and cool air-conditioned interior, there are plenty of other attractions in here you won't want to skip.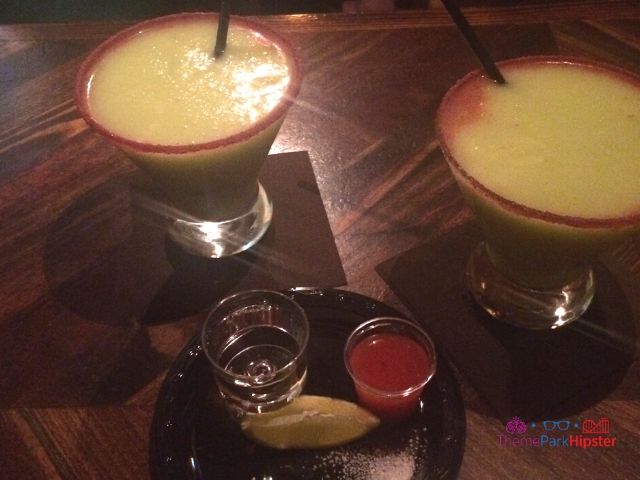 Including the Arriba's Brother's crystal display and workshop in La Princesa de Cristal and the relaxing yet adorable Gran Fiesta Tour featuring the Three Caballeros.
Norway
Best Drink: Viking Coffee at the Kringla Bakeri Og Kafe – $13.00
Food Pairing: Norwegian School Bread
Drink and Food Pairing Type: Energizing and Sweet
Pavilion Tip: While in Norway, don't forget to check out the Frozen Ever After Ride, which is quite possibly the best and most thrilling ride in the World Showcase!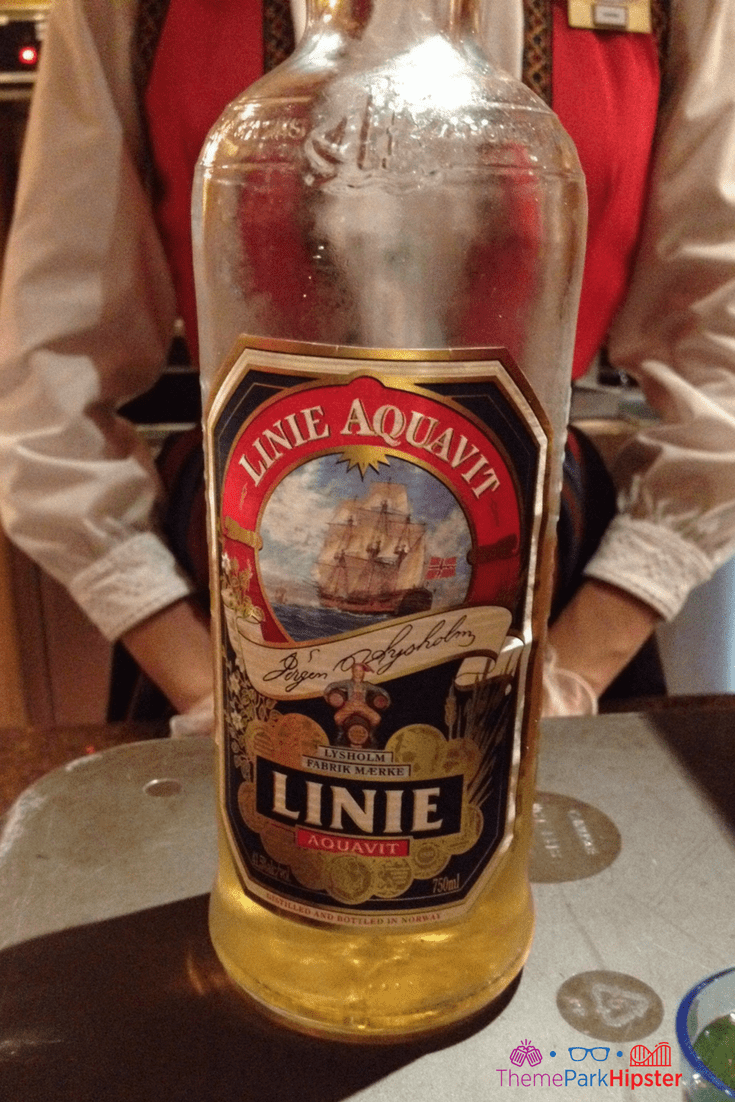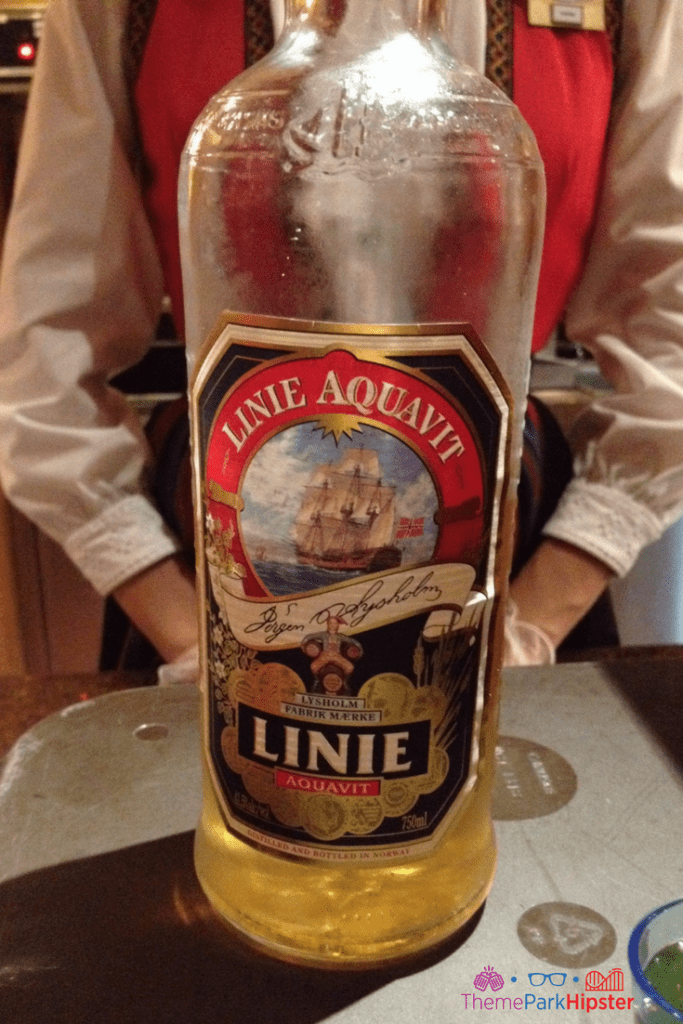 P.S. A FastPass is definitely recommended for this attraction if you can swing it…and probably better to ride before this decadent Norwegian food and drink pairing!
China
Best Drink: Mango Gingerita at Joy of Tea – $10.50
Food Pairing: Caramel Ginger Ice Cream from the Lotus Blossom Café or Curry Chicken Pocket at Joy of Tea
Drink and Food Pairing Type: Refreshing (especially for Ginger lovers!)
Pavilion Tip: Explore around this pavilion a bit! It goes a little further back than other country's pavilions, so you might miss a couple of hidden gems if you're not willing to explore.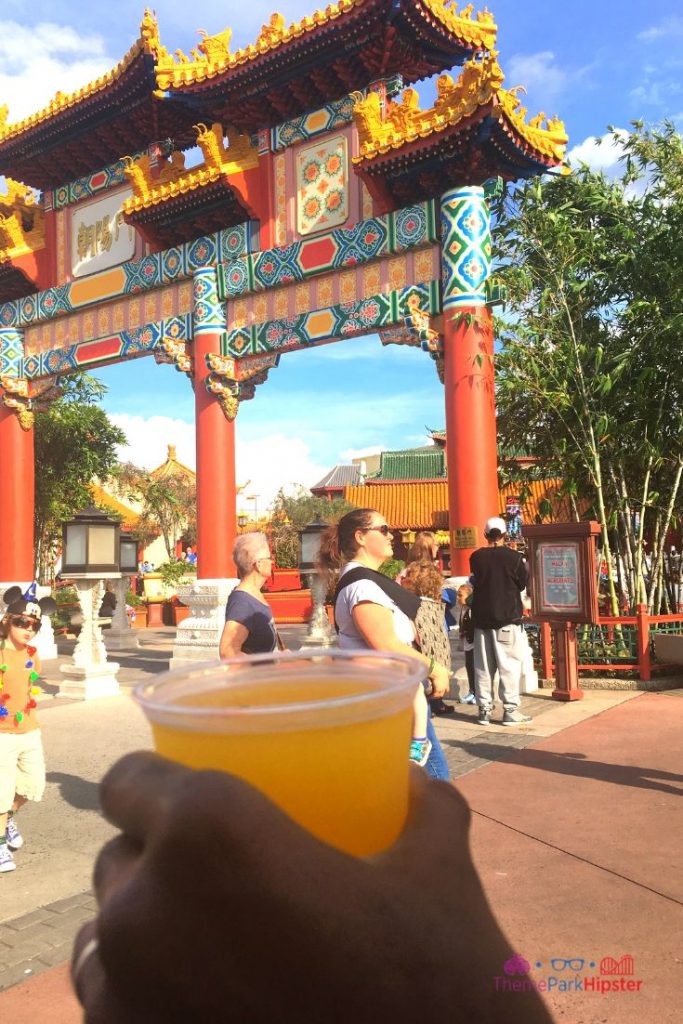 Including meet and greets with Mulan, performances by the Jeweled Dragon Acrobats, and the ENORMOUS House of Good Fortune gift shop.
Download and check the MyDisneyExperience App for character meet and greet and performance times.
Germany
Best Drink: Schöfferhofer Grapefruit at Sommerfest – $9.50
Food Pairing: Fresh Salted Pretzel from the Bier und Brezlen Cart
Drink and Food Pairing: Type: Fruity and Salty
Pavilion Tip: If you're in Germany, don't miss visiting the Karamell-Küche – or caramel candy kitchen. They have a huge selection of Werther's Candies and fresh caramel goodies like caramel covered apples and caramel drizzled popcorn.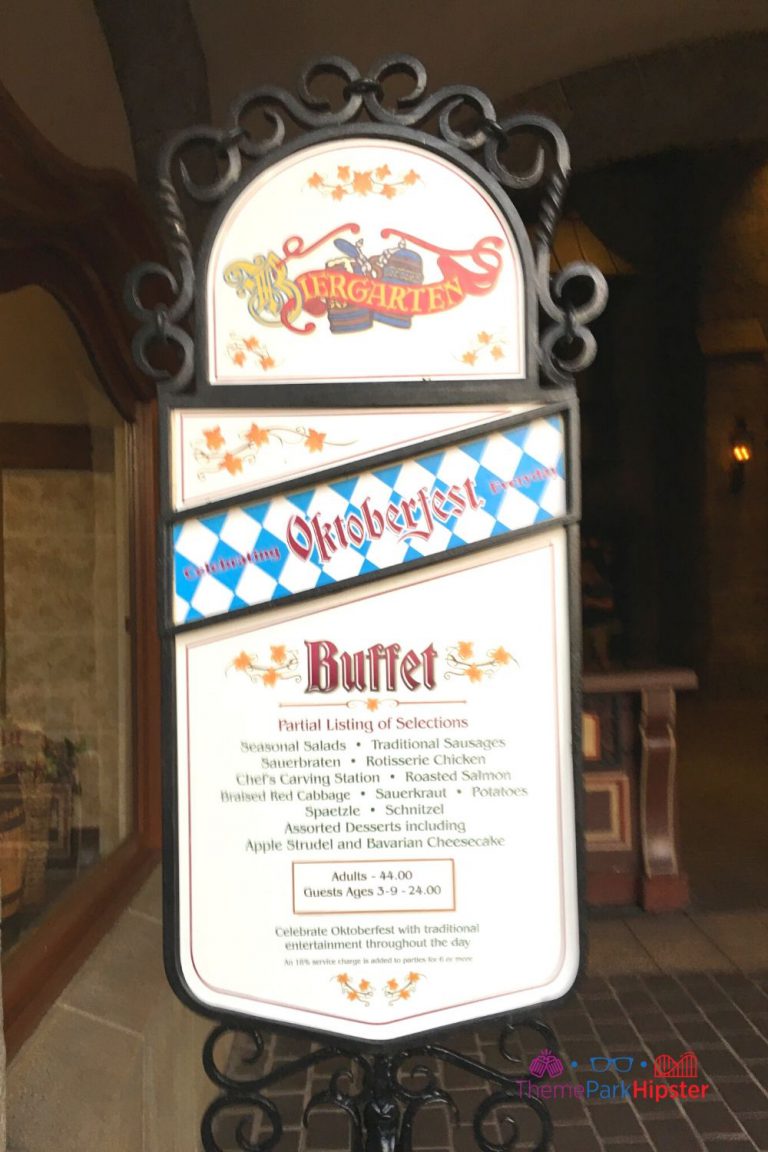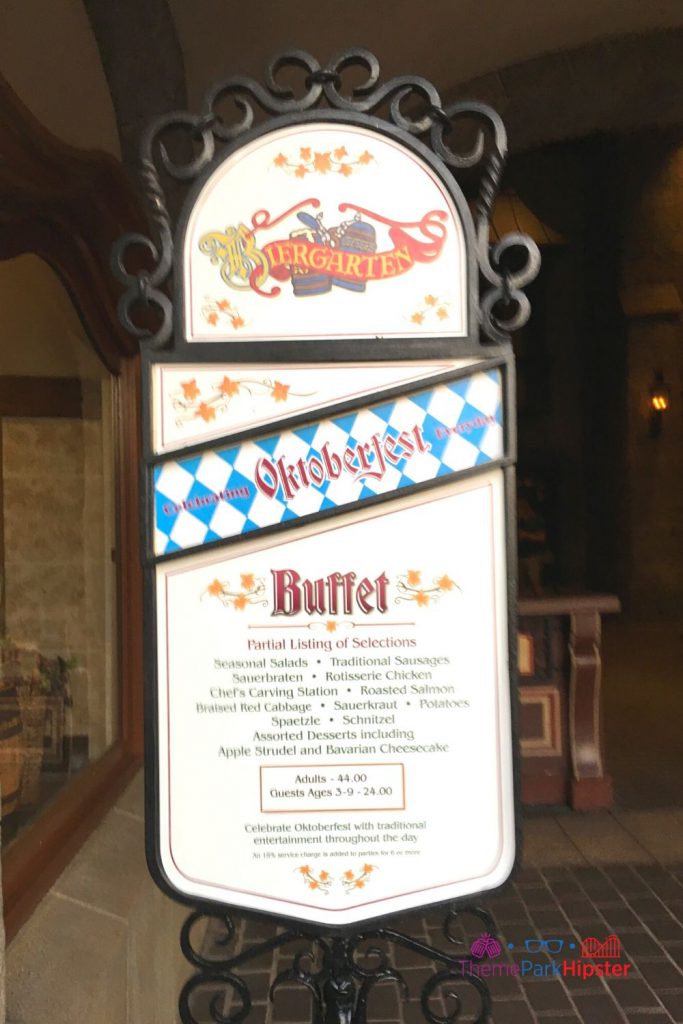 Definitely a must for sweet snacks and souvenirs!
Italy
Best Drink: Powerhouse Red Wine Flight or Italian Margarita at the Tutto Gusto Wine Cellar – $18
Food Pairing: Prosciutto di Parma Panini
Drink and Food Pairing Type: Elegant and Savory
Pavilion Tip: Italy is one of the best viewing locations for the night time fireworks display in EPCOT!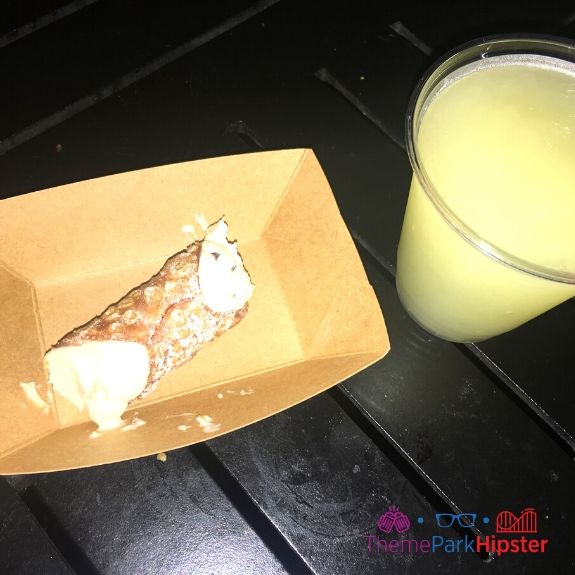 Grab a cannoli and limoncello for a sweet dessert at least 30 minutes prior to that night's firework start time and find a charming spot overlooking the water.
United States of America
Best Drink: Frozen Jim Beam Red Stag Lemonade in the Fife and Drum Tavern – $14
Food Pairing: Jumbo Turkey Leg
Drink and Food Pairing Type: Refreshing and Filling
Pavilion Tip: As we know, our nation is known for many great things…and one of them is funnel cake! That's right, the only spot in all of EPCOT to grab a funnel cake is in the America Pavilion.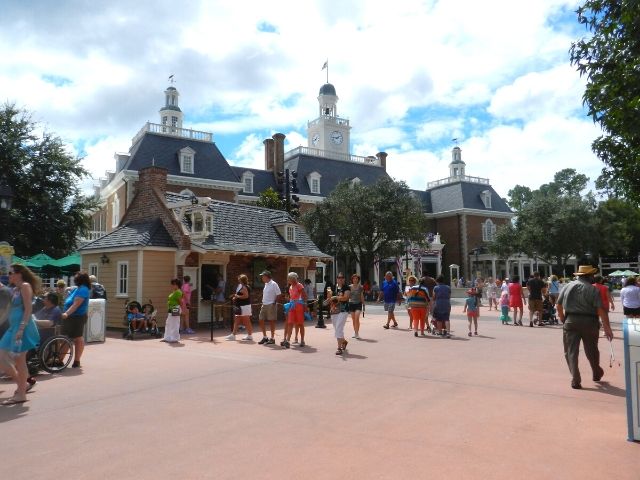 Or, if you're all full on sweet snacks, you can check out the Voices of Liberty acapella group in the American Adventure Pavilion Rotunda instead (where the 29-minute American Adventure animatronic show is also held) .
Check the MyDisneyExperience App for performance times.
Japan
Best Drink: Tokyo Sunset at the Kabuki Cafe – $8.50
Food Pairing: Temari Sushi Combo
Drink and Food Pairing Type: Light and Refreshing
Pavilion Tip: If you're looking for an immersive, entertaining sit-down dining experience while in EPCOT, then we definitely recommend the Japan Pavilion.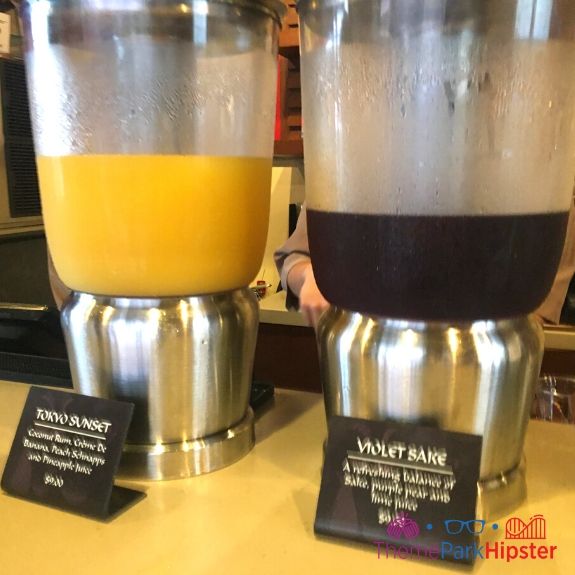 The Teppan Edo restaurant, located above the Mitsukoshi department store, which is also MUST do, is a group-style hibachi experience full of laughs, culture, and epic food!
Morocco
Best Drink: The Mediterranean Journey at Spice Road Table – $14.95
Food Pairing: Moroccan Lamb Sausage
Drink and Food Pairing Type: Fruity and Savory
Pavilion Tip: If you're into characters, then this hidden pavilion tip is for you! Practically everyone knows that Aladdin and Jasmine meet in Adventureland at Magic Kingdom (in front of the Magic Carpet ride)…but did you know that they do meet and greets in Morocco too?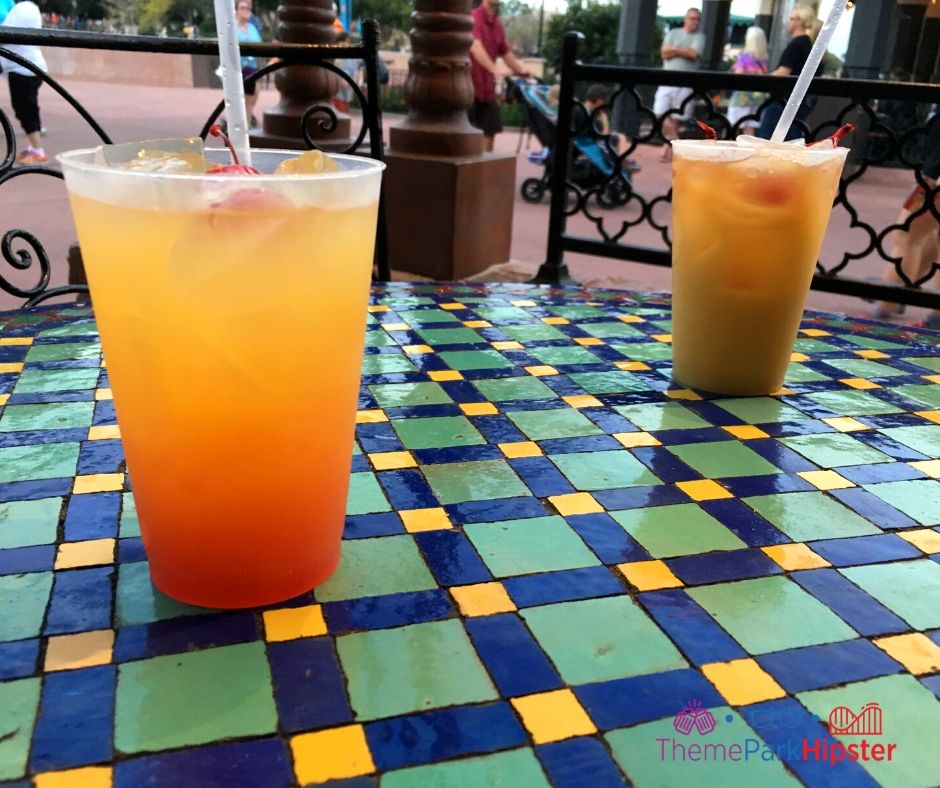 And, we have to say, considering how beautiful the Moroccan Pavilion is, your photos here are sure to be bright and eye-catching!
France
Best Drink: Orange Slushie at Les Vins des Chefs de France – $11.50
Food Pairing: Quiche Lorraine from the Les Halles Boulangerie Patisserie
Drink and Food Pairing Type: Tangy with a Boozy Brunch-Vibe
Pavilion Tip: Les Halles Boulangerie Patisserie is a bit of a hidden secret in France as it's hidden in the back of the pavilion- but trust us, you won't want to miss it!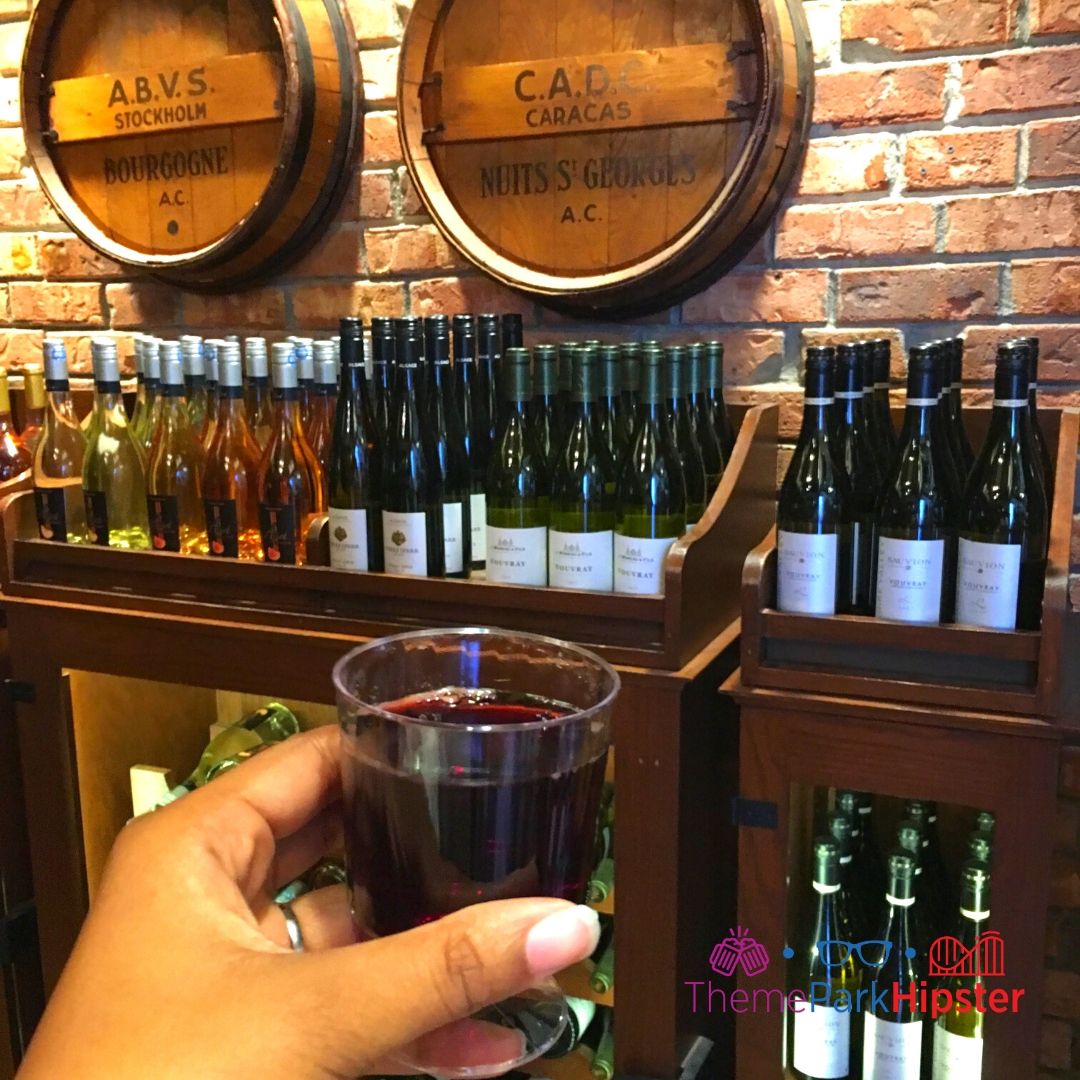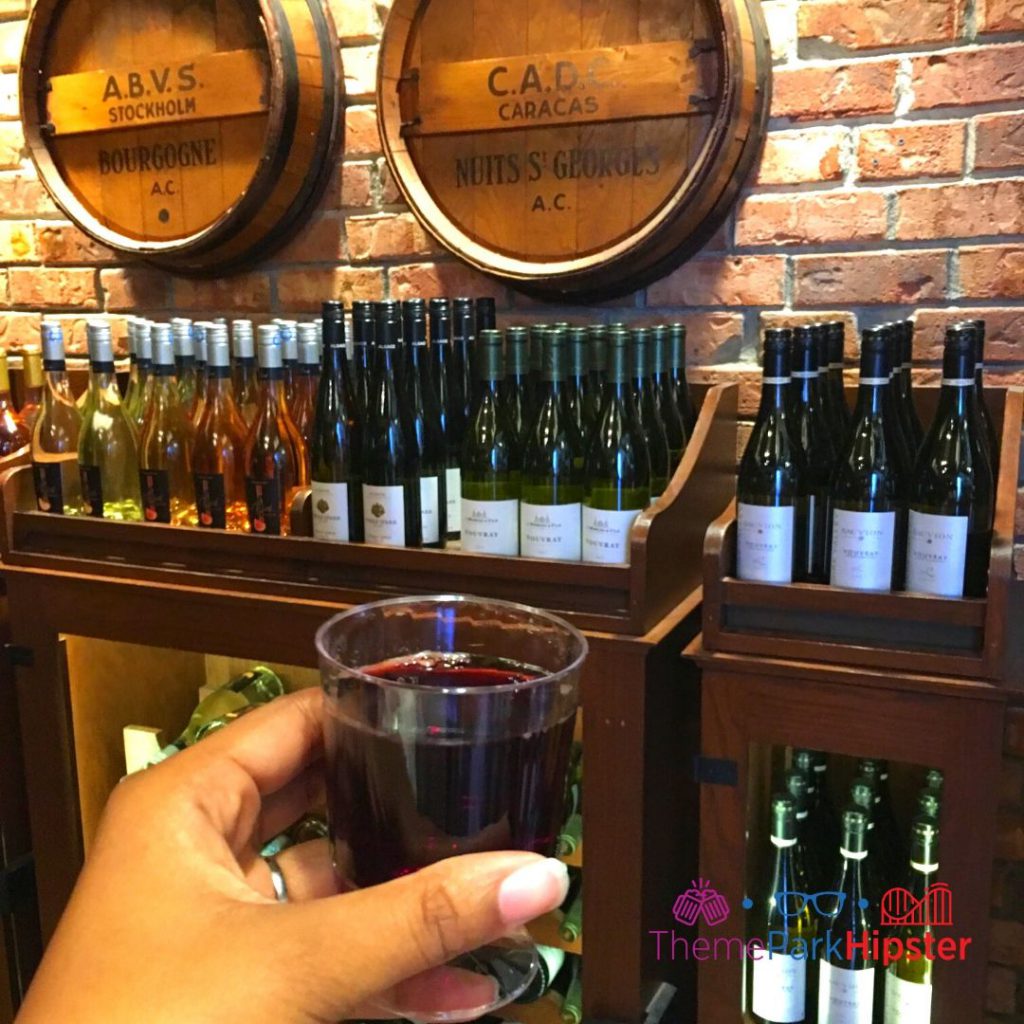 The walls here are STACKED with delicious sandwiches, snacks, and desserts you won't want to miss!
United Kingdom
Best Drink: The Leaping Leprechaun at the Rose and Crown Pub – $18 (served in a souvenir cup)
Food Pairing: Chicken Masala Curry or Fish and Chips
Drink and Food Pairing Type: Sweet and Spicy
Pavilion Tip: Like some of the other pavilions, United Kingdom certainly has some hidden secrets out of plain sight.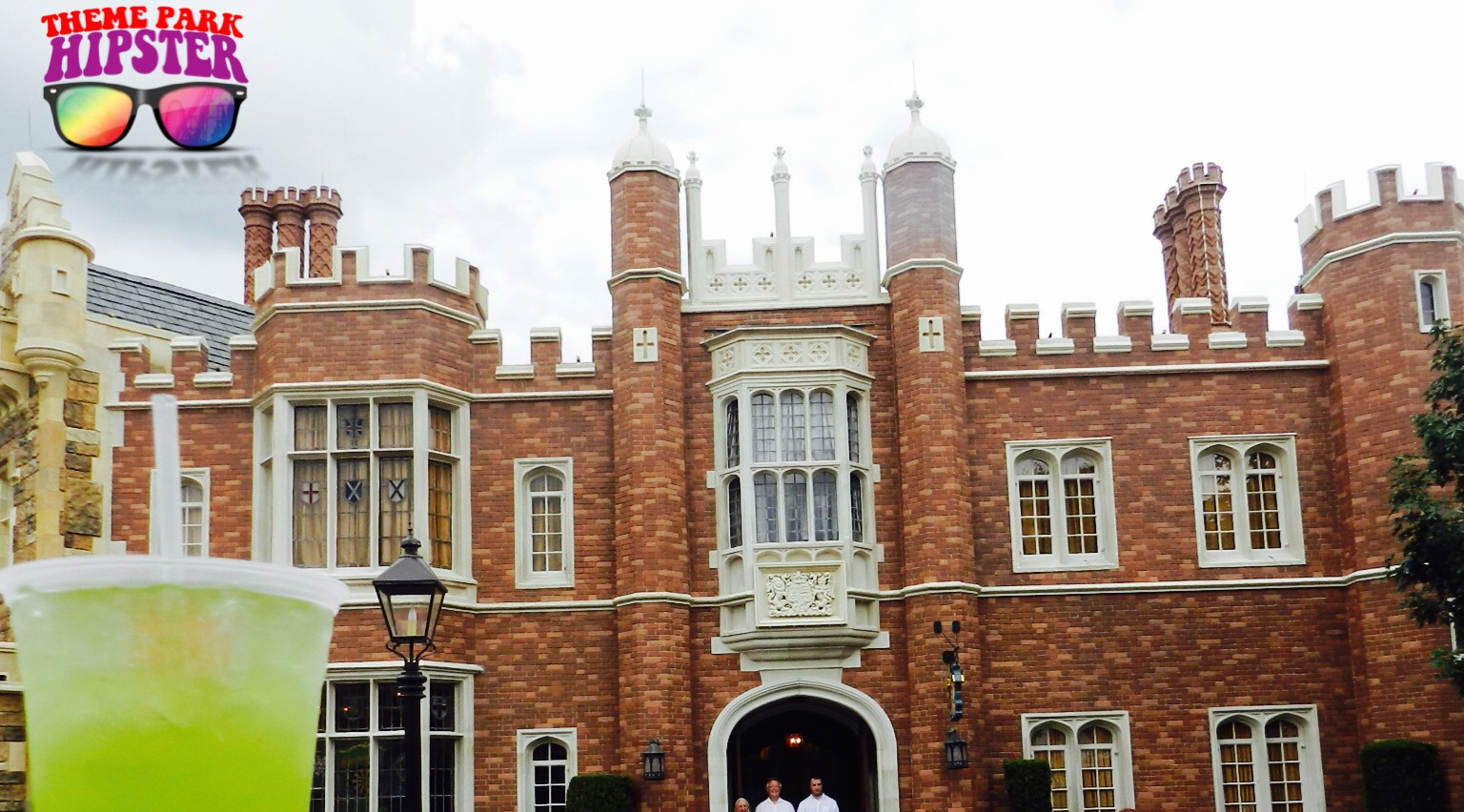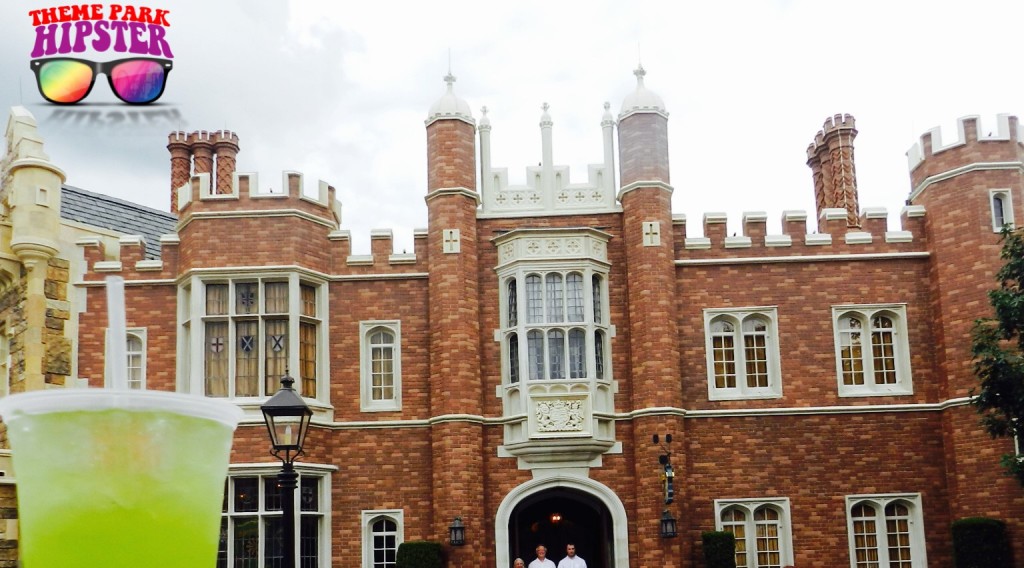 Walk behind the shopping area (across from the Rose and Crown Pub) for meet and greets with Alice, Mary Poppins, Winnie the Pooh Bear, and awesome UK cover bands.
Canada
Best Drink: Ottawa Apple or the Apple Icewine at the Trading Post – $10.75/$7
Food Pairing: Poutine
Drink and Food Pairing Type: Traditional and Classic Canadian Pairing
Pavilion Tip: While you're in the Canada Pavillion, don't forget to check out the newly updated "Canada Far and Wide" film in 360 Degree Circle Vision.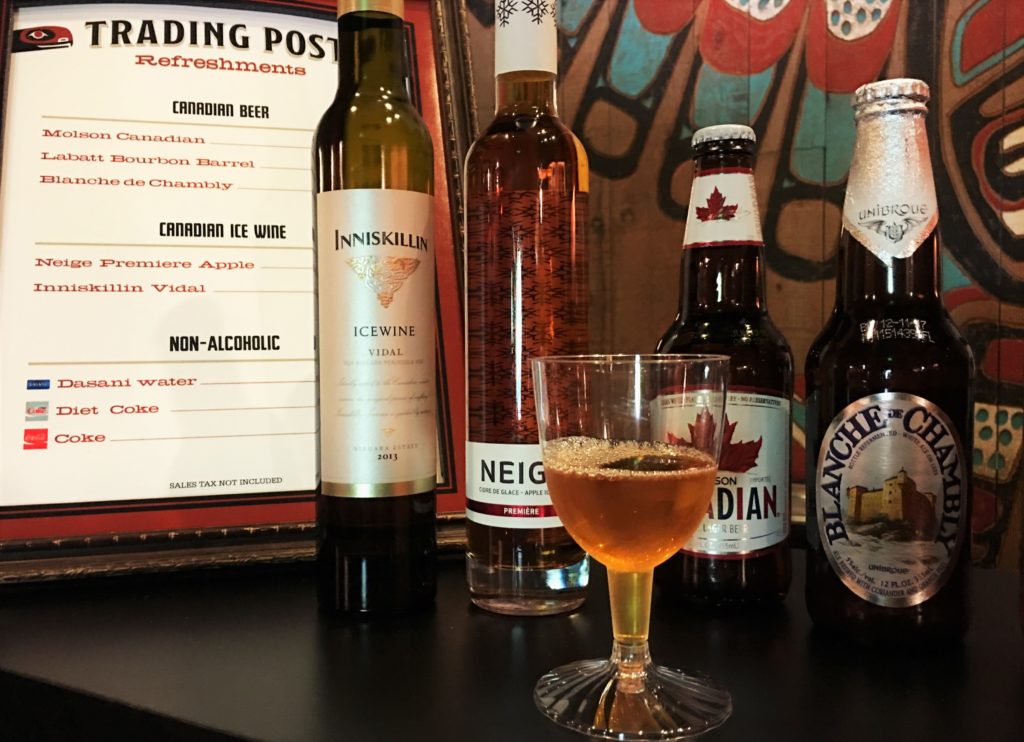 We're sure you'll enjoy this quick pit-stop in a peaceful air conditioned space; and the film itself is narrated by the always hilarious Schitt's Creek stars Catherine O'Hara and Eugene Levy.
*Please remember that prices and offerings are subject to change without notice.

Final Thoughts on Your Drinking Around the World at Epcot Passport
Now that you've read our in-depth insight into the unofficial EPCOT Drinking Around the World Challenge, we're sure you're excited to get started!
Our only final reminders are to properly budget (the above recommended drink list comes out to $134, not including food and/or snacks), start on a full stomach, and nurse your drinks throughout the day with lots and lots of water!
And of course, we highly recommend you click here to download our EPCOT Drinking Around the World Passport for quick and easy access to our exclusive World Showcase drinking checklist.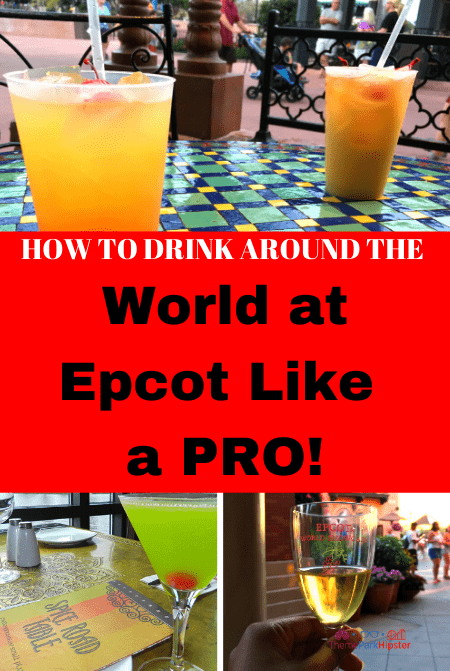 Whether you choose to keep it on your phone or print it out, we're sure that with our EPCOT Food and Drink Passport you'll be a World Showcase drinking champion in no time!
Until next time, Happy Park Hopping Hipsters!
About the Author
Gina is a former Walt Disney World and Disney Cruise Line Cast Member who enjoys reliving the magic by writing helpful tips and tricks for future guests!
Check out more about her Disney adventures and writing endeavors at www.ginaarfi.net.
UP NEXT: 19 Do's and Don'ts of Drinking Around the World at Epcot