The world of Pandora immerses you and takes you automatically into a magical journey with the Na'vi people the Disney way.
This land engulfed me as soon as I walk through the gates. The majesty, the beauty, and the harmonious sounds of nature transported me to another place. Now I am not a super fan of the movie AVATAR, but as I sat in the newly discovered land, I was totally blown away.
I no longer felt as if I was in Walt Disney World's Animal Kingdom anymore. If that's what Disney Imagineers we're going for, then they absolutely nailed it!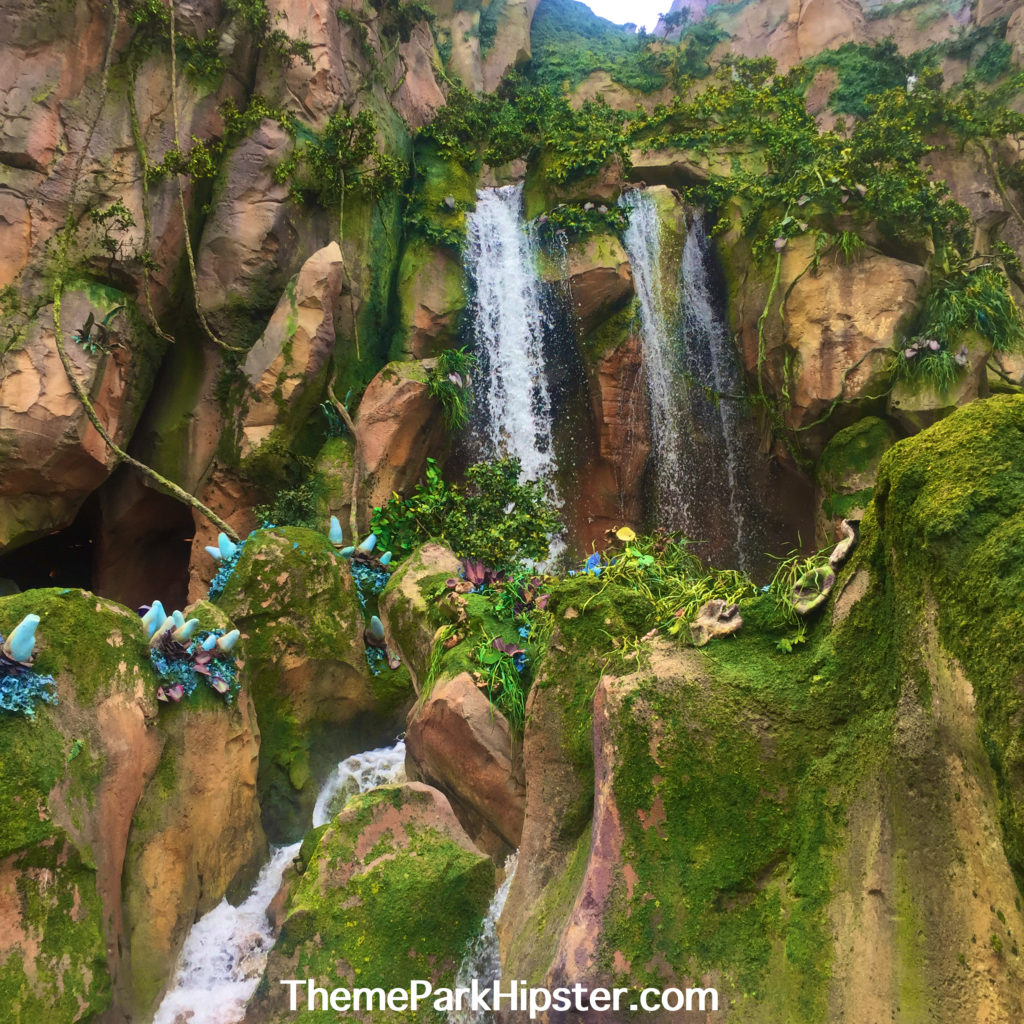 In this article, I will go through:
Pandora- The World of Avatar Attractions
What to eat in Pandora
Where to shop in Pandora
How to maximize your day
Pandora Pros and Cons
My final thought about Pandora

Pandora Attractions
Avatar Flight of Passage:
On this one-of-a-kind ride, you get the opportunity to fly on a banshee… an actual mountain banshee! The aerial predator takes you on a fantastic journey above beautiful Pandora. The technology that Walt Disney World used in this attraction combines the 3-D type of screen with a new bicycle-like vehicle. Some guests have compared the Avatar Flight of Passage vehicles to the ones on Tron at Disneyland in Shanghai.
If you are a fan of Soarin Around the World, then you will be ecstatic to experience this breathtaking ride. Except you be on a much bigger quest in an absolutely visceral experience that tops Soarin 100 times.
The queue for this ride is an attraction in itself.
Avatar Flight of Passage has a three-part queue.
Part One: You will trek through pathways of the Pandoran plants, trees, and mystic water falls for an amazing aerial view of the Avatar-inspired land.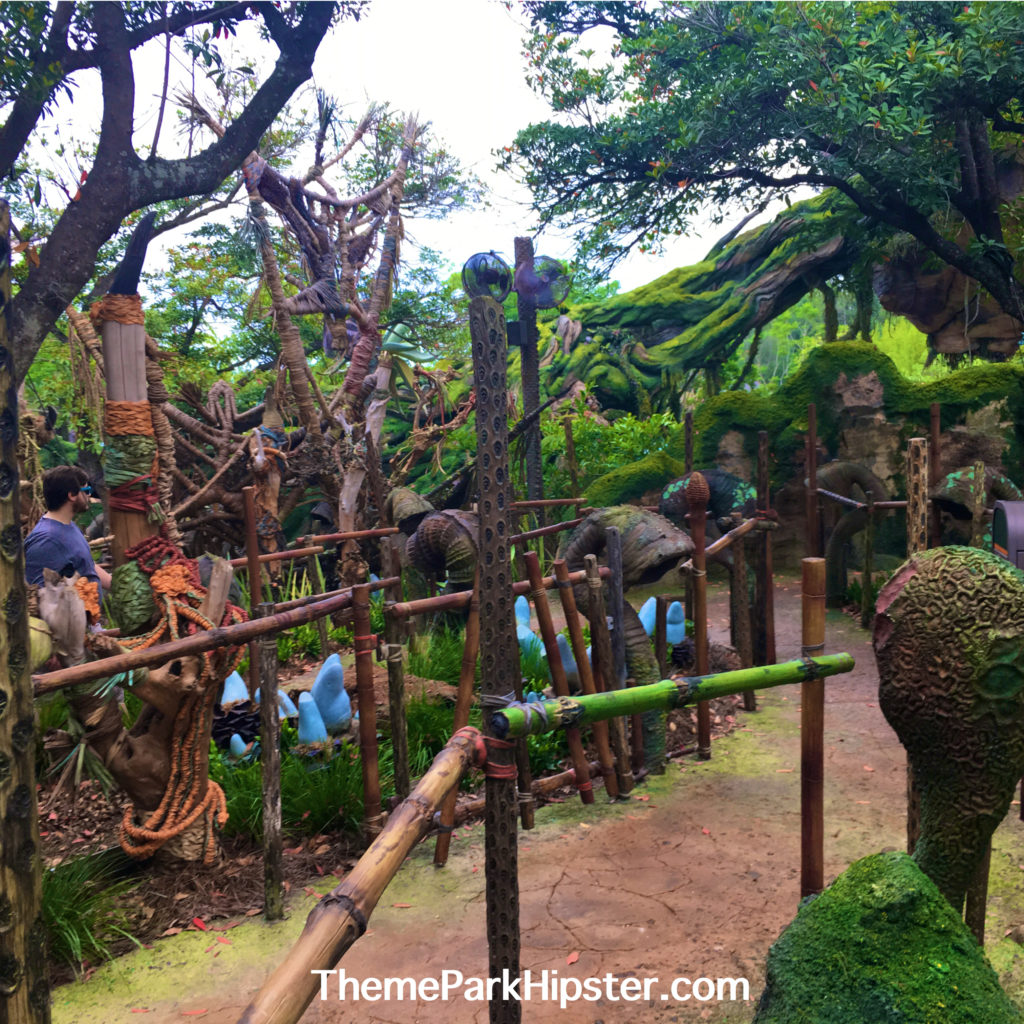 Part Two: You will go through a beautiful bioluminescent forest and end up in a laboratory. The laboratory is where research of the Na'vi people and the moon Pandora takes place. The studies of Pandora are funded through the Pandora Conservation Initiative program. In the lab, you will see various plants, organisms, and ecological findings. You will also be able to walk up and see a full-size avatar, which is such an amazing view in itself.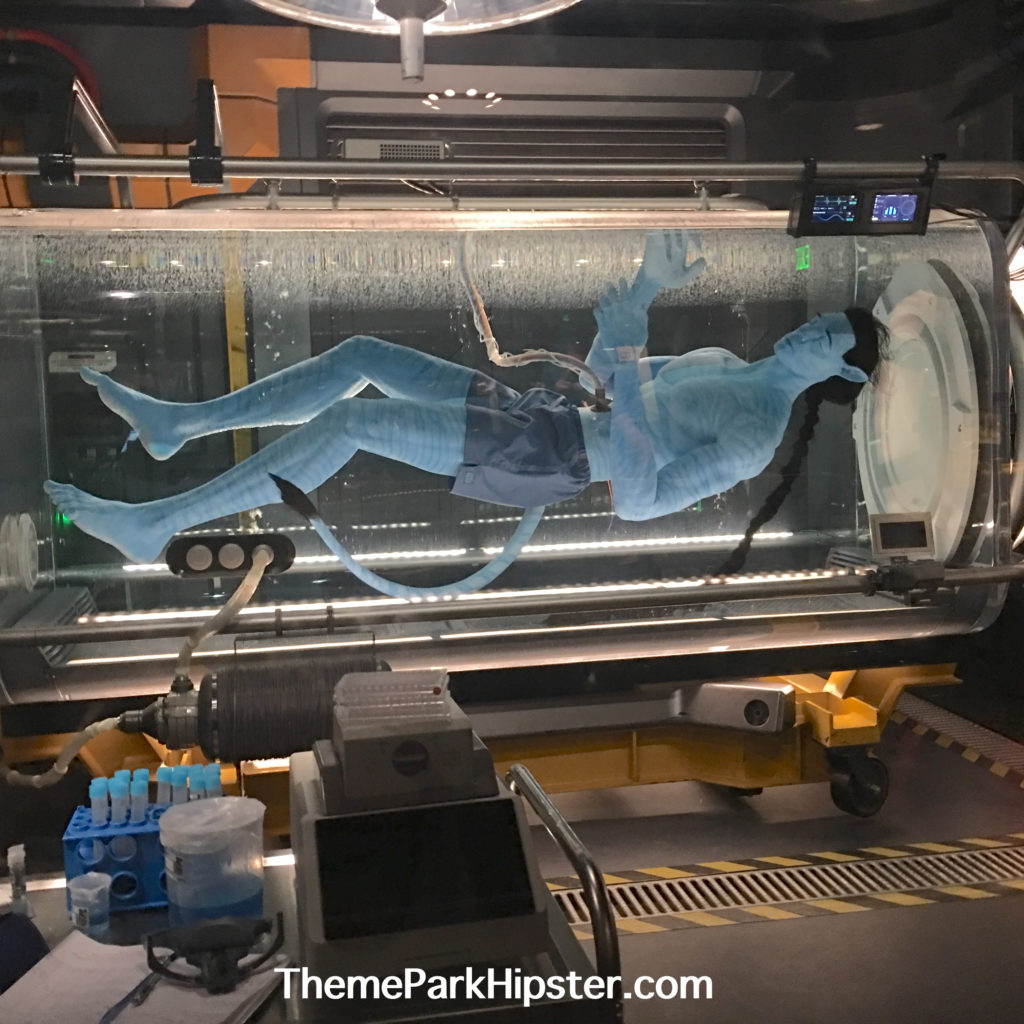 Part Three: The final aspect of the line is where you're scanned for the Avatar body and then it's go time! You're transported into your new form to enjoy the epic Na'vi experience.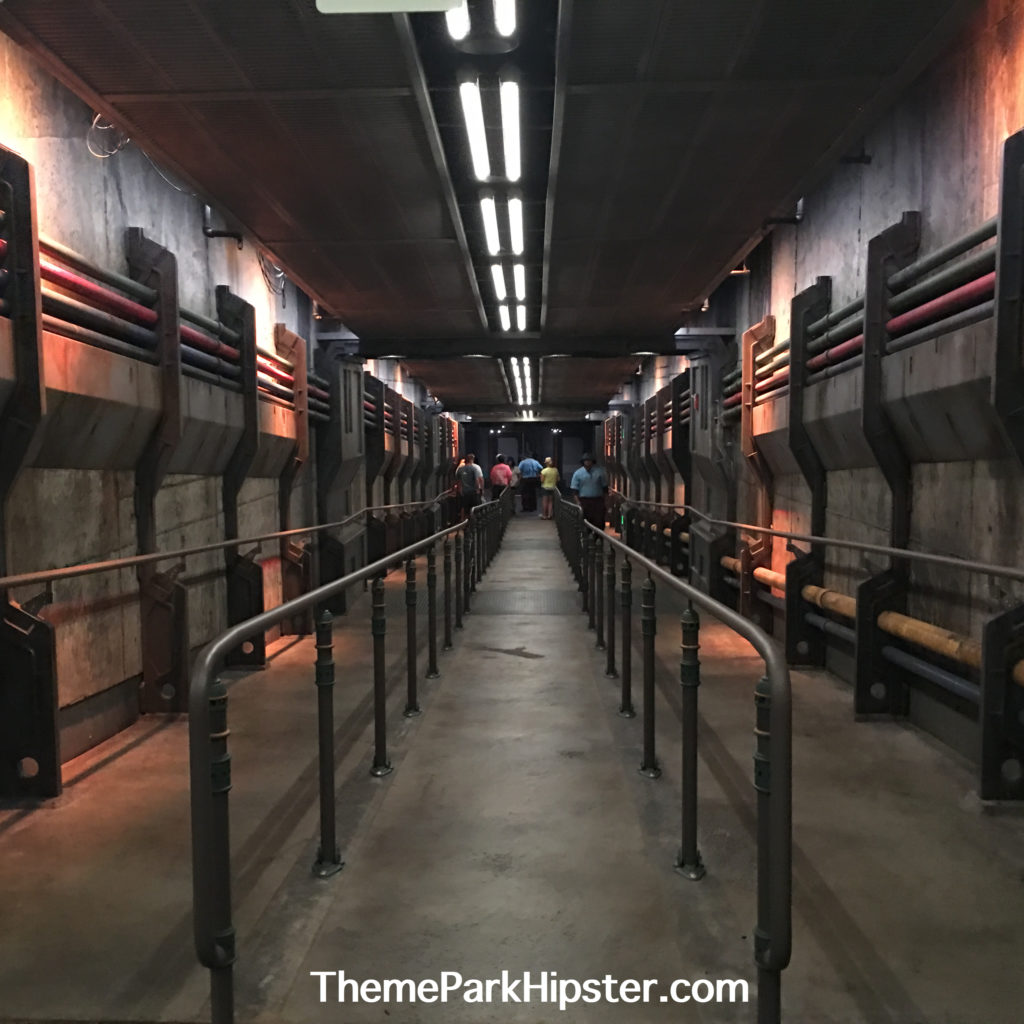 The only con with this ride is that if you are prone to motion sickness then you may want to reconsider. The motion sickness aspect is not as bad as The Simpson Ride at Universal Studios Florida. If you're super sensitive to motion-based rides, then you want to take precautions. Also, be mindful that due to the type of ride vehicle, larger adults (taller) may not be able to fit properly on this attraction. Guests have to be a minimum of 44" to ride.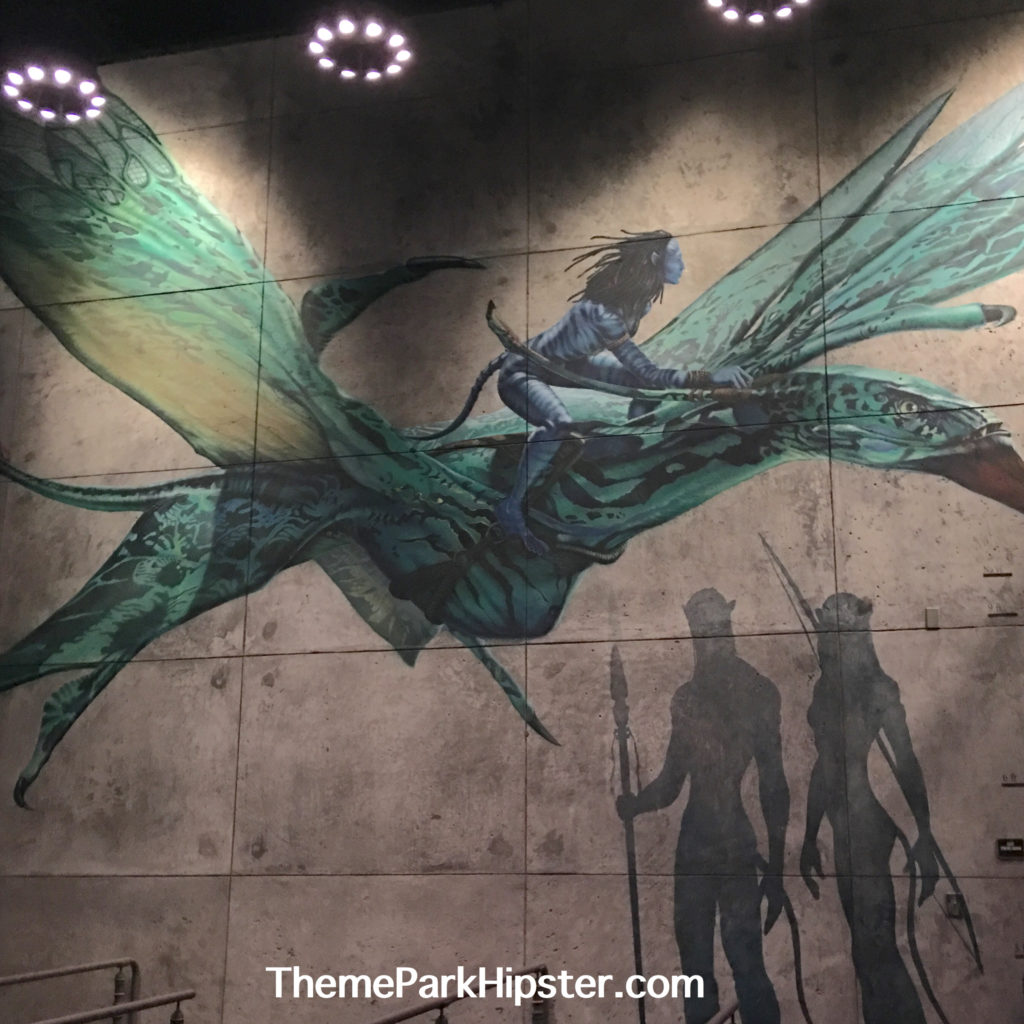 I give this ride, on a hipster scale of 1 to 10 a 10 plus! It is a must do attraction. When you have the chance to book your FastPass+ do it as soon as possible for Avatar Flight of Passage.
Na'vi River Journey
This is a classic Walt Disney World boat ride adventure. It's comparable to Frozen or Pirates of the Caribbean. It takes you on a ride into the bioluminescent rain forest in search of Na'vi Shaman of Songs. You will meet the great wise one on your journey and you will be in tune with the gorgeous colors of nature and fantasy all wrapped up into one ride.
This isn't a top thrill attraction, but it is a nice classic Disney experience for those who are fans of this type of ride. I loved it because it continued to flow the theme of Pandora splendor straight into this river ride.
Not to mention that it's just down right BEAUTIFUL!
It's a perfect ride to escape the heat and relax your feet. It's also a ride the whole family can enjoy together.
I truly enjoyed the Na'vi River Journey. On scale from 1 to 10 I would say that it was probably a 7.5.
Valley of Mo'ara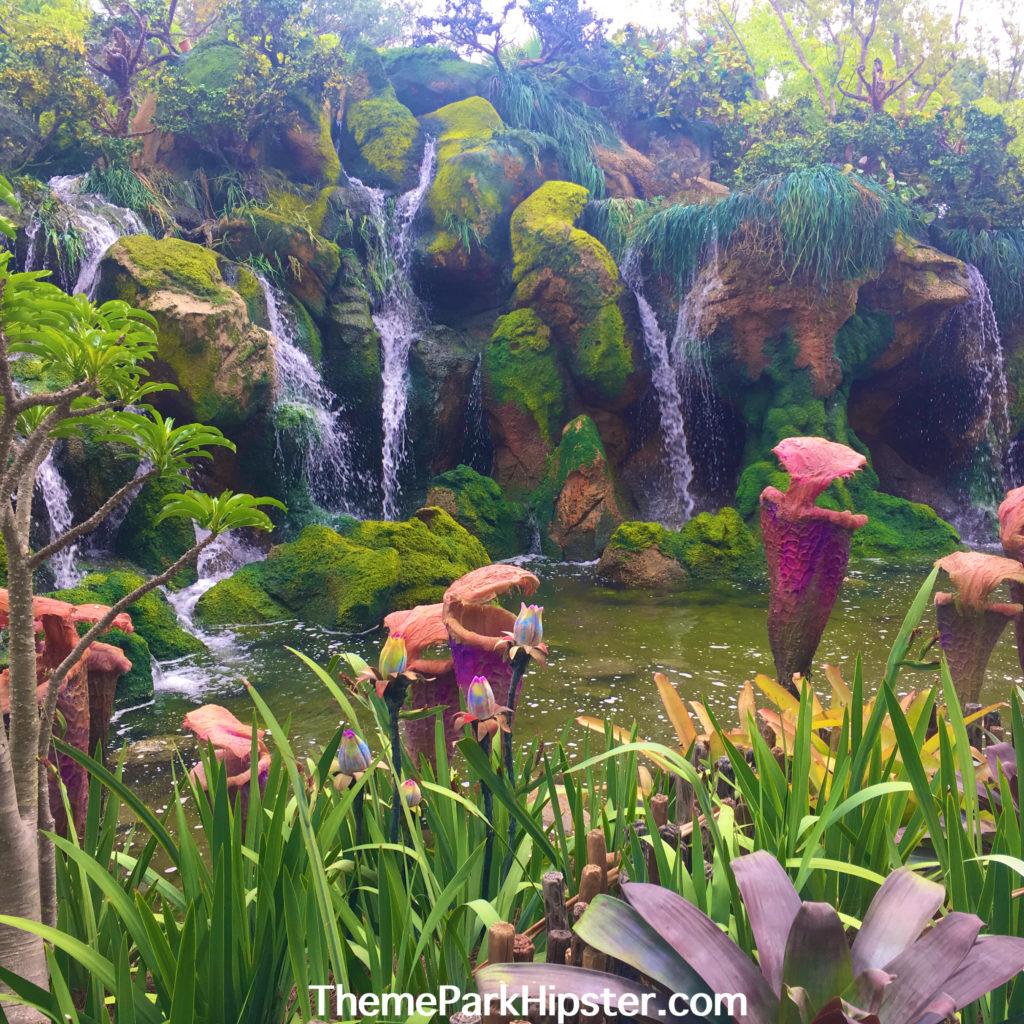 You get to hike up the floating mountains and check out the glowing fauna in nature that surrounds you in Pandora. You're basically transported into the actual territory that the Na'vi people live. It's super realistic and it's absolutely gorgeous. Exploring the exotic plants, the Na'vi-built drum circle, the Na'vi totems and other cultural items are all up for discovery in this valley.
Even when going up higher and higher all you see is beauty in the trees and vegetation. You don't see any other parts of Animal Kingdom and that's why I felt like I was no longer in the park anymore.
What to eat in Pandora- The World of Avatar
Next up we have the food and as the Disney Food Blog would say, food is a theme park. You truly get that experience here.
Satu'li Canteen
The food available at Satu'li Canteen is more health-conscious and more sustainable friendly. Although it is health-conscious, it is undeniably delicious.
I was a little hesitant when I first got there, but I did dive in and try the different items on the menu. I tried the steamed buns, the build your own bowl, and the dessert.
Cheeseburger Steamed Pods – Bao Buns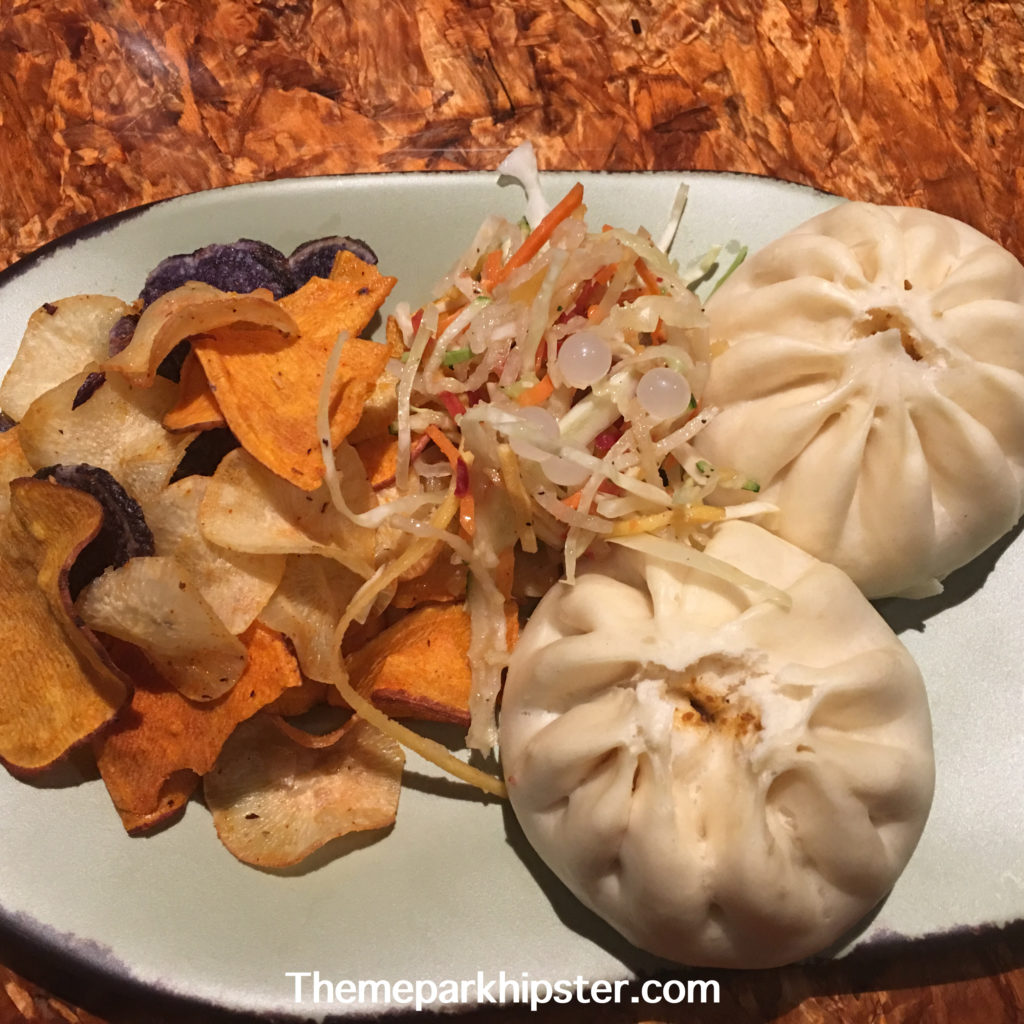 The cheddar taste wasn't overpowering. The winner of the show was the actual bun. The bun is definitely what you would expect from a traditional steamed bun. The texture was fluffy, soft, and moist. I could've just ate the bun alone, because it was absolutely remarkable. It came with coleslaw and what seem to be homemade chips, topped off with boba balls.
Chopped Wood-Grilled Chicken Bowl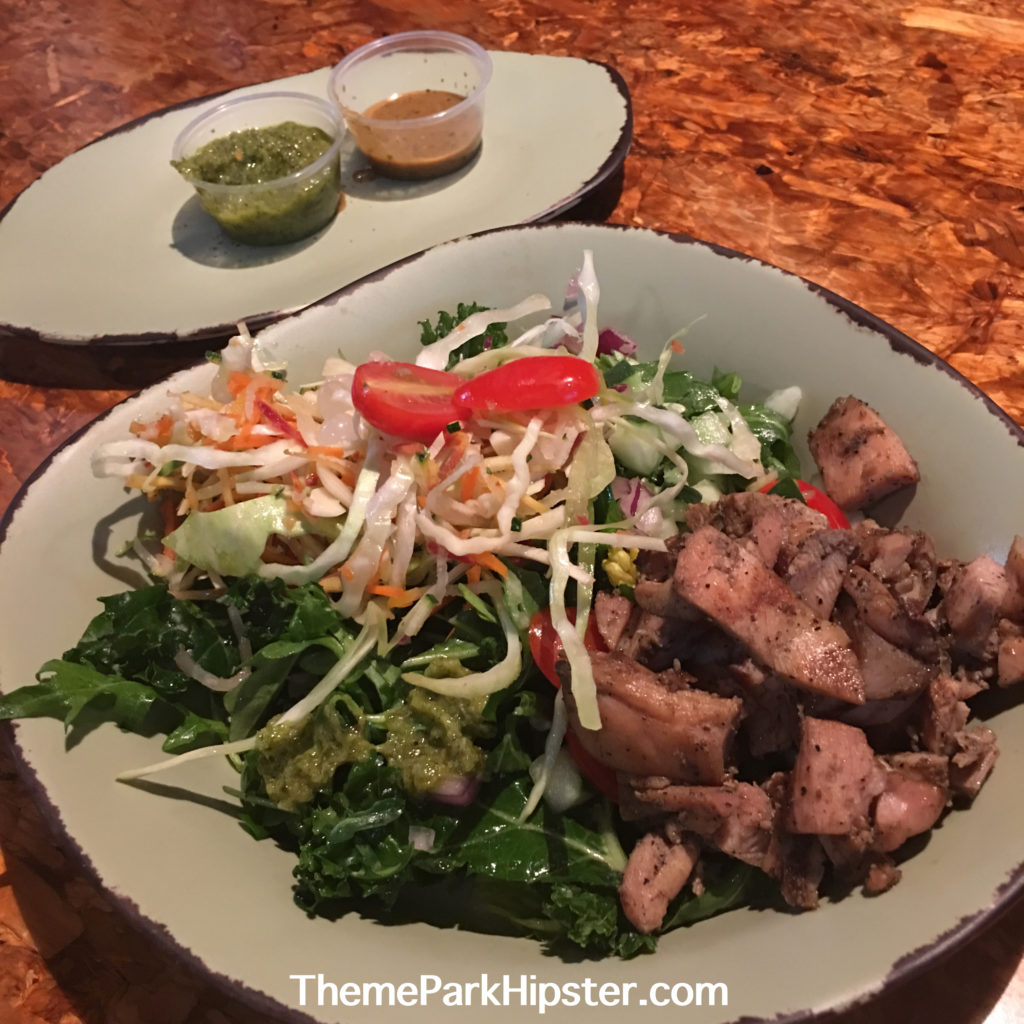 I was happy to try this smoky chicken goodness. The bowl included chicken thighs marinated with garlic and olive oil topped with crunchy vegetable, vinaigrette, and chimichurri sauce. It was placed on a bed of kale and romaine mix.
Blueberry Cream Cheese Mousse
The dessert was all the rave and I'm pretty sure there have been pictures circulating around the Internet of this blueberry mousse. It was delicious and the blueberry taste wasn't so overpowering, which was my main concern.
Blueberry cream cheese mousse had a passion fruit curd on top that provided a superb balance and texture.
Chocolate Cake
Chocolate Cake with a Crunchy Cookie Layer and Banana Cream Topping
The chocolate cake was my favorite; however, at first it was hard for me to eat because the chocolate was so rich. It would've been better if it was cut with some type of dairy product like ice cream or whipped cream. As the cake sat longer it got softer. I then combine the banana cream topping with the crunchy cookie layer. Each bite got sweeter, better, and deliciously more intense.
Dreamwalker Sangria
Refreshing White Sangria with a hint of Blue Curaçao
The signature drink during lunch and dinner is the Dreamwalker Sangria. There were mixed reviews of the drink among the company I was around. The main concern is if you're more of a sweet wine drinker then you may not be such a fan. If you are a wine person and it doesn't matter if it's dry or sweet, then you'll enjoy the sangria.
Pongu Pongu
Pongu Pongu is a most do spot in Pandora. Be sure to try both the drinks Night Blossom (non-alcoholic) and the Mo'ara Margarita. The Pongu Lumpia snack, a delicious pineapple pastry, is also a winner.
Pandora Dining Options
Satu'li Canteen Menu
Breakfast
| | | | | | |
| --- | --- | --- | --- | --- | --- |
| Steel Cut Oatmeal | Fresh Fruit Plate | Breakfast Steamed Pod | Pork Hash | Steak and Eggs | French Toast |
| Steel-cut Oats, topped with Caramelized Brown Sugar, Bourbon-soaked Raisins, Marcona Almonds and Goji Berries | Pandoran Tropical Fruits served with fresh Yogurt-Muesli topped with Vanilla scented Maple Syrup | Steamed Pods filled with Scrambled Eggs, Bacon, Spinach, Cheddar Cheese served with Pickled Slaw | Slow Roasted Pork and Potato Hash topped with Grilled Chorizo Sausage, Green Onions served with Natural Jus | Vegetable-Goat Cheese Frittata and Wood Fired Herb Crusted Beef, with Chimichuri sauce | Cinnamon Swirl French Toast topped with Blueberry Cream Cheese Dollop, Passion Fruit Anglaise and Pork Sausage |
| $7.49 | $7.99 | $8.49 | $8.99 | $9.99 | $7.99 |
Lunch and Dinner
| | | | | | |
| --- | --- | --- | --- | --- | --- |
| Chopped Wood-Grilled Chicken Bowl | Slow-Roasted Sliced Grilled Beef Bowl | Sustainable Fish Bowl | Chili-Spiced Crispy Fried Tofu Bowl | Cheeseburger Steamed Pods – Bao Buns | Vegetable Steamed Curry Pods – Bao Buns |
| Wood-Grilled Chicken Thighs marinated with Garlic and Olive Oil topped with Crunchy Vegetable Slaw and Boba Balls served with your choice of Base and Sauce | Slow-Roasted Sliced Grilled Beef marinated in a blend of Garlic, Herbs, Red Pepper Spice, and Red Wine Vinegar topped with Crunchy Vegetable Slaw and Boba Balls and your choice of Base and Sauce | Panko Breaded Sustainable Fish topped with Crunchy Vegetable Slaw and Boba Balls served with your choice of Base and Sauce | Crispy Fried Tofu seasoned with Chili-Spice topped with Crunchy Vegetable Slaw and Boba Balls served with your choice of Base and Sauce | Steamed Cheeseburger Pod stuffed with Ground Beef, Ketchup, Mustard, Pickle, and Cheddar Cheese served with Crunchy Vegetable Slaw and Vegetable Chips | Steamed Vegetable Curry Pod with Eggplant, Cauliflower, Sweet Potato, Carrots, and Shallot Cilantro Cream served with Crunchy Vegetable Slaw and Vegetable Chips |
| $11.49 | $12.99 | $12.99 | $11.49 | $10.99 | $10.99 |
Dessert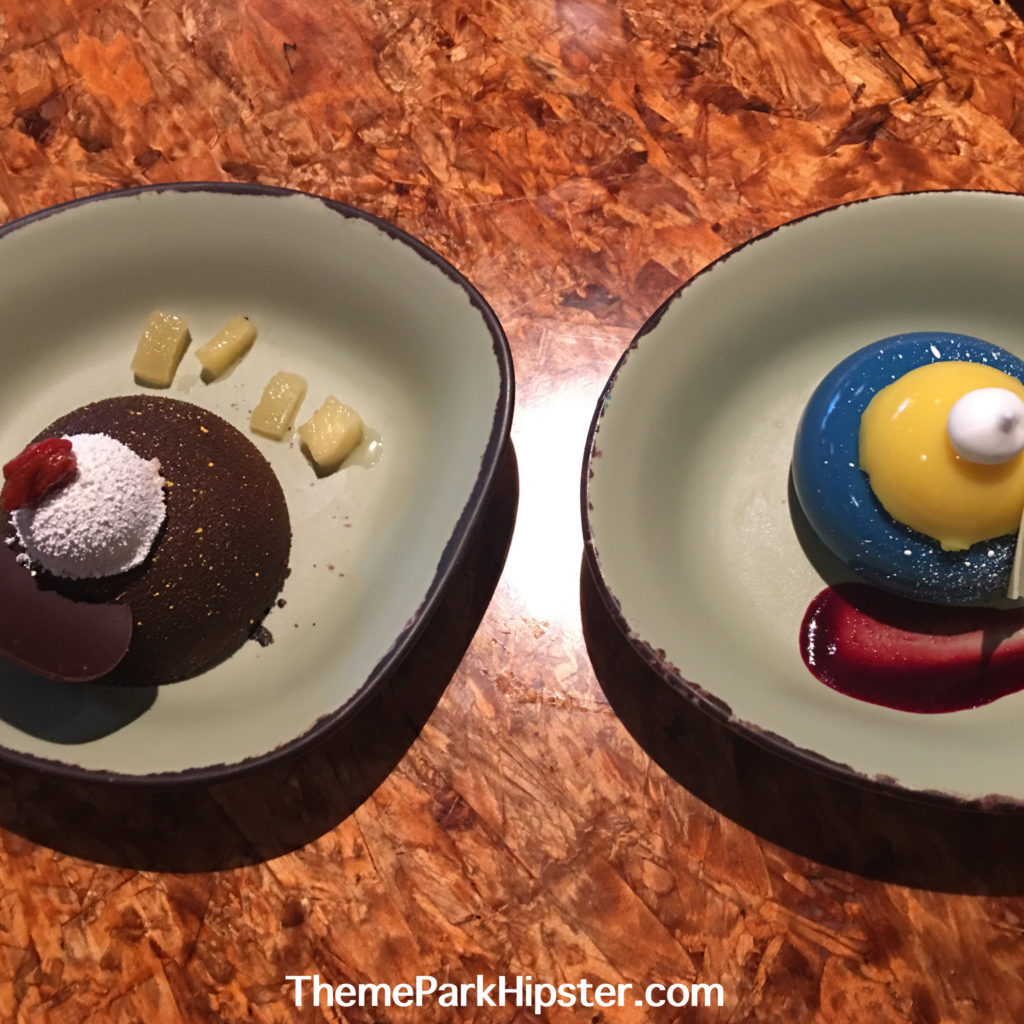 | | |
| --- | --- |
| Blueberry Cream Cheese Mousse | Chocolate Cake |
| Blueberry Cream Cheese Mousse with Passion Fruit Curd | Chocolate Cake with a Crunchy Cookie Layer and Banana Cream Topping |
| $5.29 | $5.29 |
Drinks
| | |
| --- | --- |
| Pandoran Sunrise (Breakfast) | Refreshing balance of Tropical Juices blended with Powerade® Melon $4.49 |
| Pandoran Sunrise with Na'vi Flute Cup (Breakfast) | Exotic blend of Tropical Juices including Pineapple, Mango, Lime and a hint of Melon with a Pineapple garnish served over ice in a Na'vi Flute Cup $13.49 |
| Bloody Mary Cocktail (Breakfast) | Absolut Peppar Vodka with Spicy Bloody Mary Mix with a Micro Carrot garnish $10.00 |
| Dreamwalker Sangria | Refreshing White Sangria with a hint of Blue Curaçao $9.50 |
| Hawkes' Grog Ale | Golden Ale with a brilliant green color and flavors of Wheat and Citrus $8.25-$9.50 |
| Mo'ara High Country Ale | Rich amber color with a spicy Hop aroma and notes of Caramel, Toffee and Nuts $8.25-$9.50 |
| Banshee Chardonnay | Aromas and flavors of apple, pear, citrus and hints of vanilla $9.00 |
| Banshee Pinot Noir | Ripe cherry, raspberry and floral characteristics with a silky texture $9.00 |
| Bud Light Lager | Draft Beer $6.50-$7.75 |
| Stella Artois Lager | Draft Beer $8.50 -$9.75 |
Pongu Pongu Menu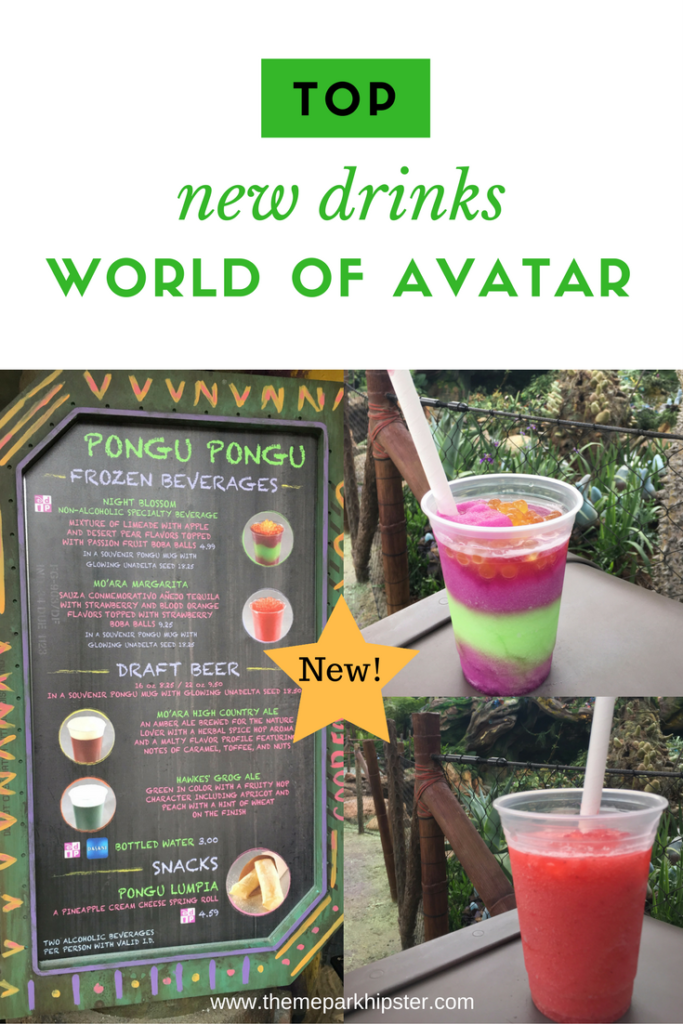 Snacks
Non-Alcoholic Drinks
Night Blossom – Non-Alcoholic Specialty Beverage. Mixture of Limeade with Apple and Desert Pear flavors topped with Passion Fruit Boba Balls. $4.99
Night Blossom in a Souvenir Mug with Glowing Unadelta Seed served in a souvenir Pongu Mug with glowing Unadelta Seed. $18.25
Alcoholic Beverages
Mo'ara Margarita – Sauza Conmemorativo Añejo Tequila with Strawberry and Blood Orange flavors topped with Strawberry Boba Balls. $9.25
Hawkes' Grog Ale
Mo'ara Margarita in a Souvenir Mug with Glowing Unadelta Seed served in a souvenir Pongu Mug with glowing Unadelta Seed. $18.25
Mo'ara High Country Ale
Pandora Merchandise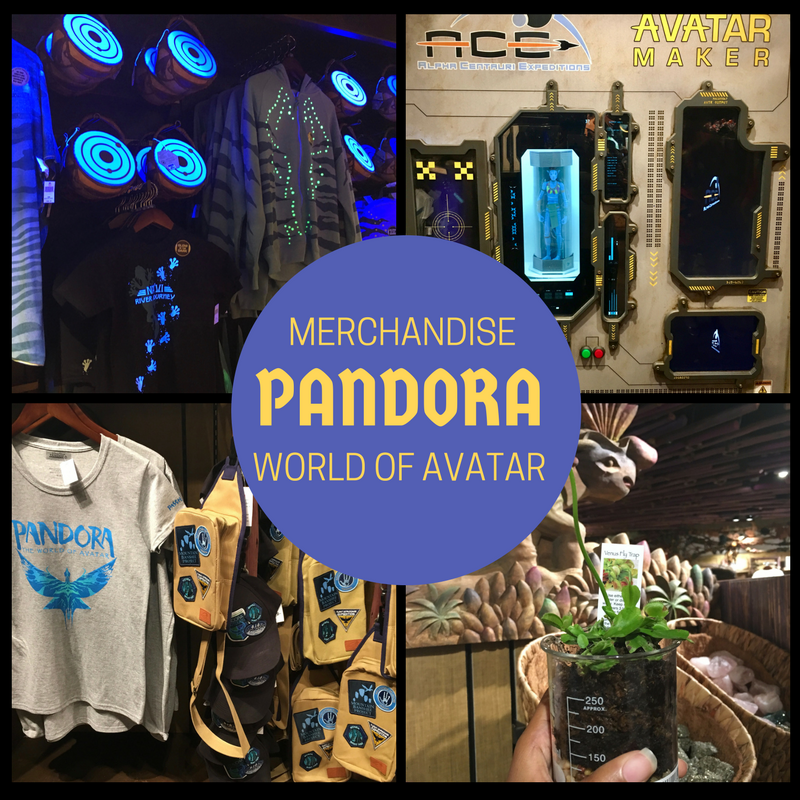 Windtraders
For shopping, you will have another attraction called Windtraders. This is an amazing store that has some of the coolest gadgets, gizmos, and toys produced for the Avatar franchise. You can bond with your own banshee. Kind of like being chosen for a wand with Ollivander over at the Wizarding World of Harry Potter. Your mountain banshee has to form a bond with you and that's the one you pick. They are pricey.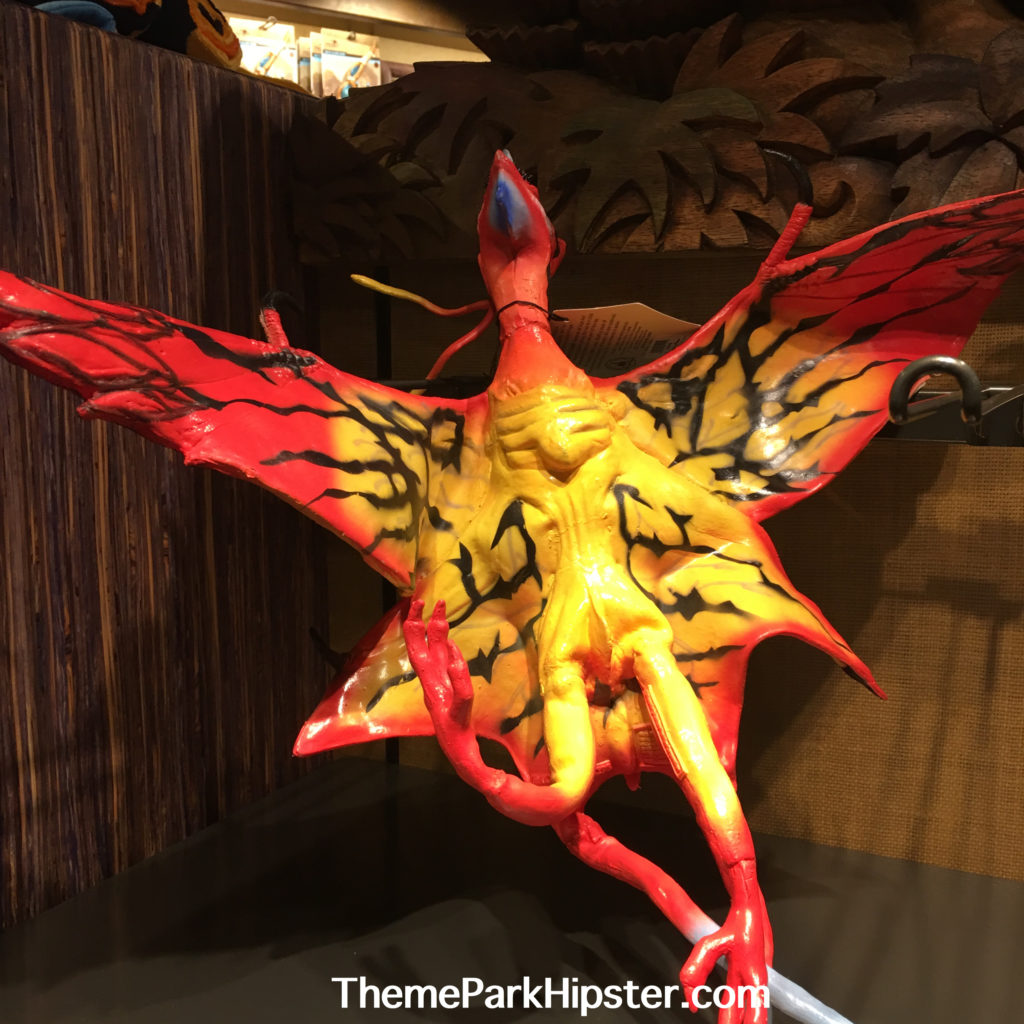 You can create your own miniature Avatar doll by putting your face into a digital scanner.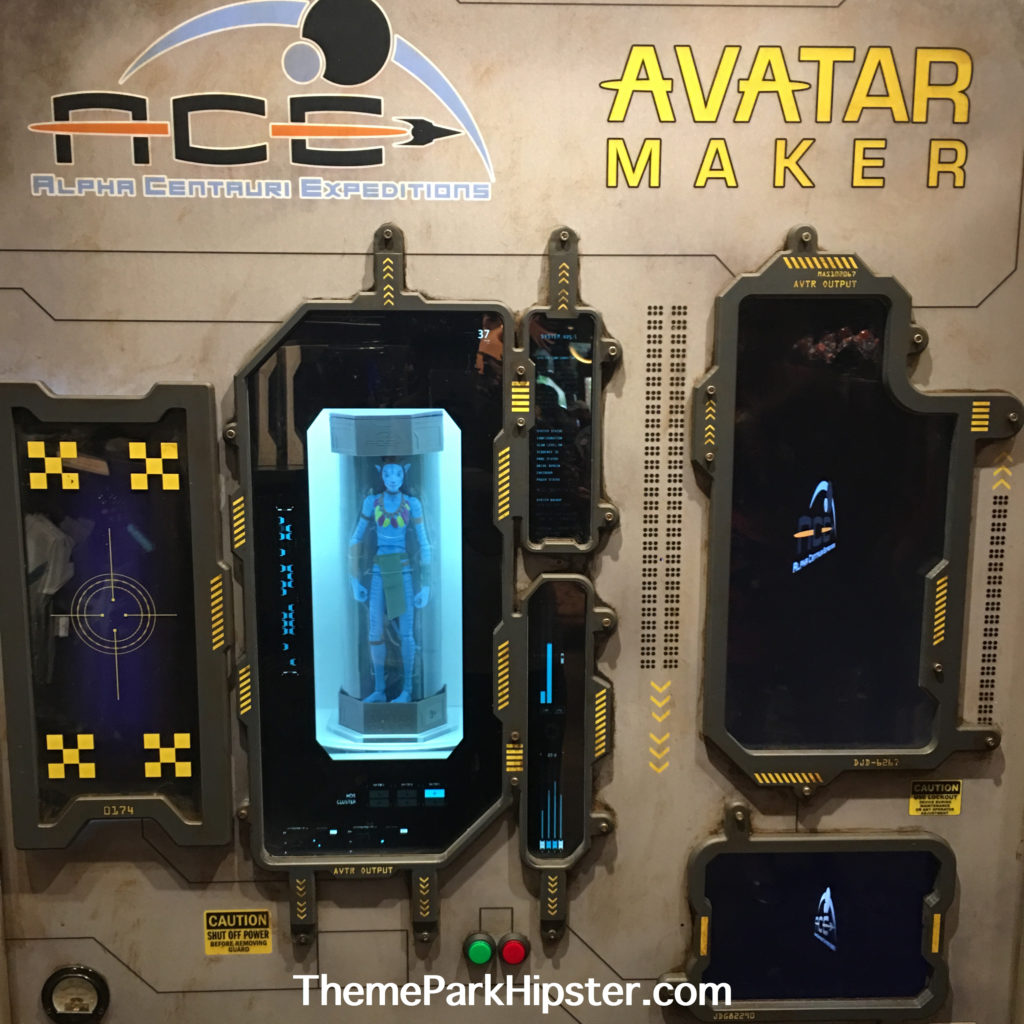 Let's not forget about the Na'vi-inspired accessories such as ears and tails. Many of the visitors were walking around, including me, in the Na'vi attire.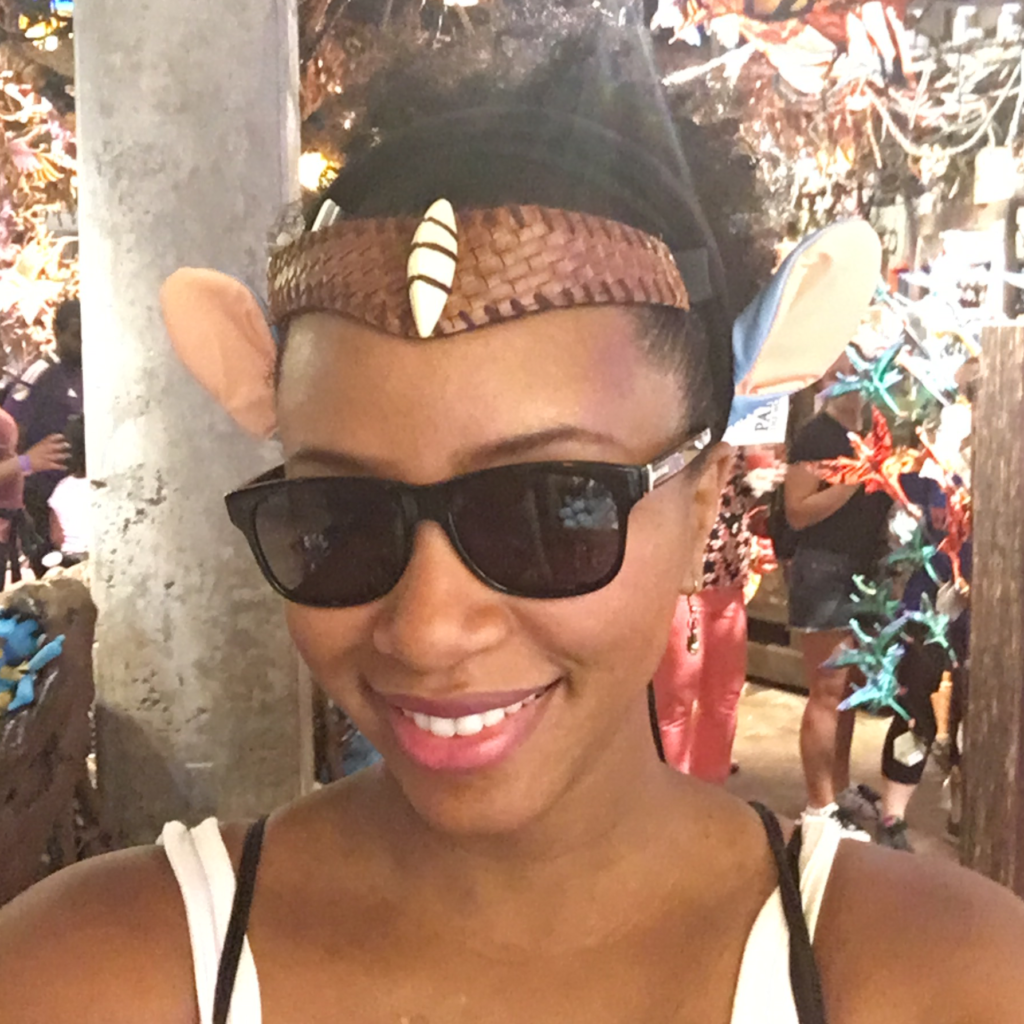 Windtraders is overall a great store and is fun to just sit in there and browse. Just don't get caught in a rainstorm like my friend Lauren of Outdoorsy Diva, or you will walk out with more than you intended to buy.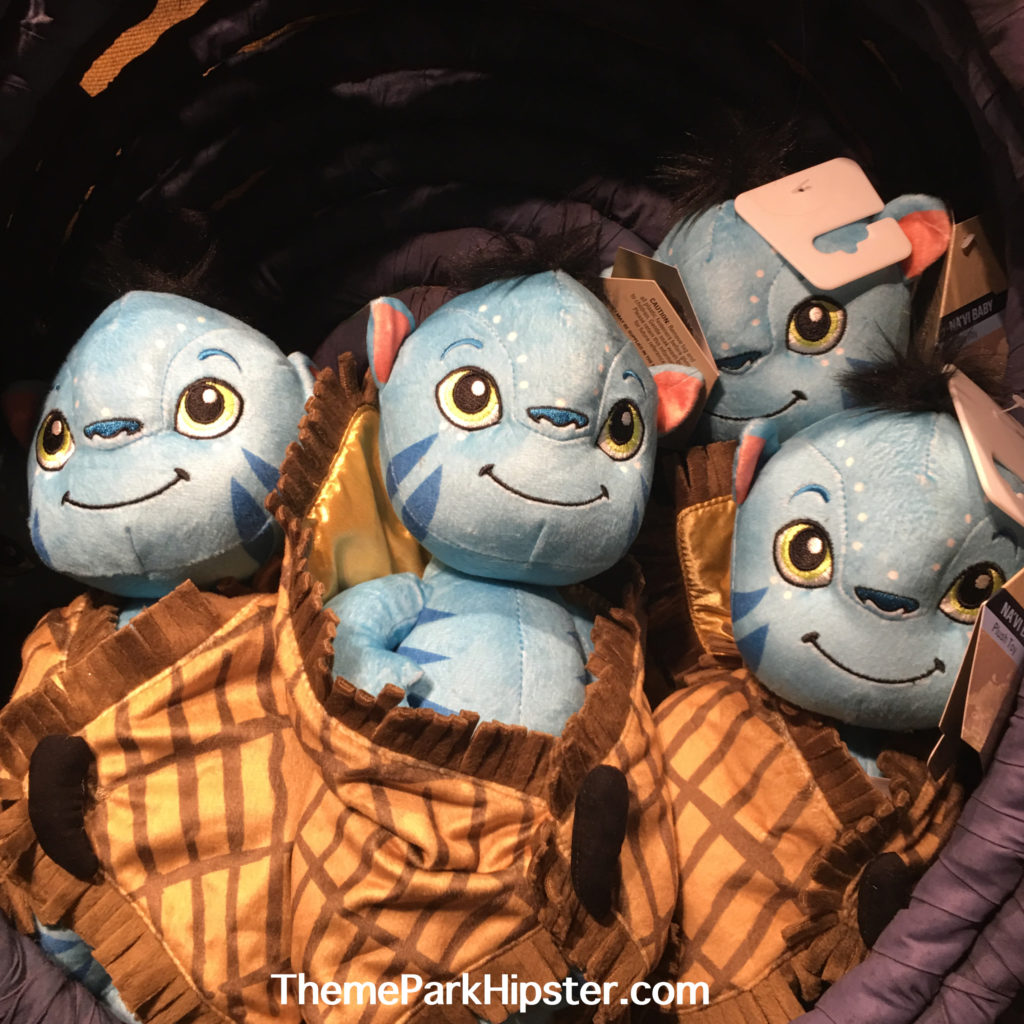 Colors of Mo'ara
Colors o Mo'ara is a kiosk where you can embody the spirit of the Na'vi people by having your face painted.
How to maximize your day in Pandora- Land of Avatar?
Map out the area so that you have an idea of where everything is. Check out at the map below.
Plan to arrive to Animal Kingdom early, especially if you are able to take advantage of the extended hours. You will want to possibly come much later in evening when the crowds have died down. This gives you a chance to really explore everything Pandora has to offer.
Schedule your dining either before the lunch rush or afterwards. This tip increases your chances of a shorter wait time and an opportunity to get a prime seat
Pros and Cons of Pandora
Pros
All immersive world. I think that anyone who appreciated the Avatar movie will enjoy this park, even if all the details are not understood.
Wonderful storytelling. I also like how Disney incorporated their signature storytelling from the gates of Pandora and throughout the land. You even receive a Pandora Field Guide to help you understand the Na'vi culture and language, along with Pandora animals and plants.
Great layout. For the space they have, 12-acres, it didn't feel like it was super humongous. The Pandoran landscape made it feel intimate, but with a lot of space for guests to walk through without any clutter.
Good dining options. I enjoyed the cuisine more than I thought I would. I had no intentions of eating in Pandora that's why I started out with the steamed buns. However, as everyone around kept raving about the food, I began to try many of the different dishes. It's not your standard theme park food by a long mile.
Cons
Massive queue: Flight of Avatar is going to be a long line to walk in distance. It's probably done for the large numbers that will be coming in and out of the attraction. When there's not a long line you'll have to walk very far just to get to the boarding portion of the line.
Lack of shaded seating. It would have been nice to have a little bit more shaded seating. I went on a day with a nice overcast, so I was lucky. I can see in the peak summer months that this could be a problem if you're trying to find a place to escape the Florida heat.
Too many boba balls. It was on almost every dish I had. The frozen drinks, the steamed buns, and the chicken bowl. I like them, but not with my chicken.
Final Thoughts
The food, the attractions, the drinks, the shopping, and the overall ambiance is spectacular! This is a Disney must do or for any trip to Orlando. Pandora-The World of Avatar will exceed your expectations. I had the best day ever during the preview event at Animal Kingdom. It's my hope that you get the same experience.
I was lucky enough to go during the preview weekend where the crowd was much lighter. Use the previous mentioned tips to maximize your day.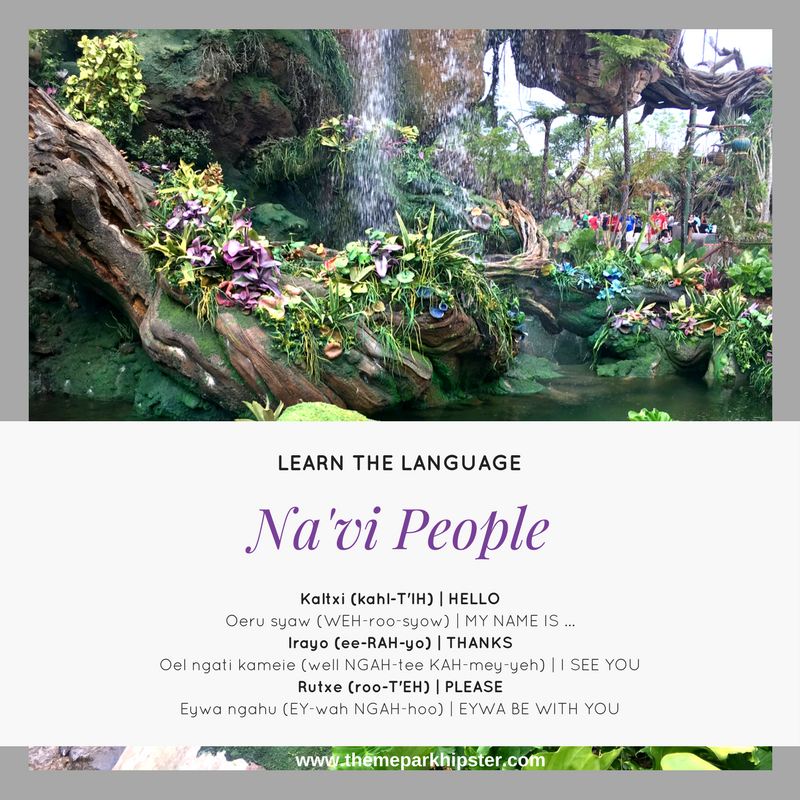 To book your Pandora vacation, visit Destinations in Florida. My choice in authorized Disney Vacation planning.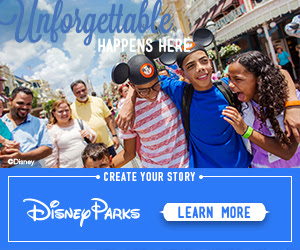 Don't forget to take advantage of the extended hours at Animal Kingdom this summer: May 27th to July 4th from 8 AM to 11 PM. There's also Extra Extra Magic Hours for on-site resort guest only from May 27th until July 4th from 11 PM to 1 AM.
Pandora-The World of Avatar officially opened May 27th 2017.
Want more theme park tips? Check out the theme park tips page. If you're thinking about going to a theme park alone, then read the top 18 tips. Are you planning a Disney vacation soon? Read the Disney Vacation Planning Guide for your next dream trip!
Check out the articles below for more theme park guides.
Until next time, Happy Park Hopping Hipsters
NikkyJ