Are you trying to pick out the BEST Disney Christmas shirts for the holidays? Especially if you're an adult who loves Disney!
I'll be lying if I said that I didn't have an abnormally large collection of Disney merchandise. Clothes are one of the best souvenirs you could buy in my (*ahem*) professional opinion.
Just think about it– they are useful, comfortable, help you express your interests without speaking (hello introverts!) and they (almost) always smell like the place you bought it from.
My Disney shirts carry so many memories and meaning. And each one reminds of a different moment– screaming at the top of the ride, spilling ice-cream (or something stronger), meeting my favorite characters and more!
Now that you know how much I love my Disney shirts, there is something I would like to confess: I have favorites. I know, I know.
Merch is like children and you're not supposed to play favorites. But I caved alright?
THIS POST MAY CONTAIN AFFILIATE LINKS. PLEASE READ MY DISCLOSURE FOR MORE INFO. Which means if you click on certain links, I may receive a small commission at no additional charge to you.
Why You'll Love ALL the Disney Christmas Shirts
The clothes that Disney releases during Christmas are without question, the best collection I have ever seen, especially if you are going to be visiting any of the Disney parks this holiday season!
And I'll tell you why right before I give you a rundown of all my favorite items from this year's collection!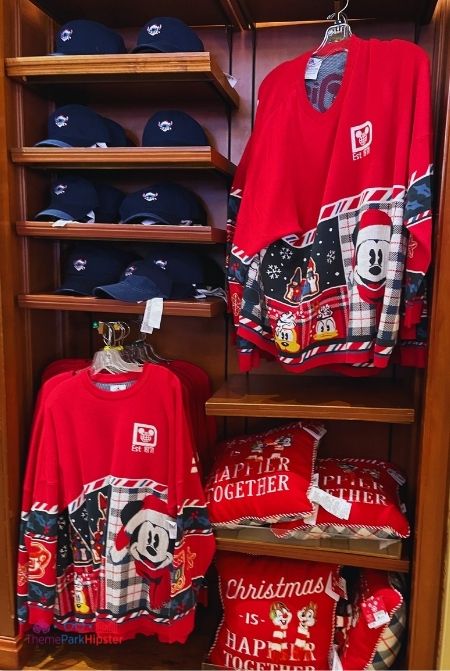 First of all, these items are so cozy, I mean have you seen the sweatshirts? If you're anything like me, you live in sweatshirts all winter. And who wouldn't want a sweatshirt with their favorite Disney character on it?
Secondly, its the only time of year that you get Chrismassy Disney clothes! Sure you could always get a generic Mickey Mouse shirt but will your Mickey Mouse have a wreath and a Santa cap? I think not!
Lastly, it makes the perfect Christmas gift for yourself and the family because Disney is reminiscent of childhood and its innocence– something we all miss dearly.
ORDER NOW to secure your ticket reservation in the parks! GET MY DISNEY TICKETS!
Top 10 Disney Christmas Shirts This Year
Alright! Enough chit-chat! Let's get into the real reason you clicked on this article– a comprehensive list of the best Disney Christmas merchandise for 2022!
1. Mickey and Minnie Mouse Holiday Long Sleeve Shirt
Nothing says I'm ready for Christmas like a couple of happy mice decked out in red and green! This vintage print of Mickey and Minnie has me swooning!
The best part is that it is made up of this nice jersey material that will keep you cool in the summer but can easily to layered over something in the winter (or at least I think that's what the kids are wearing these days).
The cute little message finishes this shirt off just right! It practically guarantees that everyone who looks at the shirt will have the Christmas carol stuck in their head for the rest of the day!
Get your shirt here on Amazon!
2. Grumpy Holiday T-shirt for Adults– Snow White and the Seven Dwarfs
I'm going to go out on a limb here and say that this is one of my most favorite shirts. Ever!
I mean, would you look at Grumpy's face? Isn't he the cutest?
And let's be honest, he was one of the most relatable characters (for adults) in Snow White and the Seven Dwarfs, right behind Sleepy.
This is also a jersey knit t-shirt and has a ribbed crew neck which pushes it from 'nice shirt' to 'i wish I had that'. But I think he's a jolly as he'll get on this shirt …
Get your Disney Christmas shirt here on Amazon!
3. Disney Women's Ugly Christmas Sweater
The best part about Christmas is all the ugly sweater parties you get invited to. I have an unshakable belief that the uglier the sweater, the more comfortable it is. And this ugly sweater from Disney proves my point.
Also, Mickey Mouse and Donald Duck on one sweater? What is it? Christmas? The colors on this sweater definitely say so!
Get your Disney Ugly Christmas T-Shirt here on Amazon!
4. Disney Men's Ugly Christmas Sweater
I am so torn between this ugly sweater and the last one. Look at the snowflake print on this one! Ans it's got Mickey Mouse on it. And he is wearing a Santa cap.
In the immortal words of Chandler Bing– "Can this sweater be more adorable?"
Besides, if you're not the biggest Mickey Mouse fan and I'm judging you already), you can always get one with Donald Duck, the Genie from Aladdin, Goofy, Stitch or even a Mickey Mouse skull (if you really hate him in which case we are not friends any more).
Disney has it all!
Get your Disney Ugly Christmas T-Shirt here on Amazon!
5. Disney Minnie Mouse Icon Holiday Snowflakes Sweatshirt
If you're more on the minimalist side, this sweatshirt will suit you best!
The pattern is not as showy as the other Disney merchandise and the colors are quite subdued.
If you're the kind of person that loves snuggling up in a dark sweatshirt to watch a marathon of Disney Christmas movies, this is your dream come true!
Of course, you could always wear it to Disneyland on a chilly winter day as well!
Get your Disney Christmas Shirt here on Amazon!
6. Star Wars Darth Vader Sith Day of X-Mas Holiday T-shirt
Now I wish I hadn't played the best shirt card earlier because this one has my heart.
What is not to like in this T-shirt? It's got a homely-looking Darth Vader chilling by the fire for God's sake!
Of course, anyone who has seen Star Wars would know that the Sith Order was nothing to make jokes about. But for this awesome T-shirt, I believe we can forgive that.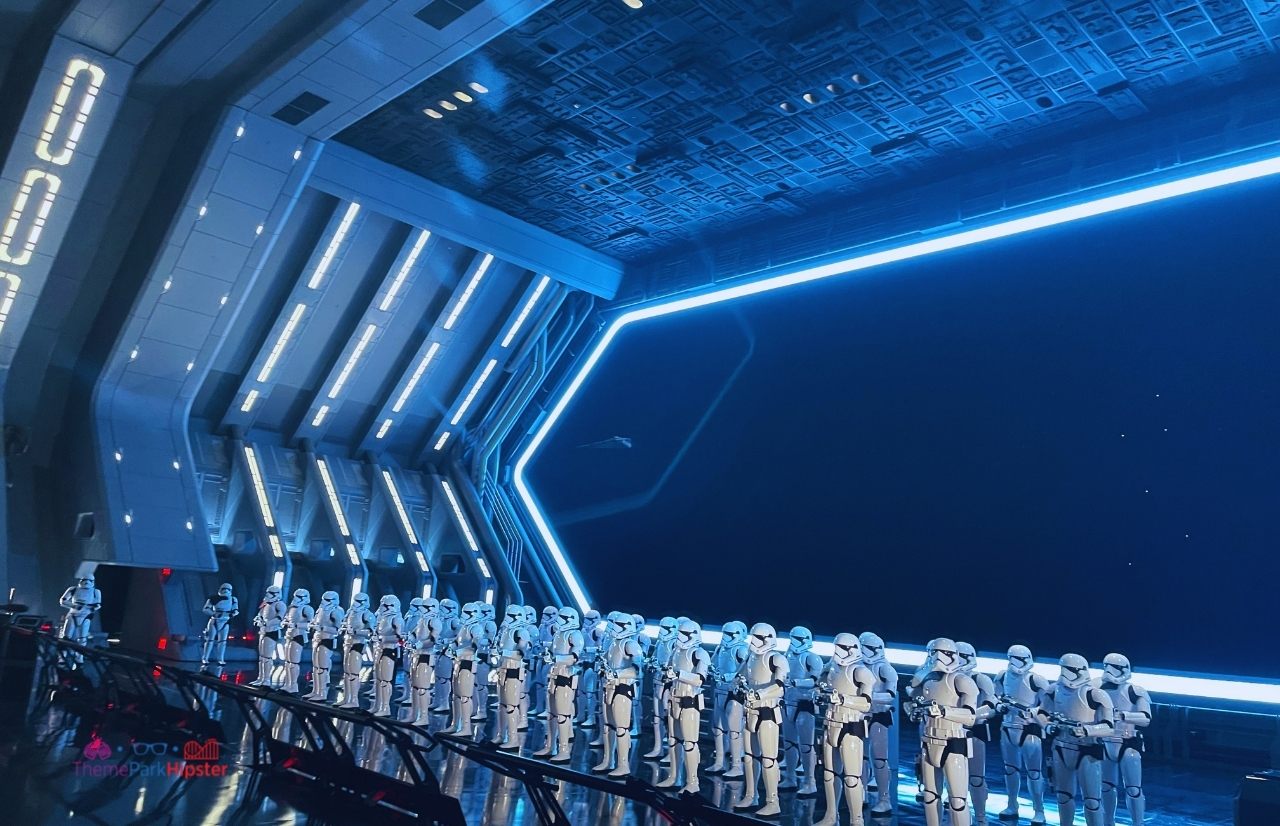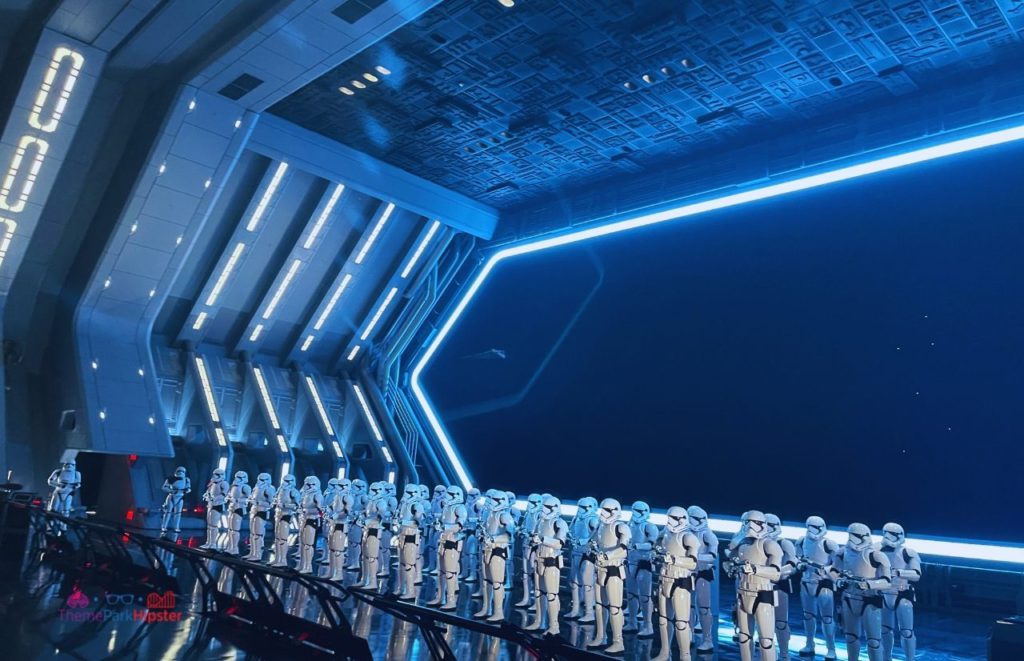 Besides taking a jaunt on the dark side of the Force does sound exciting, does it not?
Get your Star Wars-inspired Disney Holiday Shirt here on Amazon!
7. Disney Mickey Mouse Christmas Lights T-shirt
For the last item in our list, I will have to go with the classic Disney Mickey Mouse T-shirt, but with a twist!
In my collections (and I have many) I usually start with a classic– in the case of Disney a classic Mickey Mouse T-shirt.
Then I follow that up with various limited editions. This helps me ensure that I have the foundation for my collection.
So for my Disney Christmas collection (clearly I have a hoarding problem), I would start with this T-shirt.
The wreath and the lights (not to mention that adorable Santa cap) make it the perfect foundation piece!
Get your Disney holiday shirt here on Amazon!
8. Mickey Mouse Holiday Sweatshirt
This holiday shirt is perfect if you're a fan of the Walt Disney World Resort and Mickey Mouse!
I love the deep black color on this Disney Christmas sweatshirt that's complemented by the popping red color with touches of white that really makes this festive apparel standout this year.
Special Features Include:
Pullover sweatshirt
Vivid Mickey with scarf on
Beautiful snowflakes
Soft knit fabric
Twill-taped neckline
Get your Mickey Mouse Holiday Sweatshirt on Amazon TODAY!
9. Mickey Mouse Holiday Plaid Spirit Jersey
Now you know it's not a Disney Christmas shirt guide without a Spirit Jersey on the list.
This year you can be stylish in this red plaid printed Spirit Jersey with Mickey Mouse sitting on the front and "Walt Disney World" or "Disneyland" nicely on the top backside written in a font made up of your favorite holiday treats!
Get your Mickey Mouse Holiday Spirit Jersey here on shopDisney!
10. Mickey Mouse Holiday Woven Shirt
This one is my favorite Disney Christmas shirts this year. Although it's geared towards men, I like the oversized look of it and I think it will go well with a nice pair of thick black leggings and black combat boots.
This is the holiday apparel that makes you feel as if you're deep in the mountains sitting next to a cozy fireplace while sipping on a velvety cup of hot cocoa topped with delicious whipped cream and peppermint crumbs.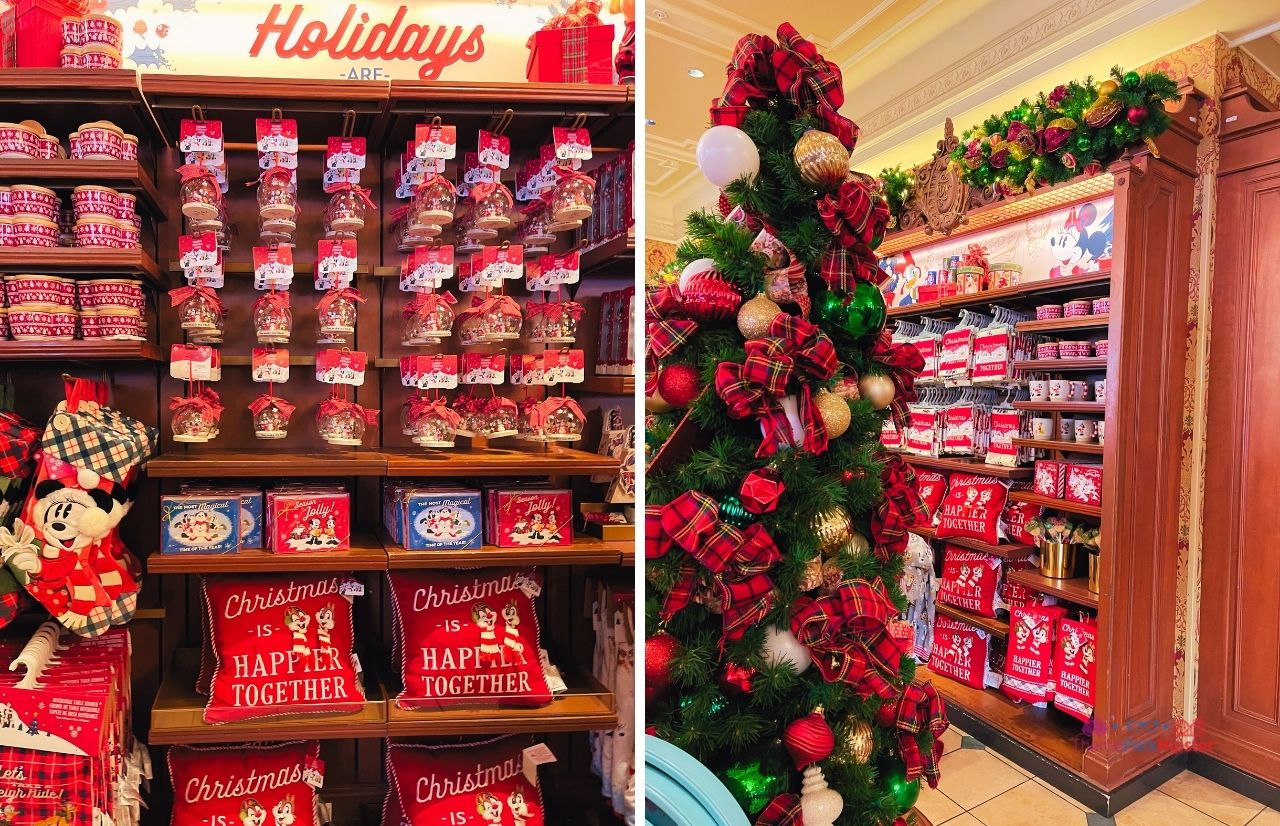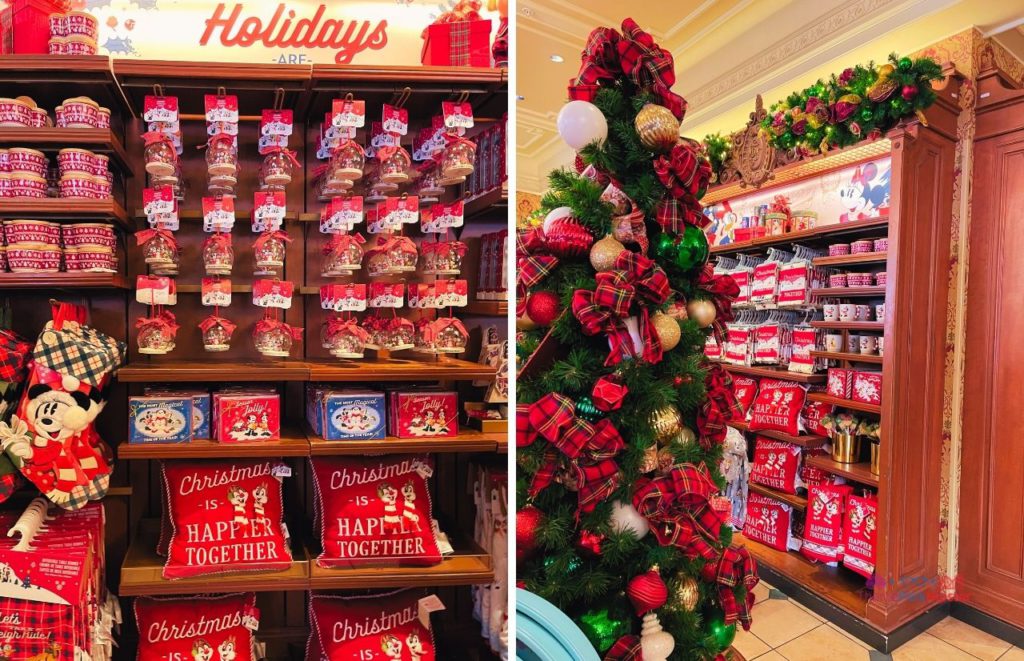 This festive shirt is also a part of the Walt's Holiday Lodge Collection that you can also personalized and add your name to it!
Editor's Update: The men's size is sold out at the Parks and I could only find sizes for boys. Since these run big, you may be able to wear a larger boys size. Also, if you check the Disney outlets, you may be able to find one like I did.
Get your Mickey Mouse Holiday Woven Shirt here on Amazon!
What to Know Before Buying Your Disney Holiday Shirts
Now that you know what the best Disney Christmas shirts are for the year, let's talk about where to buy them and how to find the best deals.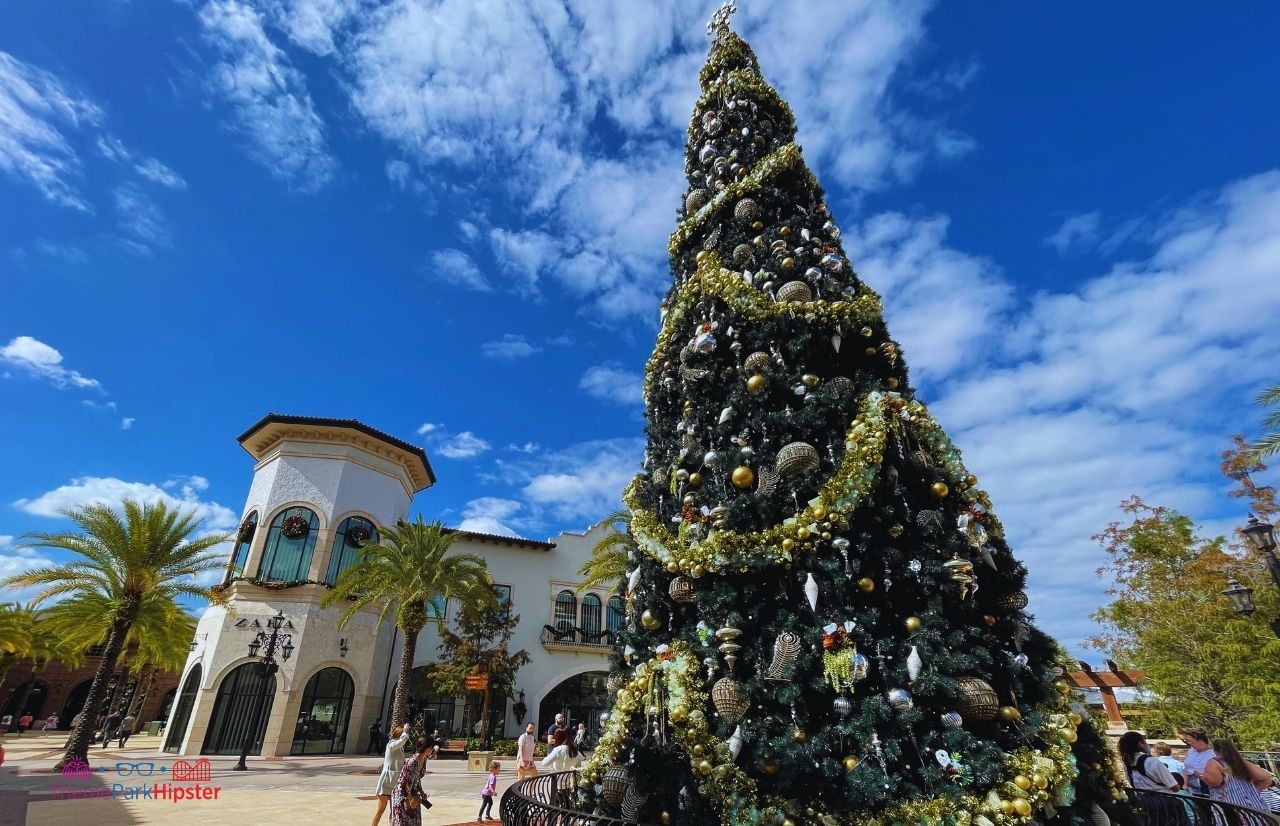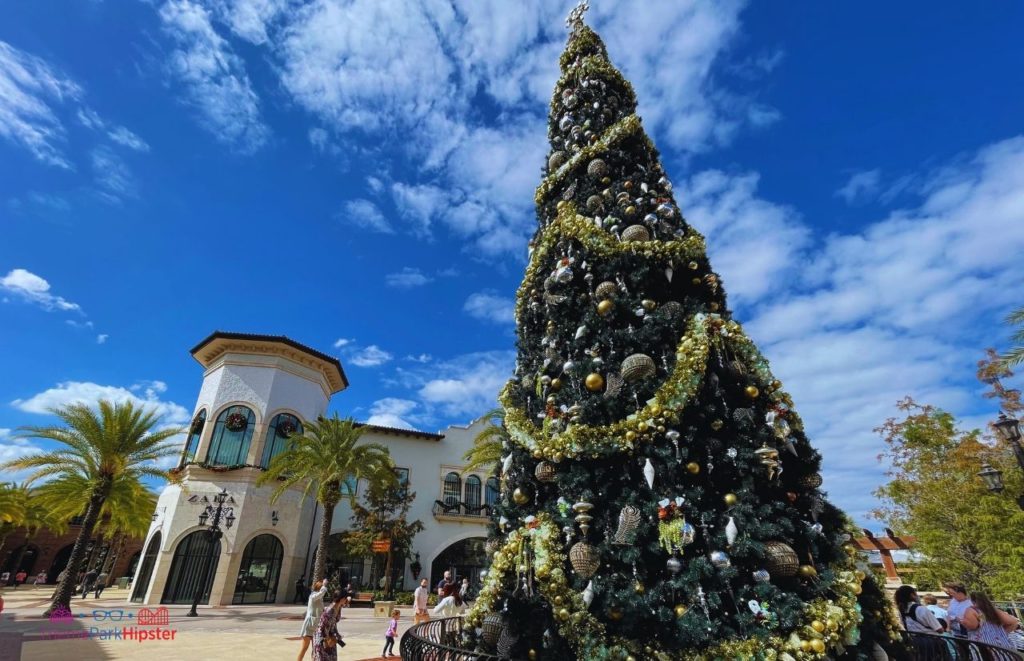 Is Disney merchandise worth it?
This is the question I get asked a lot. And I always answer it with: it totally depends on YOU!
Are you a huge Disney fan? Do you usually like buying merch from places/people you like? Is your wardrobe close to bursting?
If its yes, maybe and no then you are on a right track! Just figure out the maybe and you're good to go!
Where can I find the best deals on Disney Christmas merchandise?
If you want official Disney merchandise, shopDisney is your best bet! They stock almost everything and often have seasonal sales and discounts.
However, if you are not that particular about the "officialness" of it all, Etsy is a goldmine of quirky and unique Disney-related items (with very good deals!).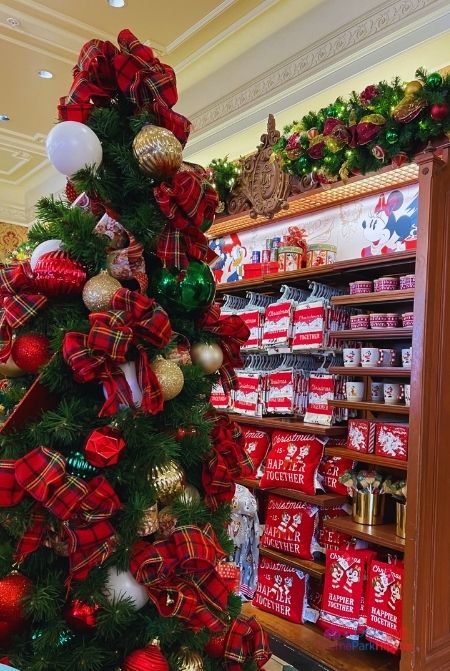 Lastly, you can always go to Amazon but I will not vouch for the quality– it's pretty much a hit or miss.
Ready to plan your theme park trip? Watch the best vacation planning tips on YouTube. Get started here!
Where can I find funny Disney shirts for adults?
Why shopDisney of course! I have listed some pretty funny adult T-shirts in this article (with Grumpy the dwarf for example). You could also browse Amazon till you find your perfect partner!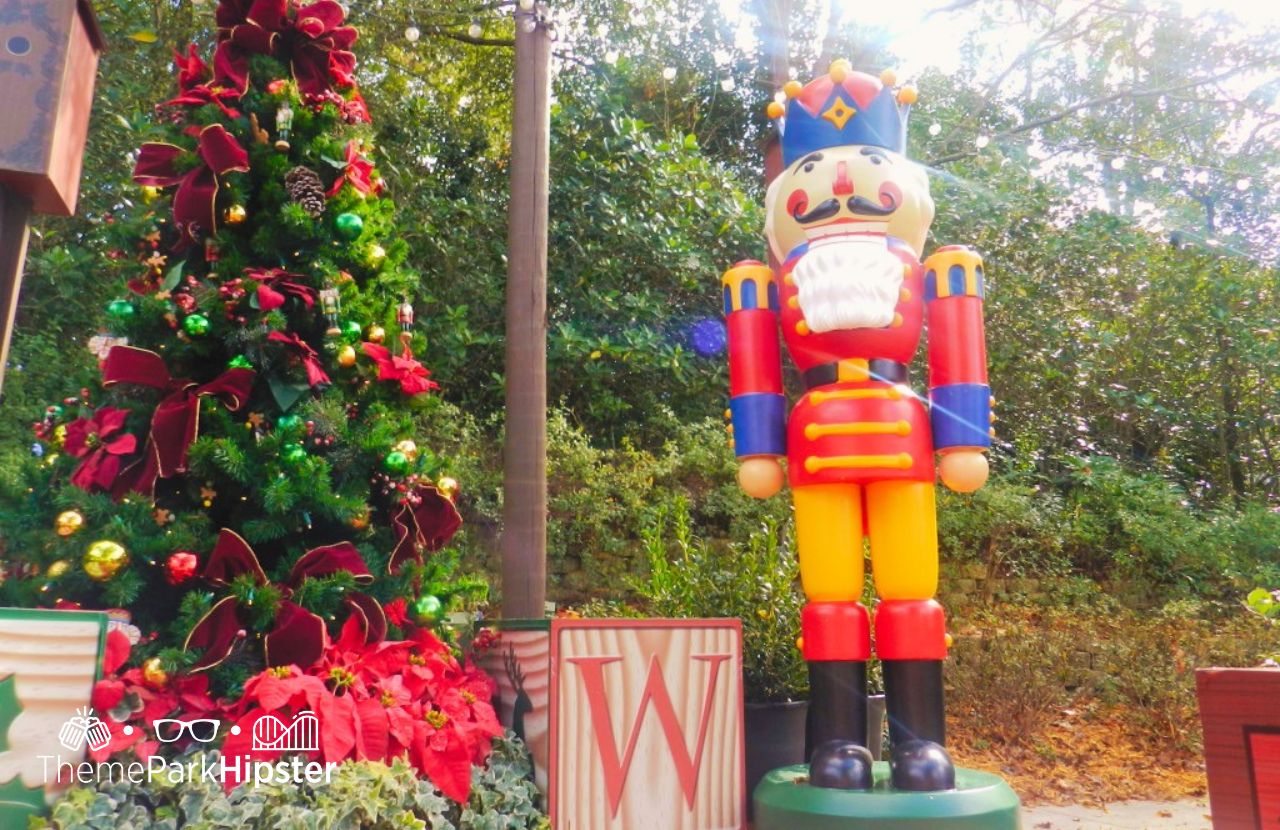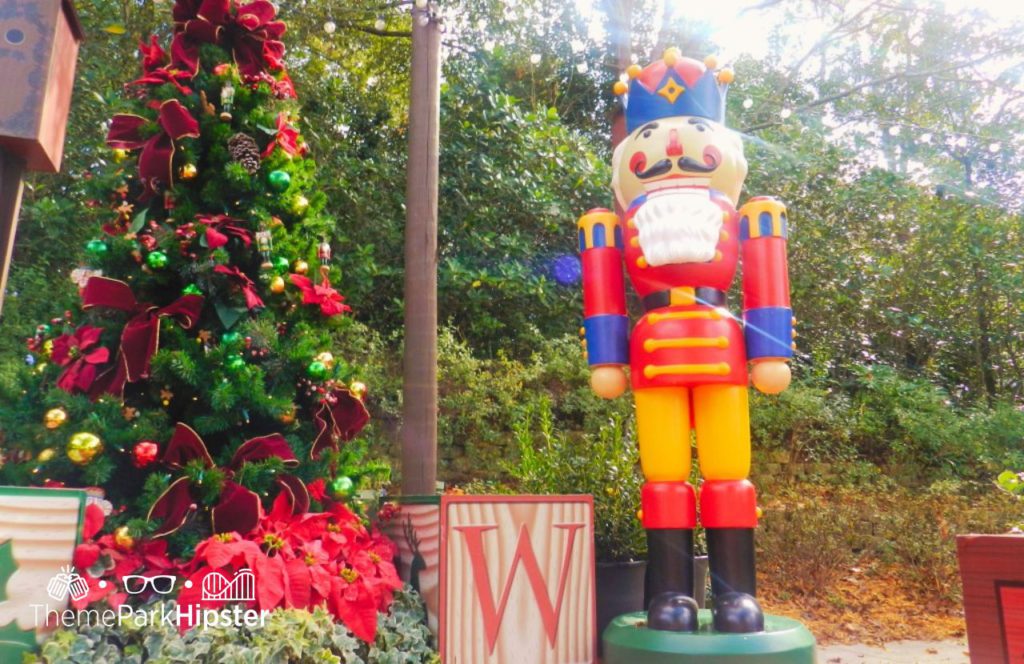 I would also recommend checking out Etsy. There's always something eye-catching on there. Cutie Cakes Studios is one of my personal favorites (because I ADORE their punny products!)

Can I buy Disney merchandise online?
With the pandemic still going strong, you may not want to physically step out to get you something Disney-inspired.
But online stores have got your back! ShopDisney is Disney's official online store.
They have an enormous range of products so there's a good chance you will get lost in there and miss the said wedding completely.
One tip is to be on the lookout for some juicy seasonal discounts and deals. Sometimes they offer free shipping too which is a sweet bonus!
Does shopDisney have a Black Friday sale?
In one word– YUH-HUH! ShopDisney has a Magical Black Friday that starts a few days before Thanksgiving and.. (wait for it) goes on during Cyber Monday as well.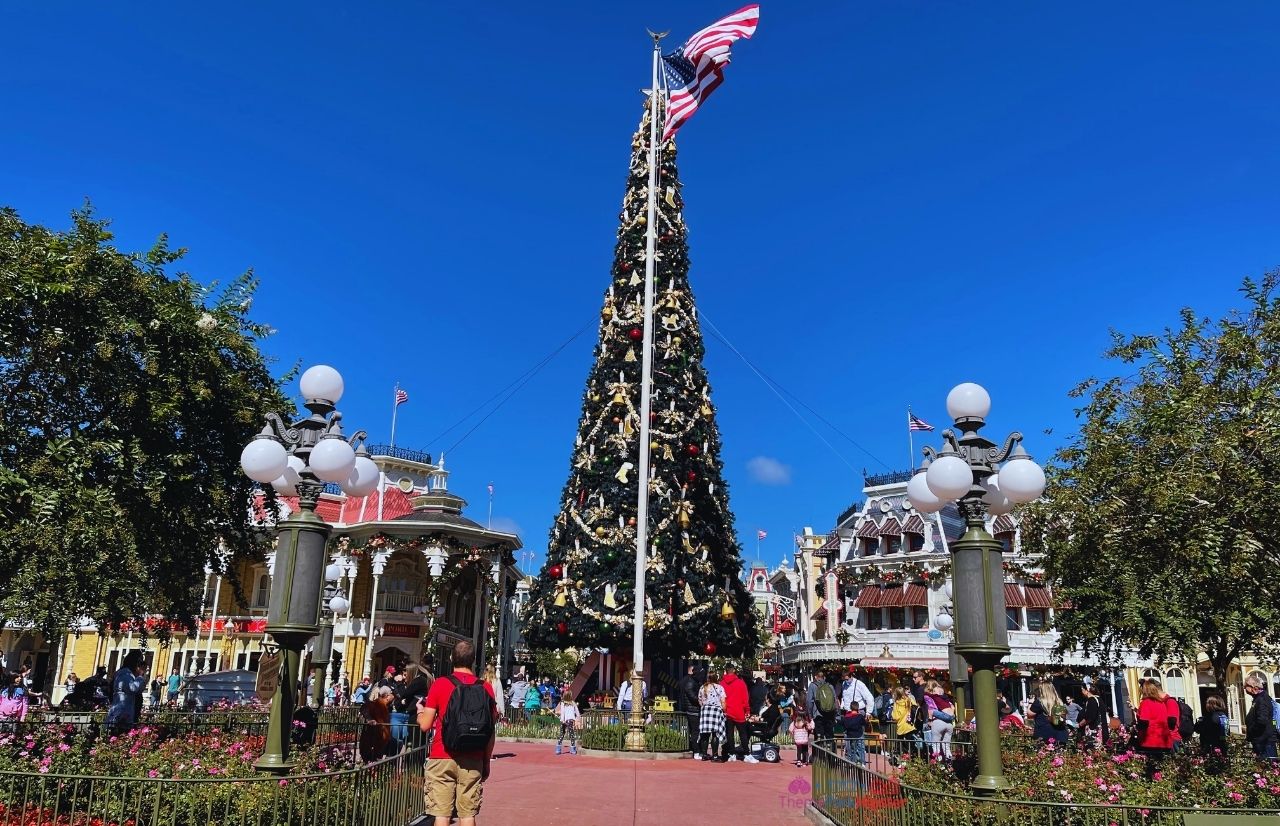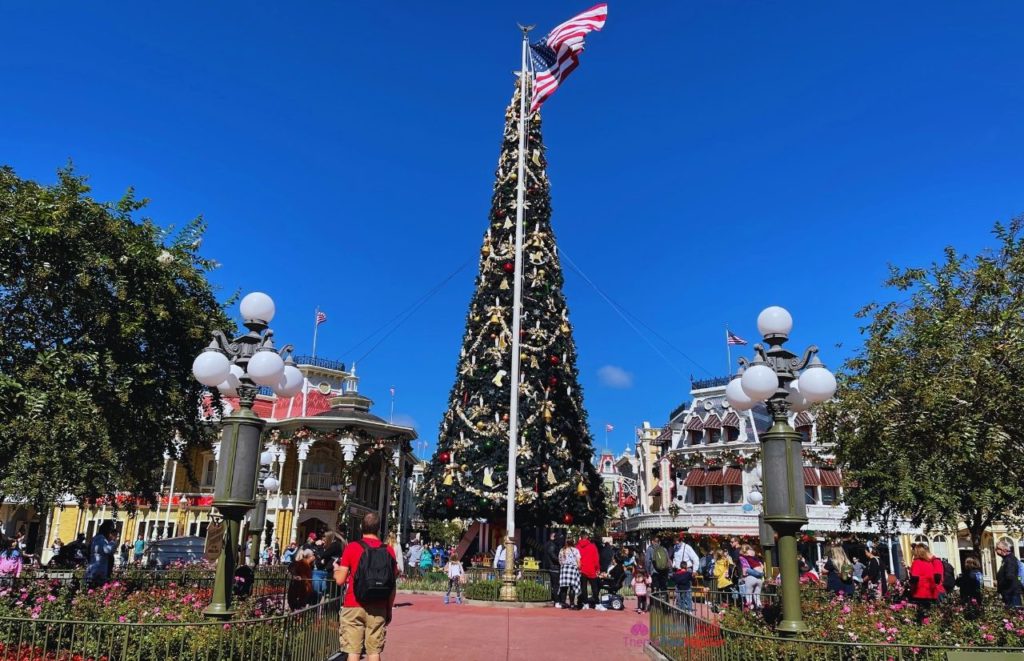 And word on the street is that they're giving 60% off the ENTIRE store!
Could this sale get any better? The answer is YES!
The internet is full of coupons and deals. I'm talking promo codes, shipping discounts and more! Make sure you get it from a credible site and that they actually work.
Ready to start planning your next Disney World vacation? Listen to the latest podcast episode on Apple or on your non-Apple device now!
My Final Thoughts on the Best Disney Christmas Shirts
To wrap it all up, I want you to just scroll back through the article and tell me which Disney merch was your favorite in the comments!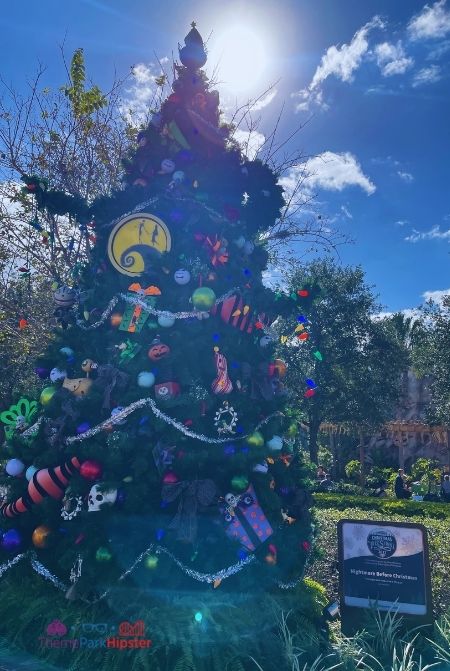 (Also if you could just assure me that I'm not the only T-shirt hoarder, that would be nice too!)
Just remember one thing: buying a Disney shirt depends on your personal preference. Don't let what people say stop you from buying one.
Disney may not be "cool" enough or "grown-up" enough. But if it means something to you, that's all the motivation you need.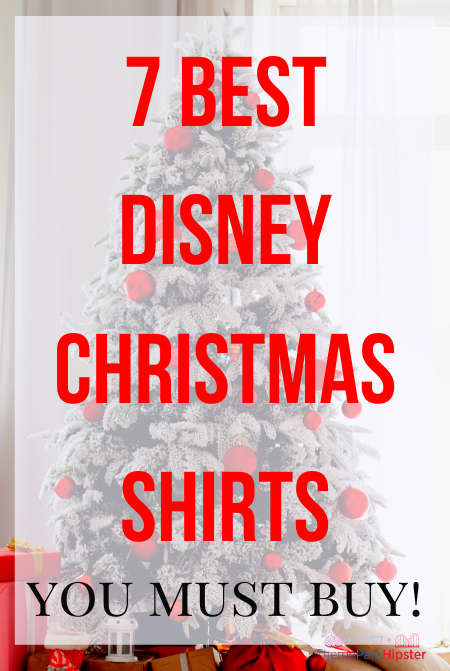 I hope this article helped you pick out the best of the Disney Christmas Shirt Collection and do let me know if you bought any of them!
Until next time, Happy Park Hopping Hipsters!
UP NEXT: 12 BEST Disney Christmas Ears YOU MUST GET This Year!
(Original Article Date: October 21, 2020/Updated October 27, 2022)