Do you know what time is fast approaching? You guessed right, it's Christmas!!! One of the best places to celebrate Christmas is at SeaWorld Orlando which is located at the heart of the tourist scene in central Florida.
This festive period is usually filled with many seasonal activities and if you are one of those people who don't have plans yet.
Don't worry, I've got you covered.
SeaWorld is one of the best theme parks to visit as a family or for a solo adventure.
Celebrating the holidays at SeaWorld is one of the fun things you can do for you and your family this time of year.
THIS POST MAY CONTAIN AFFILIATE LINKS. PLEASE READ MY DISCLOSURE FOR MORE INFO.
What You Need to Know About SeaWorld Orlando
Before we get into this holiday guide, let's go over a few basic things you should know before your visit.
SeaWorld Orlando is one of the few aquatic theme parks remaining in the country.
This park offers all the features typical of the classic American amusement park where people of all ages can visit and find something to do.
When approaching the park gates, you'll see a watery entrance reminding you of a gorgeous bay in San Diego.
Once you're inside the gates, you'll experience watery thrills, hear tropical noises, and see colorful topiary displays.
You can enjoy the holidays at SeaWorld Orlando with your family as it is quite budget-friendly and kids under the age of 2 have free admission into the park.
SeaWorld Orlando Hours
On a typical day, SeaWorld opens at 9 a.m. and closes at 6 p.m. but during the busy holiday season, it can stay open until 10 p.m.
5 Fun Things to Do at SeaWorld Orlando
In addition to this year's holiday happenings, you can also enjoy some of the year-round tours and activities that this aquatic park is known for such as:
Dolphin Encounter – in this tour, you will be able to spend time with the dolphins in the park, where you'll interact with the Atlantic dolphins for close to 60 minutes
Sharks Up-close Tour – here, you will be allowed to touch a small shark and learn different facts about them
Penguin Tour – here, you'll be given a tour and lecture on taking care of penguins
Sea Lion Tour – this tour will show you how sea lions are taken care of at the park
Ultimate VIP Tour – in this VIP tour, you and your group will be given a curated tour of SeaWorld Orlando for close to 8 hours. You will also be given many expert tips, VIP access, and reserved seating to various shows.
What is the SeaWorld Christmas Celebration?
The SeaWorld Christmas Celebration is where the park is transformed into your own Winter Wonderland.
You can visit this Orlando theme park at any time, but going to SeaWorld at Christmas is one of the best experiences you can have during this Yuletide season in Central Florida.
At this aquatic theme park, you'll enjoy heartwarming shows, meet-and-greets with Santa and all his holiday friends, seasonal treats, a chance to watch twinkling lights and so much more!
These are just a few things that makes the SeaWorld Christmas Celebration a must do holiday event for both the young and the old.
With all these fun holiday activities, you can see why Christmas at SeaWorld is truly one of the best seasonal events in Orlando that offers so much more for your money than other parks in the area.
ORDER NOW to secure your Orlando theme park ticket reservation in the parks! GET MY TICKETS.
When Does Christmas at SeaWorld Start?
The SeaWorld Christmas Celebration will take place from November 10th 2023 to December 31st, 2023.
During this period, you don't want to miss the over 3 million Christmas lights twinkling throughout the park.
What time does the SeaWorld Christmas Celebration start?
Although you can participate in many of the holiday celebrations around the time that the park opens, SeaWorld does trickle in specific times of certain events such as the fireworks that start towards park closing.
You can get the full schedule of event times here.
Hipster Power Tip: The Christmas Market area booths normally do not open until much later in the day (around 4 p.m. to 5 p.m.). However, you can still try food from the other booths (numbers 1 through 12) around the park which tend to open around 12 p.m.
17 Festive Things to Do at SeaWorld's Christmas Celebration
As I mentioned earlier in this guide, you can participate in many of the fun holiday activities at SeaWorld.
Before we go through the tips you'll need to make the most of your time, I want to show you what you can expect from each Christmas activity this year.
1. Check Out the Millions of Christmas Lights
During the Christmas period, SeaWorld takes decorating to a whole new level. They decorate the park with over 3 million lights with countless holiday decorations everywhere inside the park.
These aquatic-inspired decorations make it the perfect place to get yourself pumped up or the festive celebrations this holiday season.
Save up to 42% on SeaWorld Orlando Resort Tickets!
2. Interact with Famous Christmas Characters
At SeaWorld, you'll have the opportunity to safely interact with different Christmas characters and Sesame Street characters in their holiday best.
This is always a hit for both kids and adults alike, so be sure to head on over there to meet Rudolph and his friends.
3. Eat Your Way Around the Holiday Food Festival!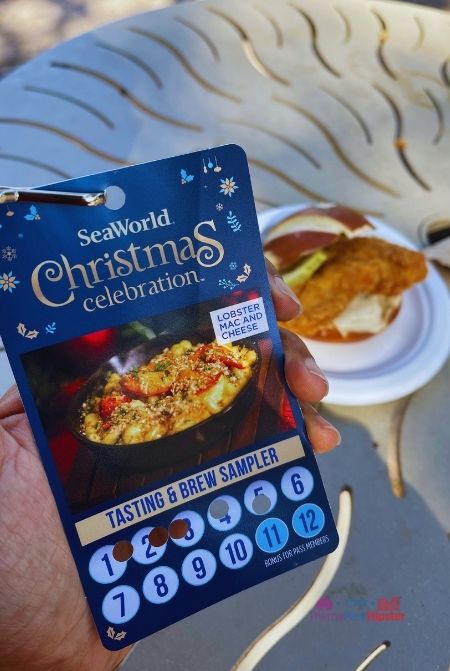 You can enjoy your holiday feast until the park closes from twenty booths offering more than 40 Christmas-inspired dishes.
You'll want to buy a lanyard punch card which is relatively cheap in order to sample the holiday offerings. These are the prices for the holiday food festival at SeaWorld:
10 Sample Lanyard for $55
5 Sample Lanyard for $40
Check out the names of the holiday food kiosks and my top picks for this year at SeaWorld. Also review their locations on the map below:
Claus Cookie Co.: Frozen Egg Nog Delight (Topped with whipped cream and caramel)
Tis the Season Beignets: Smore'd-up Beignets (Topped with graham cracker crumbs, mini marshmallows, and Hershey's chocolate sauce) AND Shrimp Po' Boy (Crispy beer-battered shrimp, crunchy cabbage, sliced tomato, creamy remoulade sauce)
Treat Yo Elf: Bison Burger (Served with cheddar cheese and bacon onion jam) AND Five Golden Rings (Tito's vodka, elderflower, golden turmeric, and lemonade)
Holly Jolly Cookies & Cocoa: Peppermint Hot Cocoa AND Fresh Baked Deep-Dish Chocolate Cookie
Sugarplum Delights: Mistletoe Margarita (Tequila, triple sec, cranberry, lime, and sour mix) AND Winter Wonderland Hot Toddy (Jack Daniel's honey whiskey, Jack Daniel's winter cider, and chai tea)
Festin Feliz: Beef on Weck (Prime rib, au jus, horseradish, and black peppercorn crema) AND Arroz con Dulce (Rice pudding with cinnamon dust and spice infusion)
Holly Jolly Cookies & Cocoa: Gingerbread Hot Cocoa
Waffle Wonderland: Monte Cristo Waffle (Ham, turkey, Swiss cheese, and cranberry glaze) AND Chicken & Waffle Handheld (Apple butter and maple syrup)
Waterway Bar: Frozen Coquito AND Holiday Pretzel Christmas Tree on a soft buttery pretzel
Holiday Donut Stand Open until Christmas featuring Shaka Donuts: Santa's Sweet & Savory Treat: Doughnut Chicken Sandwich (Honey sriracha and pickles) AND Winter Snowballs (Stuffed doughnuts topped with whipped cream and sprinkles) AND Happy Holiday Doughnut (Vanilla glaze frosting, with hot cocoa buttercream) AND Holiday Peppermint Eggnog (Eggnog, white chocolate liqueur, vanilla vodka, and peppermint schnapps)
Holiday Cheers: Christmas Beer Sangria (Tito's Vodka, Christmas ale, apple cider, apple cider maple syrup, and cinnamon) AND Hershey's Porter With Peanut Butter Whiskey
Christmas Comforts: The Main Event (Fried turkey breast, andouille sausage stuffing, cranberries, and brown gravy) AND Santa's Red Velvet Cake (Red vanilla cake with cream cheese frosting) AND Holiday Whiskey Sour (Holiday whiskey sour, Jack Daniel's winter cider, cranberry, and sour mix)
Seasons Eatings: All Grown up Birria Grilled Cheese (Texas toast, sharp cheddar, smoked cheddar, and tomato dipping soup) AND Impossible Chili (Sour cream, cheddar cheese, crispy jalapeños, and micro greens)
Holly Jolly Cookies & Cocoa: Fresh Baked Deep-Dish S'mores Cookie
You can get the full menu here.
Save up to 40% on your SeaWorld Orlando hotel with Groupon TODAY!
4. Go Holiday Shopping and Enjoy the Christmas Market
The Christmas Market (temporarily closed this year) is probably the most festive area in the park along the Bayside Pathway.
Here you'll be able to shop your heart out and taste delicious dishes reflective of the holiday.
Apart from shopping in the Christmas Market, there are also other forms of entertainment present to thrill you.
The model train will be on display and the Christmas elves will be available to play holiday music for you.
5. Meet Santa at Wild Arctic
You and your family can meet Santa at SeaWorld close to the Wild Arctic attraction.
6. Have Dinner with Santa
In case meeting Santa is not enough, you can have dinner with him! This SeaWorld holiday experience allows you to enjoy a magnificent feast while hanging out with the man himself.
The cost to have dinner with Santa is $39 for adults and $14 for children (ages 3 to 9).
7. Watch the Holiday Reflections: Fireworks and Fountains Finale
This year you'll be able to complete your holiday trip to SeaWorld by watching an incredible yuletide fireworks extravaganza.
This wonderful dazzling celebration will take place on select nights of the event over the SeaWorld Lagoon.
8. Enjoy the Sesame Street Christmas Parade
If you want a magical experience, then you must check out The Sesame Street Christmas Parade.
This year's festive show will feature all of your Sesame Street friends such as Elmo, Cookie Monster, Abby Cadabby, Bert, Ernie, and more.
They'll show you how to party for the Christmas holiday! You can get the schedule here for your trip!
9. Watch Elmo's Christmas Wish Show
Before the parade starts, why not check out Cookie Monster, Rosita, Grover, and Zoe as they help Elmo find his Christmas wish! This is a great way to get you excited for the Christmas Parade at SeaWorld.
This show will take place in the Seaport Theater and will occur multiple times a day. You can get the schedule here for your trip!
10. Play in the Snow!
Nothing says Christmas in Florida like the flurries of our "snope." Although it's not the real thing, we truly appreciate the effort of bringing a white Christmas to Orlando.
You can enjoy the snow in the Shoppes at Waterfront of SeaWorld each evening.
11. Sing-along with the Sounds of the Season
One of my favorite things to do at SeaWorld during Christmas is to listen and sing-along to the holiday sounds.
I know that sounds a bit corny, but it doesn't feel quite like the wintery season until you hear you those famous songs playing in the background of the park!
Think of it as your own holiday music festival as you explore SeaWorld Orlando.
12. Enjoy the Sea of Trees
This is perhaps a SeaWorld holiday staple and another one of my favorite things to do while enjoying Christmas at SeaWorld.
Each year, SeaWorld places these amazing holiday glistening trees across the lagoon at the park.
Although you can get a beautiful photo in the day, the magic really takes place at night when the trees begin to light up with holiday cheer and lights flickering to some of your favorite holiday tunes.
13. Go Ice Skating at SeaWorld!
Now I know you're like "Florida and Ice Skating" doesn't quite make sense, but I'm here to tell you that this one of the most fun things you can do at SeaWorld's yuletide festival this year!
This special experience will be offered in the Bayside Stadium overlooking the lagoon and costs $15 per person.
Be sure to bring crew length socks and gloves. However, if you forget those items, you can buy socks and gloves from a SeaWorld Team Member.
Please note that you are not allowed to bring your own ice skates into the park and the experience is First Come, First Served.
14. Watch Winter Wonderland on Ice
In case ice skating is not intriguing to you, you can watch a magical Christmas show brought to life by ice skaters.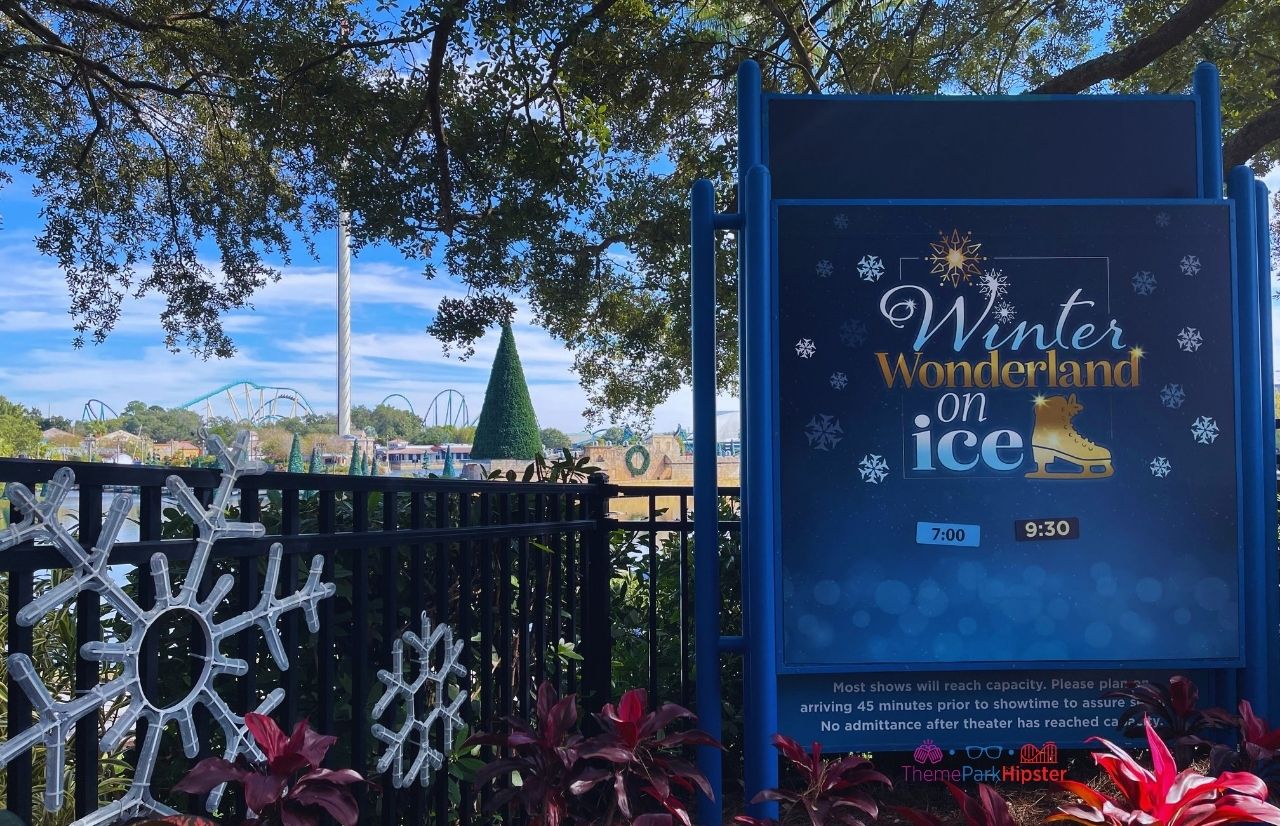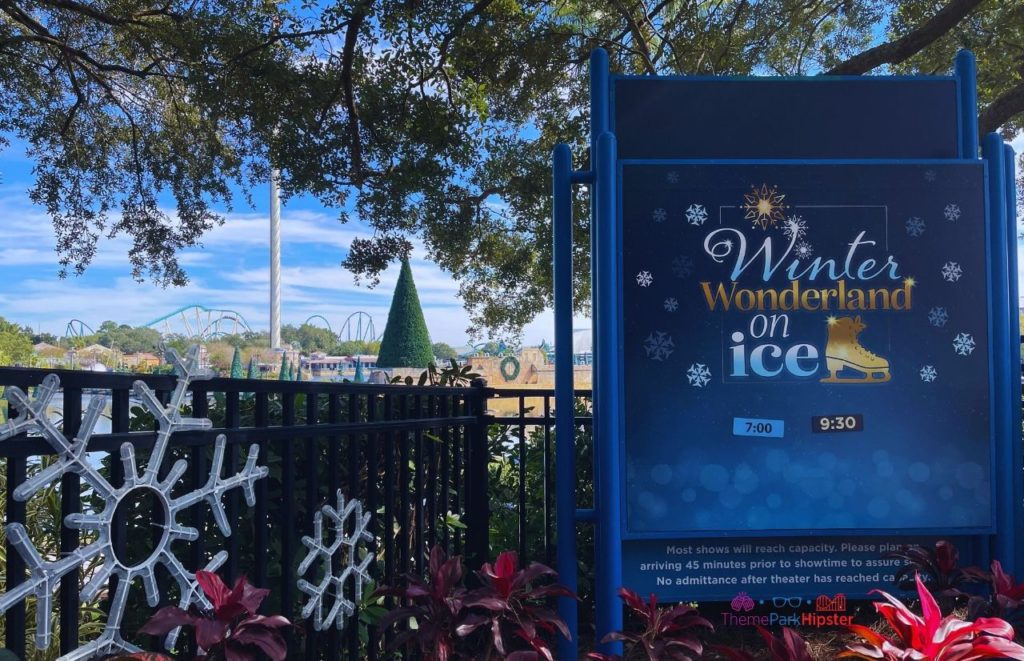 With the picturesque Sea of Trees in the background and the nostalgic holiday music, this is one show that you cannot miss.
15. Explore the Rudolph the Red-Nosed Reindeer Experience
Get immersed in the story of Rudolph the Red-Nosed Reindeer at Rudolph's ChristmasTown.
Here you can walk through his story told in life-size story book vignettes with classic characters such as Rudolph and Bumble.
16. Do a SeaWorld Christmas Tour
This year you get VIP treatment with your own tour guide as you they take you through all of the holiday activities at SeaWorld.
The cost for the Christmas Tour starts at $179 and includes:
Private Tour Guide from 5:00 pm to park close
Festive holiday souvenir
Unlimited Front-of-the-line access to rides
Reserved show seating (including Signature Holiday Shows)
Priority access to photo opportunities with Santa and our other merry holiday friends
1 complimentary Photo Key per party
Dinner with Santa dining experience
Hot Chocolate Souvenir Mug, along with complimentary refills
17. Celebrate Cultural Holidays from Sesame Street Land
Not only can you celebrate Christmas at SeaWorld Orlando, you can also partake in the festive holiday experiences of other cultures such as (final dates pending):
Hanukkah Celebration: From December 18th 2022 to December 26th 2022, you can view the traditional lighting ceremony of the menorah in Sesame Street Land™.
Kwanzaa Festivities: From December 26th 2022 to January 1st 2023, you can learn about this African-American holiday tradition with the nightly lighting of the kinara in Sesame Street Land™.
New Year's Eve Celebration: Bring in the new year in a fun and family-friendly way at SeaWorld Orlando!
Three Kings Celebration: On January 1st-2nd and 6th 2023, SeaWorld will recognize the role of the Three Wise Men in our Christmas story with delicious food, a special performance in the Nautilus Theater, and so much more to commemorate the day!
11 Tips You Must Know for SeaWorld's Christmas Celebration
During this festive period, the theme park has quite a lot of activities happening and it can get overwhelming.
1. Grab a Park Map
I always recommend reviewing the park map before your trip. You can get it on the official SeaWorld website or through their app.
If you're not able to do that, don't worry. There are maps placed throughout the park to help you find your way to the top holiday attractions.
Recommended: 27 Most Festive Things to Do in Orlando for Christmas
2. Have Your Strategy in Place
Having a strategy is very essential especially if you want to see all of the different holiday shows and activities. It can be a bit tough to get in all done in one day, but it's possible if you have a game plan.
Get my favorite SeaWorld Itinerary here.
3. Get to SeaWorld Christmas Celebration Early
Although some of the festivities for don't start until later in the afternoon, I still think it's good to get to SeaWorld Orlando early if possible. This will give you time to enjoy the thrilling rides and unforgettable shows.
Once the holiday happenings start, you'll be able to focus primarily on them without worry about missing out on an attraction.
Just remember that the park schedule of operation varies each day, so be sure to check the Christmas Celebration dates before you head out.
4. Watch the Sea of Trees Show from the Bridge Pathway
Watching this show from the bridge is ideal as you'll have a clear view of the show in 360-degrees.
Another option is to find an unobstructed view from the Christmas Market area, that way you can have a good seat and a nice beverage to enjoy while watching the Sea of Trees Show.
Recommended: 25 AMAZING Things to Do in Florida at Christmas
5. Watch the Holiday Shows
SeaWorld has incredible seasonal shows such as Elmo's Christmas Wish and the Sesame Street Christmas Parade that you must watch on your trip.
Be sure to take your time enjoying the shows and fit them inside of your schedule while visiting the park.
6. Check Groupon for Discount SeaWorld Christmas Tickets
You can find great deals for SeaWorld theme park tickets on Groupon.
They can change each day so be sure to check it before you get to the park if you want to save some money.
7. Try the Christmas Celebration Meal Specials
I love the loaded nachos at SeaWorld, but one of the meals they serve only during the holidays is the Hot Chicken Slider and the Holiday Whiskey Sour.
And yes, I did just put chicken and whiskey together!
This treat is made up of a Crispy Chicken, Apricot, Serrano Glaze, and Pickles. This totally a wonderful SeaWorld creation and special for holidays at the park.
Ready to plan your theme park trip? Watch the best vacation planning tips on YouTube. Get started here!
8. Drink the Best Holiday Beverages
In addition to the savory options like the Hot Chicken Slider are Christmas treats and beverages such as Eggnog, Hot Toddies, and hot cocoa just to name a few.
They're all available in the different booths throughout SeaWorld.
9. Go Holiday Shopping
You can buy some unique Christmas gifts from SeaWorld all over the park, but particularly in the Christmas Market. You can even customize your holiday gifts while you're in the park.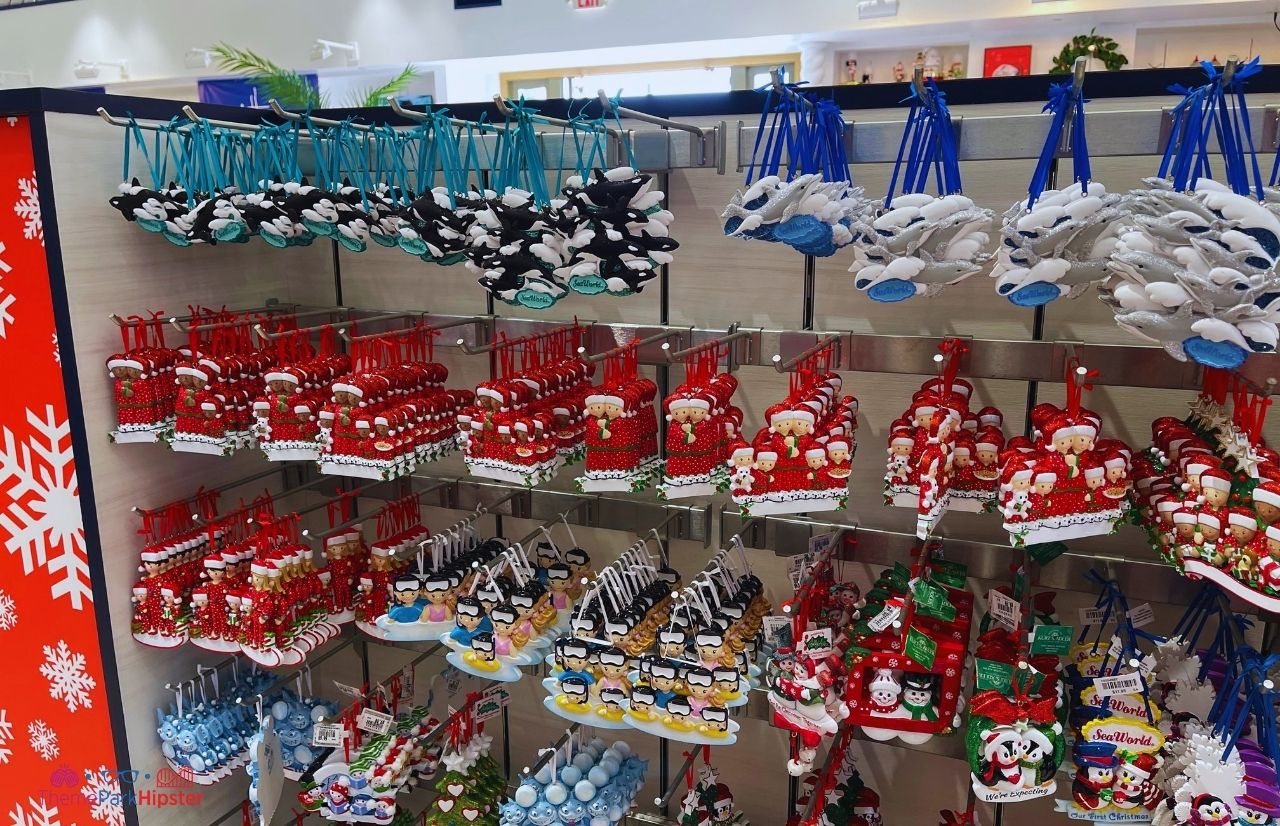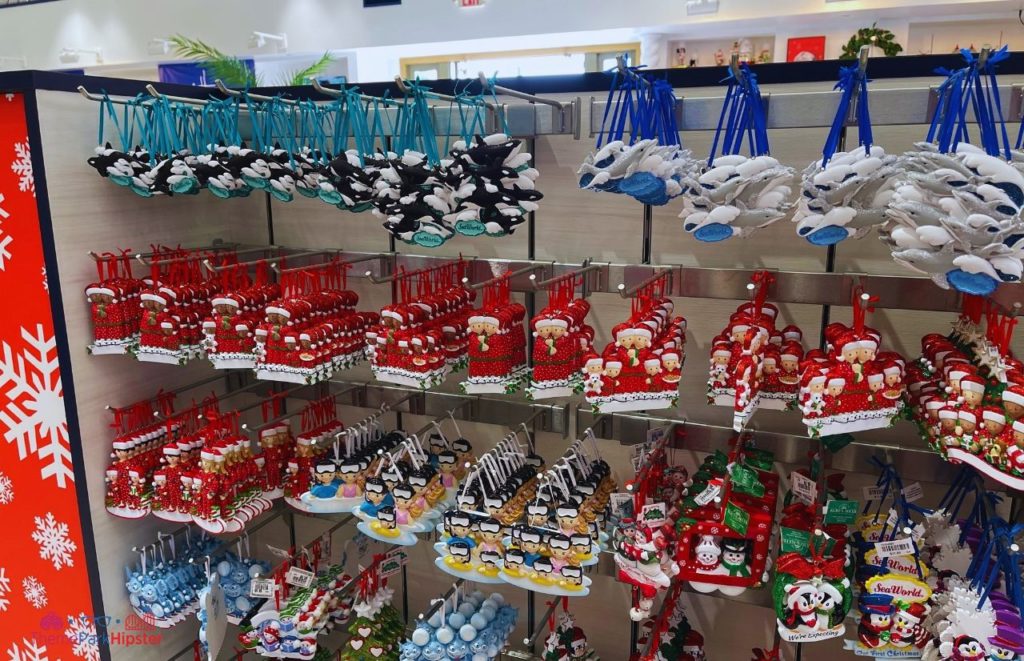 Many of the Yuletide items are only sold during this holiday period so you must buy what you need as they won't be available until the next Christmas season.
10. Celebrate Christmas at SeaWorld the Week Before
If you can come a week or two before Christmas Day, you'll be able to do many of the things listed in this guide without the hassle of the crowds.
It doesn't matter what day you celebrate as long as you understand why you're celebrating.
11. Take Lots of Photos!
Become your own snow globe by entering into the snow globe prop to get the first-hand experience on what it's like to be inside of one.
Remember that you can use your PhotoKey to get all your pictures stored that day while at the park.
What is PhotoKey at SeaWorld?
It's a subscription-based photo app that SeaWorld uses to store your photos taken by their Team Members digitally with your own PhotoKey card that will be stored to your account.
Save up to 42% on SeaWorld Orlando Resort Tickets!
What to Know Before You Go SeaWorld Christmas Celebration
Before we end this SeaWorld Christmas guide, let's go through a few of the most common questions about the event.
Is SeaWorld Open on Christmas Day?
SeaWorld is not just open on for the holiday season, it is also open on Christmas Day!
Is SeaWorld Usually Crowded at Christmas?
Because of SeaWorld's Christmas Celebration, a large number of people come to the park to enjoy all the holiday events and shows.
Although SeaWorld is not as crowded as the Disney parks, this is the time that locals flood the park to enjoy the holiday festivities and to ride the world-class attractions after their own Christmas celebrations at home.
What Are the Dates for SeaWorld Christmas Celebration In 2023?
As previously mentioned in this guide, the Christmas Celebration at SeaWorld begins on November 10th 2022 and ends on December 31, 2023.
What Ages Get Free Passes at SeaWorld?
Children below age 2 get free passes at SeaWorld to most of the shows.
Can I Get Discounted SeaWorld Tickets?
Yes, you can get discounted tickets from different discount websites such as Groupon, or directly from SeaWorld's official website.
How much is SeaWorld Christmas Celebration?
It is free! The Christmas Celebration at SeaWorld is included with park admission. So, all you need to do is show up and enjoy the festivities.
You will have to pay for merchandise and any food, but you can participate in some the holiday activities at SeaWorld Orlando at no additional cost to you.
My Final Thoughts on Christmas at SeaWorld
You can visit SeaWorld Orlando at any time of the year, but the Christmas period is picturesque and gives you the opportunity to enjoy all the Yuletide extras such as the shows and savory treats.
Regardless of whether you go solo, with your partner or your entire family, SeaWorld Orlando is one of the best places to be in during this magical holiday season.
Have you ever been to SeaWorld Christmas Celebration? Let us know in the comments section below.
If you enjoyed this article, then you'll love these:
Are you planning a Busch Garden's vacation soon? Read the Theme Park Vacation Planning Guide for your next dream trip!
Until next time, Happy Park Hopping Hipsters!
NikkyJ
(Original Date: December 2016/Updated April 16, 2023)