Ready to dine like a super star at ABC Commissary?
As kids, we all had a fantasy of being a character in a movie, or to be the lead actor in one of our favorite shows, or maybe you still have those dreams as adults. There is a place where dreams come true, and you get to live it, without any condemnation or criticism.
Disney World is just the place to make your dreams come true for you and every member of your family.
A place where all your worries are left at the door, and you take on a new self, and have all the fun in the world.
However, soon enough, the body gets tired and needs fuel, and this is one of the most amazing places to visit this year.
Yes, right there in your fantasy, a place that solves your stomach's fantasies comes to fore; it's no other than the ABC Commissary at Hollywood Studios.
THIS POST MAY CONTAIN AFFILIATE LINKS. PLEASE READ MY DISCLOSURE FOR MORE INFO. Which means if you click on certain links, I may receive a small commission at no additional charge to you.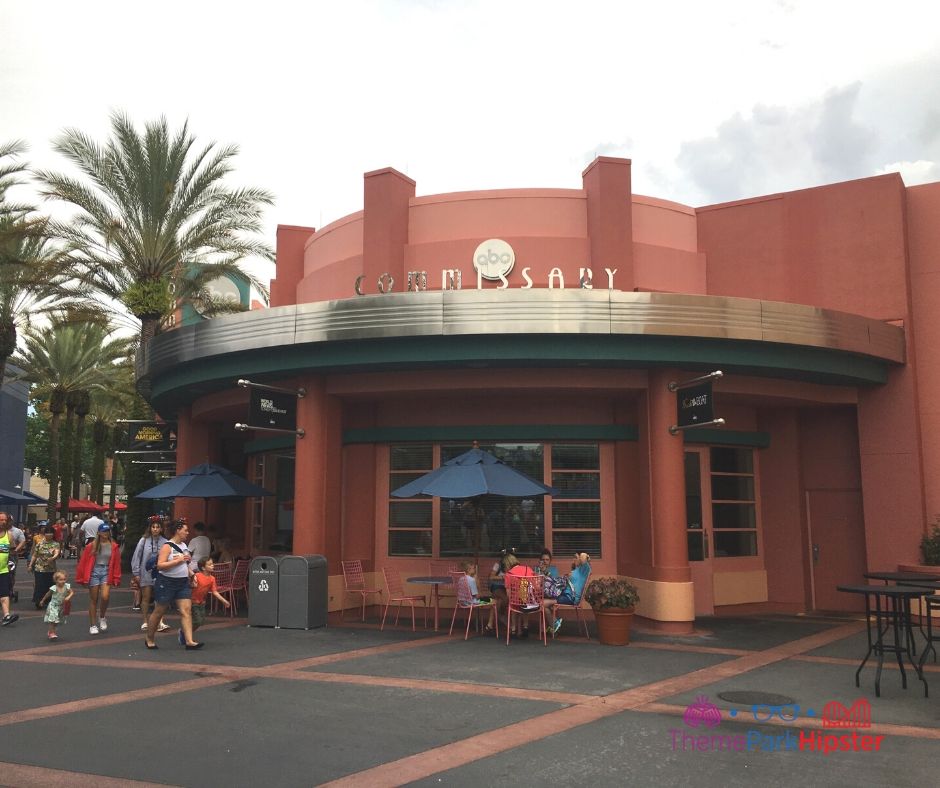 It should be a travesty not to visit the ABC Commissary at least once in a lifetime because you get the chance to dine at the "Palais des Rois".
Well maybe I'm pushing the envelope a little on the description, but it's a great spot to grab a quick bite that will leave you satisfied.
This article is geared to give a first-hand description of what visiting the ABC commissary, feels like.
Have a DIFFERENT kind of Orlando vacation with a Resort home next to Disney World. Find Your Disney Resort Vacation Rental here!
What is the ABC commissary?
Based on the image painted above about the ABC Commissary, you might have gotten a few insight into what the name is all about. So let's dig deep and truly see what is behind the brand name that keeps everyone talking.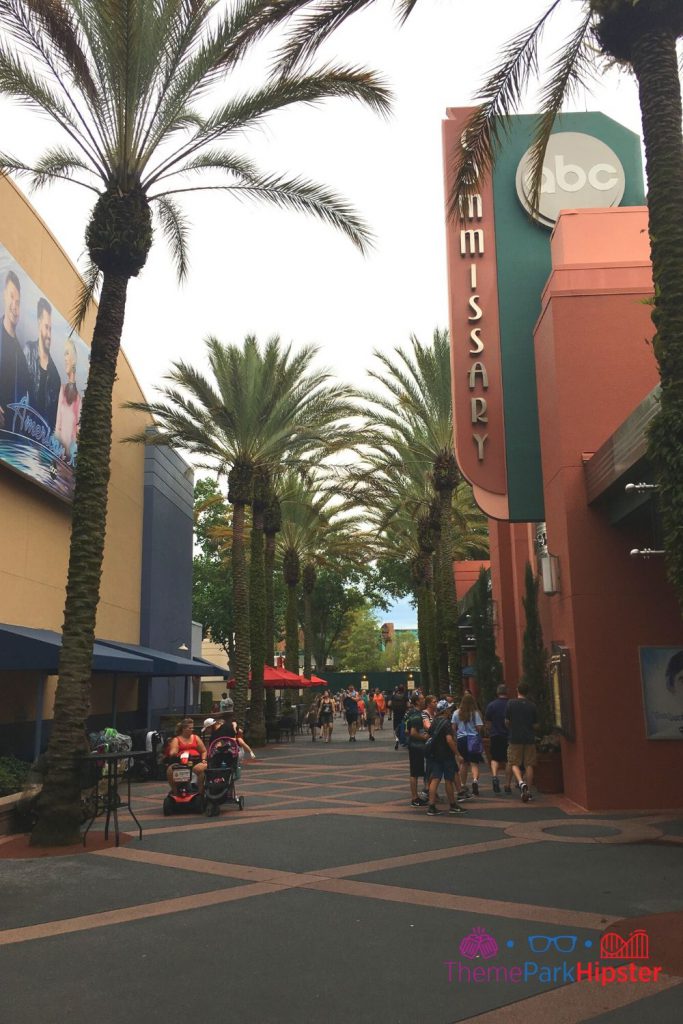 ABC Commissary is a tasty, quick service restaurant that specializes in offering cuisines with a variety of flavorings, either as lunch or dinner to their guests.
This restaurant is located at Disney's Hollywood Studios in Walt Disney World and designed to have the semblance of an ABC live show studio.
The ABC commissary, which specializes in the serving of American styled dishes, provides you with an ambiance quite particular to one of ABC studios. Complete with pictures and displays from the various shows.
The Vibe of the Restaraunt
The environment can be very comfortable to guests as the view is pleasing and coupled with an Art Deco styling. Most people, in fact, get stunned at the architecture of the restaurant, as you are welcomed to the view of palm trees lining the lobby of the restaurant.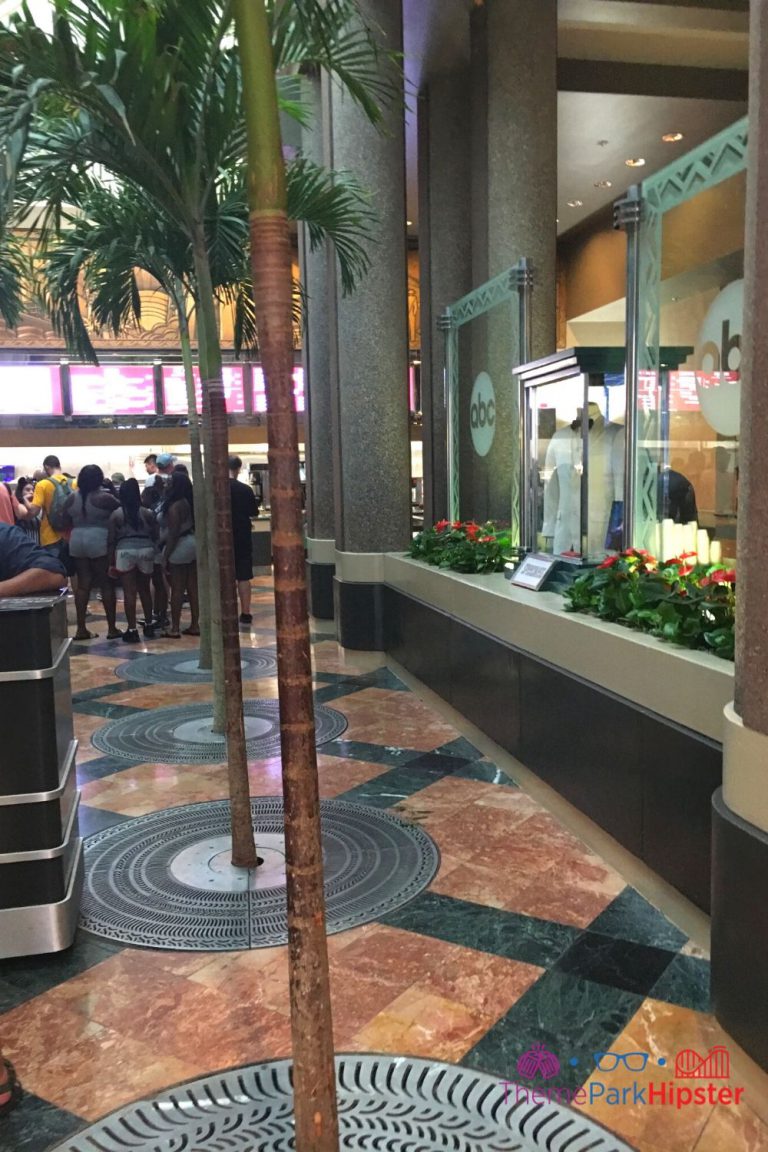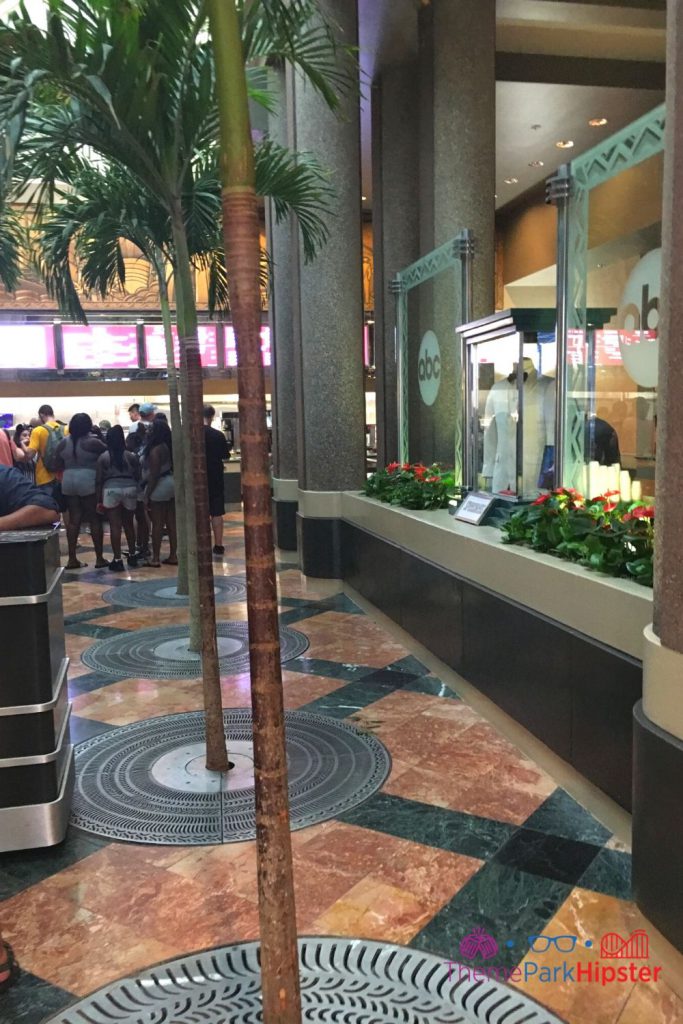 Previously, the restaurant had a cafeteria styled-look until it was remodeled in June 2019 to give it a more chic and restaurant-look. This remodeling saw the restaurant change its look after over 20 years of top-quality customer servicing.
Now, the restaurant has a more upscale and affordable look, which is attracting more Disney guests. Overall, the new design has given it a new cool look that catches the fancy of most millennials.
Do you need reservations at ABC Commissary
Technically, yes and no depending on the time you go.
For years now, the ABC commissary has offered guests with its two menu services, which is marked based on the time of arrival.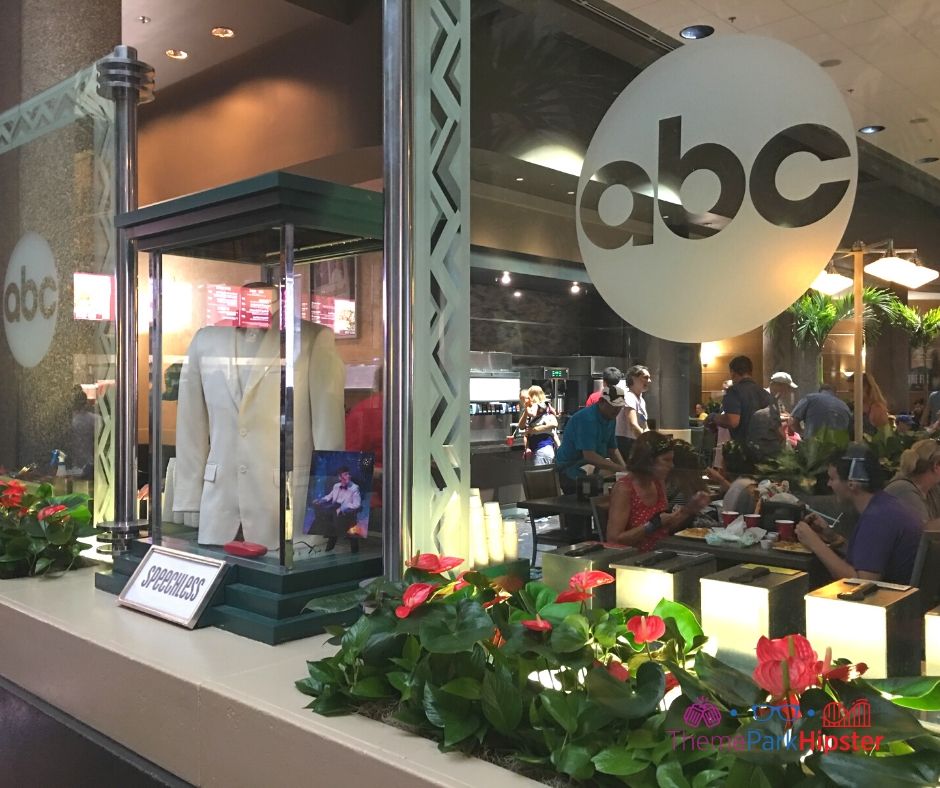 Before 4 p.m.
Guests who arrive before 4 p.m. are attended to through the counter service, which involves the guest walking up to the counter, ordering their food, and paying the cashier right there at the stand.
You know, like the standard fast-food walk-ins.
There is also the Mobile order option, which you can stop by and pick up, in case you are in a rush. An option that I highly recommend.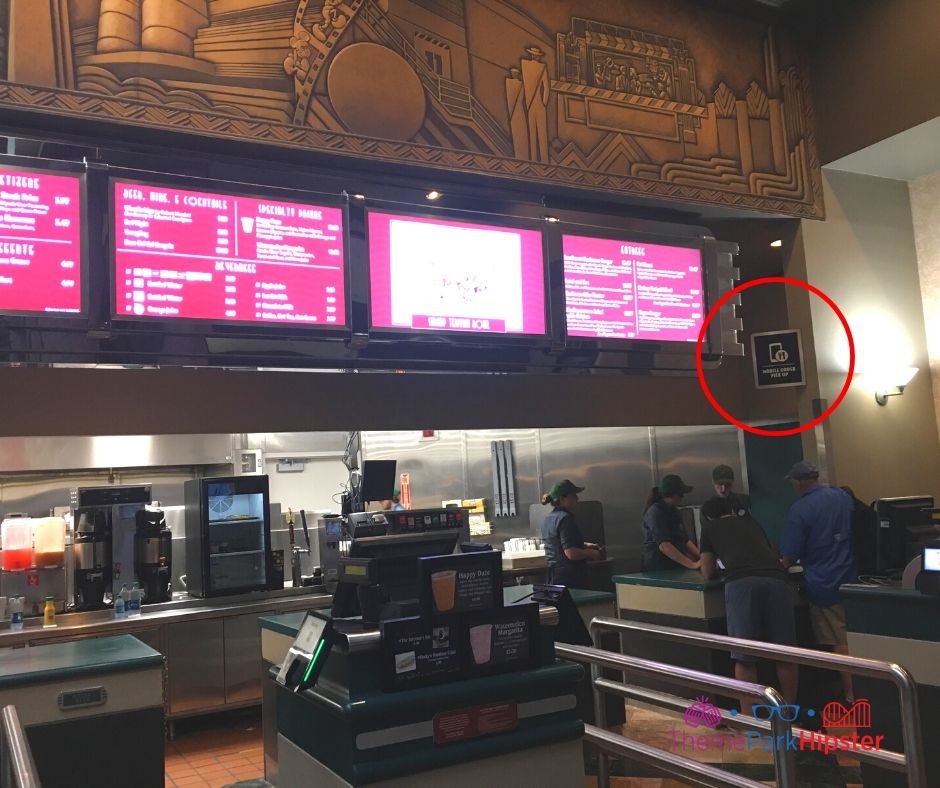 After 4 p.m.
Anything after 4 p.m., the fast-casual dinner service, takes over, and this has been going on for over 4 years. During this time, a host or hostess will greet you then usher you over to the counter for you to order you food.
Once your food is ordered, a Cast Member will hand you a tracker and will deliver your food to you once it's ready. I highly recommend having a reservation for dinner or using the Mobile Ordering system for dinner.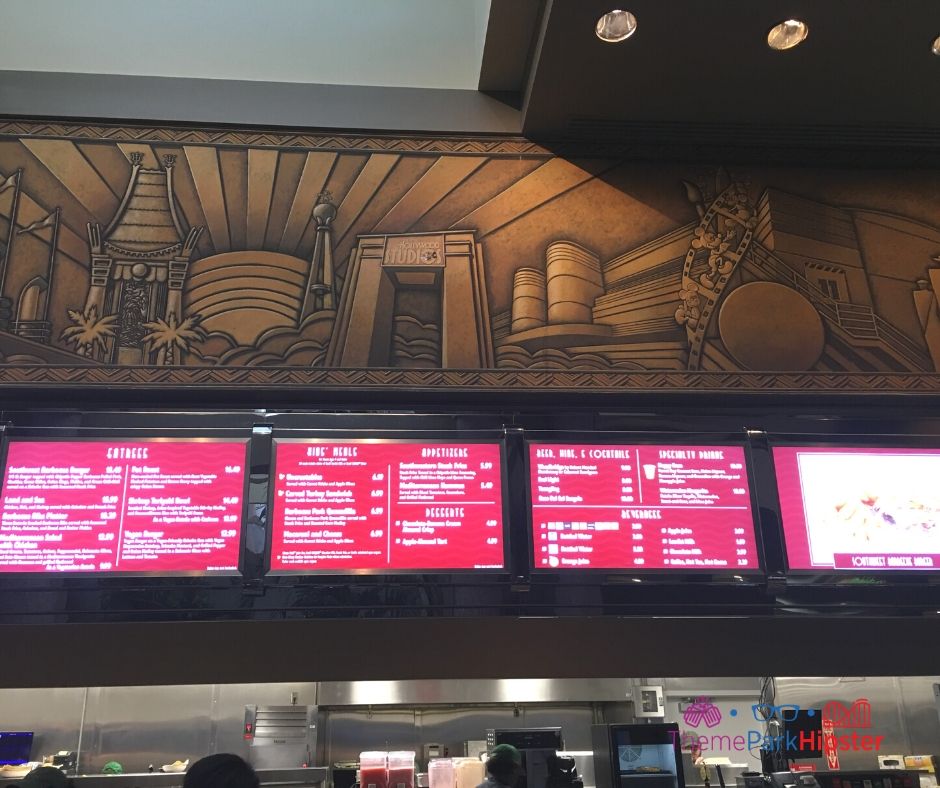 This services to date is the best quick dinner service that one can get anywhere at Hollywood Studios, as they add a mix of quality and great service from Cast Members.
Read: 24 Incredible Hollywood Studios Facts and Secrets You Must Know
What does it feel like to eat at ABC Commissary?
As mentioned earlier, the restaurant is packed with the adventure of a Hollywood actor on the set of a major television project.
The over-counter service may not be what you expect at a restaurant, but the idea of it, is novel and exciting, as it gives you ample time to take in the surroundings.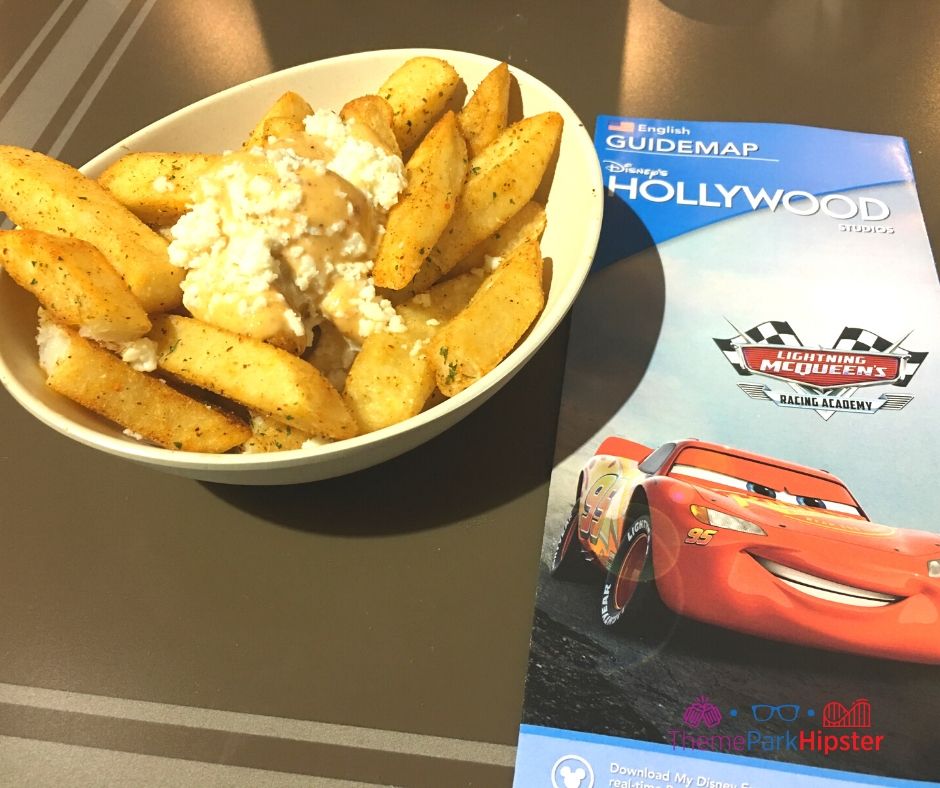 What's the Ambiance like?
Well, to describe the ambiance in the restaurant might be a tough one, unless you are going to put in your imaginative lenses.
Once you enter the ABC Commissary at Hollywood Studios, you are taken into a cozy environment that welcomes you from the stress of navigating the whole theme park.
The palm trees in the lobby remind you of Hollywood Drive while projecting the feel of a cool beachfront.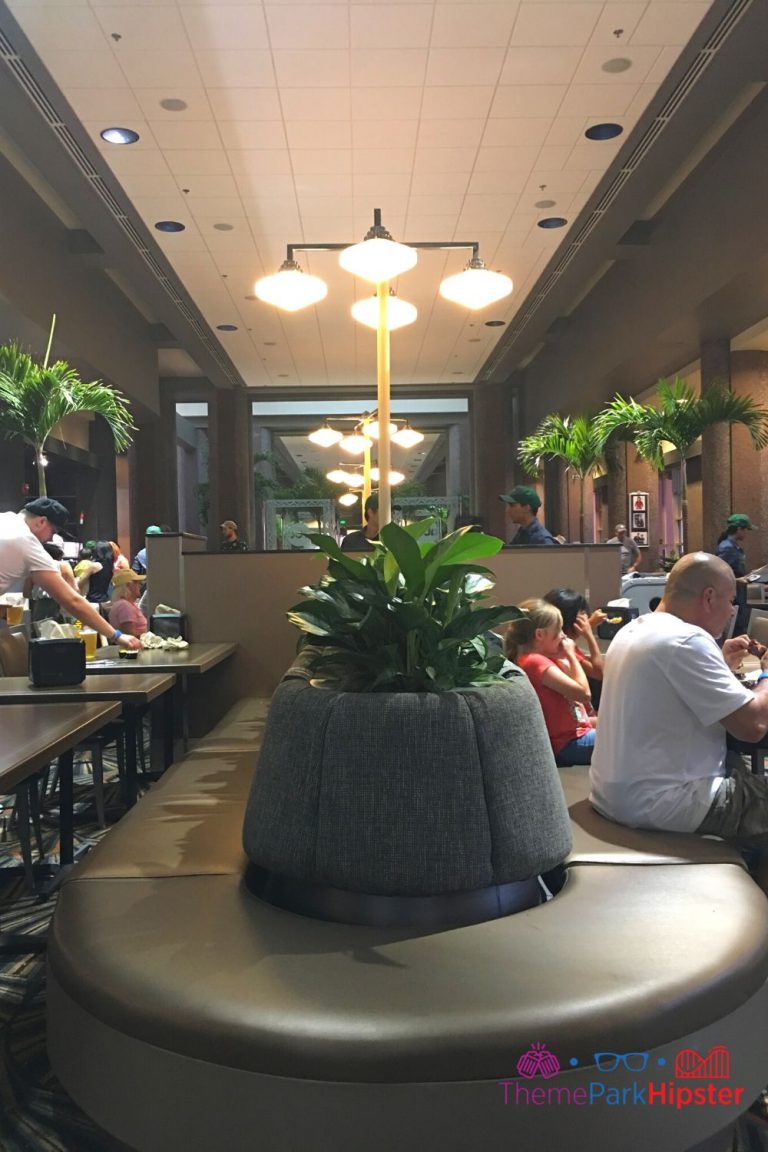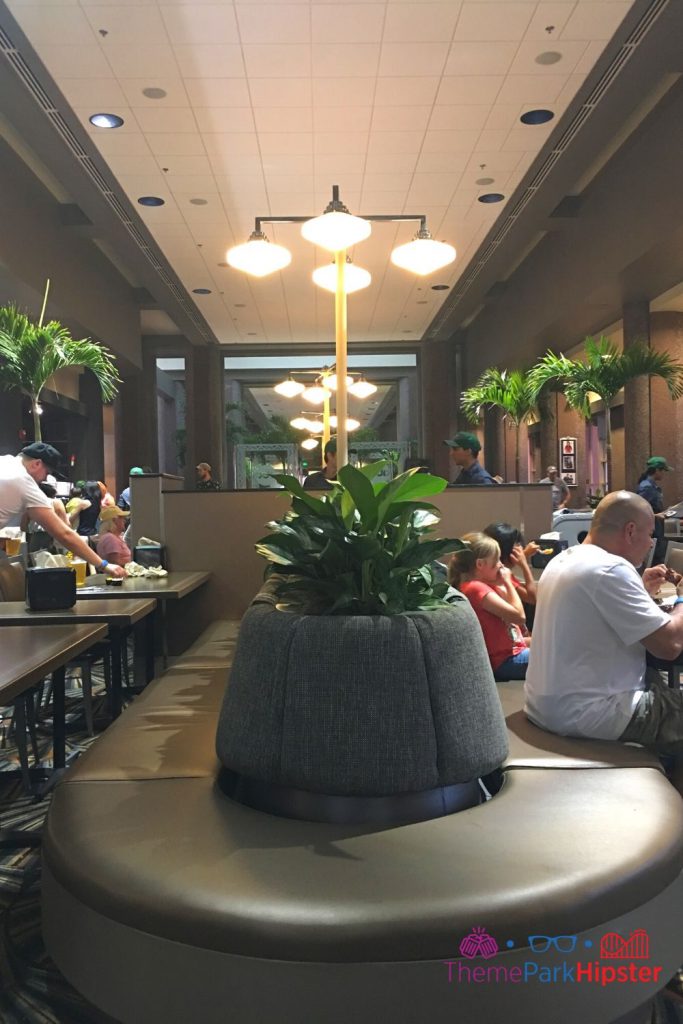 Once you have made your order and bought your meal, you can settle down into any of the tables which can seat 4-6 people at a time, depending on the location of the table.
Some of the tables have row like seats, more like counter seats, which can be accommodating, especially if you are moving in a group. These would give the whole group a chance to sit at one table together.
After the Renovation
When the remodel and refurbishing of the ABC Commissary at Hollywood Studios took place, the restaurant took a new look and left the former cafeteria-style design.
Although the idea still revolves around a more modern cafeteria, the refurbishing added a little more eye-catching views.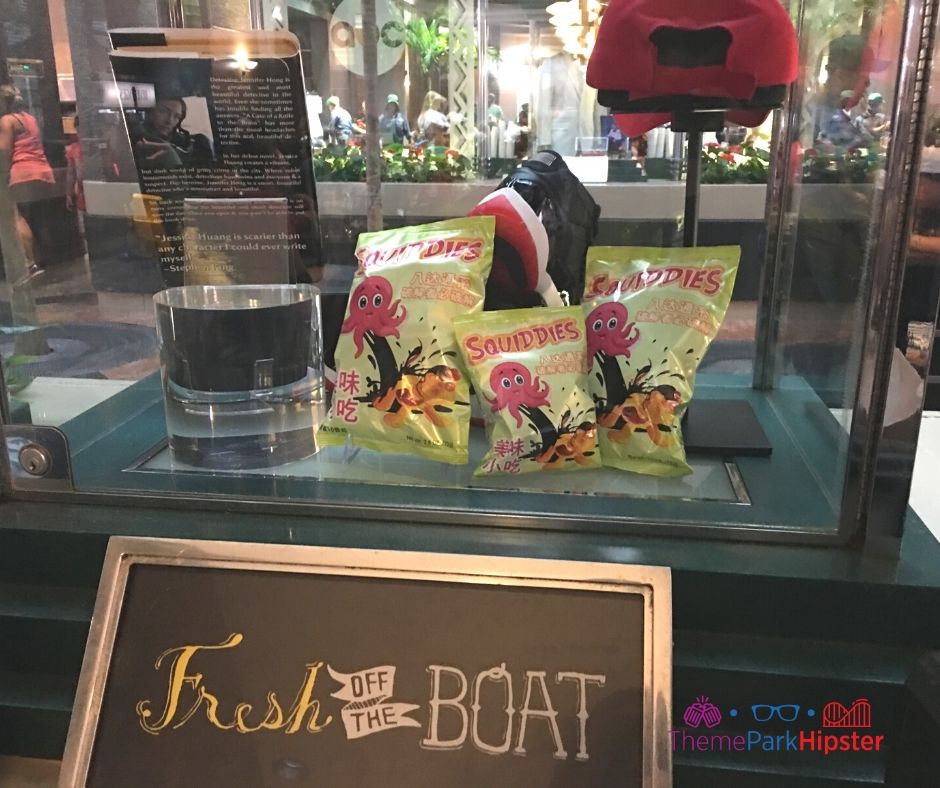 The color chrome of the restaurant was worked on, and a touch of dark green, blue, and a little bit of black helped pushed its subtleness. This way, the restaurant looks more refined and shed its college cafeteria design.
The beverage station of the restaurant also got an uplift with a little touch of marble on the side.
More sturdy carpets and new designs for their chairs were put in place to uplift the outlook of the restaurant, thereby pulling in more guests to the restaurant.
Also, the restaurant upgraded its services by adding a new self-dispensing drink station, which guests could use to refill without the help of a Cast Member.
Read: The Star Wars Galaxy's Edge Guide
How's the lunch experience?
For the lunch experience at ABC Commissary in Hollywood Studios, the atmosphere is usually different. Since the bulk of guest are usually hungry large families and groups, who are there to get a quick bite or rest some overly exhausted legs with a meal.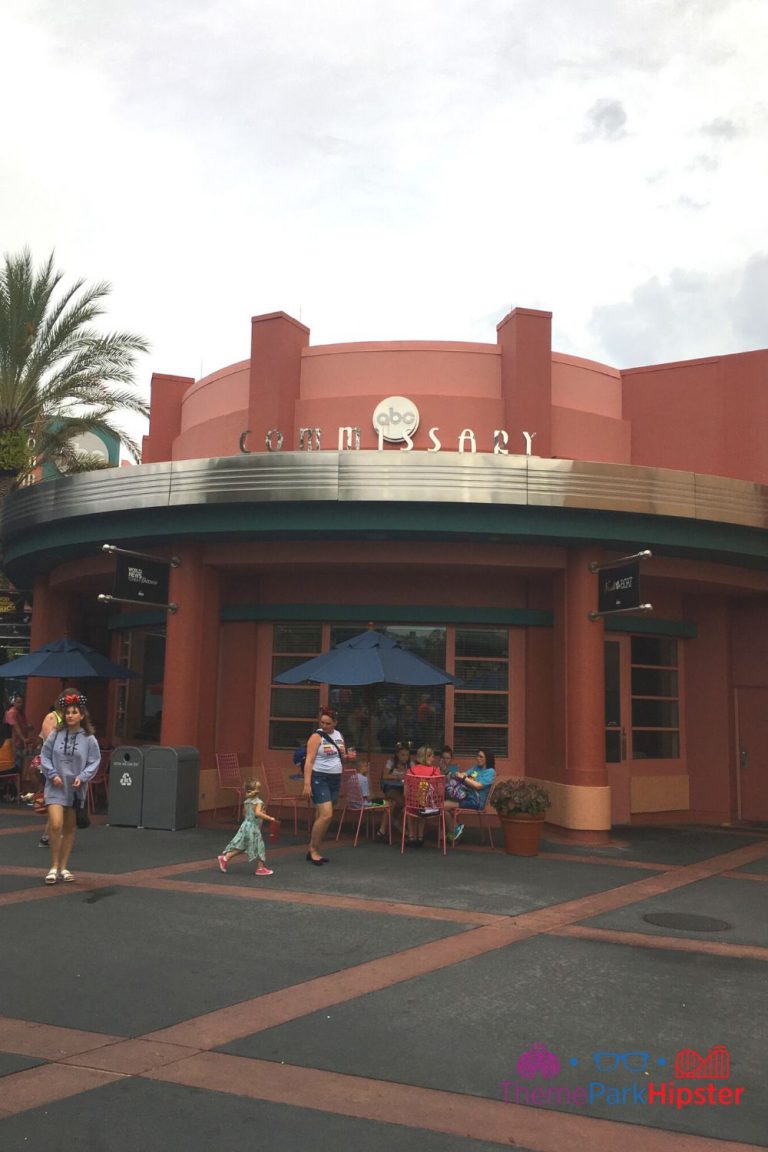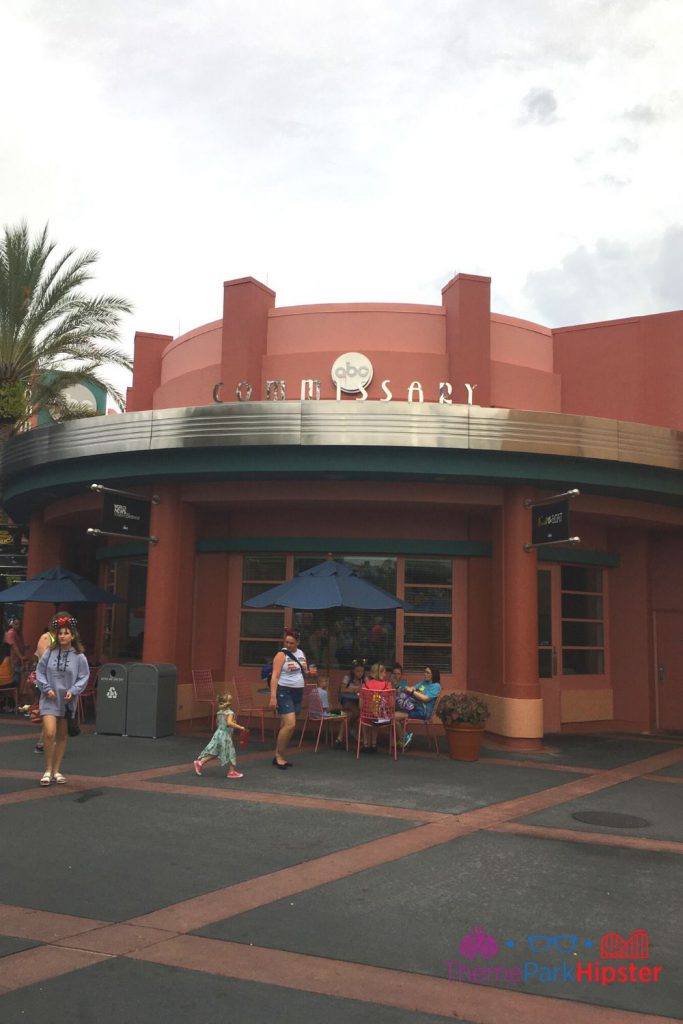 It could also be a bonding time for groups to talk about their experiences during the day while sightseeing.
To crown it all, the ABC Commissary offers just that mood to keep all nerves relaxed. Since lunch falls before 4 p.m., the guests are offered the quick counter service.
How to order your food during lunch?
As briefly mentioned earlier, you can walk up to any free counter, and order your meals. After that, a tracker will be given to you once your order has been completed, to help the Cast Member find your table once your food is ready.
Alternatively, you can use your My Disney Experience App to pre-order your meal for easy and quick access.
What's for lunch?
This Disney restaurant offers an array of meals to suit both children, adults, and even Vegans. The menu list gives everyone a chance to have a taste of the awesomeness that is dished out at the restaurant without anyone leaving feeling left out.
ABC Commissary Lunch Menu
The meals offered for lunch ranges from the regular chicken sandwiches, burgers, and salads to BBQ Rib and shrimp platters.
For the kids also, meals are ranging from Carved Turkey sandwiches to even a Power Pack, which is packed with fruits and salads.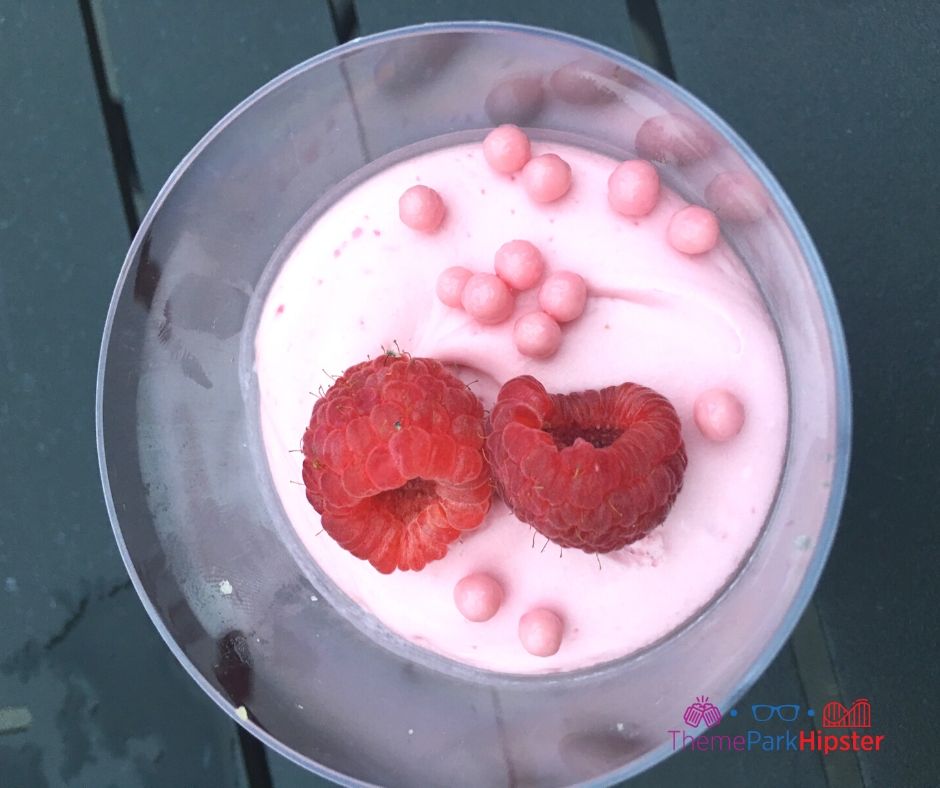 Desserts are also up for offering just in case you need to wash down a meal. The Strawberry Shortcake Verrine and Smores Cookie are also standout desserts that you can get during lunchtime.
If you also intend to have something stronger, then you could order the Watermelon Margarita, which is a combo of Patron Silver Tequila, Watermelon, Sweet-n-sour, and Lime juice, just to get you in your feels.
Read: Top 10 Hollywood Studios Rides and Attractions You Must Do
How's the dinner experience?
When night-time approaches, at around 4 p.m. to be exact, the ABC commissary switches to the dinner mood for their guest. Evening time at Disney World can be a whole ball game, as you could get carried away by the beauty and lighting of the surrounding.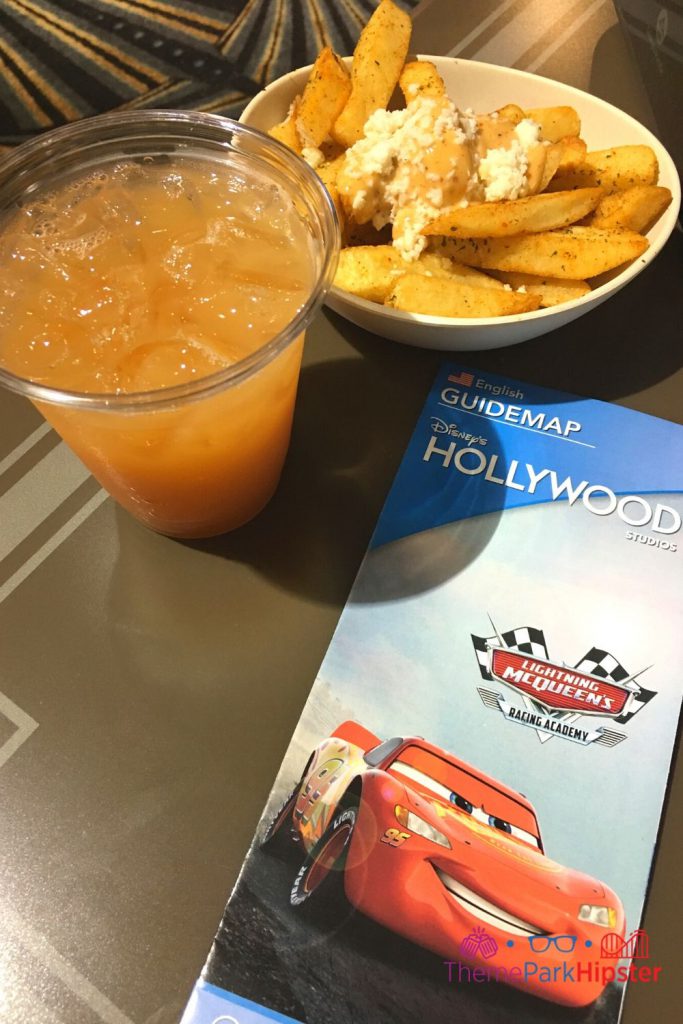 That is why the ABC Commissary at Hollywood Studios stepped up to match the mood. The environment at the restaurant takes a different mood and sees a more relaxed atmosphere at the restaurant.
The setting changes to a more fast-casual dinner setting, with you being welcomed at the entrance by a Cast member of the restaurant.
The inside of the restaurant is sectioned off with ropes, to show the divided sections for already reserved tables.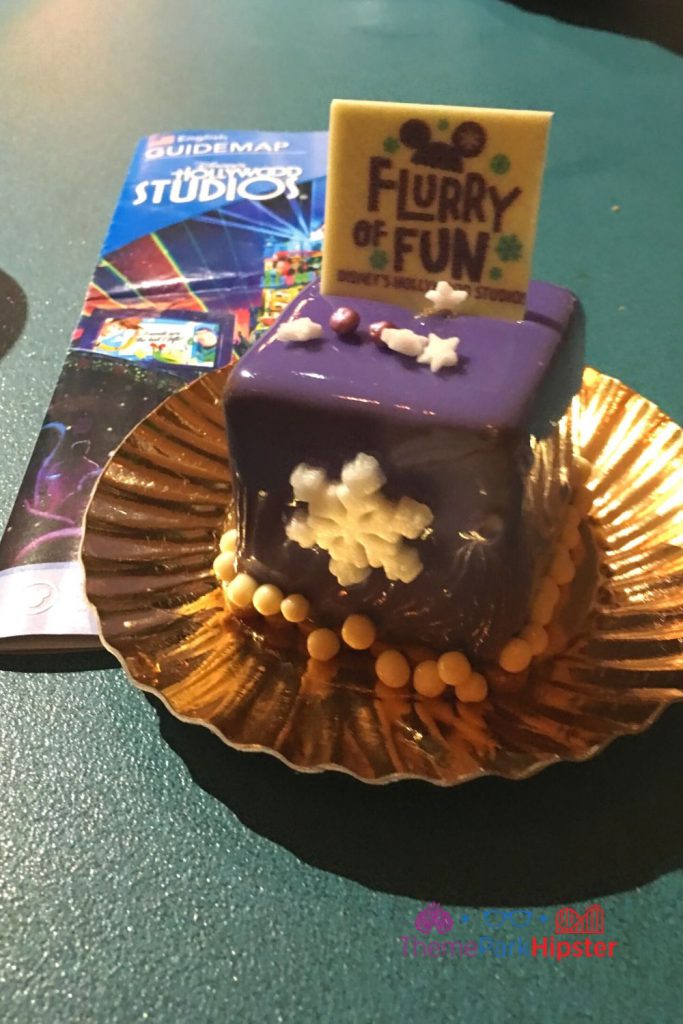 Not to be caught off-guard, it's nice to always make a reservation before the actual dinner at the restaurant, as the tables might all be taken if you did a walk-in.
How to order your food during dinner?
Once you have been attended to at the reservation desk, you'll need to go to the counter and place your order.
This may sound weird for a dinner reservation, but you need to keep in mind that the restaurant offering is a fast-casual dinner.
You are then given a pager that will let you know that your food is ready and it also helps the Cast Members find your table to bring your order to you.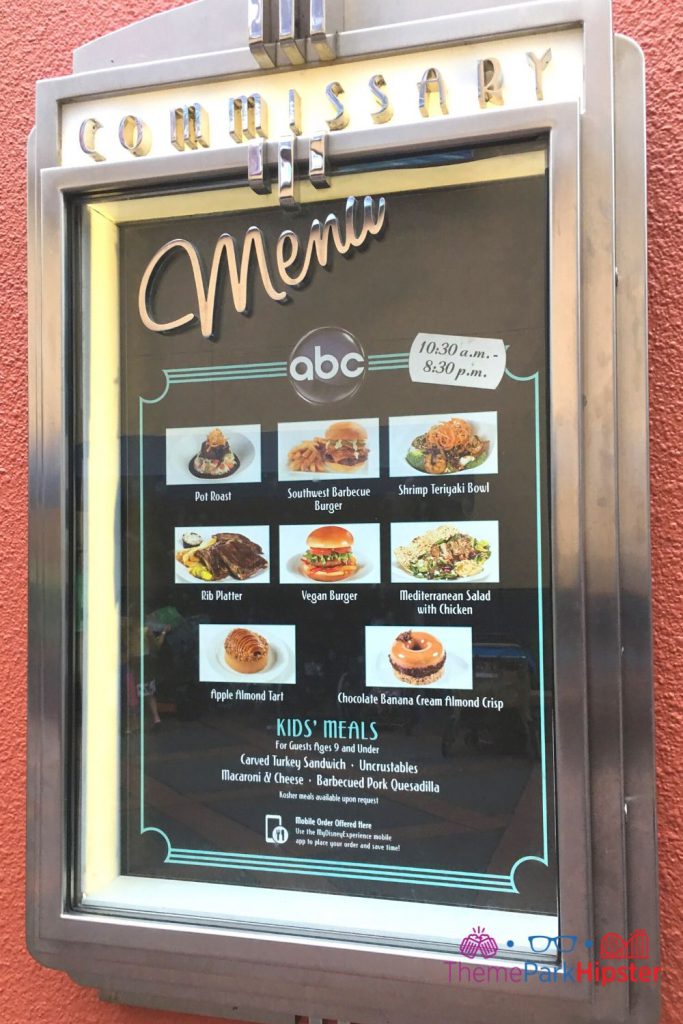 This helps allievate the crowd that can form in the small spaces between the cashier and the food counter.
The speed of delivery depends on the number of people available at that night's dinner. Most times, the restaurant always add more cash registers to ease the crowd and speed up delivery, which is actually a very nice thing.
What's for dinner?
ABC Commissary's dinner menu is one that everybody would be interested in trying, as their entrees are quite interesting and delicious.
Although there is a little bit of an upgrade from the lunch version, the dinner version is a little bit more expensive and more packed.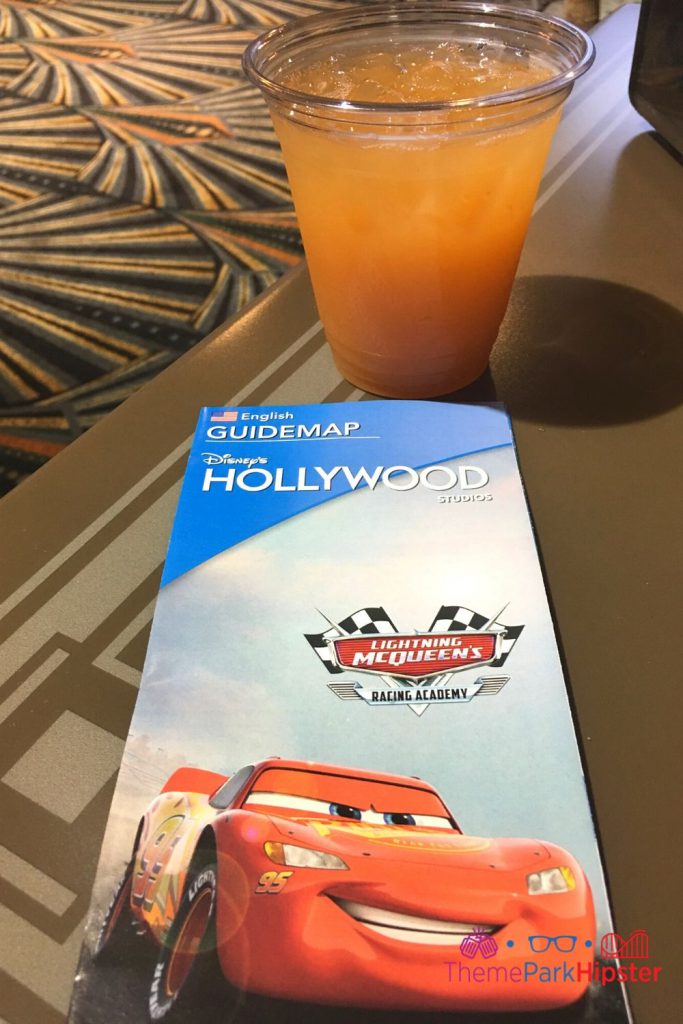 Every member of the family is considered on the menu, but you might end up having the kids wanting the adult's meal.
ABC Commissary Dinner Menu
The ABC Commissary's dinner menu for adults has all these available entrée options:
Pot Roast (a favorite)
Barbecue Ribs
Shrimp Teriyaki Bowl
Mediterranean Salad
Southwest Barbecue Burger
A Galaxy Far, Far Away Espresso Mousse Dome
Apple Almond Tart
The Kids Menu is also a bit upgraded with the Chicken Strips, Barbecue Quesadilla, Mac and Cheese, and the Uncrustables.
Beer, Wine, and Cocktails are also readily available, or you could decide to try the house specials (Watermelon Margarita or Happy Daze). For those who don't do the strong kinds of stuff, the newly installed beverage fountain would fix the drink section.
Hipster Power Tip: Look for dietary restrictions options such as Gluten/Wheat Allergy-Friendly, Egg Allergy-Friendly, Fish/Shellfish Allergy-Friendly, Milk Allergy-Friendly, Peanut/Tree Nut Allergy-Friendly, and Soy Allergy-Friendly on the menu.
You can view the full menu here. Keep in mind that the food options do change frequently.
Making Reservations
When making reservations, dinner reservations should be made a week prior to your visitation date. This is an easier solution than walking in on the night you decide to dine at ABC Commissary.
At time, Disney guests find it easy to have lunch at the restaurant due to its quick over-the-counter method, as most times the crowd is more than enough.
7 Tips for Having a Good Time at the ABC Commissary
Book dinner reservation in advance
Use the Mobile Ordering service (my top tip)
Try as much as possible to get to the restaurant for lunch before 4 p.m.
Allergies should be given to the Cast Member before placing your order
The far end corners of the restaurant are best if you need quiet time
Dinner time has the best food options
Go during the off-peak dining hours (12 p.m. to 1: 30 p.m. and 6 p.m to 8 p.m.)
Final Thoughts
In conclusion, the ABC Commissary is an enjoyable restaurant to have your meal whenever you visit Disney's Hollywood Studios. Their menu is pretty good and the service is top-notch and would satisfy as one of the best fast-casual experiences.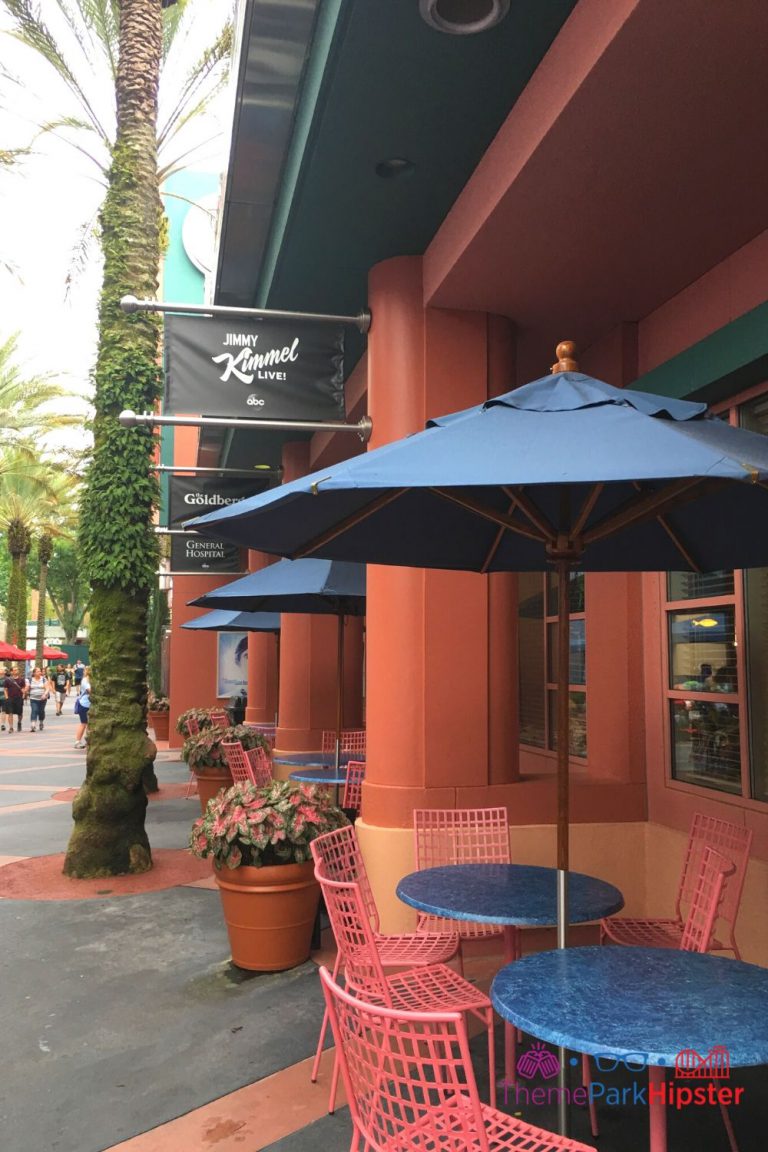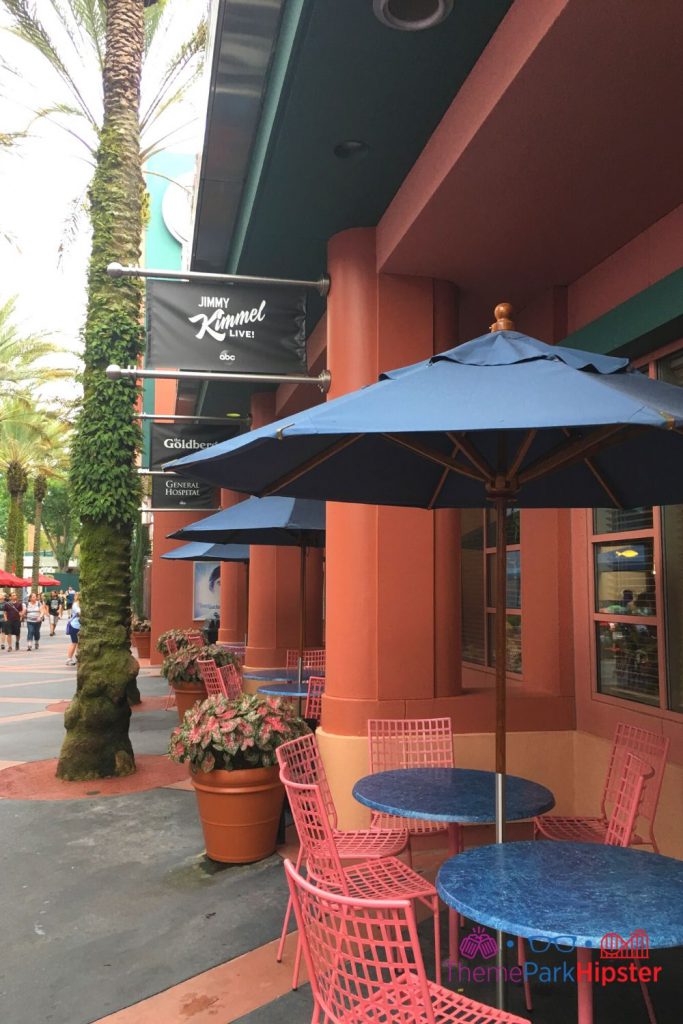 I always have a pleasant dining experience when I visit this Disney dining location. Since the food is quite tasty and delivered quickly so that I can get back to my theme park adventure.
Final Score for ABC Commissary at Hollywood Studios
Ambiance: 7
Food: 8
Prices: 8
Drinks: 8.5
Service: 10
I give this restaurant a 8.3 out of 10 on the ThemeParkHipster dining scale and I know you will definitely enjoy it too!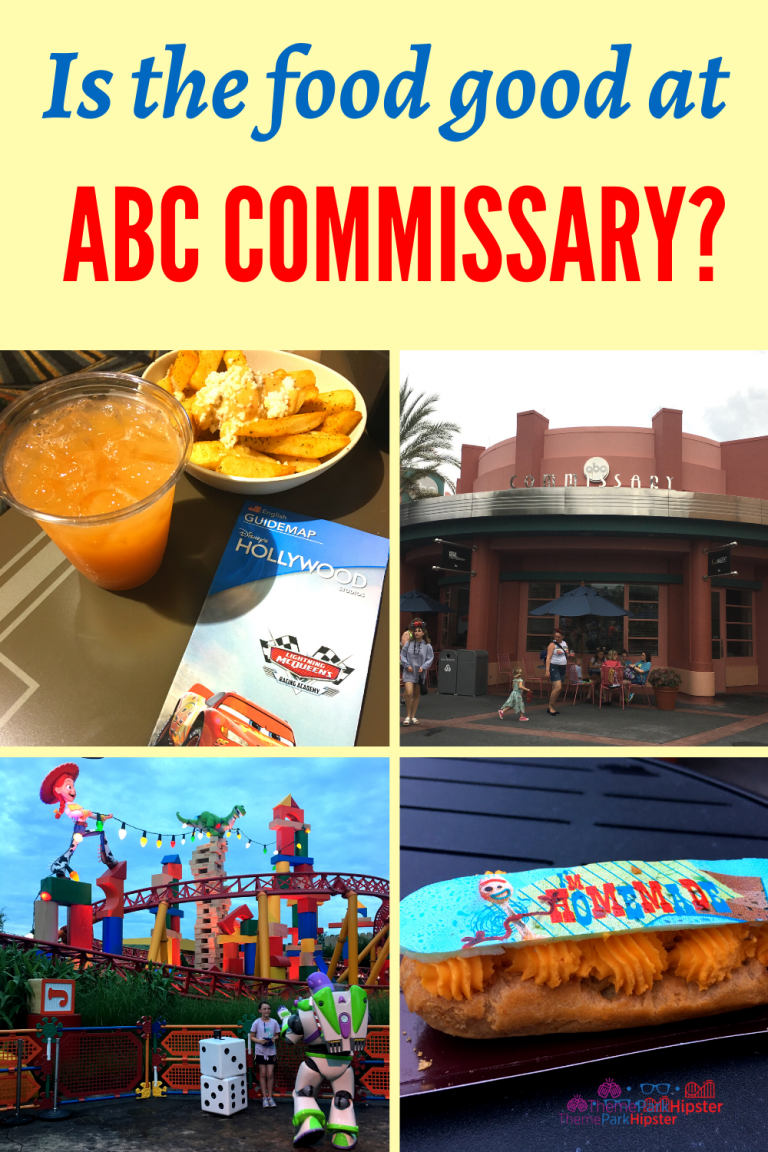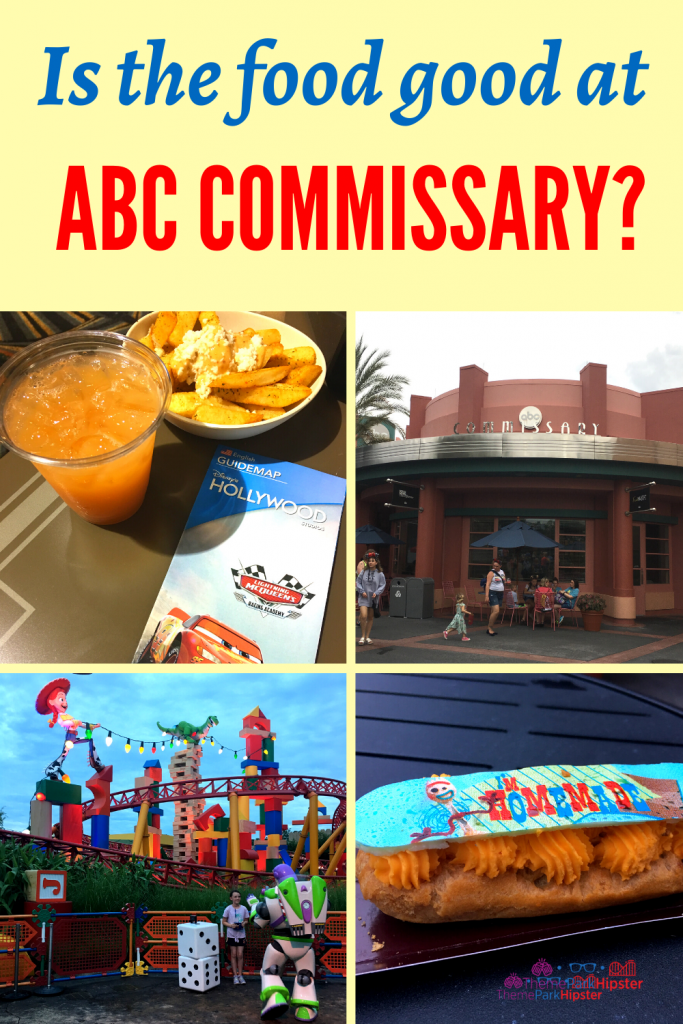 So if you need a place to sit, relax and grab a bite, then ABC Commissary should be on your list.
Until next time, Happy Park Hopping Hipsters!