Are you planning your Disney World Vacation and trying to wrangle up those park reservations for the best possible days to go to Hollywood Studios? I'm here to help!
A read through this simple guide will help you plan out what dates, days of the week, and times of the year are the best to maximize your experience in Disney's Hollywood Studios!
I'll also explain how to use the Hollywood Studios Crowd Calendar to help you pick your perfect days.
Before getting too far ahead of ourselves, it's best to plan out which days of the week are typically the busiest at Hollywood Studios (and the other parks!) to maximize your time.
THIS POST MAY CONTAIN AFFILIATE LINKS. PLEASE READ MY DISCLOSURE FOR MORE INFO. Which means if you click on certain links, I may receive a small commission at no additional charge to you.
What's the Best Day to Go to Hollywood Studios?
The best days of the week to visit Hollywood Studios are Monday, Tuesday, or Wednesday. This is because of how most visiting families plan out their vacation.
Many groups arrive on Saturday or Sunday and start their vacation off with Magic Kingdom. Therefore, Magic Kingdom tends to be busiest on Sunday and Monday.
Epcot, which has morphed into a fully food and drink themed park, tends to have greater number of visits from locals, and therefore gets busier Friday nights and weekends.
The same is true for Hollywood Studios, so avoid those days as well!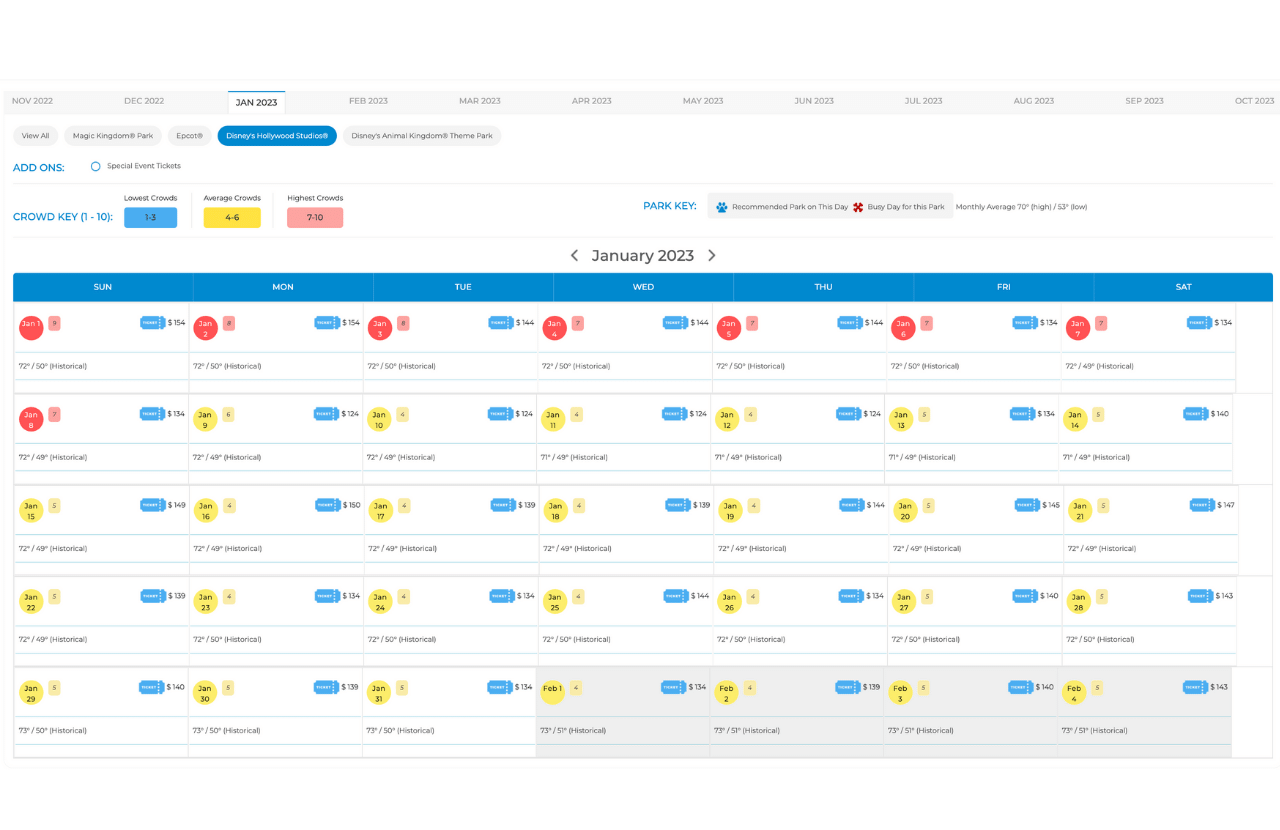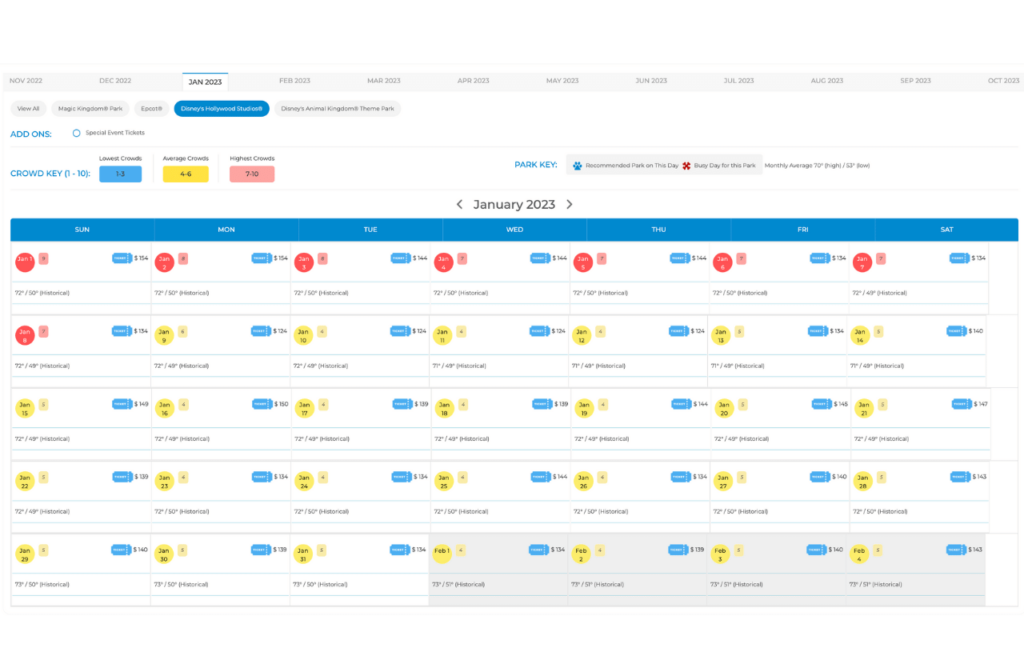 Lastly, Animal Kingdom stays the least busy out of all the Disney World parks (and despite being my favorite park, it will take the least time to see and do everything), so it can be visited any day that works best for you! 
Ready to plan your theme park trip? Watch the best vacation planning tips on YouTube. Get started here!
What's the Best Time of the Day to Visit Hollywood Studios?
The same is true for all Disney Parks: the best way to maximize your time with less waiting is to arrive to the parks just before opening in the morning.
That way, you'll enter the park and be the first to hop in line for whichever ride you deem your must-do for the day.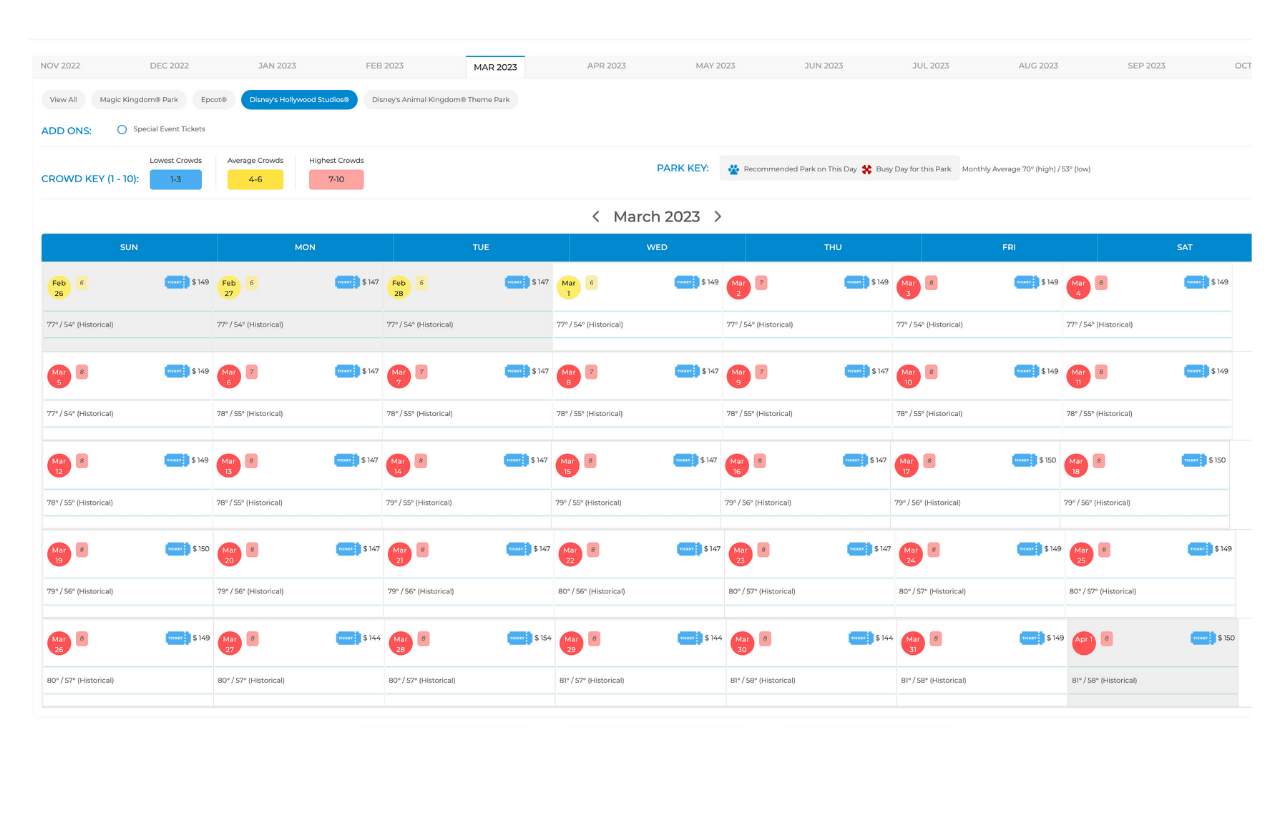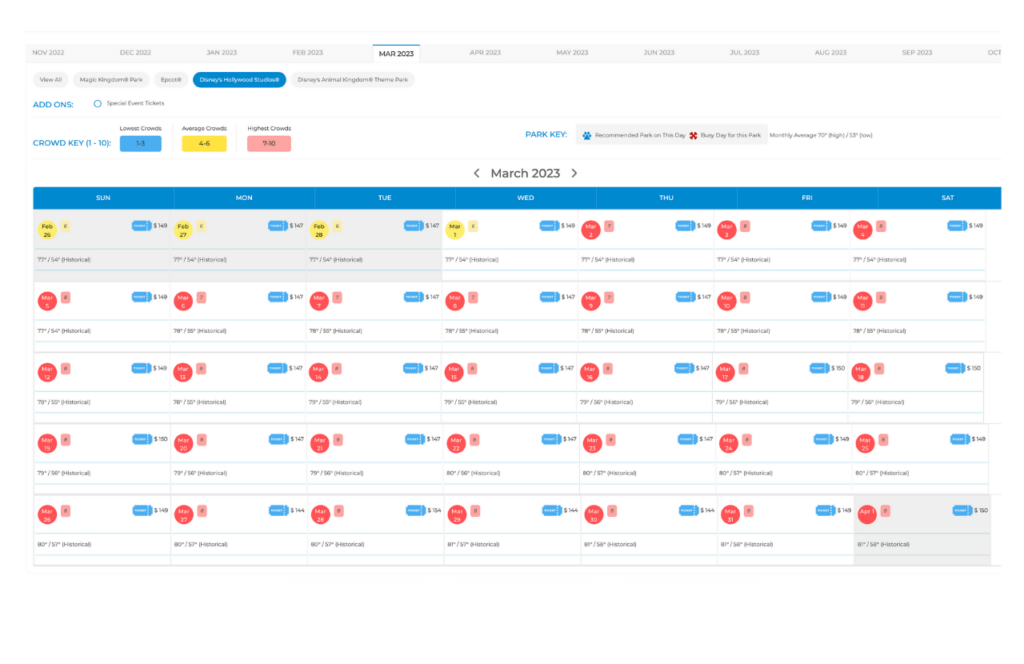 What is a Hollywood Studios Crowd Calendar?
The Hollywood Studios Crowd Calendar gives you a prediction on what the park is like on each day of the week.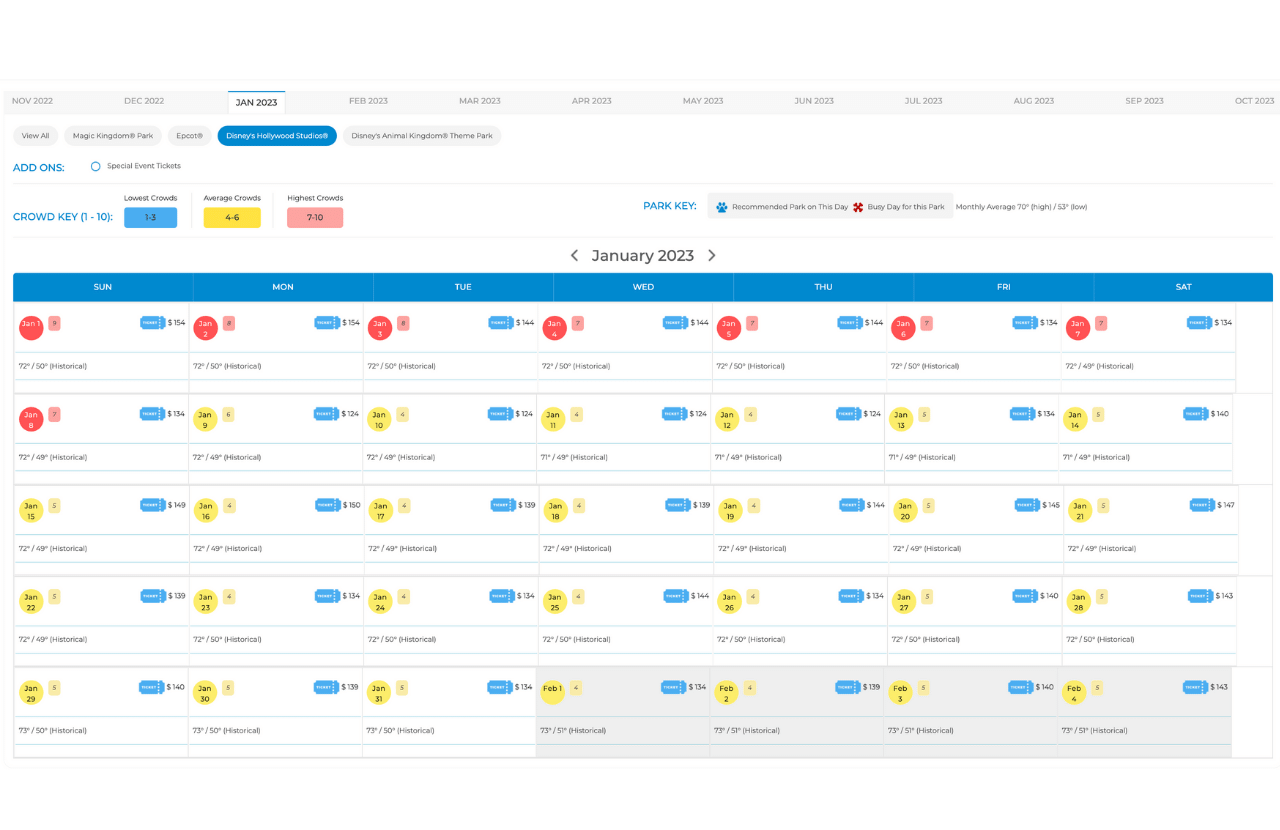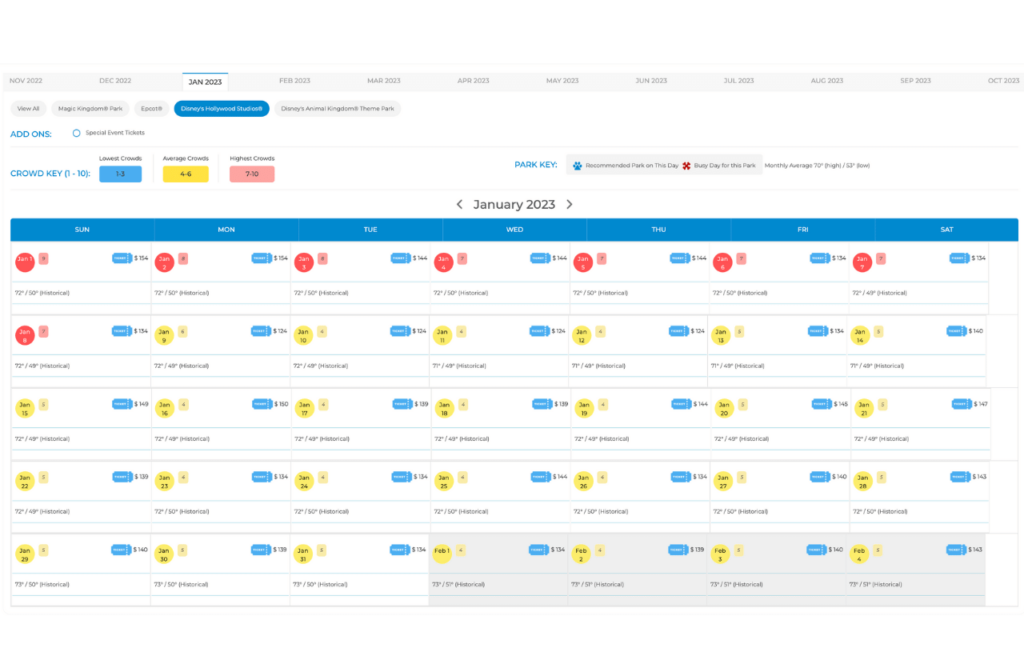 This calendar is vital for anyone who wants to visit Hollywood Studios at the best times possible.
Mainly because it helps you figure out what days have the heaviest crowd level based on the data from previous years.
How Does the Disney Hollywood Studios Crowd Calendar Work?
The Disney Hollywood Studios Crowd Calendar works by giving you the exact days you should select and what each day will be like (crowd-wise).
It does this by showing how busy the Disney park will be in regards to theme park attendance.
The Hollywood Studios busy days are categorized as: high, average, or low and will be color coordinated on the Crowd Calendar with: 
Red indicating high crowd levels
Yellow indicating average crowd levels
Blue indicating low crowd levels
Once you have this information, you can then figure out which day, which week, and which month will work best for you when choosing to visit Disney's Hollywood Studios. 
Get up to 76% off of the Orlando attractions with Groupon TODAY!
When is the Best Time of the Year to Visit Hollywood Studios?
If your schedule allows you to visit at any time of the year, you'll be able to navigate the parks much easier due to lower crowd levels.
Be warned though, that despite being true in the past, there are no longer any truly non-crowded times of the year. However, there are certain windows of time that are sure to be less busy.
Also, be sure to check the Hollywood Studios Crowd Calendar for specific dates you're thinking of planning.
Here are the best times to visit Hollywood Studios and Disney World in 2023:
1. Late January to February
Any time of the year in February is THE BEST time to visit Disney's Hollywood Studios and any other Disney Park.
The massive holiday crowds will subside at the parks by the second week in January, and there are no major events or holidays (aside from the MLK Day and Presidents Day weekends) that happen until Spring Break begin in early March.
This leaves a perfect window of time for your family to visit while the lines will be short and the weather will be cool!
Recommended: When Is the Best Time to Travel to Orlando? Everything You Must Know for an Amazing Trip!
2. Late April
During the last couple of weeks in April, there's a window of time between when Spring Break crowds end and when summer break crowds start in which you can visit the parks and maximize your time.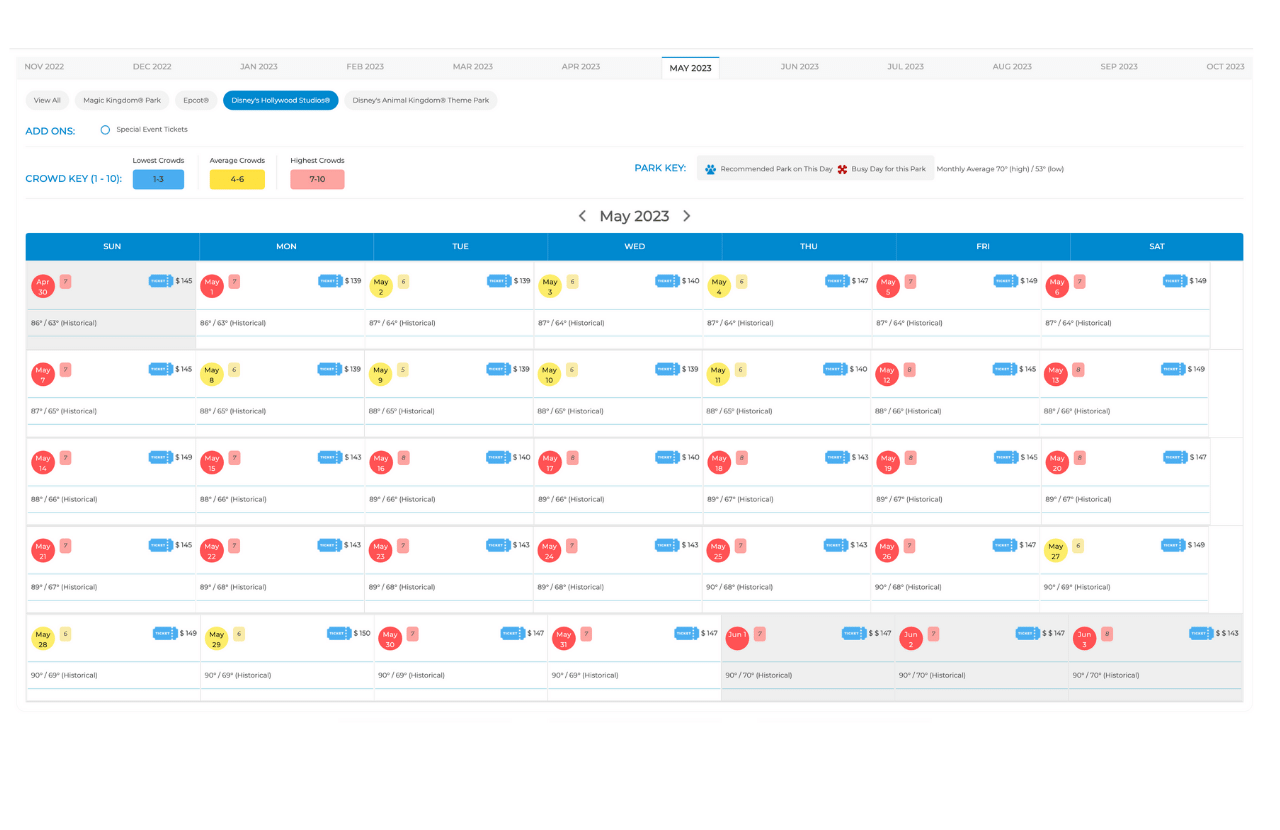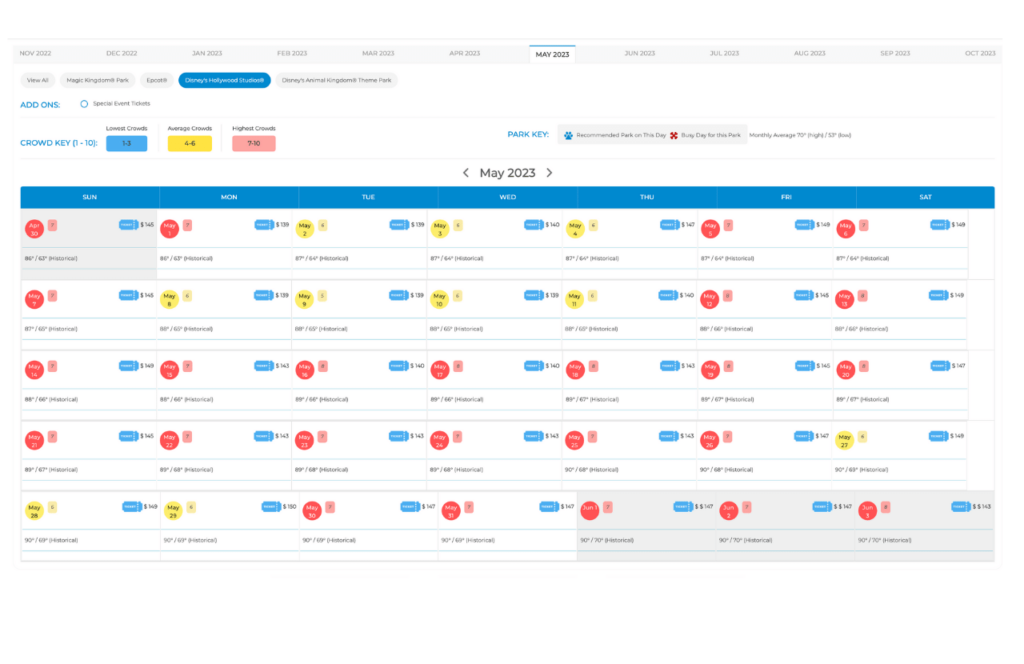 The weather will be getting a little hotter, but it will still be mild enough to be very enjoyable!
3. Early October
Visiting Disney at very end of September into the first two weeks in October are a good way to ensure lower crowd levels while making the most of attraction openings (more on that in the next section).
Another great perk of visiting in October is the chance to partake in Mickey's Not So Scary Halloween party at Magic Kingdom, which is an incredible opportunity to experience exclusive entertainment and meet rare characters!
ORDER NOW to secure your Walt Disney World theme park ticket! GET MY TICKETS.
Here are the worst times to visit Hollywood Studios and Disney World in 2023:
1. The Summer: June-August
The heat and crowds can be absolutely killer during the middle of the summer. Add in the common 3 p.m. rain showers and you'll be wishing you visited another time!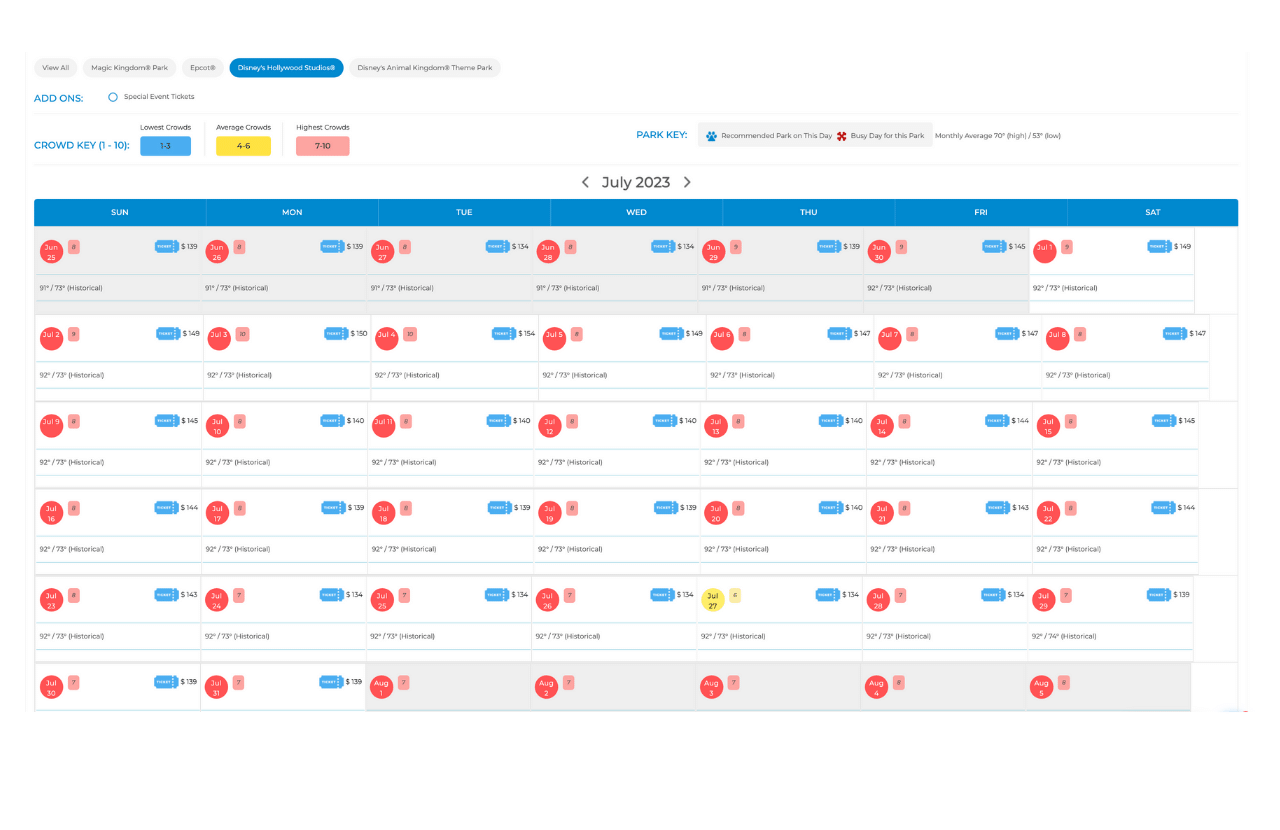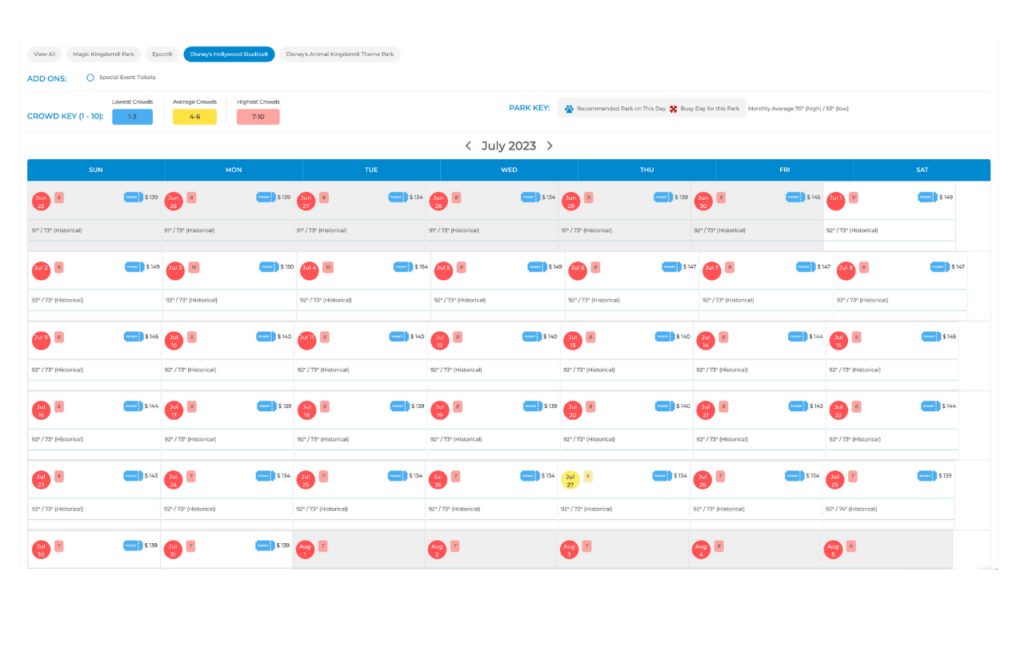 2. Christmastime
Christmas at Disney starts soon after Halloween, and any time in November and December can get busy.
The week of Christmas through the New Year are dreadfully crowded, usually at full capacity, and create a not-so-merry atmosphere.
Though the holiday decorations are very nice, most families will agree that the cons outweigh the pros of visiting during the holiday season.
If you do want to see Christmas at Disney, be sure to come just before or immediately after Thanksgiving Day!
Specific Dates to Keep in Mind When Visiting Disney World in 2023
Disney has multiple events happening throughout the year that can really throw off a vacation.
From cheerleading competitions to marathons, there are multiple times you won't want to be caught in the middle of a visit.
Walt Disney World also is currently (and has been for quite some time!) constructing multiple new attractions which will be opening at various points in 2023.
Here's a list of specific dates to consider while you plan your trip:
GOOD DAYS to Visit Hollywood Studios: Most Wednesdays January-April:
Disney Hollywood Studios After Hours events are a great way to get in the park to ride your favorite attractions with little to no waits.
BAD DATES to Visit Hollywood Studios in 2023:
January 4th – 8th – Marathon weekend brings runners and crowds to the parks!
From January 14th – 18th – Martin Luther King Weekend
February 17th – 31st – President's Day Weekend
April 9th – Easter
May 27th – 31st – Memorial Day Weekend
September 4th – Labor Day
October 7th – 10th – Columbus Day Weekend
Tron Lightcycle Run: With an opening date of "Spring 2023," I estimate the new fast-and-smooth motorcycle coaster will arrive around the beginning of April.
Splash Mountain: The closure of Splash Mountain as it begins its transition into Tiana's Bayou Adventure will likely be some time in January of 2023, with a reopening more than a year later.
Unfortunately, if visiting Disney in 2023, you're unlikely to have the chance to experience this popular attraction.
Ready to plan your theme park trip? Watch the best vacation planning tips on YouTube. Get started here!
My Final Thoughts on the Best Days to Go to Hollywood Studios
To sum everything up, be intentional with your planning as you choose the best days to visit Disney's Hollywood Studios and the rest of the theme parks.
Visiting at a slower time will allow you to get a lot more done during your day, and reduce the stress of navigating thick crowds!
What's the best time to visit Hollywood Studios to you? Let us know in the comments section below.
Until next time, Happy Park Hopping Hipsters!