Every year Star Wars fans around the world come together to celebrate May the 4th Be with You, or Star Wars Day, which is lovingly dedicated to everything from a galaxy far, far away.
Star Wars fans have had a lot to celebrate recently like the adorableness of The Child, aka Baby Yoda, from the Star Wars series on Disney+, and the opening of an entire Star Wars-themed land at both Walt Disney World's Hollywood Studios and Disneyland Park.
If you can't make it to Walt Disney World, Disneyland, and don't feel quite comfortable going to a movie theater to watch old Star Wars movies, there are plenty of ways to celebrate Star Wars from home.
I've rounded up my top five May the 4th Be with You ideas and activities that you can do without leaving home.
THIS POST MAY CONTAIN AFFILIATE LINKS. PLEASE READ MY DISCLOSURE FOR MORE INFO. Which means if you click on certain links, I may receive a small commission at no additional charge to you.
1. Dress up like your favorite Star Wars character
One thing I love doing, whether it's May the 4th Be with You day or just a day I need a little extra boost is Disneybounding.
The idea is to make an outfit that resembles a Disney character out of pieces you already have in your closest.
On May the 4th Be With You day we ALL love bounding as our favorite Star Wars characters.
Get your May the 4th Be With You 2023 Merchandise on shopDisney.com TODAY!
2. Have a May the 4th Be With You movie marathon on Disney+
There's nothing like reliving iconic moments in Star Wars by having a movie marathon.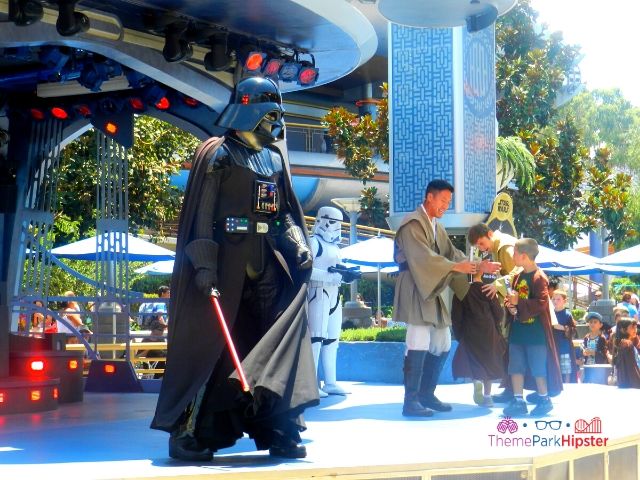 If it were up to me, I would skip through some of the prequels, but watch whatever Star Wars movies you love best.
If you've recently watched all of the Star Wars movies, consider watching some of the shows on Disney+ like The Mandalorian, The Clone Wars, or Star Wars Rebels.
Many of the characters you know from the movies make appearances in animated forms in the latter two, which is always fun to see.
3. Watch The Bad Batch on Disney+
Last year, Disney+ is debuted a new Star Wars animated series called The Bad Batch on May the 4th Be with You Day.
However, if you're behind on The Clone Wars then you're going to want to catch up before watching the new show.
The Bad Batch premier will be over an hour long and recurring characters from other series like Fennec Shand, Saw Gerrera, and General Tarkin.
Get your May the 4th Be With You 2023 Merchandise on shopDisney.com TODAY!
4. Munch on Star Wars-themed food
One of the most fun things to do on May the 4th Be with You day is to eat Star Wars-themed food throughout the day.
This will definitely take a little planning but it will be worth it to have a fully themed day around the famous franchise.
You'll want to come up with some fun May the 4th Be with You dinner ideas to make at home.
What to Eat for Star Wars Day: May the 4th Be With You?
For breakfast start off with a glass of blue milk and a character themed smoothie bowl. It's one of the best May the 4th Be With You treats to have for this special day!
For lunch consider trying your hand at a homemade version of a Ronto Wrap from Star Wars: Galaxy's Edge.
When it's time for a snack bantha cookies from inside Oga's Cantina at Star Wars: Galaxy's Edge are the way to go.
For dinner, consider getting creative with what you think someone might eat in Star Wars.
If you love food and cooking this is a great way to play with flavors of old stand-by dishes!
As with most recipe dupes, almost anything from the Disney Parks can be found online with a quick Google search or Pinterest search. For all of these recipe ideas just dig around a little bit until you land on a recipe you actually want to try.
5. Read a Star Wars book on May the 4th Be With You Day!
There are a ton of Star Wars books out on the market right now, no matter if you're looking for something for yourself or someone else in your family.
If you love Star Wars: Galaxy's Edge, consider getting your hands on a copy of The Art of Star Wars: Galaxy's Edge or some of the in-world novels like Star Wars: Galaxy's Edge A Crash of Fate.
For those looking for Star Wars stories outside of the theme park land try reading some of the new stories from the Star Wars: The High Republic saga.
This storyline has multiple books and comics with new characters, planets, and adventures, all set in the Star Wars universe.
Six Pro Tips for Your Perfect Star Wars Day at Home
Pre-plan as much as possible. Waiting until May the 4th to decide who you're going to be bounding as or what meals you're going to be making in your kitchen is a bad idea. You're going to want to plan out these types of things as early as possible.
Get together with friends. Consider celebrating Star Wars Day with friends who also love the stories of a galaxy far, far away.
Encourage everyone to dress up or at the very least wear a fun Star Wars t-shirt or one of the May the 4th Be With You shirts featuring Baby Yoda and Boba Fett.
Take lots of May the 4th Be With You pictures. You're going to want to take as many photos as you can to remember this fan-favorite holiday. Don't forget to share your Star Wars Day photos on your favorite social media platform!
Add May the Fourth Be With You decorations throughout your house. You can simply find some of your favorite Star Wars pieces on Amazon and have them shipped to your home in time for this special day.
Search for funny May the 4th Be With You memes online. This is one of the most hilarious ways to enjoy your day celebrating the Star Wars franchise.
ORDER NOW to secure your Walt Disney World theme park ticket! GET MY TICKETS.
My Final Thoughts on Happy May the 4th Be with You Day!
As you can see, there's so many May the 4th Be With You activities and ideas that you can do in the comfort of your home.
You can even take some of suggestions and add them to your Revenge of the 5th day which is May 5th!
If you find that celebrating Star Wars day at home has sparked something in you, then you should consider making it official and booking at trip to Walt Disney World to enjoy the full experience of Star Wars Land!
Are you celebrating May the 4th Be with You day at home? Let us know how you plane to commemorate this special Star Wars Day down in the comments section below.
Until next time, May the 4th Be With You All!
(Original Article Date: May 4, 2015/Updated by Editor on May 2, 2023)