You maybe wondering, just how bad is the summer heat in Florida?
Well, the Florida heat is unlike no other state in America, especially during the peak months of the sunny season.
If you're a resident of an area that experiences all four seasons with mild summers, then you will definitely be taken aback by the hot, humid, indescribable weather that Florida is known for.
When you add:
FLORIDA SUMMER + THEME PARKS + CROWDS = FRUSTRATION!
So I'm here to help you manage your times outdoors whether it be at the beach, at a cookout or even at a theme park.
THIS POST MAY CONTAIN AFFILIATE LINKS. PLEASE READ MY DISCLOSURE FOR MORE INFO. Which means if you click on certain links, I may receive a small commission at no additional charge to you.
When does summer start in Florida?
Summer technically starts in the middle of June, but you can feel the approaching heat as early as late April.
When does summer end in Florida?
Summer in Florida is supposed to end in mid-September, but I disagree.
The heat of Florida feels as if it peaks in September with the temperatures feeling much better towards the end of October.
Recommended: 1 Day in Orlando Itinerary: What Should I Do That's NOT Theme Parks?
30 Tips to Dealing with the Florida Heat at Theme Parks
Now I want to give you the best ways to stay cool during your Florida visit with things I have done over the years as a Floridian.
1. Hydration
You need water to survive since it helps your organs, your cells, and your body work properly.
Each day you should be drinking at least six 8-ounce glasses of water and even more during the Florida summer months.
If you're out in the theme parks, it's important that you know what the symptoms of dehydration are:
Confusion
Dizziness
Dry mouth
Extreme thirst
Headache
Very little urine or dark urine
Fatigue
Get up to 25% off of your Universal Orlando Vacation with Groupon TODAY!
2. Bring Lots of Water
You will want to bring at least two bottles of water for each person in your group.
Check out my latest theme park adventures on Instagram TODAY!
3. Bring Sunscreen
You will want to have a good sunscreen in your theme park bag or your suitcase for Florida in order to protect your skin from the harsh Florida sun?
Why is sunscreen important?
Sunscreen acts as a blocker to the UV rays released by the sun.
When you visit Florida, you'll notice that we have more sunshine filled days than most of the states in the country.
When choosing a sunscreen, you want to find one that is at least a broad spectrum with 15 SPF (use 30 SPF for your day at the theme park).
This will help reduce your risk of cancerous skin cells and help prevent the premature aging of your skin.
Hipster Power Tip: Apply your sunscreen 30-minutes before starting your day at one of the Florida theme parks like Walt Disney World.
4. Buy a Water Mist Fan
Recommended: When Is the Best Time to Travel to Orlando? Everything You Must Know for an Amazing Trip!
5. Check the Weather Temperature Before Your Theme Park Visit
It's not enough to know if there's going to be a monsoon during your visit to Florida, you want to check the weather to see what the temperature will be.
Not only knowing what time period during the day will host the highest temps, you'll also want to know what the heat index is so that you can get a true ideal of what the outdoors will feel like.
This will help you determine what time to start your day and when to leave for a break to beat the Florida heat.
Ready to plan your theme park trip? Watch the best vacation planning tips on YouTube. Get started here!
6. Wear Hat with Ventilation
You'll want to choose a proper hat that not only protects the sun from your face, but also has ventilation in the back to help keep your head cool.
Especially for summer in Florida.
Recommended: 15 Best Beaches in Florida for a Bachelorette Party
7. Bring UV Protective Sunglasses
When choosing glasses to help block the Florida sun, you'll want to choose ones that have some type of UV ray protection. This is extremely important in protecting your eyes.
So, try to find a good pair on Amazon that you can have for a long time.
Recommended: 15 Fun Things to Do for Memorial Day Weekend in Florida
8. Take Frequent Breaks
You should be prepared to take frequent breaks in areas with air-conditioning (AC) especially if you're at a Florida theme park.
A shady spot in the park will do, but the best option is to map out the attractions, restaurants and shops with AC at the location you're visiting.
You should take your breaks once every hour during the peak of the Florida summer heat.
Check out my latest theme park adventures on Instagram TODAY!
9. Plan Out Your Longer Break
Another great tip to beat the Florida heat is to start your day early, leave midday from your destination to rest up at your hotel, and return in the evening.
This will help ease the brunt of the summer weather.
10. Wear Light-Weight Clothing
You want to wear clothing that's not too heavy such as a breathable t-shirt and shorts.
11. Bring a Small Fan
You can buy small portable fans from places like the Dollar Tree or Amazon.
You'll also want to think about getting a clip on fan for the stroller just in case you bring the little ones.
Read Next: How to Find the BEST Vacation Home Rentals Near Disney World
1 2. Get Your Free Cup of Water or Ice
Remember that a free cup of ice and water is available at most quick service and restaurant locations in the Florida theme parks.
13. Avoid Alcoholic Beverages
When you combine alcohol with the Florida heat and humidity, you're in for a miserable day that can possibly lead to dehydration, vomiting or alcohol poisoning.
14. Eat Frozen Treats to Stay Cool
Enjoy some of your favorite Disney, Universal and other Florida frozen treats such as Mickey Mouse ice-cream bar, butterbeer ice-cream or a Dole Whip.
15. Listen to Your Body
If you feel like the Florida summer heat is getting to you, then stop whatever you're doing a take a break!
You can do this by finding a cool area, gulping down a liter of water, cooling yourself off with a fan and staying in that area for 45-minutes to an hour.
Above all, just listen to your body!
Hipster Power: Most theme parks have a first-aid center that will help you recover if you find yourself feeling ill.
16. Get Refreshed in a Splash Zone
You can find splash zones in popular Orlando theme parks or the Florida parks where you let loose and cool yourself off in your own watery adventure.
17. Run Cold Water On Finger Tips
This is my own little theme park hack that l like to use during those hot summer days in Florida.
Running cold water under your finger tips really does cool your body down.
It won't be a miraculous cool down, but it does help you feel a little bit better.
Recommended: 25 Fun and Free Things to Do in Tampa, Florida TODAY!
18. Pack Wipes
I good idea for you is to pack frozen Wet Wipes or small towels and keep them cool in small lunch bag that has an ice-pack.
You can later pull them out and place them on your forehead.
Don't forget to check out the cooling towels that can be placed on multiple areas of your body to keep you cool.
Have a DIFFERENT kind of Orlando vacation with a Resort home next to Disney World. Find Your Disney Resort Vacation Rental here!
19. Wear an Under Shirt
If you can wear a thin undershirt, it can help absorb some of your excess sweat.
20. Avoid the Most Dangerous UV Rays
Remember the most significant amount of dangerous UVB rays occur between 10 a.m. and 4 p.m.
21. Avoid Caffeine
I know I'm speaking blasphemy to all my coffee, tea, and soda lovers.
Too much caffeine can make you have to urinate more which can end up dehydrating you, if you are not balancing it out with drinking more water.
22. Conquer the Water Rides and Water Parks
This is perhaps the most fun way to cool off from the Florida heat in the summertime.
Just pack an extra shirt and shorts if you're not a fan of walking around the theme park wet.
23. Hunt for Shade
Watch theme park vlogs or review the park maps for shaded areas which are usually denoted by the greenery patches on the map.
Also, if you're at a Florida beach, be sure to bring an umbrella to help block the sun or just rent a cabana like area on the beach.
Recommended: The Solo Theme Park Traveler's Guide
24. Locate the Water Mist Sprayers
These are great for a quick cool down on your trip.
You can usually find them throughout the Florida theme parks especially in the lines for the attractions.
25. Add More Indoor Attractions to Your Park Plan
As mentioned earlier, you'll want add more AC breaks to your day. You can do this by finding attractions that are indoor like Flight of Passage at Animal Kingdom.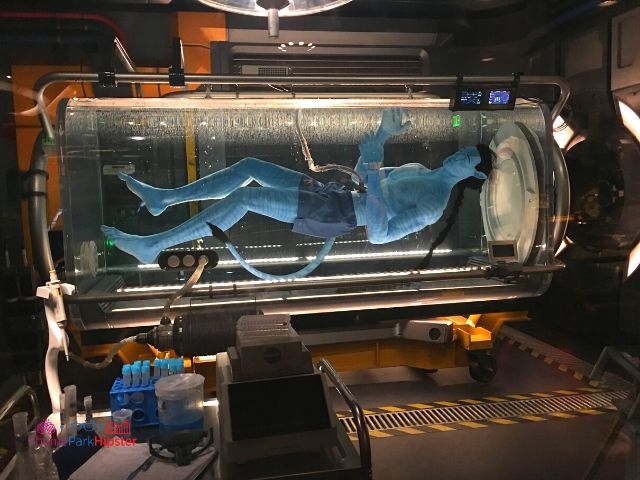 Find the theme park map you need and make a list of all the indoor rides and attractions.
You can then create an itinerary where each indoor experience is spread out perfectly for your day.
26. Cool Off Your Pulse Points
Apply ice pack, cool Wet Wipes or cold compresses to pulse points to keep your body cool.
Your pulse points include the:
Wrists
Elbows
Ankles
Neck
Behind the knees
Ready to start planning your next Disney World vacation? Listen to the latest podcast episode on Apple or on your non-Apple device now!
27. Eat Light Foods High In Water
These types of food include veggies and fruits that you can find in salads or fruit cups on your Florida vacation.
Watermelons, cucumbers and other melons are really good at hydrating you!
28. Watch For Signs Of Heat-Related Illnesses
It's important to know the signs of heat-related illnesses.
Heat Stroke
A Heat stroke is the most serious heat-related illness. It happens when your body builds up heat and can't cool down. HEAT STROKE IS A MEDICAL EMERGENCY.
The symptoms include:
Confusion
Fainting
Seizures
Extremely high body temperature
Hot, dry skin or profuse sweating
Heat Exhaustion
A Heat exhaustion is when your body loses too much water and salt through sweating.
Symptoms include:
Headache
Nausea
Vomiting
Dizziness
Weakness
Thirst
Heavy sweating
Cold, damp skin that's slimy to the touch
Irritable or confused
Weak pulse
Heat fatigue, heat cramps, and heat rash are less serious, but are also signs of over exposure to heat.
Recommended: When Is the Best Time to Travel to Orlando? Everything You Must Know for an Amazing Trip!
29. Pack an Umbrella
30. Wear Clothing to Block the Sun
There is something called UPF clothing.
For a no obligation, FREE Universal Vacation Quote, you can fill out the form with The Park Prodigy by Clicking HERE!
My Final Thoughts on Beating the Florida Heat
You're now loaded with all of the tips to surviving your summer vacation here in the Florida heat.
They can even help you at any outdoor event that you may visit during the sunshine season.
Let me know which tip was your favorite in the comments section below!
Until next time, Happy Park Hopping Hipsters!
UP NEXT: 13 Spectacular Water Theme Park Tips to Make Your Trip Amazing
(Original Article Date: June 20, 2016/Updated August 6, 2023)