The birds, the bees, and most importantly the full bellies are all things to be expected while conquering the Epcot International Flower and Garden Festival. You will find me there in the midst of the colorful garden creations, the vivacious seminar hosts, and the consuming cocktails in true honor of the Mouse from March 5th -May 18th.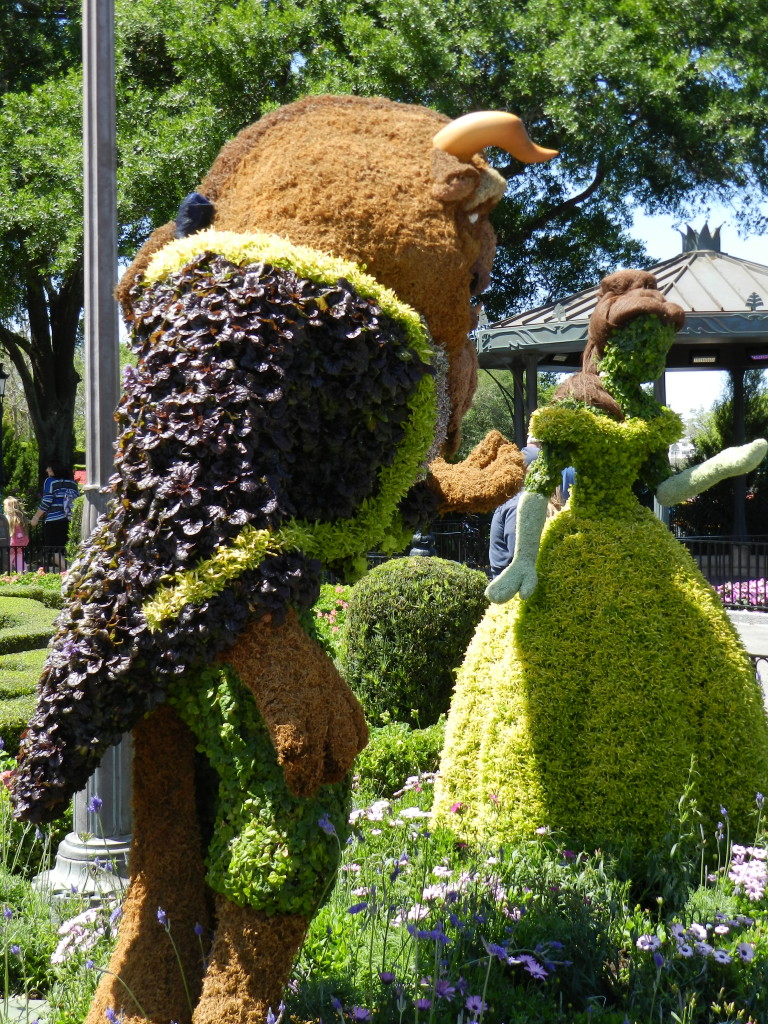 Since this event doesn't draw the extreme crowd like the Food and Wine Festival, you're able to get the benefits of the aforementioned without the shoulder to shoulder crowd that comes with it. I'm pretty sure that in a few years this event will be as popular as the Epcot Food and Wine Festival.
Tips for the 2014 Epcot Flower and Garden Festival
Go during the weekdays: Anyone visiting Walt Disney World on a regular day knows that going on the right day is extremely important; however, during special events that priority is even higher. For the fullest enjoyment I recommend attending the festival during the weekday (Monday through Thursday).
Get there early: The early bird catches the worm, you snooze, you lose…well you know what I'm trying to say. It's the classic tip for any ThemePark goer in Florida especially any Disney guest. Coming early to the Flower and Garden Festival will give you a chance to pace yourself by enjoying the attractions in Future World, which will allow you to take your time as you hop around the World Showcase.
Attend the seminars: There's no better way to enjoy the event than attending the amazing classes which are mostly free or budget friendly. A plus is that you will get to meet many of your favorite HGTV hosts in a much more relaxed environment compared to the Food and Wine Festival.
Buy a Disney wristlet gift card: For the typical pro foodie or amateur, tasting the many samples is a must, but doing this without a set budget could turn a fun trip into one of financial regret…trust me, I've made this mistake a few times.
Split the cost: Going with a friend or two or three always turns an already great journey into one of epicness! Just ask my friends. It also means that if you're on a budget and down for sharing then you can really try most of the dishes without leaving the park broke.
Visit the Welcome Center: Starting here is a must! It opens two hours before World Showcase and it is a good way to enjoy a few seminars and chat with the Cast Members, possibly gaining some insider tips.
Map out your day: This is another classic tip for any avid Disney traveler. Visit the official Epcot Food and Wine Festival website for the complete guide. This will save you the headache of missing out on cool things especially if you're only able to visit once. This tip is very important, because it will help guide you on where to find your gardening inspiration, what time seminars/demonstrations will occur, and any additional information regarding speakers, performers, and other special Disney guests.
Plan to visit multiple times: You will need a trip to try it all, a trip for seminars, and a trip to retry your favorites 🙂
Plan for a cab or have a designated driver in the group: Previewing the festival's menu below should give you an idea of what delicious treats can be expected. There are lots of drinks (mostly adult inspired) below that will fuse fresh ingredients with ripened spirits; hopefully you will leave balanced and able to walk out. Having a plan for this kind of indulgence makes for a safe and fun experience at Epcot.
Enjoy yourself! You're really going to have a great time, so try not to stress too much if you find yourself spending too much time at the Kitchens. There's always something going on in the park that will bring great delight to your heart. Have fun, learn something, eat well, and drink up for all of the ThemeParkHipsters around the world!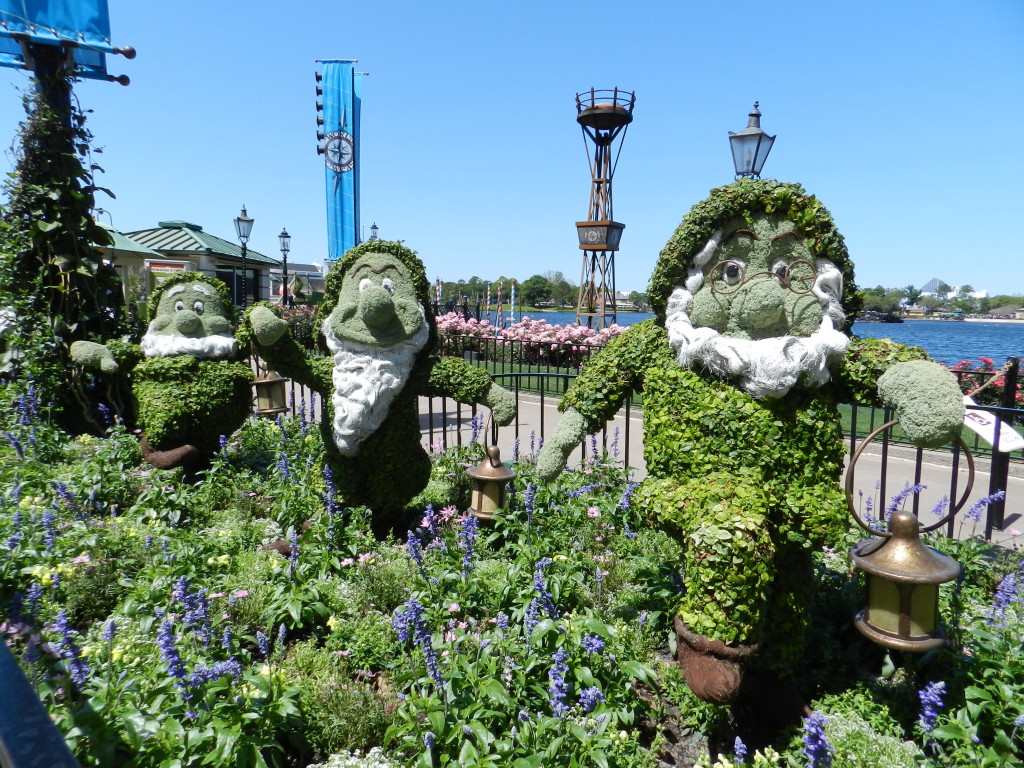 Outdoor Kitchens
Below is a complete list of the amazing food at Epcot International Flower and Garden Festival. You will see why I get excited when I go to the well planned special events at Walt Disney World.
Florida Fresh-Next to Germany Pavilion
To eat:
Watermelon salad with pickled onions, BW Farm baby arugula, feta cheese and balsamic reduction
Shrimp and stone ground grits with andouille sausage, sweet corn, tomatoes and cilantro
Florida kumquat pie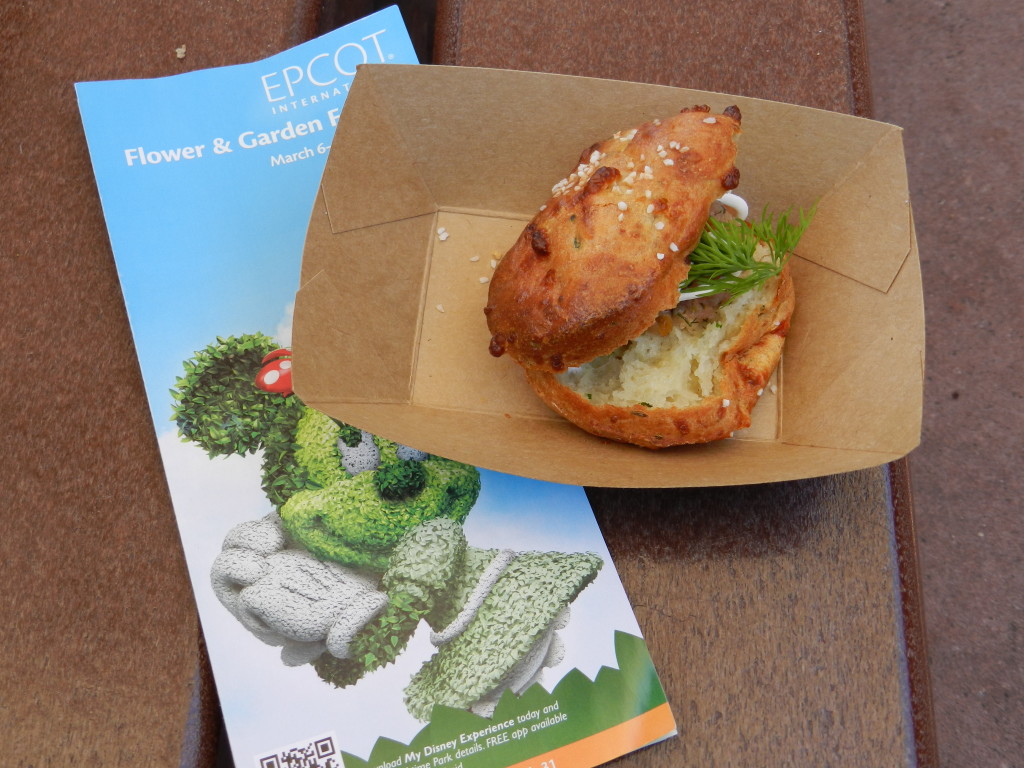 To drink:
Watermelon passion fruit slush featuring Simply Lemonade®
Hurricane Class 5 White Sangria featuring Simply Lemonade, Florida Orange Groves (St. Petersburg, Florida)
Garda Italian Wine Blend, Quantum Leap Winery (Orlando, Florida)
Rogue Valley Pinot Noir, Quantum Leap Winery (Orlando, Florida)
Blonde Ale, Orlando Brewing Company (Orlando, Florida)
Cotton Mouth Belgian Style Witbier, Swamp Head Brewery (Gainesville, Florida)
Feast of Flowers Farmhouse Ale, Florida Beer Company (Cape Canaveral, Florida) – Festival Exclusive
Florida Avenue Blueberry, Cold Storage Craft Brewery (Tampa, Florida)
Beer Flight – Blonde Ale, Cotton Mouth Belgian Style Witbier, Feast of Flowers Farmhouse Ale and Florida Avenue Blueberry
Simply Orange
Hanami-Japan Pavilion
To eat:
Frushi – Fresh pineapple, strawberries and melon, rolled with coconut rice, topped with raspberry sauce, sprinkled with toasted coconut and served with whipped cream on the side
Temaki hand roll – Sliced Panko fried chicken, curry sauce, rice and pickled julienne carrots wrapped with Nori
Hanami sushi – A flavorful combination of salmon, scallop and beef-topped rice balls served atop a shiso violet sauce
Japanese puffed rice cakes with green tea whipped cream and azuki
To drink:
Kirin draft beer
Pinepple Paradise with Yuzu Slushie – Frozen blend of sweet sake, pineapple juice and crème, flavored with a hint of Yuzu citrus juice
Orange Mango Slushie – Frozen blend of Nigori sake, mango and orange juice
Jardin de Fiestas-Mexico Pavilion
To eat:
Tacos al pastor – Corn tortilla filled with achiote-marinated pork, garnished with grilled diced pineapple, onions and cilantro
Quesadilla de hongos con queso – Flour tortilla filled with mushrooms and cheese
Flan de chocolate Abuelita – Mexican chocolate custard
To drink:
Tecate draft beer
White Mexican sangria
Franbuesa (raspberry) margarita on the rocks
Tequila flight – blanco, reposado and añejo
Dasani® bottled water
Fleur de Lys-French Pavilion
To eat:
Gnocchi Parisien à la Provençal – Parisian-style dumplings with vegetables and mushrooms
Confit de canard, pommes de terre Sarladaise – Pulled duck confit with garlic and parsley potatoes
Macaron à la fleur d' Oranger – Orange blossom macaron with white chocolate ganache
To drink:
La Vie en Rose frozen slush – Vodka, Grey Goose Orange, St. Germain Liquor, and white and red cranberry juice
Kir Imperial – Sparkling wine, Chambord and black raspberry liquor
Rosé pamplemousse cocktail – Rosé wine mixed with natural grapefruit syrup
Kronenbourg Blanc 1664 – Fruity white beer with citrus notes
Lotus House-China Pavilion
To eat:
Beijing-style candied strawberries
Spring pancake with grilled chicken and green apple
Vegetable spring rolls
To drink:
Popping bubble tea
Kung Fu Punch – Vodka and triple sec with mango and orange juice
South Sea Storm – Guava juice with light and dark rum
Plum wine
Tsing-Tao beer
Lychee aerated water
Pineapple Promenade-Canada Pavilion
To eat:
Pineapple soft serve
Pineapple soft serve with Myers's dark rum
Pineapple soft serve with Parrot Bay coconut rum
Sweet potato cinnamon waffle with pineapple soft serve
To drink:
Frozen desert violet lemonade featuring Simply Lemonade (nonalcoholic)
Tropical Mango Pale Ale, St. John Brewers (U.S. Virgin Islands)
Once Upon a Vine's The Lost Slipper Sauvignon Blanc
Primavera Kitchen-Italian Pavilion
To eat:
Caprese – Fior di latte mozzarella, roasted peppers and olio verde
Three cheese manicotti – Egg pasta stuffed with ricotta, mozzarella, parmesan, tomato sauce and béchamel
Torta di ricotta – Lemon cheesecake with limoncello-marinated strawberries
To drink:
Placido Pinot Grigio
Placido Chianti
Bosco del Merlo Prosecco
White peach bellini – Prosecco and white peach puree
Strawberry rossini – Prosecco and marinated strawberries
Frozen Italian primavera – Assorted fruit slushy with limoncello and vodka
Moretti Lager
Moretti La Rossa
Taste of Marrakesh-Morocco Pavilion
To eat:
Lamb brewat roll with prunes and sesame
Harissa chicken kebab with couscous salad
Baghrir – Moroccan pancake with honey, almonds and argan oil
To drink:
Mint iced tea
White sangria
Guerrouane red
Casa Beer
Desert Rose – Sparkling wine with pomegranate liqueur
Urban Farm Eats-NEW
To eat:
Pickled beet salad with goat cheese cream, mizuna and pistachios
Land-grown eggplant "scallop" with romesco sauce and spaghetti squash
Ghost pepper-dusted tilapia with crisp winter melon slaw and mint oil featuring The Original Sauce Man's Kick It Up Rub
To drink:
Cucumber lemon spa water, finished with a sprig of fresh mint
The Vegan Vine Chardonnay
The Vegan Vine Cabernet Sauvignon
Redbridge Gluten-Free Sorghum Beer, Anheuser-Busch (St. Louis, Missouri
The Smokehouse: Barbeques and Brews-America Pavilion
To eat:
Pulled pig slider with cole slaw
Smoked beef brisket with collard greens and jalapeño corn bread
Smoked turkey "rib"
"Piggylicious" bacon cupcake with maple frosting and pretzel crunch featuring Nueske's® Applewood Smoked Bacon
To drink:
Magic Hat #9, Magic Hat Brewing (South Burlington, Vermont)
Maduro, Cigar City Brewing (Tampa, Florida)

Fat Tire, New Belgium Brewing Company (Ft. Collins, Colorado)
Billy's Chilies, Twisted Pine Brewing Company (Boulder, Colorado)
Beer Flight – Magic Hat #9, Maduro, Fat Tire and Billy's Chilies
The Original Rib Shack Red Wine

The Buttercup Cottage-UK Pavilion

To eat:

Freshly baked potato and cheddar cheese biscuit with smoked salmon tartare
Field greens with Plant City strawberries, toasted almonds and Farmstead stilton
Pork and apple sausage roll with house-made piccalilli
Freshly baked lemon scones with berry preserves and crème fraÎche

To drink:

Chilled rose blush lemonade featuring Simply Lemonade with Raspberry (nonalcoholic)
Twinings® Cold Brewed English Classic with lemon grass syrup
Berry tea cocktail – Twinings Cold Brewed Mixed Berry Tea with Florida Cane vodka and Plant City strawberry, flavored with raspberry and açaí syrup
Iron Horse Fairy Tale Cuvee
Deloach Pinot Noir

Intermissions Café

To eat:

Grapes
Fruit & cheese plate
Vegan trio
Southwest chicken wrap
Tuna salad with pita
Side salad
Asian tuna salad with noodles
Caprese Push-Pop – Tomato, mozzarella and balsamic

To drink:

Hurricane Class 5 White Sangria, Florida Orange Groves (St. Petersburg, Florida)
Garda Italian Wine Blend, Quantum Leap Winery (Orlando, Florida)
Rogue Valley Pinot Noir, Quantum Leap Winery (Orlando, Florida)
Martini Prosecco
Strongbow Cider, Bulmers Cider Company (White Plains, New York)
SweetWater Blue, SweetWater Brewing Company (Atlanta, Georgia)

Make sure you're ready to see detailed topiary displays of your favorite Disney characters, with both pandas and trolls thrown in the mix. You can also visit the official event website for the Flower Power Concert Series and the HGTV Designer Stage dates. Until next time, happy park hopping Hipsters!

NikkyJ

What tips do you have for anyone attending the Flower and Garden Festival?