Are you really confused about how the Disney World reservations work?
Walt Disney World is finally reopening after an extended closure due to global crisis. During the initial phased reopening of all four Walt Disney World theme parks and some resort hotels there are some things you need to know.
This includes how to make a Park Pass, what's going to be available, when do the parks open, when can you buy new park tickets and so much more.
With so many questions coming in about going back to the Walt Disney World theme parks this year, ThemeParkHipster decided to make a guide tell you everything you need to know before heading back to the parks.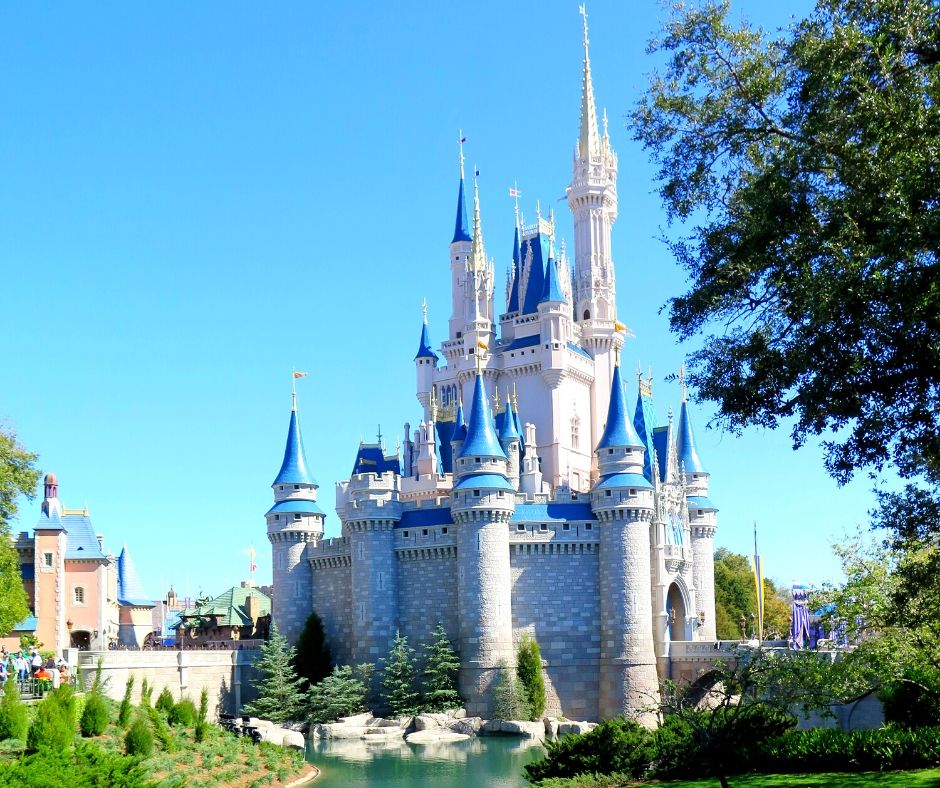 THIS POST MAY CONTAIN AFFILIATE LINKS. PLEASE READ MY DISCLOSURE FOR MORE INFO. Which means if you click on certain links, I may receive a small commission at no additional charge to you.
Listen to Podcast Episode 72 for the Disney Reopening Plans Below
What is Disney's Park Pass Reservations System?
From the day the parks open to at least September 2021, every person in your traveling party over three years old will be required to make a reservation through the official Walt Disney World website to get into the parks.
You will have to do this no matter what type of ticket or where you're staying for your vacation.
How do I use Disney's Park Pass reservation system?
Step #1: To begin you need to log in to your My Disney Experience account on a laptop or desktop. Using the My Disney Experience (Walt Disney World) app will not work for this.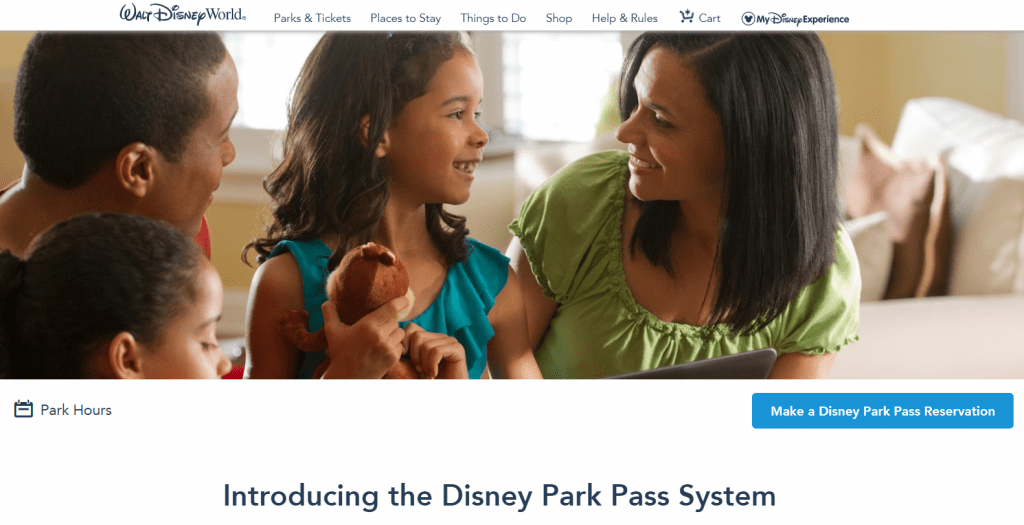 Step #2: Once logged in go to the My Disney Experience drop down menu and click Disney Park Pass System.


Step #3: Once on the Park Pass page, click the blue button near the top of the page that says "Make a Disney Park Pass Reservation."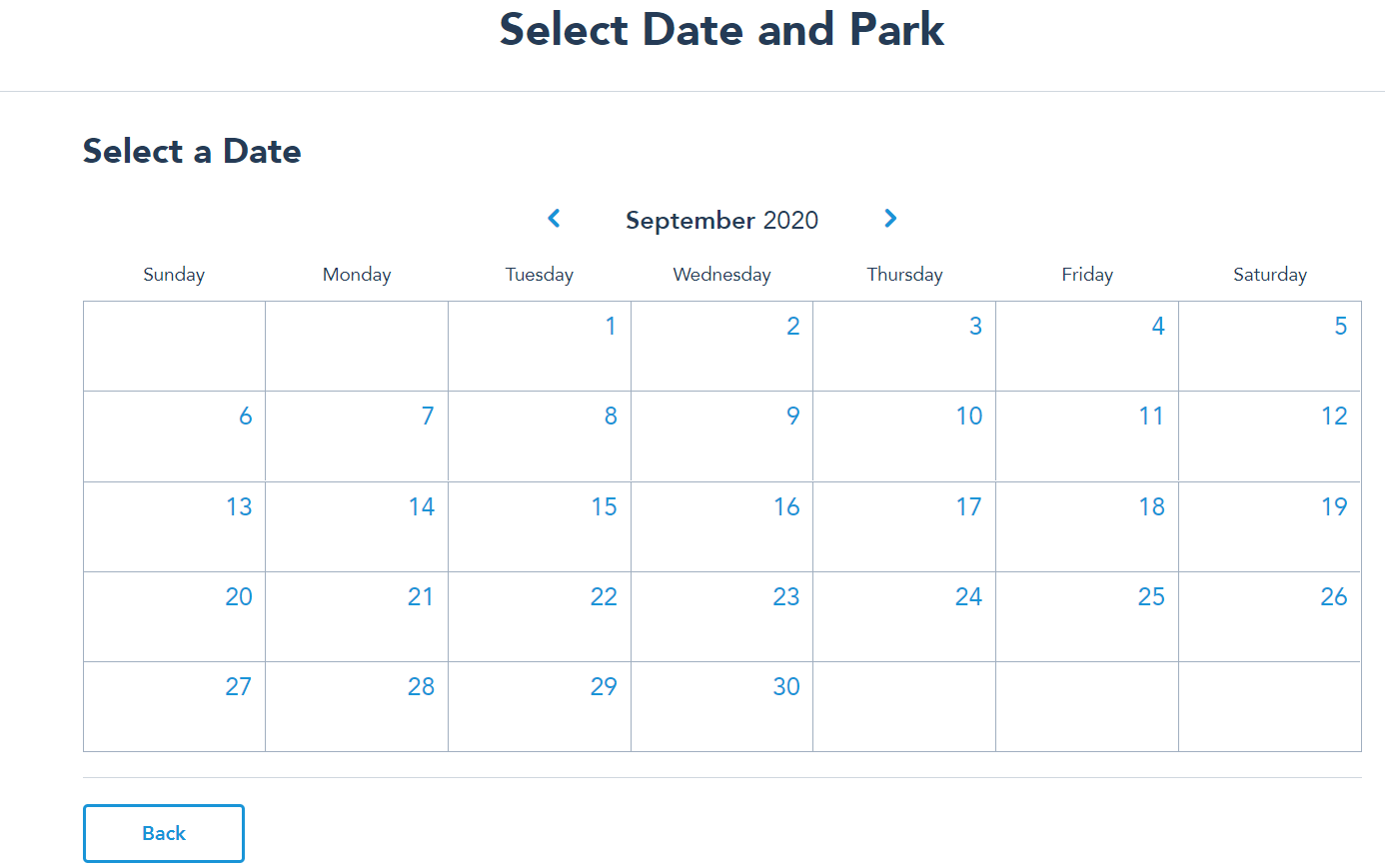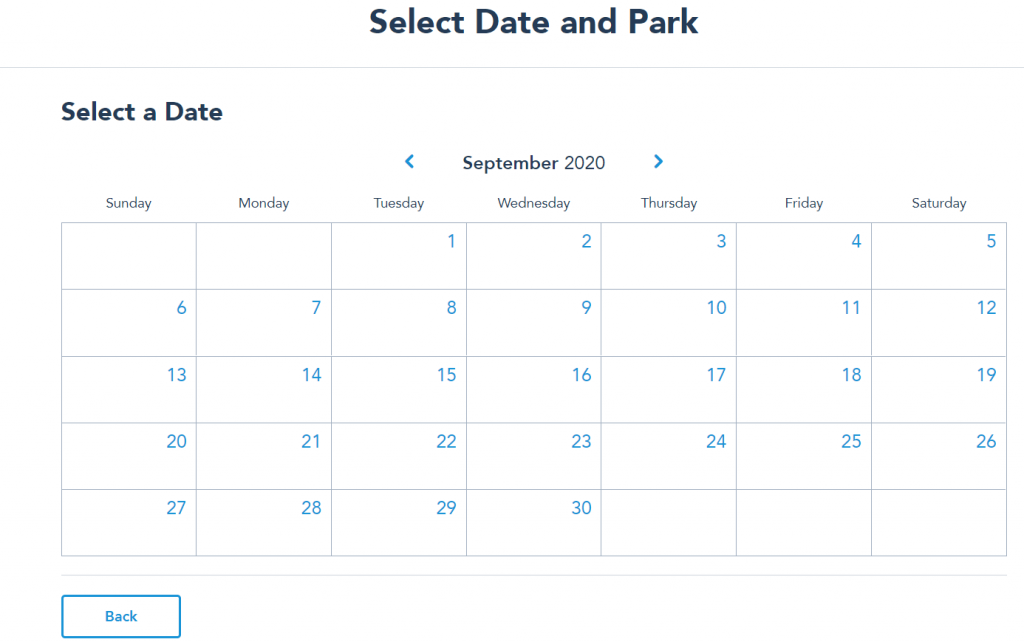 Step #4: From there select your traveling party, date, and pick a park. You must confirm your park passes before exiting or they will not be added to your account reservations.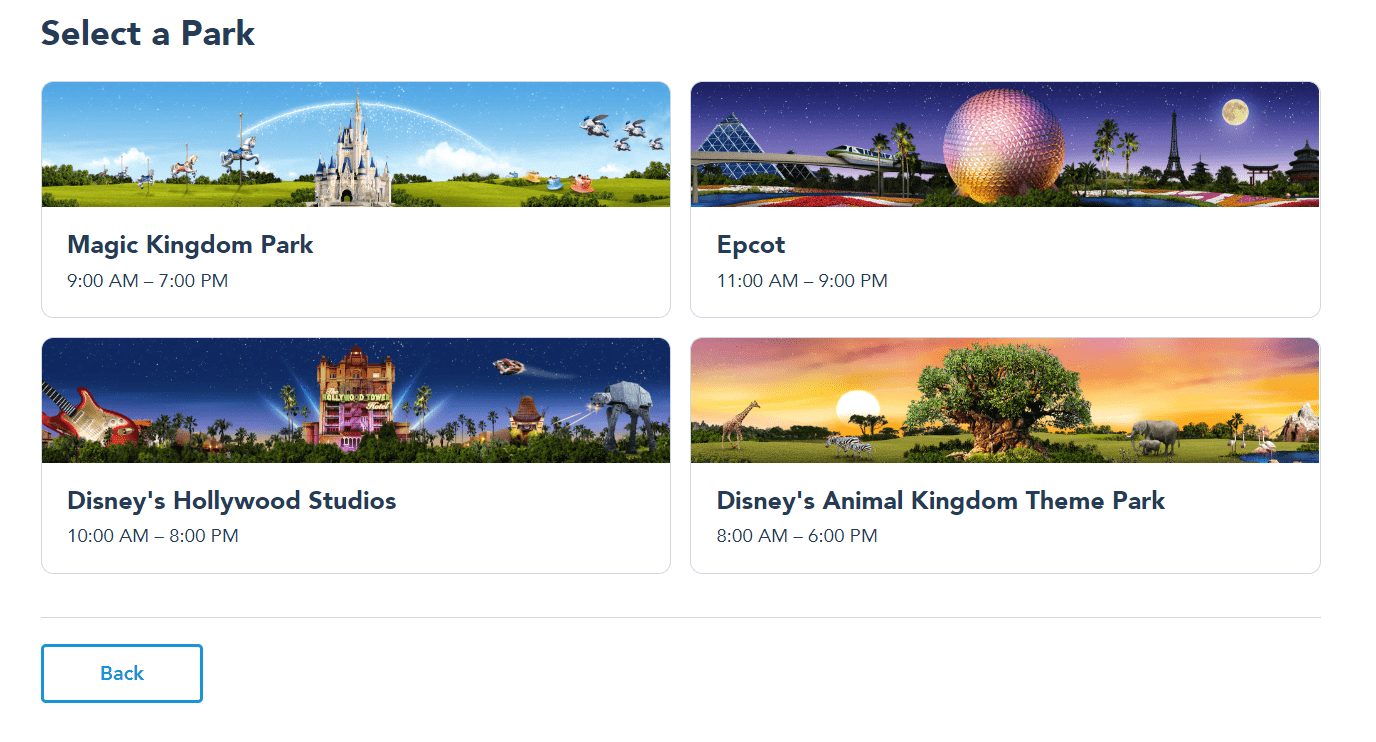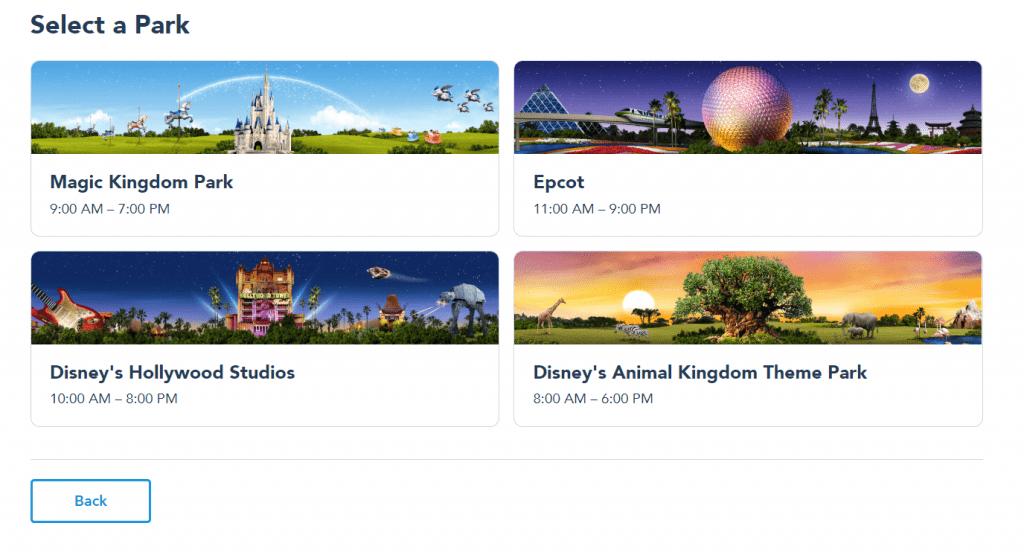 Hipster Power Tip: Everyone in your traveling party must have the same type of ticket to make Park Passes together. So, if part of your group has an annual pass (of any kind) and part as day tickets then there would need to be two sets of Park Passes, one for the annual pass holders and one for the day ticket holders.
When can I make a Park Pass Reservation?
Disney has divided up when people can make Park Passes into three groups, and separated out when they can make their Park Pass reservations.


Dates to know include the following:
Monday, June 22, 2020: Anyone with a Disney resort reservation and theme park tickets can make Disney Park Pass reservations.
Friday, June 26, 2020: All Annual Passholders without a resort reservation can make Disney Park Pass reservations.
Sunday, June 28, 2020: All existing ticket holders can make Disney Park Pass reservations.
If you currently have a resort reservation but no tickets for your 2020 trip you will need to call the guest help center to see what they can do. Right now Disney has said all 2020 resort and ticket sales have been halted until "later this summer."
I'm an Annual Passholder, how many Park Passes can I have?
As an Annual Passholder you can have up to three single Park Passes at one time.
This does not include Park Passes associated with a resort stay, or any days part of Disney's announced Annual Passholder previews, currently scheduled for July 9 and July 10.
For example, if you have a seven-night trip and are staying at Disney's Caribbean Beach Resort, you can have seven Park Passes for that trip, then an additional three singular days worth of Park Passes, making for a total of ten Park Passes.
ThemeParkHipster Tips for getting the Park Passes you want!
Have your resort reservation and/or tickets linked to your My Disney Experience account before you attempt to make Park Passes.
Be sure everyone you are traveling with is linked through your friends and family list, and they have their ticket linked to their account as well.
For the best way to navigate the Walt Disney World website use Google Chrome as your browser service.
Everything You Need to Know About Booking New Hotels or Tickets
Part of the new system Disney is working with includes some new information about booking new hotel reservations or tickets. This includes modifying any resort stays or ticket packages.
When can I book new hotel reservations or buy new tickets for 2020?
Disney has not set a firm date on this except for to say "later this summer" and it's based on availability of Park Passes. This will make sure that existing ticket holders, Annual Passholders, and resort guests are able to secure Park Passes.
If you are a Disney Vacation Club member you can book new Disney Vacation Club resort stays for anytime this year or next year now.
When can I book new hotel reservations or buy new tickets for 2021?
Starting June 24, if you have a room-only reservation at a Disney hotel or other select hotels (think Disney Springs hotels) for a stay in 2021 you can upgrade to a vacation package with tickets.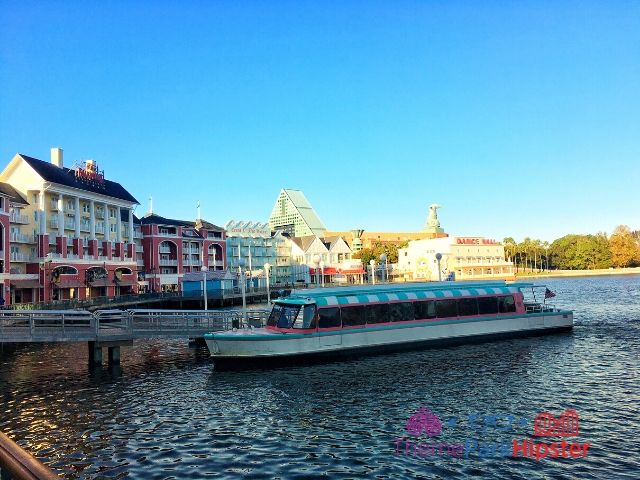 Then you can make your Park Pass reservations. To do this you will need to call the Disney Reservations Center or your travel agent.
By June 28, all guests will be able to book a new hotel package at Disney resorts and theme park tickets for 2021.
Prior to buying tickets you will be able to view the park reservation availability online to check that your dates of travel have openings at the parks you want to visit.
Can I modify my vacation for 2020 now?
Yes, if you are traveling in 2020 you can begin to modify your vacation if you need to do so. For vacations scheduled for July 11 through December 31, 2020 you can request assistance starting Monday, June 22.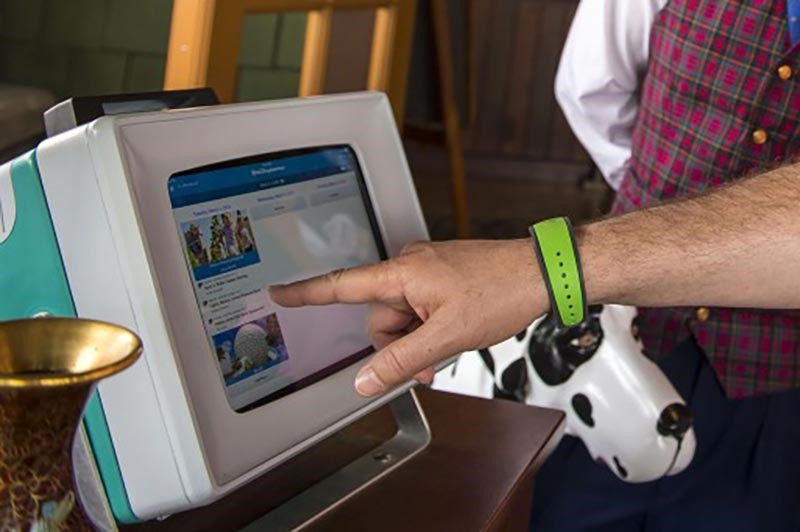 For modifications starting in 2021, you can request assistance beginning June 24.
Disney is waiving the change and cancellation fees up to the date of check-in for reservations with arrivals through October 3, 2020, making it even easier to modify or change your plans if needed.
When do the Disney resort hotels open?
Right now a handful of Disney Vacation Club resorts are open, with more non-Disney Vacation Club hotels opening in the following weeks and months. Currently the list of open hotels include:
On June 22, select Disney Deluxe Villa Resorts and Disney's Fort Wilderness Resort & Campground will reopen. These select Disney Deluxe Villa Resorts include:
Bay Lake Tower at Disney's Contemporary Resort
Boulder Ridge Villas at Disney's Wilderness Lodge
Copper Creek Villas & Cabins at Disney's Wilderness Lodge
Disney's Animal Kingdom Villas – Kidani Village
Beach Club Villas
Disney's BoardWalk Villas
Old Key West Resort
Disney's Polynesian Villas & Bungalows
Riviera Resort
Disney's Saratoga Springs Resort
The Villas at Disney's Grand Floridian Resort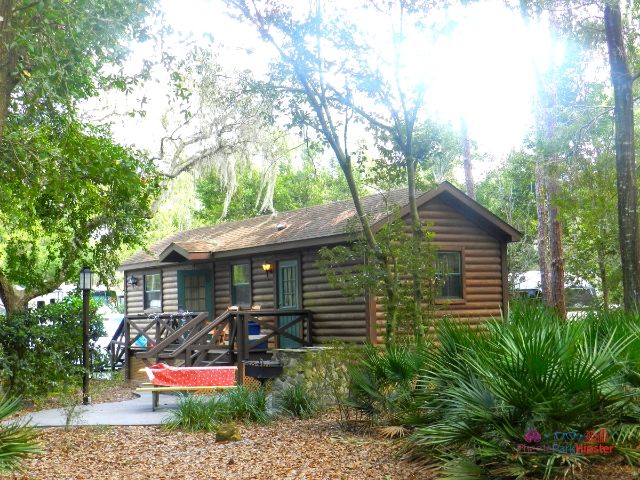 Starting July 10 the following resorts will open for guests:
Disney's Animal Kingdom Villas- Jambo House
Disney's Contemporary Resort
Starting July 29 the following resorts will open for guests:
Disney's Caribbean Beach Resort
Starting August 12 the following resorts will open for guests:
Disney's Polynesian Village Resort
Disney's Art of Animation Resort
Starting August 24 the following resorts will open for guests:
Disney's Yacht and Beach Club Resorts
Starting September 21 the following resorts will open for guests:
Disney's Grand Floridan Resort and Spa
Starting October 1 the following resorts will open for guests:
Disney's BoardWalk Resort
Starting October 14 the following resorts will be open for guests:
Disney's Coronado Springs Resort
What if I'm book at a resort that's not opening at all, or not opening in time for my booked trip?
You will need to call the Disney reservation services phone number to talk to a Cast Member. They will be able to assist in moving you to a resort that's open.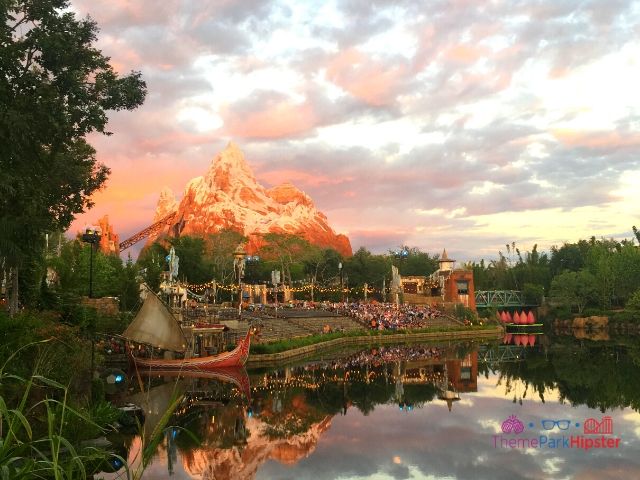 You are better off doing this sooner rather than later since rooms are limited. The number to speak with a Disney Cast Member is (407) 939-5277.
One thing to note is that you might not get the same level of resort as you originally booked.
As an example, if you booked a stay at Disney's Port Orleans-Riverside Resort, which is not opening for the time being, you could be moved to Disney's Pop Century Resort (a downgrade to a value resort). If you are downgraded you will be returned the difference in price for your stay.
You could be moved to Disney's Caribbean Beach Resort (a lateral move with no price increase). You could also be moved to the Contemporary Resort (an upgraded move).
If you are upgraded you will not be charged the difference to be moved to a more expensive hotel.
Have a DIFFERENT kind of Orlando vacation with a Resort home next to Disney World. Find Your Disney Resort Vacation Rental here!
Can I modify my tickets yet?
According to Disney, partially used multi-day theme park tickets with a usage window impacted by the closures or date-specific park tickets that were purchased through June 6, 2020 with a use date beginning March 12, 2020 or later will be extended automatically to be used anytime between the park's opening on July 11 and September 26, 2021.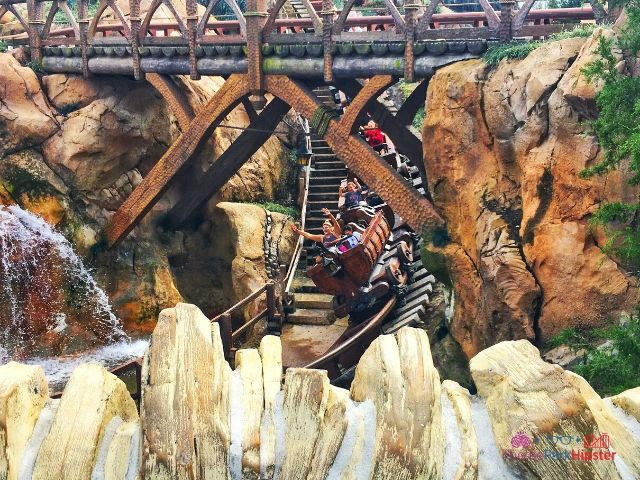 Florida Resident Discover Disney Tickets may be used through September 30, 2020.
If you have Park Hopper tickets you have the following options:
You can use your date-based ticket by September 26, 2021 with the existing options, should the Park Hopper option return by your date of travel.
Resort packages with tickets can be modified or cancelled, but options need to be discussed with the Disney Reservation Center or your travel agent.
At this time, Guests will only be able to visit one park per day.
Everything you need to know about dining at Walt Disney World right now
Dining at Walt Disney World is going to look a little different than it did the last time you were at the parks.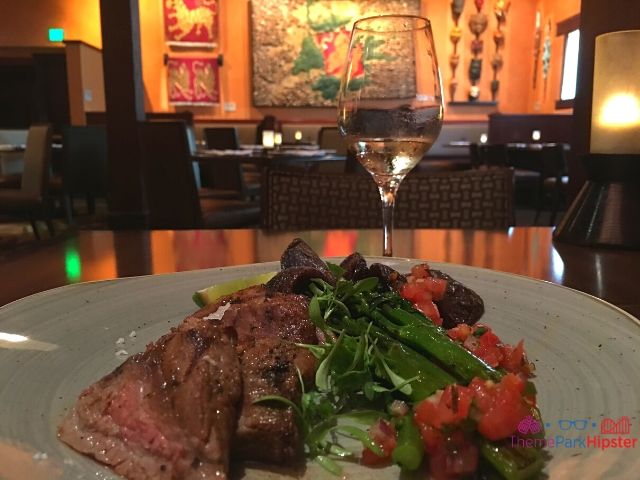 When can I make new dining reservations?
New dining reservations are available now for guests with resort stays from June 22 through July 10, 2020. You can only make dining reservations for select hotel restaurants and Disney Springs.
You must call the Disney Reservation Center to check availability and make reservations. If you're a Disney Vacation Club member you could also call member services.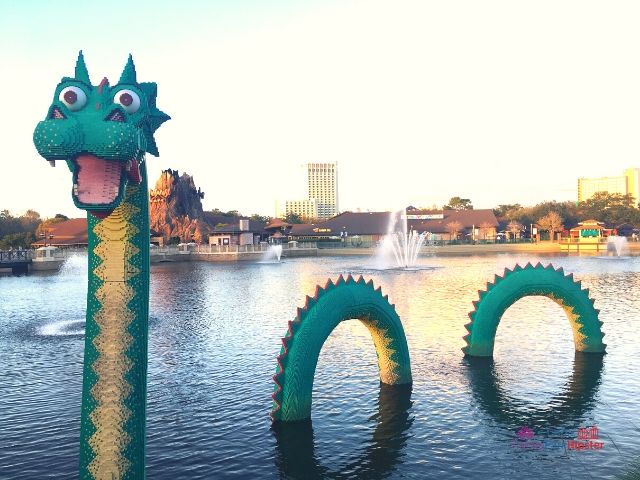 Online reservations through Disney are available for some Disney Springs locations right now. The online reservations for hotel and park restaurants will open at a later time.
Dining reservations for inside the Walt Disney World theme parks is not available right now. There is no date announced of when they will open.
Note that Disney has also changed the window in which you can make dining reservation. You can now only make them 60 days before your vacation.
What changes can I expect when I dine at Walt Disney World?
Dining at Disney is going to look a little different than when you probably ate there last time. All tables are going to be social distanced, and all restaurant workers will be wearing a mask.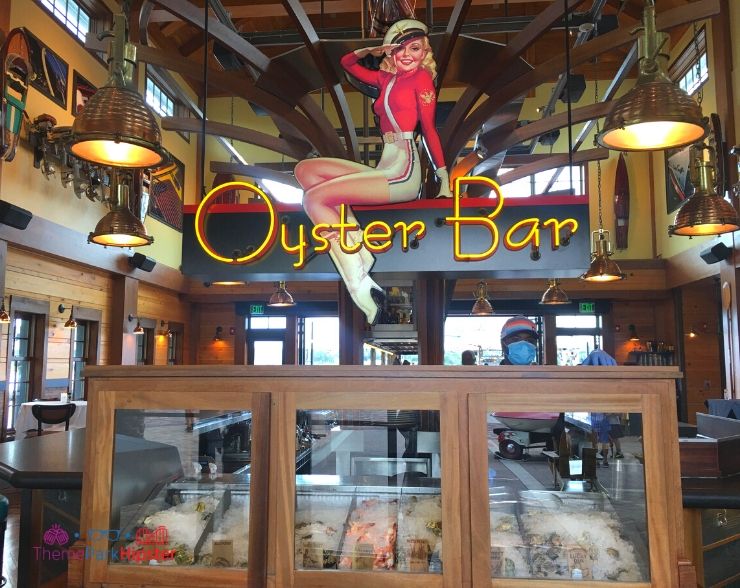 Check-in for a dining reservation can now happen virtually, through the My Disney Experience app, or by scanning the QR code near the entrance of a restaurant. Menus will be single use or be viewed through scanning a QR code.
Character dining will not be available anywhere except for Topolino's Terrace at Disney's Riviera Resort at this time.
Disney Dining Plans cannot be added to a vacation package or dining reservation for the time being.
ThemeParkHipster tips to getting the dining reservations you want
Try booking Disney Springs restaurants directly through the restaurant's website or through a third party reservation site like OpenTable.
Keep checking to see if the restaurant you want to dine at becomes available, especially closer to your trip. People cancel reservations all the time and this is the best time to scoop up some good ones.
Know that restaurants are going to have a smaller menu for the time being. So, look at what's available on the menu before booking to be sure there's something at a restaurant you want to try.
Everything You Need to Know About the Disney Reopening Plans
The Walt Disney World theme parks will begin opening in phases starting July 11. With the phased reopening comes some new policies that you should be aware of as well as new touring strategies.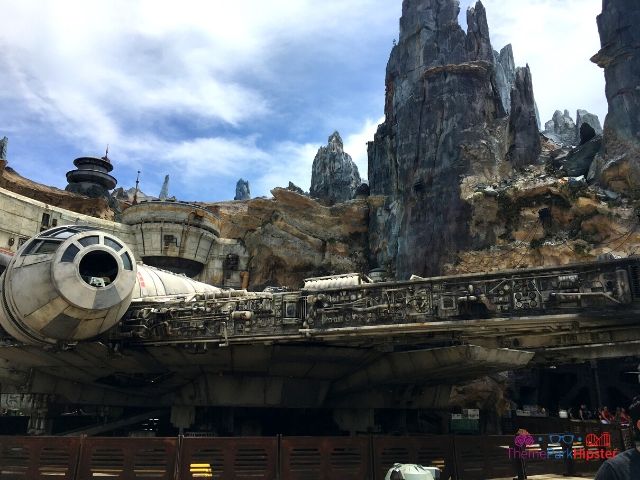 What are the new policies I need to be aware of to go to the Walt Disney World theme parks?
The first thing you need to know is that everyone in your traveling party over the age of three will need a Park Pass to enter any of the four Walt Disney World theme parks.
You can only have one Park Pass per day. Park hopping will not be allowed during the initial reopening of the Walt Disney World theme parks.
Everyone in your group over the age of two will be required to wear a mask or face covering throughout the day at the parks. There will be designated zones where you can relax and take your mask off if needed.
Everyone will be subject to a temperature screening. If your temperature is over 100.4, you will enter a secondary screening to be sure it's safe for you to enter the park.
If anyone in your group registers over 100.4 on the second screening, no one in your group will be allowed to enter the park.
What dates do the parks open?
Starting July 11, both Magic Kingdom and Disney's Animal Kingdom Theme Park will open for guests. On July 15, Epcot and Disney's Hollywood Studios will open.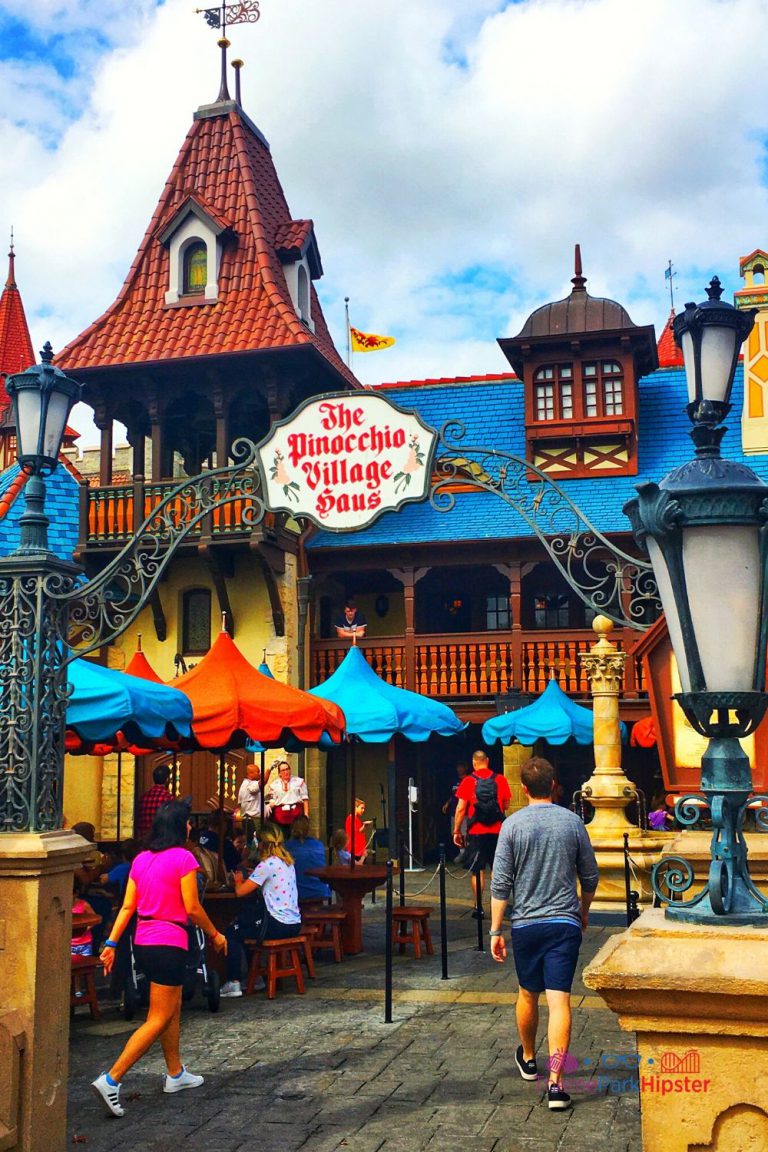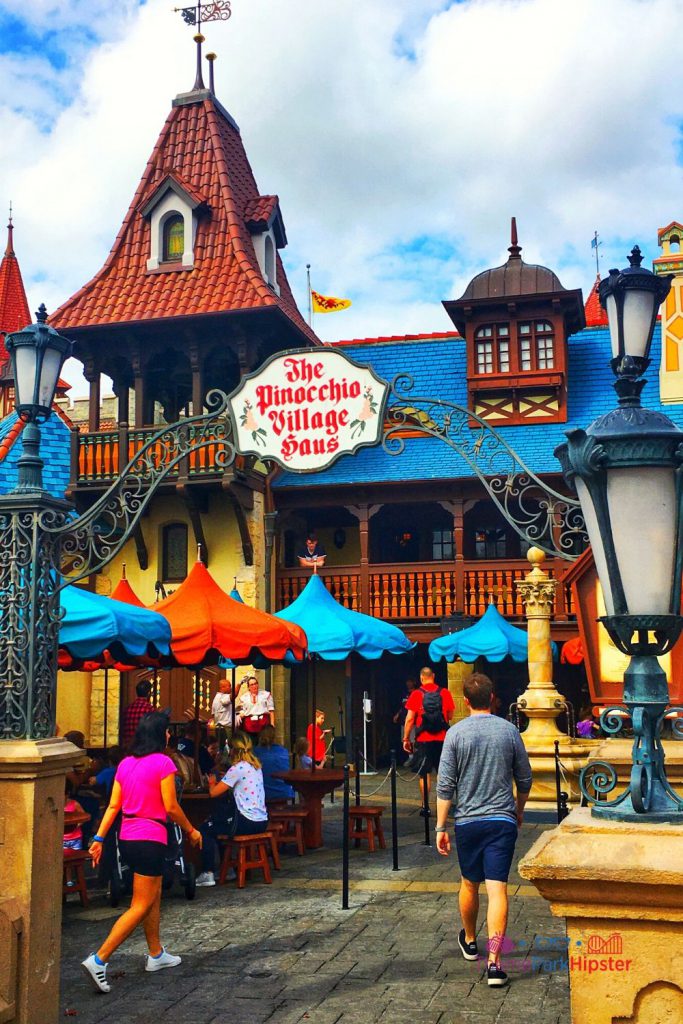 Opening dates for both Disney's Blizzard Beach and Typhoon Lagoon Water Parks have not been announced.
Will FastPass+ be available?
No, there will not be any Disney FastPass+ options available when the parks reopen. The extra queue space will be used to be sure parties are socially distanced throughout the line before they get on the ride.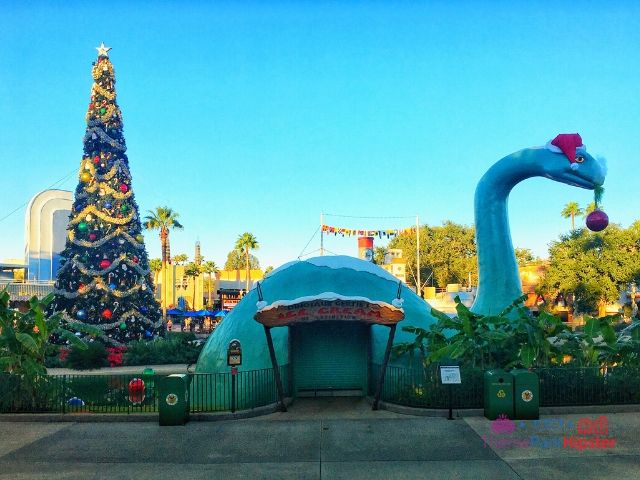 What are the new park hours?
There are new park hours in place at Walt Disney World. Note that these hours do not include Extra Magic Hours. Those have been cancelled until further notice.
Magic Kingdom: 9 AM to 7 PM
Epcot: 11 AM to 9 PM
Disney's Animal Kingdom Theme Park: 8 AM to 6 PM
Disney's Hollywood Studios: 10 AM to 8 PM
ThemeParkHipster Disney park touring tips
Take multiple masks with you. Once one gets hot and sweaty it will be uncomfortable. Swapping it out for a new one will make wearing masks easier.
Take more breaks than you think will be necessary. This includes breaks for water, taking a mask off, snacking, and even going back to your room for a nap in the middle of the afternoon.
If you're concerned about crowds do not get to the parks when they first open. Try to wait at least 30-45 minutes after they open to arrive. That way the big rush of people is through the turnstiles.
Since there is no FastPass+ and limited park capacity there is no need to rush to the big attractions. The lines should be relatively short all day.
Ready to start planning your next Disney World vacation? Listen to the latest podcast episode on Apple or on your non-Apple device now!
Should You Go to Walt Disney World Right Now?
The answer to this question is strictly up to you. If you feel safe in a crowd, don't mind wearing a mask while at the parks, and are okay with limited options at the parks for rides and entertainment, then yes.
If you answered no to any of these questions, you might want to consider moving your trip to a later date.
But know that you are the only person who can make this decision for you.
We are probably just as excited as you are that the Walt Disney World theme park are reopening, and we believe that Disney is keeping guest and cast safety in mind. However, we cannot make the decision to either go or not go to the Disney Parks for you.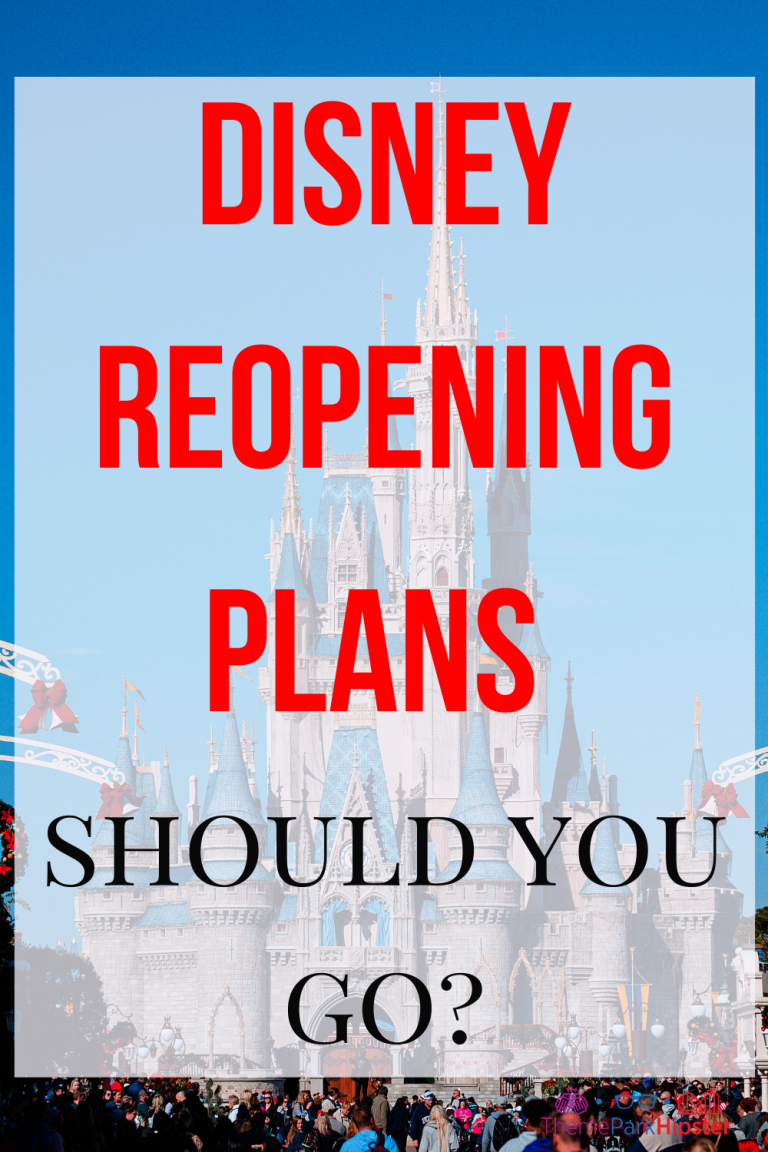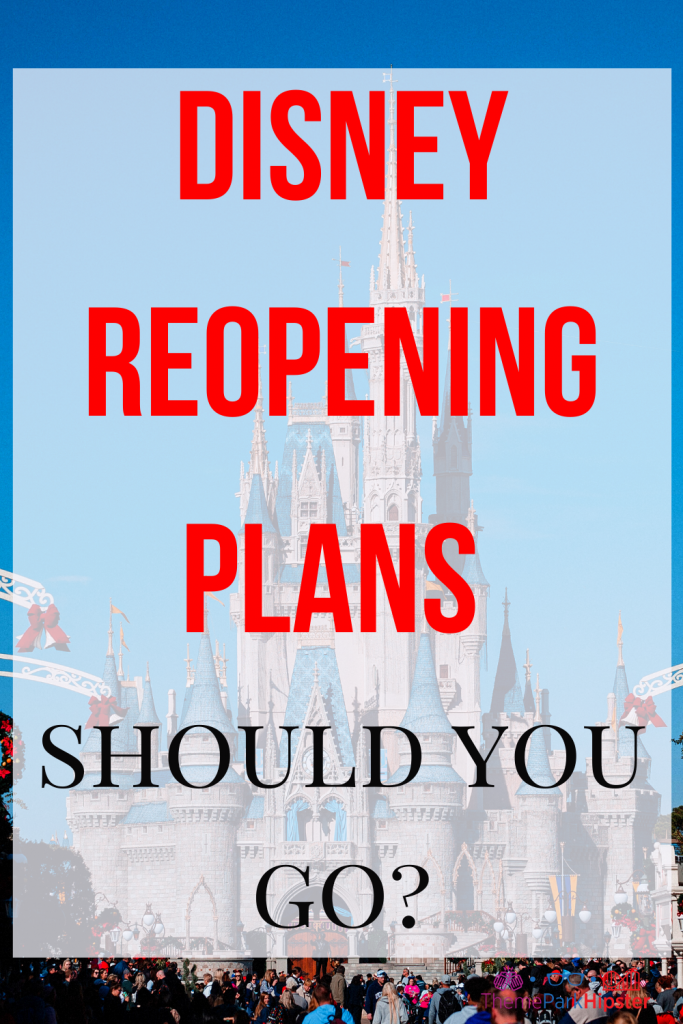 How do you feel about the Disney reopening plans? Let us know in the comments section below.
Until next time, Happy Park Hopping Hipsters!
About the Author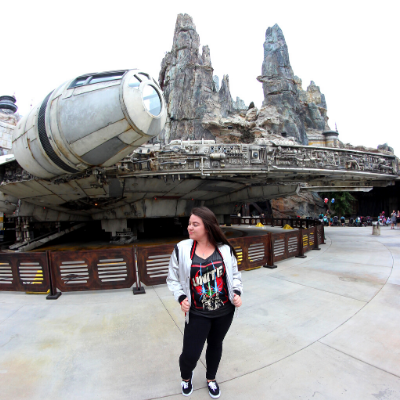 About the Author
Megan is a theme park expert and frequent traveler to magical places. She covers all things Disney and Universal and runs marathons for fun.
She thinks you can tell a lot about someone by the name of their signature lipstick, and hers is NARS Dragon Girl.
Planning a trip soon? If so, read the Disney Vacation Planning Guide for your next dream trip!