Are you looking for a complete female guide to solo travel?
No one knows more than me the grip that wanderlust has on someone who wants to see what the wide world has to offer you.
It is hard to even find the courage to pull yourself up by the bootstraps to begin the planning stages of a wanderlust trip. It is even harder when you wish to make the journey solo and as a woman.
We are all well aware that the world we live in can be dangerous and is not always kind. As a solo traveling woman, you should still be able to see everything that is offered to you globally without fearing for your safety.
There are ways to prevent and remain cautious as you discover arts, culture, music and more!
Today, I will be happily sharing 10 beginner tips for solo traveling women to adhere by. Whether it's a theme park or a country, these will be things to keep in the back of your mind for reference.
THIS POST MAY CONTAIN AFFILIATE LINKS. PLEASE READ MY DISCLOSURE FOR MORE INFO. Which means if you click on certain links, I may receive a small commission at no additional charge to you.
1. Have Physical Copies of IDs
On this female solo travel guide, I am starting off with this tip mainly because it's one I recently had an issue running into during travels.
One of the first solo travel tips I learned when I began traveling was to keep copies of everything, but especially your IDs (identification cards).
Recently, I accidentally left my passport in a locker at a theme park, which was my only form of ID at the time since it was a day trip.
Luckily, I had arrived early at the airport and was able to go through the verification process. This process was simple and took no more than 15 to 20 minutes.
Don't Make This Mistake on Your Solo Trip
My mistake was that I had copies of two forms of ID in my phone when TSA does not accept that. It MUST be a physical copy of two forms of ID.
While I was able to get through the verification process, it would have been faster if I had the physical photocopies that I normally carry.
You can take a look at the list here on TSA's official website, but usually I have photocopies of my social security card and my passport personally.
Long story short, if you lose your ID, don't freak out! Be prepared with your physical copies or simply arrive extra early to get through the verification process.
Get Your Universal Orlando Resort Tickets Today! CLICK HERE.
2. Memorize or Save Your Country's Emergency Numbers
On this female solo travel guide, one of the important things you must do is to make sure your cell phone provider knows that you will be out of the country.
Most providers will have an international plan that you can pay for temporarily. You can also try purchasing a SIM card that will work in the country you'll be traveling in.
But on top of this, it's important to have a written or printed copy of important phone numbers on you, just in case something happens with your phone.
Most importantly, the numbers of international emergency numbers just to keep on you as a standard solo travel tip.
Why This Solo Travel Tip Is So Important
Many people do not think that they will run into an emergency while traveling but it always better to be prepared. Not all countries have the same 9-1-1 structure as the United States of America.
In Europe, for example, they have a different emergency number depending on the situation and location. Along with the numbers of your loved ones, look up your destination's emergency contacts and be prepared!
3. Be Mindful When Choosing a Place to Stay
This might seem like an obvious one but I personally double and triple check reviews and the area of places I'm considering staying.
Some things to keep in mind is to try to choose a place that isn't near a bus or train station. Those areas tend to be unsafe due to the ability to easily take advantage of travelers.
Make sure to research fees so you aren't being taken advantage of but try to be close to tourist destinations or places near restaurants or bars if you can that are friendly to female solo travelers.
This way, you won't have to travel too far at night on transportation and can use them as landmarks to return to your hotel.
4. Research Your Destination
This is probably the most important tip on this list, but this is especially important if you identify as a woman, a black person, a person of color or a combination of the three.
When choosing your destination of choice, the more information you have, the better prepared you will be, and it helps make it easier for you to find a place to lay your head during your stay.
Researching things such as:
Local transportation
Languages
Whether or not English is common there
Most common scams made on visitors
Neighborhoods to avoid
Checking to see if a guide is recommended for the types of expeditions you want to take or if it's safe to do solo
Local customs and common phrases that used in the solo travel destination
These are just are just a few of the most common things that come to mind when you're first researching a potential destination.
I would highly recommend checking our Solo Traveler Facebook Group or using travel sites like Florida Hipster are great places to start.
Even going on your destination's official government page will be a wealth of information for visitors to help them prepare. They will give you details on currency, suggested places to visit, local transportation and more!
Join the Conversation on the Solo Theme Park Traveler's Community on Facebook!
5. Do Not Share Too Many Details
On this female solo travel guide, this is a tip I adopted as a Content Creator over the years. I have shared this travel hack with loved ones as I have discovered the growth of social media more and more.
While you are traveling, only share details with those you trust so that way they know your moves while you're traveling alone.
In the meantime, I know it's tempting, but hold off on posting those gorgeous selfies and photos by a few days. Sharing while you are still in one location can make it easier for someone to discover your whereabouts.
How to Safely Take Photos on Your Solo Trip
Try to avoid taking photos of where you are staying AND be mindful to make sure there isn't anything distinguishable in your photos if you do choose to post immediately.
Any photos you plan to post, especially anything where you tag the location, should be held off from posting until after you have safely checked out.
Keep trip details close to the chest when making small chat with locals. Most importantly, be mindful of how you answer questions asked to you.
For example, if someone asks if you are alone, you are NEVER alone. You have someone back at the hotel that you are staying with.
6. Be Aware When Flying
If you are flying in or out of your solo travel destination, here are some tips that are very important and have helped me over the years.
When to Fly On Your Solo Trip
Don't Forget About Travel Insurance
Obviously delays and cancellations can happen, and this leads me to my next tip, having travel insurance if you can. This will usually help cover things like this and can help with getting a hotel for the evening.
Avoid Alcohol on Your Flight
Another thing that I avoid is drinking alcohol on flights that offer it. You know yourself and know your limit but do not get tipsy or full out drunk on a flight.
To start, it's disrespectful to the other guests and disrupts the safety of the flight. But mainly, once off the plane, it leaves you to be more vulnerable to those who do not have your best interest or safety at heart.
Finally, get rest on the plane. It might be difficult if you aren't used to flying but try to get a mini nap in without the use of a sleep aid.
7. Book Reliable Transportation
On this female solo travel guide, this next tip seems like a given but believe-it-or-not, not every country has Uber or Lyft available there. That's why it's very important to have scheduled transportation on the ready.
I know it's tempting to use those kinds of services due to affordability, and if that's the only option for your budget, I have tips for that as well.
But in the meantime, I would recommend hiring a service with a driver that will meet you at baggage claim and have a sign that features your name. This assures you peace of mind for safety and knowing that you will get to your hotel swiftly and safely.
Now for those using ride share apps, most have features where you can send a live tracker as you travel from point A to B. Be sure to send it to at least 2 to 3 people you trust when traveling.
Turn on your check-in feature to let you loved ones know that you got to your destination safely. Lyft has a feature where you can choose to do this for every ride, late night rides or rides longer than 20 minutes.
Top Rideshare Safety Tip
Another thing to be mindful of when booking with rideshare is to make a note of the driver and license plate.
Screenshot the details just in case you need to report the driver. With Uber, drivers and riders must still wear masks so double check to make sure that you have the driver you were assigned.
While riding, keep a note of any landmarks as well. This comes in handy too in case you need to make a report.
8. Be Realistic with Your Travel Budget
So, I know you're probably excited, starry-eyed and ready to "treat yo self" during your visit but let's take a step back and be real for a second. Remember: you have to eat.
You have to pay for transportation. Your finances are how you decide where you're going, how long and how extravagant you will get on your visit.
Once you bear in mind the cost of hotels and flights, then you can look into the other trip aspects. As I mentioned earlier, I would highly recommend getting travel insurance.
You may think "It won't happen to me." But with airlines being very unpredictable as of late with cancellations and delays, do you want to take the chance?
This is why we research the destination. It's okay if you can't see everything. Only an excuse to come back again!
What I mean by this is, it is tempting to spend on extravagant things while you are there. Be mindful and ask yourself if you really need what you are eyeing. Where are you going to put it? What will you use it for?
Which leads into my last point, whatever your finalized budget is, add about 20% to that as "just in case" money. Like I said before, you never know what will happen. And if nothing does, then treat yourself to ONE small thing, haha!
9. Start Planning and Booking Early
Booking everything as early as you possibly can is the smartest way to go about it. This benefits you mentally and financially, especially if you are traveling overseas.
When it comes to flights, hotels, and food, the further out you book, the cheaper it will be and thus not hurting your budget.
Depending on the airline or hotel chain, you may be able to catch a deal! I would NOT recommend doing an Airbnb as it's not as cheap as you may think.
Plus, it is just safer and hotel chains tend to be close to transportation and local attractions. Also, booking early allows for you to get the best picks for rooms!
When to Book Your Hotels and Flights
Hotels and airlines get pricier the closer you book to your date. This also depends on your travel dates and whether or not you are flying during a holiday.
And keep in mind, you will need to check for not just American holidays, but holidays in the destination too.
For example, there was a time when I had to fly a week out and the roundtrip flight I normally take would be no more than $200. Because it was a week prior, it was a little over $500!
This allows you to:
One: Not worry about how you are going to get there
Two: Know where you are going to lay your head
Time is precious so do not procrastinate when planning your solo trip.
10. Blend in With the Locals
On this female solo travel guide, this is the last tip but the one I ALWAYS share!
You do not want to stand out and make it obvious that you are a tourist. Now depending on the location, this can't be helped.
This is so easy. Avoid wearing expensive items and keep it casual with a dash of your style and charm.
But ultimately, use that as an opportunity to observe and learn the style of the locals. Use that as a jumping off point to speak to locals. Not only can you get advice on fashion but where to buy it!
Final Thoughts to This Guide to Solo Female Travel
Here are have some of the best and some unconventional safety tips and tricks for first time beginner solo travelers!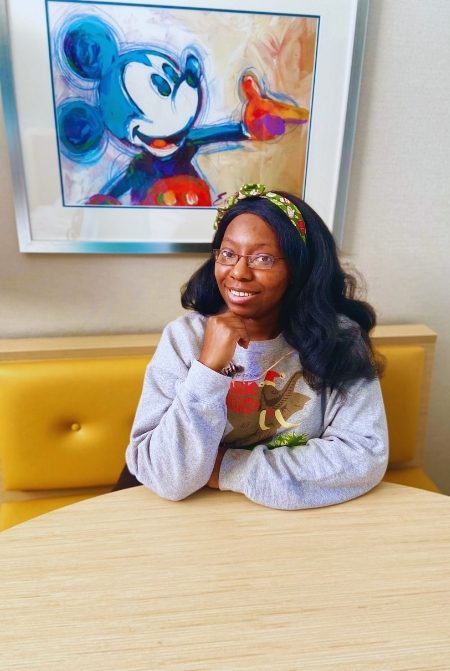 There are plenty of hacks for traveling alone that we are more than happy to share.
You can find them more of them or share your own in tour Theme Park Solo Traveler Facebook Group! By staying safe together, we can embrace others and their culture together too.
Until next time, Happy Park Hopping Hipsters!
About the Author
UP NEXT: Personal Thoughts About Solo Travel and Why You MUST Do It!