Are you ready to go on a virtual ride through some of the best attractions at Islands of Adventure?
Whether you're a thrill seeker or a casual rider, Universal Orlando Islands of Adventure really serves up attractions for everyone! Yes! Even you, solo traveler!
The theme of Islands of Adventure (IOA) and its lands are all inspired by books. If you pay attention to the lands of IOA, they are based on stories of some sort.
Marvel Superhero Island and Toon Lagoon is comic books, Lost Continent is based on Greek Mythology, Seuss Landing is based on the Dr. Seuss stories, Jurassic Park is based on a book by Michael Crichton and of course, Wizarding World of Harry Potter-Hogsmeade is based on a location from the Harry Potter book series.
This park allows you to really test the limits of your imagination and step into the pages of these truly jaw dropping worlds. But while you're in these spectacular places, you might want to enjoy some experiences.
In today's list, I will be showcasing various attractions throughout the park that are especially perfect for solo travelers to enjoy! Let's dive into some adventure, shall we?
THIS POST MAY CONTAIN AFFILIATE LINKS. PLEASE READ MY DISCLOSURE FOR MORE INFO. Which means if you click on certain links, I may receive a small commission at no additional charge to you.
1. Poseidon's Fury
I'm sure if you're seasoned or familiar to Universal Orlando's attractions, you didn't expect this to be on our list.
This attraction is located in Lost Continent and has quite the enticing entrance. Rock formations shaped like Greek gods greet you and dare you to enter the caves of it to seek its treasures and truths.
What to Expect on Poseidon's Fury at Islands of Adventure
You will be met and follow an archaeological guide through the ruins of the temple of the Greek god, Poseidon the brother of Zeus. This show features phenomenal special effects including fire, lasers, mist screens, water cannons and more!
As you journey onward, you find yourself caught in the middle of a battle between Poseidon and Darkennon.
Poseidon's Fury opened on May 28, 1999, and has undergone refurbishment, including changing the story from its original when it first opened.
The only thing that has remained consistent is the main character of Poseidon. It has recently returned after being closed since the start of the pandemic.
The reason this is probably a bit controversial is due to its slightly confusing plot and the fact that new visitors don't know exactly what they're signing up for.
Poseidon's Fury is a show, but you don't sit down. You will be walking or standing most of the entire time with your guide bringing you through it all to experience.
Why It's Perfect for Solo Travelers
If you are a solo traveler, this is perfect for you for several reasons! To start, capacity isn't necessarily a big factor since it's a walking show.
You can attend solo and not have to be paired with anyone. It's also a sweet relief from the blistering Florida heat and a great way to kill time! It's a classic attraction and worth doing at least once.
ORDER NOW to secure your Universal Studios theme park ticket! GET MY TICKETS.
2. The Incredible Hulk Coaster
We are going to pick up the pace a bit and get a bit extreme. Now is the time to channel our inner comic book nerds!
If you aren't familiar with the story of Bruce Banner and his green friend, "The Hulk", let me give you a quick rundown.
What to Expect on The Incredible Hulk Coaster at Islands of Adventure
Guests will enter a lab where a very dangerous experiment is being tested by General Thaddeus Ross.
The general is the one who was in charge of the original gamma ray bomb project that transformed Bruce into the Hulk. Bruce was accidentally exposed to gamma rays when he saves someone's life during the detonation of the gamma ray bomb.
The Hulk comes out when Bruce is emotionally distressed, which is a problem since he is usually emotionally controlled and reserved, or sometimes against/at his will.
The ride's story puts guests in Bruce's position as you are exposed to gamma rays and thus transform into hulk like creatures as well. The highlight of the ride is its initial launch through the gamma ray tunnel that jumpstarts the thrill of this experience with amazing effects!
The creators wanted a ride that would be simulate guests being shot out of a cannon. Prototyping began in 1995 and by 1997, construction began once the prototype was successful.
In May 1999, the attraction opened as one of the debut attractions for the park. It has since been a hit, making at least the top 50 steel roller coasters for "Amusement Today's" Golden Ticket Awards 14 times.
If you're curious about what makes The Incredible HULK at Islands of Adventure worthy of making this list so many times:
The Incredible HULK features a launch of 0-40MPH in 2 seconds.
It boasts seven inversions, including but not limited to a cobra roll, two vertical loops, zero G roll and two corkscrews.
Oh, and that first drop? 105 feet.
You will hit a top speed of 67 MPH during your journey.
Why It's Perfect for Solo Travelers
Solo riders will appreciate the Single Rider Lane for this attraction, although you might miss out the details of the queue and the story. It's a not to miss attraction and I would HIGHLY recommend doing it at night for a true experience that will take your breath away!
3. Jurassic World: VelociCoaster
Of course, this one simply HAD to be on the list. It hasn't been around not even a year as of yet, but it has left its mark in a way only a vicious dinosaur can.
This Islands of Adventure attraction had been in the works as early as 2018 when the permits were filed. When the attraction was first announced in September 2020, it was dubbed the tallest and fastest launch coaster in Florida!
The attraction is something to behold with its four inversions, top hat drop at 155 feet, two high speed launches with one going 0-50 MPH (miles per hour) in 2 seconds and the other going 40-70 MPH in 2.4 seconds.
VelociCoaster also features several wild turns over water and you get a massive amount of airtime making it one of the best attractions at Islands of Adventure.
What to Expect on VelociCoaster at Islands of Adventure
It helps to be familiar with the Jurassic World, but not necessary. You are greeted by a giant paddock with two raptor statues on each side of the entrance.
As you go through, you will be met with a circle of more raptor statues and views of the ride track. While the wait may be a bit, you will have plenty to keep you anticipated for what's to come. I won't share too much for fear of spoiling.
Why It's Perfect for Solo Travelers
The effects and animatronics are something to admire and appreciate. If you want, you can check out the behind-the-scenes documentary of the making of the ride to learn more on YouTube and Peacock.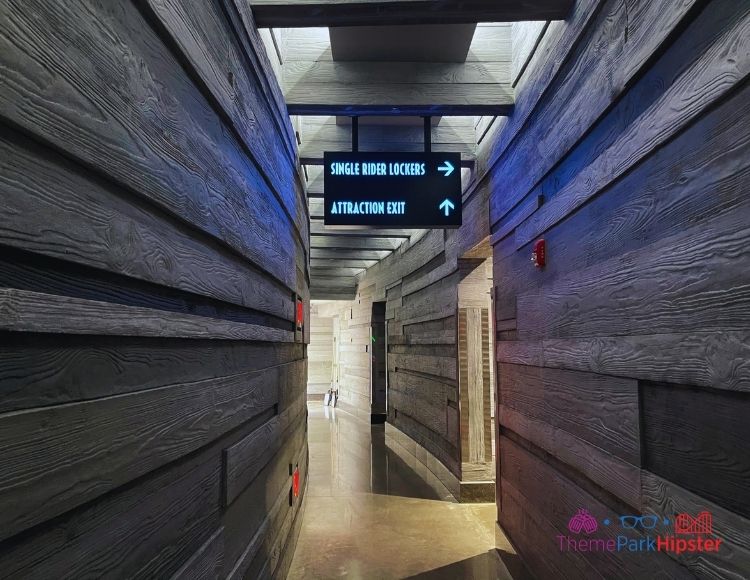 The big benefit of the Universal Orlando attraction is the Single Rider Line. However, can hit capacity once it gets too busy and they will no longer accept solo riders after that point. Just something to keep in mind when you ride!
4. Jurassic Park River Adventure
We are going to stay in this area of Islands of Adventure for a bit and move over to Jurassic Park River Adventure!
What to Expect on Jurassic Park River Adventure at Universal
The ride is actually inspired by a scene in the Jurassic Park book which came out in 1990. The scene features Dr. Grant, Lex and Tim try to escape back to the visitor center via an inflatable boat. Several elements of that scene were actually included in the ride.
Universal Orlando debuted the attraction in May 1999 as one of the opening attractions. This was due to the popularity of its sister and original ride over at Universal Studios Hollywood.
As far as the difference, Hollywood's version was recently refurbished and rebranded to resemble more of the Jurassic World segment of the franchise to great audience approval.
Universal Orlando's version plays to the story that Jurassic Park, from the original film, was approved to be rebuilt at this location and it is now in the form of a tour of the Jurassic world as a boat ride.
It wouldn't be a Jurassic Park ride without some mayhem and chaos and that is exactly what is in store for you here. The climax is an 85 ft drop and a face-off with the king of all dinosaurs at a speed of 50 MPH!
To this day, this Islands of Adventure attraction is still amongst the most popular at Universal Orlando Resort due to the popularity of the franchise and its ability of storytelling to place the guests in the book, whether the guest knows it or not.
Due to the film and book's popularity, it allows for the perfect topic for a ride and makes it one of the best attractions at Islands of Adventure.
Why It's Perfect for Solo Travelers
Solo riders benefit of course not only from the ability to ride faster to fill the boat up to capacity but for the ability to cool off from the Florida heat.
Now I would be mindful of the option and have an understanding between humidity and heat, less you end up in soaking wet and gross clothing due to humidity.
5. Hagrid's Magical Creatures Motorbike Adventure
We are now going to forsake the dinosaurs and enter a land of true whimsy and magic, Wizarding World of Harry Potter-Hogsmeade.
Hogsmeade has gotten a new addition in very recent years in the form of some lessons from Hagrid himself! What an honor!
Before we dive into the story, we must take a quick look into how it came to be.
Construction began in January 2018 when dragon challenge was demolished, and land cleared for the ride. By spring of that year, upward building began and soon into summer, the castle section of the attraction was starting.
It should also be noted that great care was made to bring guests into the world of this attraction, including the planting of approximately over a thousand trees to create an immersive woodland setting for the Forbidden Forest.
From December 2018 going into February 2019, testing was being completed. And in full bloom came several creature additions and animatronics, including Fluffy and the unicorns.
On June 11 of that same year, the grand opening took place with several actors and actresses from the Harry Potter franchise in attendance and to guests' dismay, wait times at approximately 10 hours.
Unlike then, due to the pandemic, the Single Rider option of the attraction is available for use.
What to Expect on Hagrid's Roller Coaster at Islands of Adventure
Universal considers this attraction to be a story coaster. Muggles will be taken into a special care of magical creatures' class!
Arthur Weasley, Ron Weasley's father, has played around with Hagrid's motorbike to help him take muggles into the forbidden forest for the journey.
Mr. Weasley is able to duplicate the bike so muggles can all make the journey with Hagrid, however, Hagrid's dog, Fang accidentally releases Cornish pixies in a cage nearby.
This leads to them causing chaos with the bikes. The story is shown visually to guests through a pre-show that currently isn't available due to the pandemic.
I absolutely would not forgive myself if I gave away the ride, so I will instead give some technical details about the marvel and success of the attraction.
As far as technical aspects and stats of Hagrid's Magical Creatures Motorbike Adventure:
It holds the record for the most launches with its total being seven.
Hagrid's is also the longest coaster in Florida at 5,053 feet.
One of the launches goes 50 miles per hour from 0 seconds!
It boasts both indoor and outdoor sections while having a drop of 17 feet!
Finally, as far as money goes, it beat out Expedition Everest at Disney's Animal Kingdom for being the most expensive roller coaster ever built at $300 million dollars. Expedition Everest, which opened in April 2006, cost $100 million to build.
Why It's Perfect for Solo Travelers
This Islands of Adventure ride is probably one of the most perfect attractions to do because its two riders per vehicle. One is a driver of the motorbike and one is riding sidecar.
So, it does mean that you will have to be paired with someone you don't know but that doesn't ruin the experience at all!
And now that wait times are far more reasonable, you will simply have to take a car of magical creatures' lesson with Hagrid!
Ready to plan your theme park trip? Watch the best vacation planning tips on YouTube. Get started here!
Final Thoughts on the Best Attractions at Islands of Adventure
As I mentioned in the beginning, there are lots of tales to discover in Islands of Adventure that I did not share in the article what they have to offer. I will leave you with the challenge to explore and take a few moments to take in the details of each land as you go through.
Sometimes, while the attractions are the highlight, you do miss out on what makes the park truly special.
But for now, did your favorite Islands of Adventure attraction make the list? Share your favorite and thoughts in our Facebook Group!
About the Author
UP NEXT: 5 Best Universal Studios Orlando Rides for Solo Travelers