Are you looking for some fun things to do at Universal Orlando Resort that's perfect for adults?
The Universal Orlando Resort has the reputation of being the polar opposite of its neighbor, Walt Disney World.
Universal Orlando also has the ability to cater to families and solo travelers, with its well-balanced attractions, shows and dining options.
Ultimately, with its plethora of thrill attractions combined with its over the top and full of energy events, it can occasionally give its competitors a run for their money.
And this is BEFORE, we come upon the addition of Epic Universe and AFTER, the beloved addition of VelociCoaster in Islands of Adventure.
Today, I will be focusing on the "big kids" and what they can do while they visit the park.
From its immersive themed resort hotels, exciting nightlife at CityWalk and, of course, the theme parks, there are a few hidden gems that you may miss out on during your visits.
Not to worry, I'll drop some good ones for you to add to your list! Let's dive in.
THIS POST MAY CONTAIN AFFILIATE LINKS. PLEASE READ MY DISCLOSURE FOR MORE INFO. Which means if you click on certain links, I may receive a small commission at no additional charge to you.
Hotels: Best Things to Do at Universal Orlando for Adults
If you're like me, you are staying on property to reap the full benefits.
Everything is a short bus/ boat ride or walking distance away and early admission into the parks to be the first to catch those popular rides before the general public around.
But let's explore what you might be robbing yourself of on your adult vacation to Universal Orlando.
1. Relax at Mandara Spa
Nestled comfortably in the halls of Loews Portofino Bay Hotel is a 13,000 square foot luxurious spa in Piazza Pointe between the beach and pool.
Mandara Spa utilizes European techniques combined with Balinese tradition to offer visitors luxurious healing experiences.
The location features 14 private treatment rooms and 2 couples' rooms, Nail Bar, Pedicure thrones, Hair salon and relaxation lounge.
You have the ability to choose from a range of options including facials, skincare, massages, body treatments, hair and nail care, makeup applications, eyelash applications, waxing and barbering treatments.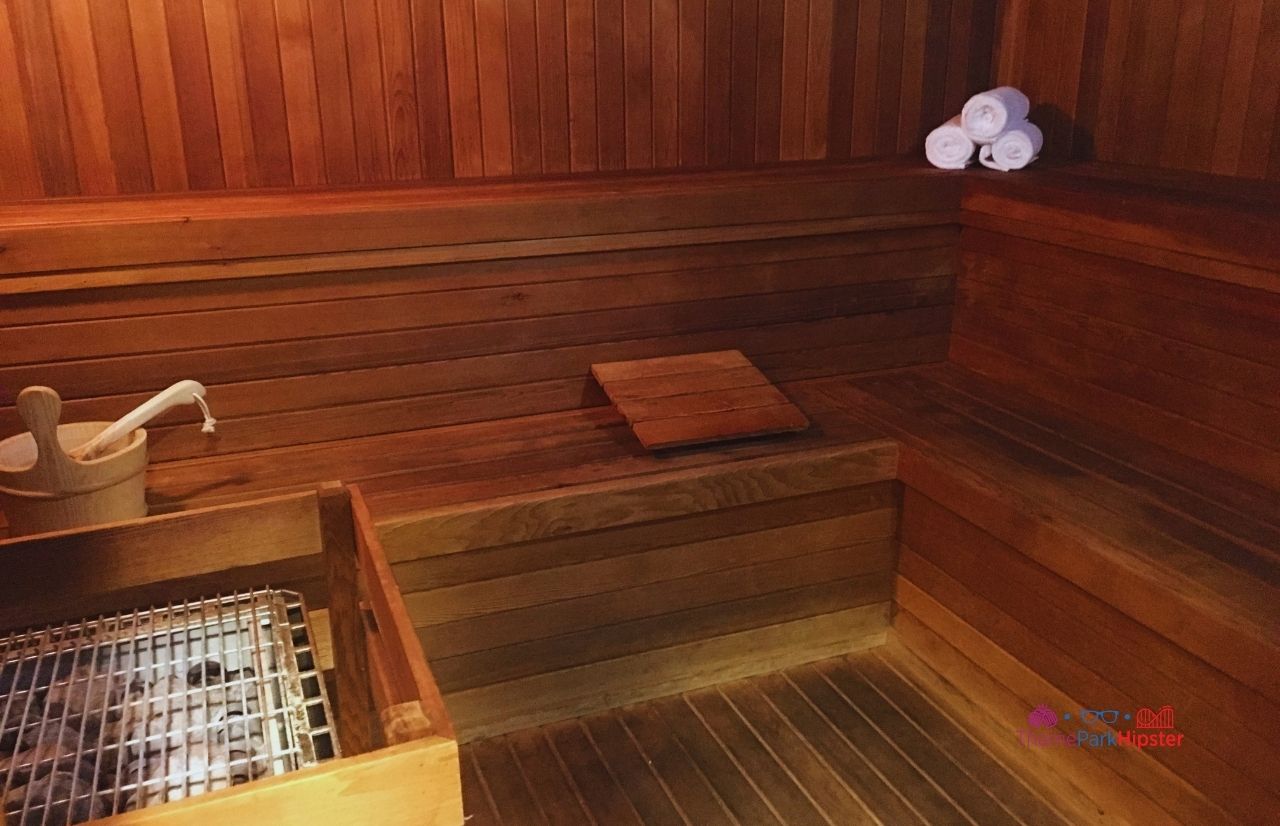 Prices start at $20 and can be as high as $265. Reservations are required in advance and services can be booked here.
Get up to 25% off of your Universal Studios Tickets with Groupon TODAY!
2. Enjoy a Cocktail and View at Bar 17 Bistro
While there are many bars that offer intriguing, unique themes and fares, Bar 17 Bistro offers breathtaking and gorgeous views.
Located on the rooftop of Loews Aventura Hotel offers a relaxing and breezy retreat from a long park day. Making it one of the best things to do at Universal Orlando for adults.
You will be treated to spectacular views of Universal Studios, Islands of Adventure and Volcano Bay. The menu offers unique and classic dishes such as:
Signature bao buns
Korean fried chicken wings
Bar 17 Burger
Parmesan Fries
Custom crafted cocktails specially paired to enhance the international flavors of the dishes including "Stormy on 17" which features St-Germain Elderflower Liqueur, bianco vermouth, Myers's Rum, lime juice, ginger beer, cucumber slices.
You could also choose to partake in "17 Apples" which features Maker's Mark Bourbon, rosemary infused apple juice, lemon juice, brown sugar simple syrup.
Now if you aren't feeling very adventurous, the bar has a wide variety of wines served by the glass and beer in a can or draft.
Imagine enjoying the nighttime views while sipping on a fragrant cocktail and dining on bao. Yeah. You know you wish you could be there.
Luckily, if you add this to your list of stops on property, it opens in the late afternoon and well into the evening. Check out the full menu here.
4. Have Your Best Game at Galaxy Bowl
Located on the second floor of the 1950s themed Cabana Bay Beach Resort lobby building, you'll find a retro bowling alley styled to resemble the sun washed bowling alleys seen in old Hollywood classic films.
Galaxy Bowl at Cabana Bay features ten lanes perfect for pros and "just for fun" friends alike.
The bowling alley gives you the nostalgic feels but with the technology of today! It boasts great entertainment and illuminated lanes no matter what the time of day.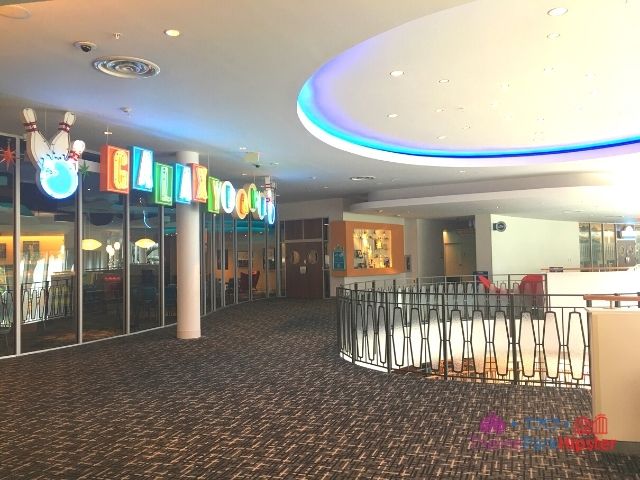 Not only do we have the fun of the bowling alley, but we have the Galaxy Bowl restaurant available to help you fuel up for making those strikes or having a drink after slaughtering your friends in the lanes.
Making it one of the best things to do at Universal Orlando for adults.
Why We Love Galaxy Bowl at Universal's Cabana Bay Beach Resort?
The restaurant is full service and is open Monday through Sunday and last call for drinks is 15 mins before close. Peek at the menu here.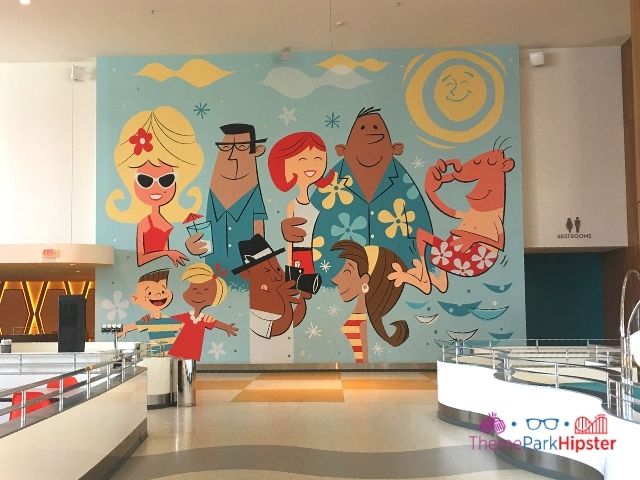 Back to the Galaxy Bowl itself though! You do have to reserve a lane with the last lane being accepted at 10:30 p.m. It is open from 12 p.m. – 12 a.m. Monday through Sunday.
Parties of 1 to 3 guests have a lane time of 45 minutes while parties of 4 to 8 gets 75 minutes. Pricing for adults is $17 per adult before tax and includes shoe rentals.
Now you do have the option of "Speed Bowling" which grants you 20 mins of lane time for $9 before tax. It's now time to show off those mad skills!
Please remember that prices are subject to change at anytime.
5. Rum Tasting at Strong Water Tavern
Have you ever wanted to go to a nautical themed bar but still wanted a hint of classy in your drinking experience?
Look no more because you will want to visit Loews Sapphire Falls resort to have a sip or four at Strong Water Tavern.
If you are lover of rum like me, this is a dream come true for you!
You will be met with a wall of vintage rums, rum cask lids lining the ceiling, will have your own rum specialist complete with a maritime mural sitting over the sleek, modern bar.
And yes, you can partake in rum tastings here.
You can get an authentic taste of the Caribbean as you relax oh so casually on the patio overlooking the lagoon.
Check out my latest theme park adventures on Instagram TODAY!
Oh, and did I mention the ceviche bar at this Universal Orlando Adult Spot?
The Tapas style dining represents Little Havana, Jamaica and the Bahamas, U.S.V.I, Puerto Rico and Mexico.
Pork Belly tacos, Grilled Octopus, House Made Black Angus Beef Sliders, Jerk Chicken and Camarones Al Ajillo along with many other scrumptious dishes.
Along with a variety of cocktails, beers and wines, you can partake in $20 flights too.
A reservation is recommended due to its popularity, especially if you're doing a Rum tasting or Rum Lab cruise.
The bar is open from 5 p.m. – Midnight daily and the menu is here for you to peruse at your pleasure.
ORDER NOW to secure your Universal Studios theme park ticket! GET MY TICKETS.
CityWalk: Best Things to Do at Universal Orlando for Adults
Most of us who have visited Universal Orlando Resort knows that before you can step foot into Universal Studios or Islands of Adventure, you have to go through CityWalk.
CityWalk is an entertainment area similar to Disney Springs.
It features clubs, unique and fun quick and full-service eateries, a tattoo parlor, stores, nighttime live entertainment and an escape room.
With all these super cool things to experience without even having to set foot in the parks, let's take a peek at a few to try out!
Recommended: When Is the Best Time to Travel to Orlando? Everything You Must Know for an Amazing Trip!
6. Dance the Night Away at Bob Marley-A Tribute to Freedom
If you don't know who Bob Marley is, let me give you a brief synopsis of the legend. He was a pioneer for reggae and its move to mainstream.
His music put a spotlight on Jamaican music globally. He was known for combining his style and spirituality with his music while being vocal regarding social reforms.
Bob Marley also supported legalizing the "green leaf" (if you know what I mean) and brought pan-Africanism to the forefront of American culture.
His album "Legend" is currently the best-selling reggae album of all time and is known for hits like "I shot the sheriff" and "One love."
Tragically, his life was cut short due to melanoma, and he is honored decades later for his music and contributions to the world.
Recreation of a Historic Place
One of the great things about Bob Marley's is that it is actually a recreation of his home in Kingston, Jamaica.
His birth home in Jamaica is currently a museum. Universal worked with his wife, Rita Marley, and the Bob Marley Foundation to create the restaurant.
Within it, you can find photos, artifacts and video clips of his amazing career as you dine. It is truly a credit to him, his homeland and everything he loved.
Incredible Food
The menu serves up authentic dishes giving guests a chance to experience mouth bursting flavors straight from the island.
This includes:
Stewed Saltfish with white rice
Bammy, chayote and sweet plantains
Oxtail stew served over rice, peas and seasoned veggies
Jerk Chicken
If you want to simply dip your toe into the flavors, try Rita's "Taste of Jamaica" appetizer.
Caribbean inspired cocktails adorn the drink menu and if you're a rum lover like me, you will thrive with these delicious beverages chock full of tropical flavor!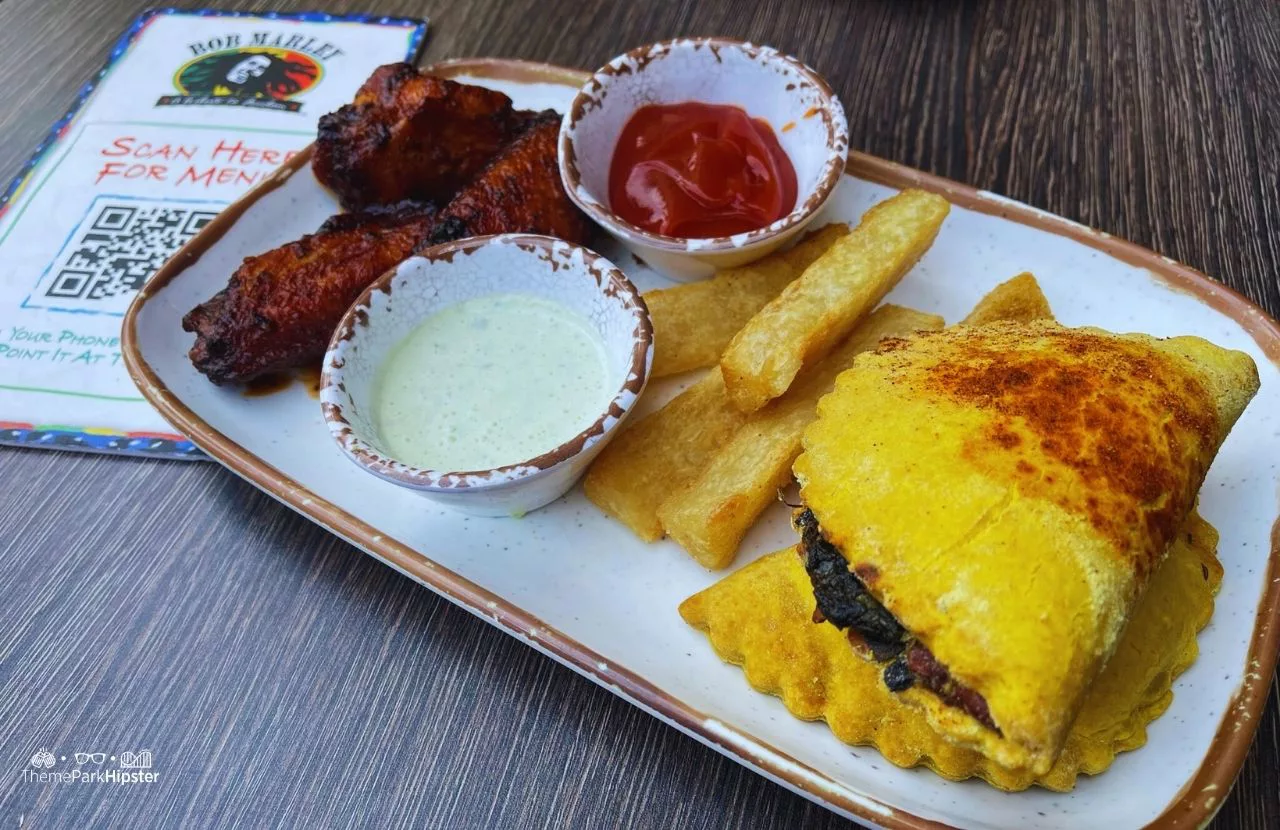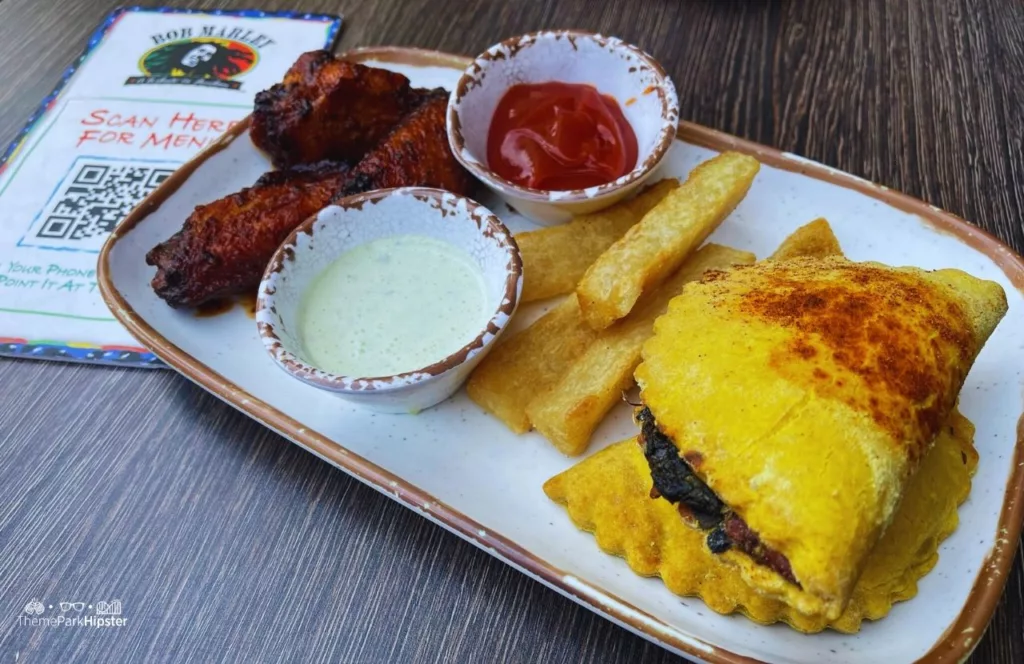 And a Bob Marley experience wouldn't be complete without a live reggae band and DJ performing nightly in the restaurant's courtyard to keep the party going all night long.
7. Watch an All Elite Wrestling Dark Live Filming
When you think "Universal Orlando", you wouldn't necessarily think "Wrestling" but believe it or not, they coexist!
Wrestling is very popular in Orlando and All Elite Wrestling or AEW began shooting tapings of AEW Dark on Soundstage 21 at Universal Orlando!
Think of it this way. If you're a 1990s kid, you know that most of nickelodeon's earlier shows were shot live in front of a studio audience at Nick Studios in Universal Studios Florida.
Sorry I had to get that tagline out. But it's similar to how that was done.
AEW airs on YouTube and you don't need a park ticket to attend the event. Here is where it gets a bit tricky though.
In order to attend a taping, you have to subscribe to the company's mailing list on their website.
After this, you can receive a free ticket through Eventbrite when they are released, so if you are local, you have better luck with making this happen since tickets usually drop at a weeks' notice.
This is a great experience if you're looking to try something new, exciting, fun and looking to maybe even socialize with some wrestling folks.
8. Sing Your Heart Out with Karaoke
Admission into CityWalk's Rising Star karaoke club is free and all ages are welcome on Thursdays and Sundays.
On Fridays and Saturdays, you must be 18+ and have a valid ID to enter.
Rising Star is a great place to grab a few drinks with other solo travel friends and let loose while belting out a hit of today or yesterday. It is fairly popular so try to arrive as fashionably late as possible.
Theme Parks: Best Things to Do at Universal Orlando for Adults
Last but not least, we enter the parks after journeying from the hotels and through CityWalk. This is the bread and butter of the resort and what we all come here for.
The amazing attractions, fun shows and the twisted taters ain't bad either. Epic is just one of the words to describe the parks.
Let us get into some of the things that allowed the parks to earn that description.
When to Buy Flights tool, Get the Lowest Fare at CheapAir.com!
9. Have a Shark Attack Drink
One of the BEST things you can do as an adult going to Universal Studios is to have a Jaws-inspired drink at Chez Alcatraz. It's called the Ocean Attack.
Before you enjoy this aquatic drink, you'll be welcomed by a Universal Orlando Team Member doing the famous humming of the musical score from Jaws while topping your cocktail off with red sugary greatness.
The drink is a combination of Don Q Coconut Rum, Blue Curacao, Pineapple Juice, and a topping of Grenadine.
10. Do a Universal Orlando VIP Tour
This is your time to "treat yo self" as an adult at Universal Studios and Islands of Adventure.
What better way to do this than to have Universal Orlando Team Member take you around the parks in true VIP style!
The Universal Orlando VIP Tour is a private, exclusive experience available to all Universal Studio guests.
For an extra cost on top of park admission, you'll receive a 5 hour, 1 park or 7 hour, 2 park behind the scenes tour of Universal Studios Orlando and/or Islands of Adventure.
You can also choose between a private or group tour. This is one of the best things to do at Universal Orlando for adults.
Honorable Mention: Don't miss out on a special event like Halloween Horror Nights or Mardi Gras which are perfect for any grown-up trip to Universal Orlando.
My Final Thoughts on the Best Things to Do at Universal Orlando for Adults
As you can see, Universal offers an array of things for the adult or solo traveler. I hope this guide helps you plan that EPIC trip to one of the best travel destinations in the world.
It's your turn, what's your favorite thing to do as an adult at Universal Orlando Resort? Let us know in the comments section below.
Until next time, Happy Park Hopping Hipsters!
UP NEXT: Top 10 Ways to Find CHEAP Universal Orlando Tickets
(Original Article Date: May 20, 2022/Updated on July 1, 2023 by Editor)