I know we've all heard the phrase from Universal: Never Go ALONE! But, do you think it's weird or scary to have a solo Halloween Horror Nights trip?
I don't think so!
The air is getting cooler, there is a spine-tingling aura surrounding Orlando for solo travelers ready to descend upon Universal for the Halloween season.
In Orlando, haunts are one of the most anticipated events of the year. The leader in this has to be hands down, Halloween Horror Nights (HHN).
Preparations are being made around the clock every year and every year it continues to be one of the most visited haunts in the United States.
2020 was the first time that it had not happened, due to Universal's mission to keep its guests and Team Members safe from the pandemic.
While they did surprise some visitors with limited time haunted houses, one of which was the Beetlejuice House.
THIS POST MAY CONTAIN AFFILIATE LINKS. PLEASE READ MY DISCLOSURE FOR MORE INFO. Which means if you click on certain links, I may receive a small commission at no additional charge to you.
Halloween Horror Nights Returns in Full-force
This year, you can rejoice knowing that not only will Halloween Horror Nights be returning this year, and will continue to pick up right where it left off years ago.
2020 was to be the event's 30th anniversary and it was celebrated in 2021 with the return of its legendary icons, recognizable Intellectual Properties (IPs), fun scare zones and scrumptious food, drink and entertainment options.
This year Universal is doing EVEN MORE to make the Nation's Premiere Halloween Event stand firm as the best haunted themed entertainment in the world!
I would advise you not to read this in the dark because it could get horrifyingly good. Before we dive in, here is what I will be breaking down for you today.
ORDER NOW to secure your Universal Studios theme park ticket! GET MY TICKETS.
Halloween Horror Nights History
On October 25, 1991, Universal Studios Orlando introduced a three-night Halloween event called "Fright Nights" that featured one haunted house, "The Dungeon of Terror."
The event was a roaring success and when it returned in 1992, it was renamed "Halloween Horror Nights."
With the second, it ran for five nights with two haunted houses. As the years moved on, the houses and entertainment increased every year as well as the number of days the event ran.
Get your discounted HHN Tickets on Groupon TODAY!
The HHN Icon Years
What assisted the event in growing its popularity is its "Icon Years."
Every year beginning with Halloween Horror Nights X, there is an icon that represents the main theme of the event.
The first was Jack the Clown, who has been confirmed to be returning for this year's milestone anniversary.
Most Popular Halloween Horror Nights Icons
The Caretaker
The Director
Terra Queen
The Storyteller
Bloody Mary
The Usher
Chance
Fear and Lady Luck
Generally, the icon would have a house based on their story.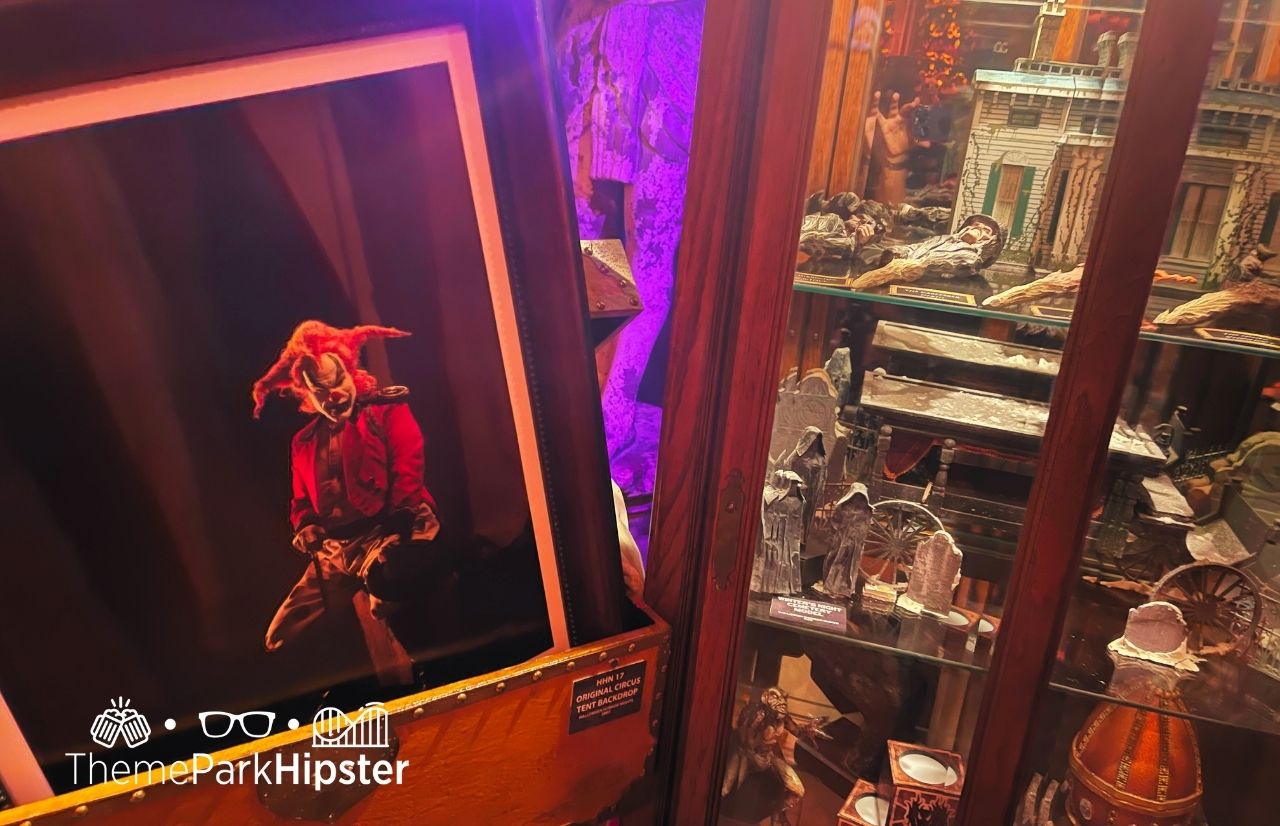 In 2007, IPs were used as Icons, but Jack returned as well with them. Halloween Horror Nights 22-24 and 27-29 did not have icons those years.
Get YOUR Halloween Horror Nights Tickets with The Park Prodigy TODAY!
HHN Scare Zones
Halloween Horror Nights introduced scare zones in its 4th year, which made it necessary for guests to travel through in order to get to specific destinations.
Scare zones have specific themes in each which allows the guests to experience something unique and sometimes familiar such as "The Walking Dead" or "The Purge."
Guests have also been able to enjoy very little wait times for popular attractions that regular guests enjoy during the day.
As the years have passed, the event has grown larger and larger with numerous entertainment and innovative ideas that continue to bring guests to visit every year.
Recommended: 35 Scary and Fun Things to Do in Florida for Halloween
What to Expect This Year at Halloween Horror Nights
This year there will be a total of ten houses and five scare zones, a far cry from its humble beginnings.
With so much to enjoy, here are just a few tips that I found useful when I ventured into Halloween Horror Nights in its 32th year (if you don't count 2020 HHN Light).
I am not ashamed to admit that I am a big scaredy cat, but the more I have visited, the more the event has grown on me.
Get your FREE Universal Halloween Horror Nights Vacation Package quote TODAY!
8 HHN Tips for Solo Travelers and First Timers
Here, we have reached the anticipated section of the article, which is how to manage and survive going alone to Halloween Horror Nights.
An event like this can be quite daunting, particularly as a solo Halloween Horror Nights traveler.
But it's important that if you want to see what made this event so successful for over 30 years, that you remain brave and take these pieces of advice to heart.
1. Research the Houses And Scare Zones
One of the first things I did when I decided to take on Halloween Horror Nights was to research the event and watch walkthrough videos of the houses and scare zones that were announced.
This is beneficial unless you plan on going on opening weekend. Solo traveling is already stressful enough and this helps ease your mind before the event.
Watch HHN Vlogs and Videos
Usually, there are media previews prior to opening weekend so you may luck out with walkthroughs if that is the case.
One of the first things I did was look up YouTube videos of the history of the event, go to their official website and look over all the offerings and look at walkthrough videos of the houses and scare zones.
I would highly recommend checking out our videos for house walkthroughs.
You would also find a wealth of knowledge and a more in-depth history of the event through our Halloween Horror Nights series.
But doing this allows you to truly get a feel for how intense the event can get and allow you to look over everything you will experience.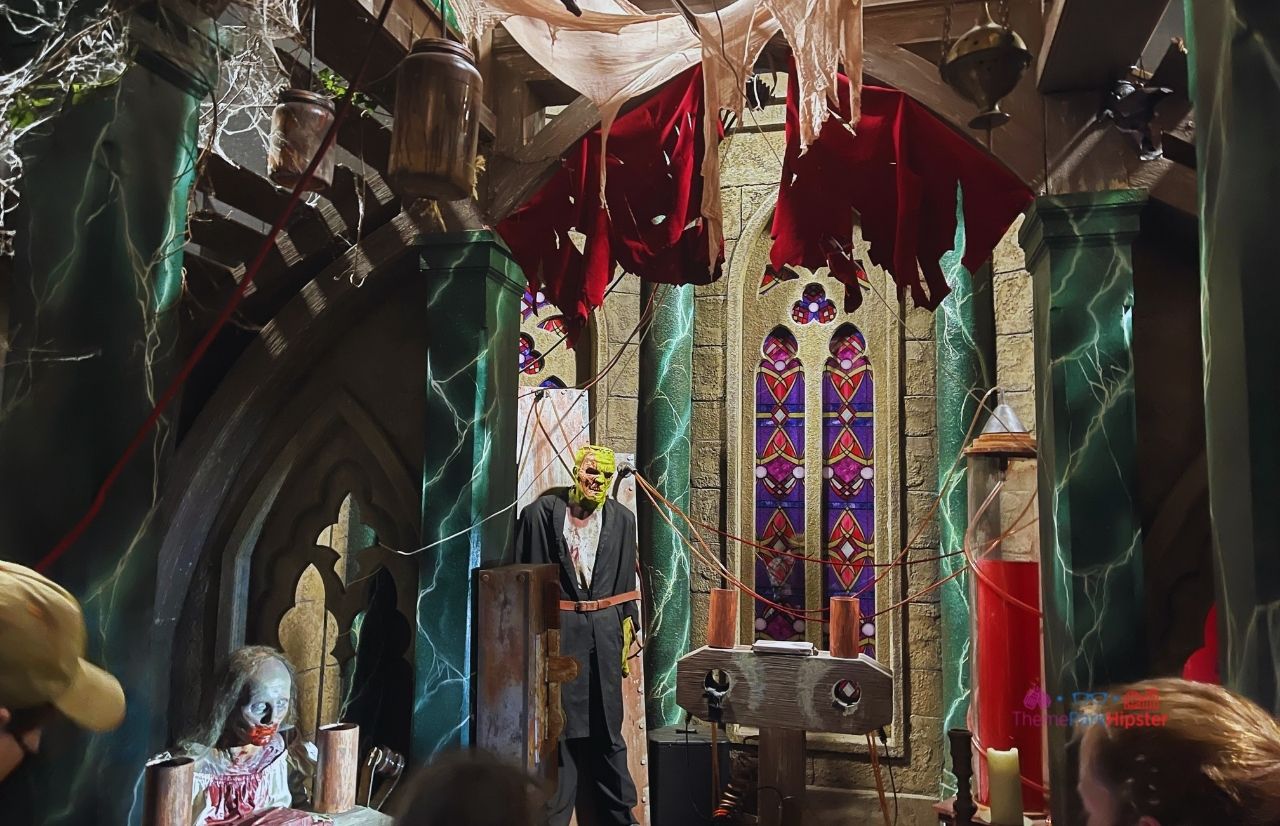 Especially with houses, it gives you a chance to see where all the scares are in advance so you can be better prepared to face them.
Ready to plan your theme park trip? Watch the best vacation planning tips on YouTube. Get started here!
2. Know the Limits of Houses And Scare Actors
This tip in particular eased my nerves a lot! Knowing the limits of the houses and what the scare actors can and can't do was really important.
When it comes to scare actors, they are not allowed to touch you. While they can be creepy, get into your personal space a bit, they aren't allowed to touch you physically.
So, when walking through scare zones, the most they will do is give you a good jump scare and this goes for houses too.
How to avoid getting scared at Halloween Horror Nights
This is why watching walkthroughs come in handy.
You can see when the jump scares are coming and with the knowledge that that's the most they can do, you can go through the houses a lot easier.
One solo traveler mentioned to stay alert and to make eye contact with them as they are usually looking for those who they can catch off guard
Some solo travelers mentioned what helped them get through the houses/scare zones and help guide them through the ease of understanding the limitations, was wearing headphones through them.
Just be sure to keep it at a volume where you can still be slightly aware of your surroundings for your own safety and the safety of everyone.
3. Know Your Fear Limits
While knowing the limits of the houses and scare actors is important, ultimately you have to recognize your own too.
With anything, it's always important to not push yourself too hard.
Don't go through all the houses with no breaks in between. It's exhausting and will take a toll on you physically and mentally.
Knowing where you can take a moment to take these breaks too without fear of being caught off guard helps as well.
Recommended: 1 Day in Orlando Itinerary: What Should I Do That's NOT Theme Parks?
4. Ride the Attractions
Take time to do a ride or two since there won't be long waits to do rides on a Halloween Horror Nights evening.
The Revenge of the Mummy ride has the perfect level of spookiness, making it one of the best rides for Halloween Horror Nights!
Recommended: The Solo Theme Park Traveler's Guide
5. Try the HHN Food
Taking a break will also give you a chance to rehydrate and refuel.
The event always has delicious snacks and beverages to try that are themed to some of the houses and icons.
Some places you can take a rest are Finnegan's, Lombard's or Mel's Drive-in. Occasionally, I like to stop into Starbucks for a moment to get some caffeine.
Utilize the Universal Orlando's app and park map so that way you know where you are going to seek a moment to breathe, where to eat and drink and most importantly, where the bathrooms are.
6. Take Advantage of Universal's Extras
If you are going solo, especially if this is your very first time, you will want to take advantage of the extras that Universal Studios Orlando has when it comes to the event.
With it being an anniversary year, you may want to consider purchasing the following to make the most of your time on your Halloween Horror Nights solo trip.
Watch: New to Halloween Horror Nights? Don't Go Without Knowing These 15 Tips!
Halloween Horror Nights Express Pass
For those who may not be familiar, Universal Orlando offers Express Passes. Express Passes allows you to skip specific rides and attractions for a fee per person per day.
Universal will be offering the same for Halloween Horror Nights starting at $120 plus tax dependent upon the day you visit.
They will offer only single night passes and it will allow you skip the regular lines for all haunted houses, one at a time, as well as for participating rides and attractions.
If you are in a time crunch and are going solo, this may be a good way to go. It is important to note that you have to buy a Halloween Horror Nights ticket on top of the Express Pass.
Get your Halloween Horror Nights ticket TODAY!
RIP Tour & Behind the Screams Tour
Universal Orlando offers tours of specifically the Halloween Horror Nights activities and the event.
They offer them R.I.P Tour for the evening during the event and a daytime tour, Behind-the-Screams: Unmasking the Horror Tour.
Behind the Screams Tour
The Behind-the-Screams Tour gives you a look at 3 or 6 houses during the daytime with the lights on which is honestly a great option for solo travelers.
It'll allow you to marvel at how the houses operate and ultimately appreciate how they operate with guests during the event's operating hours.
Unmasking the Horror Tour starts at $119.99 plus tax depending on the day. Your park admission is NOT INCLUDED nor REQUIRED. However, if you want to visit the park after your tour, you will have to purchase a theme park ticket.
R.I.P. Tour
The R.I.P Tour is the most popular as you have the option for a regular and private tour with a V.I.P guide.
This walking tour gives you priority entry to every house. With the private tour, you get unlimited priority entry to all houses for up to 10 people.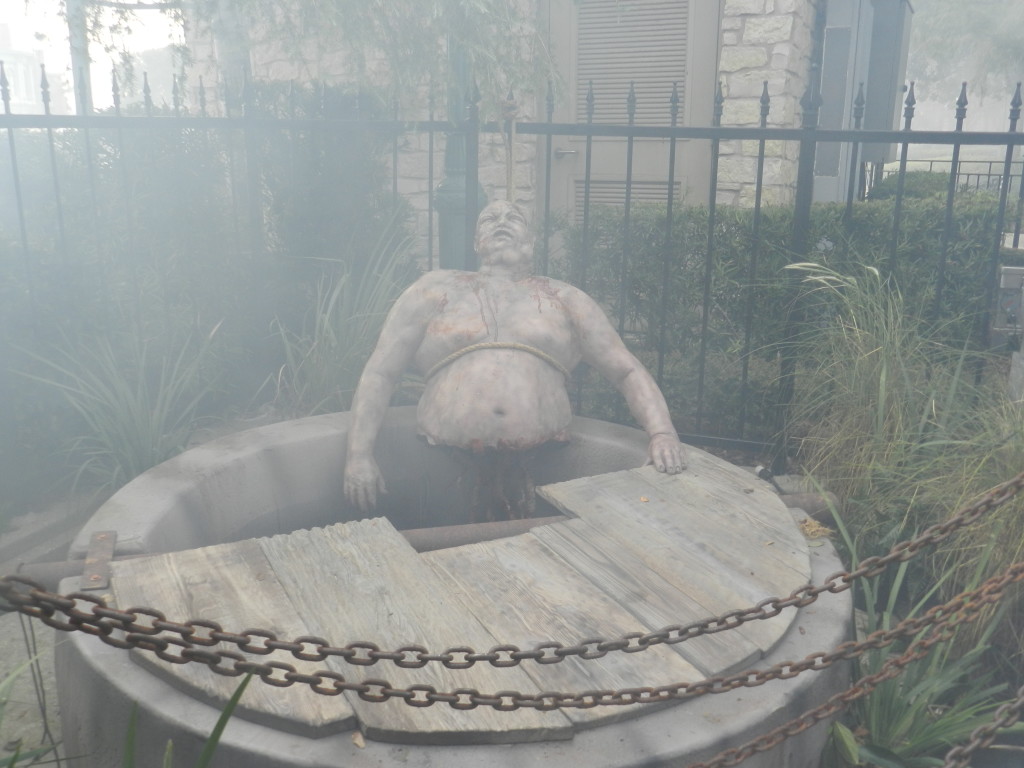 Since you are more than likely traveling solo, I would only recommend the private tour unless you want to truly "treat yo self" for your first experience.
Otherwise, doing a regular R.I.P tour would allow you to have the ability to not be entirely alone while still getting through some of the best houses with priority access.
R.I.P. Tour starts at $319.99 plus tax depending on the day and you will need to purchase a Halloween Horror Nights ticket as well. To book, you must call 1-866-346-9350.
Stay and Scream
The Stay and Scream is an offering where you can enjoy Universal Studios Orlando during the day and stay in the park when they close it to regular guests without Halloween Horror Nights tickets at 5 p.m. to prepare for the event.
This allows you to enter the event before the gates are open to everyone else who doesn't choose the option as they won't be allowed to enter until the event starts.
You will need a Universal Orlando AND a Halloween Horror Nights ticket to do this option.
How does Stay and Scream work?
The Team Members begin placing these guests in holding areas around 4 p.m. so getting there early is best if you want to hit up the most important houses on your list.
As of this post, they have not made any announcements yet about it, but there should be one coming shortly.
Making this note, I would advise you bring a mobile charger that will hold you over for the entire day as you may be using the app and your phone quite often.
Ready to start planning your next Universal Orlando vacation? Listen to the latest podcast episode on Apple or on your non-Apple device now!
7. Watch the Scary Movies Before You Go to HHN
Over the years, beginning with Halloween Horror Nights 17, Intellectual Properties (IPs) have been used to attract and draw in fans of horror.
The 17th year introduced Freddy Krueger of Nightmare on Elm Street, Jason Voorhees of Friday the 13th, Leatherface of The Texas Chainsaw Massacre and Michael Myers of Halloween.
Just note that the later has been confirmed to have a returning house to this year's Halloween Horror Nights.
Multiple Returning Fandoms From the Past
There has been several years in a row where "The Walking Dead" has been featured as either a scare zone or house.
We as horror fans have enjoyed Universal bringing IPs that we have seen on the big screen to life.
Watching movies before your visit helps you truly enjoy walking through and experiencing the horror first hand. Especially as a solo traveler.
For this year, we were excited to see one of the first big house announcements from the popular Stranger Things, The Last of Us and Chucky!
Watching these eerie tales allows you to appreciate and better understand what you are walking through as you go through the house it's based on.
This in turn allows you to join in on the fun and feel as though you are part of the story.
IPs have been a fun and a welcome addition along with the mix of original tales that Universal has brought us over time.
8. Know the Best Times to Go to HHN (and the Cheapest Prices)
With these tips in hand, you'll need to know the best times to visit HHN.
As with all my holiday advice, the closer to the holiday you are, the more crowded it will likely be and more money you will be more likely to be spending.
You will be better off visiting in September than October as you will face less crowds and have more money in your pocket.
The event begins September 1st and ends on November 4th 2023.
To also save more money, I would avoid going on a Saturday. Saturdays are about $20-$25 more than the cheapest days, which are Sundays or Weekdays.
It is interesting to note that Halloween is on a Tuesday this year and therefore one of the cheaper days to go, but it will still be crowded so you'll have to balance that decision.
Sundays and weekdays generally are $80-$85 plus tax while Fridays and Saturdays are generally $100-$129. You will tend to get into the $90 range on Saturdays.
For a no obligation, FREE Universal Vacation Quote, you can fill out the form with The Park Prodigy by Clicking HERE!
Wrapping Up Your Solo Guide to Halloween Horror Nights
As I bring your frightful journey to a close, I hope this guide will bring some comfort to you, our solo traveler reader, and allow you to feel much more prepared to face anything that Universal can throw at you.
I will leave you with one last personal tip for going alone to Halloween Horror Nights.
Universal has amazing alcoholic beverages and I would never say no to drinking a little bit to ease the nerves.
However, this tip is only for those who know their limits as this writer understands that some have personal reasons to not drink.
Ultimately, Halloween Horror Nights solo is a fun place to make new friends and get an adrenaline rush from being spooked! And this year will be a memorable time to go.
Have courage, be brave and I hope to see you there! What tips would you tell a fellow traveler who wants to go to Halloween Horror Nights solo? Share with us in our Facebook group!
Until next time, Happy Park Hopping Hipsters!
If you enjoyed this article, then you'll love these:
(Original Article Date Published on August 7, 2022/Updated by Editor on July 17, 2023)