During a recent solo trip out to Disneyland Resort to later meet with a friend, I was given a chance to stay at the Howard Johnson Anaheim Hotel and Waterpark right down the street from the Resort!
The Disneyland Resort suffers from being surrounded by off property resorts, highways, restaurants and tourist traps.
Walt despised the fact that Disneyland's success caused businesses to flock to the area and essentially entrap them, not to mention the ongoing battle with the city of Anaheim to expand isn't helping.
At the same time, over the years, Disneyland has made it a premium or lower/middle class families and solo travelers alike and so some have had to make the choice to go to good neighbor hotels nearby.
There are so many options in the area to choose from though, how do you decide?
Disney made it a bit easier with their "Good Neighbor " hotel program that features hotels vetted and approved by Disney themselves to stay with based on a specific criterion.
Fortunately, Howard Johnson Anaheim Hotel and Water Playground is among the Good Neighbor Hotel list and I'm excited to share what they offer and my experience.
THIS POST MAY CONTAIN AFFILIATE LINKS. PLEASE READ MY DISCLOSURE FOR MORE INFO. Which means if you click on certain links, I may receive a small commission at no additional charge to you.
Today, I will be touching on the following:
Hotel History
Location
Amenities
Room Types
Review and Overall Experience
NOTE: I was given the media rate as part of Howard Johnson (HOJO) Anaheim hotel's influencer program. With that being said, this will be genuine review of my experience.
Brief History of the Howard Johnson Hotel Near Disneyland
HOJO Anaheim started out in 1925 as an ice cream counter in a pharmacy. Eventually, the iconic orange roofs became synonymous with relaxing pools and a great place to rest your head.
This location especially was a big deal when it opened in 1965 because it was the first HOJO property on the west coast! It opened 10 years and one day from Disneyland's opening.
The designer of the Howard Johnson Anaheim Hotel, Famed architect William L. Pereira, also did the design for the Disneyland Hotel and was a friend of Roy and Walt. It's also great to mention that this hotel had the very first trolley shuttle to Disneyland and was the first hotel to join the Good Neighbor Program.
The hotel gained popularity in the 1960-70s and to this very day, it still wins awards. Amongst them being the Architectural award for "Best Public Space" due to its gorgeous, landscaped grounds, vaulted ceilings and futuristic designs.
As of late, it's a five time award winner of Trip Advisor's "Top 25 Hotels for Families in the United States" and Travel + Leisure magazine's "Most Comfortable Hotel Beds in the US."
Get Your Discounted Disneyland Tickets here!
Where's the Howard Johnson Hotel Located?
One of the biggest perks about this hotel was the close proximity to Disneyland! The hotel is located at this address:
1380 South Harbor Blvd. Anaheim, Ca 92802
I know some hotels say they are fairly close to big tourist destinations, but this one really is!
I simply crossed a street and walked about 7-8 minutes to the next stoplight, made a right and I was on the Disneyland property! From there, it took me 1 minute to get to the security checkpoint and I was right at the entrance to both parks!
That is a big perk for solo travelers who will do full park days or for families for sure! This is a big money saver from Uber/Lyft options.
Hipster Power Tip: My rideshare from LAX (Los Angeles International Airport) to the hotel was about $50 whereas going back to the airport was about $70. Something to keep in mind.
Amenities at Howard Johnson Anaheim Hotel and Waterpark
HOJO Anaheim Hotel features quite a few amenities including a 24-front desk complete with respectable, polite and amazing staff! They are there to assist you with any needs to help you more comfortable during your stay and concerns too.
Wi-Fi
Free Wi-fi is available in all rooms and public areas and there is a small business center with printing services.
Arcade
HOJO Anaheim features a game room, which is closed as of this post due to the protocols of the pandemic.
Parking at the Howard Johnson Anaheim
Parking space for hotel guests only is plentiful and you will get a parking permit upon check in. Only one car per room is allowed at $20 a night plus tax during your stay.
If you plan on bringing an RV or oversized vehicle, there won't be a big enough space for it in the lot.
Shuttles
There is two-coin operated laundromats on property, a shuttle stops and waiting area for those waiting for rideshares for airport rides and such.
Pools and Shopping
There's also the Garden pool, the hotel's quiet pool surrounded by lush gardens and shady trees.
Near the main building is the Main St. Market, where you can grab food items, including beer and wine, souvenirs and sundries, and much more!
Dining Options
Speaking of Dining options, Mimi's Cafe Restaurant, located right next door, serves up yummy familiar American style food with New Orleans atmosphere.
The menu has a wide variety of food options and is available for breakfast, lunch and dinner. Other dining options include McDonald, IHOP, Panera Bread, Denny's and The Pizza Press.
Room Types at the Howard Johnson Anaheim Hotel and Waterpark
At HOJO Anaheim Hotel, there are four room types:
Standard
Deluxe
Premium
Suites
There are accessible options for every type, so not to worry there!
For Standard, you have the choice of 1 King ADA or 2 Double beds. With Deluxe, you have the choice of 2 Queens ADA B2, 1 King, 1 Queen/Jr Bunk and 2 Queens B1 and B2.
For Premium, your options are Queen Bed only including 1 Queen/Bunk ADA, 2 Queens and the 2 Queens/2 Room bundle. Finally, if you decide upon a suite, you have the options of King, Queen and Kids Suites.
In fact, the hotel recently unveiled their latest themed suite, "House of the retro future" suite, which will be available for guests to book sometime this summer. Just in time for your visits to Disneyland!
More details will be coming soon! In the meantime, to peek at what each room offers guests' specifically, click here.
My Review and Overall Experience at the Howard Johnson Anaheim Hotel
To start, check in was very efficient and smooth. The staff were very gracious, welcoming and kind. They explained where everything was and walked us through all our questions.
I had issues with the card I used to pay briefly, but it was resolved very quickly.
As a note, you have to pay your remaining balance upon check in. You can't pay your remaining balance online or over the phone.
A Room with a View…
I was located in the building right next to the lobby and I booked a Theme Park View room, so naturally I was put on a high floor to make sure I got great views.
I was genuinely impressed at the room. It featured the famous vaulted ceiling that I mentioned earlier with an arched window at the top. It allowed for loads of bright, California sunshine to come through without directly waking me up every morning.
My view gave me a direct look at Matterhorn Bobsleds in Fantasyland, a brief look at the iconic roof of Space Mountain and a lovely look at the Disneyland Monorail featuring Mickey Mouse as it chugged along to its destination.
My balcony allowed for a nice cup of morning coffee while taking in the sights. I could also look down and see the waterpark!
Room Tour
My room boasted a hi definition television with streaming capabilities, plenty of drawer and closet space, a small dining area with an in-wall bench. I loved the amount of light that was provided with the lamps in the wall and outlets too to charge all of the devices without having to take turns.
The 2 Queen beds provided were soft, clean and majorly comfortable! It had a mini kitchenette with cups, coffee (which wasn't great, but its hotel coffee so what do you expect?), tea and a Keurig.
The bathroom was absolutely lovely too! The water pressure was just right for me personally but I didn't have anything in the shower/tub to stop me from slipping.
I had to ask for extra towels to make sure I didn't slip when leaving the shower because there weren't any curtains, and the water would make a small mess. But the vanity mirror was absolute perfection for makeup removal and placement.
Complimentary toiletries and hair dryer was included too, which came in handy towards the end of the stay.
The Not-So-Good Side of My Experience
My only complaint I had was the reservation system for the waterpark and pool. I was told prior to the visit that I had to reserve a time to go to the pool.
Unfortunately, my reservation got cancelled suddenly and I had a limited window for my trip, so I never got to enjoy the waterpark or Garden pool.
So, I made use of the Main St Market and loved that I could get quick food to go on the way to and from Disneyland if I didn't feel like paying for overpriced food. In fact, on my first night, I stopped at the McDonalds that was on the way! There was also a Panera bread too.
Overall, my stay was extremely comfortable, convenient and relaxing. I was not ever concerned about safety, physically or with the pandemic during my stay here.
Final Thoughts About the Howard Johnson Anaheim Hotel and Waterpark
The Howard Johnson Anaheim Hotel has so much to offer historically with its great connection to Disneyland.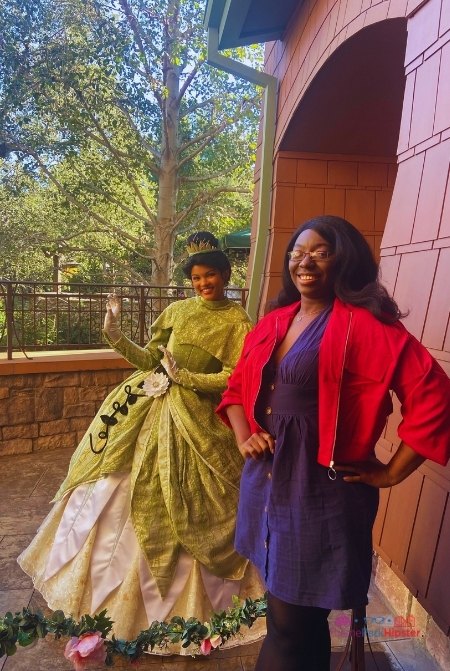 Between its perfect location to Disneyland, being budget-friendly for families and solo travelers, having a commitment to guest comfort and safety, and its numerous awards, it's no wonder it's been called "The other Disney hotel" since the 1960s.
As a seasoned Authorized Disney Travel Agent, I would highly recommend this hotel to our readers, especially since it's a part of the Good Neighbor program. And even when you book now, you can save up to 15% when you book here!
Would you consider staying here during you Disneyland trip? Let us know in our Facebook Group!
Until next time, Happy Park Hopping Hipsters!
About the Author