Have you ever thought about going to Busch Gardens alone?
At the Roller Coaster Capital of Florida, Busch Gardens Tampa Bay, I will show you how to have the perfect solo trip.
But I know that many people may think going solo to a theme park is extremely weird.

There are so many perks of going solo to a park like Busch Gardens.
Today I'm going to give you 11 of my proven tips to help you have the best solo Busch Gardens trip ever!
THIS POST MAY CONTAIN AFFILIATE LINKS. PLEASE READ MY DISCLOSURE FOR MORE INFO. Which means if you click on certain links, I may receive a small commission at no additional charge to you.
What to Expect at Busch Gardens Tampa Bay
When approaching the park gates, you will see nothing but a sea of roller coasters.
That's one of the features that we really really love here in Florida about the Busch Gardens theme park.

Once you walk inside, you will be transported into a small African-themed village that is a perfect place to start your solo trip.
Here you'll enjoy the music of the African beats and drums as you also see and hear the noises of gift shop owners ready to sell you that latest theme park fashions.

The addition of Tigris and the addition of Iron Gwazi, has taken Busch Gardens to the next level!
Traveling to Busch Gardens solo is NOT scary!
Do you think people will notice that you ARE alone OR do you think you're super super weird for going to Busch Gardens by yourself?
Absolutely not. DO NOT let the fear stop you from experiencing an incredible Tampa destinations such as Busch Gardens.
So, are you ready to get outside of your comfort zone?
For a Solo Theme Park Traveler such as you, all you need is your smart phone, courage, and a great amusement park podcast to get your solo trip started.
Get Your Busch Gardens Tampa Bay Tickets Today! CLICK HERE.
11 Beginner Tips for Your Solo Busch Gardens Tampa Bay Trip
Now that you know why it's easy going to Busch Gardens alone, let's go through my top tips for you!
1. Take Baby Steps with Solo Travel
Solo travel or doing things such as dining alone in restaurants can be kind of intimidating. I get it!
If you have never done anything by yourself alone before (even you don't like to go shopping by yourself), then I recommend starting small.
You can start small by either visiting a local carnival or amusement park by yourself for a couple hours. I suggest you do this just to get the feel of traveling alone.
You can also practice by dining at a bar area (if you are of age) by yourself to see if you can really do this.
Read Next: Groupon Busch Gardens: Money-Saving Travel Deals You Must Get TODAY!
2. Plan Out the Type of Day You Want to Have for Your Solo Busch Gardens Trip
Having a game-plan can make can help ease the stress of taking that first step in the park alone.
I say this because when you have a plan, your mind is occupied on making sure that you get those things checked off your list.
However, if you can't go there with a plan, you're not only trying to figure out what you want to do at this park, you'll be wondering if you are even doing the best things at Busch Gardens.
So, have a plan because having a plan will get you to all the things you want to do and help you have a memorable day.
3. Have Your Busch Gardens Itinerary Ready
In addition to mapping out your day, you should have a written itinerary or at least an idea of some of the things you want to do and cannot miss at Busch Gardens.
Take a look at my sample Busch Gardens itinerary below.
Plan to arrive prior to the gates opening.
Check out the famous Florida gators in Morocco.
Enjoy a stroll on the Edge of Africa or in the Myombe Reserve to relax.
Take the Skyride over to the middle area of the park.
Conquer Tigris!
Have lunch at Zambia Smokehouse.
Ride Stanley Falls.
Conquer the Congo River Rapids
Ride Kumba.
Experience the Sand Serpent Roller Coaster.
Grab a delicious pretzel and beer at Twisted Tails Pretzels.
Ride the NEW Serengeti Flyer!
Catch up on any park shows that you want to watch.
Have Dinner at Chick-Fil-A
Keep in mind that Tigris is one of the newest additions, so you'll want to do this roller coaster on your visit. Also, you MUST ride Gwazi! It is NOW open at Busch Gardens Tampa.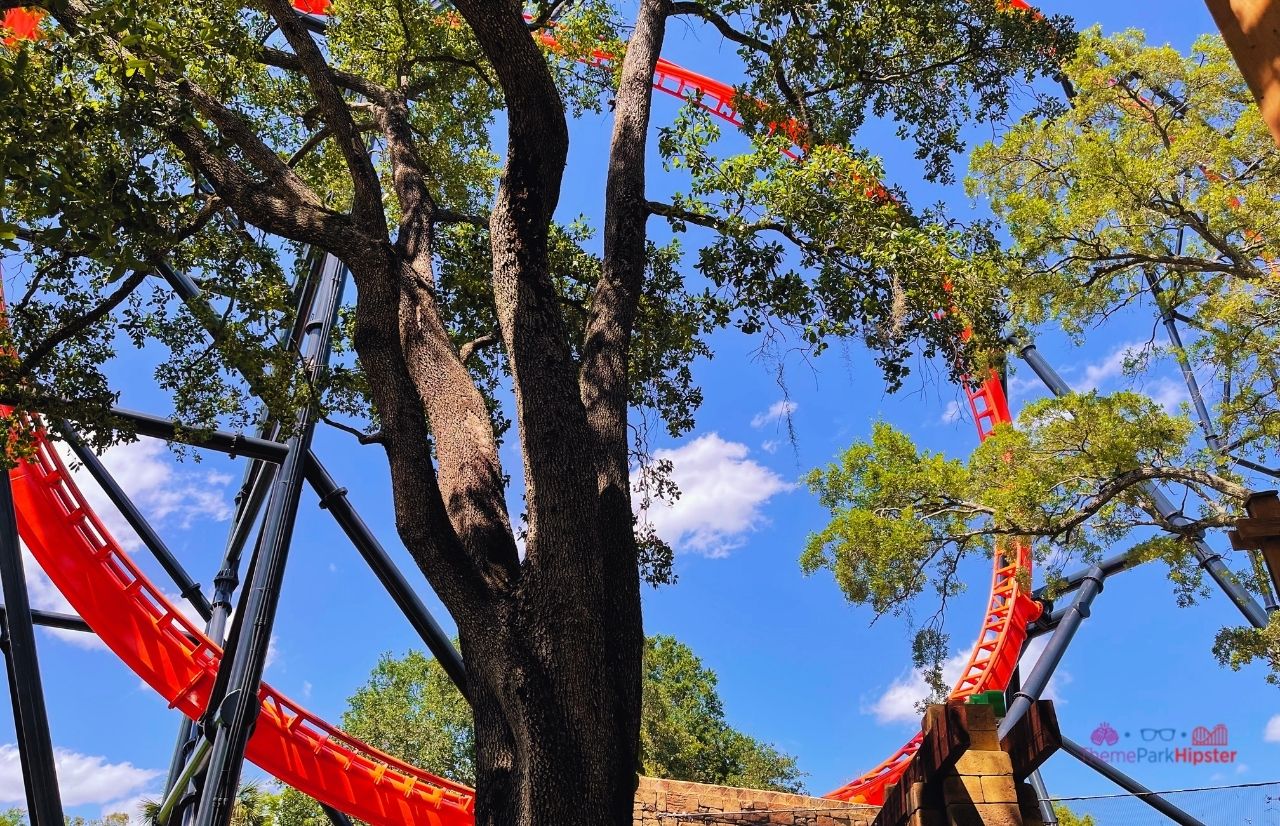 Now if you don't know what this roller coaster is going to have a store, take a look at one of my Cedar Point epic coasters called Steel Vengeance.
Read: How to Skip the Lines at Busch Gardens Tampa Bay
4. Purchase the All-Day Dining Deal
If you are not familiar with the SeaWorld Entertainment Parks, then you may not be aware that you can purchase an All-Day Dining Plan which basically means that for one low cost, you can eat all day during your visit at various locations.
This is the best deal if you are thinking about eating more than once at Busch Gardens. One meal averages about $15-$20 per person.
And with this deal you cannot only eat all day for "kind of free," you can try things that you may not have tried before since this option gives you so much variety.
This is one of my favorite things to do at Busch Gardens on my solo adult trip.
5. Ride All The Roller Coasters
If you're not a roller coaster fan, then go ahead and skip this tip. But if you love thrills, then you must conquer every roller coaster at Busch Gardens.
As I said with the latest addition at this park, then you will know that Busch Gardens Tampa Bay is the Roller Coaster Capital of Florida. Yes you read that correctly here ThemeParkHipster.
This is an amazing way to take away the stress of solo traveling.
But don't worry about what's going to happen while you're on a roller coaster, just enjoy yourself as those memories are priceless!
Read: Busch Gardens Tampa Bay Complete Guide for Beginners
6. Discover All Of The Animal Encounters
Busch Gardens Tampa Bay has some amazing animal care teams there along beautiful animal creatures for you to explore and discover.
Not only are these one-of-a-kind animals, you'll enjoy the relaxing observation environment that helps you get lost in all the magic that Busch Gardens Tampa has to offer.
Get up to 35% off of your Busch Gardens Tampa Tickets with Groupon TODAY!
7. Explore All The Unique Areas Of Busch Gardens
Busch Gardens Tampa is a 335-acre theme park divided into African-themed regions:
Edge of Africa
Egypt
Congo
Bird Gardens
Jungala
Morocco
Nairobi
Pantopia
Cheetah Hunt Area
Sesame Street Safari of Fun
Serengeti Plain
Stanleyville
Be sure to explore each area on your solo Busch Gardens trip!
Recommended: The Solo Theme Park Traveler's Guide
8. Don't Be Afraid To Socialize
If you do not know me, you may not realize that I am an introvert at heart. It takes a lot of effort for me to meet new people.
Even when I am in crowds of people, I still have to come back home and re-energize myself from all of the things I had to do to get outside my comfort zone just to socialize.
Does that sound like you too?
I am not asking you to go out there and make best friends, but speak to the Team Members that you may be passing by.
If they're sitting there looking bored, just go up to them and talk about the most epic experience you had on Cobra's Curse.
You never know what kind of friends you may meet along the way.
You can also join the ThemeParkHipster Solo Traveler Community here on Facebook and let us know that you will visiting your first theme park alone.
We may even be available to come meet you and just say hi because we're all on this solo journey together.
Plus, we want to make sure that you the best day ever on your first trip to Busch Gardens alone.
Join the Conversation on the Solo Theme Park Traveler's Community on Facebook!
9. Know The Reasons Why Going To Busch Gardens Alone Is Amazing!
This is your trip, so you get to decide what you want to do (of course within legal limits)!
10. Know What To Pack for Busch Gardens
Knowing what to wear and how to be comfortable during your day is also vital for visiting this park.
If you are wearing loose-fitting shoes, you should leave them at the loading platform on rides such as Montu.
Any other loose articles can be placed inside any locker located throughout the park.
What should I pack for Busch Gardens?
Sun Protection
Water
Hand Sanitizer
Phone
Read: 21 Top Theme Park Packing List Items (Solo Amusement Park Tips)
11. Do a VIP Tour at Busch Gardens
Many people do not know that Busch Gardens offers an array of tours from up-close animal encounters to one-on-one VIP park tours.
This is something that is a great way to ease yourself into solo travel because you will have someone to walk you through the whole park.
Ready to plan your theme park trip? Watch the best vacation planning tips on YouTube. Get started here!
My Final Thoughts on Traveling to Busch Gardens Alone
You shouldn't feel intimidated about taking a solo trip. I want you to feel empowered and excited.
If if you have to call someone every hour on your trip (just to feel like you're on the phone so nobody thinks you're by yourself), then go ahead and do that.
As long as you're taking that courageous leap of traveling alone.
Are you ready to take on Busch Gardens alone? If so, let us know in the comments section below!
Until next time, Happy Park Hopping Hipsters!
NikkyJ
UP NEXT: Busch Gardens Pass Member Perks You Must Know!
(Original Article Date: December 10, 2020/Updated on May 30, 2023)