Universal Studios is fun at any time of year, but during Mardi Gras, there is an extra sense of celebration and colorful joy throughout the entire park.
If you are considering going, continue reading for everything you need to know to make the best out of your trip.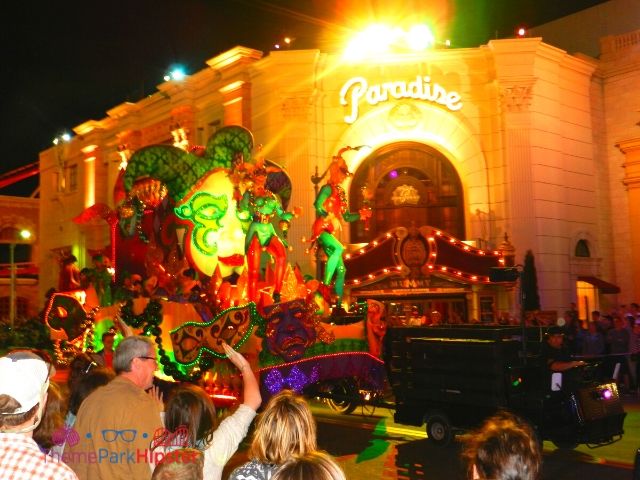 Origins of Mardi Gras
Mardi Gras, also known as Fat Tuesday, is a tradition started by Christians to celebrate the last day of eating before Lent, a time of fasting.
Today, people with various religious backgrounds celebrate it as a day of fun, celebration, and, of course, eating.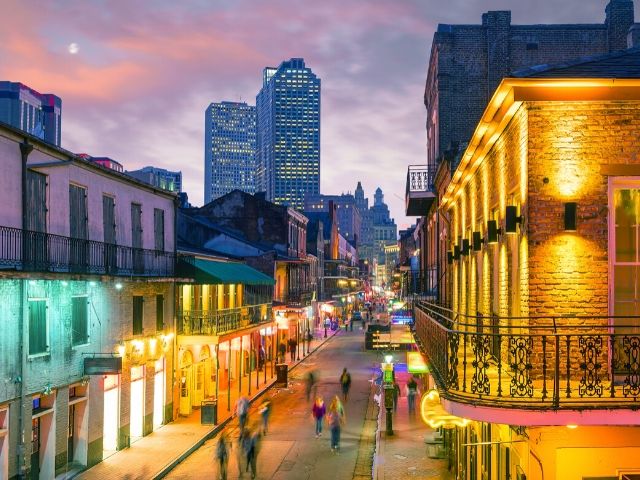 One of the biggest authentic Mardi Gras celebrations in America is in New Orleans.
During Mardi Gras, the streets of New Orleans turn into a festival complete with lots of colors (mainly purple, green, and gold), food, drinking, music, and entertainment.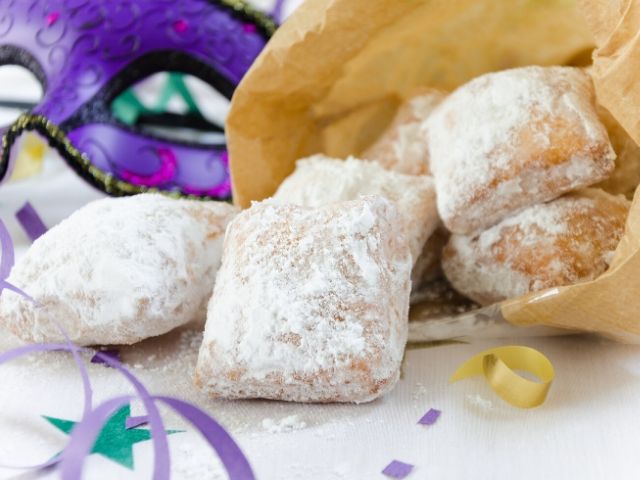 Universal Studios emulates the classic New Orleans' street parties in a family-friendly way that everyone can enjoy.
For a no obligation, FREE Universal Orlando Vacation Quote you can fill out the form with Destinations in Florida by Clicking HERE!
How did Mardi Gras start at Universal Studios in Orlando?
Believe it or not, this festive event evolved from the annual Halloween Horror Nights at Universal Studios.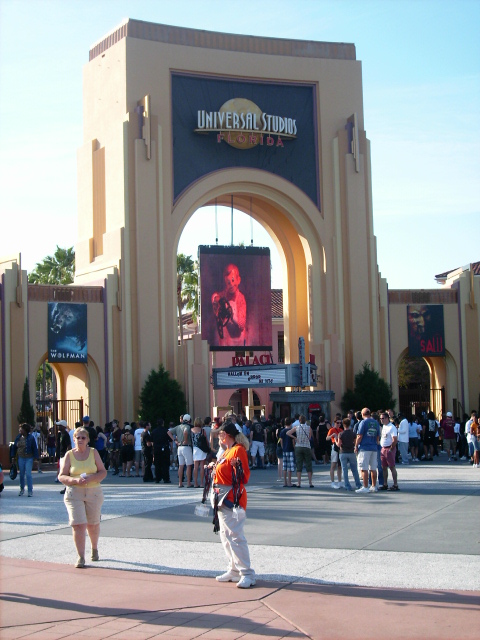 During the second year of the haunted event, Joseph Curley, Universal Studios Florida PR Manager at the time, stated that the 1992 year would be like Mardi Gras in New Orleans.
From that initial statement, Mardi Gras would go on to make its official debut at Universal Studios in 1995.

Now that you understand how Mardi Gras landed at Universal, let's go over what you can expect at this epic celebration.
Read: The Ultimate Guide to Halloween Horror Nights
Visiting Universal Studios Orlando Mardi Gras
This year you can enjoy the magic of Mardi Gras at Universal Studios from February 1st to April 2nd of 2020.
Every night there will be a street parade full of awe-inspiring street performers decked out in colorful costumes with sparkles, feathers, and beads, and performances by authentic New Orleans' musicians.
Plus, delicious replicas of the same Cajun food you would eat if you went to The Big Easy.
The best part is, all the celebration (except for the food) is included in your purchase of a park pass, whether you bought one just for the day, a seasonal pass, or an annual pass.
The Parade
The Mardi Gras parade is the main attraction of the Universal celebration, and you do not want to miss it!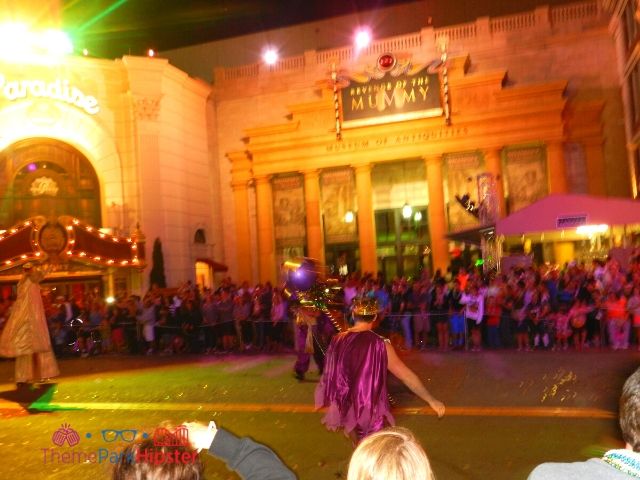 This colorful, high-energy parade is full of floats, street performers, and costumed revelers throwing beads and other goodies into the crowd.
You can sit anywhere along the parade route to enjoy the show.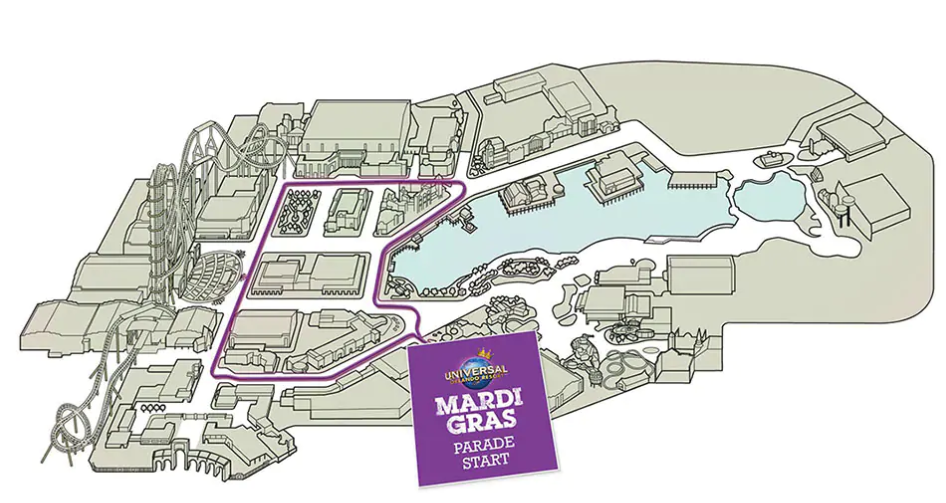 It will take about 15 magical minutes for the parade to pass by your spot, and then you can head off to any other adventures you have left for the day.
Parade times vary based on date, so here is a breakdown of the times:
5:15 p.m.
5:45 p.m.
6:00 p.m.
6:15 p.m.
February 9 – 10, 12-14, 17-19, 21, 23-24, 25 (Mardi Gras), 26-28
March 1, 3-6
7: 30 p.m.
March 9-12, 16-19, 23-27, 30 and 31
April 1 and 2
7:45 p.m.
February 1, 8, 15 -16, 22, 29
March 7 – 8, 13-15, 20-22, 28 – 29
Mardi Gras Food
Keeping to its name (Fat Tuesday), there is plenty to eat in Universal Studios throughout the entire two-month celebration.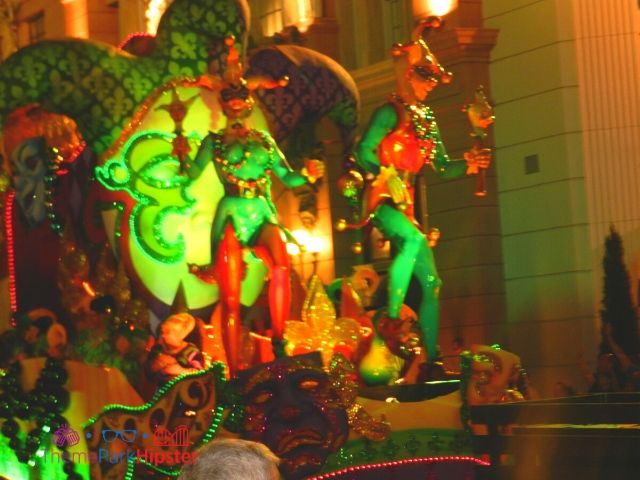 Opening at four every night of the celebration, the French Quarter Courtyard is full of classic. Cajun options such as jambalaya cooked just like you would get it in New Orleans.
Everything you find will be lip-smacking good!
NEW Carnival Around the Universe Tasting Tent
Instead of eating your way around the world at Epcot, you can experience Universal's own take of this food adventure inspired by carnivals worldwide.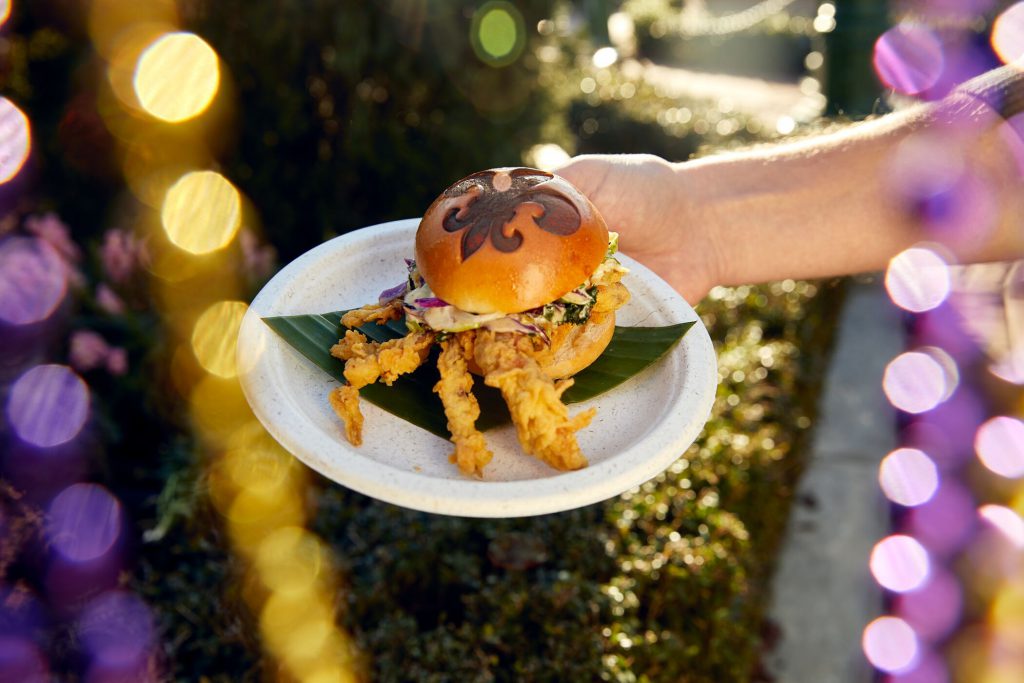 Week 1 and 2 (Feb. 1 – Feb. 15) will feature cuisine from Trinidad & Tobago:
Grilled Pineapple Trini Chow: Topped with kimchi seasoning and micro cilantro (Plant-based)
Pholourie: Fried spicy split pea dough with turmeric, curry powder and a tamarind chutney (Plant-based)
Chickpea Double: Chickpeas served on a spicy bara flatbread with micro cilantro and mango chutney (Plant-based)
Week 3 and 4 (Feb. 16 – Feb. 29) will feature Louisiana Creole cuisine:
Softshell Crab Slider: Crispy softshell crab topped with organic vegetable slaw and served on a soft brioche roll with bayou aioli
Cauliflower Dirty Rice: Riced cauliflower with Gardein crumbles, Black eyed peas and Cajun spices (Plant-based)
Pecan Street: A specialty cocktail with pecan vodka, caramel and apple cider
Week 5 and 6 (March 1 – March 14) will feature Brazilian Carnival cuisine:
Pão de Quiejo: Traditional warm cheese bread with a guava dipping sauce
Sugared Sweet Plantains: Covered in cinnamon and sugar and served with banana poppy seed dipping sauce (Plant-based)
The Girl from Ipanema: A specialty cocktail featuring gin, lime, orgeat syrup, coconut water and pineapple simple syrup
Week 7 and 8 (March 15 – April 2) will feature cuisine from Germany:
Sauerbraten: Slow braised beef, buttered Spaetzle, and pickled red cabbage topped with a savory red wine sauce
Grilled Bratwurst: Served on a potato pancake with whole grain mustard and sour cream and chives
Warm pretzel
Other Festival Foodie Adventures to Discover
Just in case you thought those were your only New Orleans inspired treats to try, there are also other delicious dishes available throughout Universal.
'Float Floats' at Schwab's Pharmacy:
Mardi Gras Float: Pineapple and lime soft serve with grape soda, blueberry Boba and a waffle cone flag
Shipwreck Float: Pineapple and chocolate soft serve with pineapple soda, cotton candy and a waffle cone flag
Sunken City of Atlantis Float: Vanilla soft serve with wild berry soda, mango Boba and a gummy shark
New Specialty Cocktails and Non-Alcoholic Beverages:
High Seas Twister: Rum, blood orange liqueur, and watermelon juice
The Bourbon Street Punch: Bourbon, orgeat, coconut puree and orange juice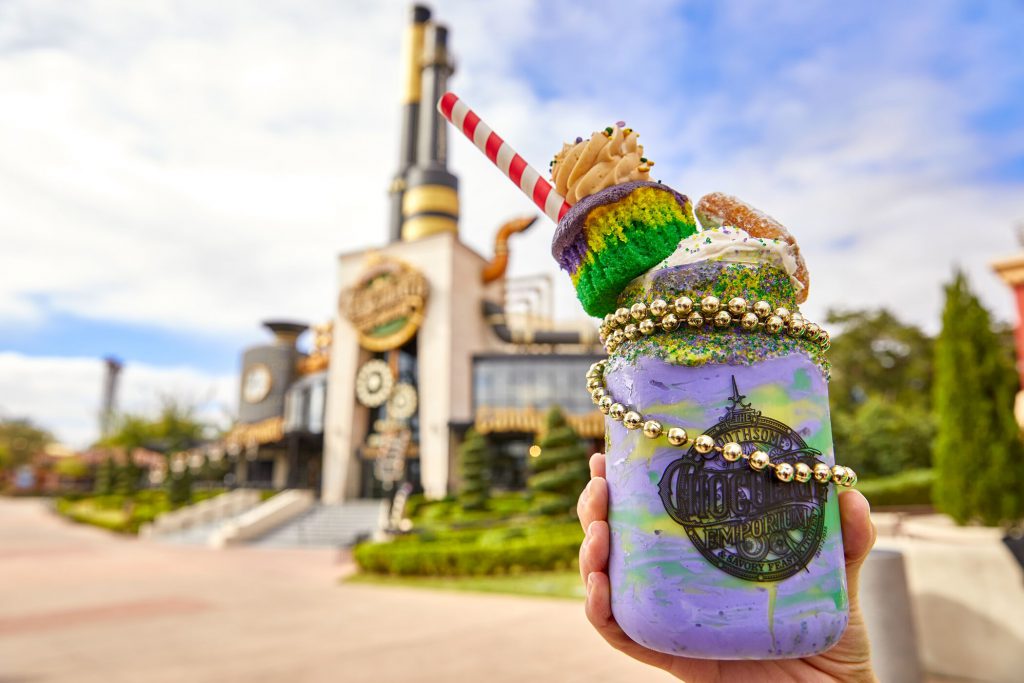 Universal CityWalk Offerings:
At Voodoo Doughnut: Yeast doughnut filled with cinnamon sugar Bavarian cream and topped with vanilla glaze and sprinkles inspired by the iconic Mardi Gras colors
Toothsome Chocolate Emporium & Savory Feast Kitchen: The French Quarter artisan milkshake (king cake, cream cheese crema and pastry cream topped with king cake and a beignet)
Cocktails: The Jester at the food and beverage carts, Voodoo Doctor at Bob Marley – A Tribute to Freedom and Masquerade Martini at The Cowfish
Read: Top Pro Tips for Visiting Universal Studios Florida
Bayou Boil
On select nights you can take part in a fish boil (or chicken and sausage if you are not a fish fan) on the following nights:
February 1, 8, 15, 16, 22, 29
March 7, 8, 13, 14, 15, 20, 21, 22, 28, 29
You have to make a reservation for this event. The times start at 2:45 p.m. and last an hour each.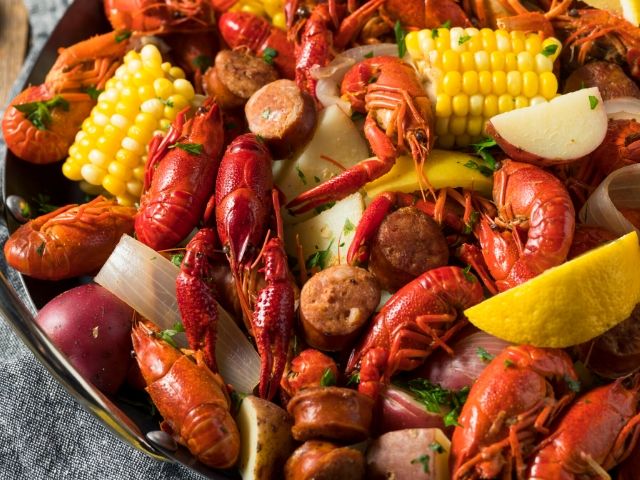 With a reservation to the Bayou Boil, you also get access to a special parade viewing area where you can watch the parade while eating King-cake, beignets, and both non-alcoholic and alcoholic beverages.
Mardi Gras Feast and Floats Dessert Party
If you have a sweet tooth, it may be fun to partake in the Mardi Gras Feast and Floats Dessert Party.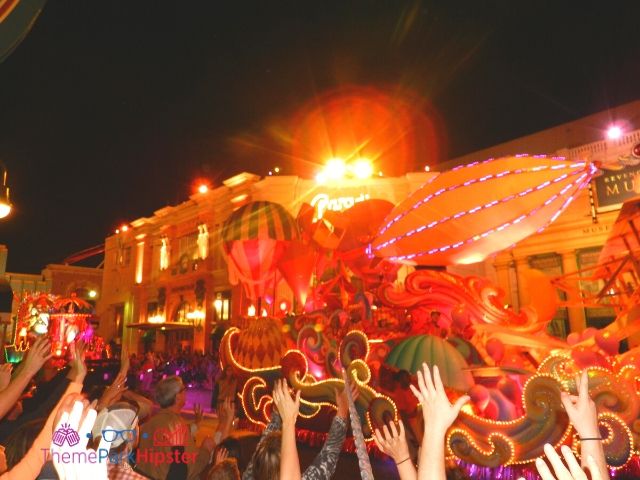 During this event inside Cafe La Bamba, you will spend an hour before the parade eating specialty desserts and drinking sparkling wine, sparkling cider, or a variety of non-alcoholic drinks.
Afterward, you will have special viewing to both the parade and the Cinematic Celebration in Central Park while you sip on decadent non-alcoholic drinks.
This party takes place on the following nights:
March 9, 10, 11, 12, 16, 17, 18, 19, 23, 24, 25, 27, 30, 31
April 1, 2
5 Easy Tips and Strategies for Mardi Gras at Universal Studios Florida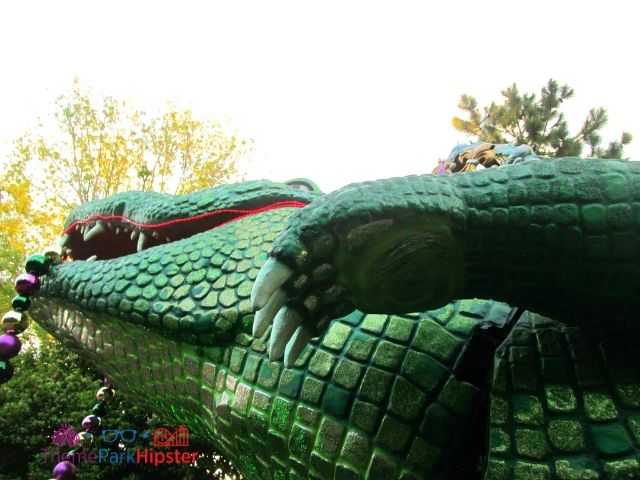 Now that you know what to expect from this Cajun celebration, let's go through ways to make the most of your time there.
1 – Share and Sample
There are so many delicious Cajun foods to try out during the Mardi Gras celebrations at Universal Studios, just like in New Orleans.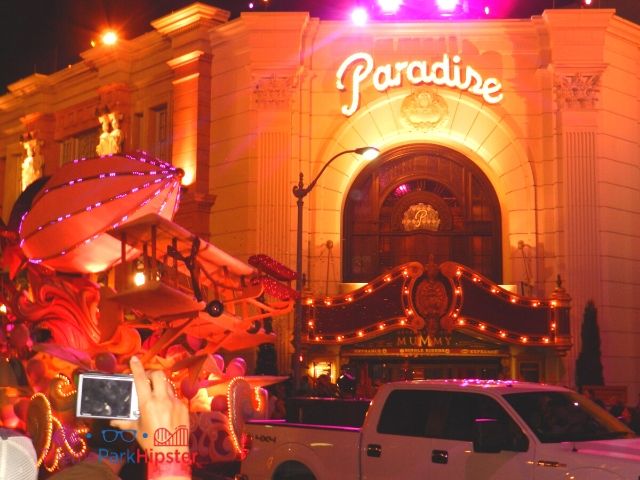 Most likely, you will want to try as many different cuisine options as you can, and full-size meals do not allow you to do that, so it is a great idea to share and sample.
If you are going with other people, you can order a single order (or a double order if there is a lot of you) of any menu item and share it between the group.
Do not worry if you are traveling alone; you can still sample with the best of them and try as many foods as your heart desires.
Back in 2019, Universal Studios began offering a Tasting Lanyard. For varying price ranges, you can purchase a Mardi Gras Tasting Lanyard.
With this lanyard, you can get a certain number of items (based on the price) in a sample size from the restaurants in the French Quarter Courtyard.
Additionally, if you go back for a second night, you can continue to use your lanyard from the night before if you did not use up all your samples.
Read: What to Pack for Universal Studios
2 – Plan Ahead Your Parade Spot
The later the time the parade starts, the more you have to strategize getting to your spot. Which spot you want really depends on what the rest of your night looks like.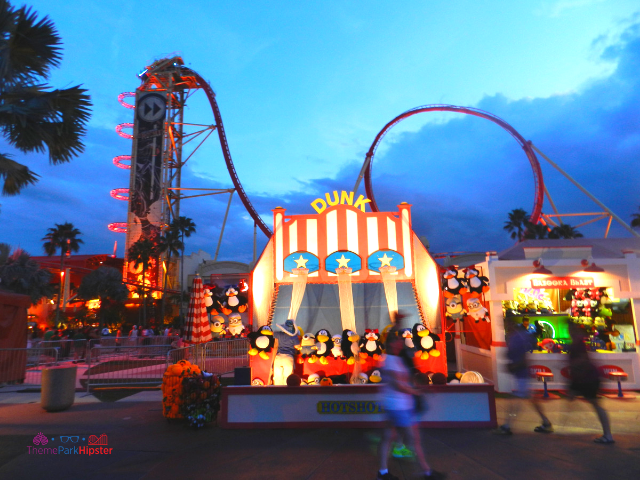 If you are planning to go to a concert right after, try to get a spot at the edge of the street by the Music Plaza Stage.
Beyond that, some of the best places are in front of the Mummy Ride, in an area reserved for families by the Brown Derby Hat Shop, and if you are a pass-holder, in front of Mel's Drive-In.
If you are banking on any of these spots, make sure you get there EARLY as the spots fill up fast.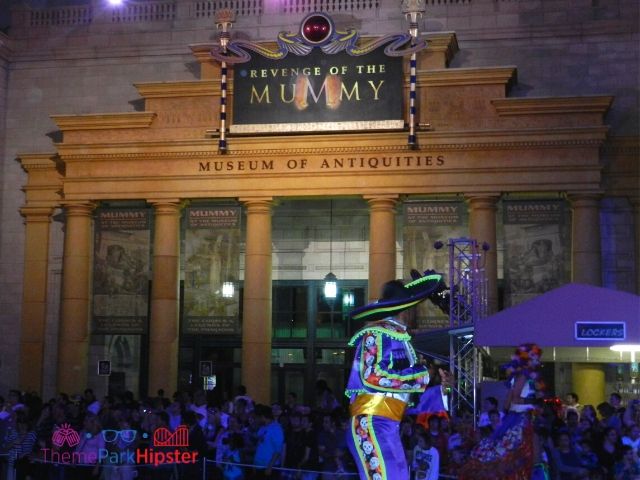 No matter where you are planning to watch the parade from, you want to try to get there at least 30 minutes early (earlier on weekends) and an hour if you have a larger group and want to sit upfront.
You may be able to find front row spots a little later if you are a small party or going solo, but you should still plan to get there early.
Read: How to Do Universal Studios in One Day
3 – Have Fun Interacting with the Street Performers
For a few hours before the parade begins, there are usually street performers out on the street.
Watching them perform and interacting with them can be a lot of fun.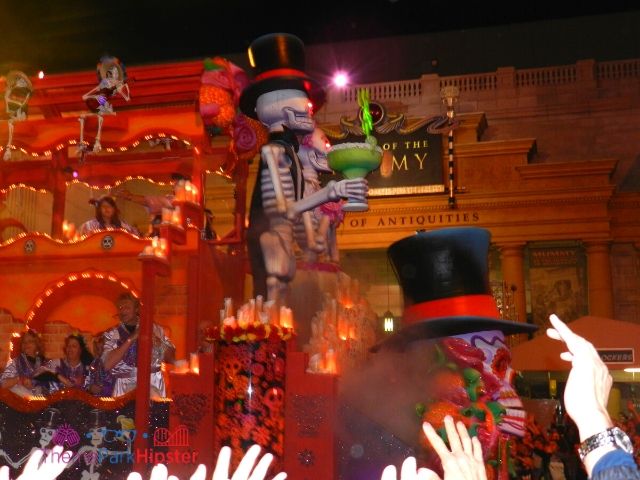 Additionally, if you are trying to save a coveted parade spot, they can provide lots of fantastic entertainment while you wait.
Furthermore, if there are musicians around, join in and dance to get the true feeling of Mardi Gras in New Orleans.
4 – Getting a Spot on the Mardi Gras Float in the Parade
Yes, it is true, you can get a spot in the parade if you are lucky.
The easiest way to do this is if you are a Passholder.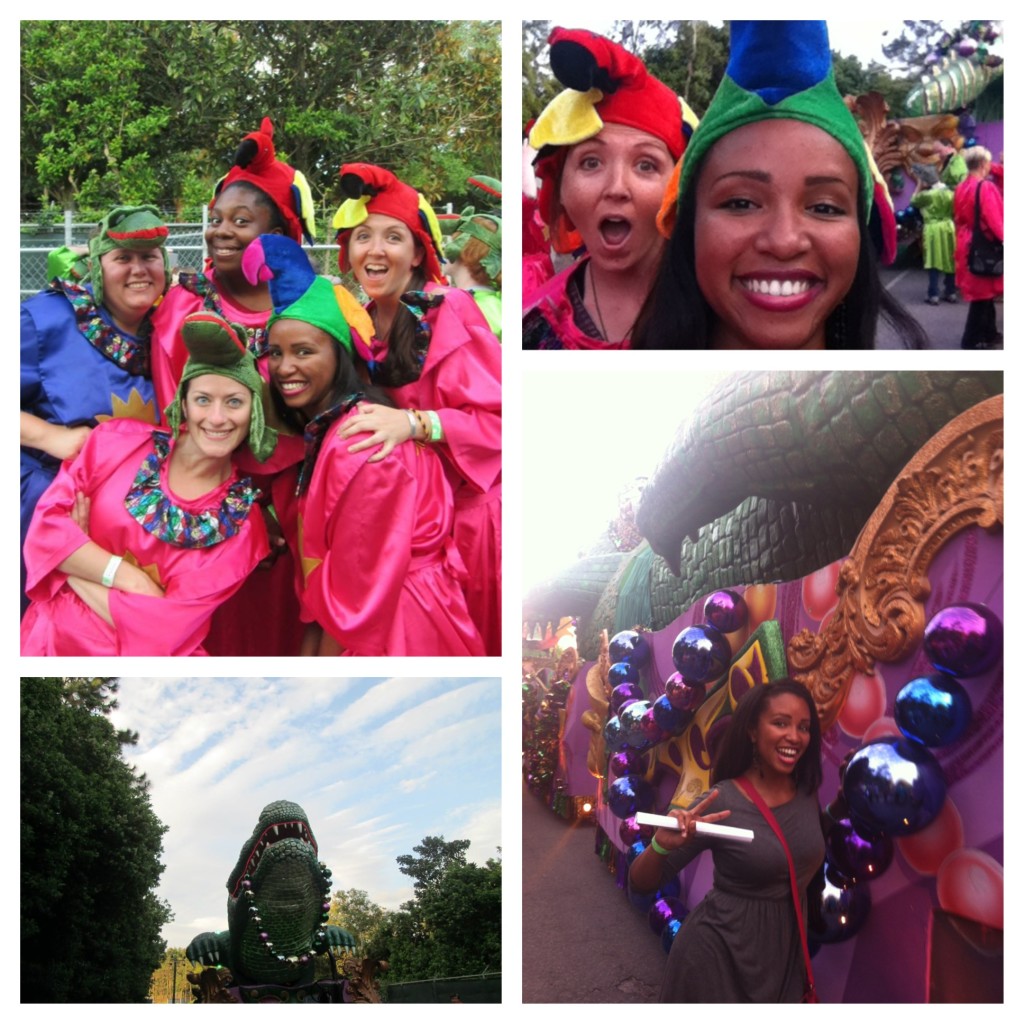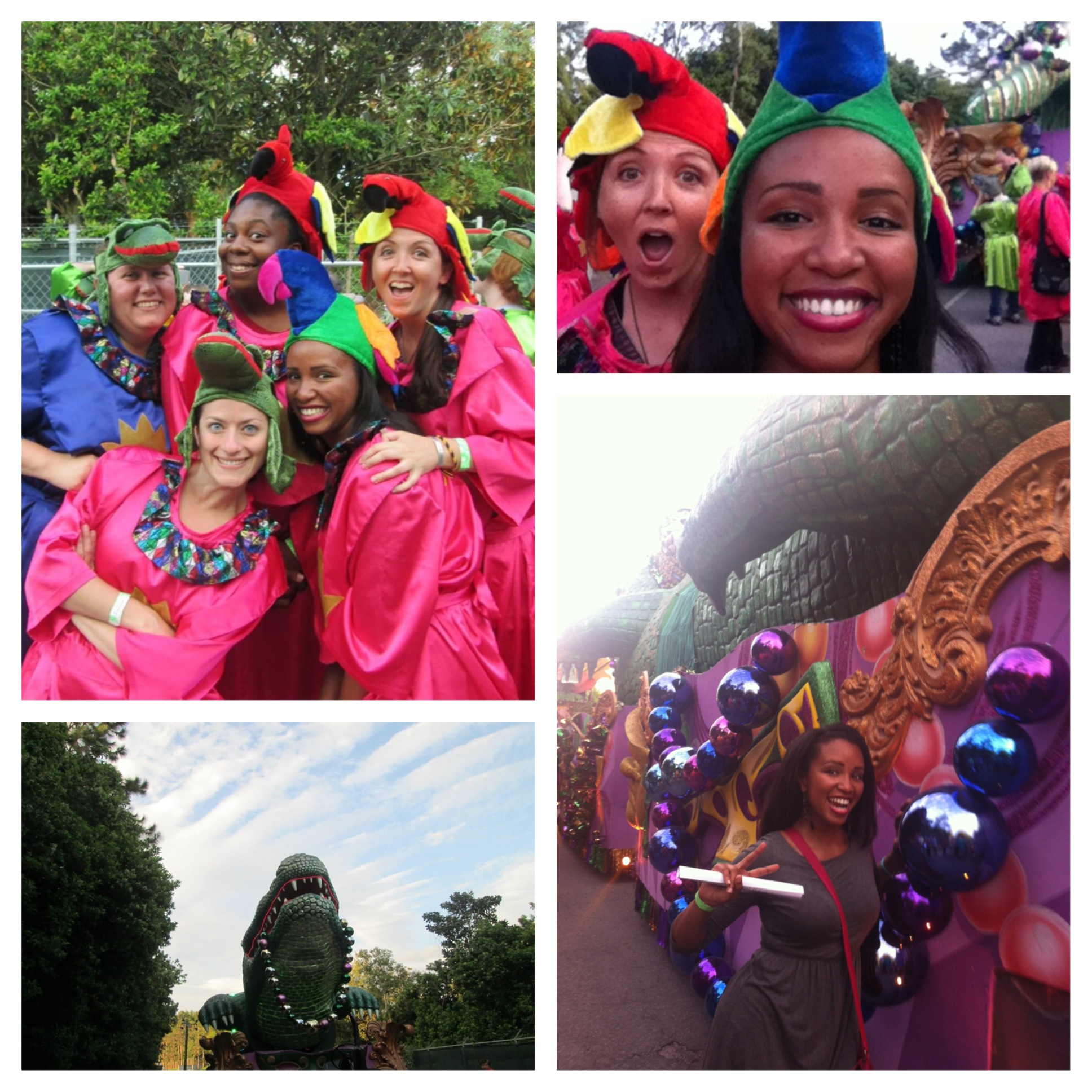 Passholders can sign up themselves and up to five guests online for a chance to ride on a float in the Mardi Gras parade.
After you sign up, you wait to get a confirmation email if you are selected.
If you are not a Passholder, you still have a chance to get in the parade, but it is not as high.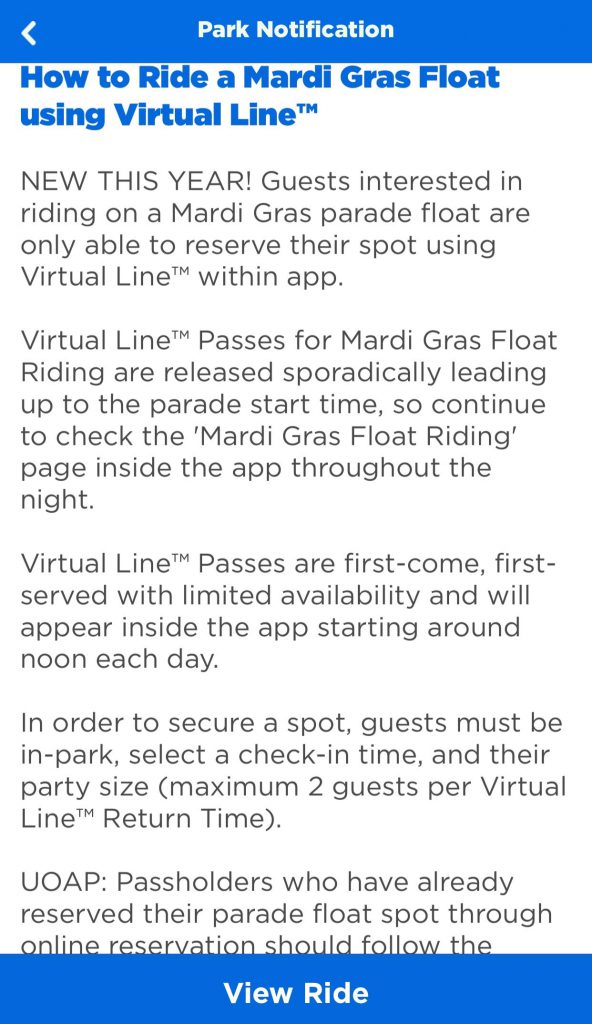 You used to have to go to the stand-by line for up to two hours before the parade starts, but now you can use the Virtual Queue Line that's on the Universal Orlando App.
Usually around 12 p.m., Universal will open up spots throughout the day for you to get that coveted spot. So, be sure to keep trying just in case it doesn't work for you the first time.
5 – Get to the Concerts Early
Front row seats are claimed fast (sometimes two or more hours before the concert even starts), so if you want good seating, get there as early as you can.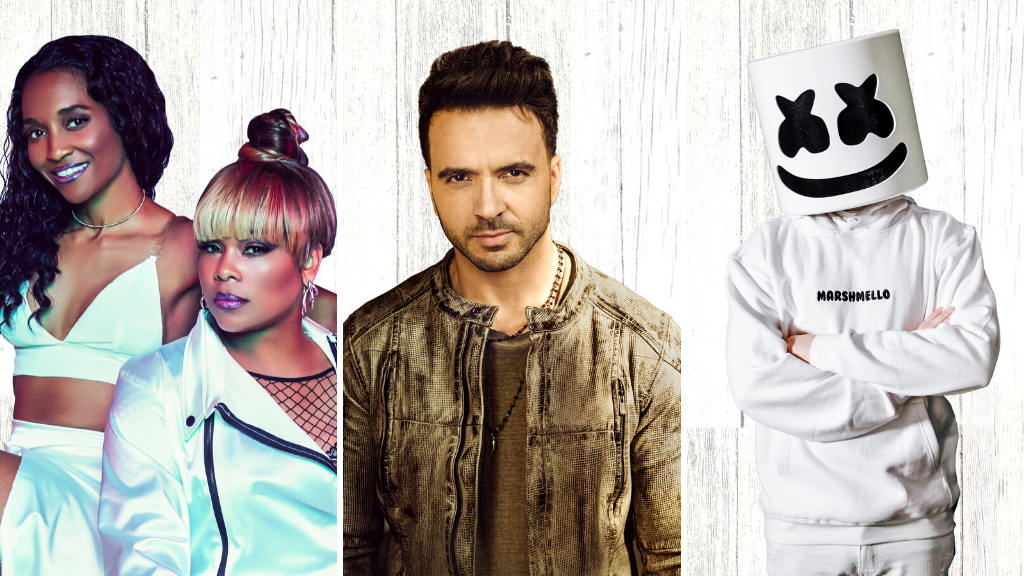 The concerts start at 8:30 p.m.
If you are planning to spend several days at Universal Studios during the Mardi Gras celebration, it may be a good idea to see the parade and go to a concert on two separate nights.
Universal Studios Orlando Mardi Gras 2020 Concert Lineup:
February 1- The Roots
February 8- Karol G
February 15- Bell Biv DeVoe
February 16- +Live+
February 22- Kool & the Gang
February 29- TLC
March 7- REO Speedwagon
March 8- Dustin Lynch
March 12- Luis Fonsi
March 14- The All-American Rejects
March 15- Diana Ross
March 20- Chris Young
March 21- Earth, Wind & Fire
March 22- Marshmello
March 28- Why Don't We
March 29- Gavin DeGraw
Final Thoughts
No matter who you are, you are sure to find something fun to do at Universal Studios during Mardi Gras Season.
You can spend the day enjoying all the fun that Universal already has to offer, and as it gets a little later in the afternoon, you can enjoy the Mardi Gras festivities.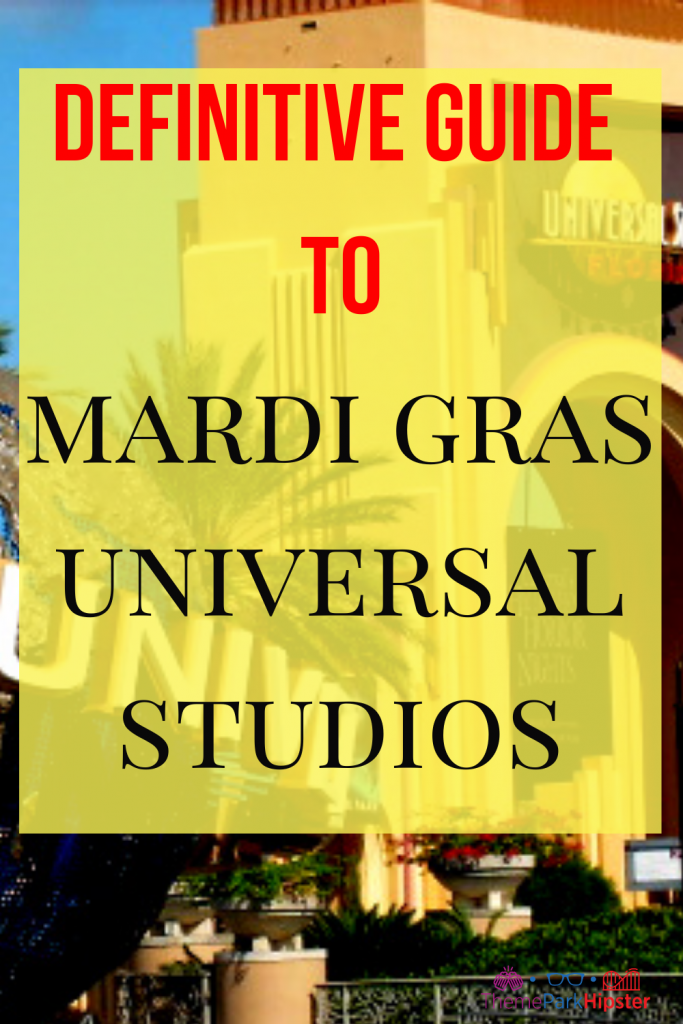 Whether you are there for one day or many days, with a group or going solo, you will have a blast!
Are you read to make you trip over to Universal Studios? If so, read 19 Amazing Ways to Do Universal Orlando on a Budget.
Until next time, Happy Park Hopping Hipsters!
(Original Article Date: January 15, 2015/Updated January 29, 2020)