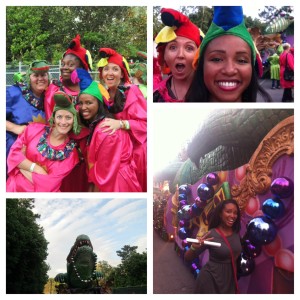 Mardi Gras 2015 coming soon to Universal Studios: Take the best traditions of The Big Easy, an amazing concert line-up, and all the excitement of Universal Studios Florida, and you've got the makings of the biggest party in Florida.
Universal Orlando's Mardi Gras is sixteen nights of toe-tapping music, sizzling Cajun and Creole cuisine, and beads by the handful. Each night features one of the biggest names in music live in concert, a dazzling parade, outrageous street performers, and more.
The Mardi Gras 2015 celebration will take place select nights Feb 7 through April 18.

Get a quote on the 2015 Mardi Gras Vacation Package
The 2015 Mardi Gras concert lineup at Universal Studios Florida has also been released!
February 7th: Olivia Newton-John
February 14th: Jessie J
February 15th: Barenaked Ladies
February 21st: Kelly Clarkson
February 28th: Heart
March 7th: Trace Adkins
March 13th: TBD
March 14th: STYX
March 15th: American Authors
March 20th: Becky G
March 21st: Yandel
March 22nd: B-52s
March 28th: TBD
April 4th: All American Rejects
April 11th: The Band Perry
April 18th: Trey Songz
Hope to see you all out there this year!
NikkyJ
This is a sponsored post from Destinations in Florida. The links listed on this page are associated with ThemeParkHipster and are referred to as affiliate links. Click here for the complete Disclosure Statement.