Universal Studios is fun at any time of year, but during Mardi Gras, there is an extra sense of celebration and colorful joy throughout the entire park.
If you are considering going, continue reading for everything you need to know to make the best out of your trip.
THIS POST MAY CONTAIN AFFILIATE LINKS. PLEASE READ MY DISCLOSURE FOR MORE INFO. Which means if you click on certain links, I may receive a small commission at no additional charge to you.
When is Mardi Gras in Universal Studios Florida?
This year you can enjoy the magic of Mardi Gras at Universal Studios from February 5th to April 24th of 2022.
Every night there will be a street parade full of awe-inspiring street performers decked out in colorful costumes with sparkles, feathers, and beads, and performances by authentic New Orleans' musicians.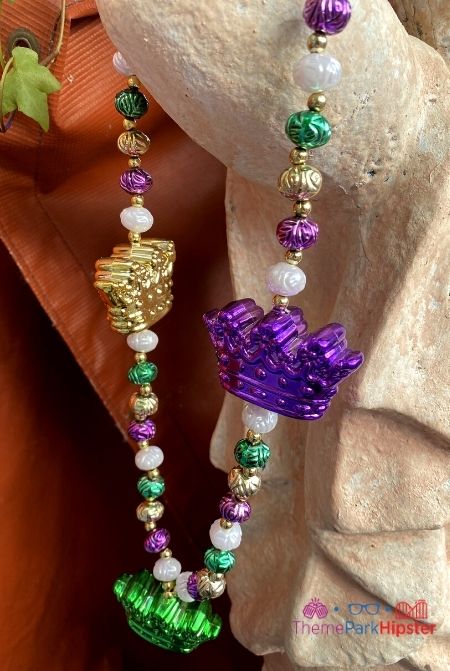 Plus, delicious replicas of the same Cajun food you would eat if you went to The Big Easy.
The best part is, all the celebration (except for the food) is included in your purchase of a park pass, whether you bought one just for the day, a seasonal pass, or an annual pass.
Origins of Mardi Gras in New Orleans
Mardi Gras, also known as Fat Tuesday, is a tradition started by Christians to celebrate the last day of eating before Lent, a time of fasting.
Today, people with various religious backgrounds celebrate it as a day of fun, celebration, and, of course, eating.
One of the biggest authentic Mardi Gras celebrations in America is in New Orleans.
During Mardi Gras, the streets of New Orleans turn into a festival complete with lots of colors (mainly purple, green, and gold), food, drinking, music, and entertainment.
Universal Studios emulates the classic New Orleans' street parties in a family-friendly way that everyone can enjoy.
ORDER NOW to secure your Orlando theme park ticket reservation in the parks! GET MY TICKETS.
How did Mardi Gras start at Universal Studios in Orlando?
Believe it or not, this festive event evolved from the annual Halloween Horror Nights at Universal Studios.
During the second year of the haunted event, Joseph Curley, Universal Studios Florida PR Manager at the time, stated that the 1992 year would be like Mardi Gras in New Orleans.
From that initial statement, Mardi Gras would go on to make its official debut at Universal Studios in 1995.
Now that you understand how Mardi Gras landed at Universal, let's go over what you can expect at this epic celebration.
Recommended: The Ultimate Guide to Halloween Horror Nights
What's New for 2022 at Universal Studios Mardi Gras
Epcot is not the only Orlando theme park allowing you to dine around the world! This year Universal Orlando is giving you a new feel to the Mardi Gras celebration.
No More Lanyards!!!
This makes me sad because with this lanyard, you could get a certain number of food and drink options in a sample size from the food booths all over Universal Studios in Orlando. So, no matter what the cost of a dish was, you only used a certain "point" from your lanyard.
This made dishes average about $4 in the grand scheme of things.
Universal Orlando Resort "Food and Beverage Card"
Now Universal is offering the "Food and Beverage Card." In essence, this allows you to spend a certain amount and get a few bucks back versus the previous "scanning for points" system that was used in years' past.
What's the cost of the Mardi Gras Food and Beverage Card?
This "tasting" card will be $65 for a $75 card and $120 for a $150 card. The card is available for purchase at Mardi Gras food & beverage locations throughout Universal Studios Florida.
Visit the "FLOAT FACTORY WAREHOUSE" TRIBUTE STORE
This year's Mardi Gras Tribute Store is going to be so AMAZING! There will be rooms dedicated to the process of what it takes to bring the majestic floats to life!
To say that I'm excited for this is an understatement. If you know Universal, then you know that they ALWAYS go all out in their seasonal tribute store.
While you're there, be sure to grab the latest Mardi Gras merchandise and treats to help celebrate the BIGGEST party in Florida!
Safety at Universal Orlando Resort
Now I know you may be wondering how is Universal going to do all of this AND keep us safe?
Since the park reopened after lockdown, Universal Orlando has and will continue to keep guidelines in place for the safety of everyone. Such as:
Requiring face coverings at all restaurants, shops, indoor hotel public areas and at all attractions from the moment guests enter the queue to when they exit the experience
Increasing disinfection procedures
Let's Talk About the Food at Universal Studios Mardi Gras!
This year instead of the few tasty booths to choose from, you'll be able to delve into more than 50 tantalizing dishes and drinks at this Orlando theme park.
Below is a look at the Mardi Gras food for this year's biggest celebration and the previous years.
Universal Studios Mardi Gras Food
On your visit, you'll be able to sample the delicious Carnaval flavors from places like New Orleans!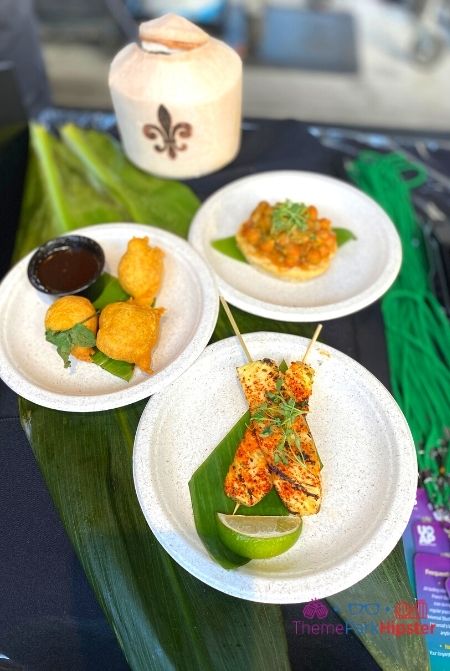 Below are a few of my favorites for this year:
Crawfish Boil
Beignets
Coconut Curry Shrimp Laksa (a sweet and spicy noodle soup)
Salchipapas (a popular street food made with sausage and potatoes)
Enjoy Mardi Gras-inspired Food Throughout Universal Orlando Resort
Don't forget to visit CityWalk and the other Universal Orlando Hotels who will be offering their own take of this year's New Orleans festival. Check out what you MUST TRY below:
Pat O'Brien's
Voodoo Doughnut
Creamy Polenta Shrimp – Loews Portofino Bay Resort
N'awlins Po' Boy – Hard Rock Hotel
New Orleans Bbq Shrimp & Dirty Rice At Universal's Endless Summer Resort – Surfside Inn And Suites & Dockside Inn And Suites
Chicken, Andouille & Shrimp Jambalaya At Universal's Aventura Hotel
King Cake Pancakes At Loews Royal Pacific Resort
Shrimp Po' Boys At Universal's Cabana Bay Beach Resort.
These are some of my favorites, but you can get the full list here!
Activities and Entertainment at Universal Studios' Mardi Gras
Although the INCREDIBLE parade will not be happening at Universal Studios this year, the Team Members have made sure to make your day quite special with some fun activities happening around the park.
Enjoy a World-class Parade
The Mardi Gras parade is the main attraction of the Universal celebration, and you do not want to miss it!
This colorful, high-energy parade is full of floats, street performers, and costumed revelers throwing beads and other goodies into the crowd.
You can sit anywhere along the parade route to enjoy the show.
Universal Mardi Gras Parade Dates and Times
Parade times vary based on date, so here is a breakdown of the schedule:
5:15 p.m. February 25th
6:15 p.m. February 6-11, 14-17, 22-24, 28 and March 1st
7:15 p.m. February 13, 18, 21, 27 and March 2-4, 7-11
7:30 p.m. March 14-17, 21-24, 28-31 and April 3-7, 9-24
7:45 p.m. February 5, 12, 19, 20, 26 and March 5, 6, 12, 13, 18-20, 25-27
Live it Up at Florida's BIGGEST Party!
My favorite part of Mardi Gras (minus the food) are the entertainers who roam the park dancing with so much high energy.
But I especially love the brass band musicians who truly make you feel as if you're smack dabbed on Bourbon Street in New Orleans.
Plus, be sure to look out for some beads to commemorate your trip to the park!
Ready to plan your theme park trip? Watch the best vacation planning tips on YouTube. Get started here!
10 EASY Tips and Strategies for Your Mardi Gras Visit at Universal Studios Florida
Now that you know what to expect from this Cajun celebration, let's go through ways to make the most of your time there.
1. Share and Sample
There are so many delicious foods to try out during the Mardi Gras celebrations at Universal Studios, just like in New Orleans and other locations throughout the world!
Most likely, you will want to try as many different cuisine options as you can, and full-size meals do not allow you to do that, so it is a great idea to share and sample.
If you are going with other people (you know and trust), you can order a single order (or a double order if there is a lot of you) of any menu item and share it between the group.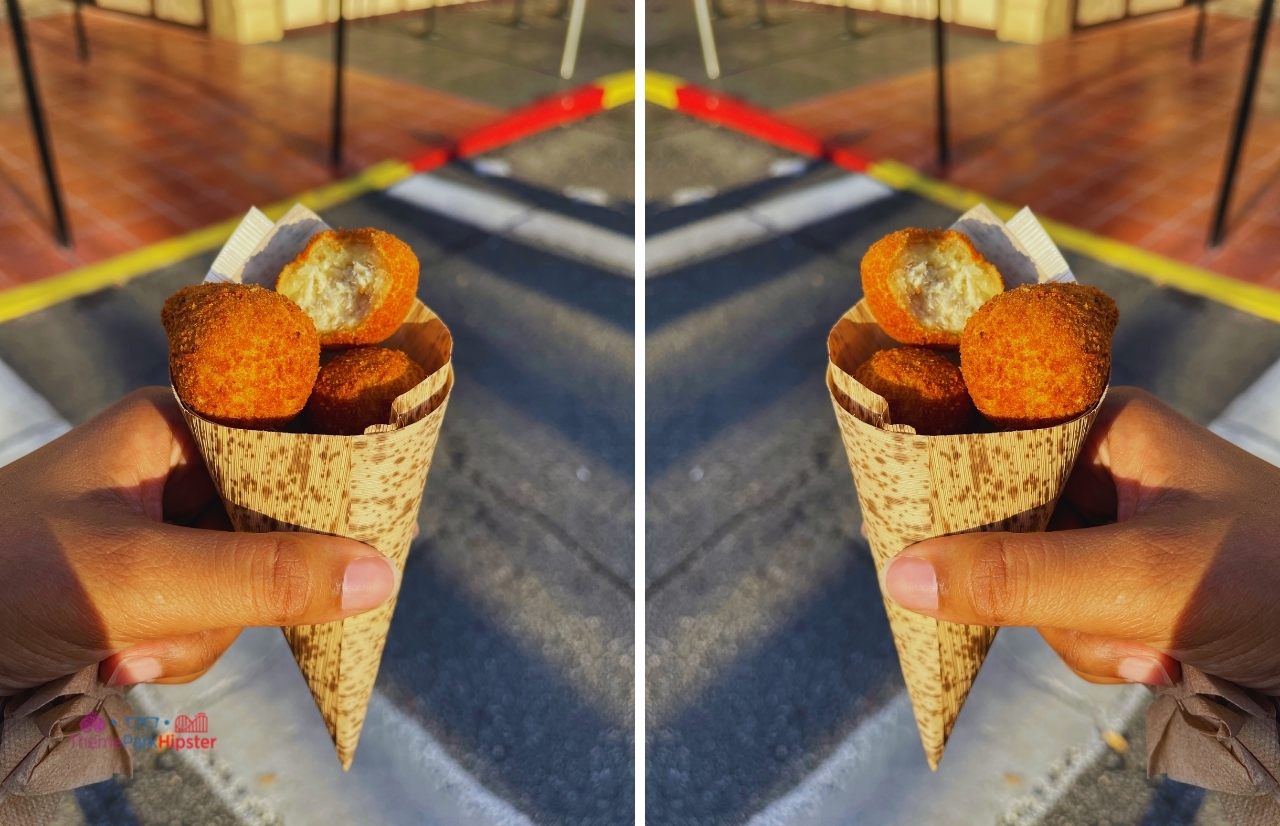 Do not worry if you are traveling alone; you can still sample with the best of them and try as many foods as your heart desires.
Recommended: What to Pack for Universal Studios
2. Have Fun Interacting with the Street Performers from a Distance
As previously mentioned, there are street performers hanging out and vibing to the New Orleans scene at Universal Studios. Especially around the French Quarter area.
Additionally, if you are trying to save a coveted parade spot, they can provide lots of fantastic entertainment while you wait.
Watching them perform and interacting with them can be a lot of fun. So, if there are musicians around, join in and dance to get the true feeling of Mardi Gras in New Orleans.
Read: How to Do Universal Studios in One Day
3. Make a List of Your MUST Eats
As you can see from the menu, Universal Orlando is coming out strong this year with their version of eating around the world.
So, be sure to review the Mardi Gras food menu from above and make a list of your must-do's for your trip!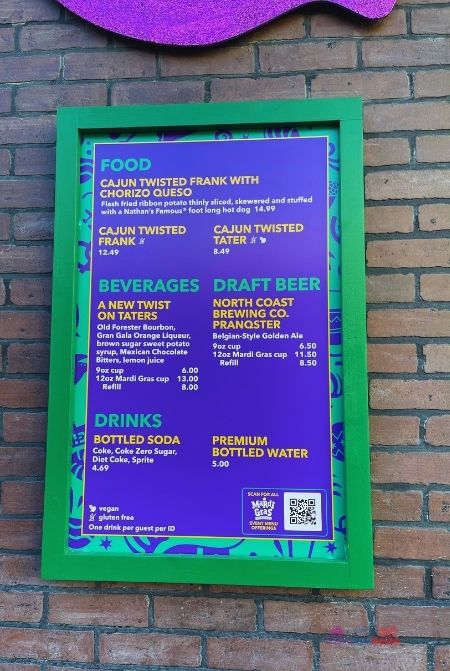 4. Start Early
Coming early to Mardi Gras will give you a chance to pace yourself. You will be able to enjoy not only the amazing food that's being offered, but you'll also get to experience the attractions at the park.
With everyone traveling more this year to make up for the past few years, the parks may reach capacity early. This is important if you try to visit on the weekends or holidays.
5. Map Out Your Day
This is another classic tip for any avid Universal traveler. Mapping out your day will save you the headache of missing out on any of your must do items, especially if you're only able to visit once.
6. Go During the Weekdays
For the best time I recommend attending the festival during the weekdays (Monday through Thursday). These days tend to be the least crowded days at Universal Studios.
This will help you be able to make the most of your time at Mardi Gras.
7. Plan Ahead Your Parade Spot
The later the time the parade starts, the more you have to strategize getting to your spot. Which spot you want really depends on what the rest of your night looks like.
If you are planning to go to a concert right after, try to get a spot at the edge of the street by the Music Plaza Stage.
Beyond that, some of the best places are in front of the Mummy Ride, in an area reserved for families by the Brown Derby Hat Shop, and if you are a pass-holder, in front of Mel's Drive-In.
If you are banking on any of these spots, make sure you get there EARLY as the spots fill up fast.
No matter where you are planning to watch the parade from, you want to try to get there at least 30 minutes early (earlier on weekends) and an hour if you have a larger group and want to sit upfront.
You may be able to find front row spots a little later if you are a small party or going solo, but you should still plan to get there early.
8. Getting a Spot on the Mardi Gras Float in the Parade
Yes, it is true, you can get a spot in the parade if you are lucky. The easiest way to do this is if you are a Passholder.
Passholders can sign up themselves and up to five guests online for a chance to ride on a float in the Mardi Gras parade.
After you sign up, you wait to get a confirmation email if you are selected. If you are not a Passholder, you still have a chance to get in the parade, but it is not as high.
You used to have to go to the stand-by line for up to two hours before the parade starts, but now you can use the Virtual Queue Line that's on the Universal Orlando App.
Usually around 12 p.m., Universal will open up spots throughout the day for you to get that coveted spot. So, be sure to keep trying just in case it doesn't work for you the first time.
9. Get to the Concerts Early
Front row seats are claimed fast (sometimes two or more hours before the concert even starts), so if you want good seating, get there as early as you can. The concerts start at 8:30 p.m.
If you are planning to spend several days at Universal Studios during the Mardi Gras celebration, it may be a good idea to see the parade and go to a concert on two separate nights.
Universal Studios Orlando Mardi Gras 2022 Concert Lineup:
Sugar Ray: February 5th
Diana Rose: February 12th
Barenaked Ladies: February 19th
Styx: February 20th
Jon Pardi: February 26th
LL COOL J feat. DJ Z-Trip: March 5th
Marshmello: March 6th
Lee Brice: March 12th
Becky G: March 13th
Khalid: March 18th
Seal: March 19th
Gavin DeGraw: March 20th
The Revivalists: March 25th
Jimmie Allen: March 26th
Jason Derulo: March 27th
ORDER NOW to secure your Universal Studios theme park ticket! GET MY TICKETS.
10. Have Fun!
You're really going to have a great time, so try not to stress too much if you find yourself spending too much time at the food booths or dancing along with the brass band.
Whether you're going solo or with friends, just have fun enjoying this incredible Orlando theme park!
Final Thoughts
No matter who you are, you are sure to find something fun to do at Universal Studios during Mardi Gras Season.
You can spend the day enjoying all the fun that Universal already has to offer, and as it gets a little later in the afternoon, you can enjoy the Mardi Gras festivities.
Until next time, Happy Park Hopping Hipsters!
NikkyJ
Are you read to make you trip over to Universal Studios? If so, read 19 Amazing Ways to Do Universal Orlando on a Budget.
(Original Article Date: January 15, 2015/Updated January 31, 2022)