THE Chef Remy has made his debut in the pavilion and is waiting for you to come try out his dishes on Remy's Ratatouille Adventure.
That's right!
If you have been to EPCOT since October 1st 2021, you may have noticed that the France Pavilion has expanded!
Be ready to embrace more of the beauty that is the culture of France alongside a certain Parisian chef. He's known to be up and coming despite his stature.
Fortunately, I was able to attend an Annual Passholder Preview prior to the debut of the ride's opening.
I am so excited to share all the details with you and what I think you should know before you take your own adventure with Chef Remy.
THIS POST MAY CONTAIN AFFILIATE LINKS. PLEASE READ MY DISCLOSURE FOR MORE INFO. Which means if you click on certain links, I may receive a small commission at no additional charge to you.
Here's what I will be covering today about Remy's Ratatouille Adventure:
Expansion Area Details
Storyline
Walkthrough
Ride Details
Is Remy's Ratatouille Adventure worth it?
New Expansion Area to Epcot's France Pavilion
With the construction of the ride, came the birth of an expansion to house it. When entering the pavilion, going through the Perfumerie's tunnel, you will see an archway towards the very back.
You can also take the path by the waterway for a dreamy effect into the new area.
Passing through, you are transported to another area that encapsulates the beauty of France's architecture, culture and tastes with touches of Disney flair.
The transitions of the expansion blends in seamlessly with the current pavilion, thus doubling it in size as well!
Alley of the Merchants
Once through the archway, you enter a charming open market area named, "Alley of the Merchants."
The transition from real world France to Remy's world was made with great detail in partnership with Pixar and Imagineering.
As you get closer towards the attraction, you can see the architecture of the buildings become more whimsical and vibrant similar to the film.
ORDER NOW to secure your Walt Disney World theme park ticket! GET MY TICKETS.
La Creperie de Paris
Another addition to the pavilion via this expansion is the "La Creperie de Paris."
This quick service and sit-down location serve up sweet and savory galettes and crepes inspired by the Brittany region of France, where these creations originated from.
The menu was crafted by Chef Jerome Bocuse, who created the menus of Chefs de France and Monsieur Paul in the pavilion.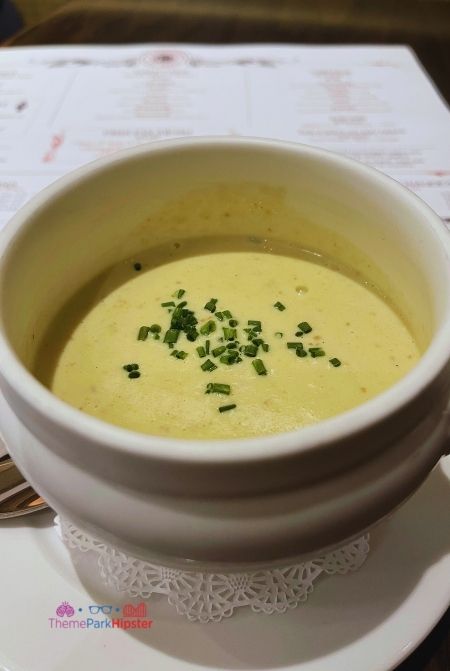 It has a wide variety of French ciders and wines that pair perfectly with the crepes and galettes, even a pre-fixe menu that comes with:
the soup of the day or salad
a savory galette with a glass of hard cider, soda or juice
finished with a dessert crepe (C'est Manifique!)
Entering Remy's World
As you slowly take in the sights, sounds and smells of the new area, you will go through the cast iron arcade to enter the Remy's Ratatouille Adventure area where the details of how real-world France and Remy's France is very evident.
In front of the attraction's entrance is a ornate fountain that features the tiny chef at the top, wearing his chef hat and spoon with pride!
You can see rats holding champagne bottles and flutes that shoot out water towards the top where Remy stands.
And if you look closely, you can see Remy running around the fountain in carvings along the basin in an adorable touch!
But let's not waste any time! Time to go inside or watch the full video here!
Ready to plan your theme park trip? Watch the best vacation planning tips on YouTube. Get started here!
Storyline of Remy's Ratatouille Adventure
I will do things a bit differently and give you the story first before the queue, as there are a few cute details in the queue we must discuss.
As you approach the ride from the outside, you will notice that the attraction looks like Gusteau's restaurant! You'll then hop into the ratmobile and be magically shrunken to Remy's size.
Remy and Chef Guestau are trying to figure out what to serve the guests in the ratmobiles and, of course, they winner is Ratatouille!
Suddenly, you fall through a window pane and onto a restaurant kitchen floor! whoops!
It's now a mad dash led by Remy to get you out of harm's way through the kitchen including a cold storage room and zipping under a blazing oven.
After a while, you think you're safe, but you now end up in the dining room of the restaurant and chaos ensues!
Linguini helps you and Remy escape while Skinner works to get rid of the rats and guests.
You eventually make it to Chef Remy's Bistro restaurant where you join the colony of rats, Remy and Chef Gusteau on feasting on the scrumptious Ratatouille.
Going Through the Queue of Remy's Ratatouille Adventure
Now that we have gotten through the ride itself, let's backtrack and go through the queue.
You enter through a theater, which i discovered my second time riding when i noticed where the Cast Members are standing is actually a ticket booth.
Here is normally where Disney wows guests with its immersion and interactive experiences but it lacks here.
You will either make a turn into an overflow section that is inspired by 1800s Las Halles Centrales (famous fresh food market in Paris that was demolished in 1971) or you can go into the queue further.
You will notice as you travel through that you see Remy themed wallpaper, which you see in the exterior queue a bit too!
Gusteau's Restaurant
Jaws drop once you exit out of the theater hallways and enter the rooftops of Paris, where you can see the Gusteau Restaurant sign.
Occasionally the sign will come to life and Gusteau will chat with you!
This is what we as Disney fans have come to expect when it comes to queues such as Rise of the Resistance, Peter Pan's Flight and Flight of Passage.
You can hear the streets of Paris below and truly feel as if you are high above the city.
Parisian Art Studio
The next room has you walk through a Parisian Artist's studio. This scene is not featured in Disneyland Paris's version, but it is very fascinating and you should take a few moments to look around.
It is reminiscent of the paintings you see along the river and waterways as you enter the pavilion, which you can read more about in our France Pavilion post.
You feel a closer connection to these artists and to the pavilion.
Overall, the queue isn't what one normally expects, but it does have its special highlights that one should take a moment or two to appreciate.
Ready to make your trip out to Walt Disney World Resort, then get your no obligation, FREE Quote by filling out the form with The Park Prodigy by Clicking HERE!
Ride Details of Remy's Ratatouille Adventure at Epcot
Prior to entering the loading area, you will pick up your 3D glasses. Nothing fancy with them, just standard similar to Star Tours or Muppetvision.
After exploring the artist's studio, your back on the Parisian rooftops, but this time, preparing to board your ratmobile.
The ratmobiles are three different color options per vehicle which can seat up to 6 guests, 3 to a row and holds you with a lap bar.
Remy's Ratatouille Adventure is a 4D ride with mostly screens but awe-inspiring physical sets when you go through.
It is also joining the line of numerous trackless attractions including Rise of the Resistance and Mickey and Minnie's Runaway Railway.
It seems that Disney is starting to embrace screen-based rides more similar to their competitor Universal Orlando.
Why is Remy's Ratatouille Adventure 4D and Not 3D?
As I mentioned, the ride is considered 4D due to its effects such as the water sprinkler, bursts of air, food smells, my favorite being the citrus and baguette, and the heat effect from the oven.
In terms of intensity, it's comparable to the effects of Philharmagic in Magic Kingdom's Fantasyland.
I thought it was really unique and fun to have those effects because it added to the overall immersion of my ride experience.
There are more screens than actual sets versus Rise of the Resistance that is all sets and animatronics with very little screen technology.
It is also important to keep in mind that this attraction is a carbon copy essentially of its Disneyland Paris sister.
But the physical sets are very cool too! The one that made me go "Oh my goodness!" is the storage room/ pantry set!
Technology of Remy's Ratatouille Adventure at Disney World
Overall, I think the screen technology in the ride would have benefitted more if it was similar to that of Runaway Railway.
The screens didn't necessarily blend in with its environment too well but again this is a copy of a ride created back in 2007 whereas the trackless, screen tech was more updated with Flight of Passage, Runaway Railway and Rise of the Resistance.
There are also no animatronics in the ride which would have been pretty neat to see in the ride versus following Remy on a screen the entire time.
The ride does have charm, including details like the exit where my friends over at FortheLoveofThemeParks mentioned that the tiles of the ride grow in size as you return to human size from your rat size as you exit!
It's details like that that truly show how much work went into the attraction by imagineers.
Ready to start planning your next Disney World vacation? Listen to the latest podcast episode on Apple or on your non-Apple device now!
Does Remy's Ratatouille Adventure use a Virtual Queue?
When Remy's Ratatouille Adventure first opened, it used a virtual queue system similar to the former one used on Rise of the Resistance. However, a Virtual Queues is no longer available.
You can now wait in the standby line or skip the line with Genie+.
Personally, I didn't feel that the attraction needs the virtual queue system in the first place with the addition of Disney Genie and Lightning Lane, which we broke down in a separate post.
how long is remy's ratatouille adventure?
The full ride experience of Remy's Ratatouille Adventure at Epcot lasts about 4 and a half minutes.
Ready to make your trip out to Walt Disney World Resort, then get your no obligation, FREE Quote by filling out the form with The Park Prodigy by Clicking HERE!
Is Remy's Ratatouille Adventure worth it?
Overall, I am confident that Remy's Ratatouille Adventure was exactly what EPCOT needed. It is an enjoyable, immersive and fun ride that caters to all variety of guests.
While I could do with better immersion when it came to the screens, it didn't ruin the experience for me.
The queue lacked a bit but I did appreciate the nods to the details in France Pavilion on the ride with the Artists' studio. It felt like the story was truly being connected.
My Hesitations About Remy's Ratatouille Adventure
I was a bit nervous using 3D glasses but was told by Cast Members that they are consistently cleaned.
I have to commend the imagineering team in the immense set detail. However, I was a bit confused as to why you enter in a theater when the exterior is Gusteau's restaurant.
I feel like it would have made more sense to connect it more to the fresh food market, especially since that is what the expansion draws its inspiration from.
Regardless, the attraction is a great addition to the park and i hope we continue to see more of these kinds of attractions as Epcot undergoes its Neighborhood transition in the future.
Have you experienced Remy's Ratatouille Adventure at EPCOT yet? Let us know your thoughts in our Facebook Group!
Until next time, Happy Park Hopping Hipsters!
About the Author
UP NEXT: Spaceship Earth's History: Thank the Phoenicians
(Original Article Date: January 17, 2022/Updated by Editor on January 30, 2023)