13 Tips for Busch Gardens Howl-O-Scream Survival
Are you ready to be paralyzed with terror? Do you have what it takes to venture out to Busch Gardens Howl-O-Scream?
If so, you are in for more than ghostly encounters. I've gathered the best tips to help you survive Howl-O-Scream , based on my most memorable past experiences.
THIS POST MAY CONTAIN AFFILIATE LINKS. PLEASE READ MY DISCLOSURE FOR MORE INFO.
What to Know Before You Go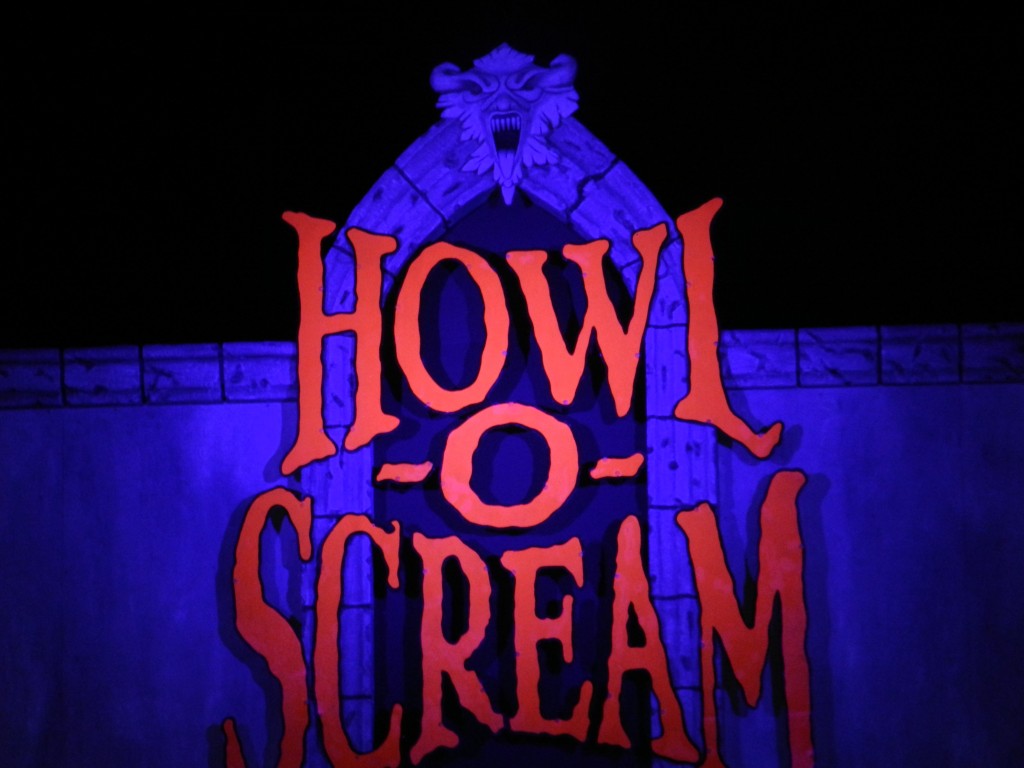 Is Howl-O-Scream still happening for 2020?
Absolutely! You can still come out to Tampa to enjoy some Halloween scares if you dare.
According to Busch Gardens, this year's modified production will be unlike any other, including significantly enhanced safety and health measures at the core of the event. The event will be modified to feature open-air scare zones, limited-capacity admission with reservations required, and physical distancing.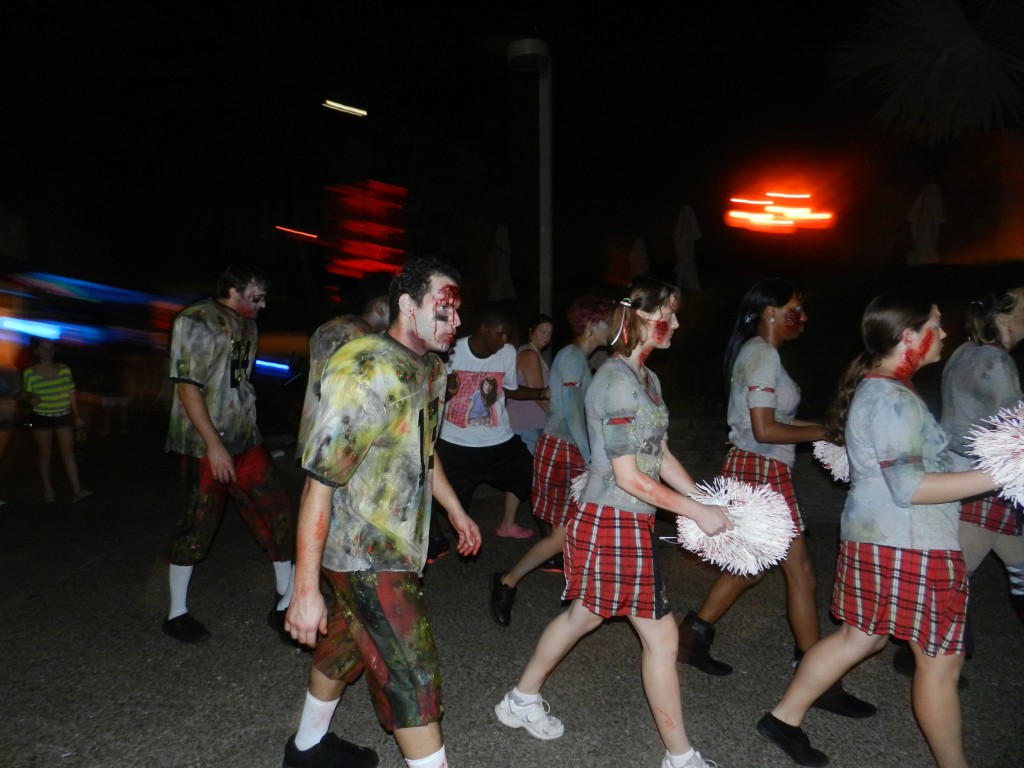 Busch Gardens Howl-O-Scream 2020 Dates
The 2020 dates for Busch Gardens Howl-O-Scream dates are from September 25th through November 1st of 2020, every Friday through Sunday.
Times: Fridays & Saturdays 7:00 p.m. – 12:00 a.m. and Sundays 7:00 p.m. – 11:00 p.m.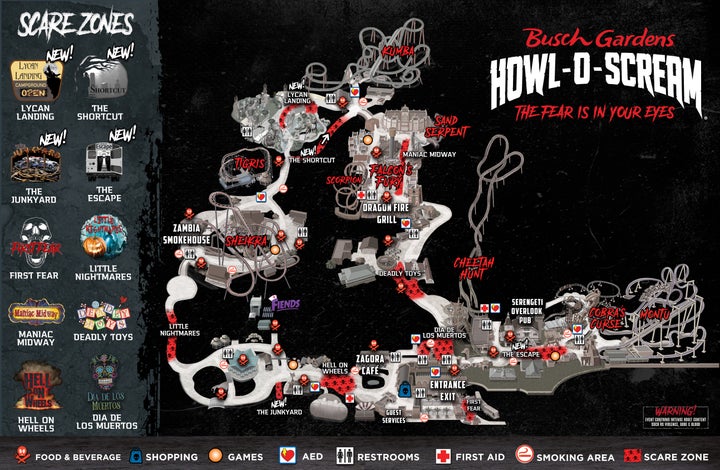 New Guidelines for 2020
Advance online reservations are required so make your reservations early, as space is limited.
You will be required to wear a protective face covering (learn more about it here)
The Fiends show will be returning, but in a new way this year. It will take place on the outdoor Festival Field Stage which is much larger than the one in Dragon Grill. This area is used to help promote physical distancing.
There will be no indoor haunted houses
ORDER NOW to secure your theme park ticket reservation in the parks! GET MY TICKETS.
2020 Howl-O-Scream Scarezones
NEW: LYCAN LANDING: Avoid the werewolves in this terrifying campground.
NEW: THE SHORTCUT: Don't take the shortcut through the cemetery…
NEW: THE JUNKYARD: You don't want to become one of the scrap parts of the junkyard…do you?
NEW: THE ESCAPE: Avoid the insane escaped inmates of Grey Echo Penitentiary who are looking for easy victims like you to test their vengeance on.
FIRST FEAR: View all the past icons of Howl-O-Scream's from over the last 20 years.
LITTLE NIGHTMARES: Skip this demented neighborhood for your trick-or-treating adventure. You don't want to become this next victim…
MANIAC MIDWAY: Clown, clowns and more clowns! Enough said.
DEADLY TOYS: Your dreams become a nightmare when your favorite toys come to life in this creepy scarezone.
HELL ON WHEELS: Don't become a victim of the last survivors in this post-apocalypse world.
DÍA DE LOS MUERTOS: Take on the festive traditions with a taste of Mexico in this scarezone.
How much does it cost to go to Howl-O-Scream in Tampa?
Prices for Howl-O-Scream start out at $29.99.
How to Navigate to Busch Gardens
Busch Gardens Tampa Bay is about 70 miles from the Walt Disney World Resort (an hour and 25 minute drive). There is a Busch Gardens shuttle service that offers round-trip transportation to the park.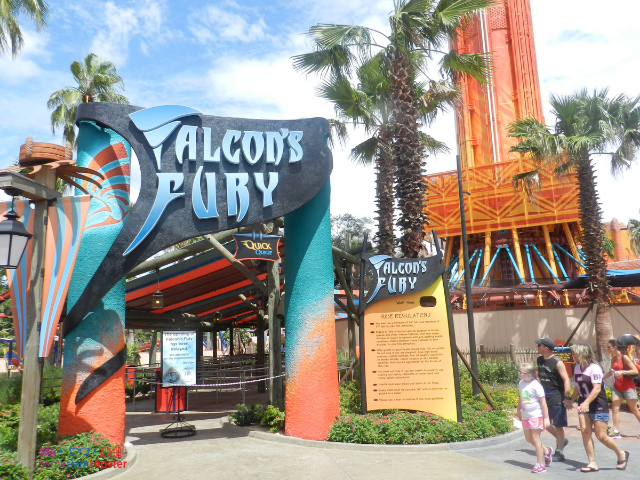 The round-trip fare is free with park ticket purchase and departs Orlando daily with a maximum of three stops to Busch Gardens.
Reservations are highly recommended and can be reserved by calling 1-800-221-1339 or visit Mears Destination Services online.
How to Get to Busch Gardens Tampa from Disney World
Travel WEST on I-4 to I-75 (About 58 Miles)
Merge onto I-75 NORTH via EXIT 9 toward Ocala (stay on I-75 for about 3.74 miles)
Take EXIT 265 toward Temple Terrace (this exit is also the exit for the University of South Florida)
You will merge onto E Fowler Ave/FL-582 W via EXIT 265 and stay on here for about 4.65 miles
Turn left onto N McKinley Dr/County Hwy-585A (stay on here for about 1 mile)
Make a U-turn onto N McKinley Dr/County Hwy-585A
Arrive and park at Busch Gardens
Are you trying to choose between Halloween Horror Nights or Howl-O-Scream? Find out which one is better here!
Busch Gardens Tampa Address
The address for Busch Gardens is 10165 N McKinley Drive Tampa, FL 33612.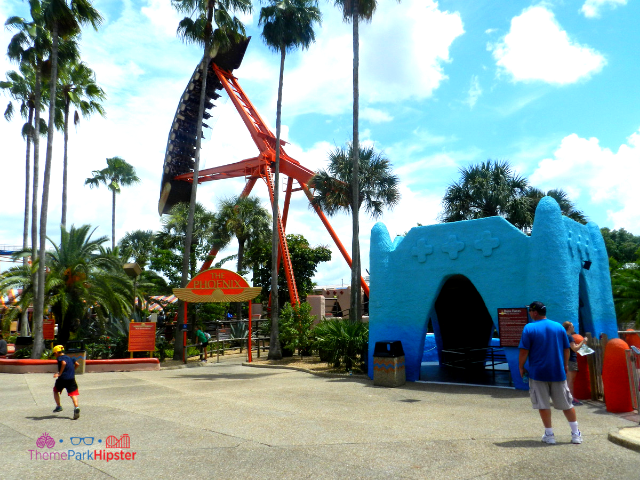 Busch Gardens Tampa Hours
Busch Gardens usually opens at 10:00 a.m. and closes at 6:00 p.m.; however, during the peak summer days the park may be open until midnight.
Remember when planning your trip, always check the park's website or mobile app for the current hours and wait times.
What should I pack for Busch Gardens Howl-O-Scream?
Comfy Shoes
Small Bag
Breathable Clothing
Sun Protection
Small Umbrella
Water
Hand Sanitizer
Phone
Park Ticket
You can get the full Theme Park packing checklist here!
How to Survive Howl-O-Scream at Busch Gardens Tampa Bay!
Although this year's event is slightly altered, you use some of the tips below to help prepare for your 2020 Howl-O-Scream trip.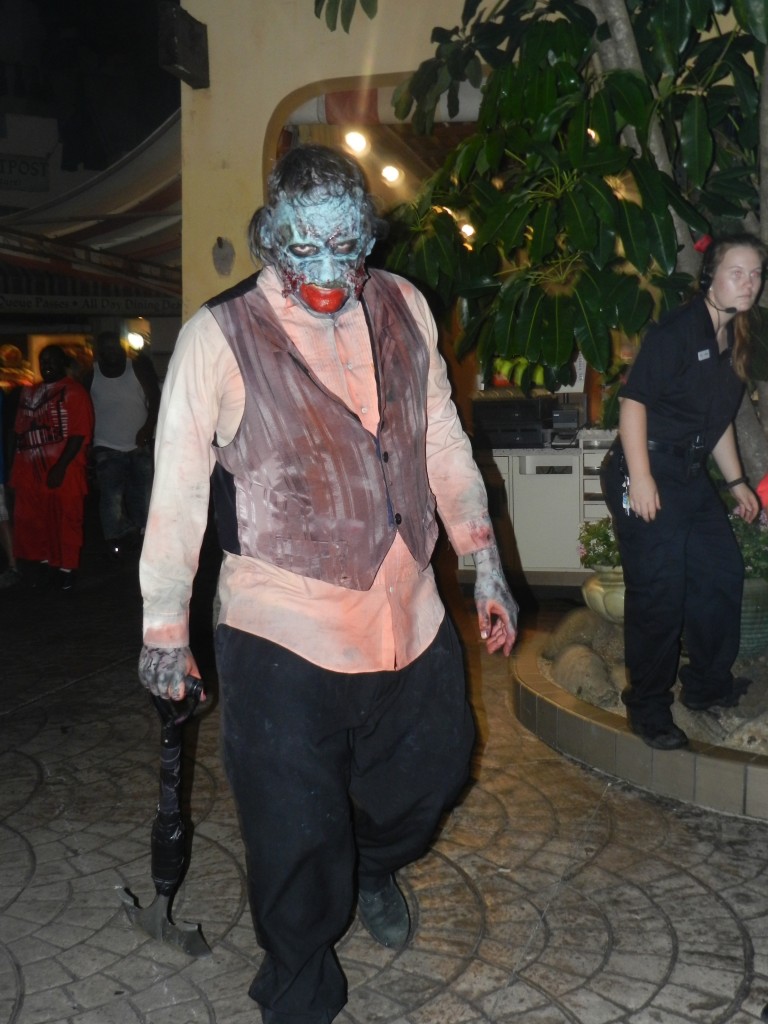 1 – Start Early
I cannot express this enough. Unless you're getting the Front Line Fear Pass, I would suggest you get to Busch Gardens at least 45-minutes before the start of the event.
If you're lucky enough, you may be able to get into the park early and knock out two to three houses within the first hour.
2 – Solo trip vs. Group trip
Going to Howl-O-Scream solo is terrifying, but quite an adventure in its own right. However, going as a group is sooo much fun and increases the excitement of the night!
3 – Should You Bring Your Kid to Howl-O-Scream?
According to Busch Gardens, Howl-O-Scream contains intense adult content such as violence, gore and blood and is not intended for children.
So, basically leave the kiddos at home.
Ready to plan your theme park trip? Watch the best vacation planning tips on YouTube. Get started here!
4 – Know What to Wear to Busch Gardens Howl-O-Scream
I recommend choosing comfort over style, but I understand if you'd rather be quite stylish.
I'm trying to get better at combining the two.
My top recommendation is to wear comfortable sneakers for all of the standing, walking, and running you will be doing…
…. trust me, you will thank me later.
5 – Have a Game Plan and Itinerary for Howl-O-Scream
Get a park map and route your path around Busch Gardens in advance. Ride the permanent attractions on another visit or wait until after you have finished all of the haunted mazes.
Busch Gardens Map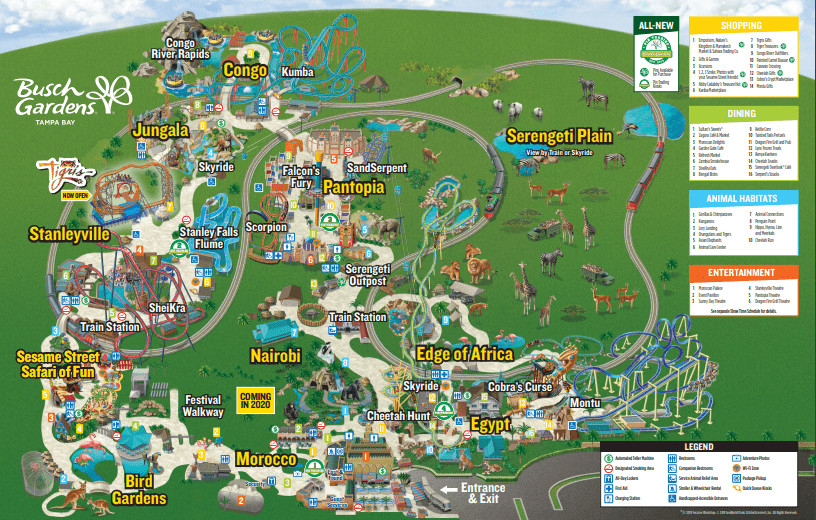 6 – Attend Howl-O-Scream on Off Peak Nights
Visit Busch Gardens Howl-O-Scream on Sundays or Thursdays to take advantage of the smaller crowd. Avoid Saturdays and holidays.
These are the worst days to go because you will not be able to enjoy all the houses. You will also have to fight through an extremely crowded night.
When is the best time to visit Howl-O-Scream?
The best time to attend Howl-O-Scream is during the first few opening weeks of the event.
7 – Purchase Busch Gardens Howl-O-Scream Tickets in Advance
It's best to buy your tickets ahead of time. This prevents waiting in a line once you arrive at Howl-O-Scream. The line to buy tickets can exceed the usual queue that's operational during regular theme park hours.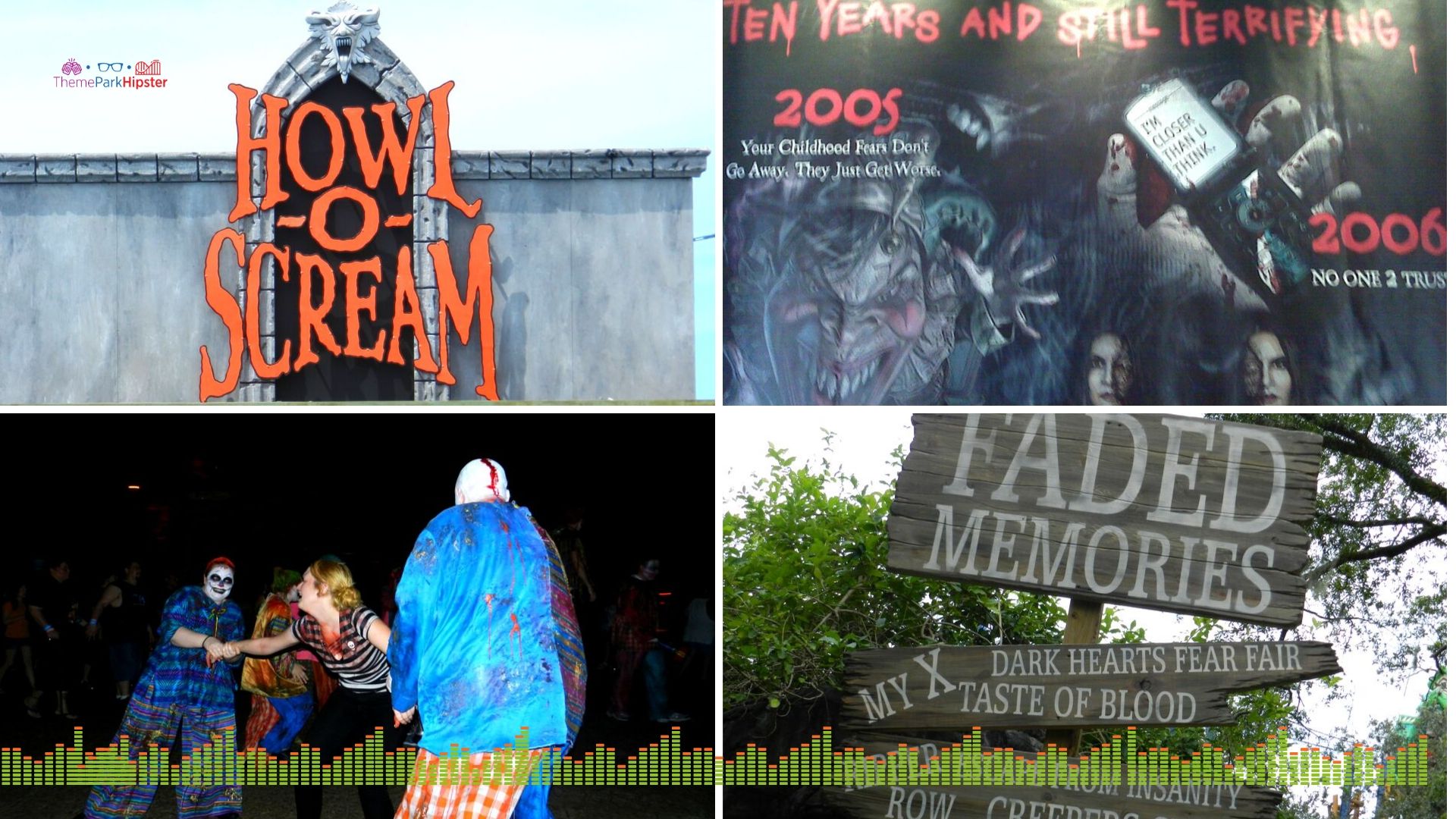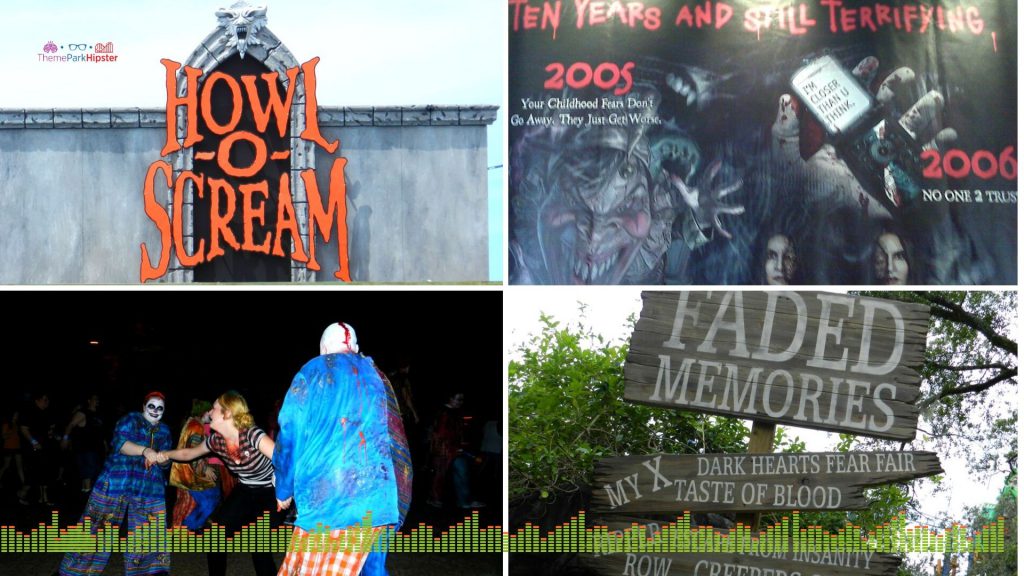 Learn more about getting discounted ticket for Busch Gardens Howl-O-Scream here!
The Unlimited Scream Ticket is a way for you to visit all 22 nights of Howl-O-Scream at Busch Gardens Tampa Bay for only $84.99 (price subject to change).
I recommend buying your ticket from a trustworthy website such as Undercover Tourist or directly from Busch Gardens' website.
8 – Buy Front Line Fear Pass
Howl-O-Scream is an extremely popular Halloween event in Florida. In order for you to enjoy your evening, you may want to splurge on a on a Front Line Fear Pass.
This special add-on gives you front-of-the-line access to haunted houses of your choice and special discounts at gift shops throughout the night.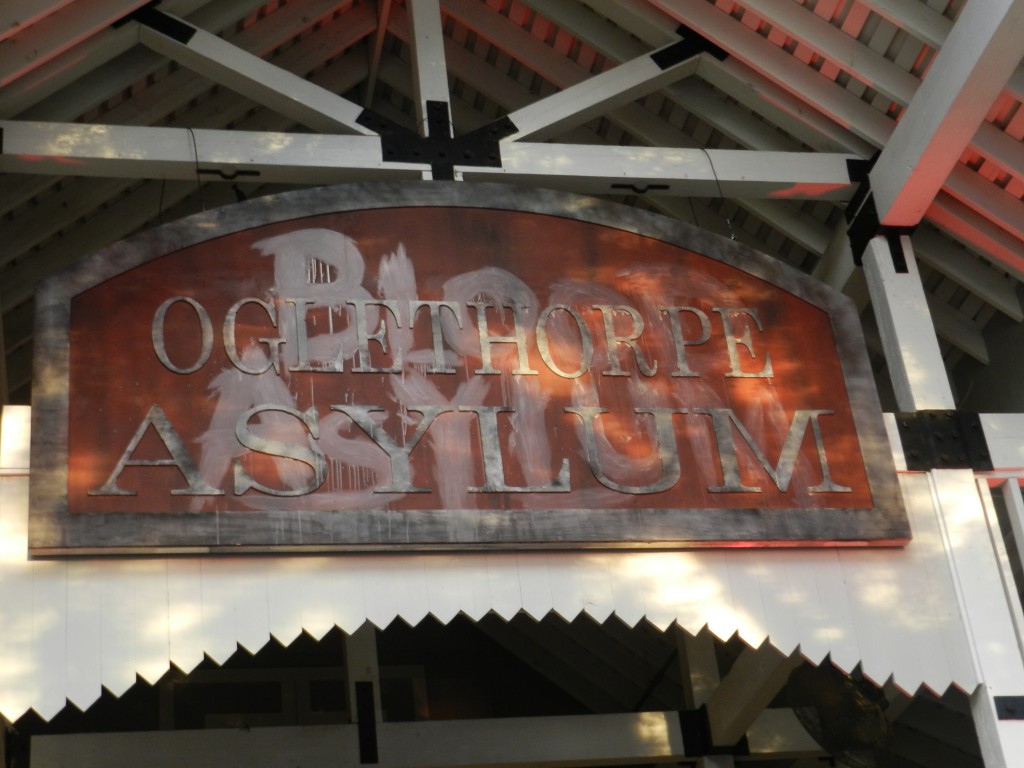 This will help you conquer each haunted house at Howl-O-Scream.
If you want to avoid spending extra money on the Front Line Fear Pass, then it's best to get to Howl-O-Scream early. The wait times are shorter at the beginning of the event and also towards the end of the event.
9 – Buy a Unique Experience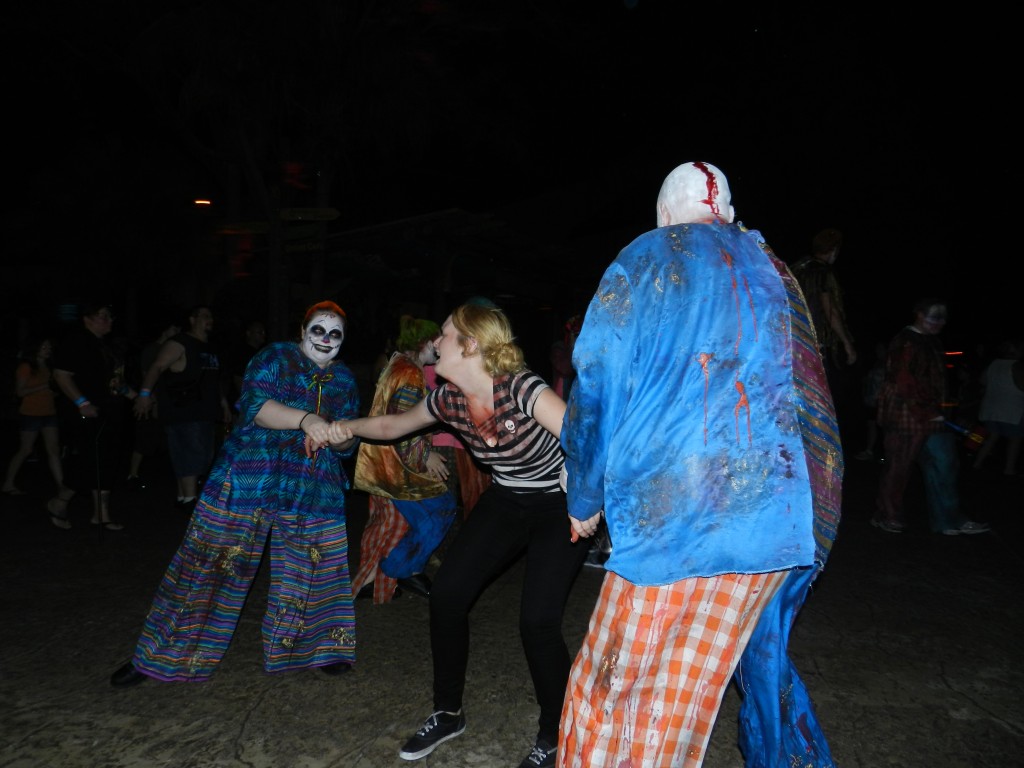 If being in a larger group with V.I.P perks appeals to you, then I recommend getting the Ultimate V.I.P. Tour.
You'll get a guided tour through Howl-O-Scream. Each tour includes:
Admission to Howl-O-Scream & 3-hour exclusive group tour
Front-of-the line access to most haunted houses & reserved seating for the Fiends show
Private complimentary beverage locations that include beer, wine, water and soft-drinks
Complimentary photo
10 – Purchase a Unique Activity at Howl-O-Scream
You can participate in an unearthly feast with an all-you-care to eat cuisines and desserts along with early front-of-the-line access to all haunted houses.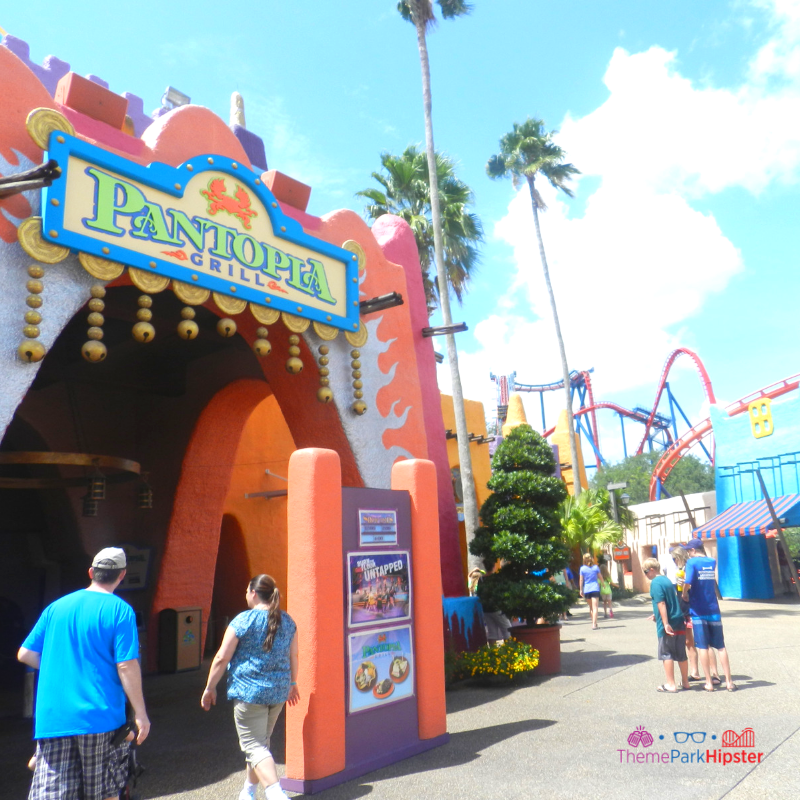 Fright Feast takes place inside the Dragon Fire Grill Restaurant at 6:00 p.m. and includes:
All-you-care to eat dinner buffet
Exclusive preview of the Fiends show
Front-of-the-line access to all haunted houses until 8:30 p.m.
11 – Stay Hydrated
Howl-O-Screams requires A LOT of walking and sweating! Something Floridians are used to, but not a common thing for out-of-towners.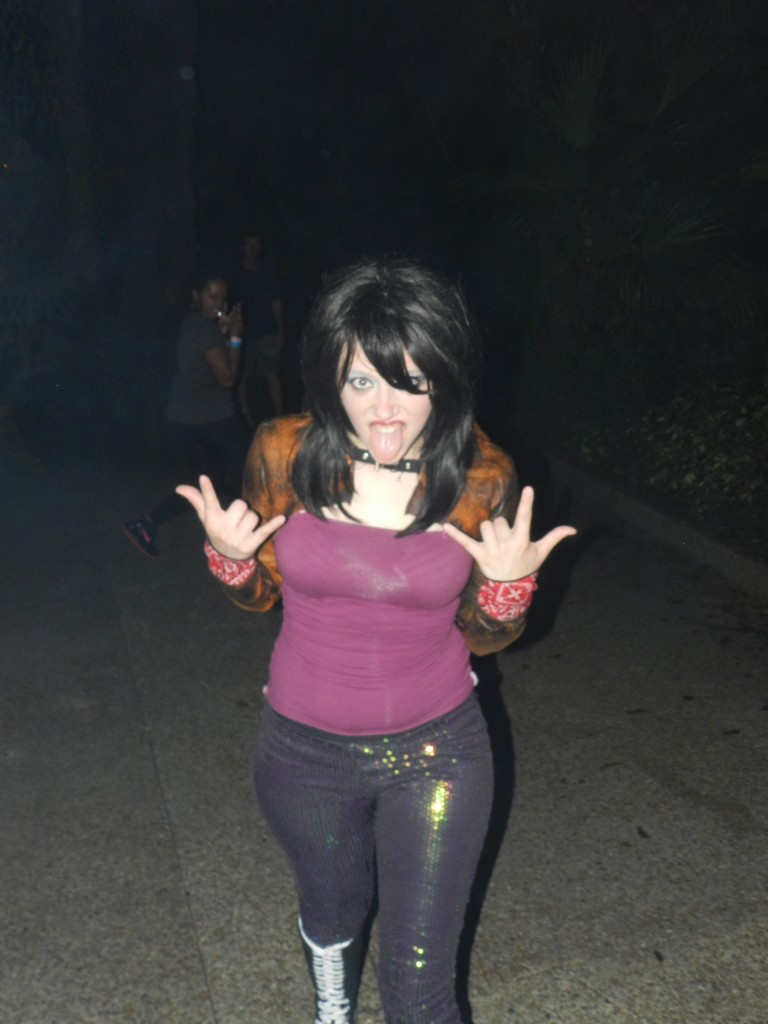 Plan to drink a few ounces of water every hour while at Howl-O-Scream.
12 – Monitor the weather
The weather in Florida from September to early November can range from extremely hot and humid to rainy and sometimes (very rare) cool October days.
Always check the weather to know what to expect. The weather will make or break your trip, especially if it's scorching or if there's a rainstorm.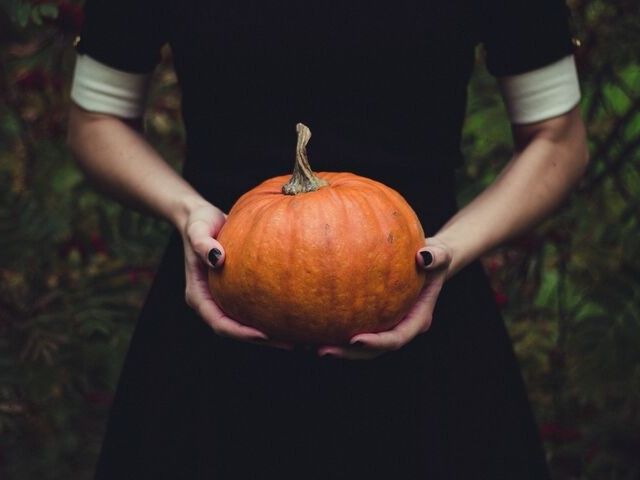 13 – Watch Vlogs
View vlogs (YouTube videos) such as the Tim Tracker to help get you excited for Busch Gardens Howl-O-Scream in Tampa Bay.
Personal vlogs will show you some of the things to expect and will let you know the intensity of the event.
The vlogs also show different ways people enjoy the spectacular annual event.
Final Thoughts on Busch Gardens Howl-O-Scream
Remember to just have fun!
You're really going to have a great time, so try not to stress too much and enjoy the chilling frights of Busch Gardens' Howl-O-Scream!
I hope this survival guide helped you prepare for this year's event. Remember that it is one of ThemeParkHipster's favorite fall Florida event.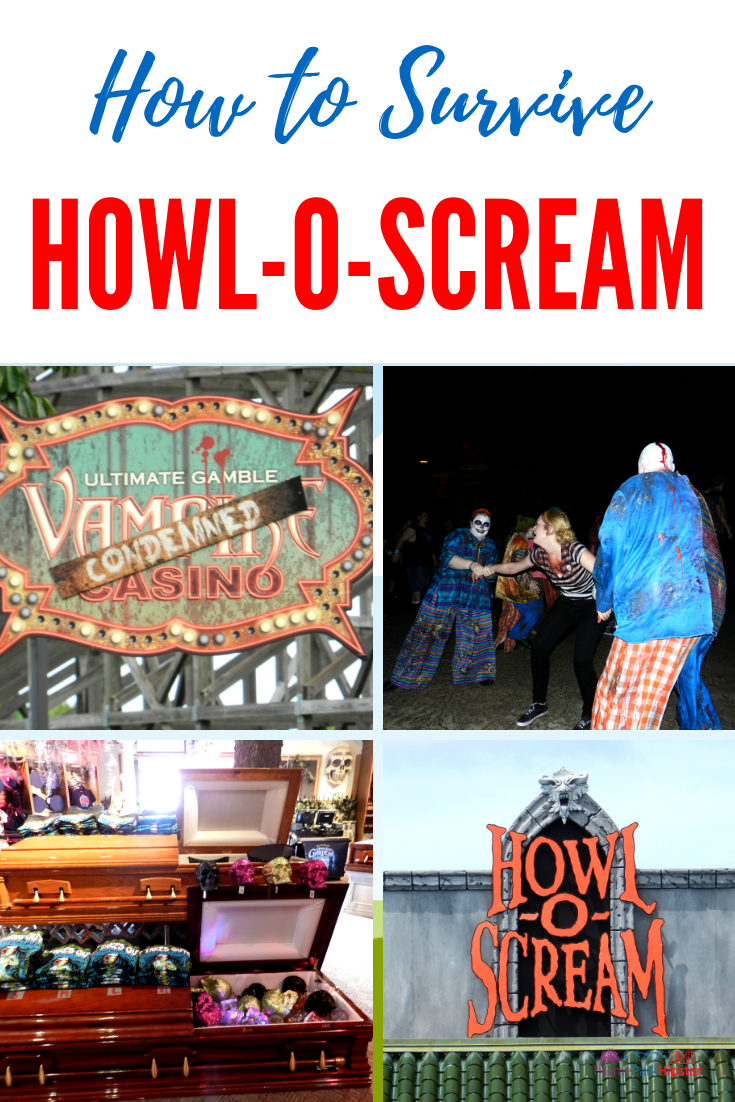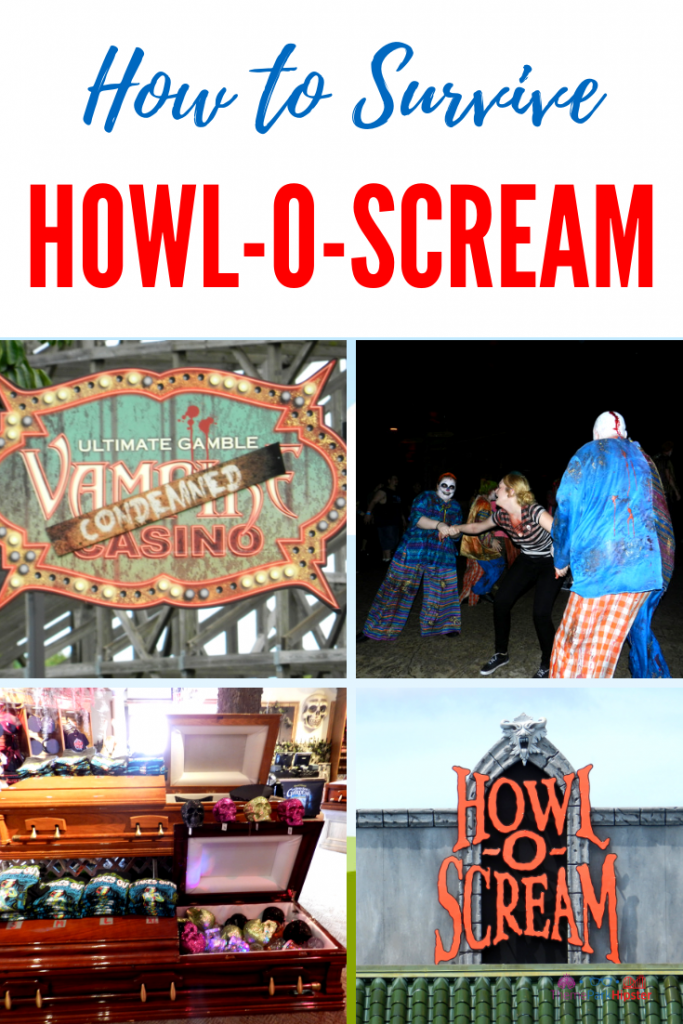 Let me know what your favorite Howl-O-Scream maze is of all time in the comments section below.
---
If you enjoyed this article, then you'll love these:
Until next time, Happy Park Hopping Hipsters!
NikkyJ
(Original Article Date: Fall 2012/Updated September 27, 2020)