Do you know what the fastest rides at Disney World are?
This guide is not for the faint of heart, but if you're in great health and seek thrills, you've come to the right place!
The best part of being a solo traveler is not having to wait in long lines all the time.
Skipping through Single Rider is one of the best parts of your visits. Especially when anticipating riding the fastest and thrilling attractions that Walt Disney World has to offer.
Today, I will be sharing the 7 fastest attractions at the Disney resort. I will also be sharing some of my solo traveler tips along the way!
THIS POST MAY CONTAIN AFFILIATE LINKS. PLEASE READ MY DISCLOSURE FOR MORE INFO. Which means if you click on certain links, I may receive a small commission at no additional charge to you.
9. Space Mountain ( 28 MPH)
This Magic Kingdom classic which debuted in 1975, is popular for feeling like it goes as fast as Test Track.
How tall is Space Mountain?
The indoor, dark space themed coaster is dual tracked. Both tracks are equal in height at 65 ft, with its highest drop being 26 ft.
How long is Space Mountain?
The only difference being its length with track Alpha being longer at 3,196 ft compared to Omega's 3,186 ft. 
Space Mountain serves as Tomorrowland's main spaceport where travelers come and go throughout the galaxy. Pay attention to the queue to get clues and hints about destinations available from this attraction, especially as you exit! 
Why is Space Mountain One of the Fastest Rides at Disney World?
As thrilling as this must do attraction is as you are dropping unexpectedly, diving and zooming through darkness, you're only going 28 miles per hour (MPH) on each track.
With this ride being part of the "Disney Mountain" challenge, it is coined as a Beginners' 1st big Roller Coaster. Waits can be over 200 minutes depending on when you're visiting.
This will change surely once the anticipated Tron Coaster arrives behind its "Big Sister." I would suggest rope dropping this attraction.
This ride doesn't have a Single Rider Line. However, due to the car's capacity, Cast Members often call for single riders once you get closer towards the front. 
8. Seven Dwarfs Mine Train (34 MPH)
This is a fairly new coaster was introduced to Disney guests in 2014 as part of the New Fantasyland expansion. I was actually part of the first group of guests to ride it during its debut day!
It is known for laying its foundation on the grave site of 20,000 Leagues Under The Sea. This attraction is constantly at a wait between 150-180 as its one of the few attractions that is slightly thrilling and that families can all ride together.
This attraction is based on Snow White and the Seven Dwarfs. The animatronics at the end of the ride are from the now gone Snow White's Scary Adventures ride.
Why is Seven Dwarfs Mine Train One of the Fastest Rides at Disney World?
You will ride through the mines, into the wooded forest and back to the Dwarfs cottage at an exhilarating but safe 34 MPH. Then you will have just enough time to plan your ride photo at the top of the big drop.
Unfortunately, this ride has a Single Rider Line. I would personally rope drop this one before Space Mountain as the wait won't waver much throughout the day.
ORDER NOW to secure your Orlando theme park ticket reservation in the parks! GET MY TICKETS.
7. BIG Thunder Mountain Railroad (35 MPH)
Are you ready to take on the wildest roller coaster in all the land at Walt Disney World! This Disney roller coaster can be found in Magic Kingdom's Frontierland.
We all know that this is a classic Disney attraction; however, don't let the age fool you. There's always a wait for BIG Thunder Mountain Railroad.
Why is BIG Thunder Mountain Railroad One of the Fastest Rides at Disney World?
This Magic Kingdom Roller Coaster will keep you captivated from start to finish will high-speed thrills that will have you in pure bliss with speeds reaching up to 35 MPH!
ORDER NOW to secure your Walt Disney World theme park ticket! GET MY TICKETS.
6. The Twilight Zone: Tower of Terror (39 MPH)
In true Hollywood Studios fashion, this attraction makes you the star! This attraction is not for those with a fear of heights.
I won't get into the story as it will ruin the experience for you in my opinion. This is a drop tower dark ride that spares no expense on its spectacular theming.
Many of the items you see are actual priceless antiques or nods to the show itself!
It will have you craning your neck from the ground as it stands at 199 ft. Anything 200 and above has to have a red beacon for planes and that would ruin the Disney magic!
Why is Tower of Terror One of the Fastest Rides at Disney World?
The drops are also generated by a computer, so you will never have the same drop sequence twice. You're experiencing the many drops while you're reaching speeds of up to 39 MPH.
With the opening of Galaxy's Edge, I had no issues walking right onto the attraction during a busy holiday season as park open.
This one doesn't have Single Rider Line, so my suggestion is to make a beeline towards sunset in the crossroads between Tower of Terror and Rock 'n' Roller Coaster when you book your Lightning Lane Pass for Rise of the Resistance.
Once you get it, you can simply walk in either direction to the most thrilling attractions at the park with little wait.
I got both done in 30-minutes that day after Christmas with this method. If any issues happen with your boarding pass, there is a Guest Experiences cart right there.
Ready to start planning your next Disney World vacation? Listen to the latest podcast episode on Apple or on your non-Apple device now!
5. Guardians of the Galaxy (35 MPH to 40 MPH)
This galactic roller coaster is the newest addition to Walt Disney World. It's in Epcot where you'll join Rocket, Groot, Drax, Gamora and Star-Lord (a.k.a. Peter Quill) to save humanity!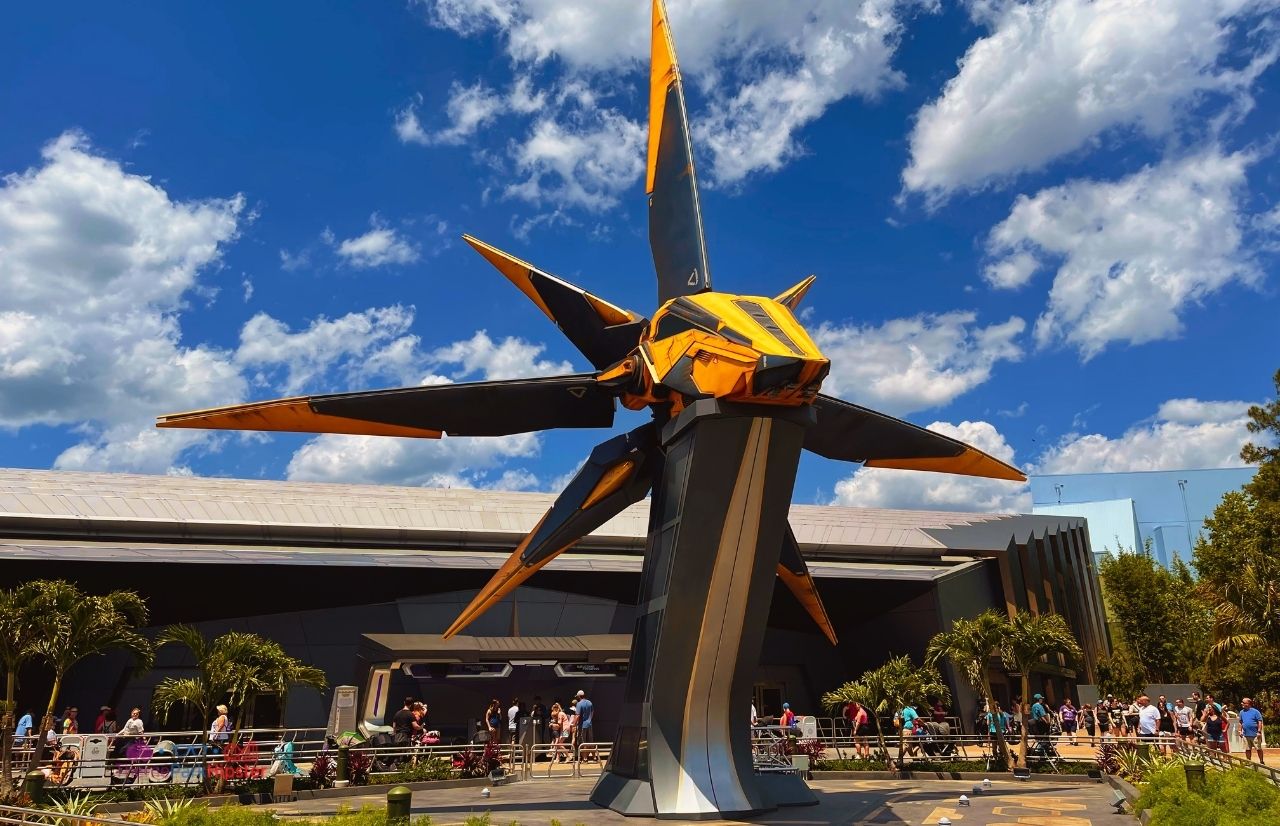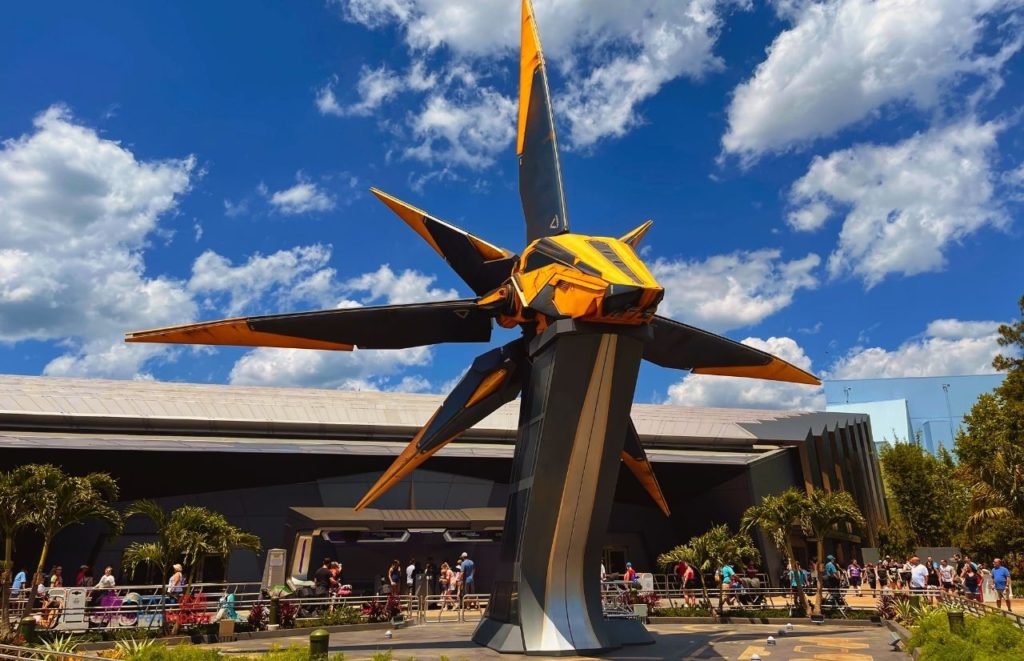 Why is Guardians of the Galaxy One of the Fastest Rides at Disney World?
While Disney hasn't officially announced a speed for Guardians of the Galaxy, you'll enjoy this family-friendly roller coaster that hits a lot of firsts for Walt Disney World such as:
The first coaster attraction at EPCOT.
First reverse launch for a Disney coaster.
The first Disney Omnicoaster, where vehicles make controlled rotations to always keep guests focused on the action.
First Walt Disney World attraction to feature the Guardians of the Galaxy.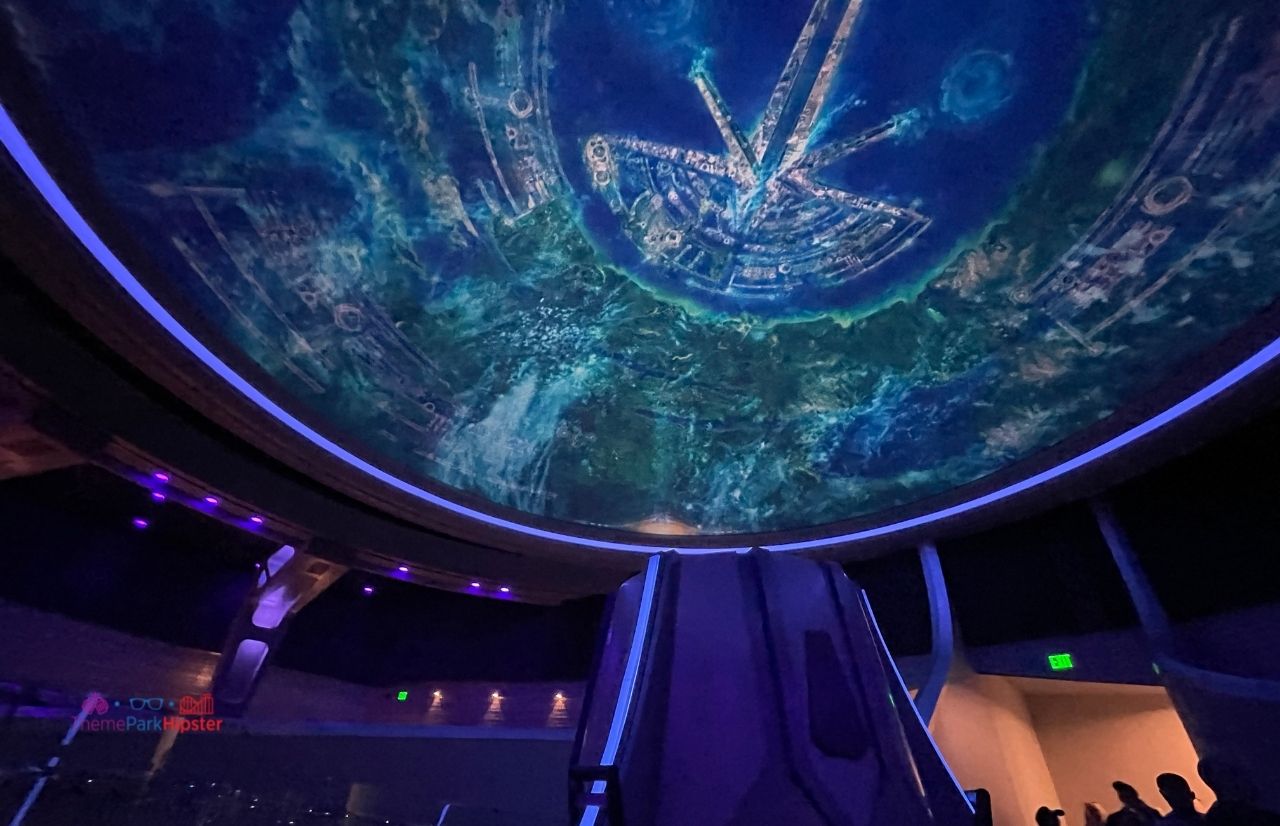 4. Slinky Dog Dash (40 MPH)
This is the E-ticket attraction of its perspective land, Toy Story Land, at Disney's Hollywood Studios.
It's a launch coaster with a story around this actually being built in Andy's backyard with his "Dash and Dodge Mega Coaster Kit." Slinky is used as the coaster and all of us "toys" get to go for a cool ride!
This is another popular one as its one of the few thrill coasters at its park that families can ride together. Its theme is charming and its drops and theme really add to the experience that you are one of Andy's toys in his backyard having a fun day while he's away.
Why is Slinky Dog Dash One of the Fastest Rides at Disney World?
Opening in 2018, it's been a hit ever since with its max speed of 40 MPH. Many guests bypass the popular Toy Story Midway Mania nowadays for this attraction.
If this is truly a must do for you, you may want to make a beeline for it and make your Rise of the Resistance Lightning Lane Pass while you wait in line.
The wait for this ride almost never goes down, but solo travelers tend to get choice seats if you ask nicely! 
Have a DIFFERENT kind of Orlando vacation with a Resort home next to Disney World. Find Your Disney Resort Vacation Rental here!
3. Expedition Everest (50 MPH)
Expedition Everest tends to be on every guests must do list! 
Located in the Asia section of Disney's Animal Kingdom, guests board a train which is supposed to take you through the Himalayas to the base of the mountain.
After a technical issue with the tracks, you are sent backyards into the bowls of the mountain while being chased by the infamous Yeti.
This ride has set records in its history, including being the 2011 Guinness World Records' most expensive roller coaster at a price tag of $100 million. It held this title up until Universal Orlando Resort debuted Hagrid's, which totaled $300 million. 
This attraction is praised for its detail, story, and its thrill! The attraction features over 8,000 artifacts brought over by Joe Rohde's team during a research trip.
Why is Expedition Everest One of the Fastest Rides at Disney World?
At 199.5 ft and a drop of 80 ft, this yeti will deliver what you come for! Guests reach speeds of 50 MPH and can hit 3 Gs.
Normally, I would say do the Single Rider Line for this even if Disney Genie+ is available. If you are a first-timer, I would say if the wait in standby is doable, go for it!
The immense detail that Rohde and his team put into the authenticity of the culture it showcases is to be appreciated.
Hipster Power Tip: Try this attraction close to park close! It's even more thrilling at night!
2. Rock 'N' Roller Coaster (57 MPH)
At the end of Sunset Blvd at Disney's Hollywood Studios, there lies a crossroads that will take you towards two different thrill-seeking experiences.
One is The Twilight Zone Tower of Terror and the other is Rock 'N' Roller Coaster featuring Aerosmith. 
This coaster originally wasn't made with Aerosmith in mind but movie business and Disney Parks business collided. Aerosmith was chosen after bands such as KISS wanted a bit more than what Disney wanted to pay.
The enclosed launch coaster debuted in the Summer of 1999. You are then invited to take of tour of G Force Records, where you get an exclusive look at Aerosmith laying down a song.
They are rushed by their manager to get to a show across town and they insist she gives everyone backstage passes!
She orders a super stretch limo (your ride vehicles) and you are ushered to the alley to rush to the show!
Why is Rock 'n' Roller Coaster One of the Fastest Rides at Disney World?
Each experience is different as you have the chance to get 2 different songs from the band to listen to as you go. The ride is infamous for its launch which goes 0-57 MPH in under 3 seconds while taking your ride photo!
The coaster features 3 inversions and has 5 Gs on its belt and is a total length of 3,043 ft, including the corkscrew and sea serpent roll with a height of 80 ft.
Single Rider Line is available for this ride so my tip would be to use the same one as for Tower of Terror. You will get both done in 30-45 minutes. If you want to shoot for later, try it towards park closing.
1. Test Track (65 MPH)
When it originally opened to guests in 1999 in EPCOT's Future World, it awed them as they were taken through a General Motors facility and experienced what the tests cars went through.
It was revamped completely in 2012 once Chevrolet became the sponsor. Test Track was given a more futuristic look and gave guests a more hands on experience.
The newly remodeled attraction gave guests the ability to design their own cars to test on the SIM track. As you pass through each test, you will be shown how your car ranked.
Why is Test Track One of the Fastest Rides at Disney World?
Both versions still peak with the speed test, which Imagineers originally wanted it to be 95 MPH. Due to the steep embankments, Florida laws and safety reasons, it was brought down to 65 MPH.
This is currently the fastest attraction Disney has built to date. Even when Tron Lightcycle Power Run debuts at Magic Kingdom, Test Track will still hold its title.
Exiting the ride will take you to the Chevrolet Showroom, where you can have more fun with your designs, see the latest vehicles, take photos and shop.
If you aren't a GM member, your best bet here is Single Rider Line or making a straight path towards it during park open or towards closing. This ride tends to have the highest wait times besides Frozen Ever After.
The good news is its easier if you're a solo traveler as far as chances in Single Rider. Unless you're a car aficionado, you aren't missing much in the queue. 
FUN FACT: There is a lounge at the very top of Test Track for GM Members to enjoy. I have had the pleasure of visiting! You can enjoy complimentary drinks, amazing views of Epcot. You can also design your car there and walk right downstairs to pretty much the front of the line.
Final Thoughts on the Fastest Rides at Disney World
As you can see, thrills at Walt Disney World come in a wide variety. They can be family rides, Drop towers and launch coasters!
That's what makes attractions at Disney so great, there really is something for everyone to enjoy.
What's your favorite thrill ride at Walt Disney World? Let us know in the comments section below!
About the Author
Until next time, Happy Park Hopping Hipsters!
UP NEXT: Top 10 Rides at Disney's Hollywood Studios
(Original Article Date: August 9, 2020/Updated on May 31, 2022 by Editor)