Did you know that Epcot is home to some of the Best Quick Service at Walt Disney World? If you'd like to learn more about these delicious bites that won't break the bank, keep on reading!
But heed this warning, this article can and will make you hungry!
Epcot is a true foodie's paradise. But with so much to do and see, sometimes a traditional Table Service meal isn't always in the cards.
And that's OK – because this park is jam packed with delicious Quick Service options, hiding 'round every bend.
Don't forget, all of the Quick Service locations listed below are perfect for solo travel. And being as all 5 of our Top Quick Service hotpots are located within World Showcase… we're going to be doing some globetrotting!
So, pack your bags and let's start exploring!
THIS POST MAY CONTAIN AFFILIATE LINKS. PLEASE READ MY DISCLOSURE FOR MORE INFO. Which means if you click on certain links, I may receive a small commission at no additional charge to you.
1. La Cantina De San Angel (Mexico)
Vibrant, festive, and full of life, La Cantina De San Angel is the Quick Service crown jewel of Mexico. Well, the crown jewel of the Mexico Pavilion… that is!
Here, you can expect to find all your typical Mexican fare, from tasty tacos and nachos to sweet churros and guacamole! However, this isn't your average everyday neighborhood Taco Bell.
Authenticity is at the heart of this menu, offering you true to form cold draft beers, house-made margaritas, and specialty Mexican sodas! Just be sure to bring your appetite because these portion sizes are generous!
Price Range: $
Top Pick: Tacos de Barbacoa – Shredded Beef on homemade Corn Tortillas topped with Red Salsa and Cilantro. Served with Rice and Black Beans with Queso Fresco
2. Kringla Bakeri Og Kafe (Norway)
You don't have to be a Viking to enjoy these sensational Norwegian delights! Hands down one of these most affordable and delectable snacks on ALL Walt Disney World property,
Kringla Bakeri Og Kafe invites you to relish in the realness of their endless array of traditional specialties, served in a rustic Scandinavian-themed setting!
The only downside here is that everything on the menu is more or less a dessert item… if you can even consider that a downside!
But if you're in the mood to indulge your inner sweet tooth, there is no sweeter deal in town!
Price Range: $
Top Pick: School Bread – Sweet Roll filled with Custard and dipped in Coconut
3. Yorkshire County Fish Shop (UK)
You'll only find two things to eat on the menu at Yorkshire Country Fish Shop – and that's crisp battered fish and piping-hot chips!
But what this quaint little shack lacks in variety, it makes up for in flavor. And whether is be Bass Ale or Harp Lager, who could enjoy a plate of fine British fare without a proper pint?
Not to mention, their turnaround is incredibly fast, making it ideal for a Park Hopping Hipster on the go, like yourself!
Price Range: $
Top Pick: Fish and Chips
4. Katsura Grill (Japan)
Chances are, you've walked past this serene setting and have never taken the mild trek uphill to find from where that pleasant aroma is coming.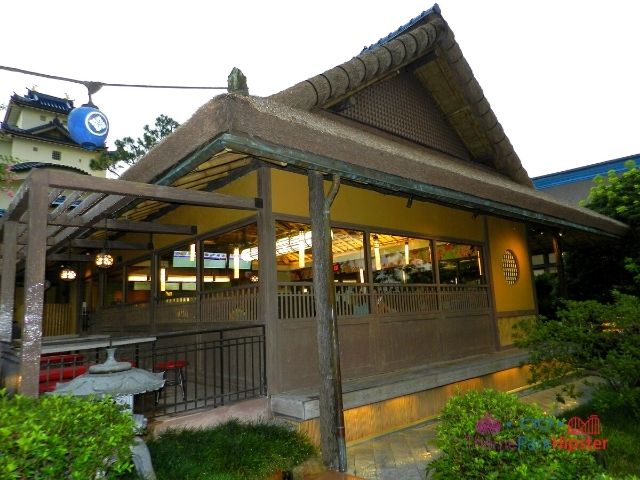 But if you venture towards the sound of taiko drums beating softy in the distance, you can enjoy a delectable meal of Chicken Teriyaki, Sushi, or Chicken Cutlet Curry, as you sit amid a gorgeous Japanese garden that showcases a one of a kind peaceful water feature.
And if you have a bit more of an adventurous palate, we encourage you to try the sake and plum wine!
You'd be hard-pressed to find a more relaxing outdoor environment in all of World Showcase!
Price Range: $
Top Pick: Chicken and Beef Teriyaki Combination Platter
5. Regal Eagle Smokehouse: Craft Drafts & Barbecue (America)
If you haven't been to Regal Eagle Smokehouse… get ready… because you're in for a real surprise!
Believe it or not, this is easily one of the (if not the) best Quick Service location in Epcot! This smokehouse is just two years old and is already becoming a Walt Disney World must-do!
Honoring the regions of American backyard barbecue, Regal Eagle Smokehouse presents a succulent lineup on their menu, from Memphis Dry-rub Pork Ribs to North Carolina Chopped Smoked Pork Butt!
Meanwhile, they host a solid stock of libations and beverages, including beers and ciders from around the USA, specialty cocktails, west coast wines, and more.
It is also worth noting that if you're a fan of The Muppets, this joint pays a salute to all Muppets. But mostly Sam Eagle.
Price Range: $
Top Pick: Sliced Texas Beef Brisket Sandwich
What To Know Before You Go to Epcot
Now that you know our Top 5 Quick Service locations at Epcot, let's quickly go through a few Frequently Asked Questions that may come up along the way!
Remember, the more you know before you head into the parks, the more you'll get out of the parks!
What Restaurants are Quick Service at Epcot?
Block & Hans
Choza de Margarita
Crepes A Exporter by a Creperie de Paris
Fife & Drum Tavern
Funnel Cake
Gelateria Toscana
Joffery's Coffee & Tea Company (Various Locations)
Joy of Tea
Kabuki Café
Karmell-Kuche
Katsura Grill
Kinggla Bakeri Og Kafe
La Cantina de San Angel
La Cava del Tequila
The Land Cart
L'Artisan des Glaces
Les Halles Boulangerie-Patisserie
Les Vins des Chefs de France
Lotus Blossom Café
Oasis Sweets & Sips
Popcorn in Canada
Refreshment Outpost
Refreshment Port
Regal Eagle Smokehouse: Craft Drafts & Barbecue
Somerfest
Spice Road Table
Sunshine Seasons
Traveler's Café
Tutto Gusto Wine Cellar
UK Beef Cart
Yorkshire County Fish Shop
ORDER NOW to secure your Walt Disney World theme park ticket! GET MY TICKETS.
Which Disney Resort has the best Quick Service?
In my opinion, the best resort Quick Service is Captain Cook's, located within Disney's Polynesian Village Resort.
Revered for its Thai Coconut Meatballs, Pulled Pork Nachos, and Tonga Toast, this Quick Service offers savory eats, sweet treats, ultra-relaxed vibes, and a stunning view of the Lava Pool.
Disney's Polynesian Village Resort is also on the monorail, making it incredibly accessible to guests who are not staying at the resort.
Do You Need a Reservation for Quick Service at Disney?
You do not need a reservation, nor can you make a reservation for a Quick Service at Walt Disney Disney World.
In Conclusion…
Well ThemeParkHipster, I hope my list of the Best Quick Service at Epcot provided a tasty hint of where to explore for your next trip around World Showcase!
Hopefully you'll walk away with a better idea of where to go for solid theming, food, and fun so you can make an informed decision on you next day at Epcot!
For more theme park tips and tricks, follow ThemeParkHipster on YouTube.
Until next time, Happy Park Hopping Hipsters!
If you enjoyed this article, then you'll love these:
About the Author