SeaWorld Orlando is one of the last maritime theme parks left in the nation. It's an aquatic park in Orlando that can be done as a half-day or whole-day park.
This depends on your goals for that day.
SeaWorld Orlando is quite stunning and is in the same family as Busch Gardens.
THIS POST MAY CONTAIN AFFILIATE LINKS. PLEASE READ MY DISCLOSURE FOR MORE INFO. Thank you!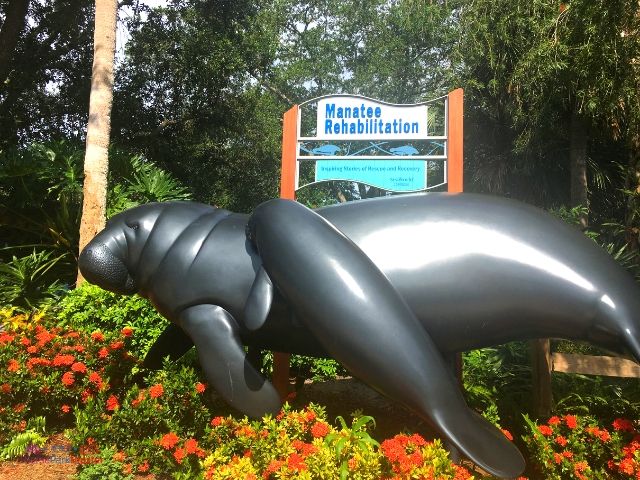 What can I expect at SeaWorld Orlando?
When approaching the park gates, you'll see a watery entrance reminding you of a gorgeous bay in San Diego.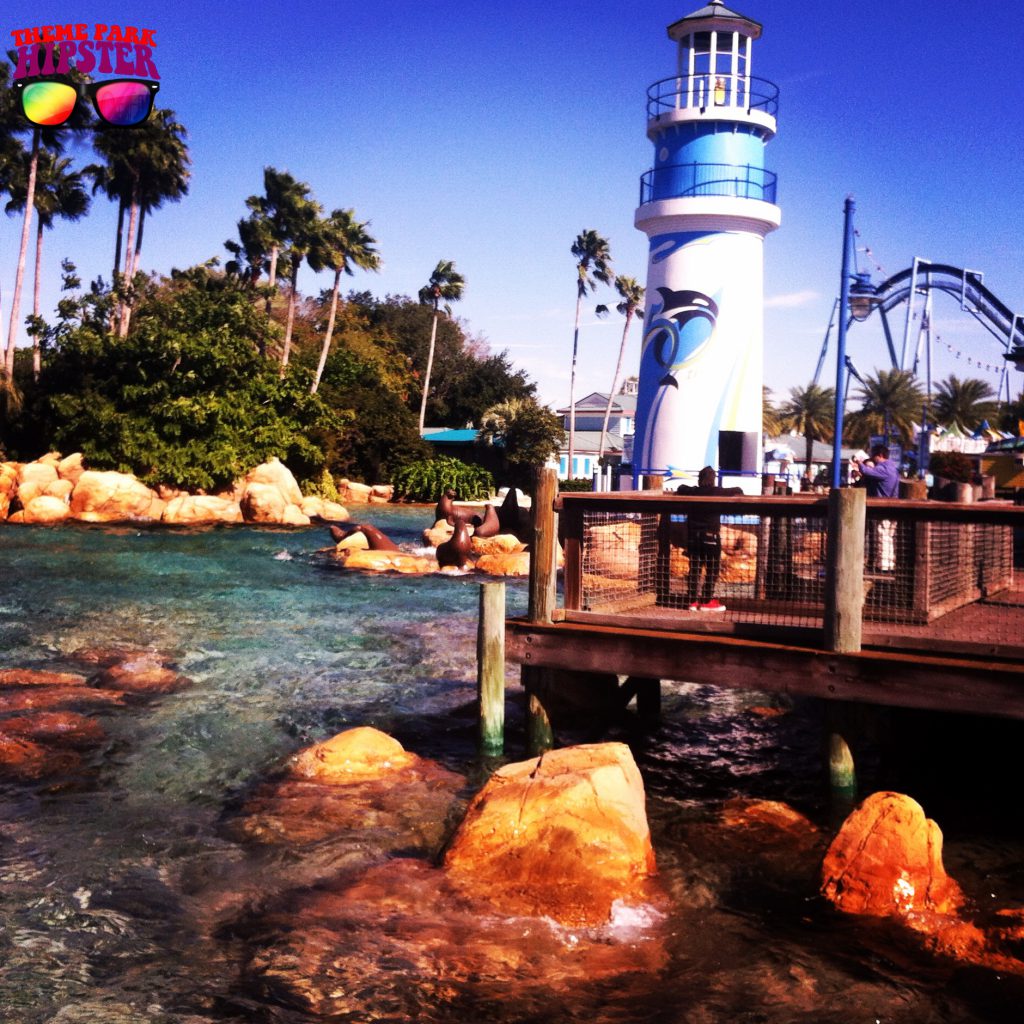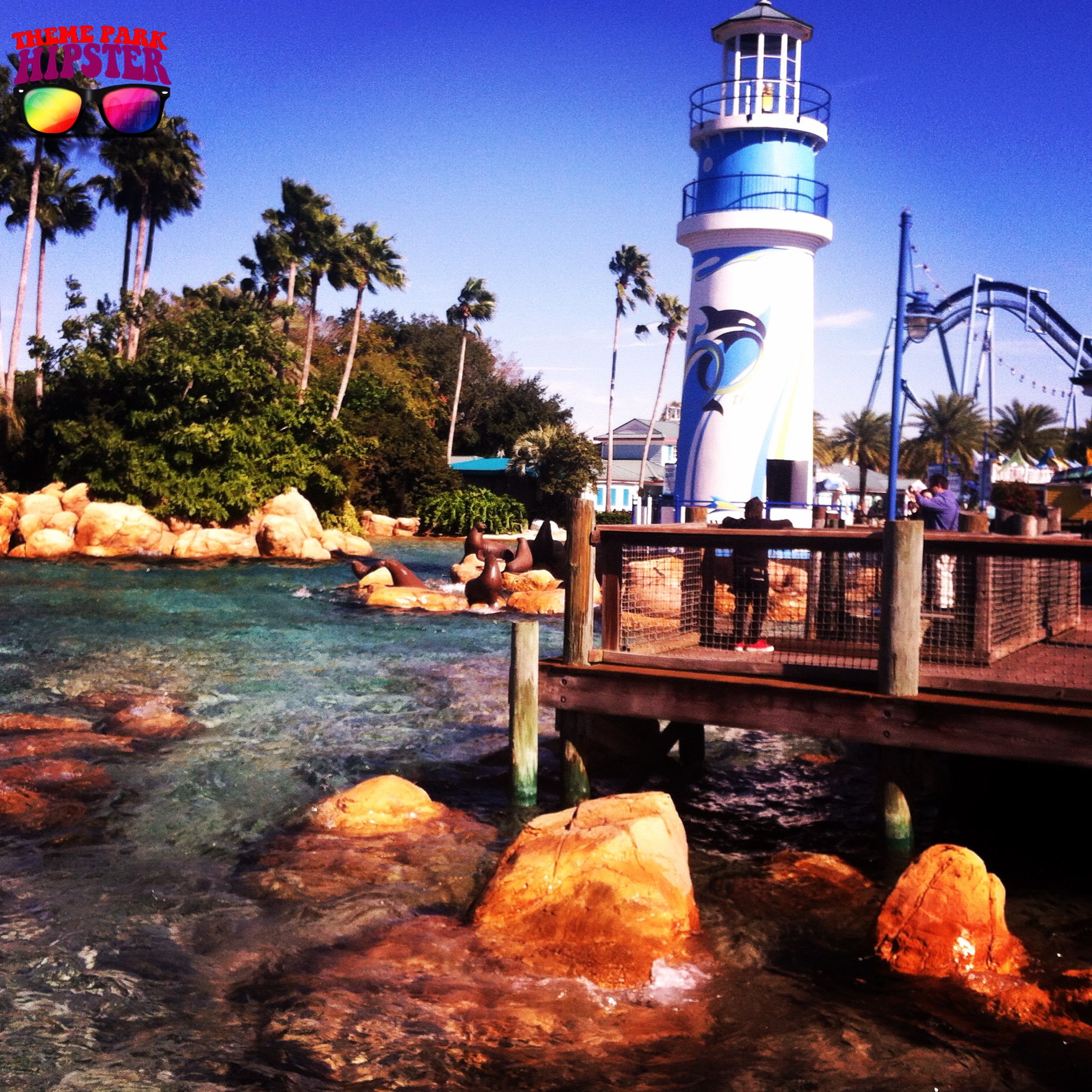 Once in the gates, you experience watery thrills, hear tropical noises, and see colorful topiary displays.
2020 SeaWorld Orlando Guide for First-Timers
Now that you're ready to get your aquatic journey started, let's go over everything you need to know for a successful trip!
SeaWorld Orlando Hours
SeaWorld usually opens at 9:00 a.m. and closes at 6:00 p.m. However, during the peak summer days the park may be open until 10:00 p.m.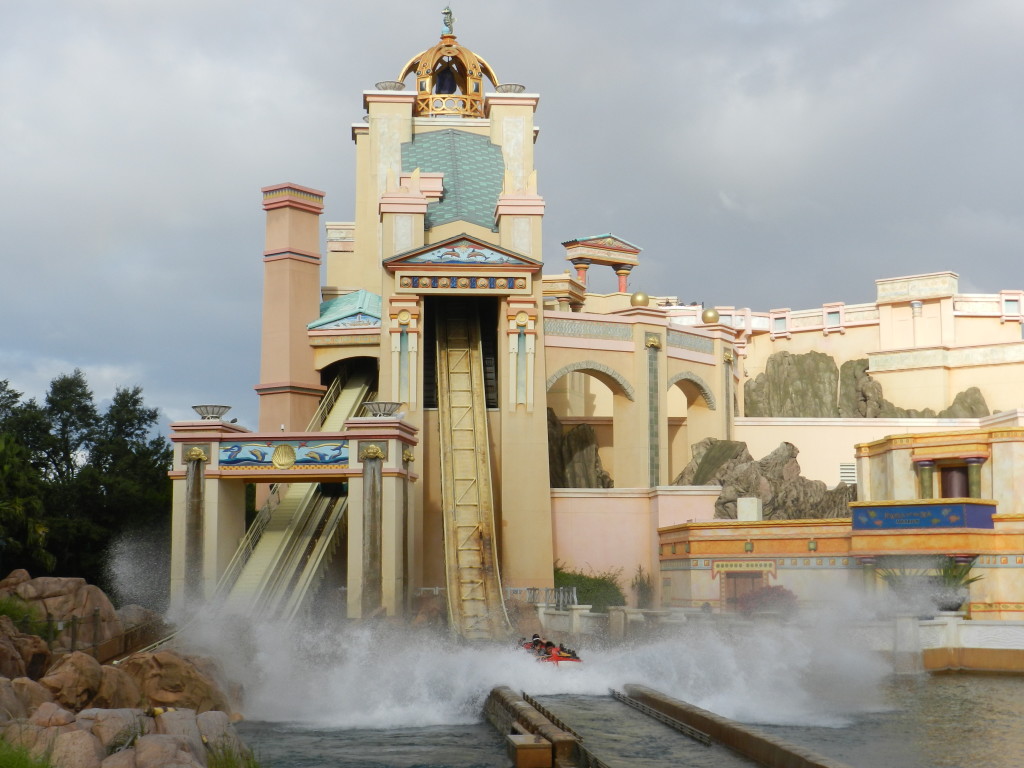 Remember when planning your trip, always check the park's website or mobile app for the current hours and wait times.
ORDER NOW to secure your theme park ticket reservation in the parks! GET MY TICKETS.
What made me fall in love with SeaWorld?
SeaWorld was one of the first theme parks I visited as a child, so it will always have a special place in my heart.
It was one of the few parks families could budget modestly for and have a great time.
How was SeaWorld started?
The SeaWorld franchise started in 1964 in San Diego, California. It was founded by George Millay, Milt Shedd, Ken Norris and David DeMott.
The franchise was originally planned as an underwater restaurant, but eventually blossomed into an aquatic amusement park.
In 1968 SeaWorld became a publicly traded company, which allowed for expansion into the Ohio and central Florida areas.
In 1973 SeaWorld Orlando was established.
What is SeaWorld address?
SeaWorld Orlando is located at 7007 Sea World Dr, Orlando, FL 32821. Right in heart of the Orlando tourist scene.
Please Note: Reservations are required for all guests visiting SeaWorld Orlando.
Do Pass Members need to make a reservation for SeaWorld Orlando?
You will need to make reservations to get into the park with your Annual Pass. You can do this by logging online to your Pass Member account.
Here you can also upgrade your day and redeem any online rewards mentioned in this article through your Pass Member account.
2020 SeaWorld Orlando Map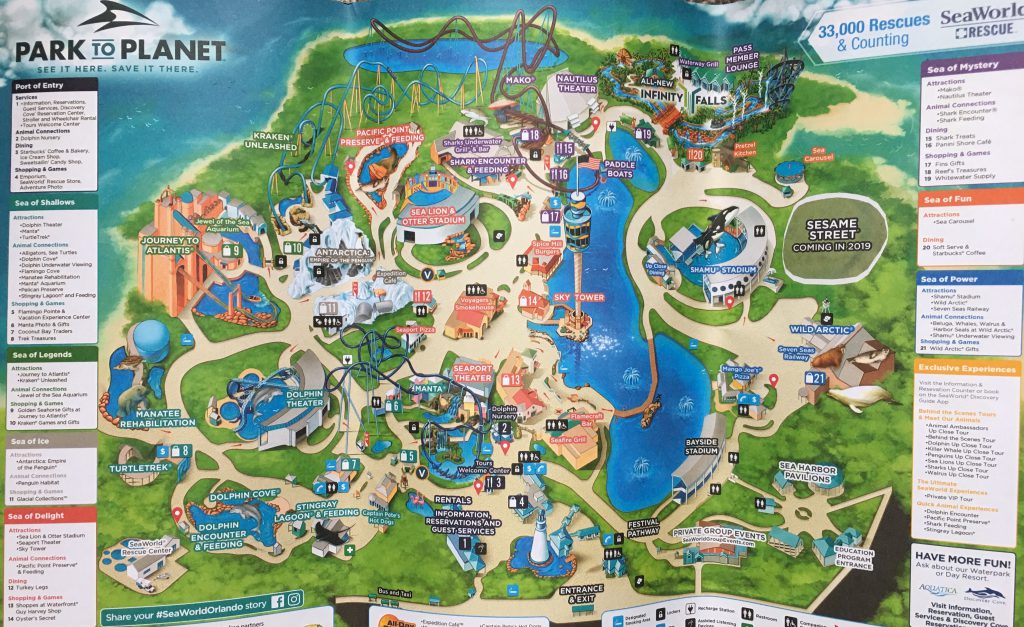 What are some facts about SeaWorld Orlando?
SeaWorld in Abu Dhabi is planned for opening in 2022 on Yas Island.
The TurtleTrek's movie is actually two films running simultaneously. One is for the left eye, the other for the right.
The staff provides close to 400,000 pounds of Romaine lettuce to some of their marine wildlife.
SeaWorld is still trying to recovery after the documentary, Blackfish, which talked about the orca program.
There as an unaffiliated park in Australia called Sea World (two words instead of one).
Mako is the tallest, fastest and longest roller coaster in Orlando.
PRICING AT SEAWORLD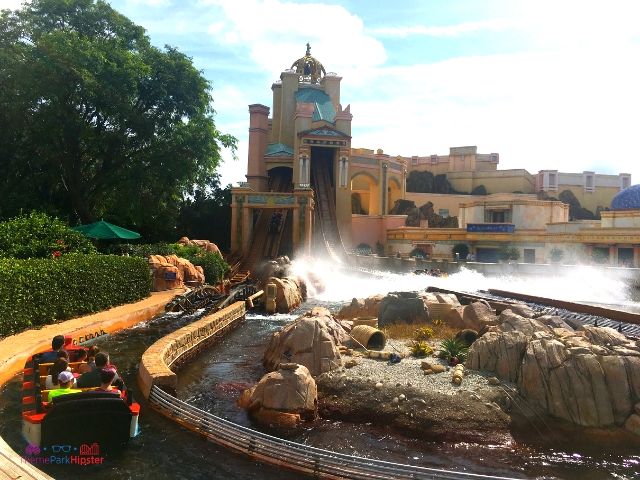 SeaWorld Orlando Tickets
One-day admission starting at $107.99
Multi-Park Tickets starting at $54.99 per park
Dine with Shamu starting at $29.00 for adults, $19.00 for kids
*All SeaWorld ticket, dining, tour, and merchandise pricing subject to change. Check SeaWorld's official website to receive tickets at up to 50% post the 2020 pandemic.
Save up to $37 on SeaWorld Orlando Resort Tickets!
What age is free at SeaWorld Orlando?
Kids 2 and under can get free SeaWorld admission.
There's also the Kids FREE Package if you book a vacation with SeaWorld.
Package details according to SeaWorld:
Free child's admission to SeaWorld to enjoy the All-New Sesame Street at SeaWorld (1 Free child/paying adult. Limit 2 free children)
FREE parking at SeaWorld
Choice of hotel accommodations including one FREE night*
Reserved Seats for SeaWorld's most popular shows
Add Aquatica Orlando length of stay admission for only $25/park/person
SeaWorld Parking
$25: General parking for cars, motorcycles, trucks, recreation vehicles and campers (FREE for Annual Pass Members)
$35: Preferred parking
SeaWorld Orlando Discount Tickets
You can find discounted SeaWorld Orlando tickets on websites such as Undercover Tourist.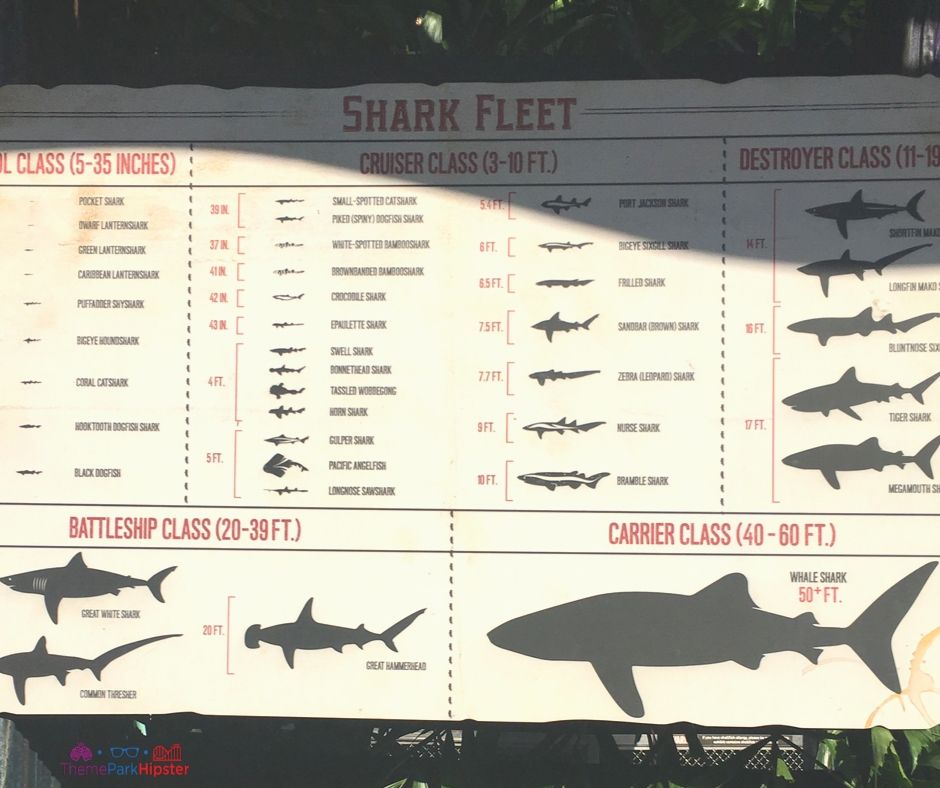 SeaWorld Annual Passes
SeaWorld only starting at $8/month
Busch Gardens+ SeaWorld or Adventure Island
SeaWorld + Busch Gardens + Adventure Island or Aquatica
Fun Card – Pay for a day, come back for free the rest of the year
Platinum Pass– Best deal that includes unlimited admission to SeaWorld Orlando (FL), San Diego (CA) and San Antonio (TX); Busch Gardens Tampa Bay (FL) and Williamsburg (VA), Adventure Island® (FL), Aquatica® Orlando (FL), San Diego (CA) and San Antonio (TX), Water Country U.S.A (VA) and Sesame Place® (PA) for 12 months. Free parking, ride again privileges and more!
You can read all about the SeaWorld Annual Pass Perks and Benefits here!
SeaWorld All-day Dining Plan
All you can eat and drink at SeaWorld.
Adult: $39.99
Child: $19.99
*Prices subject to change.
Quick queue at SeaWorld
You can skip the line on major attractions. Prices start at $19.00 and vary based on how busy the park may be that day.
Below are the current attractions included in the Quick Queue system:
Mako
Manta
Kraken
Antarctica: Empire of the Penguin
Infinity Falls
Journey to Atlantis
Wild Arctic
---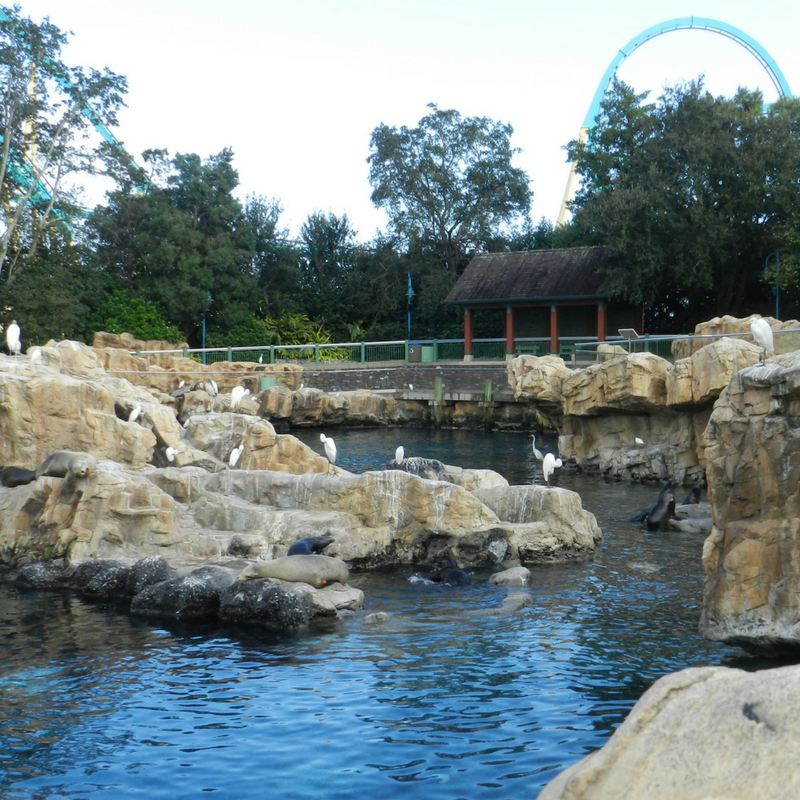 SeaWorld Tours
Dolphin Encounter
Spend up-close time with bottlenose dolphins at Dolphin Cove®
Sharks Up-Close Tour
You will be able to touch a small shark and learn fact from fiction about the diversity of sharks.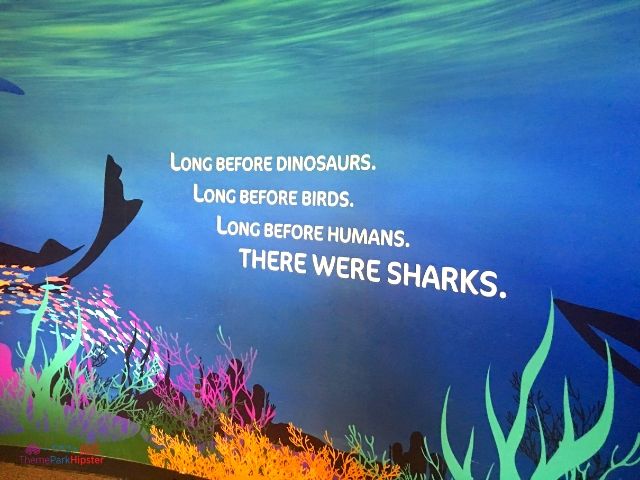 Penguin Up-Close Tour
A 45-minute walking tour about what it takes to care for penguins.
Sea Lion Up-Close Tour
A 60-minute tour where you find out what it takes to care sea lions.
Dolphin Up-Close Tour
A 60-minute tour where you will have the chance to interact with Atlantic bottlenose dolphins.
Behind-the-Scenes Tour
A fun tour on how penguins and shark are cared for at the park.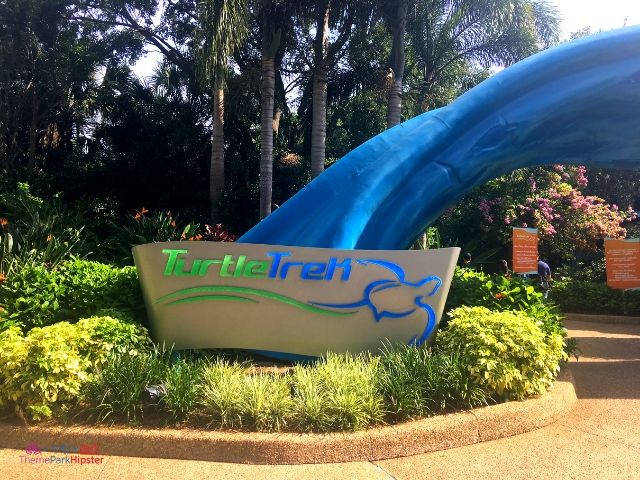 SeaWorld Rescue Experience
This 4-hour tour gives you a hands on adventure of how the rescued animals are cared for once they are at the park.
Private VIP Tour
The Private VIP Tour provides your group with its own SeaWorld tour guide for up to 4 hours. It includes insider tips from an expert guide, front-of-line access and reserved seating to rides and shows.
Elite VIP Tour
A 6-hour expert guide through SeaWorld. You will also enjoy reserved seats at three of the most popular shows, front-of-the-line access before and after your guided tour, All-Day Dine and more.
Ultimate VIP Tour
Get in all and be a rockstar on your SeaWorld trip with this upgrade! This immersive 8-hour tour gives you behind-the-scene looks at the park. Plus, all the perks of the Elite VIP Tour.
*All tours subject to change.
Ready to plan your theme park trip? Watch the best vacation planning tips on YouTube. Get started here!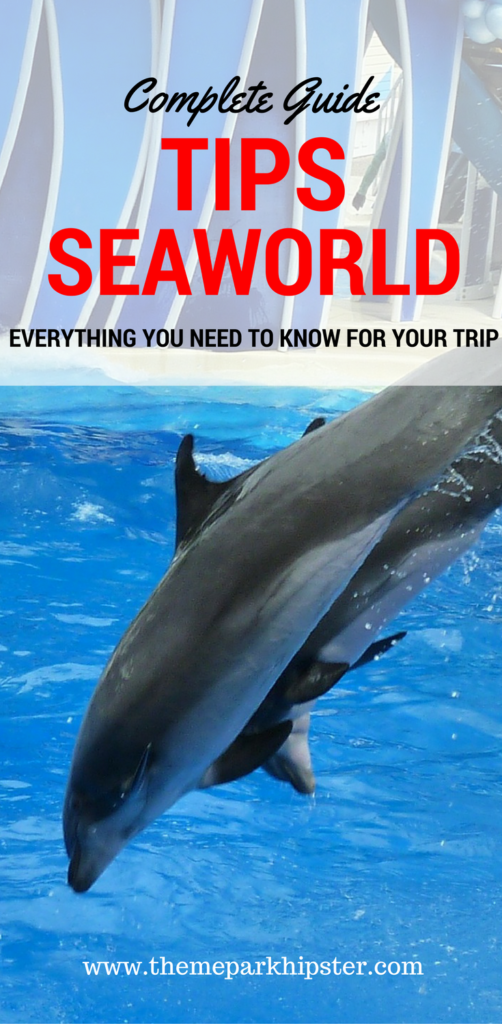 SEAWORLD ORLANDO TIPS
1 – Get there early
Arrive 30 minutes prior to park opening. It's the best way to maximize your day, especially if you're trying to do it all in one day.
2 – Dress appropriately
Florida weather is mostly hot and humid except for the beautiful months of December, January, February, and March.
3 – Find quiet, shaded spots
The vegetation area by the Dolphin Encounter and near Turtle Trek are two, usually serene, sitting areas.
4 – Go during the weekdays
To avoid the frustration, I suggest avoiding holidays, the weekends, and the summer. This is the time that both locals and tourists flood the park.
Check out the Undercover Tourist crowd calendar to find the best days to go.
5 – Download park app
Map out day prior to visit by downloading app.
This is a great way to make a note of your must do's and also a way to help you see and experience as much as you can if you're only there for a short visit.
6 – Pass on Preferred Parking
Try to get to SeaWorld early and park in the regular parking section. The parking situation at SeaWorld isn't bad.
Wherever you end up parking, the walk to the front gate shouldn't be too terrible.
7 – Save time and money and buy discounted SeaWorld tickets online
Undercover Tourist offers great deals on SeaWorld tickets.
8 – Purchase the All-Day Dining Deal
For one low price, you will get a band that allows you to eat at participating restaurants all day. You get 1 entrée, 1 side or dessert, and 1 fountain drink, tea or water for each visit.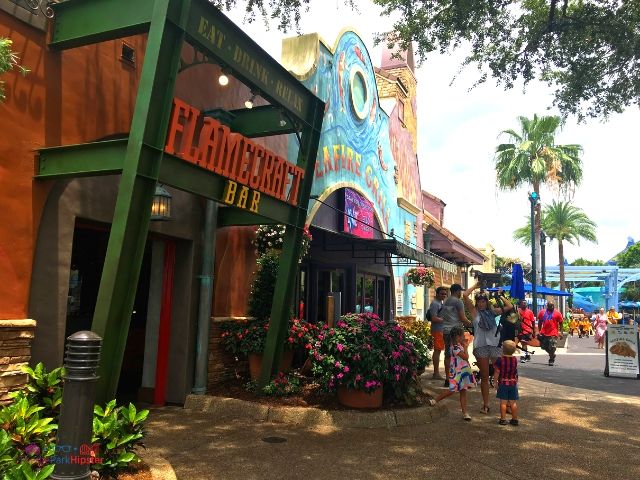 Basically, an all you can eat day at the park.
Participating All-Day Dining Restaurants at SeaWorld Orlando:
Voyager's Smokehouse
Expedition Café
Seaport Pizza
Captain Pete's Island Treats
The Spice Mill
Seafire Grill
Mango Joe's
Mama's Pretzel Kitchen
Lakeside Panini Bistro
Waterway Grill
Sharing is prohibited and may lead to revocation of your dining pass if found in violation of the rule.
Read all of the best SeaWorld Orlando tips here!
---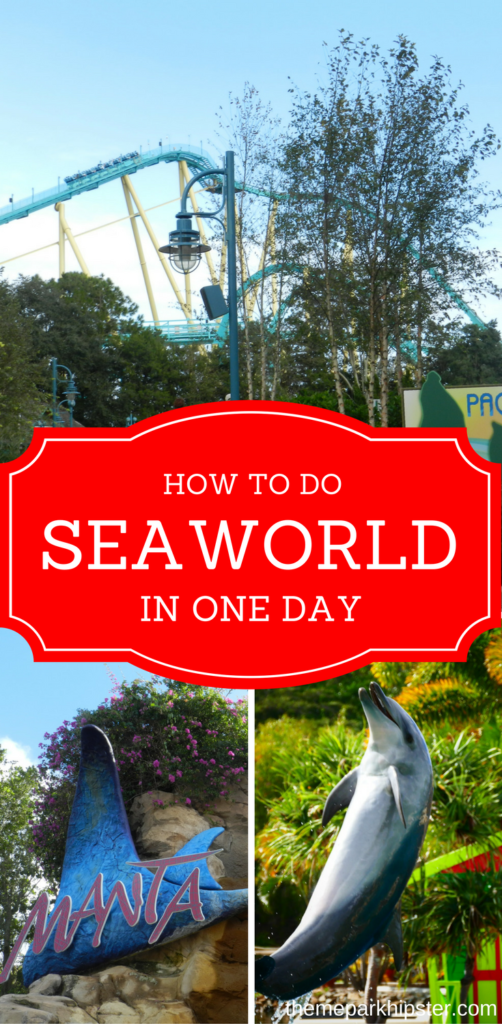 HOW TO DO SEAWORLD ORLANDO IN ONE DAY
Start Early (probably not as early as Universal and Disney) and get to the park when the gates open.

Grab a park guide and map out your day.

Ride Manta. *Must Do*

Pet the stingrays in Key West.

Play with dolphins in Dolphin Cove.

Experience Turtle Trek.

Hop aboard Journey to Atlantis.

Explore Antarctica: Empire of the Penguin. *Must Do*
Ride Infinity Falls.

Have lunch at Shark Underwater Grill.

Explore Pacific Point Preserve.

Explore Sesame Street Neighborhood.

Use this time to do any tours, shows that you're interested in, such as the One Ocean animal show.

Do the Paddle Boats to finish your day off.
SEAWORLD ORLANDO EVENTS
Seven Seas Food Festival
(February through May)
Sea creatures, coasters, music, food, drinks, fun and more can all be experienced in this new standout SeaWorld annual event.
Electric Ocean Summer Nights
(June, July, and August)
Experience the terrifying roller coasters and new shows at night. Party with other Hipsters as DJs play your favorite tunes throughout the night.
Halloween Spooktacular
(September and October)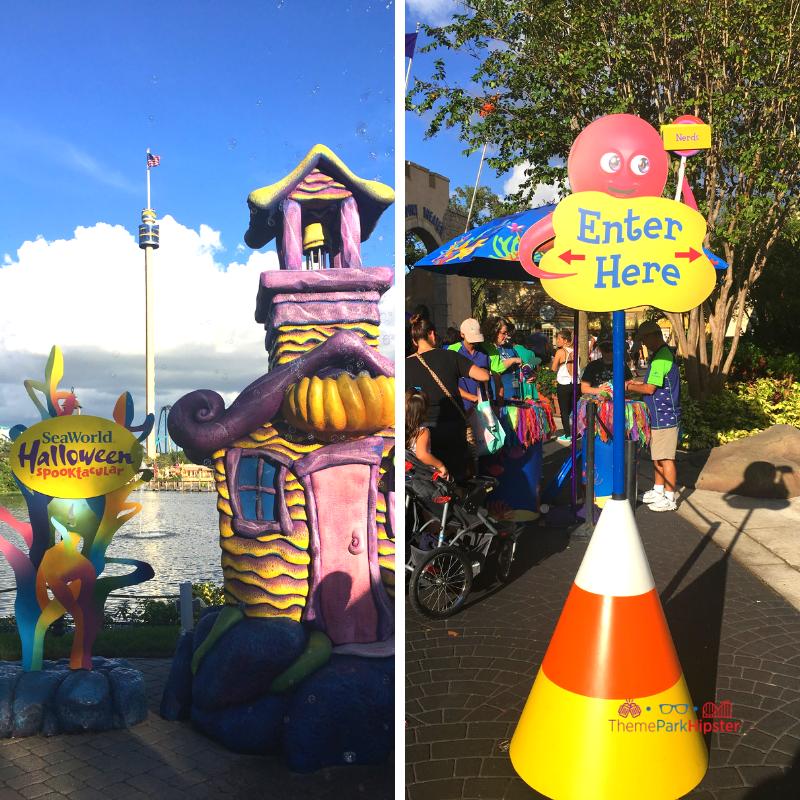 A family friendly Halloween event.
SeaWorld's Christmas Celebration (November and December)
Create new holiday memories with festive attractions, shows, shopping, and dining.
SEAWORLD ORLANDO RIDES AND ATTRACTIONS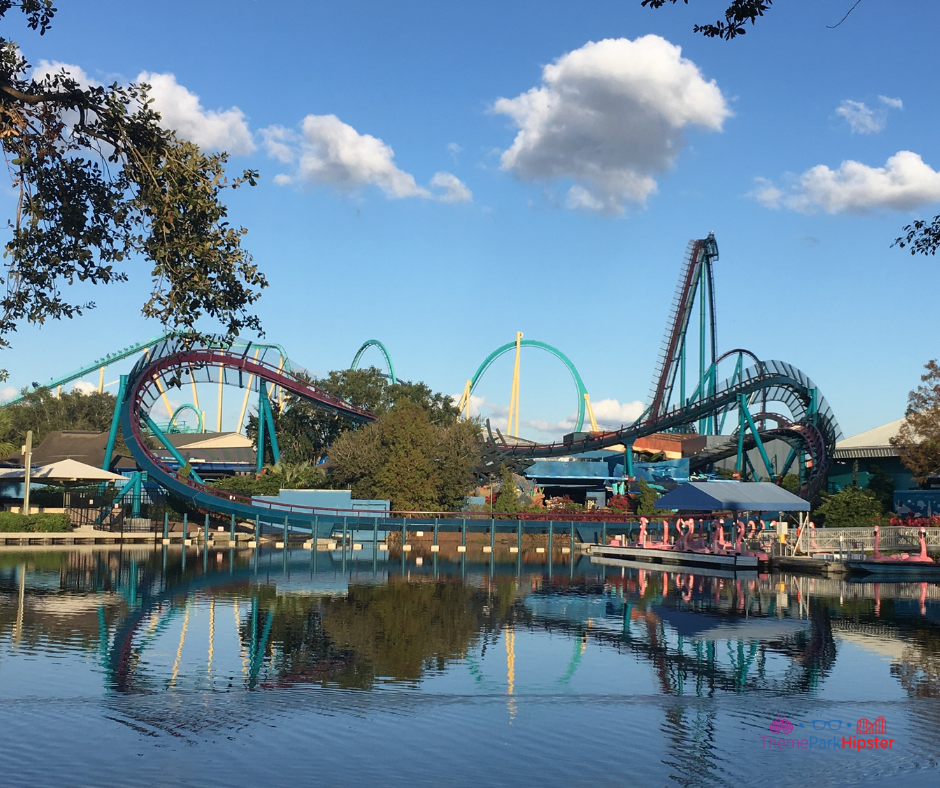 Antarctica
, Sea of Ice Area
Ride into the icy world of the South Pole – Thrill: Low
Dolphin Days
, Sea of Shallows Area
A festive show educating you on the Atlantic Bottlenose Dolphin
Clyde and Seamore's Sea Lion High
, Sea of Delight Area
Watch the sea lions go back to school to earn a diploma
Dolphin Cove
– Animal Encounters, Sea of Shallows Area
Observe dolphins in the front area of the park.
Infinity Falls
–
NEW
River ride adventure – Thrill: Moderate, Wet
Journey to Atlantis
, Sea of Legends Area
Go deep into the dark myths of Atlantis – Thrill: Moderate, Wet
Kraken Unleashed Roller Coaster
, Sea of Legends Area
A Sea monster inspired roller coaster – Thrill: High
Mako
, Sea of Mystery Area
A hyper coaster with high speeds and deep dives – Thrill: High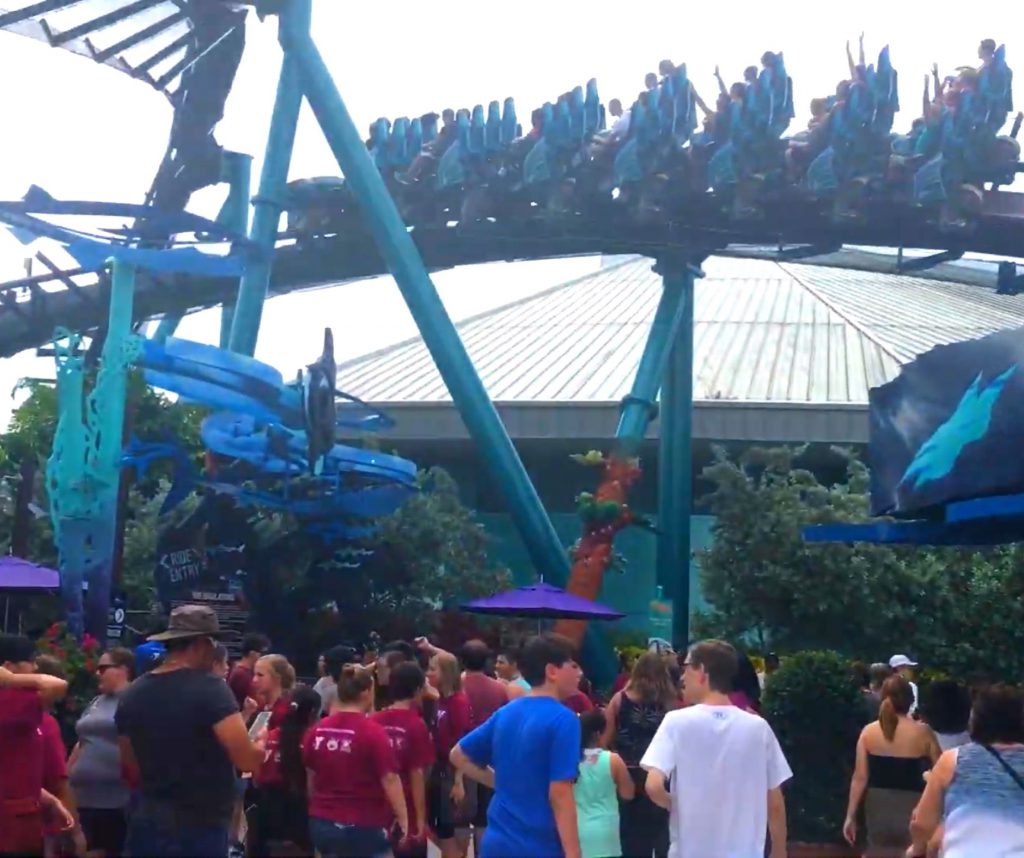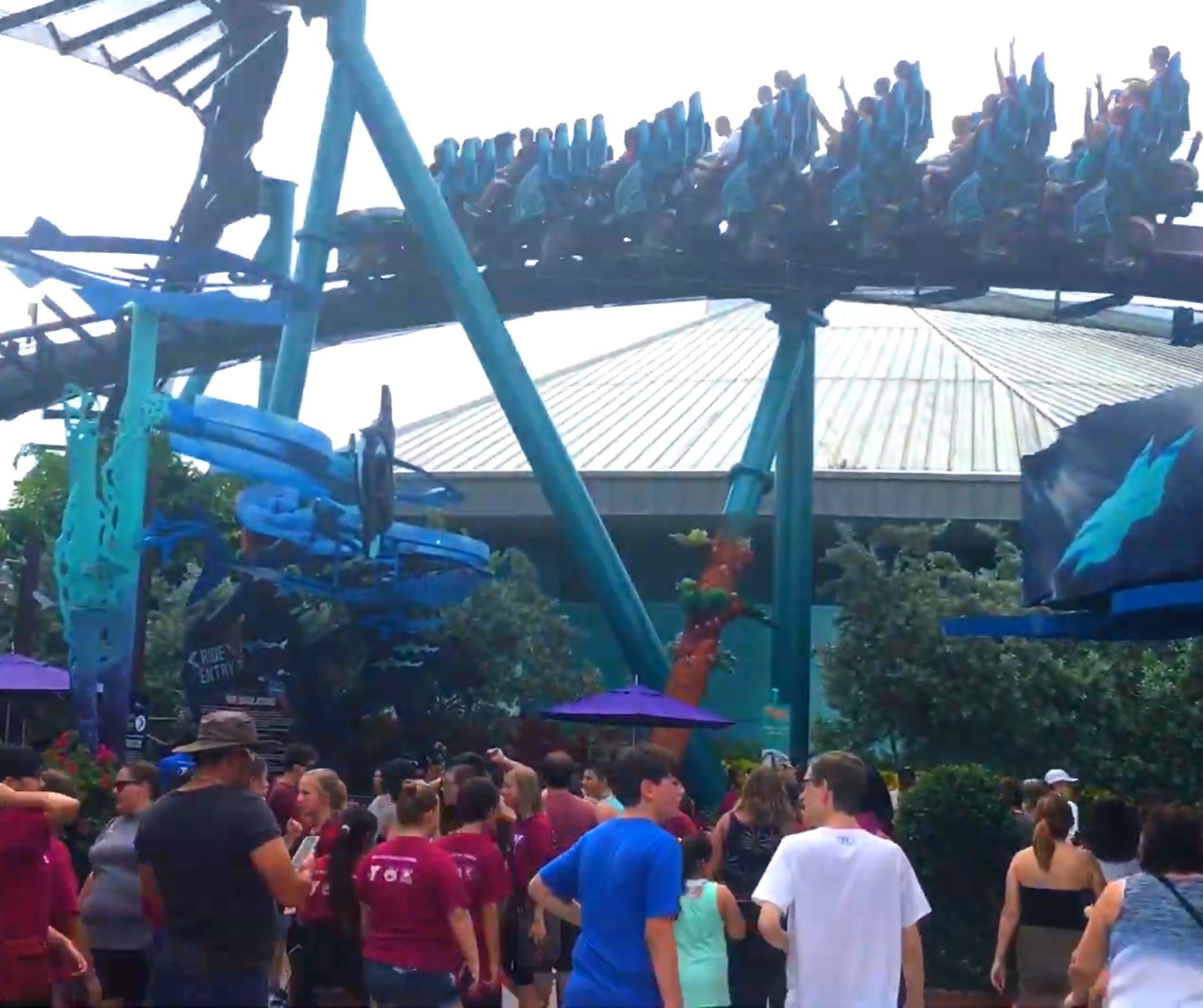 Manta Roller Coaster
, Sea of Shallows Area
Glide like a giant stingray – Thrill: High
One Ocean,
Sea of Power Area
The staple killer whale show at SeaWorld
Pacific Point Preserve
– Animal Encounters, Sea of Delight Area
Watch sea lions and more!
Paddle Boats
, Sea of Mystery Area
Take a tour across the central lake in SeaWorld – Thrill: Low
Theme Park Hacks at Your Finger Tips. Plan your next vacation with the latest tips and tricks on the ThemeParkHipster App. Download Today!
Pets Ahoy!,
Sea of Delight Area
A classic animal show
Ocean Discovery
, Sea of Power Area
High energy whale show during the Summer Nights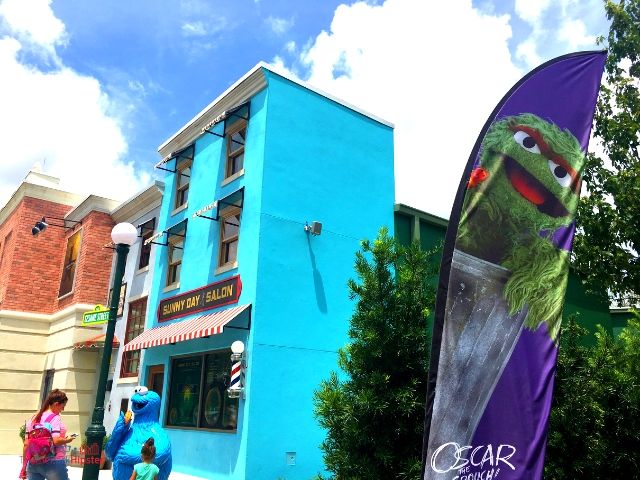 Sesame Street Neighborhood
, Sea of Fun Area
NEW
Play area for the whole family that features:
Abby's Flower Tower
Big Bird's Twirl 'N' Whirl
Cookie Drop!
Elmo's Choo Choo Train
Rubber Duckie Water Works
Slimey's Slider
Super Grover's Box Car Derby
Thrill: Low
Shark Encounter
– Animal Encounters, Sea of Mystery Area
Get up close in personal with creatures of the deep.
Sky Tower
, Sea of Delight Area
A 400-ft staple of SeaWorld since the very first day of the park – Thrill: Low
Stingray Lagoon
– Animal Encounters, Sea of Shallows Area
Get up close with stingrays in the Key West section of SeaWorld.
TurtleTrek Movie
, Sea of Shallows Area
A 3D 360° theatre shows the vulnerable sea turtle
Wild Arctic
– Animal Encounters, Sea of Power Area
Flight simulator that takes you through the artic – Thrill: Low
Solo Travel Tip: Use Single Rider lines at select attractions for a much shorter wait time.
DINING AT SEAWORLD ORLANDO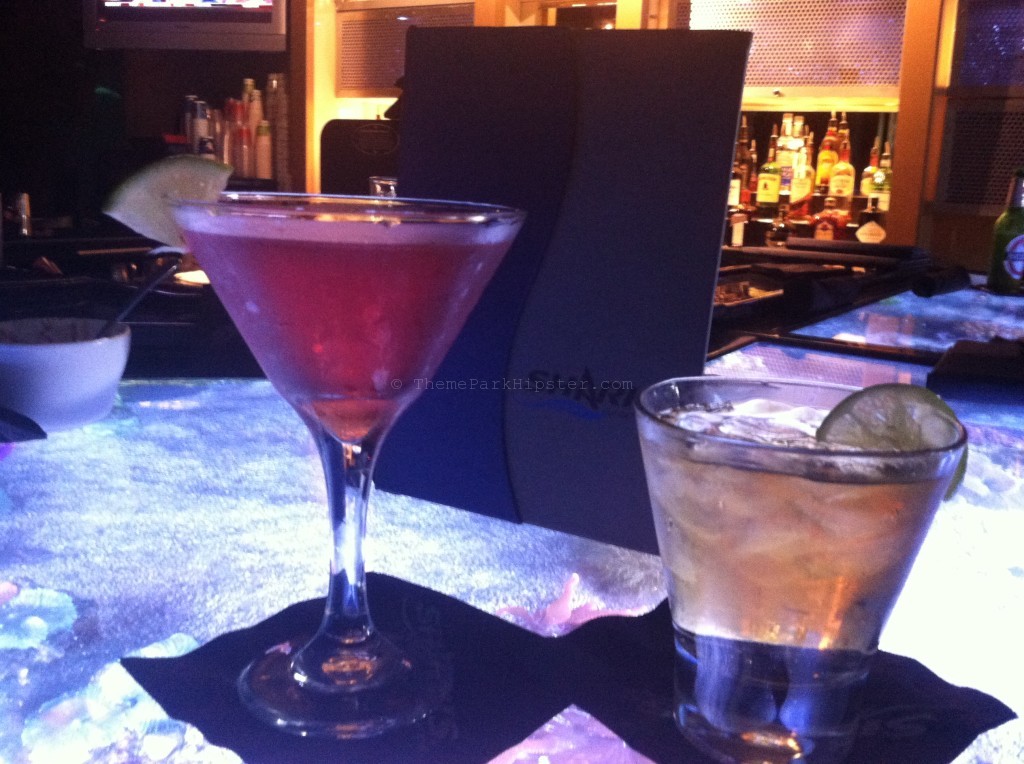 Captain Pete's Island Eats

, Counter Service, $, American
Location – Sea of Shallows
Cypress Bakery

, Counter Service, $, Bakery
Location – Port of Entry
Dine with Shamu

, Character Meal, $$, American
Location – Sea of Power
Expedition Café

, Quick Service, $$, Various Multiple Cuisines
Location – Sea of Ice
Lakeside Panini Bistro

, Counter Service, $, American
Location – Sea of Mystery
Mama's Pretzel Kitchen

, Counter Service, $, Pretzels and Snacks
Location – Sea of Fun
Mango Joe's

, Counter Service, $, Southwestern
Location – Sea of Power
Seafire Grill

, Counter Service, $, American
Location – Sea of Delight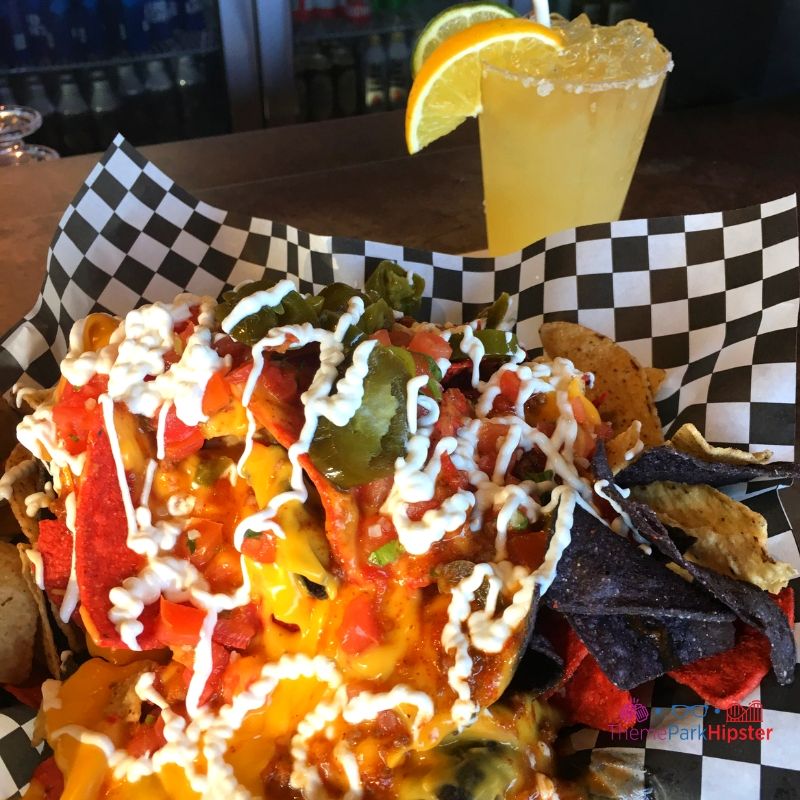 Seaport Pizza

, Counter Service, $, American
Location – Sea of Delight
Sharks Underwater Grill

, Full Service, $$$, Caribbean
Location – Sea of Mystery
South Pole Beverages

, Counter Service, $, Beverages
Location – Sea of Ice
Spice Mill

, Counter Service, $$, American
Location – Sea of Power
Terrace Bar

, Counter Service, $, American
Location – Sea of Mystery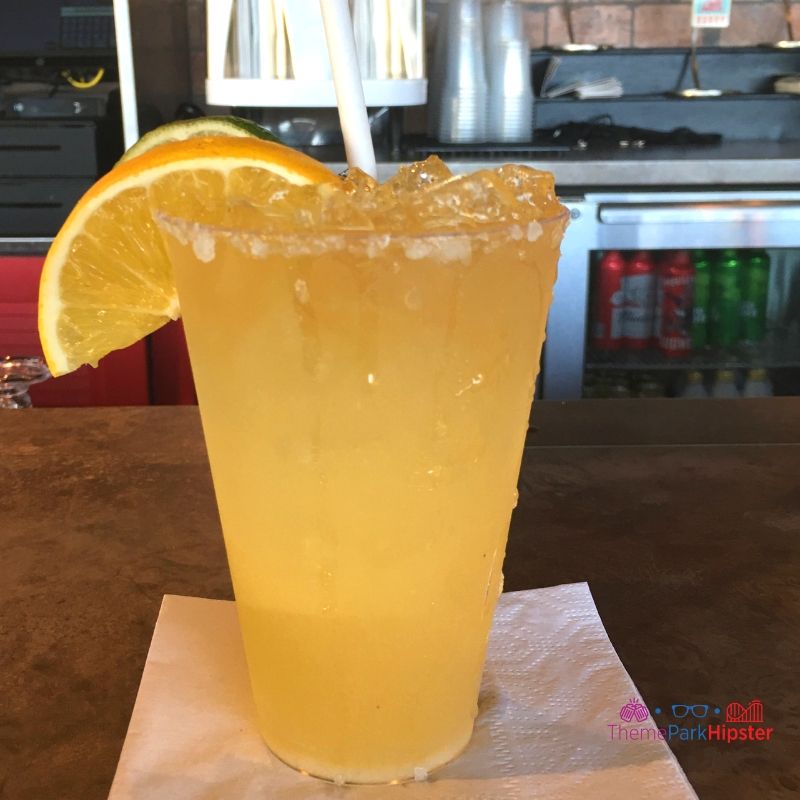 Voyager's Smokehouse

, Counter Service, $, Barbecue
Location – Sea of Delight
Location – Sesame Street Neighborhood
*Prices and dining experiences subject to change and may be offered seasonally. $ ($14.99 and under), $$ ($15 to $34.99), $$$ ($35 to $59.99), $$$$ (over $60)
---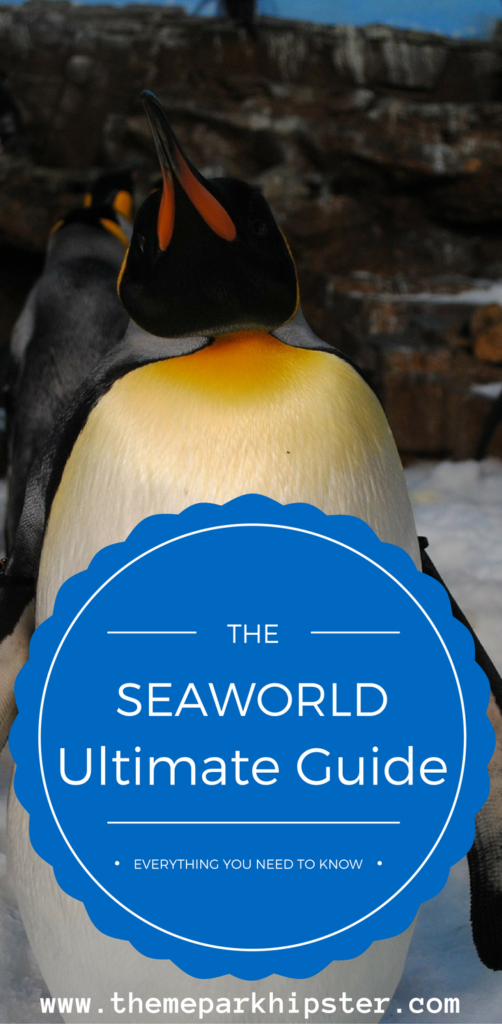 SEAWORLD ORLANDO SHOPS
Avid theme park souvenir collectors will be happy with the wide range of aquatic knickknacks, trinkets, and apparel available within SeaWorld.
Check out the shops below:
Coconut Bay Traders
Emporium Gift Shop
Exit Gifts
Fins Gifts
Flamingo Pointe
Glacial Collections
Golden Seahorse Gifts
Guy Harvey Shop
Hooper's Shop
Kraken Gifts
Oyster's Secret
SeaWorld Rescue Store
Shoppes at Waterfront
Trek Treasures
Wild Arctic Gifts
---
Aquatica Orlando Water Park
From high-speed water slides and exhilarating wave pools, to tranquil beaches, Aquatica is the perfect place for theme park fans!
As you explore SeaWorld, you may want to see what it's like to experience this one-of-a-kind water park.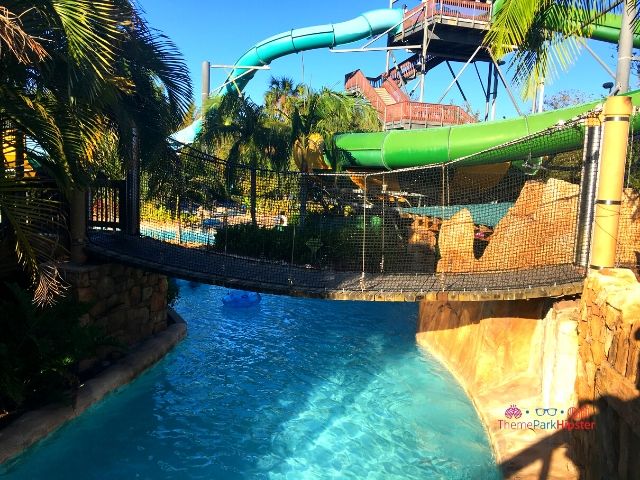 What is there to do at Aquatica Orlando?
Aquatica has some of the world's topnotch thrill water rides and features:
42 slides
rivers and lagoons
84,000 square feet of sparkling white, sandy beaches
Aquatica Rides
Ray Rush™
This action-packed water adventure is one your entire family can ride together in a colossal translucent sphere on a raft.
Ihu's Breakaway Falls™
I'm too scary to conquer Orlando's steepest and only multi-drop tower slide of its kind, but be better than me!
Ihu's Breakaway fall towers at nearly 80-feet tall. When you arrive to the top of the attraction, you have to step into one of three breakaway boxes.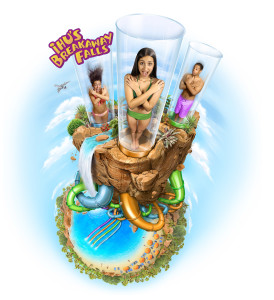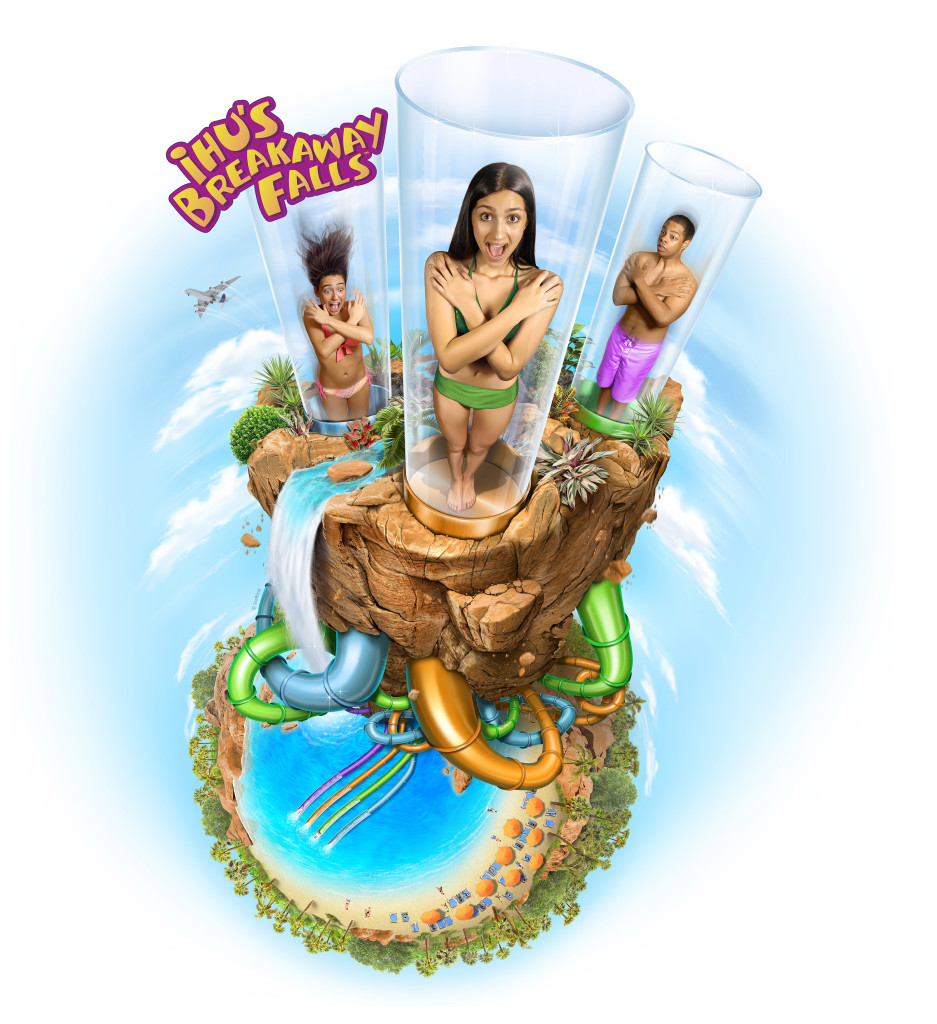 You will then plummet down super-fast…
…you just don't know when your box will remove its barrier!
Riders must be at least 48 inches tall (1.22m).
Dolphin Plunge®
This is one of the most unique water park attractions in the world!
Dolphin Plunge will take you on an adventurous ride through 250 feet of clear tubes, underwater, all-the-while passing by Commerson's dolphins.
Riders must be at least 48 inches tall (1.22m).
Omaka Rocka™
The Omaka Rocka is a waterslide skateboarder-inspired near-vertical thrill.
According to SeaWorld, riders speed down flumes into massive funnels, sliding high up one side and then the other, rocking back and forth, feeling a sensation of near weightlessness.
Riders must be at least 48 inches tall (1.22m).
Big Surf Shores™ & Cutback Cove™
These are Aquatica's official side-by-side wave pools.
What's the difference between Big Surf Shores and Cutback Cove?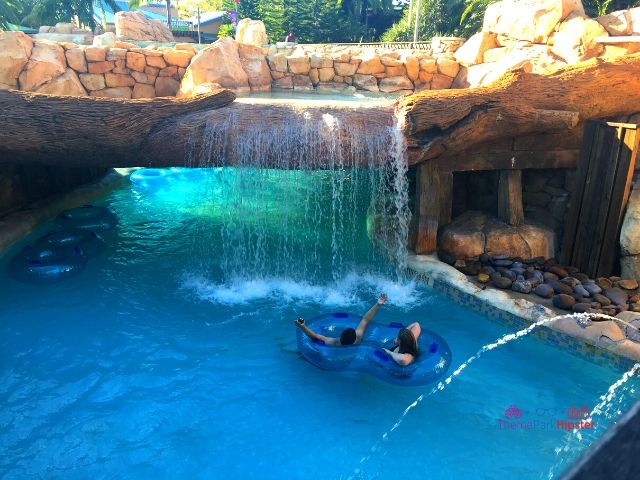 Cutback Cove has a higher thrill and produces crashing waves with 5-foot swells. Big Surf Shores is milder and has a more gentle rolling surf.
Roa's Rapids®
This is by far my favorite Aquatica attraction!
Roa's Rapids will whisk you through 1,500 feet of rapids, past geysers and through waterfalls at a speed four times faster than a standard lazy river.
Loggerhead Lane™
This is the milder lazy river that will give you underwater views of the Commerson's dolphins and exotic fish.
Taumata Racer®
Here you'll be able to race down a 300-foot slide, in and out of tunnels and around a 360-degree turn before racing across the finish line.
Riders must be at least 42 inches tall (1.07m).
Walhalla Wave®
This is the perfect raft ride for your family or group of friends to enjoy! It takes you down six stories and through 600 feet of drenching twists and turns.
Riders must be at least 42 inches tall (1.07m).
Tassie's Twister™
According to SeaWorld, you'll be able to delight in the twirling sensations of this ride as you spin and splash through a tunnel and into a sparkling pool below.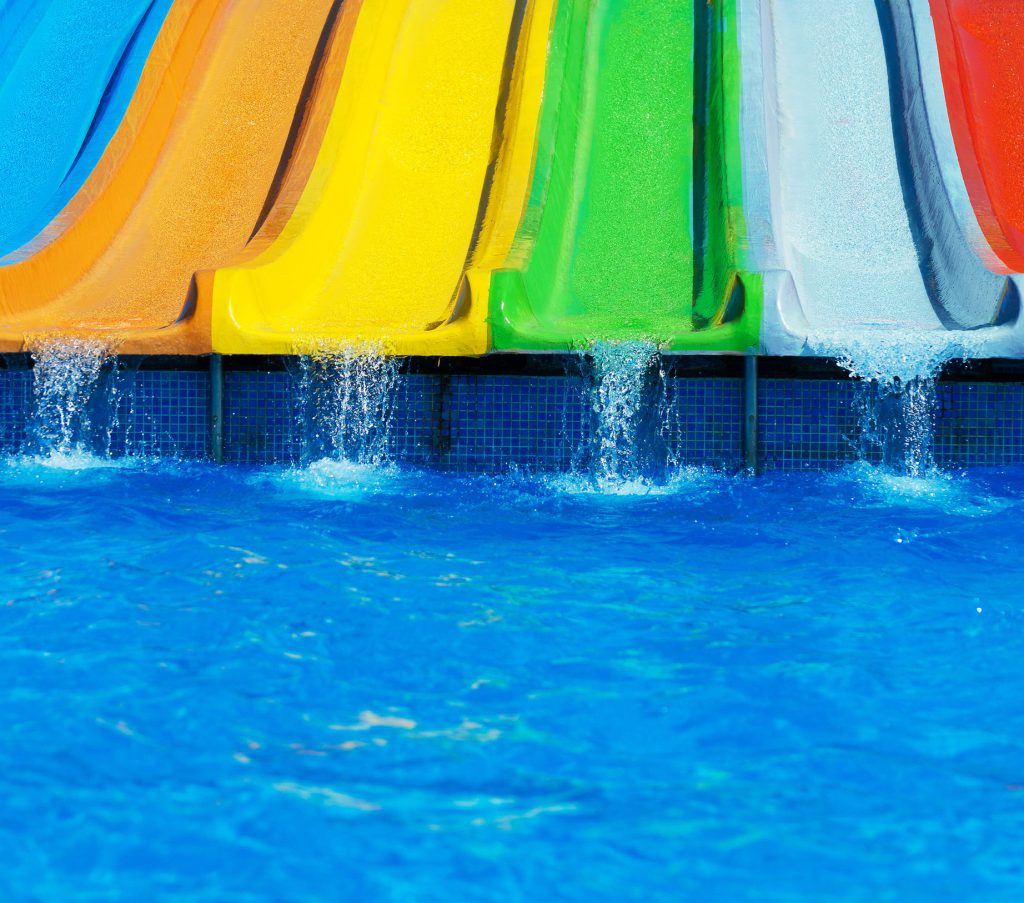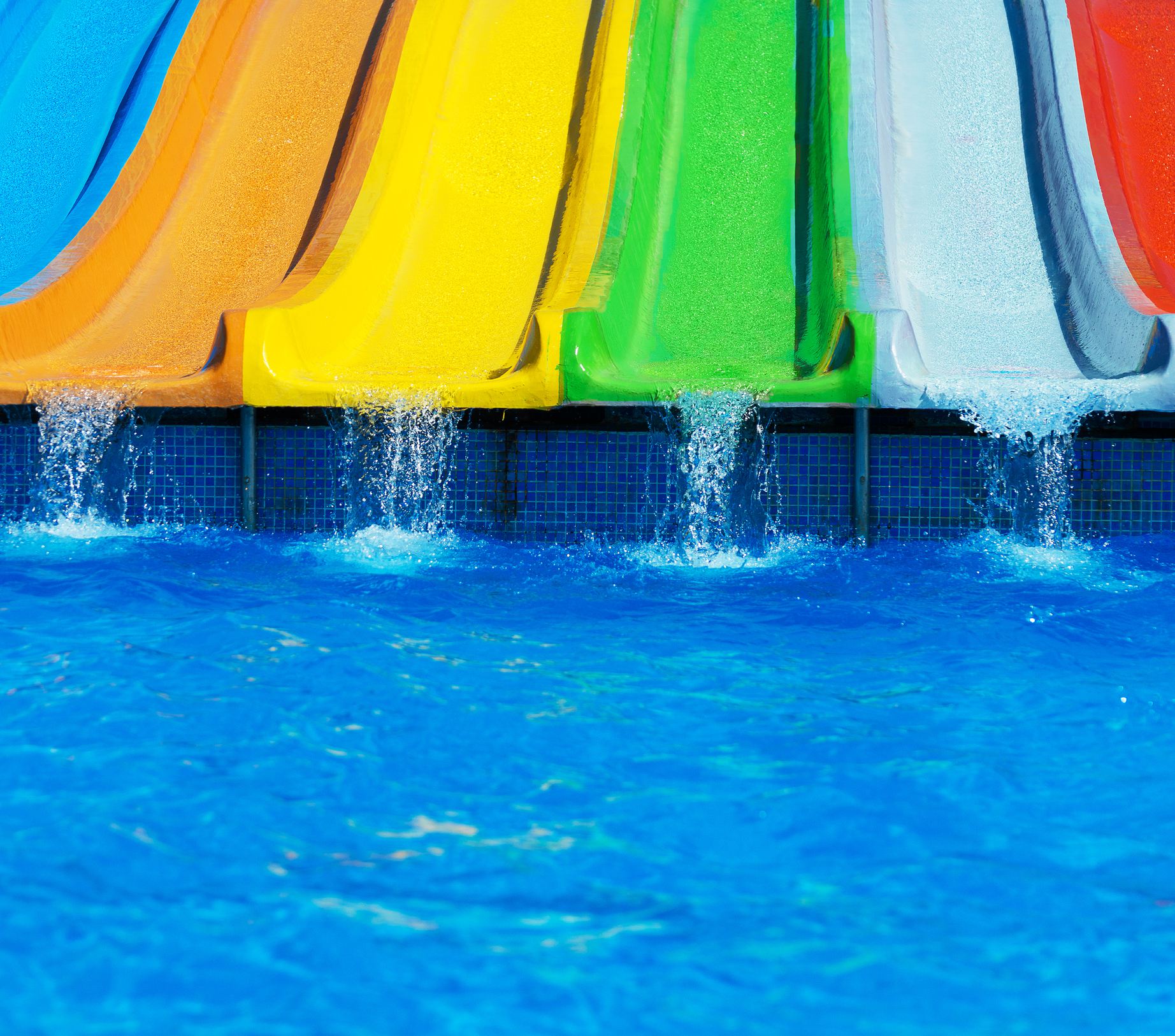 Riders must be able to maintain proper riding position and hold on to handles unassisted.
Whanau Way®
This is a classic double inner tubes water ride that will take you down 5-story slides of drops, curves and gushing water.
Riders must be able to maintain proper riding position and hold on to handles unassisted.
Walkabout Waters™
This is an interactive water playground for kids.
Kata's Kookaburra Cove®
This is the kiddie water wonderland of Aquatica that has over 79,000 gallons of water and features:
11 Pro Aquatica Orlando Water Park Tips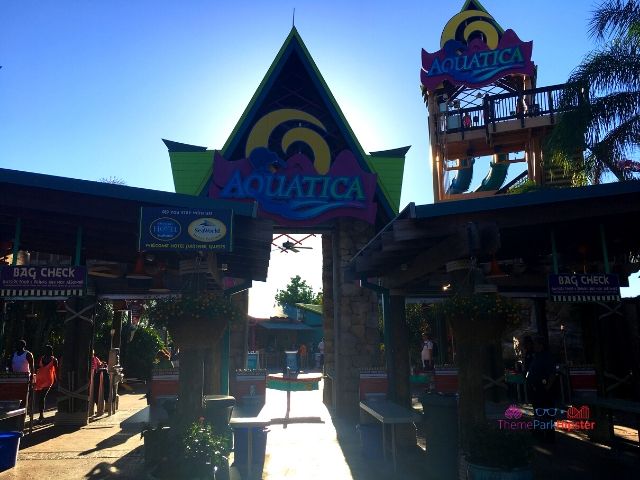 Before you head out to Aquatica Orlando water park, I want to equip you with the best tips!
Arrive early
Bring sunblock, towels, change of clothes, sandals (water shoes or flip-flops)
Use restroom before attractions
Visit during the week to avoid large crowds
Leave valuables at home
Check park cooler and food requirements
Rent cabana if you can
Check the weather prior to departing to the park
Map out which rides to conquer first
Reapply sunscreen throughout the day
Know your swim level
Remember to stay cool during your SeaWorld Orlando trip! You can read all of my top water park tips here.
Best Times of Year to Visit SeaWorld Orlando and Aquatica Orlando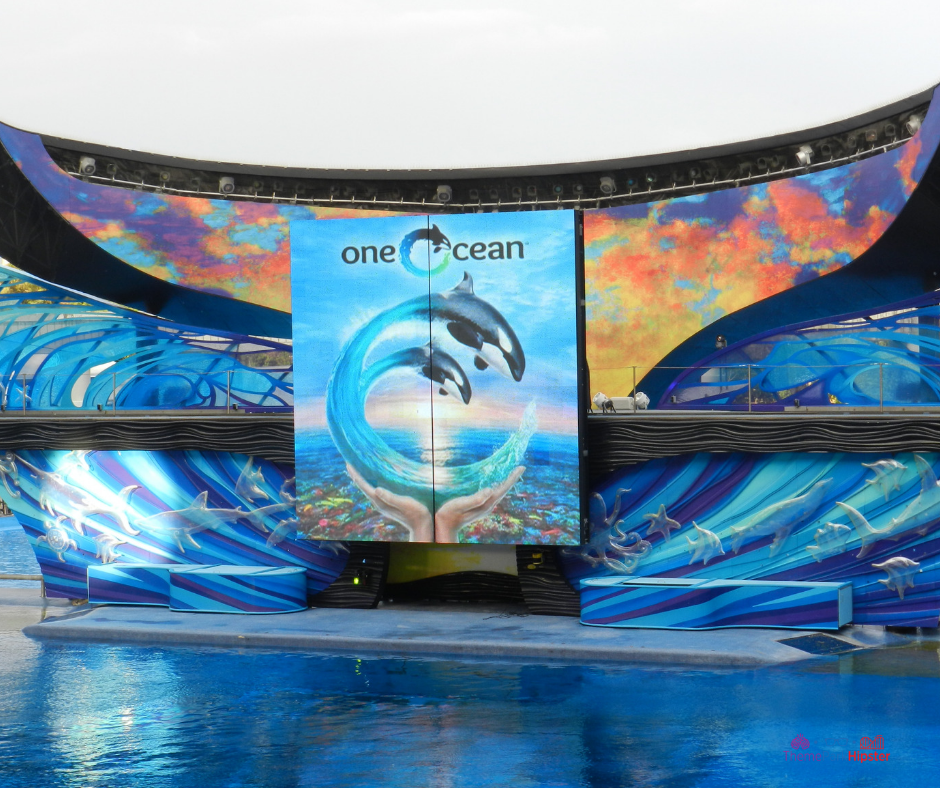 Holiday peaks, crowd sizes, weather, and a few other factors have a lot to do with your SeaWorld Orlando experience, including how long you'll be waiting in line for your favorite rides.
Best Times to Visit SeaWorld Orlando
January
February
April
November
These months are closely followed by March, May, September, and October as still pretty decent visiting times.
Also plan your visit on less crowded days, such as Mondays, Tuesdays, Wednesdays, and Thursdays.
Where to Stay Near SeaWorld Orlando and Aquatica Orlando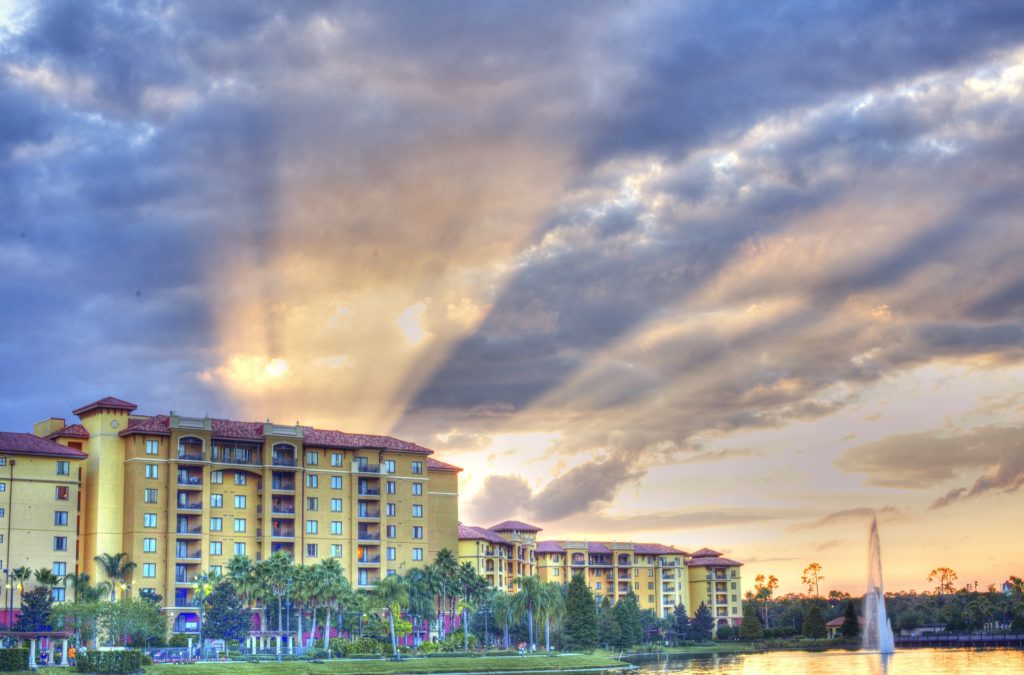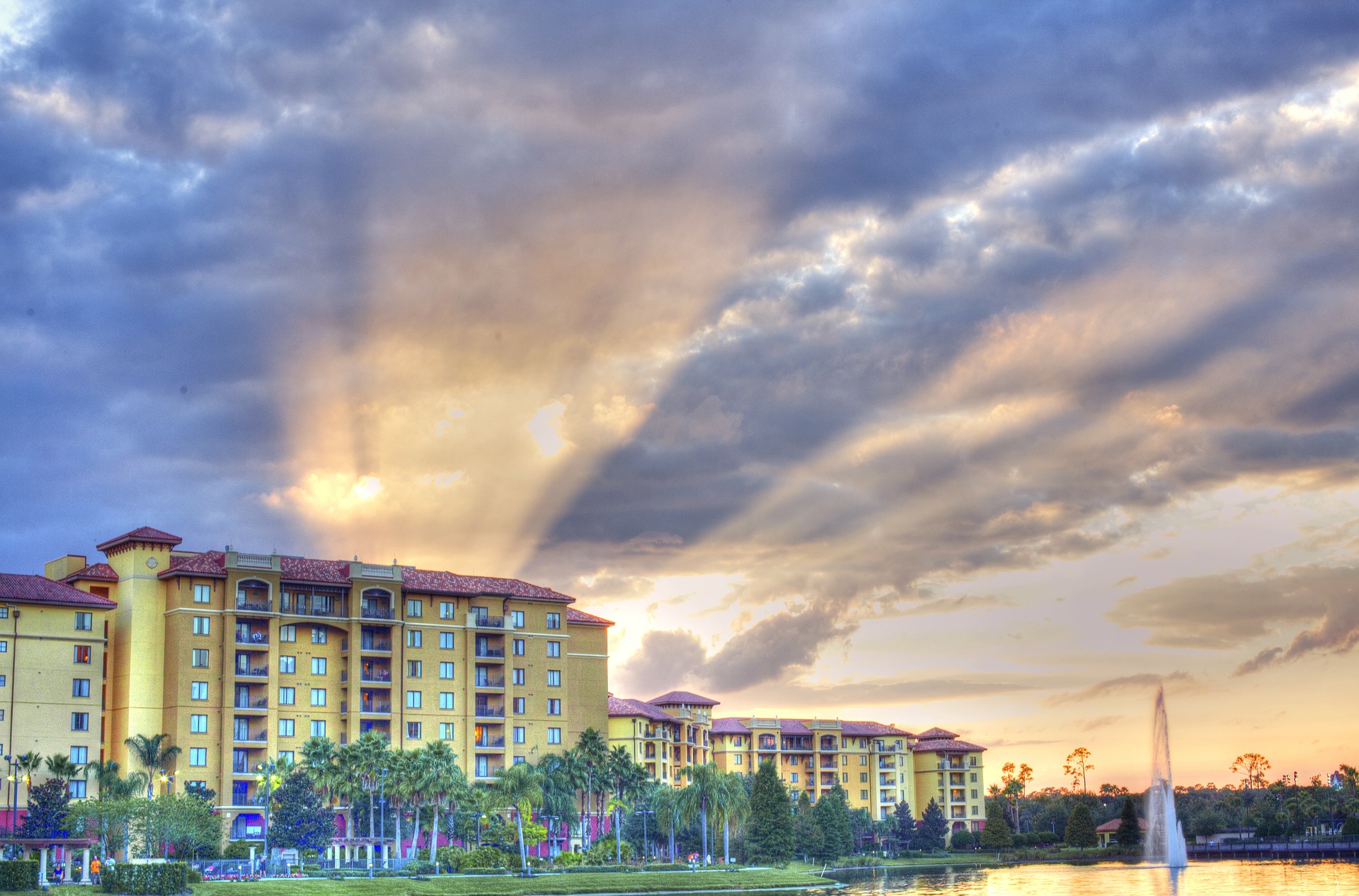 When planning your SeaWorld Orlando trip, you'll need a resort that's close to all the theme park action in Orlando.
Renaissance Orlando at SeaWorld
The Renaissance Orlando at SeaWorld® is the perfect location if you want a resort right next to SeaWorld Orlando.
It has top notch, oversized guest rooms. Which is the only way to have a true Hipster vacation.
Encore Resort at Reunion
One of the top family resorts in Orlando, Encore is packed with fun things to do. It has a huge water park with a lagoon pool, water slides and a kids' splash zone.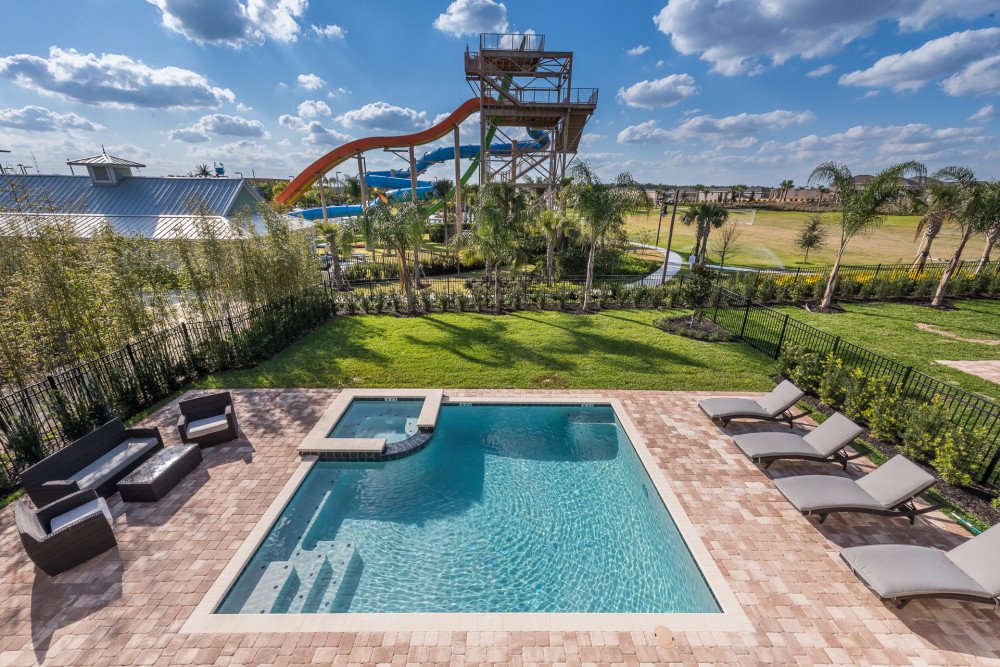 It also offers 3 restaurants, sports courts, a fitness center and a villa delivery service for its restaurant food.
Also, unlike many other resorts in Orlando, Encore runs a free shuttle service to and from the theme parks.
You can rent a luxury 5-bedroom vacation home with its own pool and game room from around $329 per night.
Read how to choose the best Orlando vacation home here!
Doubletree by Hilton Orlando at SeaWorld
This resort is a staple for anyone traveling to Orlando. You know what you're going to get with a Doubletree experience.
Plus, this one is located in the heart of all the Orlando theme park fun.
Hilton Grand Vacations at SeaWorld
The Hilton Grand Vacations at SeaWorld is one of my favorite resorts to explore in Orlando and is close to SeaWorld Orlando, Aquatica, and Discovery Cove.
CLC Regal Oaks
The CLC Regal Oaks is a beautiful resort a short distance away from Walt Disney World and SeaWorld Orlando.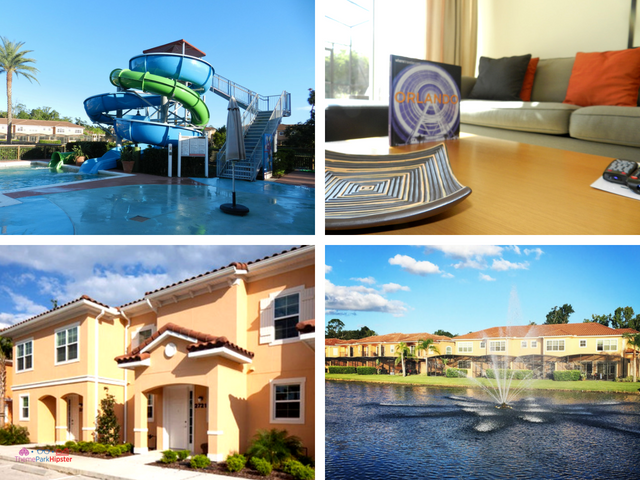 Each vacation townhouse has its own Jacuzzi tucked away in a spaciously, serene patio.
A great way to end a day at SeaWorld!
There's a clubhouse, a resort-style pool area, and a walking trail. CLC Regal Oaks does offer lots of activities similar to Disney Resort hotels, such as cake decorating, water aerobics, hidden quests, and more!
Read my full experience at CLC Regal Oaks here!
My Final Thoughts on SeaWorld Orlando
Overall, SeaWorld is a spectacular theme park to visit on your next Orlando vacation. Before I end this guide I want to go over a few pros and cons of the park.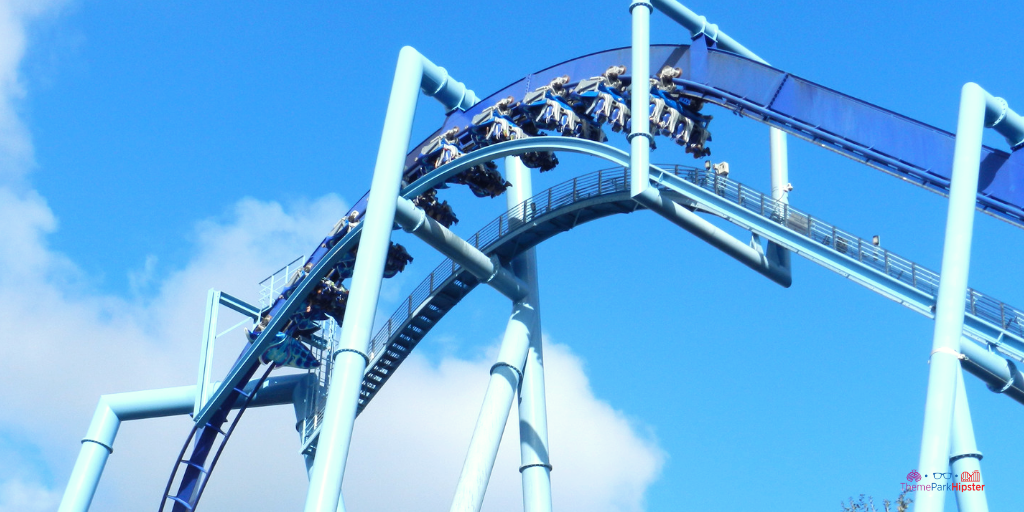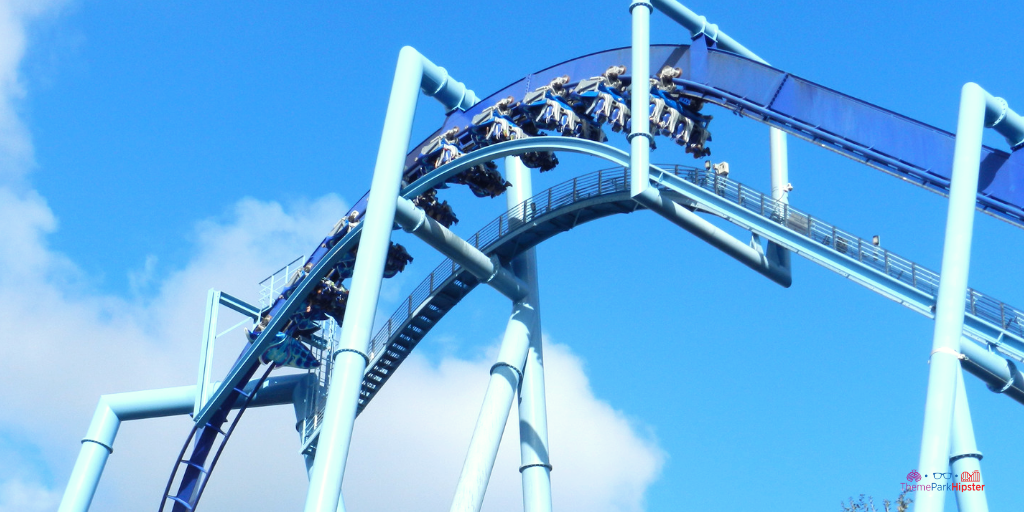 SeaWorld Orlando Pros
Not as busy as the local competitor parks
It's a great park for families
Has some of Orlando's top roller coasters
Great place to learn and visit marine life up close
Quickly stepping up its game to becoming a competitive Orlando theme park
Cons of SeaWorld Orlando
You can't get away from the huge elephant…or should I say orca… in the room. The backlash from the documentary Blackfish, has made many question the care of the marine life in SeaWorld.
More rides and attractions are needed to make it an all-day park.
The marketing team has not found its voice, so the park is sometimes an afterthought for visitors coming to Orlando.
Let me know what tip surprised you the most about SeaWorld in the comments section below!
Are you interested in more theme park guides? Check out more articles below.
Until next time, Happy Park Hopping Hipsters!
NikkyJ
(Original Date: June 2017/Article Updated June 8, 2020)