Summertime is definitely in full swing.
So, what do you do when it's hot in Florida, but you want a theme park experience?
You plan a day at a water park!
It's the perfect way for you to cool off from the unforgiving sun and enjoy the Sunshine State. If you're familiar with the water parks here, then you know that they're open for most of the year. However, the party kicks into high gear during the summer months.
Listen to Water Park Tips Here!
THIS POST MAY CONTAIN AFFILIATE LINKS. PLEASE READ MY DISCLOSURE FOR MORE INFO. Which means if you click on any of the links, I'll receive a small commission. This helps support the website and allows me to bring you more content. Thank you for your support!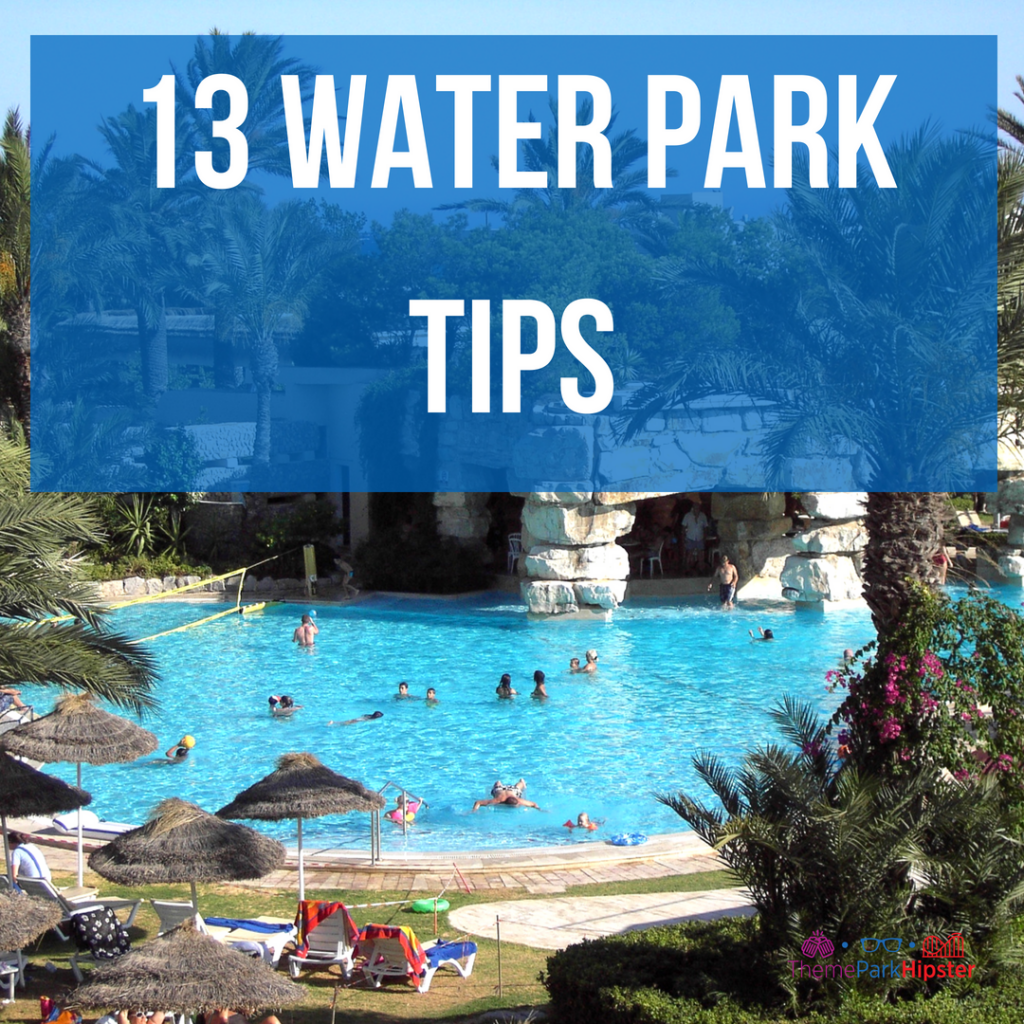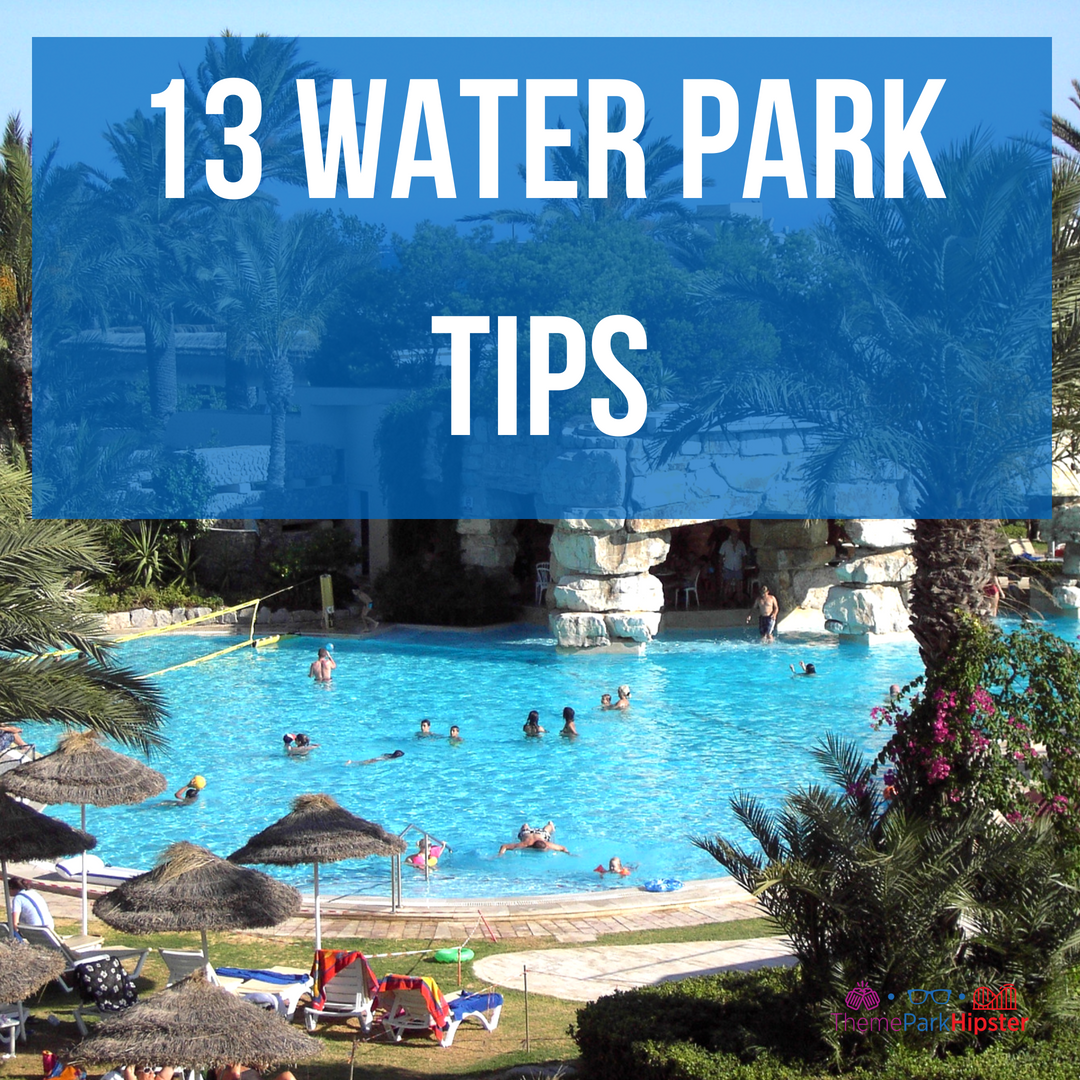 13 Tips for Water Theme Parks
1 – Arrive Early
When you start your day, be sure to arrive before noon, or later in the afternoon if you want to avoid the crowds.  I recommend for you to get to the park 30 to 40 minutes prior to the park opening. This will allow you to bypass the crowds, enjoy milder temperatures, and avoid parking too far from the gate.
2 – Visit During Slow Season
I treat water park crowd level with the same theory I have with the theme parks. The best times to visit water parks in Florida are January, February, April, and November. These months are closely followed by March, May, September, and October as still pretty decent visiting times.
Also plan your visit on less crowded days, such as Mondays, Tuesdays, Wednesdays, and Thursdays.
3 – Bring Snacks and Water
I don't know about you, but there's something about being in the water all day, that makes me ravenous.  I get so hungry and water theme park food can get expensive.
You'll want to pack a big, healthy lunch. This will eliminate the need to purchase the food in the park. It also is imperative to have lots of water on hand, as the summer heat can quickly dehydrate you.
Hipster Power Tip: Always check park cooler and food requirements. Things like alcohol and glass containers are not allowed.
4 – Know What to Pack for Water Parks
Bring items such as your own towels. Some water parks provide them, but they may not the best quality of towels. You'll also want to bring sunblock, a change of clothes, sandals (water shoes or flip-flops), and a waterproof case for your phone.
Waterproof swim shoes are a nice item to have on hand, as they will be a barrier between you and the blistering pavement. These shoes are also perfect for germaphobes who couldn't image walking through standing puddles of water.
Yuck!
Don't forget a waterproof case for your phone and money. This will keep your money and phone protected as you enjoy to exciting water parks.
You can read the full theme park packing list here.
5 – Leave Valuables at Home
You don't want to have a ruined trip, if you come back to your spot and see that something of great value is gone (such as a purse or wallet). When you're at a water park, you can get caught up in the excitement and fun of everything the park has to offer. Just don't forget to be mindful of where you store your things.
This leads to my next tip which is…
6 – Rent a Locker
Lockers are typically affordable and can be used all day for one low price. They are a good place to store items that you don't want to walk around with and carry.
Always check to see if there are multiple locker locations. Some parks put lockers throughout the park, but most people gravitate towards the ones in the front, which can get crowded. You can avoid the long locker line by using an alternative locker location in the park.
7- Rent a Cabana
Go ahead and splurge for a cabana. This is your vacation and why not get the V.I.P treatment while relaxing? Cabana's guarantee that you'll have your little piece of real estate in the park. A place to meet back up with everyone, a place to take a nap, and a place to keep your things (as long as someone is there to watch them).
8 – Use Restroom Before Attractions
Don't be that person who doesn't use the restroom before jumping into the wave pool and has to make that decision…
…you know what I'm hinting at….
Yeah.
Just use the bathroom before you get on any of the water theme park attraction for the good of all of us.
9 – Check the Weather
Prior to departing to the park, make sure you check the weather for that day. Florida summers are filled with torturous heat and afternoon thunderstorms. The weather in the early part of the year is usually milder, making it the perfect time to visit the Florida water parks.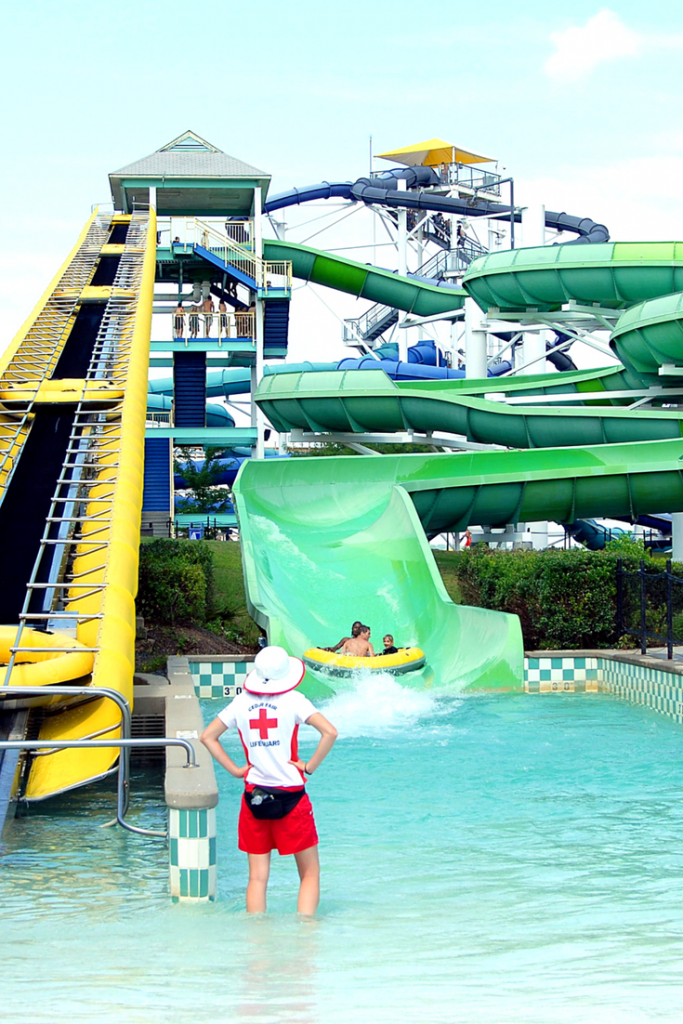 10 – Map Out the Day
Before you leave, you'll want to visit the official website of the water park to see which rides you will want to conquer first. This will help you plan out your day efficiently and you'll be able to maximize your time.
Top Water Parks in Orlando
11 – Know Your Swim Level
If you can't swim, make sure you wear a life jacket at all times near the water. You should always ask if there are life jackets available and how deep the water is in every attraction.
Hipster Power Tip: Always be safe and make good decisions when around water.
12 – Find a Good Swimsuit
Be sure to wear a nice fitting swimsuit. This is important in preventing it from coming open or off when going down the slides.
Trust me on this one.
You don't want to have any incident exposure accidents at the parks.
13 – Reapply Sunscreen Throughout the Day
Water rides can remove sunscreen. You'll want to make sure you stay on top of the application of it throughout the day. I know this may be hard to do in the midst of such a fun day.
Remember the most the significant amount of dangerous UVB rays occur between 10 a.m. and 4 p.m.
So, apply the sunscreen, ride the thrills, and repeat!
Remember to stay cool and enjoy a refreshing voyage at a local water park this summer!
Please let me know what your favorite memories are at the water parks, by leaving a message below in the comments section.
---
Want more theme park tips? Check out the theme park tips page. If you're thinking about going to Disney alone, then read the top 18 tips. Are you planning a Disney vacation soon? Read the Disney Vacation Planning Guide for your next dream trip!
Don't forget to discover the new magical and mysterious Disney adventure of Pandora – The World of Avatar at Animal Kingdom® Theme Park.
If you enjoyed this article, then you'll love these:
For more theme park news, discounts, tips and guides, subscribe to the newsletter!
I'm super grateful when you share my posts on Facebook, Twitter, or Pinterest. It helps spread the word about ThemeParkHipster and allows me to keep bringing you great content.
Other Ways to Listen to the Theme Park Hipster Show 😎
Until next time, Happy Park Hopping Hipsters!
NikkyJ