Ready to try out the SeaWorld Orlando All-Day Dining deal?
Ever felt limited by your in park dining options because of the insane price tag that comes along with theme park eateries? 
Ever wish you could try ALL the food, without the guilt of a price tag?
Well now…you can!
Thanks to SeaWorld Orlando's All Day Dining offering, you can do more than just sample snacks, you can eat an entire entrée and side dish or dessert, ONCE. EVERY. HOUR. 
For one flat fee!
And no, I'm NOT kidding!
So, if THAT sounds appetizing to you, then let's talk deets below!
THIS POST MAY CONTAIN AFFILIATE LINKS. PLEASE READ MY DISCLOSURE FOR MORE INFO. Which means if you click on certain links, I may receive a small commission at no additional charge to you.
What is All-Day Dining at SeaWorld Orlando?
The SeaWorld All-Day Dining is pretty much what it sounds like. With this special pass, you pay one time and you can eat literally all day long in SeaWorld Orlando.
For about $50, every ninety minutes for one whole day, you can have one entrée, one side OR dessert, and one beverage at the majority of the park's eateries.  
It sounds a little cray, we know, but let me break it down for you like this. Normally, ONE entrée, side/dessert, and beverage would cost you around $25 at SeaWorld Orlando…
So literally, once you're two meals into your day with the SeaWorld All Day Dining pass you've already got your money's worth…and THEN some!
Save up to 42% on SeaWorld Orlando Resort Tickets!
What restaurants are included in the SeaWorld Orlando All-Day Dining plan?
There are eight SeaWorld Orlando eateries included in this theme park upgrade such as:
Voyager's Smokehouse
Expedition Café
Captain Pete's Island Eats
Seafire Grill, Lakeside Grill
Altitude Burger
Mama's Pretzel Kitchen
Lakeside Grill
Waterway Grill
AKA: ALL eateries on SeaWorld Orlando property outside of specialty dining experiences such as Character Dining, Dining with the Orcas, and the Sharks Underwater Grill.
Ok, but how does the SeaWorld All Day Dining really work and how much does it cost for adults and children?
To be honest, the SeaWorld All Day Dining pass is quite simple! Pay $50 for adults, or $25 for kids 3-9, and eat all day long.
Where do you buy the SeaWorld Orlando All-Day Dining Plan?
Upon purchasing the meal plan either ahead of time on Groupon, on the SeaWorld Website/App, or in person while visiting SeaWorld Orlando, you'll get a wristband with a barcode. 
Every time you enter one of the participating eateries above, your wristband is scanned and the time is recorded.
This is so that the Team Members can ensure you don't indulge more than once per hour.
Hipster Power Tip: You can use your pass for breakfast if you get to SeaWorld Orlando early enough to use it.
How ofter can you use the SeaWorld All-Day Dining Pass?
But BTW – it's once per hour and a half upon scanning, not clock hour. So if you start your day with breakfast at 10:03 a.m., your next eligible meal scan will be 11:33 a.m.
But basically, it's really that easy. 
Aside from purchasing the band and wearing it all day long, all you have to do is keep track of the time and scan when you're ready to pay, it really is that simple!
Of course, however, I realize that the SeaWorld All-Day Dining pass is not ideal for everyone, so let's get into the details below!
Get Your Orlando Theme Park Tickets Today! CLICK HERE.
Pros and Cons of Using the SeaWorld Orlando All Day Dining
Now that you understand the basics of the SeaWorld dining plan, let's go through the pros and cons of using this theme park upgrade.
Pros
If you plan to eat more than 1 meal, it pays for itself
You can try practically every eatery in the park
LOTS of different eateries and styles of food are covered by the plan
It's easy to stay hydrated – soft drinks AND bottled water are included in the plan's prepaid hourly beverage count
Oftentimes discounted for SeaWorld Orlando Annual Passholders
Cons
If you're not a big eater, or don't enjoy theme park food, then this pass not not be worth your money
"Unique" SeaWorld exclusive dining experiences i.e. dining with Orcas or sharks aren't included
The SeaWorld All-Day Dining Pass is another cost on top of parking and park admission
Alcoholic beverages are NOT included
The SeaWorld All-Day Dining Pass only lasts one day
No food sharing is allowed on the plan
Top 3 Tips for Using the SeaWorld Orlando All Day Dining Pass
Before you make your final decision, I want to give you the best tips for using the SeaWorld All-Day Dining Deal.
1. Prepare for a long day to get your money's worth!
Let's be honest, SeaWorld is a BIG place, so if you plan on visiting all 8 restaurants that the All-Day Dining Pass covers, you're going to have to think about it in advance: for timing and spacing reasons.
For starters, trying all 8 restaurants equals hours of in park fun…or basically, park open to park close – so plan for a long park day to get your money's worth!
2. Have a game plan!
Of course, you don't want to be doing laps around the park for your desired restaurant, so try to plan the order of the restaurants you'll visit based on their proximity to one another, or their proximity to other park rides and attractions you plan to hit up.
Overall, plan out your day, purchase your All-Day Dining pass prior to your visit, and start early with breakfast to take full advantage of this deal.
What to Know Before You Go to SeaWorld Orlando
Now that we have the basics covered, let's go through a few things to remember before your trip.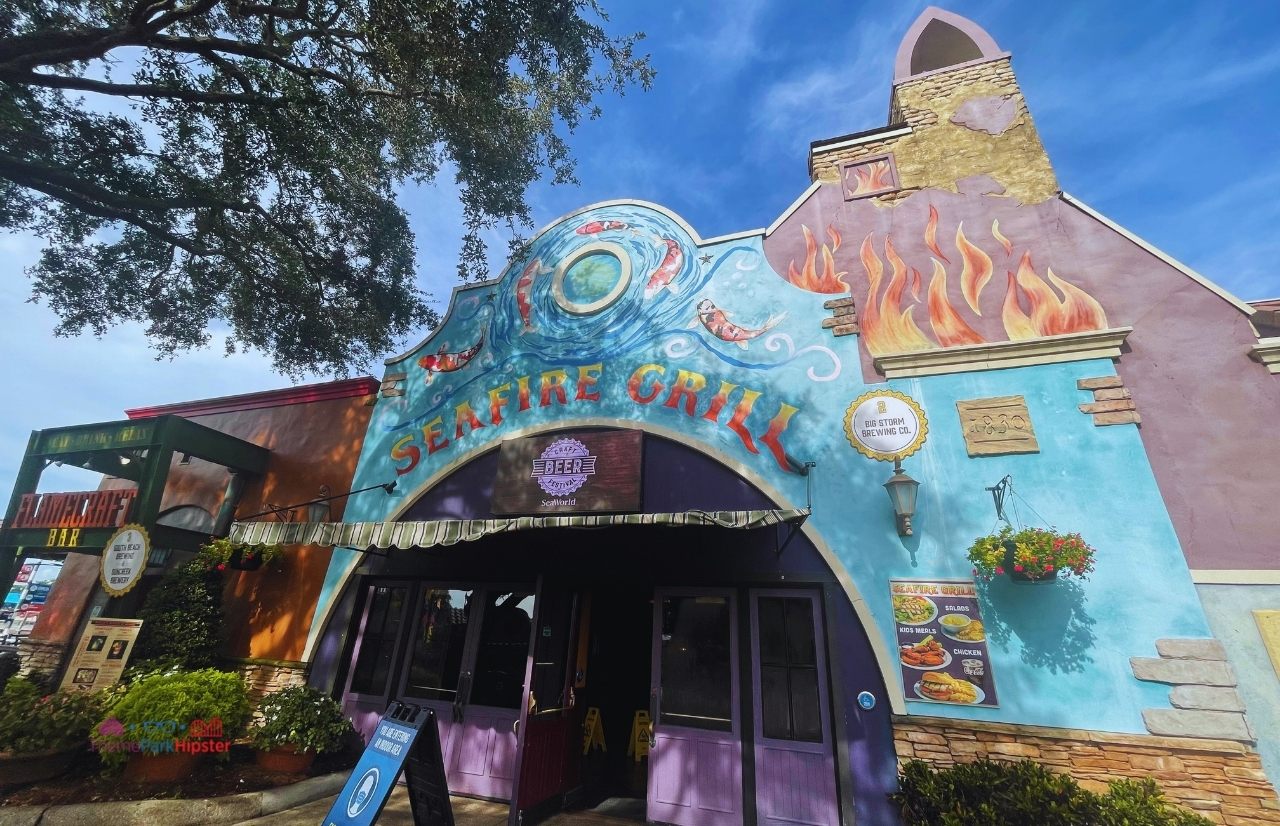 Are all menu items at participating restaurant locations covered by the SeaWorld All Day Dining Pass?
The vast majority of food items are, although there are a few limitations. 
Check with the SeaWorld staff before ordering to avoid any surprises at the cash register!
Do I have to eat the food inside the restaurant?
Nope! Even though most of the eateries offer seating, you do not have to sit down in the restaurant to eat. You're more than welcome to take your food on the go!
However, with that being said, I don't mean "on the go" as in "to your car." I mean "on the go" more like within the confines of the park.
Especially since the food is often served in paper plates and cups, not takeaway containers.
Get your Discounted (up to 42% off) SeaWorld Tickets with Groupon TODAY!
Is sharing food allowed on the SeaWorld All Day Dining Pass?
Unfortunately no, sharing food is not permitted on the SeaWorld All Day Dining Pass, but that's what makes it the perfect investment for solo travelers foodies who want to try EVERYTHING!
Can I buy the SeaWorld All Day Dining Pass once I'm in the park?
Yes! You can purchase the SeaWorld All Day Dining Pass before (online) or after (at Guest Services) park entry and throughout the park. 
And, in fact, you can even purchase it mid park day, just in case some serious food cravings hit you later on in the day!
What if I have dietary restrictions?
According to SeaWorld Orlando's dining page, any and all restaurants on property are prepared to accommodate your dining needs, so long as you bring it to the staff's attention.
Although, they do also note that Sharks Underwater Grill is their "Designated Allergy Friendly" location, which is not included in the SeaWorld All-Day Dining pass.
Are seasonal food offerings included?
Sadly no, the exciting sweet and savory treats that come with the various holiday seasons are not included with the SeaWorld All-Day Dining pass.
What's the BEST restaurant in SeaWorld Orlando?
Time and time again SeaWorld Orlando guests say that Voyager's Smokehouse is NOT to be missed! Especially the Texas Style Brisket and Smoked Chicken.
And luckily for you, this one's definitely included in the SeaWorld All-Day Dining pass!
Is SeaWorld Orlando All-Day Dining Worth It?
Absolutely! The SeaWorld All Day Dining pass is what every ThemeParkHipster Foodie has been waiting for!
You have practically unlimited opportunities to try most all the food in the park, for one low, guilt-free price tag!
Although the pricing might seem steep if you're not a big theme park foodie, you can definitely make your money's worth out of it if you play your cards right!
So now, we have to know: Have you ever tried the All-Day Dining pass? Do you think it's worth every penny? Or is it overrated? What are some of your favorite SeaWorld Orlando eats?
Let us know in the comments below, because we're starting to get hungry over here!
As always, until next time, Happy Park Hopping Hipsters!
(Original Article Date: June 11, 2021/Updated on April 16, 2023 by Editor)