Did you know that using a SeaWorld Orlando Crowd Calendar can help you avoid the popular months at this aquatic theme park, allowing you to wait in shorter lines for your trip?
SeaWorld Orlando is one of the most popular theme parks in the entire country, recently being voted the #1 Amusement Park in America by USA Today.
The park features many exhibitions, tours, roller coasters and rides, as well as some of the most fun you'll ever have at a park themed around a watery adventure.
The new changes happening to this Orlando theme park has led to its increase in popularity which is a good thing unless you're coming on a super busy day.
So, my goal is to help you pick out the best days to visit SeaWorld Orlando and avoid the long wait times.
THIS POST MAY CONTAIN AFFILIATE LINKS. PLEASE READ MY DISCLOSURE FOR MORE INFO. Which means if you click on certain links, I may receive a small commission at no additional charge to you.
The Importance of Choosing the Best Days to Go to SeaWorld Orlando
As mentioned earlier, SeaWorld Orlando offers a variety of shows, rides, roller coasters, and exhibitions that appeal to theme park goers of all ages.
So, when deciding the best day to visit SeaWorld Orlando, there are many things to consider like holidays, school breaks and special events.
Before you think of anything, you'll need to first think about the weather. Is it going to be extremely hot? Is it going to rain on your trip?
Florida weather is warm for the majority of the year, but from June through September, the heat of the Sunshine State can become unbearable at times.
Save up to 42% on SeaWorld Orlando Resort Tickets!
What is a SeaWorld Orlando Crowd Calendar?
The SeaWorld Orlando Crowd Calendar gives you information on what the park is like for each day of the year. 
This calendar is ESSENTIAL for anyone who wants to know the best times to visit SeaWorld, since it gives you an estimation on what days will be the most crowded based on the data from previous years.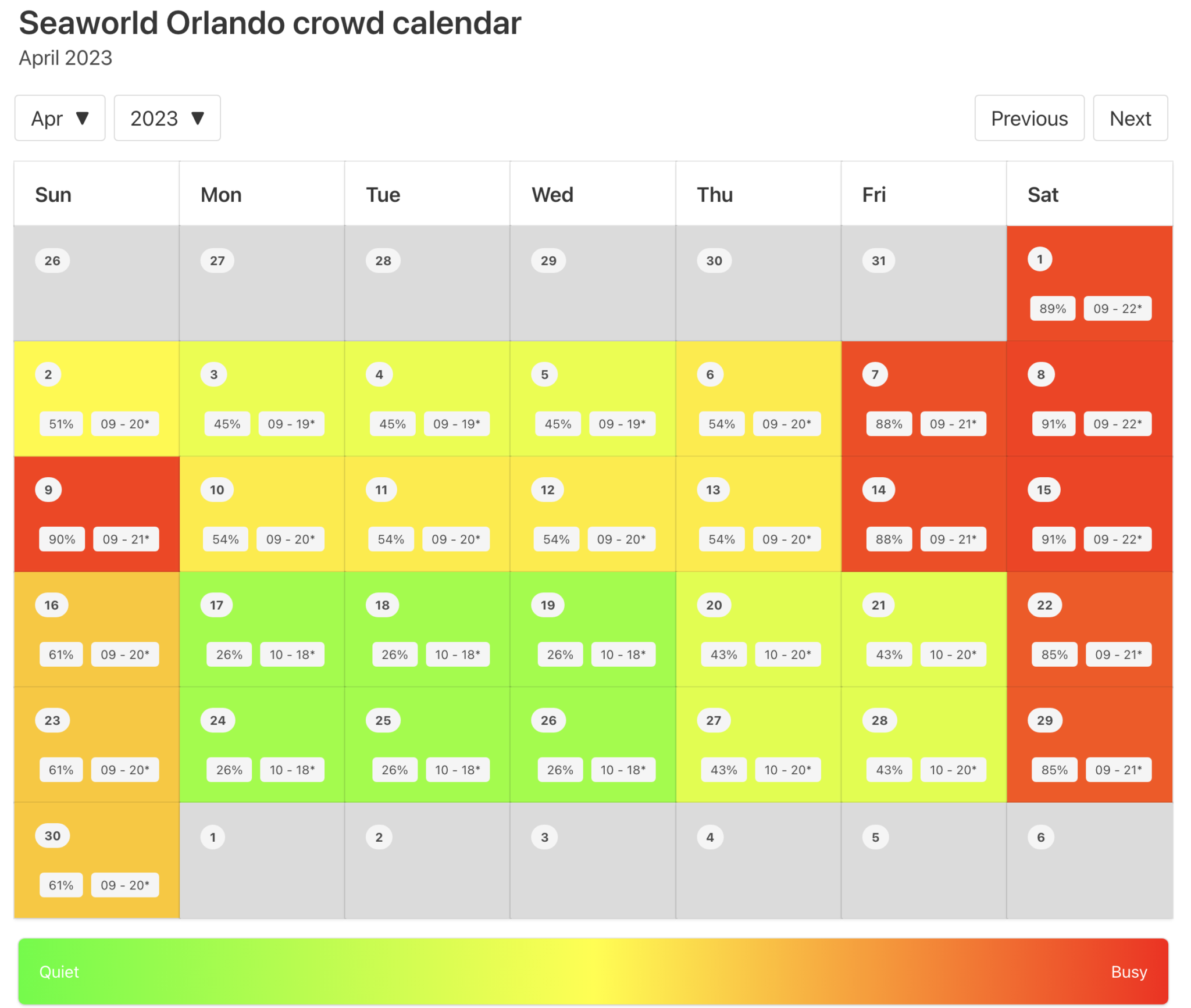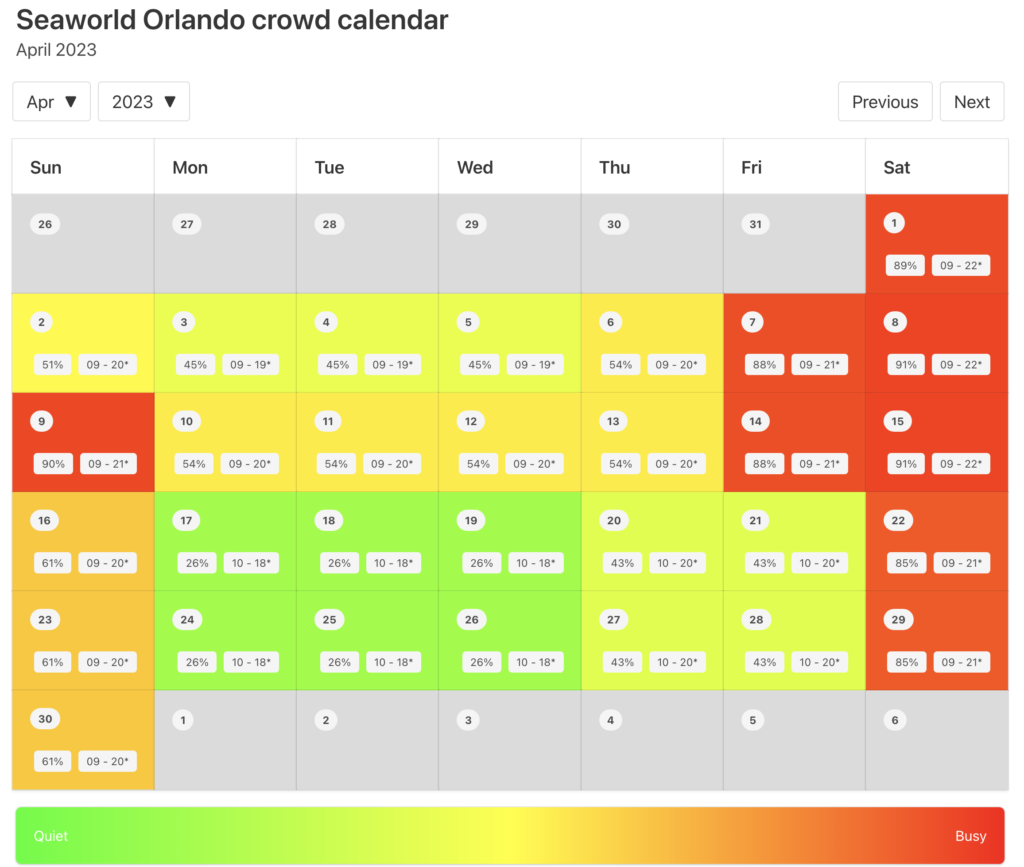 The popular roller coasters like Ice Breaker and Mako can have wait times reaching over an hour long during the peak of summer school break.
So, it's always important to know how to use the Theme Park Crowd Calendar tool when picking your dates.
How Does the SeaWorld Orlando Crowd Calendar Work?
The SeaWorld Orlando Crowd Calendar works by allowing you to see the exact days you should choose and what each day of the year will be like in regards to the number of people in attendance.
Look at the colors to determine just how crowded SeaWorld Orlando is:
Red indicating high crowd levels
Yellow indicating moderate crowd levels
Green indicating low crowd levels
Once you have this information, you can then figure out which month, week, and day will work best for you when choosing when to visit SeaWorld Orlando. 
Ready to plan your theme park trip? Watch the best vacation planning tips on YouTube. Get started here!
Is the SeaWorld Orlando Crowd Calendar 100% Accurate?
Like most online tools, the SeaWorld Orlando Crowd Calendar is not always 100% accurate. However, it's a great place to start when deciding the best day to visit the park.
According to Queue Times, the crowd level is predicted and all predictions are provided as a guide with you using your own judgment to make a final decision on which day is best for you to visit SeaWorld.
Where Can I Find the Best SeaWorld Orlando Crowd Calendar?
At the time of writing this guide, you can find the most accurate SeaWorld Orlando Crowd Calendar over at Queue Times or Undercover Tourist.
What is a Good Time and Day to Visit SeaWorld Orlando?
The best time to visit SeaWorld Orlando is during the week, and in the morning. With the best days being on Tuesdays or Wednesdays.
What is the Best Month to Visit SeaWorld Orlando?
The best month to visit SeaWorld Orlando is September. This is the time before Halloween and Christmas season kicks into full gear.
This month is closely followed by January, February (if you want to beat the crowd) and October if you want to have a slightly average crowd level along with the Halloween festivities.
5 Best Tips to Avoid the Crowds at SeaWorld Orlando
Now that we have the basics covered, let's go through a few of the top tips when it comes to planning out your trip.
1. Check the Crowd Calendar
The theme park Crowd Calendars are super helpful when it comes to planning your day at SeaWorld Orlando.
You'll be happy to know that this calendar is updated frequently and is adjusted based on the trends of the daily theme park attendance, predicted events in Orlando, and holiday happenings.
Reviewing the SeaWorld Orlando Crowd Calendar will also help you determine if you should purchase a Quick Queue Pass in order to skip the lines on your trip.
2: Check the Weather, Holidays, School Day Closures, and Events
Once you have come up with your perfect date to visit, be sure to check the weather and any school closures. These can also impact the amount of people in the park.
As mentioned earlier, you should also check to see if it's a holiday or if there's a special event taking place as these things can also impact the crowd level at the park.
You'll definitely want to avoid holidays such as the 4th of July, the week of Christmas, Memorial Day weekend, and Labor Day weekend. 
Get your Discounted (up to 42% off) SeaWorld Tickets with Groupon TODAY!
3. Go to SeaWorld in the Morning
If you want to get the most out of your trip, then you'll want to go in the morning.
This will allow you to jump on all of the rides and attractions that you want to see before the park gets too crowded.
Hipster Power Tip: SeaWorld Orlando peak hours are between 11 a.m. and 4 p.m., so try to go on off peak hours if you can.
4. Look at the SeaWorld Orlando Quick Queue Calendar
This is one of my favorite tips when trying to figure out if it's going to be a busy day at SeaWorld Orlando.
When the park thinks that it's going to be a large crowd, the price for the Quick Queue Pass increases significantly than when a lower crowd is expected.
5. Have a Plan
Having a plan will ensure that you have all the time in the world to do the things that you want to do.
I recommend coming up with an itinerary for SeaWorld Orlando that will help you see as much as possible in just one day.
Wrapping Up…
As you can see, there are many factors that should be considered when planning a visit to SeaWorld Orlando.
By using the Crowd Calendar, you can make sure your trip to the Best Amusement Park in America goes perfectly for your trip!
What's your best tip for avoiding huge crowds at SeaWorld Orlando? Let us know in the comments section below.
Until next time, Happy Park Hopping Hipsters!
NikkyJ
UP NEXT: Complete Guide to SeaWorld Orlando: Tips, Prices, Tours, Rides and More!
(Original Article Date: April 2, 2022/Updated on January 31, 2023)