Are you trying to decide which of the SeaWorld Orlando restaurants you MUST eat at during your visit?
No need to worry. I got you!
Orlando is bursting with incredible dining with theme parks not wanting to miss out on the action and SeaWorld is no exception.
While theme park food is traditionally not highly regarded with many parks worldwide offering basic menus, Orlando's theme parks are the exception!
AND SeaWorld Orlando's dining locations are restaurants to be celebrated.
With 15 on-site eateries, there is an eclectic variety of dining locations from quick service burger joints to table service underwater experiences.
Each of SeaWorld Orlando's restaurants offers an incredible menu to choose from with something for every taste.
THIS POST MAY CONTAIN AFFILIATE LINKS. PLEASE READ MY DISCLOSURE FOR MORE INFO. Which means if you click on certain links, I may receive a small commission at no additional charge to you.
1. Altitude Burgers
As the name would suggest, Altitude Burgers is SeaWorld Orlando's leading burger bar.
This casual service dining location has a big menu of bold taste with the 'build a burger' option a particular menu highlight.
What to Eat at this SeaWorld Orlando Restaurant
The star attraction is The Altitude Burger, the ultimate burger made with juicy ground-beef and bursting with flavor.
However, burgers are not the only offering at Altitude Burgers with grilled chicken and pizza also featuring on the menu.
Altitude Burgers is the latest addition to SeaWorld Orlando's incredible list of restaurants and you can find it next to the park's newest attraction, Ice Breaker.
Save up to 42% on SeaWorld Orlando Resort Tickets!
2. Captain Pete's Island Hot Dogs
Nestled next to SeaWorld's stingray exhibit within a vibrant Key West inspired shack, Captain Pete's Island Hot Dogs is the perfect place to stop for a quick bite to eat.
What to Eat at this SeaWorld Orlando Restaurant
This quick service location features a menu of classic American snacks and offers a selection of iconic menu items including Nathan's Hot Dogs.
Captain Pete's Island Hot Dogs is also one of the few dining locations at SeaWorld Orlando that serves a more extensive alcohol selection than just draft beer and seltzer.
Here you can choose from a more exciting drinks list that includes Florida craft beer and Caribbean cocktails.
3. Coaster Coffee Company
SeaWorld Orlando's resident Starbucks location, Coaster Coffee Company, serves an array of hot drinks, cold beverages and baked goods from the nation's favorite coffee chain.
Located near SeaWorld's main entrance, Coaster Coffee Company is the perfect place to make a stop and grab your morning boost before a busy day in the park.
Not only does Coaster Coffee Company whip up delicious drinks and snacks, the coffee shop itself is fascinating.
Themed after SeaWorld's iconic roller coasters, you will dive deep into SeaWorld's coaster-building history through spectacular construction photos and miniature working models of two of the park's most popular attractions, Mako and Kraken.
4. Edy's Ice Cream Parlor
You will find no better place on SeaWorld property to escape the Florida heat than Edy's Ice Cream Parlor.
Boasting a mouthwatering selection of 14 different ice cream flavors, Edy's Ice Cream Parlor is the perfect pit stop for a cool down in the park.
Featuring traditional ice cream flavors like vanilla and chocolate to the more unique espresso chip and chocolate peanut butter cup, Edy's has a flavor to satisfy every taste.
Ice cream is not the only delicious sweet treat on offer at Edy's with the menu also featuring monster shakes and sundaes.
Plus, if you're over 21, you can make your dessert extra special by adding a shot of liqueur.
Ready to plan your theme park trip? Watch the best vacation planning tips on YouTube. Get started here!
5. Expedition Cafe
The ultimate explorers hub burrowed within a frozen tundra, Expedition Cafe is an intricately themed dining location adjacent to the icy world of Antarctica: Empire of the Penguin.
This mess hall style quick service restaurant is home to a variety of different kiosks with menus from across the world.
What to Eat at This SeaWorld Orlando Restaurant
Take your pick from Asian, Italian and American inspired dishes that are guaranteed to tantalize your taste buds.
Some of the best items on the menu are:
Tender Tower: Hand-Breaded Chicken Tenders, Fries, Shredded Cheddar-Jack Cheese, Bacon Bits, Chives
Teriyaki Chicken
Orange Chicken
Chocolate Cake
Expedition Cafe is the perfect dining location for groups and families with a variety of tastes allowing everyone to grab something they enjoy without having to settle on the one cuisine.
6. Flamecraft Bar
One of SeaWorld Orlando's most scenic dining locations, Flamecraft Bar is positioned overlooking the park's beautiful lake.
Offering an incredible selection of drinks including the park's most extensive selection of cocktails, Flamecraft Bar is SeaWorld Orlando's premier drinking spot.
What to Eat at This SeaWorld Orlando Restaurant
The menu features a refreshing assortment of Florida's best craft beers, frozen cocktail favorites and unique alcoholic concoctions.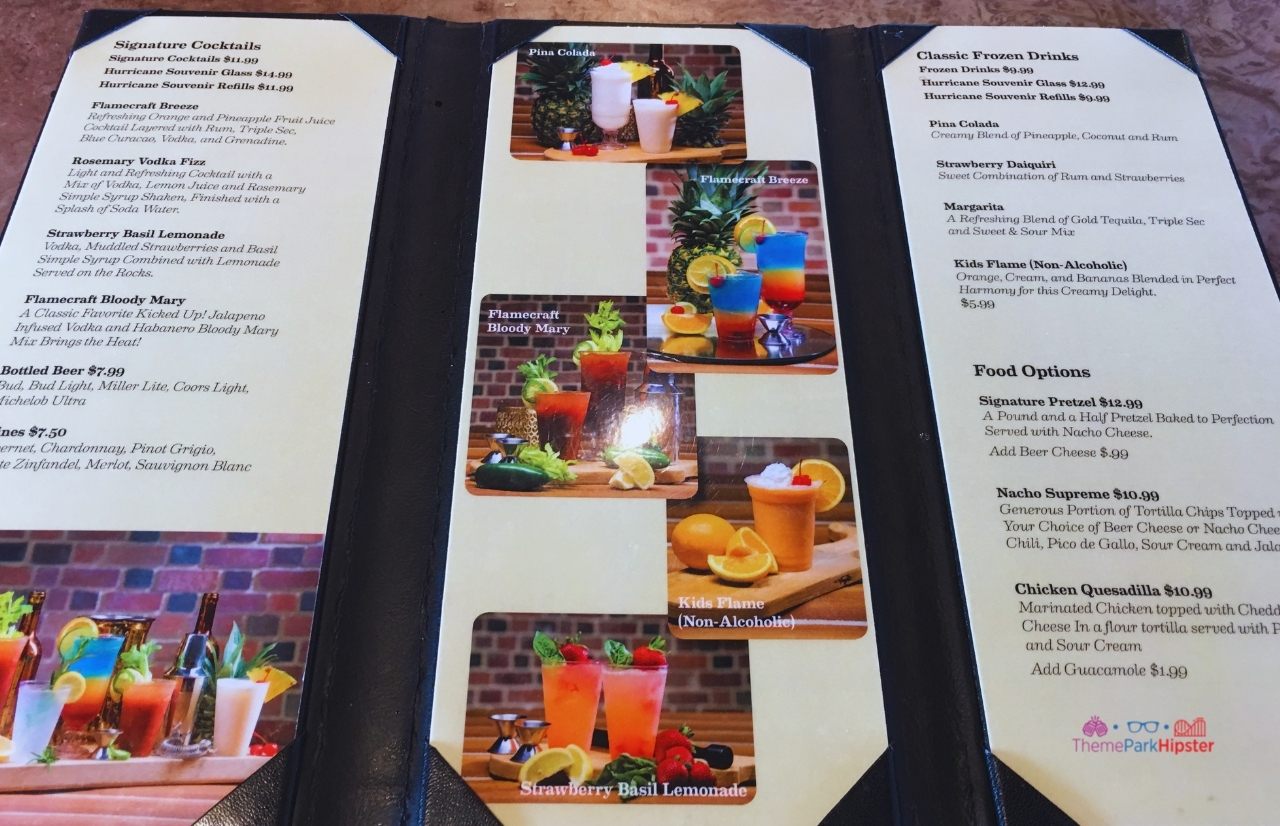 To accompany your drinks, Flamecraft Bar serves up delicious snacks such as nachos, pretzels and quesadillas to be enjoyed whilst admiring the waterfront views.
Hipster Power Tip: Be sure to get the Nacho Supreme that comes with Tortilla Chips topped with Chili, Nacho Cheese, Pico de Gallo, Sour Cream, and Jalapenos. Wash it down with the Classic Margarita topped with Grand Marnier.
7. Glacier Bar
If you're in search of a place to take a break from the thrill of the park and catch up on the latest sporting events, Glacier Bar is the coolest place to be.
With multiple big screens showcasing live sports, Glacier Bar is one of Orlando's most unique sports bars with a glacial theme.
The bar is tucked next to the Wild Arctic with panoramic views of SeaWorld Orlando's latest attraction, Ice Breaker.
Glacier Bar's menu lists some of SeaWorld's most distinctive drinks including creative cocktails, alcoholic ICEE's and Coca-Cola Freestyle flavors exclusive to SeaWorld Orlando.
8. Lakeside Grill
Overlooking the vast lake of SeaWorld Orlando, Lakeside Grill is one of Orlando's most beautiful waterfront restaurants.
With an outdoor patio on the waters edge boasting panoramic park views, in addition to a magnificent indoor dining area with coastal decor, Lakeside Grill is SeaWorld Orlando's most phenomenal restaurant.
What to Eat at This SeaWorld Orlando Restaurant
The menu features a delicious selection of Mediterranean inspired dishes with burgers, fish and the restaurant's signature kabobs.
Some of the best options are:
Lakeside Mediterranean Burger: Turkey burger, American cheese, lettuce, onion & tomato on a brioche bun
Greek Salad Kabob: Your choice of either Grilled Chicken or Steak Skewer on a bed of tomatoes, cucumbers, feta cheese, olive oil
Lakeside Mediterranean nachos: Pita chips with hummus, feta cheese, tomatoes and olives
9. Mama's Pretzel Kitchen
With a menu of sweet and salty dough twists, Mama's Pretzel Kitchen is a unique addition to SeaWorld Orlando dining.
Pretzel nuggets, pretzel dogs and the bacon cheeseburger pretzel are all creative concoctions available from Mama's Pretzel Kitchen.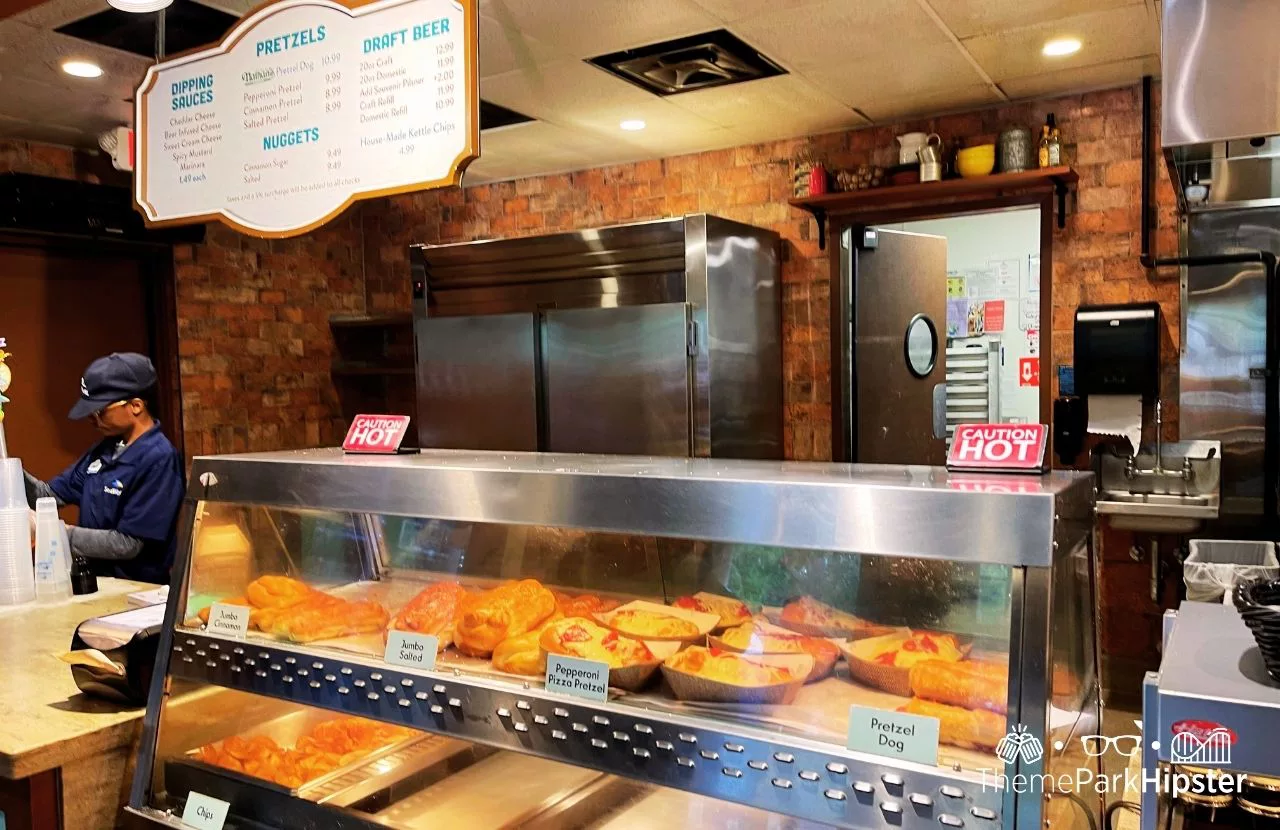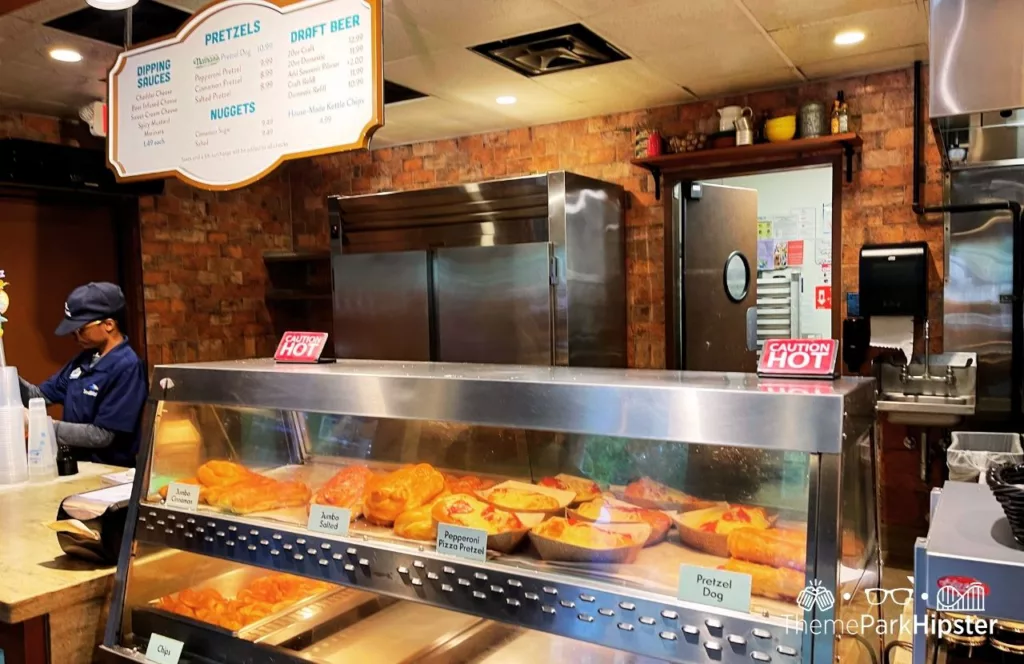 There are also sweet options including cinnamon sugar nuggets.
The ultimate pretzel destination, Mama's Pretzel Kitchen is an incredible quick service restaurant serving up delicious creations to satisfy both sweet and salty cravings.
10. Seafire Grill
Tucked away behind Seaport Theater, SeaWorld Orlando's premier stage for animal shows, Seafire Grill boasts an innovative menu.
With a selection of delectable grilled chicken dishes, Seafire Grill is one of the most popular restaurants at SeaWorld Orlando with a simple menu featuring American classics.
The restaurant is a great option for all the family with a dedicated kids menu and unpretentious dishes ideal for picky eaters.
Seafire Grill is also the only place on SeaWorld property serving breakfast with a selection of breakfast menu items available from park opening until 11 a.m.
What to Eat at This SeaWorld Orlando Restaurant
Crispy Chicken Sandwich
Grilled Chicken Sandwich
Fish & Chips
Crispy Buffalo Wings
Get Your SeaWorld Annual Pass TODAY!
11. Panini Shore Cafe
If you're looking for a quick bite to eat rather than a hot, sit-down meal, Panini Shore Cafe is the best SeaWorld Orlando restaurant to grab and go.
With a delicious selection of sandwiches and a few burgers, Panini Shore Cafe is the go-to dining location during a busy park day with its central location and easy access menu items.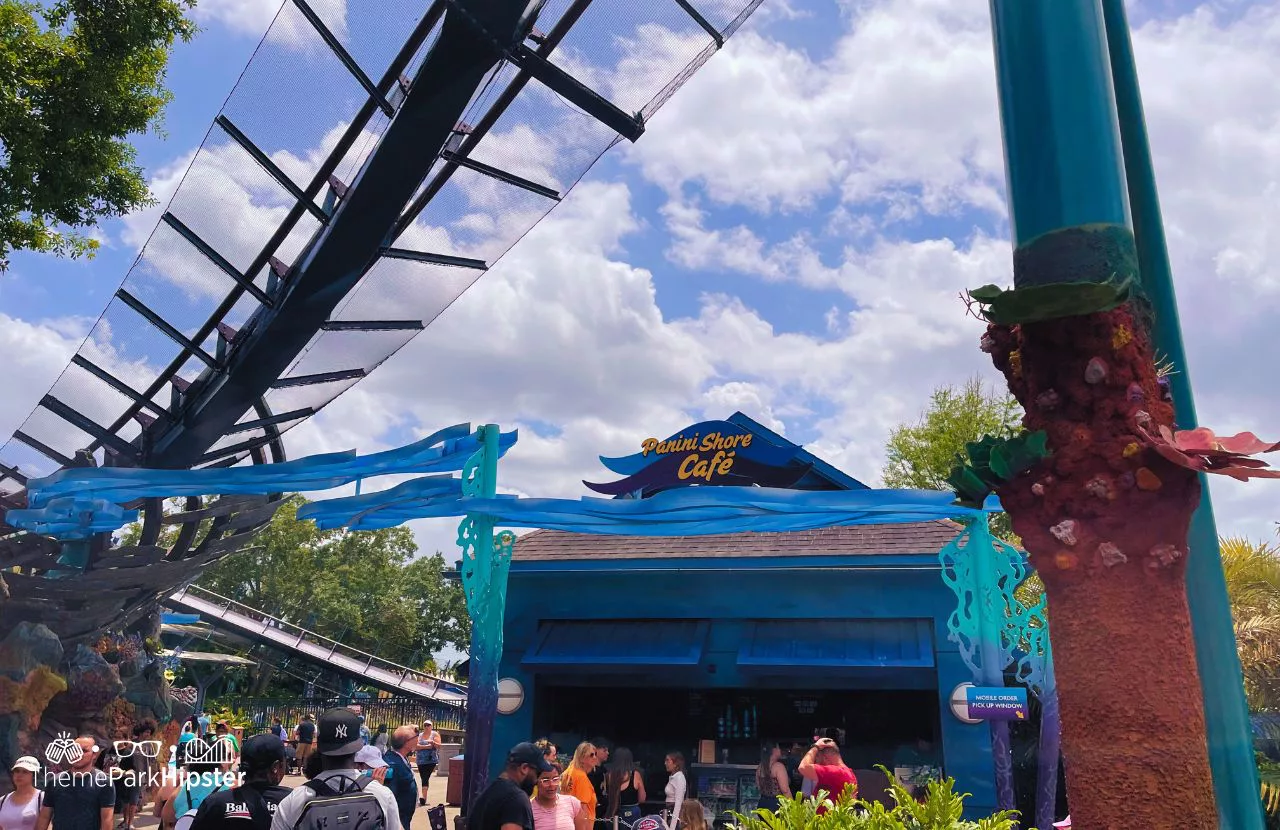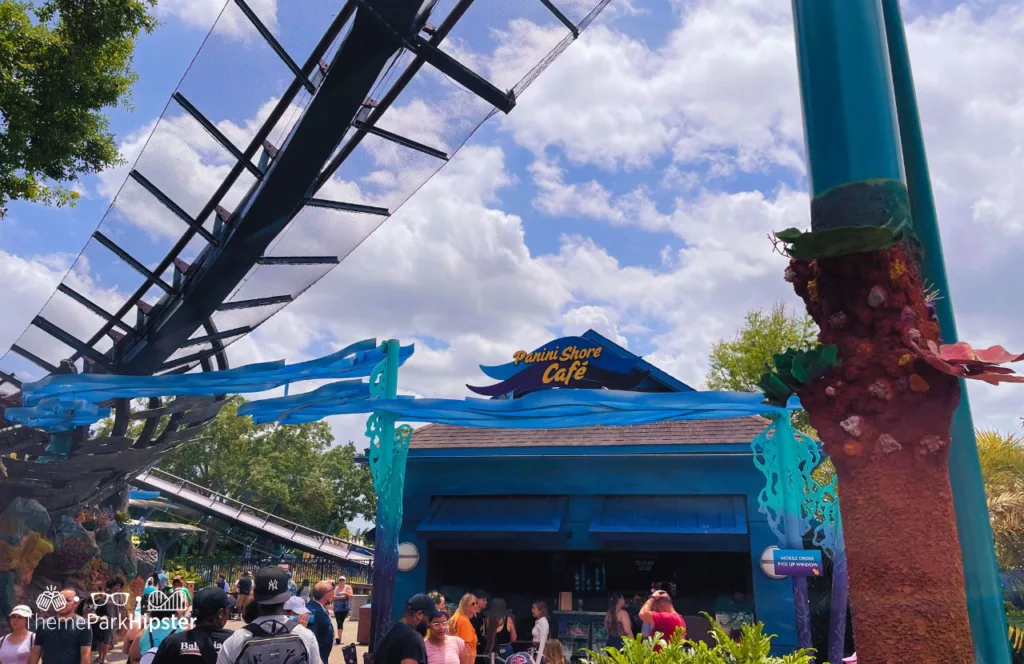 This quick service dining location also serves a selection of healthier sandwiches and salads, menu items that can prove tricky to find in other SeaWorld Orlando restaurants.
12. Sesame Street Food Trucks
Welcome to Sesame Street where the attractions are thrilling and the food is delicious!
Parked up in SeaWorld Orlando's iconic Sesame Street Land, the Sesame Street Food Trucks offer great menu options for all the family.
With three trucks to choose from, a variety of different dishes are available with plenty to satisfy the little ones including a selection of healthy options.
If you're after a sweet treat, Sesame Sips is the food truck that outshines them all with a selection of Sesame Street themed smoothies and ICEE Twist Cream drinks.
What to Eat at This SeaWorld Orlando Restaurant
Hawaiian Grilled Chicken Tenders – served with Island BBQ sauce
Turkey Melt Grilled Cheese Sandwich – Roasted turkey breast topped with sweet tomato and American cheese
Hawaiian Grilled Cheese Sandwich – Pulled pork with smoked bacon bits, cheddar cheese, and BBQ sauce
Big Bird's Pineapple Delight
Save up to 42% on SeaWorld Orlando Resort Tickets!
13. Sharks Underwater Grill
When it comes to dining at SeaWorld Orlando, Sharks Underwater Grill is the star attraction.
SeaWorld Orlando's signature restaurant and the park's only full service dining location, Sharks Underwater Grill is the ultimate place to eat on SeaWorld property.
This award-winning restaurant is recognized as one of the best in Orlando with an abundance of accolades to its name.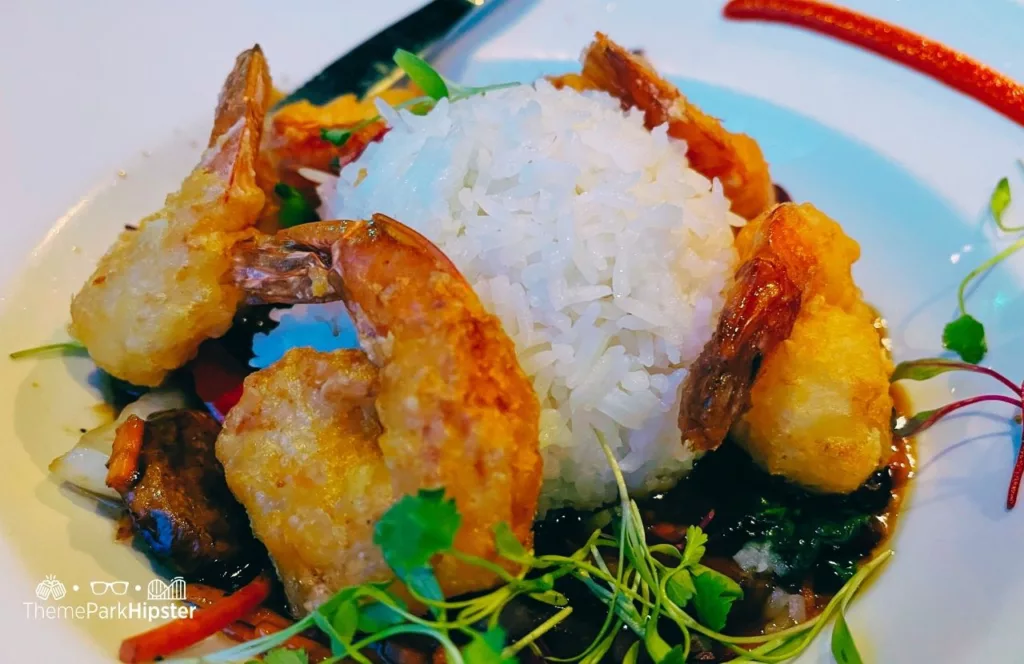 What to Eat at This SeaWorld Orlando Restaurant
The restaurant's menu boasts delicious appetizers and world-class entrees accompanied by a unique list of creative cocktails from a menu that supports the conservation efforts of the park.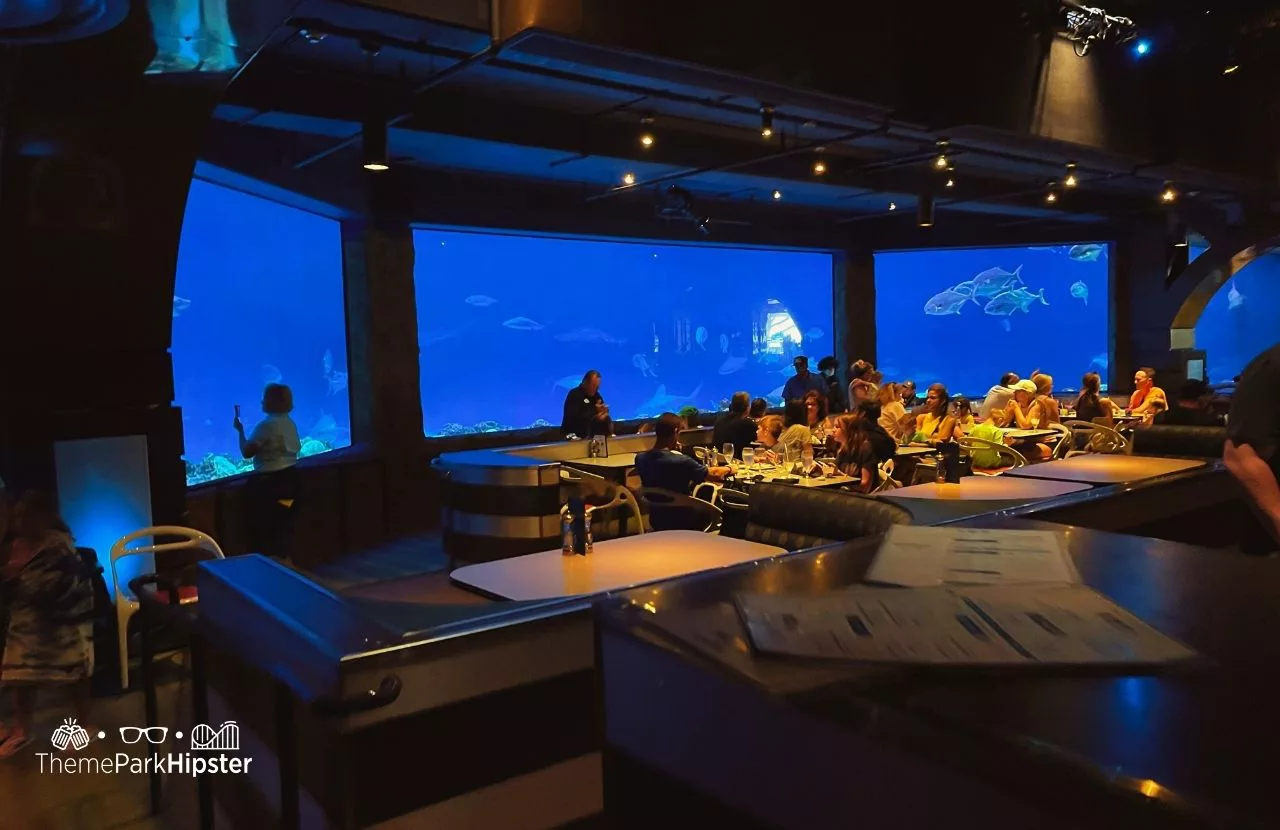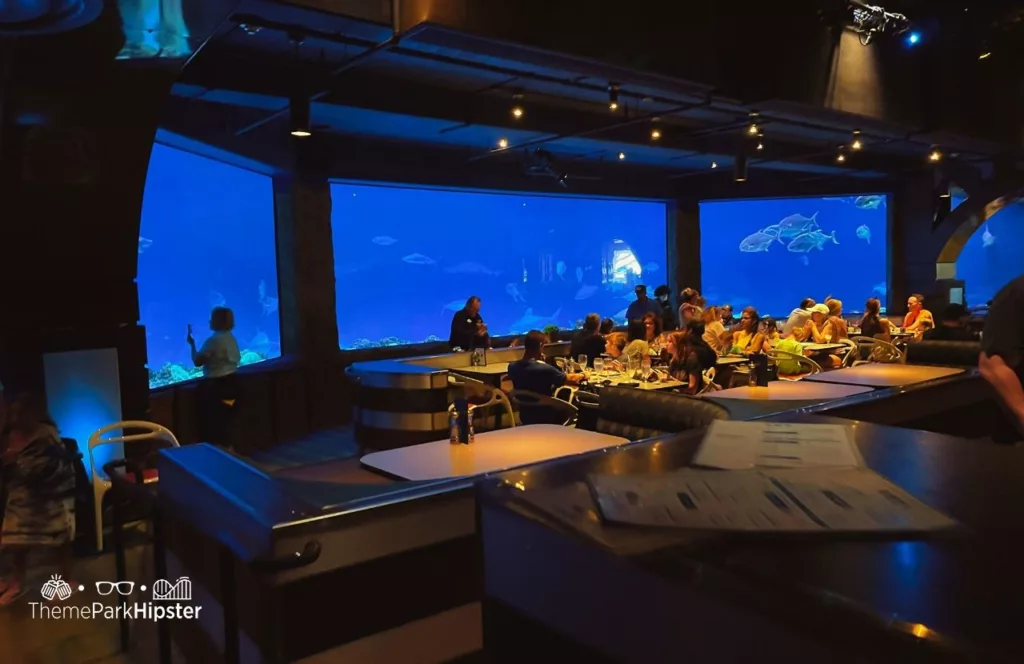 Here's a list of the top dishes at Sharks Underwater Grill:
Filet Mignon: 8oz Grilled Beef, Cabernet Demi Sauce, Mashed Potatoes, Seasonal Vegetables
Tempura Shrimp: Light tempura battered jumbo shrimp, Japanese sticky rice, bok choy, mushrooms, red peppers, kalbi sesame glaze
Kobe Beef Sliders: Bacon & Onion Jam, Vintage Cheddar, Herb Mayo, Hand-cut Truffle Buttered Fries
Grilled Lamb Chops: Roasted Potatoes, Rosemary, Greek Tzatziki Sauce
Cannoli Cake: Four layers of yellow cake filled with orange cream, cream cheese and chocolate chips. Iced with cream cheese and garnished with a filled cannoli
Mako Margarita: Milagro Silver Tequila, blue curacao, lime juice
Puffin's Kiss: Reyka Icelandic Small Batch Vodka, Flor de Cana Rum, Midori, Peach Schnapps, Pineapple
14. Voyager's Smokehouse
SeaWorld Orlando's renowned barbecue joint, Voyager's Smokehouse, serves up the smoke, the sauce and the flavor.
Dishes are grilled to perfection at Voyager's Smokehouse with a selection of succulent meats slowly smoked over hickory wood.
What to Eat at This SeaWorld Orlando Restaurant
The menu has so many highlights it is difficult to select a stand out dish with St Louis style ribs and Texas brisket just a selection of Voyager's Smokehouse's mouth watering options.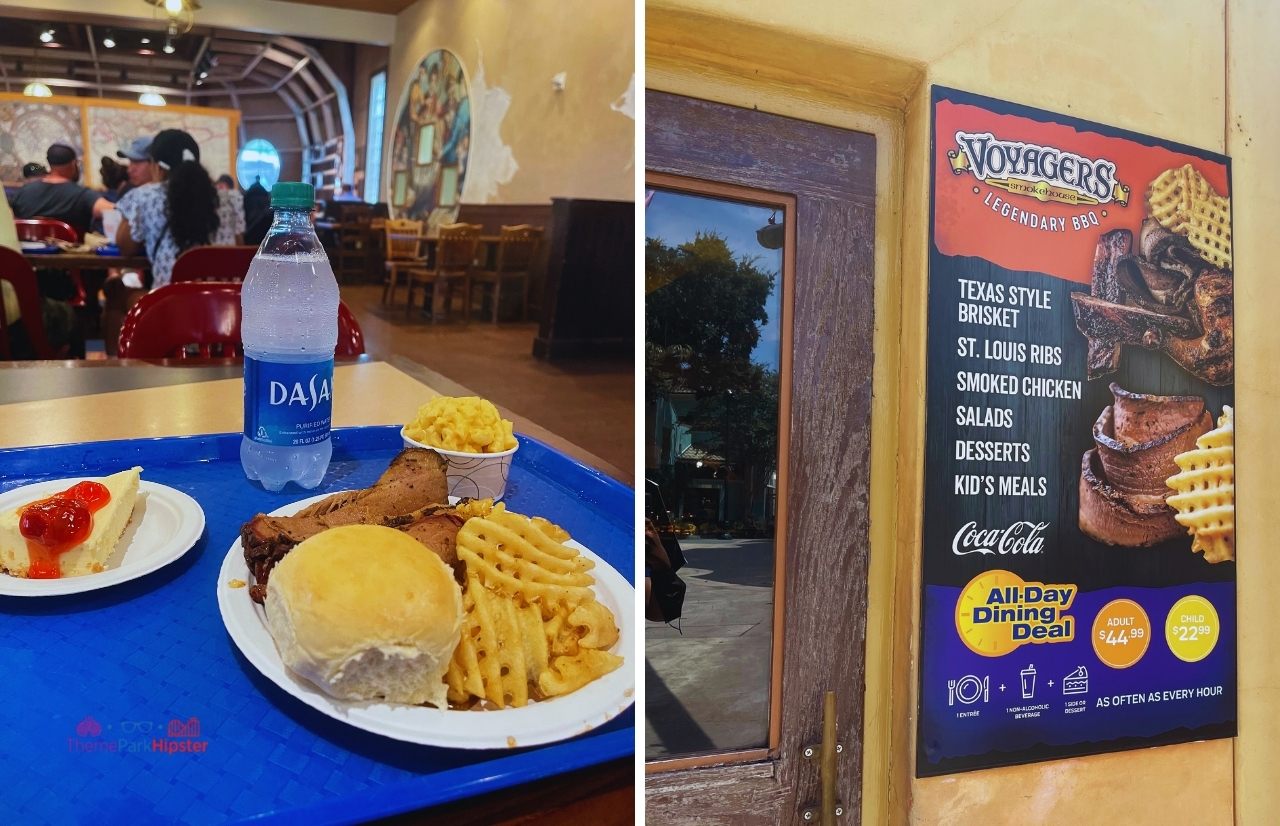 The relaxed eatery is bursting with American heart and flavor, one of the tastiest quick service restaurants in all of Orlando.
15. Waterway Bar and Grill (Temporarily Closed)
Inspired by the flavors of the Amazon, Waterway Grill offers the most unique and diverse dishes at SeaWorld Orlando.
What to Eat at This SeaWorld Orlando Restaurant
The menu takes you on a taste journey through South America with delicious culinary offerings to make you drool. Some of the best dishes on the menu are:
Salpicao Chicken Salad with Cabbage, Green Peas and Corn
Amazon Salad – Crispy Greens with Hearts of Palm, Carrots, Cucumber, Tomato, Red Onion, Olive and Feta Cheese
Grilled Churrasco Steak
Slow Roasted Pork
Sweet Plantains
Cookie Dough Cupcake
Meanwhile, Waterway Bar serves a selection of craft beers and soft drinks to quench your thirst.
The bar and grill takes in the views of Infinity Falls, SeaWorld's splashtastic river ride.
On another note, the large dining area is the best place for groups to dine out of all the SeaWorld Orlando restaurants. Making it one of the best SeaWorld Orlando restaurants.
Save up to 40% on your SeaWorld Orlando hotel with Groupon TODAY!
My Final Thoughts on the SeaWorld Orlando Restaurants
There you have it! Everything you need to know about all of the SeaWorld Orlando restaurants!
If you want to try them all for ONE price, then you should think about purchasing the SeaWorld All-Day Dining Deal.
It's a great bargain and an easy way to budget for your Orlando vacation.
What's your favorite restaurant at SeaWorld Orlando? Let us know in the comments section below.
Until next time, Happy Park Hopping Hipsters!
UP NEXT: 19 BEST SeaWorld Orlando Tips to Save Time and Money
(Original Article Date: May 27, 2022/Updated by Editor on April 16, 2023)