Are you ready for one of the most epic dining experiences at Sharks Underwater Grill in SeaWorld Orlando?
Well, I'm sure you've heard of diving with the sharks but what about DINING with the sharks?
Sharks Underwater Grill and Bar at SeaWorld Orlando delivers some jaw-dropping views of shark-infested waters while serving up bites to remember.
But don't worry, this adventurous restaurant is more than safe, you will have a swimmingly good time!
So, follow along as we dive into all you need to know about Sharks Underwater Grill SeaWorld full of photos, food, fun, and more!
THIS POST MAY CONTAIN AFFILIATE LINKS. PLEASE READ MY DISCLOSURE FOR MORE INFO. Which means if you click on certain links, I may receive a small commission at no additional charge to you.
What is Sharks Underwater Grill at SeaWorld Orlando?
Sharks Underwater Grill and Bar is upscale dining with some of the most fin-tastic views you could ever imagine.
And quite literally!
I'm pretty sure you haven't had dinner with a view like this one!
With floor-to-ceiling panoramic views into SeaWorld's Shark Encounter, you are seeing the underwater world in a whole new way.
Get your Discounted (up to 42% off) SeaWorld Tickets with Groupon TODAY!
What is the Vibe like Inside Sharks Underwater Grill?
The aquatic vibes inside Sharks Underwater Grill are super chill and relaxed. It has you feeling like you are deep down underwater with the sharks.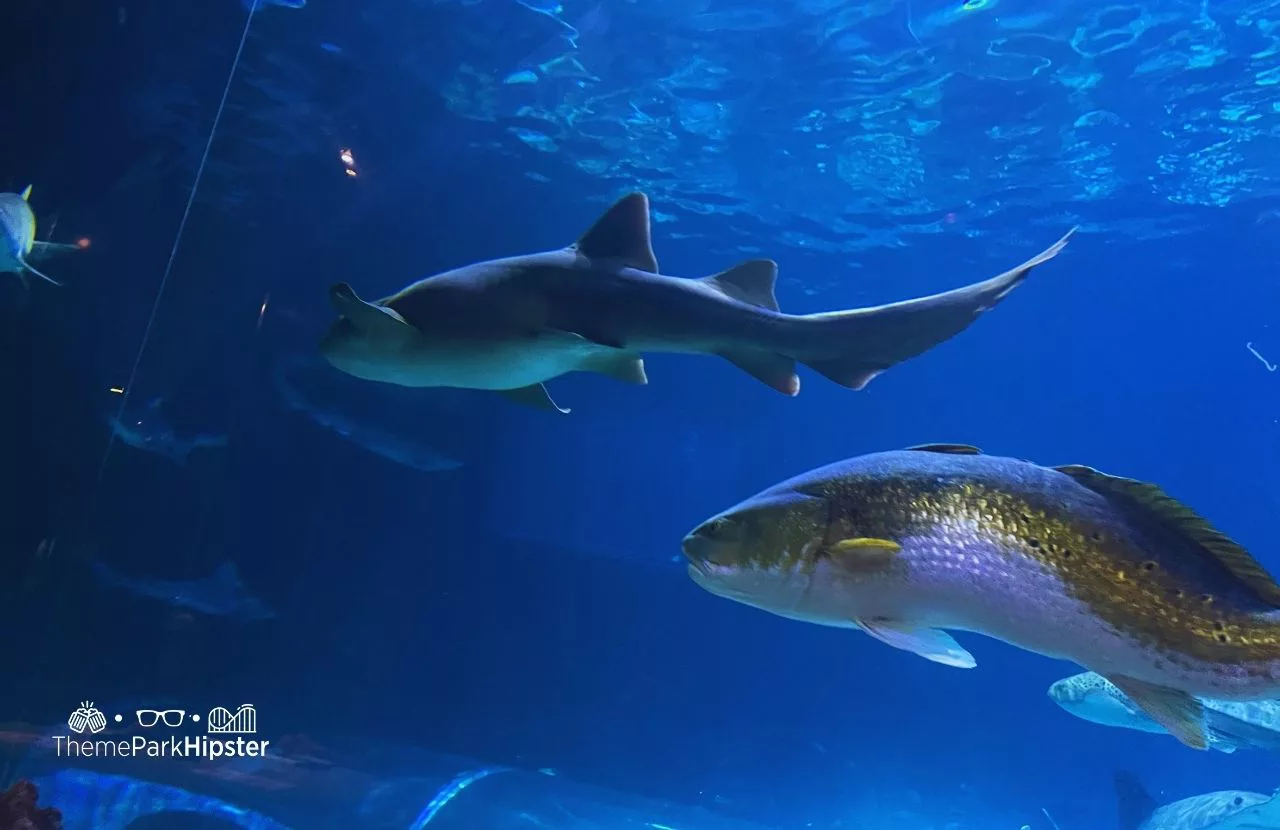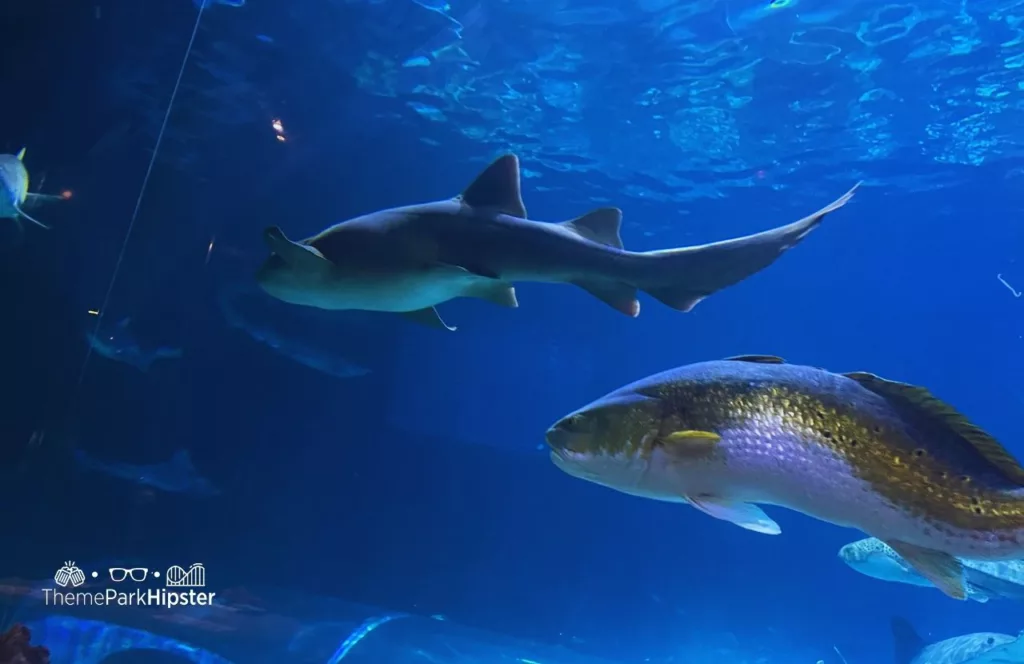 Which isn't hard to imagine since they are swimming all around you and right at your side. It is the coolest experience!
The 70,000-gallon aquarium is full of sharks and interesting fish to spot like the unique smalltooth sawfish, nurse sharks, sand tiger and sandbar sharks, and the Atlantic blacktip shark.
But don't fear the fin! These sharks are fed regularly, so don't be afraid of seeing something frightening while dining.
Where is Sharks Underwater Grill?
One of Orlando's most adrenaline-inducing and exciting restaurants lies within SeaWorld's world-class aquatic theme park.
You can find Sharks Underwater Grill & Bar at the Sharks Encounter Aquarium within SeaWorld Orlando.
But if you aren't sure whereabouts in the park, maybe its famous neighbor might help you out. It's over by the tallest coaster in the theme park, Mako.
Which only makes sense since it shares its name with the fastest-known shark in the world's oceans, the Mako shark.
Get your SeaWorld Resort Orlando Theme Park tickets with The Park Prodigy TODAY!
Do I Need a Reservation for Sharks Underwater Grill?
Sharks Underwater Grill works a little differently than other restaurants you may be used to. You CANNOT make a reservation days or months in advance.
But don't worry gill-fiends, ThemeParkHipster won't let the chance to dine at the most epic Shark Restaurant Orlando swim past you. I've got a fin-tastic tip!
Yes, Sharks Underwater Grill is first come first serve and opens at 11:30 a.m. But the host stand opens at 11 a.m. to start taking dining reservations for that day.
So, be sure to head over to the host station early enough, secure a spot and get back out and enjoy your day at the theme park.
Watch the Full Guide to SeaWorld Orlando here on YouTube!
What's on the Menu at Sharks Underwater Grill?
Sharks Underwater Grill menu serves up some dangerously delicious options for lunch and dinner.
They feature fine dining choices that have been carefully crafted to match the unique surroundings.
You will find ingredients of scallops, Atlantic Salmon, lamb chops, and Filet Mignon to choose from.
Sharks Underwater Grill menu reflects why this restaurant is award-winning. They have been recognized with:
Orlando Life Magazine awarded them the 2013 Silver Spoon Award
Zagat 2014 Orlando Restaurant Survey giving Outstanding Ratings
And as the seasons change, they will often change out some of their menu selections.  
So, you may get the chance to try out a few new dishes throughout the year if you are an annual SeaWorld pass holder.
Check out my latest theme park adventures on Instagram TODAY!
The Best Food at SeaWorld's Sharks Underwater Grill Orlando
Now let's get to the best part that I know you've been waiting for. Let's talk about food!
One of the most popular dishes on the Sharks Underwater Grill menu that has guests raving is the Kobe beef sliders that is served alongside hand-cut truffle buttered fries.
Topped with vintage cheddar, bacon, and onion jam, herb mayo the flavor is to die for!
But there are so many melt-in-your-mouth dishes that these skilled chefs have put on the Sharks Underwater Grill menu.
Appetizers you don't want to skip :
Coconut chicken tenders with spicy Florida citrus marmalade
Cold Water Lobster Bisque
Grilled Lamb Chops with roasted potatoes, fresh rosemary and yummy Greek Tzatziki Sauce
Entrées to sink your teeth into are:
Pan Seared Scallops with Creamy Mushroom Risotto
Tempura Shrimp with Japanese Sticky Rice and Kalbi Sesame Glaze
Filet Mignon (8oz grilled beef) served with a Cabernet Demi Sauce, mashed potatoes, seasonal vegetables
Desserts you must try as the grand fin-ale:
Cannoli Cake: 4 delectable layers of yellow cake that are bursting with orange cream, cream cheese, and chocolate chips. Then iced with more cream cheese and topped with an actual filled Cannoli
Chocolate Cake Confusion: a brownie and chocolate cake bursting with fudge, dressed in chocolate ganache
White Chocolate Raspberry Cheesecake
They haven't forgotten the bubbles and adult bevies!
Shark Restaurant Orlando also hasn't forgotten where they are located.
They have curated a cocktail menu highlighting brands that are committed to the rehabilitation and conservation of animals and dedicated to humanitarian efforts.
Yay for Sharks Underwater Grill Seaworld! So, you are drinking for a purpose, I guess you could say!
From cool cocktails, featured wines, white & sparkling wines, and of course reds, they have you toasting to making a small difference in the world of great causes.
What's even cooler are the fun names they have come up with for their cocktails. Check these out and tell me they don't sound tempting!
Puffin's Kiss with Reyka Icelandic Small Batch Vodka and Flor de Cana Rum, some Midori, Peach Schnapps, and pineapple
Mako Margarita mixed with Milagro Silver Tequila, blue Curaçao, triple sec, and lime juice
Shark Tooth is created with Gray Whale Gin and mixed with sparkling wine, St Germain, some lemon juice, and simple syrup.
Get the latest SeaWorld Orlando theme park ticket deals TODAY!
How Much is Sharks Underwater Grill?
Since Sharks Underwater Grill menu features world-class dishes, it is one of the pricier restaurants at SeaWorld Orlando.
But it all comes all along with the once-in-a-lifetime fin-credible experience and mouthwatering dishes!
Appetizers start at $13 and have selections ranging up to $18.
The entrées on Sharks Underwater Grill menu have made this upscale restaurant become the best of the best. Starting at $23, entrées can price upwards of $43.
And for children 9 and under you can put together a full meal of an entrée, side, and dessert for $16 – $17.
They have several entrées and sides to choose from. But a plate of chicken tenders, with mashed potatoes or fries with a fun shark sundae for dessert with have the little ones swimming in happiness.
And if you want to top it off with a cocktail, they price at $14. While wines are $12 to $14 a glass and $45 to $53 a bottle.
Sharks Underwater Grill Reviews (Pros and Cons)
Now let's go through the Pros and Cons for this SeaWorld Orlando Restaurant.
Pros:
Families absolutely love Sharks Underwater Grill SeaWorld because it keeps all ages entertained throughout the whole visit.
Plus, the children's menu has kid-friendly options to keep everyone's belly full.
And they have made sure to keep their menu inclusive for those with dietary restrictions. They have gluten-free, dairy-free, and nut-free options, on both the adult and kid's menus.
The Shark Restaurant at SeaWorld Orlando isn't just great for families either. It's a perfect choice for solo theme park travelers, too!
Everyone is so busy watching all the action at the larger-than-life aquarium window.  So there's no need to worry about feeling self-conscious at all.
Another pro that is super convenient is even though the full-service restaurant serves some of the best dining in the park, it doesn't require you to change your attire.
You can come in the casual attire that you are wearing for your day at SeaWorld Orlando.
Save up to 40% on your SeaWorld Orlando hotel with Groupon TODAY!
Cons:
Many of us like to plan ahead, so not being able to make a reservation online before the day of the visit can feel stressful.
Especially when Shark Underwater Grill Restaurant Orlando, it is one of the must-do things at SeaWorld Orlando.
However, although you can only make your reservation on the same day, there are several times to choose from throughout the day. Remember, it does serve lunch AND dinner.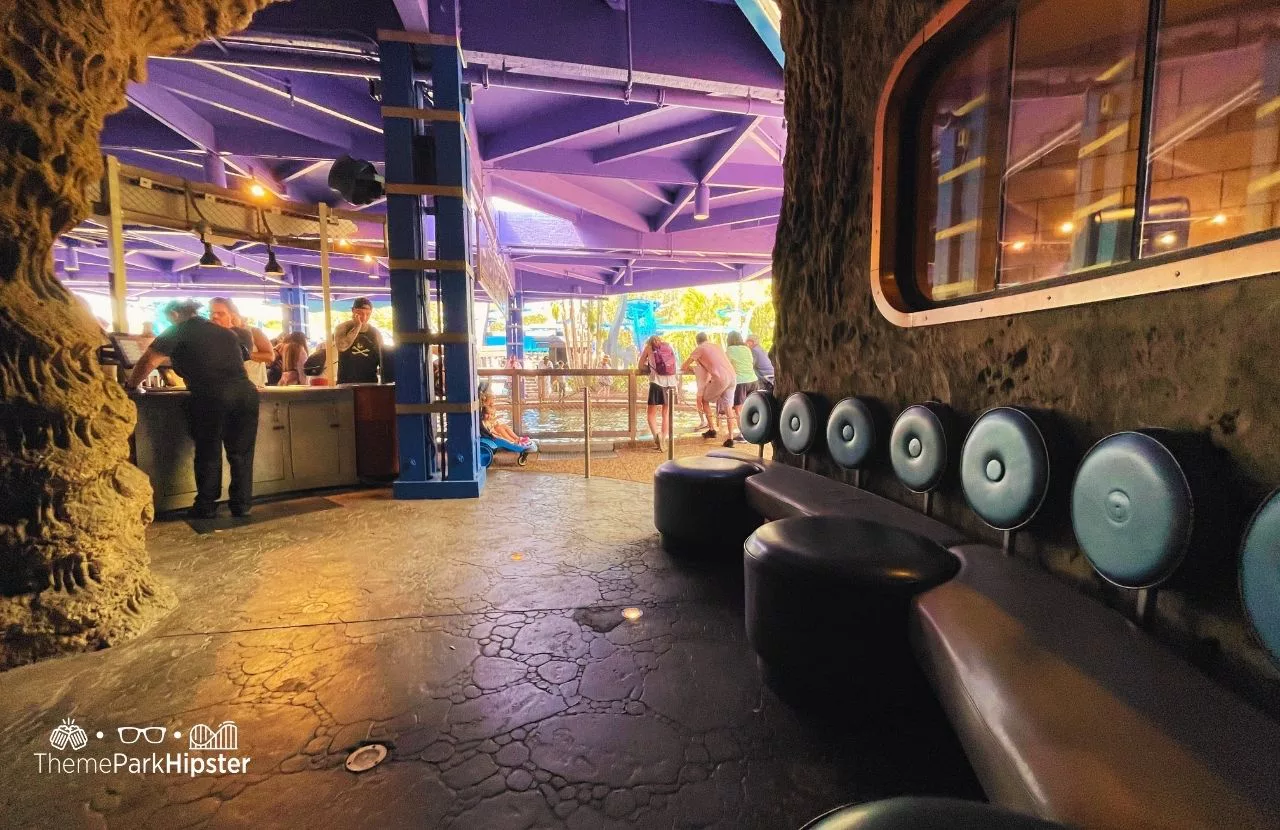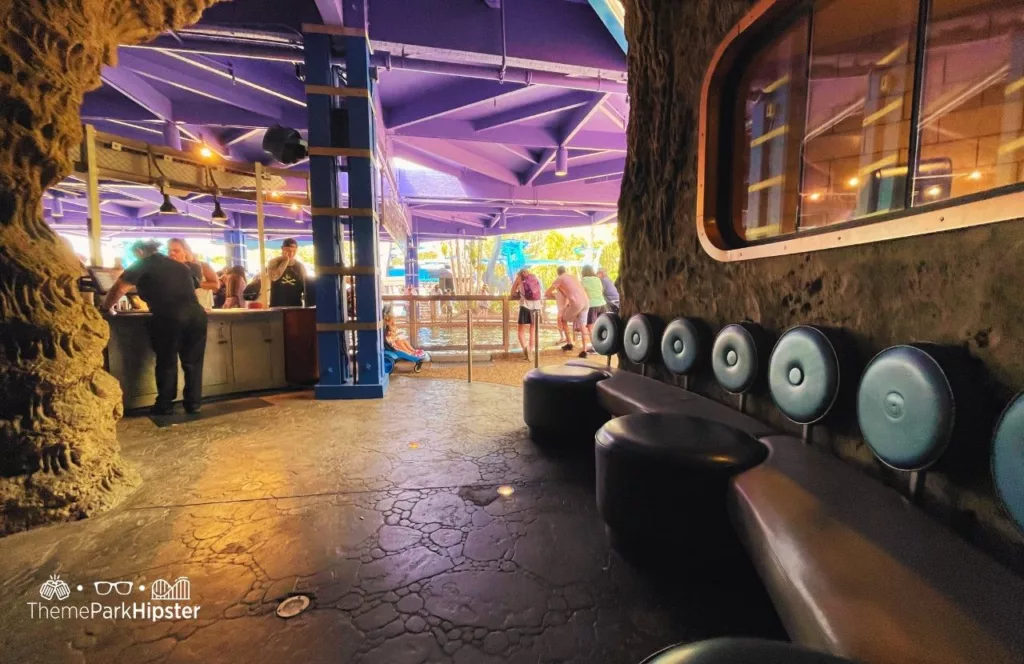 Another con is for those purchasing the All-Day Dining Deal at SeaWorld Orlando, SeaWorld Underwater Grill is not included in the package.
But if you are looking for something to splurge on for your day at the theme park, it is definitely one of the must-eat places at SeaWorld Orlando.
Check out my latest theme park adventures on Instagram TODAY!
Can You Go to Sharks Underwater Grill Without SeaWorld Tickets?
Part of what makes eating at Sharks Underwater Grill so special is that you can't just visit whenever you want.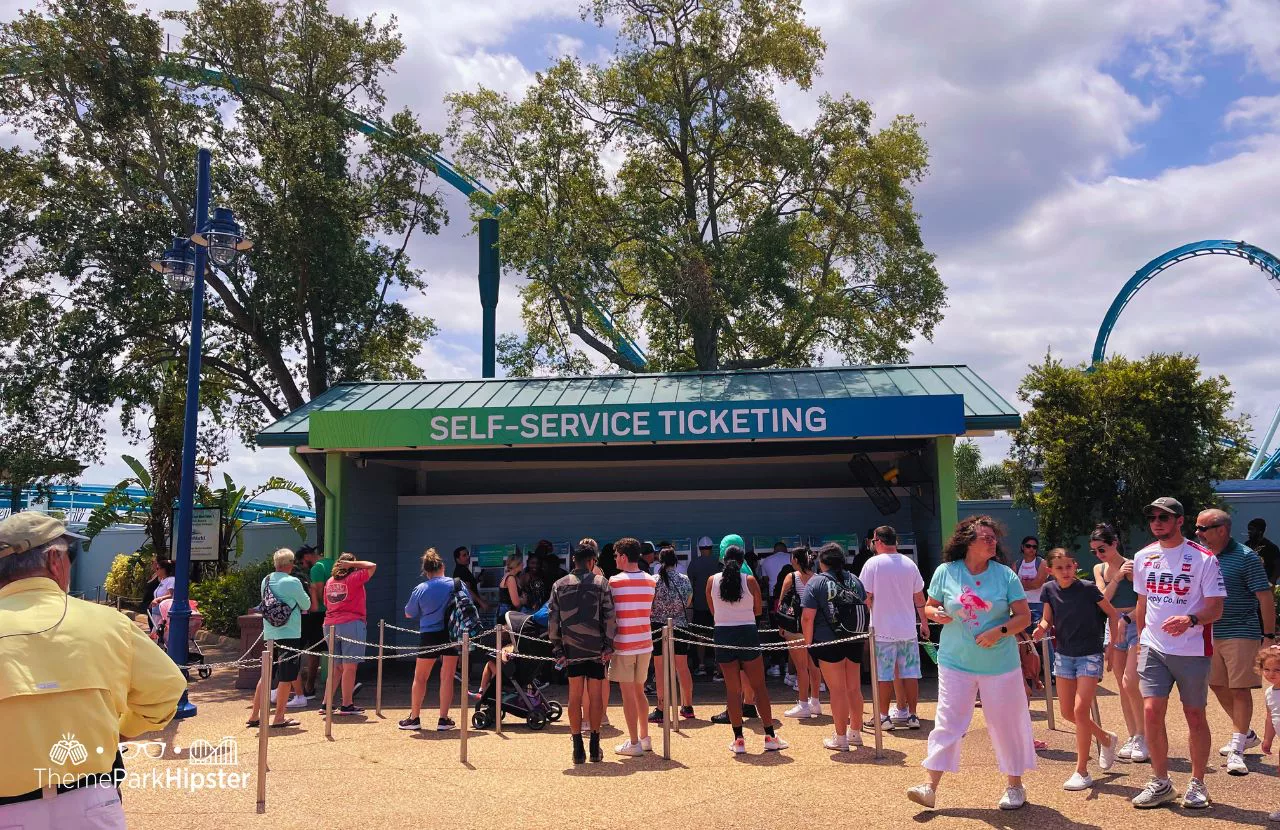 It is only exclusive to those with SeaWorld tickets, making it a truly special dining experience and part of your theme park memories.
Groupon offers great deals on SeaWorld tickets. You can also purchase your tickets directly from SeaWorld's website prior to your visit.
My Final Thoughts and Review on Sharks Underwater Grill
I highly recommend downloading the SeaWorld Orlando app before your visit because it will have an up-to-date menu for any seasonal changes.
That way you can decide what you want before you dine and spend more time shark watching!
SeaWorld's Sharks Underwater Grill is one of those experiences that will stay with you for a lifetime, long after your day at the theme park.
It is so different and out of this world that nothing compares to this sharktastic dining adventure!
Final Score and Review for Morimoto Asia Disney Springs
Ambiance: 9
Food: 8
Prices: 8.5
Drinks: 10
Service: 8.5
I give this restaurant a 8.8 out of 10 on the ThemeParkHipster dining scale and I know you will definitely enjoy it too!
Until next time, Happy Park Hopping Hipsters!