Are you looking for a place to unwind after a long day at the Orlando theme parks? That's what you'll get when you vacation at Regal Oaks Resort.
It's one of Orlando's best kept secrets tucked nicely away from all of the commotion, yet only a 5 mile drive to the magical gates of Walt Disney World.
Here you'll get to choose from 2,3, and 4-bedroom townhomes that range between 1,350 to 1,850 square feet!
On this Florida resort travel guide, I will over everything you need to know when choosing to stay here and that includes:
Ambiance
Location/Address
Parking
Amenities
Rooms
Dining
Local Attractions
My Final Review
Before I give you all of the details, I have to let you know that I was invited out by Regal Oaks Resort to enjoy their offerings in exchange for a blog post review.
As always, my thoughts and opinions are my own and I have vacationed here before using my own money.
Now, let's get started on your relaxing journey to Regal Oaks Resort!
THIS POST MAY CONTAIN AFFILIATE LINKS. PLEASE READ MY DISCLOSURE FOR MORE INFO. Which means if you click on certain links, I may receive a small commission at no additional charge to you.
Ambiance of Regal Oaks Resort
As you approach the majestic gates of this destination you'll notice the bright bold colors ready to welcome you straight into the tropical vibes of this resort.
When you enter the main lobby, you'll be blown away by the grand chandelier that sits effortlessly above your head.
This is when you'll know that your vacation has truly started.
Not to mention, the view of the resort pool that looms off in the background ready for you to take a much needed swim in.
The thing I like about Regal Oaks Resort is although it has an inviting lobby and world-class pool area, it doesn't feel pretentious. 
It feels as if you're hanging out with friends who are down-to-earth all across the resort grounds.
Recommended: Top 5 Ways to Find Cheap Disney World Tickets for Your Vacation!
Where is Regal Oaks Resort located?
Regal Oaks is located at 5780 Golden Hawk Way, Kissimmee, FL 34746 and as mentioned earlier, is only 5 miles from Walt Disney World!
It's also right next to the famous Old Town and Fun Spot attraction which is great for families who want to do some fun activities in the middle of the day or at nighttime.
There are even MORE incredible Orlando attractions near Regal Oaks Resort which I will go over later in this guide.
Ready to plan your theme park trip? Watch the best vacation planning tips on YouTube. Get started here!
Parking at Regal Oaks Resort
Now I want to go over how parking works for you at this Central Florida Resort.
When you arrive at Regal Oaks, you'll notice that the gate is highly secured and watched over by a Team Member. 
Since you won't have a room key yet, you'll have to go on the left side of the entrance and let the attendant know your name and that you have a reservation.
Once the attendant reviews your information along with viewing your driver's license, you'll then be prompted to park in the 10-minute check-in parking spaces.
After you check in, you'll use your room key to get in and out of the resort.
You'll also be able to use the right side of the gate entrance as an added convenience for you whenever you're returning back to Regal Oaks.
How much is parking at Regal Oaks Resort?
You'll be happy to know that parking is FREE at Regal Oaks Resort!
Something we all can appreciate since resort fees can get out-of-hand. Especially here in Orlando.
Get up to 25% off of your Universal Orlando Vacation with Groupon TODAY!
Amenities at Regal Oaks Resort
Now we're at the good part. The amenities!
No hotel or resort destination is complete without some great amenities or fun things to do while vacationing.
One of the things I personally enjoyed at Regal Oaks Resort was the various outdoor activities at the pool area.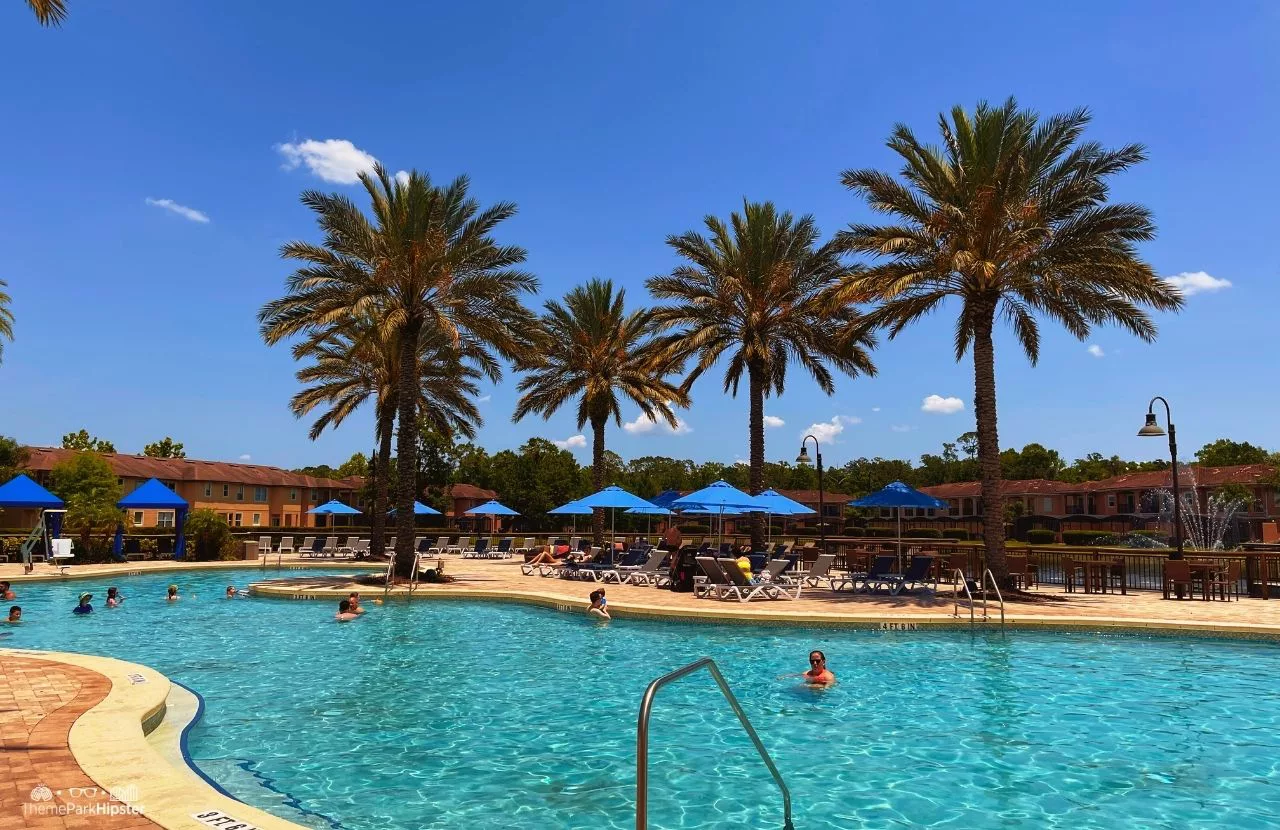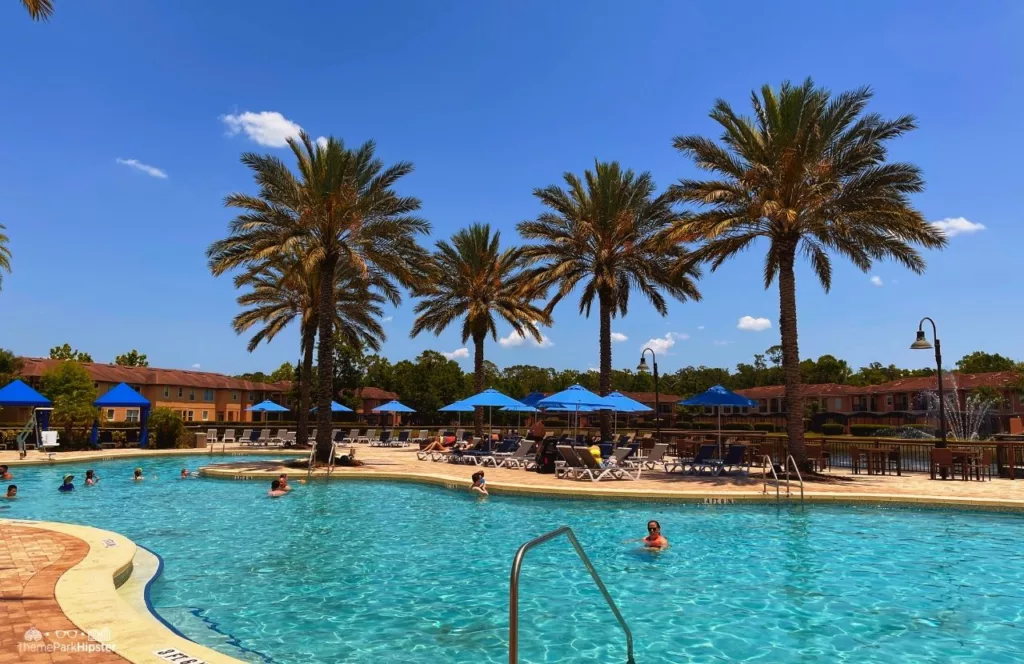 You can enjoy a game of Ping Pong or scream your head off down the water slide at the water park!
There's so much to do here.
Something pretty cool about this resort is that most townhomes come with a private jacuzzi which is great to help you relax those sore muscles from all the walking you'll be doing at the theme parks!
Enjoying the Florida Sun
As you can see, the pool area is the main hub of the resort. I mean look at the amazing views you get while relaxing on a lounge chair in the photos below.
If you're not much of a sun-bather, you can hangout under the covered patio or rent a Cabana for the day.
Or you can be like me and grab a chair at the pool bar and chit chat with the bartender (and other resort guests) all day long while sipping on your favorite summery drink.
My recommendation is the Rum Runner…thank me later!
More Amenities at Regal Oaks Resort
Below are a few more things that you can do in this townhome resort:
Housekeeping (on request)
2 restaurants and 2 bars/lounges
Zero-depth outdoor pool
Free water park
Outdoor tennis court
Fitness center
Private spa tub
Business center
Private Terrace with each townhome
Grab and Go Marketplace
Free Wi-Fi
Full size kitchen with dishes
24/7 front desk service
Plenty of closet space
A starter pack of household essentials
Arcade (coming soon)
What is the resort fee at Regal Oaks Resort?
You'll be asked to pay the following charges at check-in or check-out which are:
Cleaning fee: USD 100.00 per accommodation, per stay
Resort fee: USD 27.00 per accommodation, per night
Your Regal Oaks Resort Fee Includes:
Beach towels
Business center/computer access
Children's club/arcade access
Concierge service
Faxes
Fitness center access
In-room coffee
Laundry facilities
Nearby fitness center access
In-room safe
Partner property access
Phone calls (may be limited)
Pool access
Spa tub maintenance
Secure Gated Community
Rooms at Regal Oaks Resort
If you're like me, then choosing the BEST room at a hotel or resort or even a vacation home is extremely important!
We all want a spacious room that's clean and affordable. At Regal Oaks Resort not only do you get budget-friendly options, you also get SPACE!!!
Here there are 2,3, and 4-bedroom townhomes that range between 1,350 to 1,850 square feet!
If you have a much larger family or group, you can easily request townhomes right next to each other and the Team Members at Regal Oaks Resort will accommodate you in the best way.
As previously mentioned, I love how many of the townhomes come with their own private jacuzzi with all of them having a private patio. This is a feature I love to have at resorts.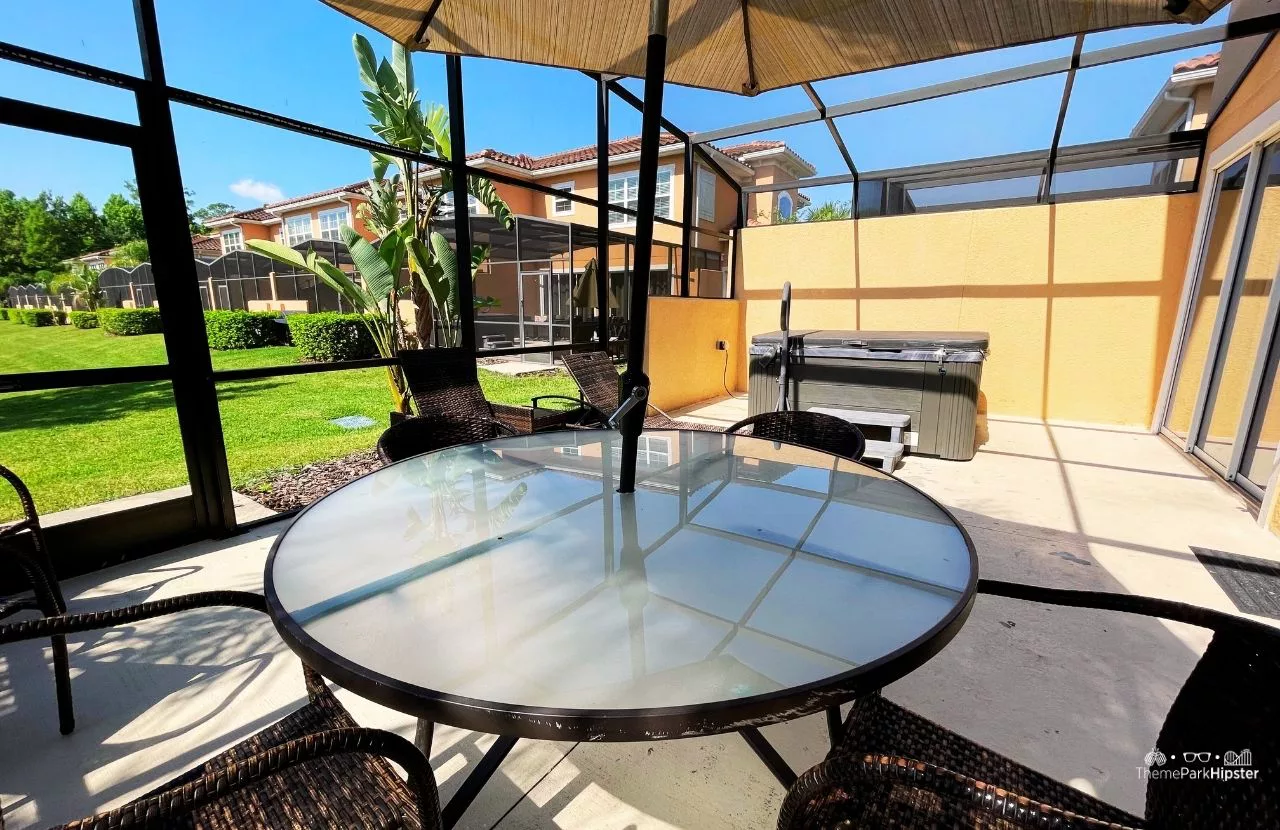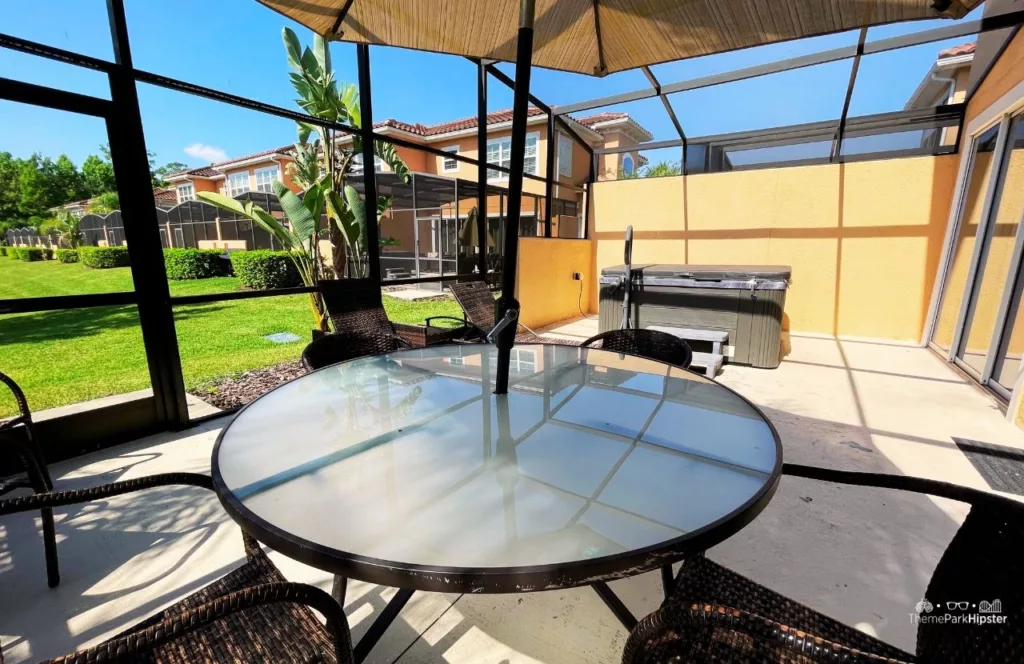 Townhome Options at Regal Oaks:
2-Bedroom: a bedroom with a king bed and another bedroom with 2 twin beds with the number of bathrooms varying based on the unit floor plan (sleeps six)
3-Bedroom: one room with a king bed, one room with a queen bed, and one room that features 2 twin beds with the number of bathrooms varying based on the unit floor plan (sleeps eight)
4-Bedroom: master bedroom features a king bed, the second and third bedrooms each feature a queen bed, the fourth bedroom has two twin beds with the number of bathrooms varying based on the unit floor plan (sleeps 10)
I've had the opportunity to stay at this resort on many occasions and explore the variety of floor plans.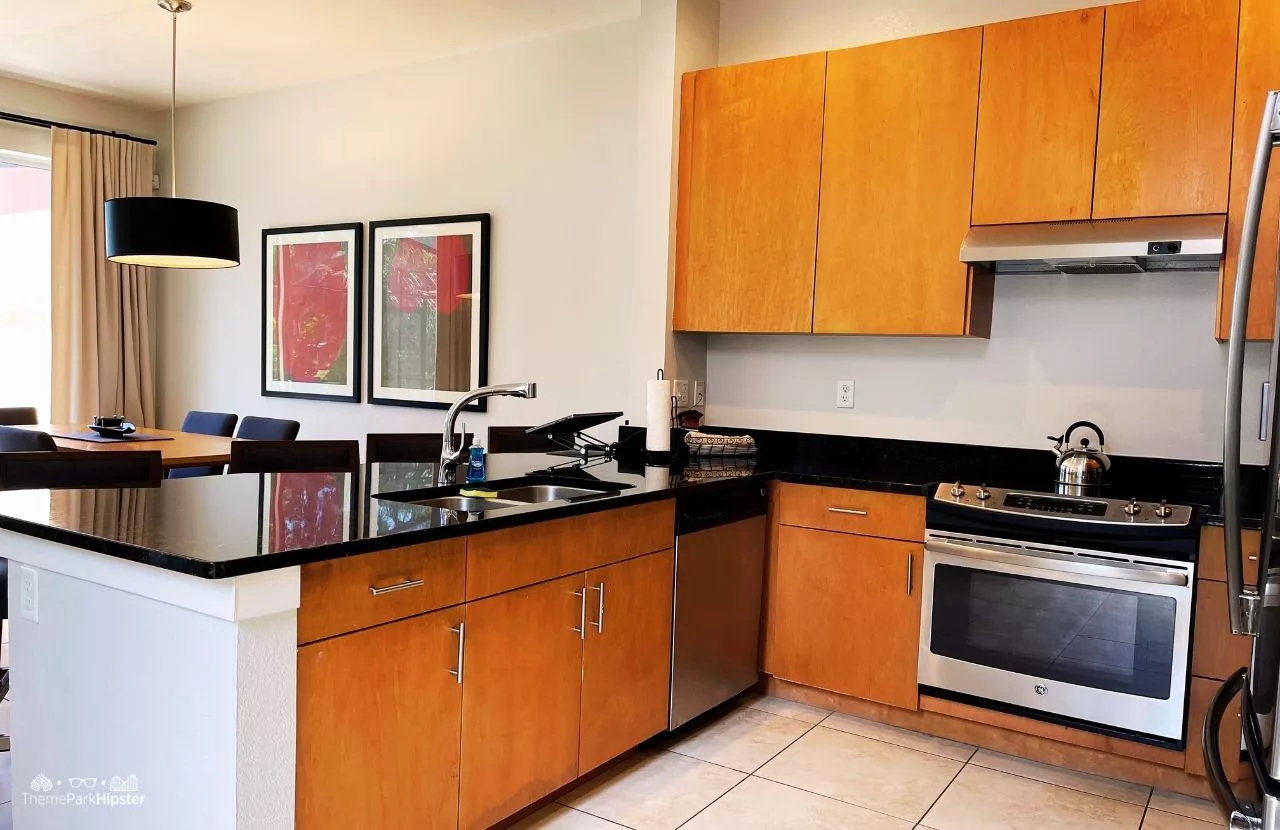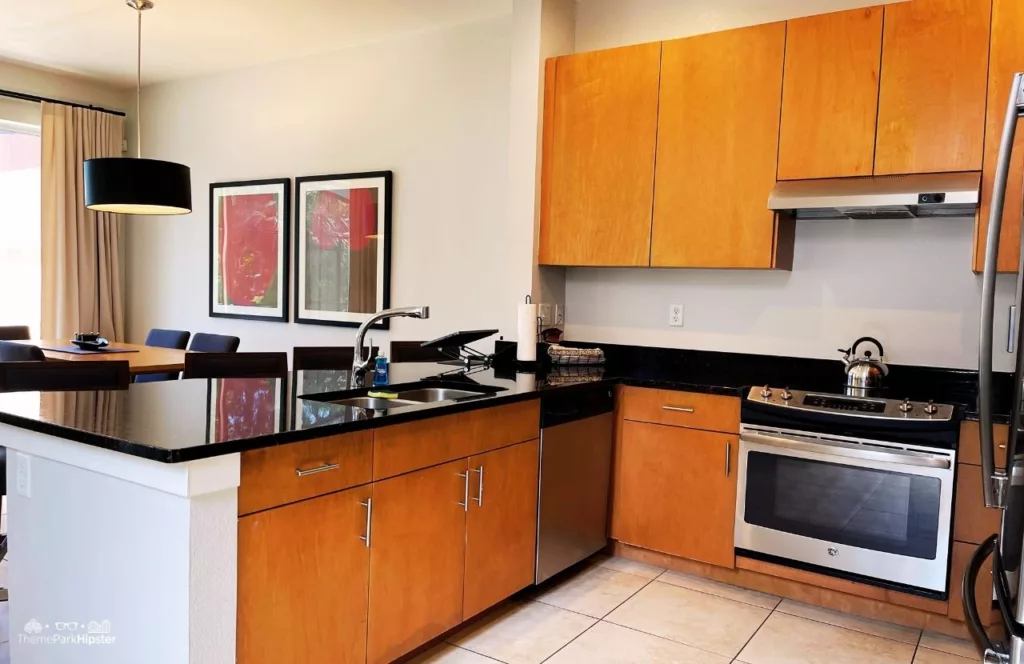 Watch my Full Tour of Regal Oaks Resort here!
How much does it cost to stay at Regal Oaks Resort?
You'll be happy to know that prices for this resort start at $106 to $150 per night and can vary based on the season and the type of townhome that you choose.
I looooove how budget-friendly this resort is and how much you get for your money. That's why I call this place Orlando's best kept secret!
Hipster Power Tip: Regal Oaks Resort is always offering great deals that you won't find anywhere else online such as extended stay discounts and Florida/Georgia Resident deals. Check them out here.
Restaurants at Regal Oaks Resort
The Hub
This dining spot will calm down your hunger pains. You will no longer be hangry as you enjoy dishes such as the:
Loaded Potato Skins
Southwest Eggrolls
Beef Patty Melt
Fish Tacos
There's even a menu for the little ones and of course you must end your meal with dessert and a cocktail.
The restaurant hours for The Hub are usually 4 p.m. until 11 p.m. So, that's plenty of time for you to have dinner.
Be sure to hangout in the lounge area of The Hub to get a quick game of pool in.
The Cabana Poolside Bar and Grill
This location is where you can get small bites with a menu similar to the one at The Hub. You also have to try one of the amazing drinks on the menu while you're there.
I really enjoyed my bartender at the poolside bar!
She made my visit so amazing and went above and beyond with her customer service by making sure that my husband and I were having a wonderful vacation.
Does Regal Oaks Resort offer breakfast?
On my visit to Regal Oaks Resort, I did not see an option for breakfast at any of the restaurants.
However, that may change in the future which I will definitely keep you updated on.
Hipster Power Tip: Be sure to stop by Sam's Pantry for coffee along with grab and go snacks to jumpstart your day.
Attractions and Theme Parks Near Regal Oaks Resort
Although this resort may seem like it's tucked away in a secluded destination, it's actually pretty close to the most popular attractions and theme parks in Orlando, Florida.
Recommended: Ultimate Florida Packing List: What to Pack for Your EPIC Trip!
Does Regal Oaks Resort offer Shuttles to the Theme Parks?
At the time of writing this guide, Regal Oaks does not currently offer any shuttles to the Orlando theme parks.
If anything changes, I will be sure to update this article.
Watch the Full Guide to SeaWorld Orlando here on YouTube!
My Final Thoughts Review on Regal Oaks Resort
This Orlando vacation home resort is made perfect by its close proximity to Walt Disney World and all the other Orlando attractions.
Not only is it perfect for families, it's also great for a weekend getaway with the girls or a solo travel retreat.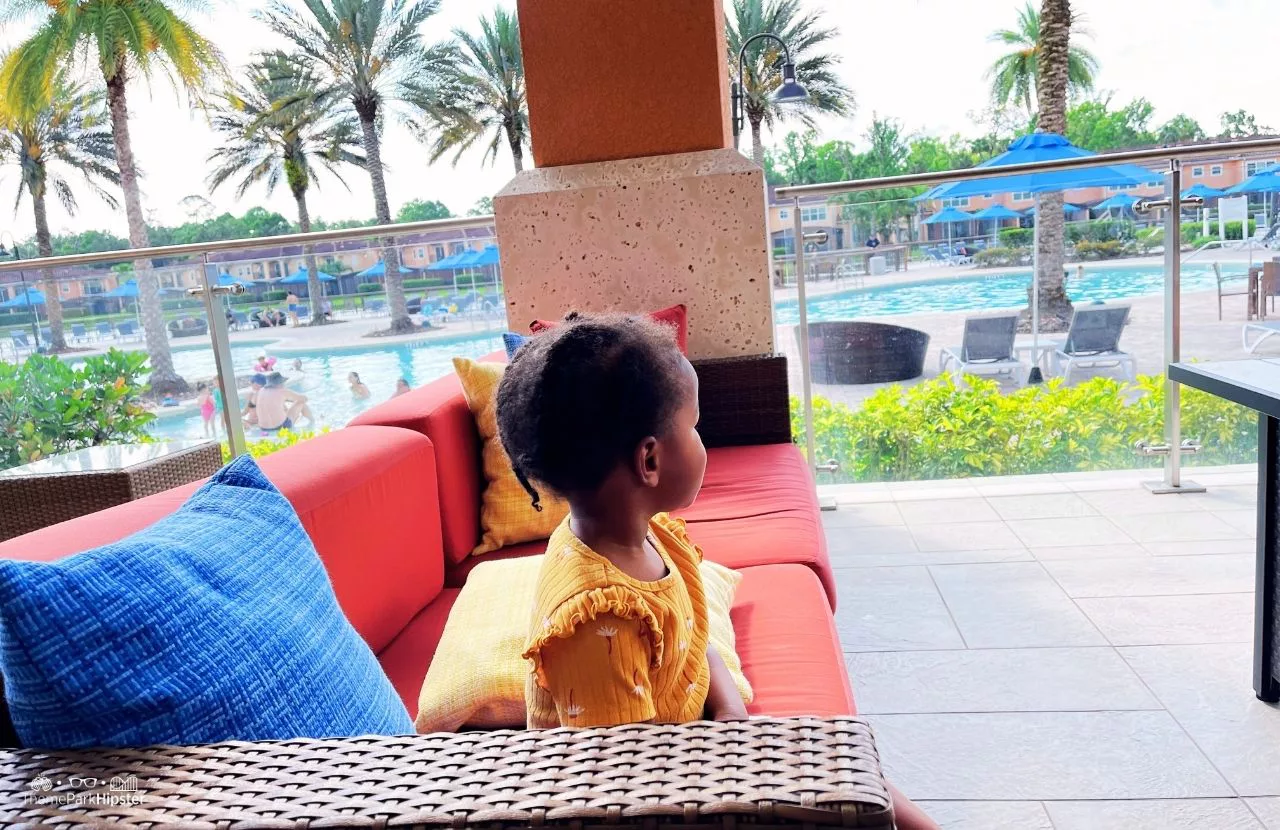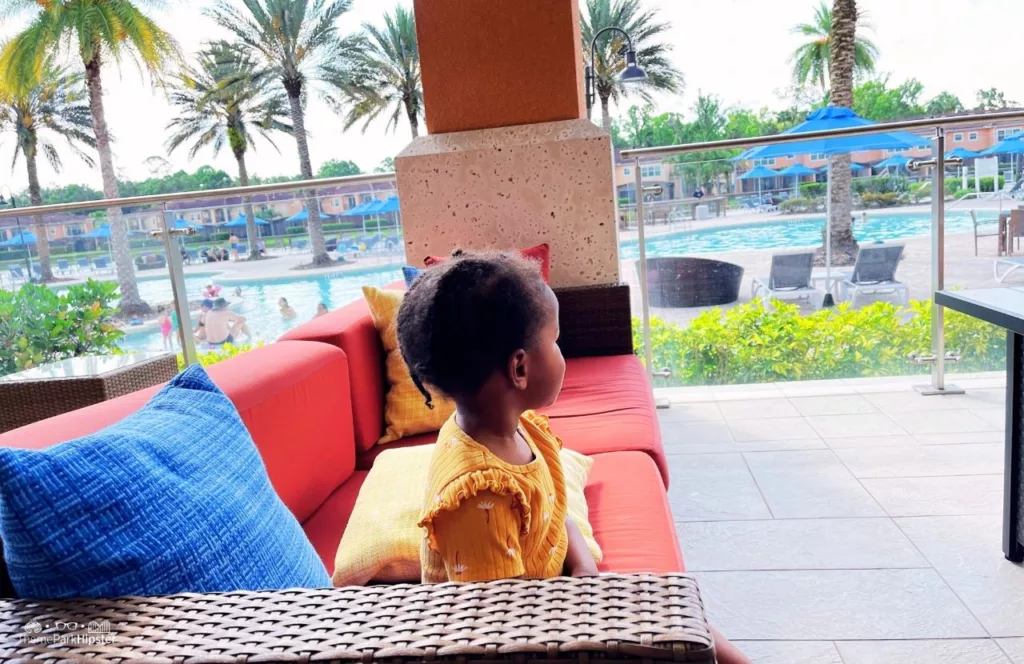 The selling point here for me was things such as the full-size kitchen, large bathrooms and bedrooms galore.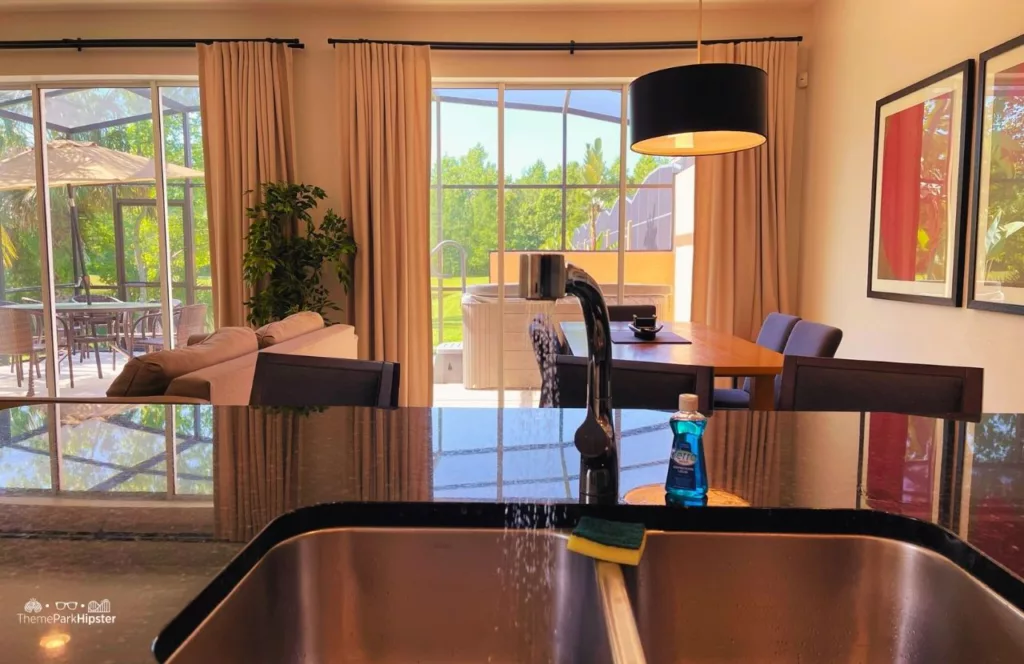 You'll also be happy to know that you can get your clothes nice and clean before you return home using the laundry room inside of your townhome..
As you walk inside the lovely Orlando rental, you'll be greeted with the best amenities out there:
Cable TV
Coffee Maker
Dining Room Area
Flat-Screen TV
Hairdryer/Toiletries
Hot Tub
Iron
Kitchen, Kitchenware, Oven, Toaster
Modern Décor
Outdoor Covered Patio
Private Entrance
Safe
Showers/Bathtub
Sofa
Tile, Carpet & Wood Flooring
Stainless Steel Kitchen Appliance (Refrigerator, Microwave, Dishwasher)
Telephone
Wardrobe/Closet
Washer/Dryer
Is CLC Regal Oaks Resort Worth It?
Regal Oaks will always have a special place in my heart as it was the first place I went to after the passing of my mom.
It was the staycation I needed for peace… 
Whether it was relaxing on the patio with a cup of coffee or hanging out poolside enjoying a fruity beverage, I needed this getaway for my mental health.
I will always be thankful for Regal Oaks Resort for helping get through one of the hardest moments of my life.
As you prepare for your own Orlando vacation, I hope this hotel guide helps you get closer to choosing the best accommodations for you and your family.
You can visit the official site of Regal Oaks for more information.
Until next time, Happy Park Hopping Hipsters!
NikkyJ